NCF Nation:

Michael Larrow
May, 30, 2012
5/30/12
3:00
PM ET
The question surrounds Rutgers defensive end Darius Hamilton in the same way it surrounded running back
Savon Huggins
at this time last year.
Can Hamilton be an impact true freshman for the Scarlet Knights?

Hamilton began his first day of summer classes at Rutgers on Tuesday, and coach Kyle Flood expects to see plenty out of his highly touted defensive lineman when fall camp rolls around. Defensive line, particularly end, is an area where depth must be developed. Where better to turn to for help than the No. 69-ranked player on the 2012 ESPN 150 prospects list, and one of the top prospects in the state of New Jersey.
"How much of a role and how quickly he has a role will be determined by him," Flood said during an interview at the Big East spring meetings. "I always try to remind people Anthony Davis didn't start until Game 4. Kenny Britt didn't start his first game at Rutgers. Ray Rice did, but running back is a little bit different.
Art Forst
started as a freshman, not until the fourth or fifth game. So it's not an easy thing to do.
"Sometimes the excitement of recruiting builds unrealistic expectations and people forget recent history. When you look back at how many linemen have started their first game as a college football player, it's not many. Do I think he's talented enough to help us this year? I do. We see him in the plans. Now we have to get to training camp and let him show it to us."
The hype followed Huggins last season. He remains the highest-rated prospect to ever sign with the Scarlet Knights, and many thought he could help turn around a mediocre run game. But Huggins was tentative at best and then got hurt. Now going into his sophomore year, expectations are higher for him to be a major contributor.
As for the 6-foot-4, 260-pound Hamilton, there is an opening at one of the defensive end spots so he will have an opportunity to win the starting job the way Huggins did last season. Flood said, "
Marcus Thompson
,
Max Issaka
,
Michael Larrow
and Darius are all going to get an opportunity to see where they end up." At the other end position, Flood envisions
Ka'Lial Glaud
and
Marvin Booker
splitting the game and getting equal reps.
October, 13, 2011
10/13/11
10:15
AM ET
Here are the top storylines to watch in the Big East in Week 7.
1. How does Pitt respond?
It is never a good sign when a coach admits his team underestimated an opponent. Pitt coach Todd Graham has taken full responsibility for not getting his team ready to play against Rutgers last week, and that cost the Panthers in a 34-10 loss. Now they get a nonconference game against Utah to try to make a turnaround. The Utes are about as inconsistent as Pitt, having lost three of their last four. Will Graham have his guys ready to play?
[+] Enlarge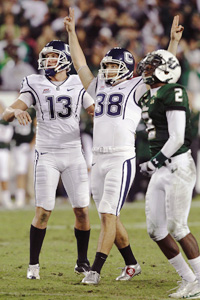 AP Photo/Chris O'MearaDave Teggart's 52-yard field goal was the difference in UConn's win over the Bulls last season.
2. Dave Teggart.
The last two times USF and UConn have played, the game has been decided on the leg of the UConn kicker. Teggart has been inconsistent this season, with five missed field goals, but he did hit a 53-yarder last week in a loss to West Virginia. Could the game come down to him once again?
3. Ray Graham to 1,000?
The Pitt running back needs 101 yards to hit the 1,000-yard mark. But it is not going to be easy. Utah has done well against the run, ranking No. 19 in the nation. The Utes are allowing 99.4 rushing yards a game, and are holding runners to 2.9 yards a carry. They have only given up two rushing touchdowns all season.
4. Isaiah Pead vs. Louisville front.
Not much has gone right for the Cardinals this season, but their defensive front has been strong against the run. The Cardinals rank No. 10 in the nation in run defense, allowing runners to average 2.3 yards a carry. Pead ranks second in the Big East in yards per carry, averaging 6.6 yards every time he touches the ball.
5. Hello, USF!
The Bulls finally return to the field to put their last game behind them. Will the extra time off correct some of the errors that plagued them in a loss to Pitt? Coach Skip Holtz spent a huge portion of the bye week working on team drills. USF had 450 team reps because, "I felt like what had happened to us in the Pitt game, I felt like we weren't working as a unit. We needed to build that confidence."
6. Rutgers D vs. Navy triple-option.
Navy runs one of the more unique offenses in the country, and it is a bear to prepare for when you do not see it every week. The Midshipmen lead the nation in rushing offense because, well, all they mostly do is run the ball out of various run and option formations. The Rutgers defense has been vastly improved, but the line took a hit last week when starting defensive end Michael Larrow was lost for the season. Getting a good rotation up front is going to be huge in this game on a defense that is starting to have some concerns about depth.
7. Can Louisville surprise?
The Cardinals have been a better team on the road than at home under coach Charlie Strong. They pulled one upset over Kentucky earlier this year. Can they do it again? Cincinnati has won three straight in the series but Louisville pulled the 28-24 upset road win over the No. 15 Bearcats in 2007.
8. UConn rush offense.
The Huskies have not been able to consistently get the ground game going, but you know they are going to try against a USF defense that gave up 307 yards on the ground in its last game against Pitt. Many of the problems for the Bulls were because of poor fundamentals and fits in run gaps. They worked on that during the bye.
9. Rutgers offense.
It is no secret that Rutgers has struggled to run the ball. But if there was a week to get the runners going, this is the one. Navy ranks No. 112 against the run, giving up 220.8 yards a game. Rutgers is averaging 79.8 yards a game on the ground and is one of two Big East teams -- along with West Virginia -- to have just one 100-yard rushing total against FBS competition.
10. Bye week.
Syracuse and West Virginia are on their bye weeks before they play next Friday in the Carrier Dome. For West Virginia, the big key this week has been working on maintaining a rhythm on offense. Syracuse was working to identify the cause of problems on defense and in the run game.
March, 29, 2011
3/29/11
9:00
AM ET
Here is Part II of my conversation with Rutgers head coach Greg Schiano. You can read Part I
here
.
How has Chas Dodd been this offseason?

Greg Schiano:
Real good. He's a hard guy not to love. He's a gym rat, he's a guy who loves the game of football, and he has a great way about him. He relates to everybody -- the linemen, the running backs, the wideouts, the coaches. He's a happy kid, a fun guy to be around.
You talked last year at this time about Tom Savage's leadership skills. Does Dodd have the same attributes?

GS:
I can see it, no doubt. You could see it last year. He's a fiery sucker, now. He really loves playing the game. People kind of take his energy and use it. He's a pistol.
How about the depth at that position?

GS:
I think the freshmen will be critical -- Gary Nova and Mike Bimonte. They've been here a lot this spring already, just visiting with coaches. We practice in the morning now so they're not going to be missing school to come to spring practice. They'll be around us as much as we can get them around us.
Steve Shimko
is returning from rotator cuff surgery; I think he'll be OK, but I don't know. So those freshmen, whoever's the best will probably end up being the backup. We have a couple of walk-ons in the program who have a chance, but it definitely is lean. That's why those freshmen are critical.
You look at D.C. Jefferson, and physically he looks as good as any tight end you'll see. Where is he in his development?

[+] Enlarge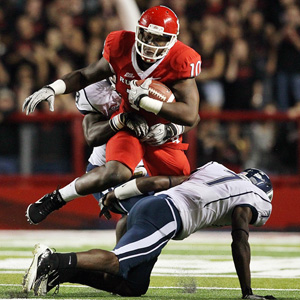 Jim McIsaac/Getty ImagesD.C. Jefferson could play an important role in Rutgers' offense this season.
GS:
You're right, physically, I don't know if there's a better physical guy in the country. Let's see what he does this spring. I think he really made some extraordinary blocks and extraordinary catches, and he missed some. He made some mistakes. It's a big year for him. He's got experience now under his belt. He and I have talked, and we really need him to become a key performer for us -- a clutch performer is probably a better way to say it -- and he's capable of it. And espcially in this offense, because the tight end is such a big part of it.
Let's move over to defensive line, where you lost three starters. Where do you see that group this spring?

GS:
We've still got Scott Vallone and Justin Francis, who have played a lot. But we're going to be young up there. Talented, maybe as talented as we've been, but young. We've got to harden them up and toughen them up this spring. Moving Manny Abreu to the defensive end will help us. He's an experienced player -- that will be a new position for him, but a lot of the things he did at [strongside] linebacker aren't very different than what we'll ask him to do at defensive end.
We're going to find out. You look at Michael Larrow, who's been in the program now for two years, he's physically exactly what you're looking for in that position. Guys like Kenneth Kirksey, Djwaney Mara, Jamil Merrell, Isaac Holmes, all those guys. It's their time. They need to step up. Vallone is there as a real leader. That's what we need, someone to take that thing and lead these guys, and I think he will.
What about linebacker, with Abreu gone from there?

GS:
Manny moves to defensive end and will be one of the better athletes up there. But at linebacker, his speed was just OK. So now you take a safety like Khaseem Greene who has very good speed and move him down to the [weakside] linebacker, and I think he's really going to bring something to the table there. Especially in our league. You know, it's interesting when you look at the schedule. You have some teams that will get into two-back and then some teams that will get into spread and then teams like Connecticut where you don't know what it's going to be. So it's going to be interesting. But I think, without a doubt, this defense is built on speed. I think we've helped ourselves by doing that, not only on the line and at linebacker, but making changes in the secondary as well.
Speaking of the secondary, you moved Jordan Thomas and Mason Robinson to cornerback. How do you see that spot shaking out?

GS:
We moved both to corner, we moved David Rowe into safety, and we moved over a guy I think is really talented in
Jawaun Wynn
-- a big, talented guy who was a wideout -- he'll be playing safety as well. We also redshirted a guy who I think was an exceptional recruit from DeMatha in Lorenzo Waters, he's got a chance to be really good. So it will be interesting to see because, again, there's great competition at this spot.
Speaking of redshirting, how tempting was it to play some of those young guys last year as the losses mounted?

GS:
You know what, last year was so weird with everything that happened here ... sometimes you'll take a shirt off a kid if you think he can really help us, but our issues were a lot more than a player. We had some serious issues. So I think that would have been foolish -- it wouldn't have made any difference.
How have the players moved past all that?

GS:
I think Eric [LeGrand's] situation was one where it's just, we're a close family here. Part of me is proud how much it affected us, because it showed how much our guys do care about each other. There wasn't a player or anything that was going to change that. Maybe if I had done a better job leading ... that's something I have thought about many times. But at the end of the day, it happened, and we're going to be there for Eric to help him, and we're going to put this thing back together and get back to playing football the way Rutgers is accustomed to playing it. I can't wait to do it. I really haven't been this excited to get back to practice in a long time.
How much will Eric be involved with you guys this spring?

GS:
He's still in Kessler [Rehab], and when he gets out, which I think is going to happen pretty soon, he'll have a busy schedule. He still has to go to rehab and do all that stuff, just now he'll have to drive up to the place all the time. But hopefully he'll be around. He took a class this semester online, and I fully expect him to come back to school here and get his degree. So, yeah, he's every bit as big a part of this family as he ever was, and I expect him to be around as much as he can possibly be around.
Looking at special teams, you have to replace your punter. Where does that stand?

GS:
We recruited Anthony DiPaula, and he started in January. One area we'll really emphasize this spring is punting and putting him under the gun, because where we stand right now, the plan is for him to be our punter. And that's a true freshman punter, so hold on to your hat, baby. With San San Te returning, we have returning long-snappers, returning holders, so I'm comfortable we'll be comfortable in all areas. And hopefully we'll get DiPaula to a point where he's comfortable. But again, until you go out and punt in front of 60,000 people, you haven't really experienced it. But he has a good way about him, so I'm confident in him.
Last year at this time, you talked about how young your roster was, and how the vast majority of your players were underclassmen. Looking at things now, do you think this is a group that can do some special things as it grows up?

GS:
I'm going to hold judgment on that. Are they over everything from last year? I hope they're not over it, but I hope they're dealing with it better. I think we're going to see where we are every step of the way. We only have 12 scholarship seniors on this team, so our bigger classes are our juniors, sophomores and freshmen. With our 12 scholarship seniors, we do have strong leaders and character guys there. But I think it's going to be a group effort. And you know what? Some of the best teams I've had kind of scratched and clawed and at the end of the day they'd look up and not be too bad. Hopefully, that will be us.
November, 11, 2010
11/11/10
3:00
PM ET
Syracuse's rapid rise this season may have caught some people off guard, but not Rutgers.
The Scarlet Knights saw firsthand what the Orange's potential was late last year when they got blasted 31-13 in the Carrier Dome in a surprise upset. That's why defensive tackle Charlie Noonan chuckled when asked what improvements he saw in Syracuse this year.
"They beat us pretty bad last year, so that's hard to say," he said. "They run the ball real well, and that's where it starts."
[+] Enlarge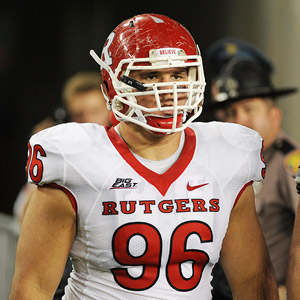 Al Messerschmidt/Getty ImagesDon't expect Charlie Noonan and the Rutgers defense to take Syracuse lightly when the Scarlet Knights host the Orange on Saturday.
The Orange rushed for 213 yards in last year's win, mixing in some misdirection and option-style plays they hadn't shown before. Rutgers will be on high alert for any new wrinkles in Saturday's rematch, but right now the Scarlet Knights' defense just needs to get back to basics.
The defense and special teams have saved the day during a 4-4 start as the offense mostly has sputtered. But Rutgers is allowing 31 points per game in conference play, ahead of only Cincinnati. That includes 69 points allowed the past two games, both losses.
Each of the first three Big East opponents has had a 100-yard rusher, including
Mo Plancher
's 135-yard effort in last Wednesday's loss at South Florida. The Scarlet Knights rank last in the league with just seven sacks in eight games after finishing with 40 last year. They have only 47 tackles for loss after registering 113 in 2009.
"We're not making any excuses here," Noonan said. "It comes down to executing. Some of it's mental, but at the end of the day it's about being in your gap and tackling. We haven't done either well enough, obviously.
"We know what we're capable of doing. There's not much we can do except to play better."
Head coach Greg Schiano said he's not worried about the sacks total, which can sometimes be misleading, because his team is pressuring and hitting quarterbacks. But the low TFL numbers concern him, as does the defense's inability to create those third-and-longs that often lead to big plays and favorable stats.
He said fatigue could be playing a factor. That could be both emotional fatigue from the Eric LeGrand spinal injury situation, or just physical weariness since the loss of LeGrand has shortened the rotation on the defensive line. Schiano said redshirt freshman Michael Larrow would see more time up front to help the depth.
Like everybody else in the league, Rutgers remains alive in the Big East race, and returning to its home field for the first time since Oct. 8 should help. A home loss, though, would put a serious dent in any postseason hopes.
"We're at a turning point right now," Noonan said.
Things likely won't turn out well for the Scarlet Knights unless they're defense starts turning opponents back again.