NCF Nation:

Michael Palardy
October, 24, 2013
10/24/13
9:50
AM ET
KNOXVILLE, Tenn. – Butch Jones admittedly hasn't gotten much sleep since Tennessee's breakthrough 23-21 victory over then-No. 11 South Carolina last weekend.
But, then, when does he ever get much sleep?
On average, the Vols' first-year coach snoozes about four hours a night, but the sleep monitor he wears tells him that only 2&189; of those hours are what you would call deep sleep.
He also keeps a notepad beside his bed that has been known to liven things up in the wee hours of the morning at the Jones household.
[+] Enlarge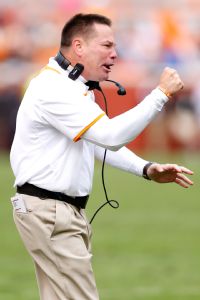 Joe Robbins/Getty ImagesButch Jones and the Vols finally broke through against a ranked team.
"Sometimes, some of your best ideas come when you're lying there at night, and you might not remember all of them the next morning," Jones explained. "So I'll get up and start writing them down until my wife yells at me to get my butt back to bed."
And the next thing you know, the dog starts barking.
"There aren't enough hours in the day," Jones said with a grin. His energy and passion were embraced by a win-starved Tennessee fan base a long time ago.
But last Saturday, he gave Rocky Toppers more than just hope. He gave them something tangible to cling to: the Vols' first victory over a nationally ranked opponent after 19 consecutive defeats.
"It's just one victory, but it gives evidence to what we're doing," said Jones, who took over a reeling program that had suffered through three consecutive losing seasons. "We have great confidence in what we do, and we have great people here. It's a process. Everyone wants things corrected overnight, and I'm the worst one about that. But things take time to do it right.
"We're still focusing on the process."
That process becomes a lot easier when you're beating teams in your division that have been beating up on you. The Vols were close to some of these victories under former coach Derek Dooley. They took LSU to the wire three years ago and Georgia and South Carolina to the wire last year. But there also were a ton of embarrassing losses along the way.
"We've been in a lot of situations like that before, but we're finally over that hump," said fifth-year senior defensive end
Marlon Walls
, who was recruited by Phillip Fulmer and has played for three head coaches at Tennessee.
"We knew it was coming with Coach Jones, but it's just exciting to see it happen. Our love for Coach Jones and our love for each other pushed us through, and it's going to keep pushing us through."
The Vols (4-3, 1-2 SEC) don't have any choice but to keep pushing. Their schedule is brutal. They get No. 1 Alabama in Tuscaloosa, Ala., this Saturday and then No. 5 Missouri in Columbia, Mo., on Nov. 2. After that, No. 11 Auburn comes to town.
That completes a stretch of seven nationally ranked foes in nine weeks.
"That's the world of college football, the life of being in the SEC," Jones said. "You've never arrived, and we still have to take major steps in moving forward."
The Vols, who are playing a wealth of younger players, simply don't measure up talentwise to the elite teams in the SEC. Jones and his staff are feverishly working on that. They're currently No. 3 nationally in ESPN's recruiting rankings for the 2014 class, trailing only Alabama and Florida State.
So on the recruiting trail, Jones is obviously making inroads, which is the only way Tennessee is going to climb back into championship contention in this league.
But to attract enough of those players, you've got to get it done on the field, and that's where the Vols have made some of their biggest strides.
In just about all the statistical categories that matter, Tennessee is ahead of last season's pace through Week 8.
The Vols are running the ball better (201.7 yards per game), playing better defense (4.5 fewer points per game), committing fewer penalties, playing better red zone defense, winning the turnover battle and playing as well on special teams as they have in a long time.
In fact, senior kicker/punter
Michael Palardy
, who kicked the game-winning field goal against South Carolina, has mirrored Tennessee's turnaround in a lot ways. He's having his best season after some earlier struggles and has been an invaluable weapon for the Vols.
As much as anything, Jones has instilled a confidence in this program that had been sorely lacking, and even after the 59-14 shellacking at Oregon the third week of the season, that confidence hasn't wavered.
The trip to Alabama will further put that confidence to the test. The Vols have lost six in a row to the Crimson Tide and haven't scored more than 13 points in any of the past five meetings between these two old rivals.
"We're a different football team," said junior quarterback
Justin Worley
, who's played his best football the past two games against South Carolina and Georgia. "At Oregon, we didn't show up. At Florida, we were just up and down.
"Our consistency and our confidence level are both a lot better than they were in those first two road games."
As happy as Jones was for the seniors in this program, to see them get such a fulfilling win last week after so much misery the past few seasons, he rode his team in practice this week as hard as he ever has.
He knows what lies ahead.
"The more you win, the more that's at stake," Jones said. "The more you win, the more that's expected, and this week becomes even bigger. The other thing is you work your butt off to be playing meaningful games into October and November, and from here on out, we're going to be playing meaningful games.
"That's what you work toward, and you have to embrace it. This team has."
It's also a team that clearly believes in its head coach.
"Coach Jones pushes you. He challenges you, and he's not afraid to call you out," sophomore receiver Pig Howard said. "We've all heard it, but the thing we all know is that he's in it for us.
"He's pushing himself harder than he is anybody, and you don't want to let somebody like that down."
February, 10, 2012
2/10/12
4:42
PM ET
We've come to the end of our postseason position rankings. Special teams don't get a ton of credit when things go right, but we all know how much grief they get when things go wrong. Just look at all those shanks we saw from kickers last season.
Fortunately, there are other aspects of special teams that involve more exciting plays, like returns that can change the dynamic of a game or are just really easy on the eyes (just take a look at what
Joe Adams
did
to Tennessee last fall
).
You can see how we ranked the SEC's special teams units before the season
here
.
Here are our final rankings:
[+] Enlarge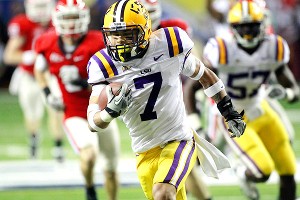 AP Photo/John BazemoreTyrann Mathieu's punt return for a touchdown against Georgia turned the momentum in the game.
1. LSU:
All-American punter
Brad Wing
averaged 44.4 yards per kick, had 20 punts of 50-plus yards and pinned 27 kicks inside the opposing 20-yard line. His long of 73 yards completely changed LSU's first game with Alabama.
Tyrann Mathieu
had two clutch punt returns for touchdowns against Arkansas and Georgia at the end of the season and was fifth nationally averaging 15.6 yards per return.
Morris Claiborne
also returned a kickoff for a touchdown and averaged 25.1 yards per return. Opponents averaged 3.7 yards per punt return and just 20 yards per kickoff against LSU.
Drew Alleman
led the SEC in field goal percentage (88.9), hitting 16-of-18 kicks.
2. Arkansas:
Adams was one of the best punt returners in the country, averaging 16.9 yards per return and taking four to the house for scores. The Hogs were just as dangerous on kickoffs, as
Dennis Johnson
and
Marquel Wade
both returned kicks for touchdowns and ranked in the top five in the SEC in return average.
Zach Hocker
hit 21-of-27 kicks and led all kickers by averaging 9.1 points per game.
Dylan Breeding
led the SEC in punting (45.3) and downed 16 inside the 20. Arkansas was one of the best in the SEC in kickoff coverage, but did allow two punt returns to go for scores in the two biggest games of the season.
3. Auburn:
Auburn had
Onterio McCalebb
and
Tre Mason
take kickoffs back for touchdowns, as the Tigers led the SEC in kickoff return average (24.7) and also in kickoff coverage. Auburn wasn't great returning punts, but punter
Steven Clark
was a Ray Guy Award finalist and pinned 33 punts inside the 20.
Cody Parkey
ranked sixth in the league in field-goal kicking, connecting on 13-of-18 kicks (72.2).
4. Florida:
Even without Urban Meyer running the show, the Gators were still pretty successful in this department. Florida was first in the SEC and tied for sixth nationally with six blocked kicks. Two punt blocks went for touchdowns.
Caleb Sturgis
was a Lou Groza Award finalist, hitting 22-of-26 field goals, including three from 50-plus yards. Florida was also solid in kickoff coverage and got kickoff touchdowns of their own from
Andre Debose
, who was third in the league in return average, and
Jeff Demps
. Florida averaged 7.2 yards per punt return and averaged 39.8 yards per punt.
5. Ole Miss:
If not for special teams, Ole Miss would have been even worse in 2011.
Tyler Campbell
averaged 43.6 yards per punt on his 72 attempts and pinned 28 inside the 20. The Rebels also had two different players --
Nickolas Brassell
and
Jeff Scott
-- return punts for touchdowns and Ole Miss was near the top of the league in kickoff coverage and had a net punting average of 38 yards.
Bryson Rose
also hit nine of his 11 field-goal attempts.
6. Vanderbilt:
It was a mixed bag for the Commodores when it came to special teams. Vanderbilt was second in the league in opponent punt return average (3.9), but allowed a touchdown, and gave up another touchdown on kickoff coverage. Vanderbilt also blocked two kicks. Missed field goals haunted Vanderbilt, as the Commodores missed two in the six-point loss to Tennessee and one at the end of regulation in a three-point loss to Arkansas.
Andre Hal
logged a kickoff touchdown, but Vandy was 11th in the league in punt return average.
7. Alabama:
Before the national championship game, Alabama's field-goal kicking game received a ton of criticism, especially for the four misses in the 9-6 loss to LSU. But
Jeremy Shelley
redeemed the unit by hitting 5-of-7 in the rematch. Alabama's kickers missed 13 kicks.
Marquis Maze
only had 12 kickoff returns, but averaged 28.5 yards per return, was third in the SEC in punt return average (13.2) and had that nifty touchdown against Arkansas. However, Alabama was 11th in the league in kickoff coverage and 10th in punt average.
8. Kentucky:
Punter
Ryan Tydlacka
was fourth in the league in punting (43.6), had 20 punts of 50-plus yards and had 19 of his punts downed inside the 20.
Craig McIntosh
connected on 12-of-14 field-goal attempts (.857). Kentucky was in the middle of the pack in kickoff coverage. The Wildcats weren't so good at returning kicks, ranking 11th in the SEC in kickoff returns and last in punt returns, averaging 1.8 yards per return.
9. Mississippi State:
The Bulldogs were last in the league in kickoff returns and were the only team to average fewer than 20 yards a return. The Bulldogs were better on punts, getting touchdowns from
Chad Bumphis
and
Johnthan Banks
, and ranked fifth in the league in punt return average. Punter
Baker Swedenburg
ranked seventh in punting and pinned 19 punts inside the 20.
Derek DePasquale
hit 12-of-18 field goals.
10. Tennessee:
The Vols didn't record any special teams touchdowns, but were fifth in the league in kickoff returns and seventh in punt returns. As far as defending returns, Tennessee allowed just 18.1 yards per return, but was 10th in punt return coverage and gave up a touchdown.
Michael Palardy
hit of nine of his 14 field-goal attempts and punter
Matt Darr
was 10th in the SEC in punt average (38.1).
11. South Carolina:
The Gamecocks struggled in the kicking game, but did have a bright spot in
Ace Sanders
recording a touchdown on a punt return and South Carolina blocked two kicks. However, South Carolina was seventh and eighth in the SEC in kickoff and punt returns, respectively. South Carolina was last in kickoff coverage and gave up a touchdown.
Jay Wooten
missed four field goals and three extra points, while punter
Joey Scribner-Howard
was ninth in the SEC in punting, averaging 38.9 yards per punt.
12. Georgia:
Outside of
Brandon Boykin
's 92-yard touchdown return in the Outback Bowl, his 22.4-yard average on kick returns and
Drew Butler
's 44.2 yards per punt, Georgia didn't do much at all on special teams. The group that was supposed to be first in the league allowed two kickoffs and punts to go for touchdowns and allowed a fake punt for a touchdown against South Carolina.
Blair Walsh
entered the season as one of the nation's top kickers, but hit just 21-of-35 kicks, including missing two in overtime in the bowl loss to Michigan State.
October, 22, 2011
10/22/11
8:57
PM ET
TUSCALOOSA, Ala. -- It was all about defense in the first half as Alabama and Tennessee
are tied at six
.


Stat of the half:
Outside of the fact that we have 12 combined points after two quarters, Alabama has netted just 35 rushing yards at the half.
Trent Richardson
has carried the ball 10 times for 37 yards and hasn't even sniffed the end zone. Alabama's offense as a whole hasn't done much with Tennessee's defense doing its best Alabama impression. The Vols are loading the box each time out to take Richardson out of the game, and it worked perfectly in the first half.
Best player in the half:
He might not have a helmet and pads on, but Tennessee coach Derek Dooley has done quite the coaching job so far. He has actually out-coached mentor Nick Saban. The fake punt was brilliant and the decision to make
AJ McCarron
beat the Vols by taking Richardson out is working. He is also keeping things simple on offense. Everything has been directed up the middle and he isn't wasting time with trying to get the big play each time out. We knew those creamsicle pants would pay off one day.
Best call:
Dooley went for it on fourth down twice before, so we shouldn't have been surprised by the fake punt he called in the second quarter. But we were and so was Alabama. Michael Palardy sold it perfectly and easily hit
Anthony Anderson
near the right side line. A face mask penalty on the play put the ball at Alabama's 33-yard line and Palardy then nailed a career-long 52-yarder to tie the game at 6.
October, 22, 2011
10/22/11
8:32
PM ET
TUSCALOOSA, Ala. -- Tennessee coach Derek Dooley isn't holding back Saturday night.

Every single offensive play seems to be going through the middle of the field for the Vols and right when you thought Alabama was about to take back all the momentum, the Vols run a fake punt to get a first down in Alabama territory.

Tennessee even got 15 yards tacked on for a face mask penalty to get to the Alabama 33-yard line.

But none of that fazed Alabama's defense. The Crimson Tide turned right around and gave Tennessee absolutely nothing to work with. One yard and two punishing hits to wide receivers later and the Vols had to settle for a 52-yard Michael Palardy field goal.

Alabama's defense might not be thrilled about giving up points, but it showed great resiliency by bouncing back after a play that could have given Tennessee some much-needed momentum.
September, 17, 2011
9/17/11
5:50
PM ET
GAINESVILLE, Fla. -- Florida
led Tennessee 16-7
at the half.


Best player in the half:
The Gators moved the ball well on two scoring drives and had good field position on two others, but they've only punched it into the end zone once. Thanks for the leg of kicker Caleb Sturgis, Florida has a nine-point lead. He is a perfect 3-for-3 kicking, including a long of 46 yards, at the half.
Best call:
Chris Rainey
is one of the fastest, most athletic players in the SEC and special-teams coach D.J. Durkin made a great decision when he moved Rainey from punt returner to a gunner in the middle of Florida's punt block unit on Tennessee's first punt of the game. Rainey shot through the line and blocked Michael Palardy's punt to give Florida the ball at Tennessee's 13.
What Florida needs to do:
The Gators had a lot of early success with its running game, but had just 49 yards rushing at the half. Charlie Weis said he wants to have a power running game and for Florida's offense to get back on track in the second half, the running game has to improve. Rainey and
Jeff Demps
need more touches and the Gators have to score touchdowns in the red zone.

What Tennessee needs to do:
The Vols showed toward the end of the half that they can throw on Florida's defense. When
Tyler Bray
isn't making plays with his arms, Florida's defense is helping with penalties. Its youth is showing and Tennessee needs to exploit that. Tennessee has the matchups it wants, so it needs to air the ball out in the second half.
June, 23, 2011
6/23/11
10:06
AM ET
We're finally at the end of our position rankings and we'll finish up with special teams. This group does a lot more than people think and teams are starting to put their best athletes out here.
Kickers and punters don't get a lot of respect in the athletic department, but they are crucial assets to teams.
Let's see how the SEC special-teams units stack up:
1. Georgia:
It would be hard to find another special-teams unit better than the one in Athens. The Bulldogs return the dependable Blair Walsh at kicker, who kicked a league-high 20 field goals on 23 attempts (87 percent). Punter Drew Butler averaged 44.5 yards on 50 punts, with 19 landing inside the 20-yard line. Georgia also has a talented returning duo in Brandon Boykin and Branden Smith. Boykin is the school's all-time leader in kick return yards and averaged 24.3 yards per return with a touchdown in 2010. Smith only returned 10 punts last year, but is dynamic in space.
[+] Enlarge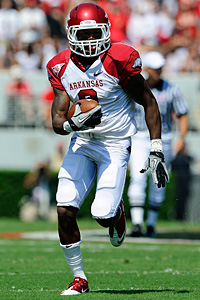 Paul Abell/US PresswireJoe Adams was fifth in the nation in punt returns last season, averaging 15.6 yards per return.
2. Arkansas:
Joe Adams
might be one of the most fun guys to watch in the return game. He was fifth in the nation, averaging 15.6 yards per return last year, and is one of the shiftiest returners out there. He also had a touchdown.
Dennis Johnson
is back from injury and when he was healthy, he was one of the best kicker returners in the league. In the kicking game, sophomore Zach Hocker had an impressive freshman year where he connected on 16 of 19 field goals, with seven from 40 or better. Punter Dylan Breeding averaged 42.5 yards per kick and pinned 18 inside the 20.
3. Alabama:
Trent Richardson
not only heads the Tide's offense, but he's extremely dangerous as a kick returner. He averaged 26.4 yards per return and had a touchdown last year.
Marquis Maze
, who grabbed 21 punt returns last year, has great speed to break one at any time. Alabama actually returns two kickers in Jeremy Shelley and Cade Foster. Shelley handled kicks with the 40-yard range, while Foster had long distance duty. The job at punter hasn't been settled, with Cody Mandell and Jay Williams battling it out.
4. Florida:
Caleb Sturgis is finally healthy after suffering a back injury last season. He was solid from farther out as a freshman, but struggled to stay consistent closer to the end zone. Ray Guy winner Chas Henry is gone, but freshman Kyle Christy enrolled early and immediately took over punting duties, launching a punt 55 yards in the spring game.
Andre Debose
was named the nation's top kick returner by the College Football Performance Awards in 2010 after returning two kicks for touchdowns and
Chris Rainey
could be the slipperiest punt returner in the SEC. Florida also has been the best punt/kick blocking team around the last few years.
5. Ole Miss:
Place-kicker Bryson Rose made 16 of 18 kicks last year and should be just as solid and might have to come up with even more kicks this fall. His kicking partner, punter Tyler Campbell, had a nation-leading 46.4 yards per punt average in 2010. He launched 19 punts over 50 yards and five of 60 or more yards.
Jeff Scott
was solid on kick returns, but Ole Miss' staff will look to junior college transfer Philander Moore for kick and punt returns. Last season at Blinn (Texas) College, Moore had 811 total return yards and six touchdowns.
6. Vanderbilt:
Kicker Ryan Fowler and punter Richard Kent return in 2011. Fowler was solid as a freshman, but took a few steps backward in 2010 kicking 8-of-13 and missing all of his kicks from beyond 35 yards. Carey Spear, who handled kickoffs last season, could push Fowler. Kent had one of the strongest and most durable legs in the country last season, leading the nation with 84 punts and averaged 41.8 yards per kick. Twenty-seven of them were downed inside the 20. Vanderbilt did, however, have four punts blocked. When healthy,
Warren Norman
is one of the most dynamic returners in the league. As a freshman, he took three kickoffs back for touchdowns and averaged 25.4 yards per return before his injury last season.
7. LSU:
The Tigers had one of the most exciting place-kickers to watch in Josh Jasper because he not only kicked but he was the master of the trick play. LSU will now look to Drew Alleman, who has had issues with consistency. Jasper also punted here and there, but regular punter Derek Helton is gone, leaving redshirt freshman Brad Wing in charge. The Australian-born athlete has a lot to learn about the SEC. Now that Patrick Peterson is gone, LSU is starting over in the return game. No one on the roster is as dynamic, but the Tigers will look at
Rueben Randle
, Tyrann Mathieu and Ron Brooks to carry the load by committee.
8. Mississippi State:
Kicker shouldn't be an issue for the Bulldogs. Derek Depasquale has hit 20-of-24 field goals in his two seasons in Starkville and nailed a 54-yarder in the spring game. Mississippi State must replace punter Heath Hutchins, but Baker Swedenburg should fill in nicely. The Bulldogs have a lot of athletes to throw out into the kicking game this year.
LaDarius Perkins
, who is Mississippi State's talented backup to running back
Vick Ballard
, will be used on kicks, along with receiver
Brandon Heavens
.
Chad Bumphis
returned punts last season, but Heavens could take over that role.
9. Kentucky:
Returners Randall Cobb and
Derrick Locke
are gone, but there are some athletes ready to fill in. Randall Burden, Winston Guy and Martavius Neloms got looks at punt returner this spring and there are a few options at kick returner. Both
Raymond Sanders
and Jerrell Priester fielded a few last season. Both kickers are back. Walk-on Craig McIntosh made 11 of 15 field goals last season, with a long of 50, while punter Ryan Tydlacka averaged 43.8 yards per kick.
10.Tennessee:
Kicker Michael Palardy only attempted seven kicks last year while backing up Daniel Lincoln. His only three misses were from beyond 40 yards. Tennessee will also be breaking in new punter Matt Darr this fall. The Volunteers were in the middle of the SEC pack in kick returns last year, but were 11th in the league in punt returns, totaling just 73 punt returns. Da'Rick Rogers will return punts and showed improvements there, while the Vols have yet to find their punt returner.
11. Auburn:
Record-setting kicker Wes Byrum is finally gone, so the Tigers' new kicker literally has big shoes to fill. That person should be Cody Parkey, who primarily kicked off last year. Auburn also lost punter Ryan Shoemaker. His replacement,
Steven Clark
had nine punts in 2010, with two dropping inside the 20.
Onterio McCalebb
should return more kicks this season and dynamic redshirt freshman
Trovon Reed
could be used on punt returns, where the Tigers averaged just 6.2 yards per return a year ago.
12. South Carolina:
Gone is dual-threat kicker Spencer Lanning, who kicked field goals and punts. Jay Wooten impressed at times this spring and can place-kick and punt. There's a chance the Gamecocks might end up having two kickers as Patrick Fish competed for the punting spot this spring. The Gamecocks were last in the SEC with a 3.4-yard average on punt returns, while the tiny
Bryce Sherman
averaged 20.4 yards on kicks, with a long of 37. The shifty
Ace Sanders
and newcomer Damiere Byrd could compete for time at punt returner.