NCF Nation:

Michael Schofield
May, 12, 2014
5/12/14
9:30
AM ET
The biggest non-game on the American sporting calendar is
all done
, as the 2014 NFL draft wrapped up Saturday afternoon in New York. After
arguably its worst draft in the modern era
in 2013, the Big Ten performed better this year with 30 picks. Still, the league finished fourth among conferences in selections, trailing the SEC (49), ACC (42) and Pac-12 (34).
After a big Friday night with six second-round selections -- including four in a row -- and six third-round selections, the Big Ten's momentum slowed a bit Saturday in the final four rounds. The league had only one sixth-round pick and only four in the seventh round.
Let's start the breakdown by listing Big Ten draftees by round (with comments below). Maryland and Rutgers players aren't included here because neither group competed in the Big Ten (Terrapins CB Dexter McDougle went in the third round; Rutgers had no players drafted).
FIRST ROUND (4)
[+] Enlarge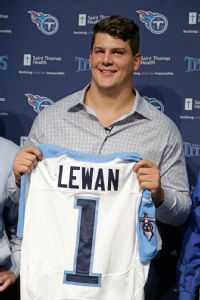 AP Photo/Mark HumphreyTaylor Lewan was the first Big Ten player selected, going 11th overall to the Tennessee Titans.
Analysis:
Click here for my first-round thoughts
SECOND ROUND (6)
Analysis:
Hageman ends up in a really good spot with the Falcons. Although Latimer had an excellent pre-draft performance, it wasn't surprising to see him end up in the middle of the second round. Hyde waited longer than many anticipated, but he enters a great situation with a team that loves to play power football. Robinson joins a new-look Jaguars passing attack featuring quarterback
Blake Bortles
and wideout
Marqise Lee
.
THIRD ROUND (6)
Analysis:
Everyone had Southward going before Borland, right? Borland, the 2013 Big Ten defensive player of the year, had an exceptional college career, but concerns about his height and perhaps his injury history moved him down the draft boards. The Iowa Effect shows up here as both Fiedorowicz and Kirksey were swept up by teams that respect what the Hawkeyes do. What does it say that Michigan's offensive line struggled mightily in 2013 but had two tackles drafted in the first three rounds? Those young Wolverines linemen had better step up this fall.
FOURTH ROUND (4)
Analysis:
Some really good pickups in this round, especially White, who will fit in very well with New England's offense. Although
James Morris
received the most accolades among Iowa's linebackers at the college level, both Kirksey and Hitchens were mid-round selections, while Morris went undrafted and signed with New England as a free agent. As a Chicago Bears fan, I love the Vereen pick. He's a smart, athletic versatile player who knows from his older brother what it takes to succeed in the NFL.
FIFTH ROUND (5)
[+] Enlarge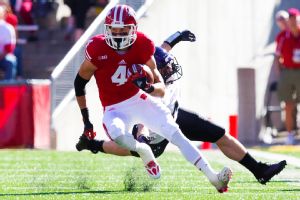 Jeff Hanisch/USA TODAY SportsJared Abbrederis isn't venturing far from Madison as he was drafted by the Green Bay Packers.
Analysis:
Like his teammate Borland, Abbrederis had a much longer wait than expected but lands in a very familiar spot with Green Bay. I think he's a steal and will surprise people with his ability to make plays despite less-than-ideal measurables. Pamphile had a fairly quiet college career but is seen as a project and could develop into a better pro. Urschel is another player who lacks the ideal physical traits sought in the NFL, but could make up for it with exceptional intelligence.
SIXTH ROUND (1)
Analysis:
Enunwa complemented his superb blocking skills with big-play ability in the pass game as a senior. He's a good value for a Jets team that needs to boost the league's 31st-ranked pass offense.
SEVENTH ROUND (4)
Analysis:
All four players could be very good values. Bolser is an athletic tight end who had 15 career touchdown catches. Allen showed versatility as a senior, transitioning to a 3-4 scheme. Gallon heads to a Patriots team that has had success with smaller, productive receivers. Bryant likely would have been selected higher if not for major leg and ankle injuries last season.
Here are the draft picks per B1G team:
Ohio State:
6
Wisconsin:
5
Michigan:
3
Penn State:
3
Nebraska:
3
Iowa:
3
Purdue:
2
Minnesota:
2
Indiana:
2
Michigan State:
1
The big surprise is a Michigan State team that dominated Big Ten play and won the Rose Bowl had just one player selected, as standout linebackers
Max Bullough
and
Denicos Allen
didn't have their names called. Only four teams -- LSU, Alabama, Notre Dame and Florida State -- had more selections than Ohio State. Illinois, which led the Big Ten in draft picks last season (4) and had 18 picks between 2009-13, had no selections. Northwestern also went without a draft pick for the second straight year.
Curious about the Big Ten's undrafted free-agent signings? Check back in a bit as we take a look.
January, 8, 2014
1/08/14
11:42
PM ET
Michigan's offense has hopscotched under Brady Hoke, never establishing an identity despite repeated claims about a clear philosophy. We always hear about who the Wolverines want to be, but because of personnel, youth or fickle schematic decisions, we rarely see who they are.
Perhaps the best thing about Michigan's offensive coordinator transition was the lack of indecision. Hours after Michigan announced Al Borges had been fired, reports surfaced that Alabama offensive coordinator
Doug Nussmeier would be his replacement
. Hoke knew who he wanted, targeted him and got the deal done (the team has yet to officially confirm Nussmeier's hiring).
It's up to Nussmeier to refine Michigan's offense for the 2014 season. Otherwise, both he and Hoke could be looking for jobs in December. It's that simple.
[+] Enlarge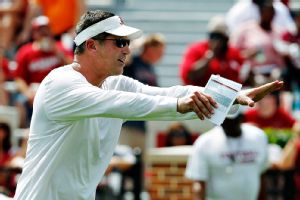 AP Photo/Butch DillHiring former Alabama offensive coordinator Doug Nussmeier is a step in the right direction for a Michigan offense that has sputtered lately and struggled to find an identity.
Nussmeier is a proven coach with an impressive track record, most recently at Alabama, which defended its national title in his first year as coordinator and put up solid offensive numbers this past season as well (38.2 points per game, 454.1 yards per game). Regardless of whether Alabama coach Nick Saban let Nussmeier walk to pave the way for Lane Kiffin, Michigan seems to be getting a high-quality coach. CBSsports.com's Bruce Feldman reports that Nussmeier, who earned $680,000 in 2013, will become
one of the five highest-paid coordinators in college football
. That's fine, too, as Michigan makes more than any Big Ten team and has yet to translate all that dough to championships on the field.
Hoke's rhetoric about Big Ten-title-or-bust and Team OneThirtySomething rings hollow until his teams start showing they can live up to Michigan's storied past. Rivals Ohio State and Michigan State have bypassed Michigan, and 2014 is pivotal for Hoke and the Wolverines, who enter the same division as the Buckeyes. They need to go for it now, and the Nussmeier hire is a good sign that they are.
Nussmeier must take a group of players, some recruited by Rich Rodriguez's staff and some by Hoke's staff, and mold them into a unit that's easy to identify. Quarterbacks such as Alabama's
AJ McCarron
, Washington's
Keith Price
and Michigan State's Drew Stanton and Jeff Smoker have improved under his tutelage. He must facilitate similar upgrades with Michigan's
Devin Gardner
and/or
Shane Morris
.
A record-setting signal-caller at Idaho who played in both the NFL and CFL, Nussmeier knows quarterbacks, but his first priority at Michigan will be resurrecting a run game that went dormant the past two seasons. Michigan's young offensive line needs to grow up in a hurry, especially after losing left tackle
Taylor Lewan
, a first-round draft pick in April, as well as right tackle
Michael Schofield
, a three-year starter. Nussmeier isn't exactly inheriting the Alabama offensive line in Ann Arbor. Or Alabama's running backs, for that matter. There's some young talent at Michigan, but it needs to be coached up.
As much criticism as Borges received, some of it deserved, coordinators can't do much when their offenses are incapable of generating moderate rushing gains between the tackles. Michigan set historic lows on offense this year, becoming the first FBS team in the past 10 seasons to record net rush totals of minus-20 or worse in consecutive games (losses to Michigan State and Nebraska).
Nussmeier has worked in different conferences as well as in the NFL (St. Louis Rams), but his stint in the Big Ten at Michigan State should help him in his new gig. His basic philosophy as a pro-style coach doesn't differ dramatically from Borges -- or what Hoke wants -- and shouldn't turn off Michigan's 2014 recruits.
But his ability to evaluate the strengths of Michigan's players and tailor his scheme around them will determine his success or failure. When Borges built a game plan around what Gardner does best, as we saw against both Notre Dame and Ohio State, the results proved positive. But we saw too much tweaking, too many versions of the Michigan offense, too many attempts to show who is the smartest coach in the building.
Nussmeier is a future head coach and entered the mix for recent vacancies at both Washington and Southern Miss. It might be hard for Michigan to keep him, but the future beyond the 2014 season isn't really important.
Michigan acted quickly and decisively Wednesday night. Nussmeier must do the same in refining the identity of an offense that will determine a lot about where Michigan is headed under Hoke.
October, 22, 2013
10/22/13
5:00
AM ET
1. Michigan fans couldn't get Rich Rodriguez out of town fast enough. But it's worth noting that Brady Hoke's best offensive players are fifth-year seniors recruited by Rodriguez. That includes Saturday's record-setters, quarterback
Devin Gardner
(503 passing yards, 584 yards of total offense) and receiver
Jeremy Gallon
(369 receiving yards), as well as
Fitzgerald Toussaint
(four rushing scores Saturday) and starting tackles
Taylor Lewan
and
Michael Schofield
. Then again, offense wasn't RichRod's problem at Michigan.
2. There's the speculation at the top of the BCS standings, where No. 2 Florida State and No. 3 Oregon may leapfrog one another the next three weeks as their schedules ebb and flow. Then there's the battle at the other end, where No. 17 Fresno State and No. 18 Northern Illinois are jockeying with one another and both trying to stay in front of No. 20 Louisville and No. 23 UCF from the AAC. If one of the former finishes ahead of one of the latter, that will guarantee a BCS bid. The BCS ratings always provide fodder.
3. Senior quarterback
Clint Trickett
left Florida State after spring ball when he realized that he wouldn't beat out redshirt freshman
Jameis Winston
. On Saturday, Winston threw for 444 yards at Clemson and became a Heisman frontrunner. Trickett started at West Virginia and threw for 254 yards and a touchdown against Texas Tech. But the Red Raiders outscored the Mountaineers 21-0 in the last 20 minutes to win, 37-27. Over the last five possessions, Trickett completed 6 of 11 passes for 19 yards. The offense made one first down.
September, 17, 2013
9/17/13
9:00
AM ET
ANN ARBOR, Mich. -- The old adage "you play like you practice" had never hit so close to home for Michigan.
And it's the answer to why the Wolverines looked so out of place against Akron, a team that had lost 27 consecutive road games.
[+] Enlarge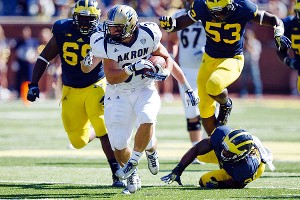 Rick Osentoski/USA TODAY SportsAkron gave Michigan a scare before losing to the Wolverines, 28-24.
You play like you practice -- simple, old-school, Pop Warner football knowledge. There's nothing groundbreaking there.
So it should surprise no one that when Michigan practices and prepares poorly, that's the product that's put on the field.
"We knew we didn't give our best effort throughout the week, and we knew that everything that happened during that game, we deserved it because we didn't give it all we had," sophomore linebacker James Ross said. "Everybody, the whole team, it just wasn't a good vibe."
Was it a letdown from the previous weekend, when all the pomp and circumstance was brought in for the last Michigan-Notre Dame game in Michigan Stadium? Yes.
Did it become a wake-up call for the Wolverines? Yes. From the moment the game ended, the renewed sense of urgency was obvious among every player.
Is it a sign of something more troubling for Michigan? Absolutely. After all, technique and fundamentals are teachable. Attitude and effort are not.
Sometimes, fundamentals and technique trump attitude and effort. Chances are that Alabama or Oregon could've prepared poorly for a team like Akron and still won handily. They have an experience factor.
The Wolverines don't. They're young across the board. And they're especially young at some very crucial spots.
Their defensive line combines for 29 career starts. At times, coach Brady Hoke admitted, there was a lack of communication on the line. There were missed assignments and, because of it, wide-open gaps.
Without the pressure up front, Akron QB
Kyle Pohl
had time inside (and outside) the pocket. The Zips outgained Michigan in the passing game, 311 yards to 248 yards. On the ground, they rushed for 107 yards -- 11 more yards than the Fighting Irish gained against Michigan the previous week.
That goes back to game-week prep.
Michigan's interior offensive line combines for nine starts. And that inexperience seemed evident as Akron packed the box with eight defenders on many plays, making it impossible to create double-teams on the interior line. It forced the Wolverines' young tight ends to block more, and as a result it put more pressure on quarterback
Devin Gardner
.
The Zips dared Michigan to beat them in the air, and Michigan didn't. It couldn't.
That goes back to game-week prep.
The Wolverines aren't good enough to wing it. Yet they spent last week acting as if they could, apparently.
"We had a really bad week of practice, too, and it all just kind of played in together," senior right tackle
Michael Schofield
said. "People kept saying, 'Oh, you guys should beat them by 50. You guys should only play one half,' and everything. We kind of let that get to our head."
One reporter followed up: So you bought in to that?
"Yes," Schofield said.
They bought into it even though one of the Wolverines' goals is to get better every day.
Last week, Hoke had said he didn't like the way his team practiced on Tuesday as he began installing game specifics for Akron. He didn't think his team improved that day.
By 3:20 p.m. on Saturday, Michigan had defeated Akron 28-24. Even with the win, it was another day Michigan didn't improve, according to Hoke.
By 4:07 p.m., Hoke had decided to call a Sunday practice in full pads, something he has rarely done at Michigan.
"We needed that," senior left tackle
Taylor Lewan
said. "This team needed that. I think we were a tough, hard-nosed football team, and then we kind of got away from that this week. I think that was coach Hoke giving us a reality check."
There were bright spots -- though few and far between -- in the win over Akron. When the Wolverines needed to score, they marched down the field and got
Fitzgerald Toussaint
into the end zone. And when Michigan needed a goal-line stand to win the game, the defensive line and linebackers
Desmond Morgan
and
Brennen Beyer
came up big.
Maybe that goes back to the two-minute drills the Wolverines practice. Those, perhaps, went well last week. And Hoke said he'll implement an additional one of those in this week's practices.
He and the rest of the Wolverines are working to get better each day this week, so they're prepared when they take the field against UConn on Saturday night.
It's another team that Michigan
should
beat. But the Wolverines know that doesn't mean too much.
"I don't have any doubt in my mind that this team understands what happened Saturday, that they know it's not acceptable," Lewan said. "They're focused. And we're going to prepare like no other team has ever prepared before."
Week 4? It's about time.
July, 25, 2013
7/25/13
3:00
PM ET
CHICAGO -- Michigan offensive tackle
Taylor Lewan
caused a stir this past spring when he announced that he and some Wolverines teammates had
bought a pig and named it Dr. Hamlet III
. The blogosphere, naturally, went nuts over this revelation.

On Thursday at Big Ten media days, Lewan went whole hog on the details of his short-lived swine time. Getting a pet pig was the brainchild of him and his roommates
Erik Gunderson
,
Michael Schofield
,
Jack Miller
and
Graham Glasgow
, who are all fellow offensive linemen.
"So we bought a pig," Lewan started off, and if there's a better way to begin a story, I haven't heard it. "Offensive linemen are hogs, and that's how that works."
Where do you find a pig? Craigslist, of course. The linemen pooled their money and spent $250 for a teacup pig. As for the robust name?
"I don't know," he said. "I just wanted my pig to have a Ph.D."
The Wolverines players weren't quite prepared for what they had gotten themselves into, however.
"It was fun for about two weeks," Lewan said. "Then the pig got kind of mean. We weren't neglecting it or anything. We were being sweet to it."
The little porker's sour disposition wasn't totally his fault. The house Lewan and his teammates are renting has a lot of hardwood floors and tile, which does not combine well with a pig's hooves. Lewan said Dr. Hamlet III ended up confined to a small rug area roughly the size of a ballroom round table.
"I thought it was going to be a good deal, but I didn't realize the hooves of a pig struggle so hard with the tile," Lewan said. "It got in the kitchen one time, and it was like watching Bambi on the ice, if you've ever seen that movie. It was so comical."
After about two weeks, the players decided that their pig experience needed to end. Lewan said Gunderson arranged for Dr. Hamlet III to find a more suitable home.
"A living animal can't be confined to a small space like that," he said. "So we decided that the best thing for the pig was to give it away, and now he's a happy pig. We sent it to a farm where it could do pig things."
As for the Wolverines linemen, Lewan said they've given up on the idea of having a pet this year. Not even a dog or a cat?
"Nah," he said. "That's too normal for us."
March, 13, 2013
3/13/13
9:00
AM ET
Michigan begins spring practice on Saturday with both some question marks and some major returning talent. Brady Hoke says of his team: "We're very young. But these guys have a lot of fight to them." There will also be a lot of fighting for starting jobs, beginning in a few days. I recently caught up with the third-year Wolverines coach for his thoughts on the approach of spring ball:
What are the main things you're looking for this spring?
Brady Hoke:
Well, you know, we've got a lot of open spaces. Some guys graduated, some guys aren't with the program anymore and we've got a lot of young guys. I think we only have 11 starters back on both sides of the ball, so there's going to be a lot of great competition, which is exciting. I think the leadership of our seniors, they've done a nice job of holding everybody accountable. But when you get out there with the pads on, it's a little different than just running around in shorts.
[+] Enlarge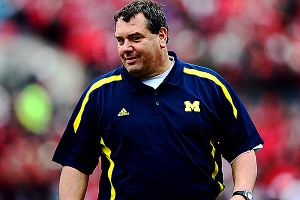 Andrew Weber/USA TODAY SportsWith only 11 returning starters, Michigan coach Brady Hoke said he's excited about the competition this spring.
Some of that competition will be on the offensive line, where you've got three open jobs on the interior. How do you see those battles right now?
BH:
Well, I think the interior of both lines, there's going to be a lot of competition. We've got to find a center, and that's between [
Jack] Miller
and [
Graham] Glasgow
, and
Joey Burzynski
will try to figure that out a little bit, too. At the guard positions,
Ben Braden
is going to move down inside and start out at the left guard, but he'll have a lot of competition because Burzynski is back and so is
Blake Bars
.
Kyle Kalis
will move into the right side, and it will be interesting again with [
Kyle] Bosch
and some of the guys who have been here a little bit. I think it will be a really good competition at all three of those inside positions.
Having
Taylor [Lewan
] back is huge. I think it's great for him and great for Michigan.
Mike Schofield
has had a really good winter. He had some real bright spots during the course of last season, and I think his development is going to be something special.
You mentioned the defensive line, where you also lost a couple of veterans. How does that shape up?
BH
: I think inside, we get
Jibreel Black
for another year and
Quinton Washington
. But once you get through that, there are a lot of young guys ...
Willie Henry
,
Ondre Pipkins
,
Ryan Glasgow
,
Richard Ash
and
Chris Wormley
are all guys who can either play the inside tackle or the strongside end. We'll find out the guys who are competitive.
Tommy Strobel
is another guy we think had a real good winter, and
Keith Heitzman
. So it's going to be fun to see them compete.
Does having so many young guys in key spots on the line make you nervous? Or do you have a lot of confidence in them because you recruited most of them?
BH:
I think it makes you nervous if you think you may have recruited the wrong guys. But we like the work ethic. We like how they've come in to learn and with a lot of enthusiasm. I think there's some competitiveness that we need to keep pushing as a program. You know, we lost five games on the road. We've played pretty well at home but we've got to do better on the road and that's a mindset, a mentality that you have to compete through everything, on every down.
Devin Gardner goes into spring practice as your starting quarterback. How has he developed as a leader?
BH:
I have been really excited about the progress he's made. I'm seeing that maturity that it takes and the leadership it takes and the competitiveness it takes to be the quarterback at Michigan. I think that's a real big part of how he's grown, and I think he's done a nice job with it. I'm liking the direction he's going, and hopefully he can just keep going and keep growing.
What about your running back position this spring, with Fitz Toussaint hurt and Derrick Green not there yet?
BH:
You know, Fitz has come along pretty well. I don't think he'll do a lot of contact or anything like that, but I think he'll be cleared for a lot more drill work. That's gone real well. We've moved [
Dennis] Norfleet
back to running back and we're going to give him an opportunity. Dennis, he's a smaller guy, but he's a very competitive, very tough young man.
Drake Johnson
is a guy we redshirted a year ago, and we really liked the way he competed in scout situations. In the bowl practices, we did some scrimmages and gave him a lot of carries, and we're very excited about what he has to offer.
Thomas Rawls
is coming back, and I think he learned a lot last year about the vision he needs to play with, and I like how he's competed through the [winter]. And
Justice Hayes
is a guy who gives you a little bit different look because of how he can get on the perimeter. He did some things in a couple of games last year, but now I think he'll have a big stage to prove himself more this spring. And he's a bigger guy now, he's 190-something pounds, so he's a little bigger.
[+] Enlarge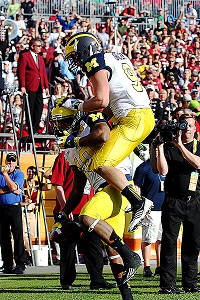 Kim Klement/USA TODAY SportsMichigan coach Brady Hoke said that he's pleased by more than just the on-field success of WRs Drew Dileo and Jeremy Gallon.
You have Jeremy Gallon back at receiver, but you lost Roy Roundtree. You sounded excited about some of the younger guys there during bowl prep. Is spring their time to step up now?
BH:
Yeah, I think so. First of all, I think the leadership with Gallon and
Drew Dileo
, they've done a really nice job being leaders at that position. They're not big guys, but they have a real spirit for the game and really do a nice job of working and leading. We have
Amara Darboh
, who played a little last year, and
Jehu Chesson
, who we redshirted a year ago. And I think
Jeremy Jackson
has had a very good winter; we're very excited about some of the progress he's made.
Joe Reynolds
is a guy who walked on here, and he's done a very nice job. And
Bo Dever
, his dad played here and he walked on. I think that during the course of the spring, we'll be in pretty good shape there. I think as we keep going, we'll keep improving at that position.
Linebacker was a strength for you last year and looks to be so again. Do you see some good competition there this spring, particularly at the weakside spot?
BH:
Yeah, I think with
Desmond Morgan
and
James Ross
, there's going to be great competition.
Joe Bolden
and
Royce Jenkins-Stone
and
Mike Jones
are all guys who are very competitive, and I think the three young guys coming in are going to be guys who will give us a lot of good competition and a lot of good depth.
Kaleb Ringer
is coming back from injury, so we'll see what he can give us. At the sam linebacker,
Jake [Ryan
] is coming back, and we really like what
Cam Gordon
has done during the winter. So I think we feel a little stronger at that position.
How do you replace what Jordan Kovacs gave you in the secondary?
BH:
I don't know if you ever replace that kind of leadership, but I really think
Thomas Gordon
, he's played a lot of football here, and it's time for him to demonstrate the leadership. And he's doing that. Because of the number of snaps and everything he's done, he's really fallen into his own a little bit.
Courtney Avery
has played a lot of football, and whether he's a corner a nickel or wherever, he's got to give us great leadership and great reps.
Blake Countess
is getting healthier; he'll do some things during the spring.
Josh Furman
, I think, has come on.
We've got to see where
Terry Richardson
is and where
Marvin Robinson
is. Both those guys have played a number of snaps. We've got
Raymon Taylor
back, who I think started every game for us last year, we're excited about his development.
Dymonte Thomas
is a guy who's going to compete, and he'll pressure some guys.
Jarrod Wilson
is another guy who played some last year for us. Ross Douglas is here early.
Jeremy Clark
is a 6-foot-4, 210-pound safety we redshirted a year ago, and it's going to be a big spring for him to make some moves.
So I think we may have more personnel back there. And even more in the fall when
Channing Stribling
gets in, and
Reon Dawson
gets in and
Jourdan Lewis
. I think it's going to add something to our secondary.
Finally, what has your message been to the team this offseason after last year's 8-5 season?
BH:
Well, our message has been, we haven't met the expectations at Michigan. That's something that as a football community… that we really feel that we have to do a much better job in all areas, from the coaching aspect of it, from learning and playing with the competitiveness we want to have, from every player at every position playing with the intensity we want to play with. It's about having a mindset and a mentality of how we want to play the game. We make no excuses, but at the same time, we know we have a lot we can do to play better football.
January, 9, 2013
1/09/13
6:41
PM ET
Taylor Lewan
had every reason in the world to leave Michigan.
The 6-foot-7, 302-pound junior left tackle had seemingly accomplished just about everything he could from an individual standpoint. He was named the 2012 Big Ten offensive lineman of the year and was a first-team All-American. He more than held his own against South Carolina's
Jadeveon Clowney
-- the most fearsome defensive end who's not currently collecting paychecks -- in the Outback Bowl.
Lewan's draft stock doesn't have a lot of room to grow. Scouts Inc. rated him as the No. 13 overall prospect for the 2013 draft and the No. 2 offensive tackle. Mel Kiper Jr. also had Lewan at No. 13 on
his latest Big Board

. Lewan would likely have battled Texas A&M's
Luke Joeckel
to see who was the first offensive lineman taken in April.
[+] Enlarge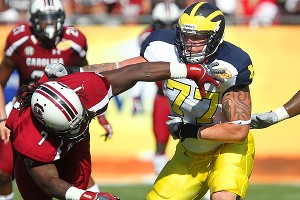 Cliff Welch/Icon SMITaylor Lewan held his ground against South Carolina's Jadeveon Clowney in the Outback Bowl.
Instead, Lewan stunned everyone on Wednesday night by announcing he would come back to campus. The pull of playing one more year for the Wolverines turned out to be stronger for him than cashing in right now.
And Michigan couldn't be happier about that.
Lewan already spent this past season as the anchor of a Michigan offensive line that did not live up to expectations at the other spots. He'll now carry even more weight on his shoulders as the undisputed leader of what could be a very young line.
Only one other starter -- right tackle
Michael Schofield
-- will return next season. Head coach Brady Hoke has made it a priority to recruit offensive linemen who fit his system more than previous coach Rich Rodriguez's style and to build depth at a position that was thin upon his arrival two years ago. Now he'll get a chance to at least bring his young tackles along more slowly. Redshirt freshmen
Ben Braden
(6-foot-6, 308 pounds) and
Erik Magnuson
(6-6, 285) would likely have been thrust into one of the starting tackle spots had Lewan left. They instead will either have to beat out Schofield, move to guard or simply get more seasoning as backups.
The line will still be inexperienced at the inside spots and must build cohesion this offseason. Question marks at that position were a main reason why we only placed Michigan fifth in our
early 2013 Big Ten power rankings
. Of course, at the time we figured Lewan was gone.
So, too, did just about everybody else. Lewan said even his father thought he'd skip his senior year. But Lewan had a lengthy conversation with former Wolverine star
Jake Long
about staying in school. Long also spurned the NFL after his junior year ended up as the No. 1 overall draft pick in 2008.
Lewan said he was told by the NFL draft advisory board that he would have been a high first-round pick. He could certainly parlay a big senior year into an even higher selection, but you have to wonder if the difference in money between maybe 5-to-10 slots in the first round versus the potential to get hurt next season is a gamble worth taking. Lewan said he'd definitely take out an insurance policy. We also saw from
Montee Ball
's season that sometimes things don't go smoothly when you return after a star-studded junior year.
But Lewan is also a fun-loving guy, one who famously rode a tandem bicycle around campus last year. Though he's matured greatly since his freshman year, sticking around college one more year and trying to lead the Wolverines to a Big Ten title are perfectly reasonable desires, even if they don't necessarily make for the wisest business decision.
Quarterback
Devin Gardner
certainly won't complain, as he'll have the best blindside protector in college football guarding him next year. You couldn't blame Gardner for roaring his approval of Lewan's decision right now, along with Maize and Blue fans everywhere.
March, 22, 2012
3/22/12
2:30
PM ET
Michigan offensive coordinator Al Borges likes what he has to work with this spring. And who wouldn't be excited about
Denard Robinson
and
Fitz Toussaint
returning in the backfield as the offensive core?

But like every team, the Wolverines have some issues. One of the key concerns is building a solid two-deep along the offensive line.
"It's a position where we feel good about the kids who are playing," Borges said. "We just need to enhance our depth."
Michigan must replace Rimington Trophy winner
David Molk
at center, and
Ricky Barnum
will get the first crack at the gig. Barnum was injured most of last season, and has played left guard in the past.
"He's athletic," Borges said. "Ricky can move. He's really has the profile more of a center. He's smart, he understands who to block and he's played some guard, which should have some carry-over to center. So I think Ricky is going to be fine."
Making up for Molk's leadership might be the toughest task this spring. Borges said Barnum, left tackle
Taylor Lewan,
and senior guard
Patrick Omameh
should help pick up the slack in that area.
The starting group up front should be solid, with senior
Elliott Mealer
taking over at left guard, and
Michael Schofield
moving to right tackle to replace
Mark Huyge
. Behind them is a lot of inexperience. Borges said redshirt freshmen
Jack Miller
and
Chris Bryant
should contribute. And an incoming freshman like
Kyle Kalis
has a chance to crack the depth chart.
"We'll see how quick they can pick it up," Borges said.
Another area of concern is tight end, which loses departed seniors
Kevin Koger
and
Steve Watson
. Borges said senior
Brandon Moore
, who has played sparingly, and
Ricardo Miller
, who's more of a receiving tight end, will get the bulk of the work this spring. But it's a position that remains unsettled.
"We're looking at other kids, and the jury is still out," Borges said. "It's a position where, if a freshman came in and showed something, he could probably make a contribution."
Incoming recruit
Devin Funchess
could be that guy, though he'll likely need to put on some weight. The Wolverines also signed
A.J. Williams
as a tight end prospect.
"Seeing who's going to come to the forefront and be our starting tight end this spring, that's huge," Borges said.
October, 15, 2011
10/15/11
11:15
AM ET
EAST LANSING, Mich. -- It's windy and a bit chilly at Spartan Stadium, but the sun has poked through the clouds and should stick around for kickoff of this key Legends Division matchup.
The buzz in this rivalry is palpable. Michigan State students were in their seats nearly two hours before the scheduled start, and they lustily booed Michigan's kickers during warm-ups. They cheered when the Spartans entered the stadium for their pregame walk, as most of the players were already wearing their bronze helmets that will be part of today's special uniforms.
The wind -- with predicted gusts as high as 45 mph -- could play a major factor in the kicking and passing games. The wind is coming in over the west side of the stadium and will likely cause swirls on the field and the end zones.
As far as injury updates go, Michigan State will welcome back receiver
Bennie Fowler
from a foot problem. Defensive lineman Tyler Hoover is still out. Michigan guard Ricky Barnum is dressed and may play but isn't expected to start as he recovers from an ankle injury. Michael Schofield will continue to start in Barnum's place.
June, 2, 2010
6/02/10
11:00
AM ET
Wisconsin running back
John Clay
might be the Big Ten's best hope for the Heisman Trophy this season, which will make you scratch your head after reading this next statement.
The Badgers can survive without him.
Not to diminish Clay's size and power, which Wisconsin would miss if he goes down, but the Badgers aren't exactly starved for running backs.
Montee Ball
showed flashes as a true freshman the past season, and
Zach Brown
boasts more experience (36 games played) than any other Big Ten backup back.
And whomever carries the ball for Wisconsin will benefit from working behind one of the nation's top offensive lines. Left tackle Gabe Carimi and guard John Moffitt get most of the buzz, but Wisconsin returns all five starters up front, as well as others like Bill Nagy who boast game experience.
The Badgers are one of several Big Ten teams who can survive the loss of a key player or two, as long as it isn't quarterback
Scott Tolzien
.
The reason why Ohio State has won or shared the past five Big Ten championships: their depth chart. Take the linebacker position, for example. The Buckeyes have two of the Big Ten's best in Ross Homan and Brian Rolle, but they also can turn to a guy like Etienne Sabino, or younger backers Storm Klein, Dorian Bell and Andrew Sweat. Tyler Moeller also should return to the field this fall, although he'll likely see more time at safety.
Indiana's
Tandon Doss
and Purdue's
Keith Smith
were the media's picks for the first-team All-Big Ten squad in 2009, and both players are primed for big seasons this fall. While both also would be big losses, their teams have other options. Indiana can turn to
Damarlo Belcher
and
Terrance Turner
, or younger players like
Duwyce Wilson
. Purdue always boasts depth at receiver and has options like
Cortez Smith
,
Antavian Edison
and
Gary Bush
behind Smith. And don't forget about incoming freshman O.J. Ross or
Justin Siller
, the reinstated former starting quarterback.
Speaking of the offensive skill positions, Michigan State and Iowa boast similar depth. Both teams have potential All-Big Ten players --
Keshawn Martin
,
Derrell Johnson-Koulianos
,
Marvin McNutt
,
Keith Nichol
-- but can truly lean on their strength in numbers. Michigan State quarterback
Kirk Cousins
is a very lucky man, as he'll have four capable wideouts, three capable tight ends and at least two capable running backs at his disposal. Iowa's
Ricky Stanzi
also has weapons at wideout with Johnson-Koulianos and McNutt, as well as three solid options in the backfield with
Jewel Hampton
,
Adam Robinson
and
Brandon Wegher
.
Michigan has several areas of concern entering 2010, but offensive line shouldn't be one of them. The Wolverines return five linemen who started part or all of the past season, led by veteran guard Stephen Schilling. Michigan has five offensive linemen who have three years of experience under their belts, not to mention promising young prospects like Taylor Lewan and Michael Schofield.
Flipping to the other side of the line, look at Penn State. Sure, the Nittany Lions lose Big Ten co-Defensive Player of the Year Jared Odrick, but there's no reason to doubt defensive line coach Larry Johnson and his personnel. Penn State will have depth up front yet again with guys like Jack Crawford, Ollie Ogbu, Devon Still, Eric Latimore and Kevion Latham.