NCF Nation:

Michael Taylor
August, 26, 2014
Aug 26
2:00
PM ET
GAINESVILLE, Fla. -- The true measure of any recruiting class' worth isn't fully realized until a couple of years down the road. Regardless of the hype and golden stars racked up before signing day, getting the most out of a class takes time.
[+] Enlarge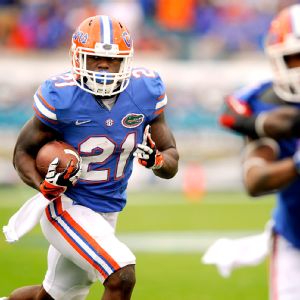 AP Photo/Stephen MortonRunning back Kelvin Taylor and the rest of the Florida Gators' underclassmen are looking to rebound from a 4-8 season in 2013.
For Florida, that time might have to be now for its 2013 class following last season's 4-8 debacle. It's a class that ESPN's RecruitingNation ranked second nationally with its 30 signees and 16 ESPN 300 members and held the nation's best high school cornerback --
Vernon Hargreaves III
-- and running back --
Kelvin Taylor
. It grabbed a potential game-changing receiver in
Demarcus Robinson
and 12 players who ranked within the top 10 at their respective positions.
The Gators will certainly need a lot from their upperclassmen, but the 2013 class could hold the key to Florida's present -- not just its future -- especially after a handful of its members were thrown into the SEC fire last season.
"We knew we wanted to come in and make an impact," said sophomore receiver
Ahmad Fulwood
, who caught 16 of his 17 passes in the final seven games of last season. "Not necessarily take someone's position or anything out of the ordinary, but we knew we had to come in and make an impact as a class and that's pretty much what we did."
For the most part, this class was mainly constructed of a group of contributors last season, with Hargreaves and Taylor being the headliners. Hargreaves was a third-team All-American member and ended up being one of the nation's best corners, leading the Gators with three interceptions and ranking third in the SEC with 14 passes defended. Taylor was a freshman All-SEC selection after rushing for 508 yards and four touchdowns.
Eleven members of the class lettered last season and collected 22 combined starts. With the majority of the class redshirting, even more is expected from this group, but players don't feel any added pressure. They don't mind the added responsibility.
"I feel like the guys who the coaches are looking at will definitely be able to step up," sophomore linebacker
Jarrad Davis
said. "They know what to do and they know they're talented."
"These guys are ready to take on that role."
And it isn't just the talent and potential this class contains that has teammates and coaches trusting it. Once players saw injuries piling up, Taylor said the freshmen realized they were going to be counted on more so they started to buckle down with their preparation.
In a year in which this group could have resisted and pushed away from the core group, it grew closer and began to see older players looking up to them. Not even a year removed from high school, and this group was being relied on to help carry the team through some very dark weeks in 2013.
"You were a freshman, but they were depending on you to win games," Taylor said.
The wins didn't come, but resiliency did, redshirt senior linebacker
Michael Taylor
said. What impressed him the most was how this group continued to work through an exhausting seven-game losing streak.
"When you face adversity that you'll see in a 4-8 season, those guys kept fighting through all of it -- through the injuries, through the losses," Taylor said. "That's what shows that they have what it takes to take ownership of the team and lead us."
Moving forward, the contributions from this class will only grow.
Keanu Neal
,
Marcell Harris
and
Nick Washington
could be staples in Florida's secondary this year. Following a suspension-filled first year, Robinson has been one of the Gators' best offensive players during the offseason, and Fulwood has been even more consistent and could be a real vertical threat for the offense this fall.
Roderick Johnson
is the next tackle in line after vets
D.J. Humphries
and
Chaz Green
, while linebacker
Alex Anzalone
has a chance to see time in Florida's linebacker rotation.
Davis was pegged as an early leader for the Gators last season and is right in the thick of a battle for a starting spot.
Joey Ivie
and
Jay-nard Bostwick
are in the early rotation along the defensive line, and
Caleb Brantley
has the chance to play his way in to as well.
This group has barely scratched the surface, but Taylor said guys are playing faster and thinking less. Last year this class was asked to learn, now, Taylor believes it will lead. Then, well, Taylor expects big things ... soon.
"Our whole mindset was that we were going to come here together and try to win a national title," he said.
"Now that we're so close, like brothers, it's going to be special in the future. We're looking forward to it."
November, 26, 2013
11/26/13
11:00
AM ET
GAINESVILLE, Fla. -- Every year the most storied rivalries in college football add another chapter. On Saturday in the Swamp the steamroller squares off against the spoiler.
This is what it's come down to: The once-mighty Gators are merely a speed bump in the way of the hated Seminoles' ascension to the mountaintop of a BCS championship berth. Florida may lack the firepower to compete with the nation's No. 2 team, but the Gators still insist they have the fire to pull a colossal upset.
[+] Enlarge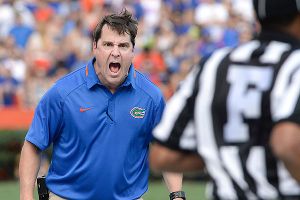 AP Photo/Phil SandlinWill Muschamp hasn't had much to be happy about this season, as the Gators have clinched a losing season for the first time since 1979.
"Our guys understand the importance of this game," UF coach Will Muschamp said. "We'll work hard and we'll have a great crowd just like we did this past Saturday to support our guys. [It's] one of the great rivalries in all of college football. Florida State's got a good football team. They're having a great year. It would help us a lot to go get a win."
What a year it's been for Florida State and Florida. Neither team can wait for the regular season to end on Saturday -- the Noles so they can begin their quest for postseason glory; the Gators so they can begin to wash out the sour taste of one of the worst seasons in school history.
It's hard to fully grasp just how far these archrivals have gone in opposite directions since they played one year ago.
While the Seminoles (11-0, 8-0 in the ACC) have run roughshod over their conference, Florida (4-7, 3-5 SEC) has fallen flat and lost six in a row, including its final five league games.
Both schools have made history this season. Florida State scored a school-record 80 points last week against Idaho and has already broken the school and ACC records for points in a season, while Florida lost to an FCS opponent for the first time ever. With last Saturday's home loss to Georgia Southern, Florida clinched a losing season for the first time since 1979 and will see its 22-year bowl streak come to an end.
One last goal remains for the Gators -- beat their in-state rival.
"We've got to treat this like our bowl game," senior guard
Jon Halapio
said. "It really is our bowl game."
Another Florida senior, cornerback
Jaylen Watkins
, said it would "change the feeling around here" to shock the Noles on Saturday.
"It's motivating for everybody in that locker room," he said. "You want to go win this game and try to duplicate what we did last year, come out with a win and create some short fields for the offense. They're having a really good season, and we can end off on a good [note]."
Looking back at the way Florida defeated Florida State 37-26 in Tallahassee last season, Muschamp might consider it a proof-of-concept performance. The Gators executed their coach's philosophical approach to perfection with suffocating defense and a power running game that piled up yards against what was then the No. 1 rush defense in the nation. Florida was a national-championship contender ranked No. 6 entering that game and went on to play in a BCS bowl.
"Looking at last year's game, we're just going to try to emulate that," Florida quarterback
Skyler Mornhinweg
said. "We had some success against them last year, so we think we can have some success against them this year, too."
Mornhinweg, an inexperienced redshirt freshman who started the season No. 3 on the QB depth chart, could draw his third career start on Saturday against a revenge-minded Seminole defense if junior
Tyler Murphy
(questionable) misses his third straight game with a shoulder injury.
Either way, the quarterback position will be the most glaring difference in the two schools' contrasting seasons.
"They do have a stable quarterback," Watkins said of Heisman Trophy candidate
Jameis Winston
. "We've had both our quarterbacks go down this year."
The injuries for Florida are impossible to ignore. When linebackers
Michael Taylor
and
Alex Anzalone
miss Saturday's game, it will bring the number of players who have missed one game or more this season to a staggering 23, including 15 starters.
"Sometimes they come in bunches, sometimes they don't," FSU coach Jimbo Fisher said on Monday. "Injuries change your football team. That's why I keep talking about our youth development. You don't know when one of those things is going to occur. You have a plan for them, but those plans have to work.
"When you have the number they've had, I can understand it's been very difficult."
Florida's youth development plan will be on full display on Saturday, but for the Gators' 15 seniors there is only the bitterness of ending their careers on such a low note while their biggest rival comes in on such a high note.
"It's pretty frustrating," senior receiver
Solomon Patton
said. "That's our rival, and to see them actually on top right now and doing real good, it's pretty hard to see that."
The way their season has gone has left many a Florida fan sour and inconsolable. The idea of ruining the Noles' unbeaten season, however, offers a sweet consolation.
"This being our last game," Patton said, "we definitely plan on doing that."
November, 23, 2013
11/23/13
8:55
PM ET
GAINESVILLE, Fla. -- Just when it appeared Florida's season of discontent could get no worse, it did.
The Gators lost to an FCS opponent for the first time in school history Saturday, and with that
26-20 loss
to Georgia Southern, UF (4-7, 3-5 in the SEC) has its first losing season since 1979, as well as an end to a 22-year run of bowl games that was the longest active streak in the nation.
And Florida
paid
Georgia Southern $550,000 to schedule Saturday's contest.
Was it the worst loss in school history? The most humiliating? Does it matter at this point?
A season that began with promise and a 4-1 start has spiraled into a free fall with a six-game losing streak of which few inside the program can make sense. Facing the media Saturday and tasked with explaining another numbing low point, head coach Will Muschamp struggled to find new words or explanations for the state of his program.
"Very disappointed for our program," he said. "An embarrassment in this situation."
[+] Enlarge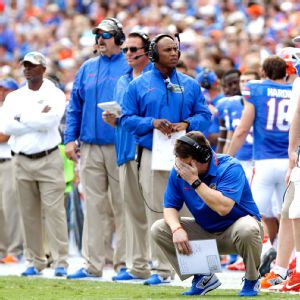 Kim Klement/USA TODAY SportsGators coach Will Muschamp was at a loss to explain the latest in a long string of disappointments.
As usual, the primary culprit was an inept offense that came into the game ranked No. 111 out of 123 FBS teams in total offense and generated 279 yards (4.5 yards per play).
"You've got to be able to change the scoreboard, and we just struggled scoring points offensively," he said. "It's been a week-in, week-out occurrence, and it's my job to get it fixed, and we will get it fixed. ...
"We've just got to keep working at what we're doing. We're struggling offensively, and it has infected our entire team right now."
On Saturday, however, Florida's defense shouldered as much of the blame, if not more, for another staggering loss.
Georgia Southern's 429 yards rushing were the fourth most Florida has allowed in school history. The Eagles also won without completing a pass (0-for-3).
Muschamp said earlier in the week that the Florida coaching staff began working on its defensive game plan for Georgia Southern in the offseason. But long running plays -- one each by GSU's quarterback (45 yards), tailback (66) and fullback (53) -- either scored or set up three of the Eagles' four touchdowns.
"It hurts," junior safety
Cody Riggs
said. "We didn't watch what we were supposed to be watching on certain plays, and those six, seven, eight plays are the ones that got them all of those yards."
It didn't help that Florida was playing without starting middle linebacker
Antonio Morrison
. Or that backup
Michael Taylor
injured the MCL in his right knee in the second quarter and did not return. Or that Taylor's replacement, true freshman
Alex Anzalone
, separated his shoulder during the game.
Injuries handcuffed the Gators' offense, as well. Starting quarterback
Tyler Murphy
, the backup at the start of the season, missed his second straight game with a nagging shoulder injury, forcing the Gators to turn again to redshirt freshman
Skyler Mornhinweg
.
But Florida was facing a team with similar injury problems. Georgia Southern, which plays within the FCS limit of 65 scholarships, has suffered 19 injuries this season, including 13 to starters. As a result, the Eagles have struggled to a 7-4 record (4-4 in the Southern Conference), including losses to Samford, Wofford and Appalachian State.
"I know [the Gators] have had a tough year. They've had a lot of injuries. So have we," GSU coach Jeff Monken said after his team stormed the field at Ben Hill Griffin stadium and lingered to enjoy the biggest win in program history. "We've got a lot of guys playing out there that weren't our starters at the beginning of the year and wouldn't have been starters right now had other guys been healthy. But we've continued to improve, and as those guys said, we've continued to fight."
The same cannot be said of Florida.
The Gators' patchwork offensive line struggled to run and pass block against its FCS foe, forcing a number of direct snaps, jet sweeps and wildcat plays in order to catch the defense off guard, despite the fact that the Eagles' starting defensive linemen averaged just over 6-foot-1 and 270 pounds. Mornhinweg had 6 yards passing at halftime. Florida rushed for 111 yards in the first half but just 46 in the second.
"We came out flat as a team," senior offensive guard
Jon Halapio
said. "We didn't play as a team today. We didn't communicate. We didn't block together. We didn't run the ball as efficient. That's something that we preached early on in the week, to not take this group of men lightly. They came out here and played their tails off. This was their bowl game. They had nothing to lose. We took them lightly, and we got outworked, outplayed, outphysicaled. You call it, it happened."
Now what happens at Florida is a week of preparation for arch-rival Florida State, followed by a merciful end to a painful season.
"As far as not going to a bowl game, I'm not gonna lie, I never would have seen that coming, coming to Florida," Riggs said. "That's very upsetting. A losing season, even though we were plagued by injuries, like I said, there's no excuses."
Without the excuse of injuries, however, the historic losses this season could throw into question the votes of confidence Muschamp received just more than a week ago from athletic director Jeremy Foley and UF president Bernie Machen.
Losing to Georgia Southern could have significant implications if the outcry from Florida fans is heard. Despite the negativity and the demoralizing losing streak, the Gators coaching staff still has the full faith of its players.
"We're not concerned," Riggs said. "I know that a lot of people around here have Coach Muschamp's back. He's a great coach, best coach I ever had. We're not worried about that. I've learned more under him than I have under any coach ever.
"Yeah, it's about winning. But some stuff you just can't control. We've had a lot of hardships this year. Not using that as an excuse again, but it's just a rough year for us."
March, 19, 2013
3/19/13
3:40
PM ET
Florida freshman linebacker
Alex Anzalone
will miss the rest of the spring
because of a torn labrum in his right shoulder
, coach Will Muschamp announced Tuesday.

Anzalone suffered the injury during a tackling drill and underwent surgery on Monday.
"It's a freak deal," Muschamp said. "It was in a tackling drill. He just got hit on it the wrong way. Disappointed for him but he's going to be a really good player, so we're going to be fine."
Muschamp said he expects the early enrollee to be back and ready for fall camp. Still, this is a blow to the Gators' linebacker depth, as far as spring ball is concerned. He was one of three early enrollees at the position and now that he's out,
Daniel McMillian
is the healthy one left of the three.
Matt Rolin
is still recovering from ACL surgery.
Anzalone, who was an ESPN 150 member in the 2013 recruiting class, entered camp as a backup to
Antonio Morrison
, who moved to middle linebacker this spring. With Anzalone temporarily out of the picture, the Gators could have to move some guys around this spring.
Michael Taylor
could be one of those guys, considering he moved from middle linebacker to the weakside spot, where he's listed as a starter.
Florida could also move
Darrin Kitchens
and
Neiron Ball
around, so, for now, there shouldn't be too much worry on the part of the coaching staff, but that could change if Anzalone isn't 100 percent this fall.
February, 25, 2013
2/25/13
10:18
AM ET
We're taking a look at key storylines for all seven teams in the SEC Eastern Division.
Chris will take a look at the main issues in the Western Division on Tuesday.

FLORIDA GATORS
Spring start:
March 13
Spring game:
April 6
What to watch:
1. Rebuilding at linebacker: The Gators have to start figuring out the linebacker situation. Do they go with redshirt junior Michael Taylor in the middle, who's a run-stuffer but has to come off the field in passing downs? Or do they try sophomore Antonio Morrison, who played outside at 218 pounds as a freshman and has hopefully bulked up a bit? The most likely scenario is Morrison, which means UF has to find a weakside linebacker. That could be freshmen early enrollee Daniel McMillian or Alex Anzalone. The strongside starter should be, at least entering the spring, redshirt junior Neiron Ball.

2. Robinson's growth: One of the most scrutinized players this spring will be receiver Demarcus Robinson. He was the only one of UF's five receiver signees to enroll early and he'll be given every chance to win a starting spot. UF's receivers have been below average for the past three seasons and the Gators desperately need someone to become a consistent playmaker. The 6-foot-2, 195-pound Robinson, who caught 53 passes for more than 1,000 yards and scored 15 touchdowns as a senior at Fort Valley (Ga.) Peach County, is going to be under a lot of pressure to produce.

3. Driskel's confidence: Quarterback Jeff Driskel returns for his second season as a starter, and it'll be interesting to see how much he improves on his decision-making, release and accuracy. He's sure to benefit from not splitting reps 50-50 any longer. But just as important as Driskel's development is what happens behind him with redshirt junior Tyler Murphy and redshirt freshman Skyler Mornhinweg. Neither has thrown a pass in a college game. Why is that important? Because Driskel has not been able to stay healthy in his first two seasons in Gainesville. He missed starts as a freshman and sophomore because of ankle injuries. UF was lucky in 2012 to have Jacoby Brissett, who had played significantly as John Brantley's backup in 2011. With Brissett transferring to NC State, the Gators no longer have that luxury.

-- Mike DiRocco, GatorNation
GEORGIA BULLDOGS

Spring start:
March 2
Spring game:
April 6
What to watch:
1. Rebuilding the defense: Georgia begins its transition to a completely new collection of defensive talent this spring. No longer are Jarvis Jones, Alec Ogletree, Shawn Williams, Bacarri Rambo and John Jenkins on the roster. In fact, the Bulldogs must replace a total of 12 defensive players who were either full-time starters or key contributors, and at some positions, the possible replacements have little to no college experience. That makes this a pivotal time for defensive coordinator Todd Grantham to begin identifying which players will fill those roles, as the Bulldogs will have little margin for error when they open the season against Clemson's explosive offense Aug. 31. Some names to watch this spring: Josh Harvey-Clemons, Sheldon Dawson and Jonathan Taylor.

2. Developing the youngsters: The good news for Grantham and the other defensive coaches is that they brought in a number of January enrollees who should be able to help immediately. Junior college transfer Chris Mayes and John Atkins hope to fill the void left by Jenkins and Kwame Geathers at noseguard. Ryne Rankin and Reggie Carter will immediately enter the mix at linebacker. And cornerback Reggie Wilkerson and safeties Tray Matthews and Quincy Mauger can help address Georgia's depth shortage in a secondary that lost four key players. Georgia's 13 early enrollees -- more than twice as many January enrollees as Georgia coach Mark Richt has ever brought in before -- will help fill needs on both sides of the ball, but the defense is where the newcomers were most necessary.

3. Offensive line reps: For the most part, Georgia used the same starting lineup along its offensive line throughout the 2012 season and each of those starters should return this fall. But two of those starters -- right guard Chris Burnette and right tackle John Theus -- underwent surgeries during the offseason and will miss all or part of spring practice. There was a good chance that offensive line coach Will Friend was going to deploy more players in his line rotation this fall anyway, but the valuable practice reps that will be available with Burnette and Theus sidelined might make a deeper rotation even more likely. Someone still has to take advantage of the opportunity, however.

-- David Ching, DawgNation
KENTUCKY WILDCATS

Spring start:
March 18
Spring game:
April 13
What to watch:
1. Getting used to new coaches: New coaches are roaming Kentucky's football facility this spring. Mark Stoops brings a more defense-minded philosophy to Lexington, but his coaches will have to get things going on offense if the Wildcats are going to improve in 2013. There are always awkward moments when transitioning to a new staff, but now's the time to create valuable trust on both sides.

2. Finding offensive playmakers: Stoops might have a strong defensive background, but the Wildcats have to find answers on offense. Injuries were an issue last year, but for two straight years the Wildcats had real problems finding consistent playmakers on offense. Quarterback Maxwell Smith returns, but he needs more than just wide receiver La'Rod King to help him. Getting running back Josh Clemons back would be big, but expect the coaches to turn to a young group of receivers and running backs.

3. Tougher team: One thing Stoops wants from his players is a tougher identity. Stoops wants to build a stronger team from the ground up. He's taking a page from Texas A&M coach Kevin Sumlin when it comes to preparing his new team. This spring, we'll see just how much of an emphasis the coaches put on the weight room and conditioning before hitting the football side of things.
MISSOURI TIGERS

Spring start:
March 12
Spring game:
April 20
What to watch:
1. Josey's rehab: The Tigers will be keeping tabs on running back Henry Josey, who missed all of 2012 after suffering a devastating knee injury midway through the 2011 season. He was the Big 12's best running back before his injury and Mizzou needs him back. The staff has had to be patient, but this could be a crucial time in his rehab, as he looks to get his football legs back.

2. Rebuilding the front seven: Mizzou must replace a lot in its front seven. Star defensive tackle Sheldon Richardson's absence leaves a gaping hole up front, while linebackers Will Ebner and Zaviar Gooden must be replaced. Lucas Vincent will be first in line to take Richardson's spot, while Darvin Ruise, Donovan Bonner and Michael Scherer are three players to watch at linebacker.

3. Toughening up: Injuries ravaged Mizzou's offense last year, but it's clear that Mizzou wasn't in the playing shape that it would have liked to be in during its first year in the SEC. Injuries are part of the game, but gaining that toughness factor this spring will go a long way for the Tigers in 2013. The SEC is more than just a grind, and the Tigers found out the hard way that conditioning in this league is a little different than in the Big 12.
SOUTH CAROLINA GAMECOCKS

Spring start:
March 5
Spring game:
April 13
What to watch:
1. New backfield options: Marcus Lattimore and Kenny Miles are gone, so the Gamecocks will have to turn to their younger backs. Brandon Wilds missed the 2012 season with an ankle injury but should return this spring. Rising sophomore Mike Davis has all the tools to be a big-time player for the Gamecocks and could be the top option in the Gamecocks' backfield. Shifty Shon Carson also returns from a knee injury, so South Carolina will have a solid group to work with this spring.

2. QB controversy: Quarterback Connor Shaw might be tabbed as the starter, but with him out for the spring, Dylan Thompson will take the first-team reps. Thompson proved to be very valuable last year, and both will play this fall. Thompson has become one of the most vocal players on the team and is a strong leader. A good spring could bring some real controversy to the position.

3. Holes at linebacker: South Carolina will be without its two-deep at linebacker and "Spur" DeVonte Holloman is gone. That means there's a lot of work to be done when it comes to finding viable replacements. Sharrod Golightly will get the early crack at the Spur, and keep an eye on Kaiwan Lews, who was a true freshman last year and has a lot of potential to work with.
TENNESSEE VOLUNTEERS

Spring start:
March 9
Spring game:
April 20
What to watch:
1. New coaches on the block: With Butch Jones in town, the Vols have to get used to their third head coach in five springs. Jones and his staff have helped bring some much-needed energy to the program since arriving, but now it's time to develop vital on-field chemistry between the coaches and players.

2. Receiving help: The Vols' offense took at major hit at receiver. Juniors Justin Hunter and Cordarrelle Patterson made the leap to the NFL, while deep threat Zach Rogers and tight end Mychal Rivera graduated. Tennessee will now turn to a host of inexperienced receiving targets, including rising sophomore Alton Howard and early enrollee Paul Harris.

3. Quarterback battle: With Tyler Bray leaving for the NFL, Tennessee will work with rising junior Justin Worley and redshirt freshman Nathan Peterman. Worley has the edge when it comes to game experience, but with a new staff, this battle will be wide-open. They will also need to make strides before freshmen Joshua Dobbs and Riley Ferguson get on campus this summer.
VANDERBILT COMMODORES

Spring start:
March 15
Spring game:
April 13
What to watch:
1. Replacing Rodgers: Quarterback Jordan Rodgers is gone. The good news is Austyn Carta-Samuels has good experience after starting two years at Wyoming before transferring to Vandy. Redshirt freshman Patton Robinette is someone the coaches also are excited about, especially with his dual-threat ability, and should really push Carta-Samuels the whole spring.

2. Running back battles: The Commodores lost star running back Zac Stacy, so veteran Wesley Tate, who has bounced around positions, and rising sophomore Brian Kimbrow, who has the do-everything look to him at running back, will share reps. Warren Norman and Jerron Seymour also return, making for quite the talented backfield.

3. Keeping the edge: Now that another very successful season under James Franklin is over, the Dores have to continue to keep the edge that got them to where they are. It might sound like a broken record, but Vanderbilt still has to prove that it isn't the Vandy of old. People are certainly taking the Dores more seriously, but keeping that edge is important for more growth.
April, 9, 2012
4/09/12
12:00
PM ET
GAINESVILLE, Fla. -- Florida coach Will Muschamp's image of success is displayed in a single photo.
It's a picture of LSU's 2003 national championship team on which Muschamp served as defensive coordinator/linebackers coach. It didn't hit home how special the picture was until a player sent it to him for him to sign.
As his eyes ran over every face and number appearing in front of him, he truly understood what he was seeing.
[+] Enlarge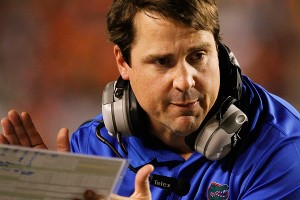 AP Photo/Dave MartinFlorida coach Will Muschamp knows leadership from the players is a must for any championship team.
Not only was this a team talented enough to win a national championship in the nation's toughest conference, it was a team with enormous heart and character, he thought. Muschamp saw people willing to take the selfishness out of being a part of a team sport, people who understood their roles and were willing to come together for the common purpose of building a championship-caliber team.
"At the end of the day, you win with good people," Muschamp said.
What Muschamp also saw was a group of players willing to lead, not just themselves but their coaches. So as Muschamp embarks on his second season in Gainesville, he's hoping to see more of that attitude from the Gators.
The notion of putting more on the team was echoed by men's basketball coach Billy Donovan at a recent football banquet, when he used the analogy of climbing a mountain. There are three ways to reach the top: One, everyone runs together. Two, the coaches guide. Three, the coaches jump on the players' backs.
Muschamp is going for the third way.
"Coach Muschamp has told us all along this team has to be ours," rising sophomore quarterback
Jeff Driskel
said. "If it's the coaching staff's team, then we're not going to go anywhere."
Added linebacker
Michael Taylor
: "We're not counting on the coaches to step in. We're running it ourselves."
That's what the Gators struggled with in Muschamp's debut season. He took over a program that had fallen well below standards in 2010 and continued to tumble under his watch. Offensive ineptitude bled over from the previous season, and discipline continued to be a major issue (10 player arrests have occurred during Muschamp's short tenure).
Last spring was filled with awkward transitions of coaches and philosophies, and Muschamp had to reach a team that really wasn't sure who he was. Honestly, he wasn't sure what he had, either.
This spring, things have changed and comfort has arrived. Staff changes have been made, but those inside the program think they've been for the better.
Muschamp has
his
guys and he's starting to get
his
players.
"I really like our locker room right now," Muschamp said. "I like where we're headed. We're not perfect, but we got guys who understand what it takes to be successful."
You wouldn't know it by last season's resume. The Gators limped to a 7-6 finish, and for the first time since 1971, Florida had no position players on the first-team All-SEC team. This month, Muschamp said Florida's 2011 struggles will really show in this year's NFL draft. With only two players being invited to the NFL combine (tied for the fewest since it moved to Indianapolis in 1985), the Gators might have only two or three players taken.
To Muschamp, that's simply unacceptable.
"We need to do a better job recruiting," he said. "We need to do a better job developing players. We need to do a better job coaching."
Strides have certainly been made. Muschamp's first real recruiting class ranked fourth nationally by ESPN recruiting services, and it focused more on building power, aggression and line production.
Muschamp has to wait to put his hands on the bulk of Florida's 2012 class, but for now he's concentrating on those already on campus. Before and during spring, Muschamp saw the transformations he wanted from his players, especially when it came to toughness.
Months removed from labeling his team -- and himself -- as soft, Muschamp said he hasn't seen the lazy, tentative habits that hurt Florida last season. So far, soft hasn't been an issue.
It's still very early in terms of finding out exactly what kind of team Muschamp has, but just being around his players you can sense a difference. Leaders are emerging, confidence is brewing and players are buying in. It appears things are changing in Gainesville.
"We want to come out with that mindset that nobody can mess with us; we're ... going to be the best team in the country, best team in the land, and get back to that glory that we've had in the past," Taylor said. "We're definitely capable of it."
September, 5, 2010
9/05/10
12:55
AM ET
Now it is time to give out helmet stickers for some of the top non-AQ performances.
Utah freshman safety Brian Blechen:
He saved the day for the Utes with his interception of
Tino Sunseri
on the first play of overtime. That allowed Joe Phillips to kick a 21-yard field goal to give
Utah the 27-24 win over No. 15 Pittsburgh
on Thursday night. Utah had blown an 11-point lead until Blechen came up big in his first career game.
Utah State quarterback Diondre Borel:
Yes, Borel threw an interception with five minutes remaining in
a 31-24 loss to Oklahoma
, but Utah State would not have been in the game if it was not for him. He threw for 341 yards and two touchdowns, averaging 20.1 yards per completion. Utah State players said earlier in the week they would have something to show Oklahoma, and they backed up that talk. For a team that many believe could be in the mix for a bowl berth, Utah State drew plenty of eyes for its performance Saturday.
Houston quarterback Case Keenum:
Shocking that Keenum makes the list. He threw five touchdown passes in
a 68-21 win over Texas State
. Keenum ended up throwing for 274 yards and just five incompletions in one half of work. He also had two interceptions. Keenum broke Kevin Kolb's career school records for completions with 1,098 and yards passing with 13,179.
TCU rushing offense:
The
Horned Frogs ran for 278 total yards
in their 30-21 win over Oregon State behind
Ed Wesley
(134),
Matthew Tucker
(74) and
Andy Dalton
(64). Wesley had his second career 100-yard game. TCU coach Gary Patterson talked all summer about the depth at the position, which lost its top rusher from last season in Joseph Turner. The option play worked again and again, allowing the Horned Frogs to control the ball for nearly twice as long as the Beavers. TCU is now 46-2 under Patterson when gaining at least 200 yards rushing.
Troy kicker Michael Taylor:
He kicked the game-winning 34-yard field goal with 4 seconds left to give the
Trojans a 30-27 win over Bowling Green
. The Falcons had a 17-7 lead early in the game, but Troy quarterback
Corey Robinson
led the comeback. It was Tony Davis who intercepted a pass with 1:07 left to give Troy the ball at its 34 and set up the winning drive.