March, 18, 2013
3/18/13
9:00
AM ET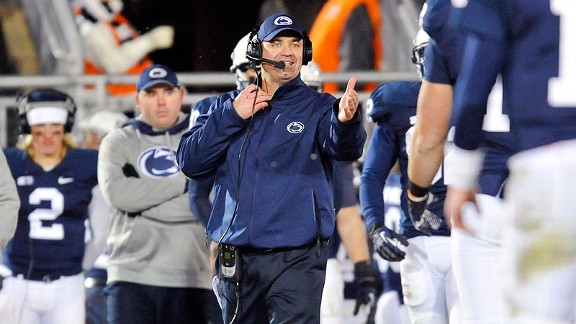 Randy Litzinger/Icon SMIBill O'Brien is excited about his team as he heads into his second season at Penn State.
The last time we saw Penn State, the Lions were celebrating a surprisingly strong finish to the 2012 season and saying farewell to a special senior class. Penn State since has turned the page and will begin spring practice Monday with a mix of familiarity and uncertainty. Bill O'Brien is not the "new coach" in Happy Valley anymore, and players have acclimated to O'Brien and his staff. But the Lions are looking for a starting quarterback for the second consecutive spring. They also must replace several outstanding defenders and fill holes on both lines. But the
depth crisis many of us envisioned
for the Lions when the NCAA sanctions came down last summer simply isn't there in State College.
ESPN.com caught up with O'Brien late last week to discuss spring ball.
What are some of the main objectives you're looking for when you get on the field again?
Bill O'Brien:
The No. 1 objective offensively is to make sure we come out of this spring practice with improvement from the quarterback position. We won't name a starter coming out of the spring, but at least at the end of 15 practices we'll have a good idea of how well these guys are grasping the system, Tyler Ferguson and
Steven Bench
. So that's a big deal for us offensively.
And defensively, some new guys will be in there, and seeing how those guys do, whether it's
Nyeem Wartman
at linebacker or
Jordan Lucas
at corner or some other guys who are going to be playing a little bit more next year, how much they improve. And then we'll work our special teams every single day, so hopefully we'll find some core special-teams players this spring.
What's your message to Steven and Tyler going into the spring? You're not naming the starter, but what do you want to see out of them?
BO'B:
[Thursday] I was talking to them, and I said, 'Look, I just want you guys to put your head down and go to work. Don't worry about what everybody else on the outside of the program thinks about your performance, whether it's in scrimmages or the Blue-White Game or whatever it is. Just try to get better every single day.' These are two really, really good kids. They're smart, they work hard at it, they're grasping it pretty well to this point. We're pretty excited about getting started with them. I don't want them to think about anything other than trying to improve and be as good a leader as they can be.
Will you have to change the offense for one or the other? Do they fit in with what you did last year?
BO'B:
We'll definitely be different. We'll be different in many ways. Matt [McGloin] had certain strengths we tried to play to, no question about it. Our system is expansive enough that you can have different parts in there to take advantage of the talents of the quarterbacks who are playing. So we'll be a different offense than we were last year.
Anything specific on what might change with these two quarterbacks or areas you can draw out more?
BO'B:
I'd rather not get into all of that, but I can tell you these are two guys who are big, they're strong, they're fast, they look to be accurate passers. We're just looking forward to working with them.