NCF Nation:

Mickey Marotti
March, 4, 2014
Mar 4
9:15
PM ET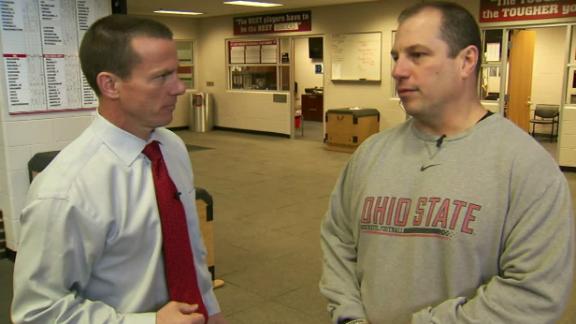 COLUMBUS, Ohio -- The slogan on the banner hanging outside Mickey Marotti's office was no longer delivering exactly the right message, so the Ohio State strength coach decided to update it himself.
The last word left some room for ambiguity, so Marotti pulled out some athletic tape to cover it up, got out a marker and made his expectations much more clear for a team coming off consecutive losses to end last season.
The sign that greeted the Buckeyes used to demand that "the BEST players have to be the BEST workers," but that bar was too low for Marotti and necessitated some editing and minor redecorating during offseason conditioning ahead of Tuesday's first practice of spring.
"Anybody can be a worker," Marotti said. "Anybody can punch a clock and get a paycheck. I want grinders."
The Buckeyes can now find that word scribbled in all caps on the white tape just above the door to Marotti's office. And that hard-working mentality has clearly emerged early in the year as a driving force for a team that came up short of a couple of its most important goals after its 24-game winning streak came to an end, giving way to a two-game losing streak.
Ohio State still had plenty to feel good about last season after winning its division again, knocking off rival Michigan to cap another perfect regular season and piling up some individual honors along the way. But the loss in the conference title game that kept the Buckeyes from claiming the top prize in the Big Ten and likely from playing for the national championship, and the defeat in the Discover Orange Bowl that followed it, still sting in the Woody Hayes Athletic Center.
And part of the process in erasing that pain and reaching a higher level in 2014 started with tweaking their vocabulary along with their mindsets.
"Last year, I don't want to say the word entitled," Ohio State coach Urban Meyer said. " … Last year it was kind of, well, you were 12-0, you're preseason this, you're this, and I haven't had many people ask about our preseason [ranking]. Right now we're just trying to find out who's going to play for us in some spots.
"I don't want to diminish what happened because we came back and took the lead in the fourth quarter and lost a couple [leads] in those last two games, and that happens. If I felt like there was a lack of fight, then we'd blow the whole thing up. There was certainly not lack of fight."
There were, perhaps, a few critical pieces missing in terms of personnel and maybe a defensive philosophy that didn't quite match up with what Meyer ideally wants from his program. Those were obviously at the top of his list when he reported for practice on the indoor field Tuesday.
Ohio State still has some questions to answer at linebacker, but it attacked that weakness on the recruiting trail by signing four guys in the most recent class and appears like it might have a somewhat unexpected solution to replace
Ryan Shazier
on the weakside with
Darron Lee
emerging with the first-team unit to start camp.
The process of installing a more aggressive secondary under new co-defensive coordinator Chris Ash has only just begun, but his approach appears to be more in line with what Meyer is expecting even in the early stages.
But again establishing Meyer's standard for work ethic and reinforcing his emphasis on "4-to-6 seconds of relentless effort" on every play was just as important in shaping his team to compete for a title, and Marotti did his part to help cut down on any wiggle room.
"We just have to improve, we've got to finish and I like where we're at as a team," Meyer said. "I want an angry, blue-collar team, and I'm hoping that's what we have."
The key for the Buckeyes is apparently making sure those blue-collar workers are showing up to do more than punch a clock.
June, 6, 2012
6/06/12
9:00
AM ET
Going into this offseason, Ohio State needed to find a replacement for four-year starting center Mike Brewster. Many people thought
Brian Bobek
, Brewster's backup from last season, had the inside track. Few would have predicted that
Corey Linsley
would grab the job and make it his own.
It's not that Linsley lacked talent. It's just that he hadn't shown a lot in his first three seasons. Last season, he was suspended for two games and didn't get a lot of playing time as a backup guard.
[+] Enlarge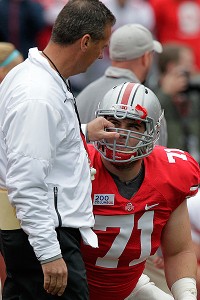 AP Photo/Jay LaPreteOhio State's Urban Meyer, left, has been pleased with the progress of Corey Linsley this spring.
"I really didn't see myself as accomplishing too much," Linsley told ESPN.com about his career. "I wasn't putting in all the time to be a great player. I was just doing enough to get by, and thought that was good enough. Obviously, last year showed that it wasn't."
That's why Linsley felt like he had approached a crossroads this winter. He had a clean slate with new head coach Urban Meyer. But he also had to push himself harder than ever when new strength coach Mickey Marotti began the team's challenging early morning workouts. Linsley called it "do or die" time for him as a college player.
"We had a series of 5 a.m. workouts right when Coach Meyer started, and that's when it kind of clicked for me," he said. "I had to make a decision: Am I going to sit back and relax, or am I going to take the initiative to get better, to become a better player and a better person?
"It was probably the hardest thing I've ever done. But every day I told myself, 'If I got through this, I can get through the next workout. And not only get through it, but get better while I was doing it.'"
Few players have transformed as much under the new Buckeyes regime. Linsley went from what Meyer called "a journeyman" to being anointed as the most improved player of the spring on offense by his coach. Linsley barely played in the Ohio State spring game because the staff was confident in and comfortable with what he could do.
"He was a pleasant surprise," Meyer told reporters last month. "He has the potential to be a very good player. His commitment to excellence right now is real strong."
Linsley embraced those early morning workouts and started showing up before they began to get in extra snaps with quarterback
Braxton Miller
. He later realized how much that offseason conditioning paid off when offensive coordinator Tom Herman introduced the high-tempo offense this spring.
"I knew I had to be in shape after probably the first week [of spring practice]," Linsley said. "I've got to be the first O-lineman up to the line, the guy making the calls, and then make sure everybody is relaying that call further down the line. If you're not in tip-top shape, you can do it, but your mental aspects are really going to deteriorate over the course of the game."
The 6-foot-3, 292-pound Linsley has all the physical tools to make a great center. Teammates say he has bench-pressed more than 500 pounds this spring. What he's trying to do now is play with the fundamentals and technique that Brewster showed during his standout career.
"Mike has unbelievable knee bend and uses his hands the way you're supposed to use them," Linsley said. "I don't have the flexibility that Mike does, but I'm probably a little stronger. So I'm trying to take the strength I have and play with the technique he does."
Once a player who did just enough to get by, Linsley is taking to heart Meyer's challenge for the team to have the best offseason in Ohio State history. For him, that means not just doing the scheduled lifts and runs, but to always add on some extra film work or position drills. He says he's also making a point to try and lead the younger linemen and backups, making sure to pull them along to additional workouts.
That's not the Corey Linsley anybody knew before this winter. But that's why he could be known as the next great Buckeyes center.
February, 2, 2012
2/02/12
2:12
PM ET
Urban Meyer hasn't coached a game yet at Ohio State, but his impact on the Big Ten has already been massive.
Though he was only hired in late November, Meyer managed to put together an impressive first recruiting class that ESPN ranked as the
sixth-best in the country
. Several players in the class were at one time committed to other league schools. The Buckeyes put together one of the best groups of defensive linemen in the country as well.
[+] Enlarge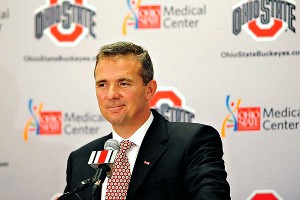 Andrew Weber/US PresswireNew Ohio State coach Urban Meyer made an immediate impact on the recruiting trail.
I caught up with Meyer on Thursday morning to talk about the class, whether there's such a thing as a "gentleman's agreement" in recruiting, and how he expects his recruits to see the field right away.
Did you expect to sign a class this highly rated, given how little time you had to put it all together?

Urban Meyer:
I think it exceeded expectations a little, especially on the D-line. If you had told me in December that we would get those four defensive linemen in this class and the two offensive tackles ... that's what separated this class I think, from being pretty good to being really good.
The class is heavy on the defensive and offensive lines. How much of that was need-based and how much of was just that's what you need to build a foundation?
UM:
I think anytime you get a premiere guy like
Noah Spence
, he knows that we need him. That's the way it is nowadays. Kids want to go somewhere where there's a need. The same with the two offensive tackles,
Taylor Decker
and
Kyle Dodson
. We just don't have those body types right now in our program, and they know that. We made that real clear. Their opportunity to play is going to be real quick here.
How did you go about evaluating what you needed in recruiting when you hadn't seen the players on the current roster much in person?

UM:
Well, that's where Luke Fickell and Mike Vrabel and Stan Drayton and when Taver Johnson was here, they were the ones [who helped]. Then when I went out to watch practice, I just walked out on the practice field and just kind of watched for a second, and I could tell our offensive line didn't look the way we needed them to look. I could tell we were short on pass-rushers off the edge. And then linebackers. So those are the three areas that we had to get just to be functional. So we attacked it as hard as we could and it all came together.
What do you like about the three big defensive linemen in this class -- Noah Spence, Adolphus Washington and Se'Vonn Pittman?

UM:
Well, number one is they're competitors. They're very high-character guys. To have three guys like that with high character who are very good people, I hate to say that's hard to come across, but it is. And they're all different body types. You've got Noah Spence, who's the pure speed guy coming off the edge, relentless effort. Then you've got Adolphus Washington, who's very thick, lower body and more power. And then you've got
Se'Von Pittman
, who's a little bit of both. So they all complement each other.
In your experience, and understanding every player is different, how long does it take players with that talent level to make an impact on the field?

UM:
We're going to rotate them right away. We don't redshirt here at Ohio State. We're changing that up. We're going to have the culture out here that there's no redshirting. If you don't play here, it's because you're not good enough. It's not because we're holding you back. We're going to recruit the kind of player where we want them on the field right now. That's the approach we took at Florida, and it's the approach we're going to take here.
Is the same thing true with offensive linemen? People say that's the position where it takes guys longer to develop.

UM:
Well, Maurkice Pouncey jumped right into it [at Florida], started every game, and in three years he went to the NFL. So if you're recruiting, you lay it out there for them. Usually, linemen take a little longer, but we've played with some young players before.
You mentioned Wednesday that you're not happy with the speed at the offensive skill positions. You're not necessarily done with this class, but was that just not out there for you this year, or is it more of a priority going forward?

UM:
Yeah, we're not happy where we're at with our speed and skill on offense. I don't know what we have. I saw on film and looked at the stats, and you would say from statistical analysis and just evaluation that we're not very good at all. But I'm going to give them the benefit of the doubt and see what happens in spring practice and evaluate them in the offseason, which starts Monday. But we're not where we need to be, by a long shot.
When you learned about the bowl ban, was there a time when you thought this class wouldn't come together nearly as well as it did?

UM:
Oh yeah. Devastated. I would say, panic button in December. Absolutely.
What does it tell you about the players who decided to sign with you anyway?

UM:
It tells you about the power of this program, too. I mean, Ohio State is Ohio State. It's the most powerful alumni base in the country. It's one of the great stadiums in the history of college football. A great tradition and a great city. So there are so many strengths about it that obviously overcame the negative hit we took.
Is recruiting in the Midwest and primarily vs. Big Ten schools different than recruiting in the SEC? The SEC has a reputation of being more ruthless.

UM:
A little bit, but it's hard for me to articulate that. It was a little bit different, but there is still a lot of intense recruiting that goes on up north, as well.
There were a couple of coaches who criticized you for recruiting players who had committed to their schools. I liked the way you answered that question on Wednesday. Is there ever such a thing as a gentleman's agreement in recruiting, or is that a phony thing?

UM:
Actually, Will Muschamp and I talked about that, about if a guy is previously committed. Up here, I was hired, and we covered our state and said to players, "Would you be interested?" We had one or two that said they would be interested, and others recruited us. Se'Von Pittman and Taylor Decker came after us.
Coming in as a new head coach at a program, would you even be doing your job if you didn't check in on those recruits?

UM:
You've got a responsibility to your home state. Absolutely. There's not a coach in America who's not going to do that, not going to check his own state. You take a job, you're going to check your in-state players to see if they're interested. And if they are, then come on now, let's talk about it. And if they're not ... The young man up at St. Edward [offensive lineman
Kyle Kalis
, who signed with Michigan] we asked. He said, "I'm solid, I'm good." We said, "Good luck," and we moved on. I didn't call him again.
Could you get a sense of how much just having a coach in place and some stability at Ohio State, as well as your background, helped recruits change their mind?

UM:
I think any time there's instability, that causes anxiety for a recruit. So I know with Se'Von Pittman, his comment to me was, "I always wanted to be a Buckeye. I just wanted it to be stable."
There are going to be lingering questions about your health, energy level, etc. Recruiting takes a lot of energy and time. How did you feel out there recruiting again, with all the time and travel it required?

UM:
Oh, it was great. Great. No issue at all.
Jamal Marcus was a signing-day addition for you, and you talked about how he blew you away on tape. You really didn't know anything about him before that?
UM:
That was one of those Christmas presents I unwrapped when they showed me the highlight video. I mean, he's as good as I've seen on a highlight video. Then you meet the kid and he's a beautiful kid, great family. Everett Withers identified him and brought him up. It's almost a shame to say this, but the first time I shook his hand and even talked to him was when he got on campus. And he blew us away.
He's been listed some places as a linebacker, others as a defensive end ...

UM:
Oh, he's a linebacker. Linebacker all the way.
What are the priorities now for you over the next month or so before spring practice begins?

UM:
We have a bunch of new coaches, a completely new offensive scheme. So the next month, the priority is to get around our players, get to know them with the new coaches. And No. 2 is to install an offense and defense, and make sure everybody is on the same page, so when we hit March we're up and running.
I talked with offensive coordinator Tom Herman recently, and he said he'd be blending the offense with your philosophies. How is that going on right now?

UM:
That's all we're doing. I've hired some very good coaches, very successful coaches. We have a system I have great belief in, but I use the term enhance. If we can enhance our system, we will. And so far we have. It's going very well.
What kind of reports have you gotten from strength coach Mickey Marotti on how offseason workouts are going?

UM:
Good. But we haven't really hit it hard yet. We've been kind of introduced to our offseason program. I meet with Mickey nonstop. Constant evaluation. But so far, it's mostly just been indoctrination. On Monday, it starts for real.
How much help has Luke Fickell been in this entire transition process?

UM:
Well, there's no agenda with him. He has a true passion and love for Ohio State, and he's a very quality football coach and family man. It's a perfect fit, and his stability and relationships really helped us.
How much are you working on the 2013 class right now?

UM:
Oh, we're killing it. We're all over it.
January, 12, 2012
1/12/12
6:45
PM ET
Urban Meyer officially completed his first Ohio State coaching staff on Thursday with the additions of former Notre Dame assistants Ed Warriner and Tim Hinton.

Warriner will coordinate the running game and serve as the team's co-offensive coordinator and offensive line coach. Hinton will be the tight ends and fullbacks coach. Both spent the past two years under Brian Kelly at Notre Dame.

Warriner is entering his 29th season as a college assistant and has spent nine years as a coordinator. Tom Herman is still expected to call the plays as quarterbacks coach and offensive coordinator.

Hinton is in his 31st year as a coach, 17 of them in college. He worked with Meyer on the Ohio State staff in 1986. Both coaches are Ohio natives, which played a big reason in why they left Notre Dame.

Meyer said he would serve as his own special teams coach, as he has in the past.

Meyer also talked Thursday about how good he feels to be back in coaching. Strength coach Mickey Marotti, who has known Meyer for years, said his boss looked "100 percent revitalized" and ready to roll.
December, 1, 2011
12/01/11
3:45
PM ET
Urban Meyer didn't hold back at his introductory news conference Monday at Ohio State.
"I'm going to go about and try to assemble the best coaching staff in college football," Meyer said.
Ohio State is
supporting its new coach on the endeavor
.
So how is the process going? Let's take a look at what we know and what could be happening soon with Meyer's staff at Ohio State.
Current Buckeyes head coach Luke Fickell is the only assistant Ohio State has officially confirmed to be joining Meyer's staff. Meyer didn't specify Fickell's role but said it would be "a significant title and significant position." It's a strong possibility Fickell's title includes assistant head coach. He also could be named a co-defensive coordinator, the role he shared with Jim Heacock on Jim Tressel's staff.
While Fickell could be a candidate for the sole defensive coordinator role, Meyer is assessing candidates and could lure in a big fish in Mike Stoops, the former Arizona head coach. Stoops confirmed he has met with Meyer but didn't say whether he has been offered a position. No one will be surprised if Stoops is named Ohio State's next defensive coordinator, a position he held at Oklahoma for five years under his brother, Bob. Stoops would be a big-name addition for Meyer, who likely will add several.
Multiple outlets are reporting that Meyer will retain Stan Drayton, in his first year as Ohio State's receivers coach. Drayton worked for Meyer at Florida and replaced Darrell Hazell in Columbus. This makes a lot of sense, as Drayton is a strong recruiter with ties to Ohio and to Florida. Drayton also can coach running backs.
It will be interesting to see where Meyer looks for an offensive coordinator. One name being mentioned quite a bit is LSU offensive coordinator Greg Studrawa, an Ohio native who served as Meyer's offensive line coach at Bowling Green. Studrawa in July replaced Steve Kragthorpe, who had to step down after being diagnosed with Parkinson's disease.
Other current Buckeyes assistants who could remain on staff include cornerbacks coach Taver Johnson and linebackers coach Mike Vrabel. If Vrabel stays, it will be interesting to see which position Fickell coaches as he used to oversee the linebackers. Defensive line seems a likely spot.
Former Minnesota head coach Tim Brewster reportedly has been offered a position on Meyer's staff, as well as one at Arizona with new boss Rich Rodriguez. While Brewster didn't work out as a head coach in Minneapolis, he's one of the nation's top recruiters and could help Ohio State on the trail, particularly in Texas. Brewster has coached tight ends most of his career.
Other potential candidates to join Meyer's staff include Notre Dame running backs coach Tim Hinton and Florida linebackers coach/special-teams coordinator D.J. Durkin and strength and conditioning coordinator Mickey Marotti.
June, 23, 2010
6/23/10
12:15
PM ET
Florida coach Urban Meyer isn't interested in starting a weight-lifting club.
His aim is winning football games, and he doesn't mind telling you that one of the central figures in the Gators' success the past few years has been head strength and conditioning coach Mickey Marotti.
Meyer points to how good the Gators have been in the fourth quarter as telltale proof that Marotti is getting it done in his strength and conditioning program.
Over the past two seasons, Florida has outscored its opponents 228-106 in the fourth quarter, while limiting them to an average of 3.78 points in the final stanza.
The only time the Gators have lost the fourth quarter over the past two seasons when the game was close was the SEC championship game loss to Alabama last season. Over the past two seasons, Florida has recorded 12 shutouts in the fourth quarter.
Those are the numbers Meyer is interested in when he starts evaluating his strength coach, and it's the reason he calls Marotti the best strength coach in America.
We caught up with Marotti recently for a Q&A:
What's the cornerstone of your strength and conditioning program at Florida?
Mickey Marotti:
We talk every day about effort and toughness in terms of training and also attitude. It's not a specific lift or run or some sort of exercise. To me, it's more a mindset, more a mental approach to the daily grind of training for the football season.
Who are some of the players who've really excelled this year in the strength program?
MM:
Number one is obvious. I think everybody saw it a couple of weeks ago -- Jeff Demps. Running a 9.96 in the 100 meters (at the NCAA track championships) and doing what he does on the football field and doing what he did in the indoor track season, he couldn't have done that if he didn't keep his body in shape and mind in shape. This isn't a normal track athlete. I don't want to categorize anybody, but this guy is different now. You tell him to go 100 percent, and that's the way he's going to go. He's definitely been a workout warrior. There's no way he would have been able to run that 9.96 without being one.
How about some of the players on this team who maybe haven't been in the spotlight that are going to need to be this coming season? Who are some of those guys who've had big offseasons?
MM:
One young player who's really done a nice job is
Jordan Reed
, who's going to play a couple of different positions and can hopefully step into Aaron Hernandez's role as that pass-catching tight end. He's really matured from when he first got here. Another guy is Jaye Howard on the defensive line. He'll be a redshirt junior and has really changed the way he does things. We'll find out about him. The other guy is
Deonte Thompson
at wide receiver. He has a ton of ability, but his work ethic and his demeanor and his leadership have really changed. Sometimes it takes guys longer to mature. I can't wait to see him. I hope he has a great year, because he has really worked his butt off.
From your perspective, how much better and how much stronger has John Brantley gotten since the day he walked onto campus?
MM:
It's night and day. He's what we call a grown-ass man right now physically and mentally. A lot of it is maturing, and I think a lot of it has to do with being around Tim [Tebow]. But Johnny has worked really hard and grown up.
How often are you fooled? When a kid is having a great offseason in the strength and conditioning program, does it typically translate to success on the field?
MM:
You want to say yes, and that's what we strive for. But it's just one chapter in the book. We talk about a new book in January and then keep going through the chapters. If you take care of your business in the offseason and summer, it usually sets you up nicely for the next chapter, which is preseason camp.
How much one-on-one interaction do you have with the players?
MM:
Two or three times a year, I sit down with every guy, and we go over specific goals, both objectives and individual goals like body weight, how much body fat they need to have, where they need to be in their lifts and their runs and their agilities. We make them write things down and make a big deal of that stuff. Each day, we're asking them if they accomplished their goals of what they wanted to do back in April when we talked about it. We've got a saying around here: You either get better or you get worse.
Where has the whole strength and conditioning approach changed the most over the years?
MM:
It's kind of changed in how much the strength coach is involved in the total football program. With the decision-making of the football program, you're so much more involved in everything now. You're asked to do more than you did 20 years ago when I first started. Back then, you were the strength coach and in charge of that program, and that was it. They came in, went on and then the coaches kind of did their business. But I think as this thing has evolved over time, key components of your football program have been developed in the offseason. Coaches started to recognize that and gave strength coaches around the country more responsibility of getting to know their players, and not only helping with the physical attributes, but also helping with the mental part of it and just dealing with every-day life stuff because you're around them all the time.
You guys are around the players a lot more than the position coaches, aren't you?
MM:
Oh yeah, way more, especially here in about another week when all those guys go on vacation to Bermuda and Italy and the strength coaches are stuck here in Gainesville (laughing).
How far back do you and Meyer go?
MM:
We were graduate assistants together at Ohio State (in 1987) when I first met him. But when I was working at Cincinnati, his sister was working there in one of the colleges and he came to visit her when he was still at Colorado State. He stopped in the weight room and watched a workout for like three hours. I didn't even stop to see who it was. I remember thinking that he looked familiar, but I was too busy to walk over. He just stood there in the room and stayed the whole time. We talked after we got done, and when the Notre Dame thing came up (in 1998), he had a lot to do with getting me up there. That's kind of how it all evolved.
What goes through your mind when you hear Meyer laud you, your staff and the whole strength program for the Gators' success in the fourth quarter?
MM:
I don't think it's just what we do in the weight room. I think it's more about the whole coaching staff, from the athletic trainers, to the defensive coordinator and his staff, to the offensive coordinator and all his coaches. We are all so much on the same page, and I think that's why we've been successful here. Everybody buys in, and everybody sells the same thing to our players.
June, 23, 2010
6/23/10
10:03
AM ET
Strength and conditioning coaches in college football are around the players more than the head coaches and more than the position coaches.
No wonder the first piece of advice Florida's Urban Meyer gives to a first-time head coach is to go out and get the best strength coach he can find.
Here's a rundown of the head strength coaches in the SEC:
Alabama: Scott Cochran
One of the most energetic and vocal coaches on Alabama's staff, Cochran came to Alabama in 2007 along with Nick Saban. Prior to taking on the Crimson Tide's head strength and conditioning duties, he spent three years with the NBA's New Orleans Hornets as assistant strength coach. Cochran's ties to Saban go back to LSU when Cochran was an assistant strength coach on LSU's 2003 national championship team. An LSU graduate, Cochran has been credited by many of the Alabama players for being a big part of the Tide's turnaround under Saban. "He makes you want to show up and work every day and push yourself even harder than the day before," said former Alabama All-America center Antoine Caldwell.
Arkansas: Jason Veltkamp
Veltkamp is beginning his third season as the Hogs' head strength and conditioning coach after joining the Arkansas staff in January 2008. He was with Bobby Petrino at Louisville for three seasons and helped coordinate the development of 21 future NFL draft selections. Veltkamp was also the head strength and conditioning coach at Utah and was there with Florida coach Urban Meyer for a season in 2003. Veltkamp played for Bobby Petrino's father, Bob Petrino, Sr., at Carroll College in Helena, Mont., and was a captain on the 1994 team. Among the professional athletes Veltkamp has worked with include Carolina Panthers receiver Steve Smith and NBA basketball player Andrew Bogut.
Auburn: Kevin Yoxall
Yoxall has been at Auburn since 1999 when he came over from UCLA and supervises all strength and conditioning programs for men's and women's athletics. Yoxall was a power lifter in college at East Texas State and earned All-America honors in 1983. He came to Auburn with Tommy Tuberville and was retained when Gene Chizik took over last season. Yoxall also previously served as Minnesota's strength coach and started his career at TCU. Named a Master Strength and Conditioning Coach in 2002, Yoxall was also selected as the Collegiate Strength and Conditioning Coach of the Year in 2005 by the Professional Football Strength and Conditioning Coaches Society.
Florida: Mickey Marotti
Meyer has called Marotti the best strength coach in America on numerous occasions and was able to pry him away from Notre Dame in 2005 when he took the Gators' head job. Marotti, who played fullback at West Liberty State, was Notre Dame's director of strength and conditioning from 1998-2005. Meyer was instrumental in bringing Marotti to Notre Dame when Meyer was an assistant coach with the Irish. Marotti was in charge of Cincinnati's strength program from 1990-98 prior to that. He and Meyer first met when they were graduate assistants at Ohio State. Marotti holds a Master of Strength and Conditioning certification.
Georgia: Dave Van Halanger
Van Halanger has worked with 29 consecutive bowl teams spanning his tenures at Georgia, Florida State and West Virginia. He was with Bobby Bowden at both West Virginia and Florida State as head strength coach, but came with Mark Richt to Georgia in 2001 as director of strength and conditioning. Van Halanger was an offensive lineman under Bowden at West Virginia and co-captained the Mountaineers' 1975 team. He's credited with starting West Virginia's first organized weight training program. In 2001, Van Halanger was awarded the title of Master Strength and Conditioning Coach and was inducted into the Strength and Conditioning Hall of Fame in 2003.
Kentucky: Ray "Rock" Oliver
A former strength coach at Kentucky under basketball coach Rick Pitino, Oliver returned to Kentucky this past January to head up the football team's strength and conditioning program under first-year coach Joker Phillips. A renowned motivator, Oliver has worked with football and basketball teams on both the collegiate and professional level. Prior to returning to Kentucky, he spent the last six years as the associate strength and conditioning coach with the Cincinnati Bengals. He's worked with the Tampa Bay Buccaneers and New Jersey Nets. Oliver has also worked extensively in the past with Kentucky basketball coach John Calipari. A defensive back in college, Oliver started his career at Ohio State before transferring to Cincinnati.
LSU: Tommy Moffitt
Moffitt is entering his 11th season at LSU after coming over from Miami. He's been part of two national championship football teams at LSU, one at Tennessee and one at Miami. Moffitt has incorporated yoga and karate into the Tigers' offseason program to increase a player's flexibility, while forcing the team to stay focused for a lengthy period of time. He was named the 2003 College Strength and Conditioning Coach of the Year by America Football Monthly. While at Miami, Moffitt worked under Butch Davis and was instrumental in helping to rebuild the Hurricanes' program. He's a graduate of Tennessee Tech and was named the National High School Strength Coach of the Year in 1992 while coaching at John Curtis High School in River Ridge, La.
Mississippi State: Matt Balis
One of the first things Dan Mullen did upon landing the Mississippi State head job was hire Balis away from Virginia. They were together at both Florida and Utah, and Mullen has often referred to Balis as the most important part of his program. Balis was the head strength coach at Virginia from 2007-08 and was an assistant director of strength and conditioning at Florida from 2005-06. Balis was also the head strength coach at Utah in 2004 when the Utes went unbeaten and won the Fiesta Bowl. When Balis arrived on Mississippi State's campus two Decembers ago, former running back Anthony Dixon said Balis was the driving force in helping to change the culture of the football team and called Balis' offseason workouts "the kind of hell we needed."
Ole Miss: Don Decker
Decker is entering his 13th season with Houston Nutt after serving as Nutt's strength coach for all 10 seasons at Arkansas. A small college All-America quarterback at Evangel University in the early 1980s, Decker was at Arkansas for 15 years. He was the Hogs' assistant strength and conditioning coach before being promoted and oversaw strength and conditioning for all men's sports. He was in charge of the basketball strength program for eight years, including the 1994 national championship season. In 2004, Decker earned the designation of Master Level Strength Coach by the Collegiate Strength and Conditioning Coaches Association.
South Carolina: Craig Fitzgerald
Fitzgerald is beginning his second season as the Gamecocks' strength and conditioning coach after serving as Director of Strength and Training at Harvard since April 2005. While at Harvard, Fitzgerald trained the football, men's and women's basketball, wrestling, men's and women's tennis and men's and women's crew teams. The Harvard football team won back-to-back Ivy League championships over his final two years there. Fitzgerald played football at Maryland and later served as an assistant director of strength and conditioning for the Terrapins.
Tennessee: Bennie Wylie
Wylie is in his first season as Tennessee's head strength coach after overseeing Texas Tech's strength and conditioning program for the last five years. Wylie was a big part of the Red Raiders' success the last few seasons and had a strong rapport with all of the players. At times, he was known to have players running while holding cinder blocks over their heads. Former Texas Tech coach Mike Leach used to call him the "executioner" for his grueling offseason workouts. The Red Raiders were 46-18 during Wylie's five seasons in Lubbock, including the memorable 11-2 season in 2008. Wylie also worked with the Dallas Cowboys as an assistant strength and conditioning coach for four years before joining the Texas Tech staff.
Vanderbilt: John Sisk
An 18-year coaching veteran, Sisk enters his ninth year as Vanderbilt's director of speed, strength and conditioning. Sisk and Vanderbilt coach Bobby Johnson go back to their Furman days together. Sisk was a Furman strength assistant in Johnson's first year as coach. Sisk also worked on the strength staff at Clemson before coming to Vanderbilt and has worked with a handful of first-round picks in baseball. He also helped transform former Vanderbilt offensive lineman Chris Williams from an undersized 245-pound prospect into the 14th overall pick in the 2008 NFL draft. Chicago Bears quarterback Jay Cutler also credits Sisk for helping him take his game to another level physically when he was at Vanderbilt. Sisk played his college football at Western Carolina.