NCF Nation:

Mike Bercovici
April, 8, 2014
Apr 8
1:15
PM ET
TEMPE, Ariz. -- What you already know about the 2014 Arizona State offense is impressive. Seven returning starters are led by third-year starting QB
Taylor Kelly
, owner of 57 career touchdown passes. There's imposing receiver
Jaelen Strong
, an All-American candidate. There's versatile veteran running back
D.J. Foster
and a physically impressive offensive line that could be the Sun Devils' best in recent memory.
But what you see at spring practices is often unfamiliar or new. Or a name that opens up the "Whatever happened to him?" file.
As in: Hey, that was a great catch by Strong.
[+] Enlarge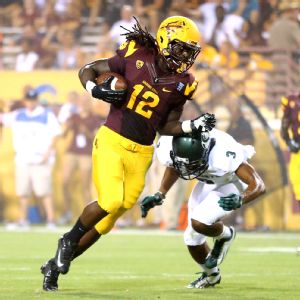 Mark J. Rebilas/USA TODAY SportsDe'Marieya Nelson, a 6-foot-3, 230-pound tight end, will be an added weapon to Arizona State's offense next season.
No, that was redshirt freshman
Ellis Jefferson
. It's easy to mistake the two because both are 6-foot-4 and solidly built.
Or: Boy, Foster sure is elusive.
No, that was
Kyle Middlebrooks
or
Deantre Lewis
, players whose careers had been waylaid by injuries.
The loss of play-making tight end
Chris Coyle
doesn't seem to worry anyone because of the emergence of
De'Marieya Nelson
, who inspired coach Todd Graham to observe, "We can't cover him."
Returning starting guard
Vi Teofilo
is battling Auburn transfer
Christian Westerman
to hold onto his job. Or maybe both will start. There has been plenty of shuffling on the line in order to figure out where talented players like
Jamil Douglas
, second-team All-Pac-12 last year, and
Evan Goodman
should end up.
While most of the questions for the Sun Devils in 2014 center on their rebuilding defense, there's also intrigue on offense. Most of it dealing with how good the unit can be, not whether it will be good enough to defend the Pac-12's South Division crown.
Graham has, well, high expectations.
"Our offense should score every time they have the ball," he said.
Graham likes to be demanding, and he's excited about his offense, so setting a goal for offensive perfection probably makes sense to him. Yet Kelly, not a demonstrative sort who casually wields hyperbole, also gushes about what the offense is doing this spring and has the potential to do in the fall.
"We're deadly," Kelly said. "Our offensive line is doing a tremendous job up front. We're running the football better than we ever have before."
Of course, one shouldn't put too much stock into the vagaries of spring practices. A day after Kelly and Graham tossed bouquets to their offense, the rebuilding defense controlled the action during a weekend scrimmage.
Still, the potential for something special is obviously there. Further, the Sun Devils have a luxury that few teams in the nation or Pac-12 can boast: An A-list veteran backup quarterback. Junior
Mike Bercovici
doesn't look like a backup during practices. After deciding not to transfer when Kelly beat him out two years ago, he's almost certain to be the starter next year, and his live arm might make him a better NFL prospect than Kelly.
"The best thing about it is how they push each other in practice," offensive coordinator Mike Norvell said. "Bercovici is creating his future based off every rep he gets today even though he's not the first-team guy. When he gets an opportunity, I'm 100 percent confident he's going to be successful because of the way he's prepared every day the last two years. He's not wasting days. He's ready to lead this team."
That also means Norvell doesn't have to use kid gloves with Kelly, who is a good and aggressive runner, who had 608 yards and nine TDs last year. That's a security blanket that UCLA and Oregon do not have with their dual-threat QBs.
It's pretty safe to say that Arizona State, barring major injury woes, is going to have one of the best offenses in the Pac-12 and nation next year. But there's still plenty of intrigue on the depth chart, which is a good thing -- depth! competition! -- for Graham, Kelly and company.
August, 23, 2012
8/23/12
12:00
PM ET
Arizona State is a program that could use some fixing. So it only makes sense that they turn to a mechanic.
Meet
Taylor Kelly
, starting quarterback, drag racer, gear head.
When he's not running the Sun Devils' offense, he's running cars on the quarter mile back in his hometown of Eagle, Idaho. He runs a Toyota Supra, a BMW M3 and a Nissan 240SX. He's hit 129 miles per hour and covered the quarter in 10.9.
Pretty fast. And if something breaks, the wrenching gene kicks in and he fixes it.
[+] Enlarge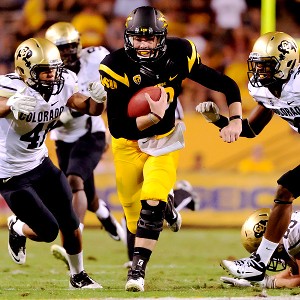 Cal Sport Media via AP ImagesCar enthusiast Taylor Kelly won the race to be Arizona State's starting quarterback.
That's sort of like his new job with the Sun Devils. Earlier this week, Kelly was named the victor of a three-quarterback competition and will start when ASU opens next week against Northern Arizona.
Kelly takes the helm of an offense that was big on numbers -- but also big on disappointment, particularly down the stretch when they dropped the final five games. Through the first eight games, when things were cranking, the Sun Devils averaged 36 points per game. During the losing streak, that number dropped to 29.
Something was broken. And now Kelly has to fix it.
"It's really about guys being focused and paying attention to every little detail and every play," Kelly said. "Focus on your job. If you do that and do your job, it can all come together. You never know when a big play can happen. But it's the little things that have to happen before a big play can."
Coming out of spring ball, Kelly was considered an underdog in the competition that included
Michael Eubank
and
Mike Bercovici
. Eubank is the most athletic of the three. Bercovici, who backed up Brock Osweiler last season, was the better pocket passer. Kelly is a blend of the two. He can make plays with his feet, and he says his offseason training allowed him to get stronger in the passing game. That's what won him the job.
"I worked really hard throughout the summer," he said. "The main thing I needed to work on was my vertical shots and my arm strength and getting comfortable with me taking those shots. That was the key for me this summer. I studied a bunch of film and really got comfortable with the offense and my feet and reading the defenses.
"In camp, I felt a lot more comfortable with the guys and the offense and reads. I just came out and cut it loose."
But Kelly probably won't be an every-snap quarterback. Eubank has shown so much potential and athleticism that new head coach Todd Graham has been adamant about getting him on the field. Expect the Sun Devils to have a few different looks that give Kelly a breather and Eubank a chance to show off his talent.
"We'll definitely have some packages for him," Kelly said. "I think it's going to be exciting. We'll be giving the defenses different looks and I think it's going to be really good."
After NAU, the schedule picks up with Illinois at home, at Missouri, home to Utah and then at Cal. Those last two pose two of the toughest defenses in the conference. But Kelly knows he has the team behind him.
"The guys respect me and I respect them," he said. "We have a good group. The guys are focused on the little things. That's what [Graham] keeps preaching and guys are buying into it -- the team concept. Working together as one unit. That, more than anything, will take us really far this year."
July, 6, 2012
7/06/12
12:00
PM ET
Arizona State linebacker
Brandon Magee
is a talker. He's confident, with just a hint of cocky swagger, and he feels like he can chat up anybody on any number of sports topics.
And now he'll have a forum, if only for four hours.
Next Friday from 2 to 6 p.m., Magee will be a guest co-host on 620 AM in Phoenix. It's not every day that a college athlete gets the chance to sit in the chair and fire off sports opinions. But Magee, who one day hopes to have a career in sports media after his playing days are done (either football or baseball, he was drafted in the 23rd round by Boston), said he's ready to handle his four hours on the air.
[+] Enlarge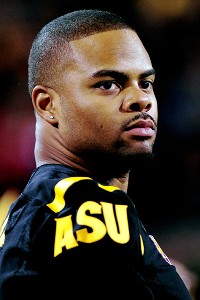 Jennifer Hilderbrand/US PRESSWIREAfter missing last season with a torn Achilles, ASU linebacker Brandon Magee is ready to return.
"I think it's going to be fun to try something new and step out of my comfort zone a little bit," said Magee, who is coming back after missing last year with a torn Achilles. "I have a lot of opinions so it's going to be fun to share those with everyone listening."
OK, let's try it out.
What are your thoughts on the new playoff system?

I think it's a great opportunity to try something new. There are a lot of complaints with the computer rankings and the people rating the teams. You might as well try something new for a few years and see how it works. If it doesn't work we'll come up with a new plan. So many people have been ready to see a playoff system and I think it will be a nice attraction for the fans out there to see a playoff with the top teams. It will bring a lot of excitement to the college game.
You're a baseball guy. The Diamondbacks are stuck under .500. What do those guys need to do to turn it around?

Honestly, I watch them pretty often. I believe they know what they are doing. They have some good players but they are a young team. But I think if they can pull it together they could make a run and be a tough team in the playoffs.

The Coyotes make it all the way to the Western Conference finals and then get smoked four games to one. Do you see them getting over the hump next year?

I do. When you get that close, it's going to eat at you all in the offseason and they are going to work even harder. I'd look for them to get there next season.

When a player goes on the radio, there have to be some questions that are off limits, right?

Nope. I'll answer anything.

OK. Who's going to win the ASU quarterback competition?

I think it's a three-way tie. Haha. Seriously. I don't know. Berco [Mike Bercovici] has more experience than the other quarterbacks. He had a good spring and a good camp. [Michael] Eubank, not a ton of experience, but he can use his legs and he's got the arm strength. He's got a big body. He's a load. Taylor Kelly can run and throw and manage the offense. He's good in every category. He's my sleeper quarterback.
But more than getting on the air, Magee is looking forward to getting back on the field. After missing all of last season with the Achilles tear, he watched in frustration as the Sun Devils started hot and then collapsed in the second half of the season.
"Watching that gave me a lot of fire for this year," Magee said. "It made me want to be a better leader for this team on and off the field. So I've been trying to sharpen my skills so when I come back, I can make sure that doesn't happen again."
Magee got a little work in spring ball, but mostly during seven-on-seven without any pads. He's set up camp in the film room learning ASU's new defensive scheme -- which he thinks is going to fit him just fine.
"It's been a long process coming back," he said. "But everything feels great. I just have to get my explosiveness back and I'll be ready for camp."
May, 14, 2012
5/14/12
4:00
PM ET
How much can we really learn from spring? Funky scrimmages with backwards scoring systems; depleted depth charts; completely new installs for four teams. Actually, more than you'd think. Here are five things we learned about the Pac-12 during spring.

Quarterbacks are still in limbo: Be it Stanford, Arizona State, UCLA, Oregon or Colorado, almost half of the teams still don't know who is going to be under center when the season starts. Stanford funneled its list of five down to two, Josh Nunes and Brett Nottingham. ASU still has a three-way battle with Michael Eubank, Mike Bercovici and Taylor Kelly -- though coach Todd Graham said they have a better idea than they are probably letting on publicly. The very private competition between Marcus Mariota and Bryan Bennett at Oregon remains in question -- though Mariota was spectacular in the spring game while Bennett faltered. Still, coach Chip Kelly said that one game isn't going to be his basis for comparison. UCLA coach Jim Mora wanted to name a starter by the end of spring, but no one has "grabbed" it, so we'll have to wait until August before learning whether Brett Hundley, Kevin Prince or Richard Brehaut gets the gig. And at Colorado, the competition was put on hiatus when Nick Hirschman broke a bone in his foot and couldn't compete in spring drills. One has to think that was a huge advantage for Connor Wood to get almost all of the reps with the first-team offense.
Not everyone has quarterback issues: Teams thought to have quarterback question marks heading into spring seemed to have resolved them. In Utah, Jordan Wynn is completely healthy, and both coach Kyle Whittingham and offensive coordinator Brian Johnson have declared Wynn their guy. While Mike Leach hasn't officially declared Jeff Tuel his starter, it's hard to imagine anyone else winning the job in the fall, short of Tuel suffering a significant injury or amnesia. He had a splendid spring, and appears to be a great fit for Leach's offense. And at Arizona, Matt Scott seized the job early and left little room for any competition. Coach Rich Rodriguez has been gushing about how quickly Scott has adjusted to the offense. At Cal, Zach Maynard, once thought to be challenged by freshman Zach Kline, appears to not only have held on to the job, but distanced himself from pursuers.
Wide receivers aplenty: And there are plenty of those in the conference. USC has probably the best tandem in the country in Robert Woods and Marqise Lee. Cal's Keenan Allen (though he missed spring drills) should continue to put up big numbers, and Washington State's Marquess Wilson should flourish in the Cougars' new system with Tuel as his quarterback. Markus Wheaton and Brandin Cooks could challenge the USC duo statistically if quarterback Sean Mannion continues to develop. There are stars on the rise at Arizona State (Jamal Miles) and Stanford (Ty Montgomery), and a potential star at Washington (James Johnson). Look out Biletnikoff, the Pac-12 is a comin'…
The conference of defense? The Pac-12 might never bunk its reputation as an offensive-centric conference (especially when it keeps churning out offensive talent). But there is a surplus of talented defenses and defensive players who were on display this spring. Washington seems to have plugged its leaks with new defensive coordinator Justin Wilcox. There's a 3-4 trend sweeping the conference, and with notable playmakers like Star Lotulelei (Utah), John Boyett (Oregon), Dion Jordan (Oregon), Chase Thomas (Stanford), Josh Shirley (Washington), T.J. McDonald (USC) and DeAndre Coleman (Cal), it's easy to see why some of the Pac-12 defenses will get the same kind of love as the offenses do in 2012.
Confidence is at an all-time high: As it should be in the spring. The four new coaches all feel confident about the systems they have installed. Stanford feels as good as it ever has about its running game. USC and Oregon should get lofty preseason rankings, and this is the time of the year when fans go through the schedules game by game and always seem to come up with a minimum of six wins. Sorry to say, there are teams in the conference that won't make it to a bowl game this season. But when you hear the coaches talk about their teams, you'd think the conference is going to go 12-0 in the postseason. This is a magical time for fans filled with hope and possibility. Enjoy it while it lasts.
May, 14, 2012
5/14/12
2:00
PM ET
There were a lot of new and few answers this spring in the Pac-12.
The new is four new coaches: Rich Rodriguez at Arizona, Todd Graham at Arizona State, Jim Mora at UCLA and Mike Leach at Washington State. The lack of answers comes mostly at quarterback, though it now seems in vogue for coaches to downplay -- or refuse to provide -- a post-spring depth chart, thereby leaving just about every position allegedly up for grabs.
Or as Oregon coach Chip Kelly cryptically explained when asked if any Ducks questions were answered this spring, "I don't know what that phenomena is, but we don't have answers that are answered after spring, Grasshopper."
He didn't say "Grasshopper," but it seemed to be strongly implied.
[+] Enlarge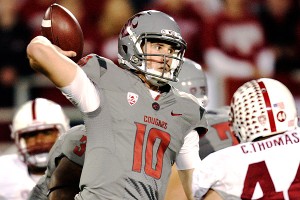 AP Photo/Dean HareA strong spring game helped Jeff Tuel in his bid to be Washington State's starting QB.
USC and Washington entered and exited spring with QB certainty, with
Matt Barkley
and
Keith Price
ranking among the nation's best. California, Utah, Arizona and Oregon State appear solid at the position. Washington State is just short of set with
Jeff Tuel
, as Tuel's lights-out performance in the spring game -- 19-of-21 for 285 yards and two touchdowns -- made his position seem strong with an injured
Connor Halliday
on the sidelines.
That leaves Arizona State, Colorado, Oregon, Stanford and UCLA. All five entered spring with QB uncertainty, and they exit it that way.
The Ducks QB situation was a national story after
Darron Thomas
surprisingly -- and unwisely -- opted to enter the NFL draft. Before spring began,
Bryan Bennett
, who played well in relief of Thomas last year, seemed like a strong frontrunner over
Marcus Mariota
. But Mariota overwhelmingly outplayed Bennett in the spring game, an ESPN3 broadcast that was the Ducks' only open practice, looking good as a runner and passer.
Still, Kelly only acknowledged what everyone saw and said onward to the summer.
Arizona State and UCLA started spring with three legitimate challengers at QB. While it seemed as though there was daily speculation of an emerging pecking order, both programs placed "ORs" between their troikas on their post-spring depth chart. While it would seem that
Mike Bercovici
and
Michael Eubank
are ahead of
Taylor Kelly
for the Sun Devils, and
Brett Hundley
and
Richard Brehaut
are ahead of returning starter
Kevin Prince
for the Bruins, those competitions are unresolved, according to both head coaches.
Same can be said for Stanford, though the Cardinal only have a two-man race with
Brett Nottingham
and
Josh Nunes
. Neither played terribly well in the spring game, so Andrew Luck's very, very large cleats remain unfilled.
Still, know that the coaches have a pretty good idea of the pecking order, even as they opt to be coy. Mora said he'll name his starter by Aug. 16, while Graham intimated his ultimate decision isn't far away.
"We're a lot closer than what it appears probably from the outside," he said.
Colorado's QB competition never really got started. Pre-spring frontrunner
Connor Wood
, a Texas transfer, was pretty much handed an opportunity to take the job with
Nick Hirschman
out with a foot injury, but Wood failed to break through. While Wood may well still be the frontrunner, it's also possible incoming freshman Shane Dillon could get into the mix, as could
Jordan Webb
, a former starter at Kansas who may end up in Boulder via transfer.
Embree isn't eager to prolong the indecision.
"If it's a clear cut deal, I'm not going to waste time," he said. "I think it's important that the team knows and that quarterback know that they're going to be leading the team."
What this all means is that nearly half the Conference of Quarterbacks is undecided at the position and likely will remain that way until mid-August. Or later.
Of course, feel free to consult the heavens -- or the message boards -- for hints at what might lay ahead.
April, 20, 2012
4/20/12
12:00
PM ET
Earlier in the week, we noted that
Athon Sports ranked Pac-12 QBs 1-12
.
Here's the Athlon ranking again:
For one, Athlon went ahead and named QBs for teams with on-going QB competitions. Obviously, many of you had thoughts on the pecking order. It should come as no surprise that we did, too. So here's what we think.
Kevin Gemmell
: Here are my thoughts.
[+] Enlarge

Kirby Lee/US PresswireNot many would argue with USC's Matt Barkley being ranked as the Pac-12's top QB.

I don't think there is any debate about Nos. 1 and 2. That's where I'd put them.

Whoever wins the Stanford job is way too high for No. 7 -- considering neither Nottingham nor Josh Nunes have even started a game. Until proven, Stanford's QBs belong in double-digit country.

Jordan Wynn is ranked too low. As the Athlon folks admit, he's a tough one to gauge simply because of his past injury problems. But when he's healthy, he's one of the top five quarterbacks in the conference. And right now he's 100 percent healthy. I'd put him in the Nos. 4 to 5 range.

I like Jeff Tuel and I like his potential. And I think that's what these rankings are banking on -- what he'll be able to do in Mike Leach's system. But he's still a first-year player in the system and he'll still have Connor Halliday clawing for the job in the fall so I'm not sold on the No. 3 spot. Probably 6 or 7.

I think Mannion is poised for a big year. If the offensive line can get squared away and he has the time to throw in relative comfort, he'll have a big season. The 4 spot seems about right, give or take.

Due to the media blackout at Oregon, we don't have much of an idea of what's happening with Bennett or Marcus Mariota. I can only go on what I saw from Bennett last year and he was very capable of running the offense. And anyone capable of running Oregon's offense is going to be good. If it's Mariota, that means he's played better than Bennett and that's impressive. I'd bump Oregon to No. 3.

Maynard has a good running back, good receivers and he ended the year on a decent clip. Middle of the pack seems about right.

Like Tuel, I think Scott is loaded with potential. Plus he's a veteran guy with some experience under his belt. Doesn't belong in double digits.

UCLA just escapes double digits in my opinion because at least there is some experience within the three-way competition. If it ends up being Brett Hundley, it's because he beat out two guys with starting experience. And we all know what Noel Mazzone can do with an offense.

ASU is another major question mark. Inexperience plus a new system equals potential quarterback struggles. But whoever gets the job at least has some good weapons around him and an offense that is potentially explosive.

Colorado's quarterback to be has a tough road, no matter who wins the job. I've read mixed reports about Wood, but had the chance to speak with him and he comes across as confident and poised. Unfortunately, confidence and poise doesn't equal receivers.
So, with that said, here's my list as of right now.
Matt Barkley, USC

Keith Price, Washington

Oregon quarterback to be named

Jordan Wynn, Utah

Sean Mannion, Oregon State

Jeff Tuel, Washington State

Zach Maynard, Cal

Matt Scott, Arizona

UCLA to be named

ASU to be named

Stanford to be named

Colorado to be named
The floor is yours, Mr. Miller. Have at it.
Ted Miller
: I can't wait for this: "Miller, you're an idiot. Our TBA QB is way better than their TBA QB! DO THEY PAY YOU FOR THIS!!! I HATE YOU!!!! ARRRRRR!"
I ditto Kevin on Nos. 1 and 2. Barkley is the No. 1 QB in the nation and Price is in the preseason top 10. After that, well, things are pretty fluid.
Here's my ranking:
1. Matt Barkley, USC
2. Keith Price, Washington
3. Jeff Tuel, Washington State
4. Jordan Wynn, Utah
5. Oregon QB to be named
6. Matt Scott, Arizona
7. Sean Mannion, Oregon State
8. Zach Maynard, California
9. UCLA QB to be named
10. Stanford QB to be named
11. Arizona State QB to be named
12. Colorado QB to be named
[+] Enlarge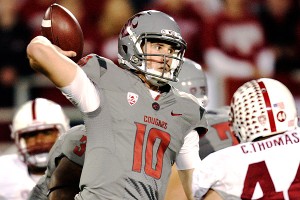 AP Photo/Dean HareA strong spring game helped Jeff Tuel in his bid to be Washington State's starting QB.
I've typed this before, but folks forget how good Tuel is when healthy. He's passed for 3,845 yards in his career with 25 TDs. I think he will get drafted in 2013.
Wynn is a lot like Tuel: When healthy, he's good. He's passed for 4,390 yards in his career with 31 TDs and 16 interceptions.
Not a big fan of giving a high ranking to a TBA, but Oregon's TBA gets special consideration at No. 5 because Chip Kelly has yet to fail when it comes to breaking in a new QB. We know Bryan Bennett is capable based on what he did when
Darron Thomas
was hurt last year, so if he gets beaten out by Marcus Mariota, well, Mariota will have to be pretty good, too. Still, this is an unknown with two ultimately unproven players.
Scott, with just five career starts, at No. 6 might surprise some folks. Here's my thinking. In 2009, Scott initially beat out
Nick Foles
for the starting job. In 2010, he came off the bench for an injured Foles and won a pair of starts, playing just short of brilliantly. His 150.95 efficiency rating would have finished fifth in the Pac-12 this season. He threw for a career-best 319 yards against UCLA, and won Pac-10 Offensive Player of the Week with a near-flawless performance against Washington (just ask Huskies fans). Finally, he's a great fit for Rich Rodriguez's spread-option offense.
Mannion and Maynard were a toss-up. Maynard had better numbers overall and surged late in the regular season, but Mannion has better upside. What tipped my rating to Mannion is his better receivers. They should help Mannion put up big numbers in 2012.
Then we come to the TBAs, non-Oregon. UCLA is tops among them because you have two veterans with plenty of starting experience in Kevin Prince and
Richard Brehaut
. If redshirt freshman Brett Hundley is good enough to beat out both, well, then he'll be pretty promising.
I think, at worst, Brett Nottingham or Josh Nunes, both once top recruits for Stanford, will be at least adequate. But neither has started a game or even seen meaningful action.
I also don't think Arizona State is in a jam at QB. Mike Bercovici,
Michael Eubank
and
Taylor Kelly
all have their pluses. But each is inexperienced.
As for Colorado, the job was Texas transfer Connor Wood's to win this spring, and it appears he was not consistent enough to do that. He remains the favorite though, and there's no question about his potential. Still, as Kevin noted, the Buffaloes have receiver issues.
April, 18, 2012
4/18/12
1:00
PM ET
TEMPE, Ariz. -- Amanda Pettas, daughter of former Washington offensive coordinator John Pettas, dashes into the middle of the Arizona State scrimmage. You wonder: Is she possessed by the ghost of former Sun Devils linebacker
Vontaze Burfict
, determined to do something completely nuts?
The whistle blows, and immediately Pettas raises a pair of flags -- maroon and gold, of course.
The reporter on the sideline, widely known for being phenomenally observant and preternaturally insightful, is given three ultimately futile guesses as to what the heck Pettas is doing.
Sports information director Mark Brand then explains that Pettas is charged with running to the ball and raising the flags so coaches, watching film later, can know for sure which players are running full-go until the whistle is blown and which, thinking they are away from the play and can relax, might slow down a second or two before the whistle.
New coach Todd Graham doesn't like that. To him, it's loafing. The Sun Devils over the past few seasons did a lot of that.
That phenomenally observant and preternaturally insightful reporter saw little loafing on Tuesday. Also, his ears are ringing. Graham has enlisted a crew of assistants who aren't shy about making a point colorfully.
"The first couple of weeks were a little rough," offensive tackle
Evan Finkenberg
said.
It's a seeming requisite when observing a new coaching staff for folks -- fans and media -- to paint a "There's a new sheriff in town!" picture. Everything the fired coach did becomes inferior and everything the new coach changes becomes brilliant and inspiring. These, naturally, are superficial judgments made before games are played.
But this is
different
. Everybody dresses the same -- there are no fashion statements at practice. Walking on the field is verboten. While former coach Dennis Erickson mostly observed practice, Graham is active at just about every moment. He barks, instructs and jokes with his players incessantly. And so do his assistants.
Different, of course, guarantees only change, not success. And the players Graham inherited -- a roster with many questions -- might not be capable of winning more than six games next fall, as they did in 2011, even with a dramatic change in culture.
But six wins with fewer penalties, more consistent effort and a more disciplined, mature locker room likely would be embraced by the Sun Devils' frustrated fan base. And would bode well for the future.
Some observations:
Quarterback competition? It's interesting because Mike Bercovici, Michael Eubank and Taylor Kelly are so different, something that won't be the case going forward when Graham and his staff recruit specifically for their offense. No question Bercovici is the best passer by a wide margin. Graham wants to throw downfield aggressively, and Bercovici -- big arm, quick release -- has the potential to do that as well as anyone in the conference. But Bercovici isn't a runner, and QB runs are a staple of Graham's offense. The general consensus is Eubank is the future. He's got a nice arm and his 6-foot-5, 242-pound frame makes him a physical, if not terribly speedy runner. On Tuesday, however, Eubank seemed reluctant to throw, even when guys were open. Kelly is likely in third place, but he can run and he also throws fairly well, though he seems to aim the ball in a way that defenses will be able to pick up.
The Sun Devils are deep at running back, particularly if Deantre Lewis gets back up to speed after missing last year with a gun shot wound that left him with nerve damage in his upper leg. There's starter Cameron Marshall and James Morrison -- a couple of bangers -- touted incoming players, Marion Grice, a JC transfer, and freshman D.J. Foster, as well as hybrid WR/RB Kyle Middlebrooks and Jamal Miles.
The offensive line has looked better than expected and the defensive line is solid, though it will be much better if suspended end Junior Onyeali gets reinstated.
Areas of concern: linebacker, receiver and safety. There are intriguing players at each spot, but experience -- particularly at linebacker and wide receiver -- is an issue.
Last year, the Sun Devils played an up-tempo, no-huddle, spread offense. They needed roughly 20 to 22 seconds between plays. Graham's goal is 16 to 18 seconds. That's really fast, perhaps not even doable on a consistent basis. But the effort to get there certainly increases the pace at practice.
April, 2, 2012
4/02/12
7:00
PM ET
For all of those hoping for a quick resolution to Arizona State's three-way quarterback competition, offensive coordinator Mike Norvell has some disappointing news: not gonna happen.
"I'm definitely OK with this thing going into the summer," said Norvell, who came from Pitt with new head coach Todd Graham. "Obviously, you'd like to be able to name a starter, that always helps. But in our situation, us being in our first year, and these guys all being relatively young, we want to be able to give them time to mature. If we were a third-year staff, I would say that I want a starter by the end of spring. But I don't see that being able to occur, so I'm more than OK with this going into the summer."

Given the inexperience at the position, Norvell had very little film to work with when trying to gauge
Michael Eubank
,
Taylor Kelly
and
Mike Bercovici
, so the last couple of weeks have really been his first chance to start serious evaluations.
Here's his take on the trio so far:
Kelly: Probably the most experienced of the quarterbacks, but he has some game experience. He can do a little of both. He understands throwing on timing, but can also present some promise for defenses with his legs. He's a mature young man and a quick-study of what we're doing. We need to continue to develop some consistency with him.

Bercovici: He's still growing. Great arm, understands the passing game and he gets the ball out quickly on time with a good release. He doesn't have as much experience with timing, but he's done a good job so far picking everything up.

Eubank: He's a physical talent. 6-5, 240 pounds, he can run, has a really good arm and can make a lot of different throws. He throws the deep ball exceptionally well. We need to develop consistency with his fundamentals, and a lot of that is attributed to his youth, but he can do a lot of different things for us.
Despite a "spread" mentality, Norvell said people are going to be surprised by how balanced the Sun Devils are going to be. He said -- in a perfect world -- they'll have a 55-45 percent run-to-pass ratio.
"The biggest thing for us is our tempo," he said. "We want to run 80-plus snaps a game. If we're snapping the ball 80-85 times per game, we're still throwing 40-45 times. You get the best of both worlds in this offense. But that tempo hopefully opens everything up.
"Everybody wants to consider us spread because we're in the gun so much, but we are a two-back spread team. We have a lot of straight, pro-style run schemes. We're very balanced with our play-action and run-to-pass ratio. We want to be physical. That's at every position. We want to have that mentality and be able to run the football. That opens up everything we want in the passing game and being able to execute that part of the offense."
All three took equal snaps
during Saturday's scrimmage
. Norvell is aware that Eubank is a "fan favorite" because of his athletic talent and size. But he won't be swayed by the opinion of others.
"Anytime you look at a young man that has those physical tools and the ability he has, people get excited about it," Norvell said. "He's got to continue to take a workman's approach and he's done a good job. He wants to know this offense as well as I know it. He's putting in the time. But you look at those other two guys, they are fierce competitors and they know what we want to do. We really have a great situation and a great competition."
March, 13, 2012
3/13/12
11:00
AM ET
TEMPE, Ariz. -- On Jan. 6,
Mike Bercovici
was chilling with some friends when he got a call from Arizona State receiver
Aaron Pflugrad
. There, it seemed, was some big news for the Sun Devils' backup quarterback.
In a surprise to many, junior
Brock Osweiler
, the Sun Devils' starting quarterback, had decided to enter the NFL draft.
"My mindset changed immediately," Bercovici said. "I was really excited when I heard the news."
Of course he was. It's natural that the backup becomes the favorite to win the job when the starter leaves. Osweiler's decision meant Bercovici was suddenly in line to become No. 1 on the depth chart a year earlier than expected -- as a true sophomore.
But, as everyone also knows, Osweiler also wasn't the only person who bolted the Sun Devils. When coach Dennis Erickson was fired, offensive coordinator Noel Mazzone and his spread passing attack moved on to UCLA. Enter Todd Graham and his spread-option, Oregon-esque offense, which asks the quarterback to be a running threat.
[+] Enlarge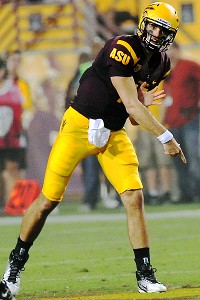 Jennifer Hilderbrand/US PresswireMike Bercovici was last season's backup at Arizona State, but might not be the best quarterback for new coach Todd Graham.
Bercovici has a big arm but isn't really known for his ability to run the ball.
"I'm not as familiar with the zone read," he said.
The guy who lost out on the backup job to Bercovici last preseason, sophomore
Taylor Kelly
, however, does have experience running the spread option. And, oh by the way, redshirt freshman
Michael Eubank
, an impressive athlete at 6-foot-5, 235 pounds, was recruited by Graham to play quarterback at Pittsburgh.
"He tells me he knows me. He's told me that numerous times since he's been here," Eubank said. "But I'm fighting for the job like the rest of the guys. I don't feel like I have any advantage just because I know him."
What we do know: This feels like an honest-to-goodness battle. This offense seems to fit Kelly's and Eubank's comfort zone better than Bercovici's, but Graham's offense also emphasizes throwing the ball downfield -- much more so than Mazzone's quick-hit passing attack. Bercovici can hurl the rock downfield, there is absolutely no doubt about that.
But Graham isn't talking so much about the different skill sets of his signal-callers. For one, spring practices only start Tuesday, so he hasn't seen them in action. But he makes clear that there's a lot more to playing the position than passing and running.
"We spend a lot more time focusing on the intangibles, the mental part of it," he said. "The guy who will win this job will be the guy who can lead our team."
That said, becoming proficient with the spread option is a key component of the competition. But it's not all about athletic ability and blazing speed, either.
"The read zone is a part of what we do," Graham said. "We want to hurt them with our legs but slay them with our arm. Most of the guys in this system have been between 4.8 and 5-flat [in the 40-yard-dash], but if you have great technique you can be very deceptive in the option game."
(Graham said his offense best compares to what Chad Morris runs at Clemson and what new Arkansas State coach Gus Malzahn ran as Auburn's offensive coordinator).
None of the three has any real college experience. And all three are young, so whoever wins could be in line to be a three- or (in Eubank's case) four-year starter. Graham and offensive coordinator Mike Norvell said each will get equal time with the first-team offense until a pecking order establishes itself.
"I don't have a timeline for when we're going to cut it to a two-man race or when we're going to name a starter," Norvell said. "It's a process and it's going to take its course. We're going to see how the guys compete."
And the competition is almost certain to extend well into fall camp.
Said Norvell, "I think I'll find it hard to name a starter after just 15 practices."
February, 23, 2012
2/23/12
10:00
AM ET
Pac-12 spring preview: South Division
Spring practice is almost here. Here's a snapshot at what to expect from the Pac-12 South in the coming weeks.

ARIZONA
Spring practice starts
: March 4
Spring game
: April 14
What to watch
:
Hello, my name is ... Like the other two teams in the South Division with new head coaches (Arizona State and UCLA) much of Arizona's first few weeks will be Rich Rodriguez evaluating his personnel and getting to know what he has to work with. Likewise, the players are going to have to figure out what this new coaching staff is about. Everything from how they do pre-practice stretches to how they call the cadence is going to change.
New scheme and a new scheme: A spread option on offense and a 3-3-5 on defense. That's a lot of new material to digest on both sides of the ball. Until Rodriguez can recruit the players he likes into his scheme, he's going to have to make it work with the players he has. Fortunately on the defensive side of the ball, Arizona has good depth in the secondary with Cortez Johnson, Marquis Flowers, Shaquille Richardson, Jourdon Grandon and Tra'Mayne Bondurant. The Wildcats should also get a boost with the return of injured players Jake Fischer (LB), Jonathan McKnight (CB) and Adam Hall (S).
Perfect fit? Former starter Matt Scott, who was beaten out by Nick Folesin 2009, is expected to reprise his starting role under Rodriguez. He redshirted the 2011 season and -- magically -- Foles never got hurt last year despite taking 23 sacks and countless hits. Scott is considered the more versatile quarterback and should fit nicely into the new run-based spread attack.

ARIZONA STATE
Spring practice starts
: March 13
Spring game
: April 21
What to watch
:
QB competition: We know what kind of offense new coach Todd Graham is going to run; now it's a matter of figuring out who is going to run it. Graham has his choice of three players -- Mike Bercovici, Taylor Kelly or Michael Eubank -- to replace NFL-bound Brock Osweiler. Graham said earlier this month that there are no favorites heading into the competition and each one brings his own skill set to the table. Eubank has the size (6-foot-5, 235 pounds), Bercovici (6-1, 205) is a mechanic and Kelly (6-1, 202) is a little bit of everything.
Get the locker room: By the end of the 2011 season, ASU's locker room wasn't just divided, it was completely splintered. Graham's task -- and that of his new coaching staff -- is to pick up the pieces, mend internal fences and find some chemistry on both sides of the ball. Linebacker Brandon Magee, long considered a great locker room leader, should help get the Sun Devils back on track as he returns from a season-ending Achilles injury.
Hands competition: The Sun Devils lose three of their top four wide receivers from last season -- Gerell Robinson, Aaron Pflugrad and Mike Willie. Jamal Miles returns after finishing second on the team last season with 60 catches and six touchdowns. Rashad Ross figures to be the No. 2 guy, but establishing depth in that corps -- especially if Graham wants to be up-tempo -- is key.

COLORADO
Spring practice starts
: March 10
Spring game
: April 14
What to watch:
Momentum, maybe? For as rough as 2011 was for the Buffs, they ended the year on a high note, winning two-of-three down the stretch -- including a 17-14 win over Utah in the season finale. But there is also the possibility that things might get worse before they get better. With just four returning starters on offense, spring in Boulder will likely be more about teaching and less about refining.
Where to start (offense)? Well, quarterback might be a good place. In the court of public opinion, Connor Wood, a transfer from Texas, seems to be the favorite. Nick Hirschman appeared in five games last season, mostly in mop-up time when the game was already out of hand. It's also possible a starter could be named by the end of spring ball. Finding offensive weapons to surround the new quarterback will also be a challenge. Wide receiver Paul Richardson caught 39 balls last season, and running back Tony Jones showed a flare for catching the ball out of the backfield. He'll likely step in as the new workhorse back for the departed Rodney Stewart.
Where to start (defense)? Last in this. Last in that. Last in almost every team statistic the Pac-12 has to offer. But there are some intriguing youngsters on the roster. Cornerback Greg Henderson was all-conference honorable mention as a freshman with a team-high nine passes broken up. Jered Bell also returns from injury after blowing out a knee last preseason. If healthy, he's expected to be a big contributor in the secondary. Linebacker Jon Majorreturns as the team's leading tackler, and if Doug Rippy is fully recovered from his knee injury, he'll look to build on what was a pretty good season last year before getting hurt.

UCLA
Spring practice starts
: April 3
Spring game
: May 5
What to watch
:
QB up for grabs: Like the majority of the conference, UCLA enters spring with a quarterback competition. New offensive coordinator Noel Mazzone said he doesn't care how much experience (or lack thereof) a player has -- if he can play, he wins the job. So don't be surprised if Brett Hundley passes Kevin Prince and Richard Brehautas the new man leading the Bruins. Fans have been clamoring for a change. Hundley might be it.
Attitude adjustment: One of the first things new head coach Jim Mora did was slam the team for its tradition of going "over the wall," a time-honored senior ditch day, saying if they want to jump the wall, they should just keep on going. How's that for sending a message? UCLA has earned a reputation for being soft and underachieving despite good talent. Attitude and toughness is needed -- and so far, Mora appears to be hammering that point home.
Speaking of toughness ... The defense has to get tougher. No two ways about it. It was weak against the run last season, allowing more than 190 yards per game on the ground; couldn't get to the quarterback; and couldn't get off the field almost 50 percent of the time on third down. It's time for potential all-conference players such as defensive end Datone Jones to start living up to the hype and the defense as a whole to stop getting pushed up and down the field. At 6-5, 275 pounds, Jones has the physical makeup to be a major force in the conference and catapult himself into the elite class of collegiate defensive players.

USC
Spring practice starts
: March 6
Spring game
: April 14
What to watch
:
Ignore the hype: Few teams ended last season hotter than USC and returning quarterback Matt Barkley. The Heisman talk has already started, the way-too-early rankings already have the Trojans as national championship contenders, and the public perception is that the offense is unstoppable. Nice to hear, but hype is a double-edged sword. Head coach Lane Kiffin has a knack for deflecting hype. This season will be his toughest test to date.
Insurance? The Trojans are loaded on both sides of the ball with returning players. But after the starting 22, things start to get dicey. Developing depth and keeping the starters healthy is a top priority -- particularly on the offensive and defensive lines and at running back, where experience is thin outside of the starters. The entire back seven returns on defense -- headlined by hard-hitting safety T.J. McDonald. Stopping the pass has been a major priority for Kiffin, and if this group stays healthy it should see the pass-efficiency numbers improve even more.
Other options: Along those same lines, wide receivers Robert Woods and Marqise Lee make up the most feared receiving duo in the conference -- maybe the country. But who are the Nos. 3 and 4 receivers behind them? George Farmer? Victor Blackwell? De'Von Flournoy? Don't overlook the tight end duo of Xavier Grimble and Randall Telfer, which should rival Stanford's Zach Ertz and Levine Toilolo as the best tight end tandem in the conference.

UTAH
Spring practice starts
: March 20
Spring game
: April 21
What to watch
:
Youthful approach: Head coach Kyle Whittingham turned some heads by naming former Utah quarterback Brian Johnson as his offensive coordinator. Johnson, who recently turned 25, said he's not looking to make wholesale changes to the offense, though he wants to put his stamp on it and continue to build around running back John White IV, who had a breakout season in his first year of major college football. Having quarterback Jordan Wynn back healthy should also help as the team transitions to Johnson running the offense.
Fixing the line: Who is going to protect Wynn (if he does indeed win back the starting job) and make holes for White? That's a major concern heading into spring as the Utes have to replace a pair of all-conference linemen in Tony Bergstrom and John Cullen. The Utes should be set at the interior but have to adjust to a new position coach, with Tim Davis leaving for Florida after just one season and Dan Finn -- a former Utah graduate assistant who was brought on to help Davis -- taking over the whole line following a one-year stint at San Diego State.
Work the experience: The defensive line should be one of the best in the conference, especially with the return of Star Lotulelei, who won the Morris Trophy last season as the conference's best defensive lineman. With the Kruger brothers returning to the line -- Joe at defensive end and Dave at tackle -- Derrick Shelby is the lone starter who has to be replaced. There's also some pretty good depth in the secondary that was tops in the conference last season in pass-efficiency defense.
February, 17, 2012
2/17/12
3:00
PM ET
Fortunately for Arizona State wide receiver
Rashad Ross
, starting blocks aren't required for running routes. If they were, the junior might have a hard time getting off the snap. And let's be honest, the shoulder pads and helmet would probably just get in the way.
Yet even on an indoor track, Ross still hasn't really mastered those pesky starting blocks.
"Honestly, I don't really know how to start all that good," Ross said. "But I can end good."
[+] Enlarge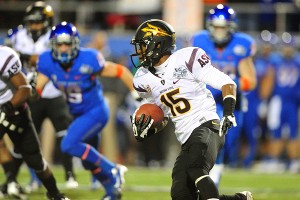 Mark J. Rebilas/US PresswireWith three of ASU's top 4 receivers from 2011 not returning next season, Rashad Ross has a golden opportunity for playing time.
And at the end of the race -- if you're the one crossing the finishing line first -- no one is going to care how you started.
Of all the collegiate football players in the country who also run track, Ross has the fastest time in the nation in the 200-meters indoor with an altitude-adjusted mark of 21.25. That's also the sixth fastest indoor mark in ASU history. Overall, he ranks 24th in the nation among all runners.
"I like the 200 because I know if I screw up the start, I have time to make it up," he said.
That should give you some indication of just how fast this guy is -- slow starter, huge finisher. It's that way on the football field as well. One needs only to look at the opening kickoff of the second half in the Las Vegas Bowl,
when Ross took it back 98 yards
, to see what happens when he gets it going. It was one of the few highlights on an otherwise off night for ASU against Boise State.
The Sun Devils and new head coach Todd Graham are going to need plenty of speed at the wide receiver spot next year. They lose three of the top four receivers from last season;
Gerell Robinson
(77 catches, 1,397 yards, seven touchdowns),
Aaron Pflugrad
(44/665/5) and
Mike Willie
(36/455/3). Which means the fleet-footed Ross could be the next big thing.
Aside from his track training, he's been working out on the side with a couple of the quarterbacks who will be in line to replace
Brock Osweiler
.
Michael Eubank
,
Mike Bercovici
and
Taylor Kelly
are all in competition for the starting gig.
"A lot of people say quarterback is going to be an issue for us next year," Ross said. "We'll see. I have faith in all of them."
Ross knows nothing is going to be handed to him. And
Jamal Miles
returns after finishing second on the team with 60 catches and six touchdowns last year. Ross' track training keeps him in shape for football and if he wants to build on his 18 catches from last season, he's going to have to win over Graham and his new staff.
"When I first met [Graham], I thought he was nice -- not like what everybody else was saying and I didn't see what everybody else was seeing," Ross said. "And then I heard him talk when he was mad and I was like 'OK, he's not playing around.'"
For now, he's focused on getting that 200 time down even further. If he can get to 21 flat, he'll have a good shot at qualifying for nationals and a 20.73 would make him an automatic qualifier. He also has the eighth fastest time in the conference in the 60-meter at 6.82. His slower starts are even more noteworthy in a quick sprint like the 60, because he is still able to make up time on the finish.
April, 26, 2011
4/26/11
11:46
AM ET
TEMPE, Ariz. -- Arizona State quarterback
Brock Osweiler
views himself as a "gamer," a guy who flips a switch on game day but may not always be at his best in practice. Sun Devils offensive coordinator Noel Mazzone views himself as a guy who thinks that's a load of, er, crud.
Mazzone wants to talk about practice. Not a game, not a game, not a game but practice.
"I said, 'Brock, I'm going to be honest with you. Don't give me this [crud] that you're a game player. That don't fly with me,'" Mazzone said. "To me, a guy who's not a great practice guy is a guy who can't focus."
[+] Enlarge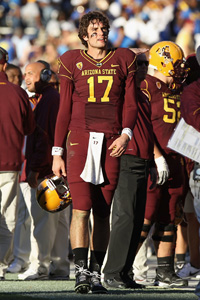 Christian Petersen/Getty ImagesBrock Osweiler threw five touchdown passes in the spring game.
Osweiler didn't get off to a great start this spring, but he and the offense played better as the practices rolled on. And, of course, Osweiler peaked in the spring game, throwing five touchdown passes, which inspired confidence that he can lead Arizona State to the top of the Pac-12 South Division next fall.
That's critical because Osweiler became the starter by default this offseason. After a tight battle last spring and preseason, Osweiler lost out to Michigan transfer
Steven Threet
. While Threet threw too many interceptions, he also led the second-best passing offense in the conference. He went down against UCLA in game 11 with his third concussion, and Osweiler was brilliant in relief and then beat arch-rival Arizona.
While many figured Osweiler would beat out Threet in the spring, Mazzone said that was far from certain. What is certain is Threet is standing on the Sun Devils' sidelines now, helping coach instead of competing for the starting job because of recurrent concussions.
That means Osweiler is the man, for better or worse. If he isn't up to the job the alternatives are two players with no experience: redshirt freshman
Taylor Kelly
and true freshman Mike Bercovici. For his part, Osweiler thinks he's a better quarterback today because of the disappointment of last year.
"Not winning the quarterback competition, it bettered me as a person and as a football player," he said. "It's easy to be the guy who goes in from day one and plays and gets what he wants. I think I grew as an athlete to be put in that competition situation and lose it because I learned so much from it."
Part of that was learning to practice well consistently.
"That's what [coach Dennis Erickson] and Coach Mazzone told me after last year: I need to show it in practice more: 'If you want to be the guy, you've got to be the guy in practice too,'" Osweiler said.
Part of this is symbolic: The quarterback needs to set an example for the team in practice. But Osweiler's lack of distinction in practice had another side-effect: His teammates didn't know what to make of him. More than a few thought the offense might be in trouble when Threet went down.
"It amazed me last year when they put him in," cornerback Deveron Carr said. "He was scrambling, throwing. I was amazed. I didn't know that Brock. I hadn't played against that Brock. I didn't remember that Brock coming to Arizona State. Something clicked in his heart or his mind that he could be great."
And now? Said Carr, "He's matured a lot. He makes better decisions. He looks stronger. He's just an all-around better quarterback."
Osweiler was mostly forgotten before he came on in relief for Threet against UCLA and led the Sun Devils back from a 17-0 deficit with a tour de force performance. He passed for 380 yards and four touchdowns and ran for another score as the Sun Devils rolled 55-17. The win over Arizona, however, was a bit deceiving. Osweiler was terrible in the first half and was fortunate to have a number of easy interceptions dropped. Further, if the Wildcats had not flubbed a pair of extra points the Sun Devils' smiles likely wouldn't have been so wide heading into the offseason.
Osweiler believes he's significantly better today than when he came off the bench last November.
"My skill set is almost night and day if you want to compare it to the Arizona game last year to right now," he said. "I put in a lot of hard work in the offseason to better than skill set."
Erickson and Mazzone said that Osweiler understands the offense better and has improved his mechanics, changing his throwing motion to speed up his release. While the 6-foot-8 Osweiler looks like a prototypical pocket passer, he runs a 4.7 40-yard dash. His 56 yards rushing in the win over Arizona were critical.
By the end of spring practices -- practices, not a game -- Erickson saw Osweiler putting it all together. "He just flowed better," Erickson said.
Of course, this fall, our measure of Osweiler and the Sun Devils will be what they do in the games, not practice.