December, 4, 2012
12/04/12
7:09
PM ET
Auburn is bringing a very familiar and successful face back to the Plains with the hiring of Arkansas State coach
Gus Malzahn as the Tigers' new coach
.
After just one season with the Red Wolves, Malzahn is headed back to Auburn to take over for Gene Chizik, his former boss, who was fired after going 3-9 in his fourth season as Auburn's coach.
Malzahn's return brings hope that offensive competence resurfaces on the Plains. This past season was abysmal for the Tigers' offense. With Malzahn taking his act to Arkansas State, where he promptly went 9-3 and won a Sun Belt championship, and Scot Loeffler taking over, Auburn's offense shifted from the spread to a more pro-style look.
But without Malzahn's guidance -- or offense -- the Tigers were last in the SEC in total offense, mustering just 305 yards per game. Auburn shuffled around three starting quarterbacks, averaging 156 passing yards a game in the process, and scored fewer than 20 points seven times, including two shutouts in the final three weeks of the season.
According to ESPN Stats & Information, Auburn's offense scored 48 fewer touchdowns and had 41 fewer 20-yard plays than the 2010 unit headed by Malzahn.
With Malzahn back, the hope is there will be an immediate offensive turnaround. Remember, when he stepped in as the offensive coordinator in 2009, he whipped that offense into shape right from the start. In 2008, the Tigers were one of the SEC's worst offensive teams, but by the end of the 2009 season, Auburn was second in the SEC, averaging 431.8 yards of offense per game, which was nearly 130 more yards a game than 2008.
[+] Enlarge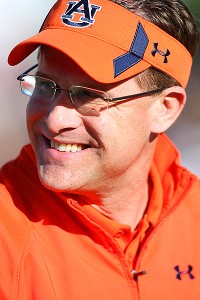 Nelson Chenault/US PresswireAfter one season with Arkansas State, Gus Malzahn is returning to Auburn, this time as the head coach.
But he really made a name for himself in 2010, when he and some guy named Cam Newton helped Auburn to a 14-0 season and a national championship behind the SEC's No. 1 offense. Newton won the Heisman Trophy after passing for 2,854 yards with 30 touchdowns and rushing for an SEC-high 1,473 yards and 20 touchdowns. Newton's 4,327 total yards of offense set an SEC record.
Malzahn isn't expected to duplicate his 2010 success -- he just can't without a Cam Newton on campus -- but he should make the offense considerably better with his fingerprints on the playbook. He has a talented backfield to work with, starting with running backs
Tre Mason
,
Mike Blakely
and
Corey Grant
. He also has three quarterbacks in
Jonathan Wallace
,
Kiehl Frazier
and
Clint Moseley
, who all have dual-threat ability, which is what Malzahn's offense needs to succeed.
It should be especially exciting to see how Wallace responds. He took over as the starting quarterback late in the season, and showed some promise as both a runner and passer.
An immediate criticism will be that Malzahn won't have Newton to work with. He's 25-13 since 2009 without him. His teams score 10 fewer points and average about 84 fewer yards without him. But Malzhan did pretty well for himself this season at Arkansas State without Newton.
Here are some interesting Arkansas State stats courtesy of ESPN Stats & Information:
Arkansas State is currently 40 yards shy of tying the school record for total yards in a season (currently at 5,782).

The Red Wolves average 481.8 yards per game, which is on pace to break the school record of 447.8 set last season.

The team currently averages 6.5 yards per play, which is on pace to break the school record of 6.0 set in 2008.

5.2 yards per rush would break the school record of 5.1 set in 1989.

Arkansas State has scored 437 points this season, 19 shy of the school record.
Obviously, SEC defenses are tougher to beat than Sun Belt ones, but Malzahn should have his successes. In his three years as Auburn's offensive coordinator, the Tigers won 30 games, scored 33.6 points per game and averaged 424.9 yards of offense, including 227.8 on the ground, according to ESPN Stats & Information.
It also will help that he's extremely familiar with how things work at Auburn and the culture on the Plains. Fans know him and know what he can do. But with that comfort will come higher expectations. He'll have the usual grace period, but fans are very restless in Auburn, and they expect Malzahn to come in and clean off some of the mud splattered on the program in 2012.
This wasn't the sexiest hire for Auburn, but it's one the administration thinks will get this program back on track and back on the scoreboard.
March, 23, 2012
3/23/12
8:21
AM ET
SEC bloggers Chris Low and Edward Aschoff will occasionally weigh in on different questions facing the league. We'll both have strong opinions, but not necessarily the same opinion. We'll let you decide who's right.
Today's Take Two topic:
Auburn's Scot Loeffler and Florida's Brent Pease are two
of six new offensive coordinators in the league. Who faces the steeper challenge in 2012 -- Loeffler or Pease?
Take 1: Chris Low
[+] Enlarge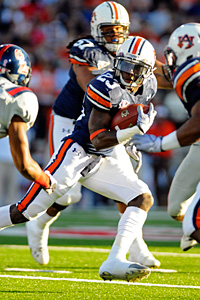 AP Photo/Austin McAfeeRB Onterio McCalebb should provide Auburn explosiveness out of the backfield in 2012.
The truth is that both offenses were hard to watch last season, and Auburn's 17-6 victory over Florida was a clinic in bad offensive football. The two teams were a combined 4-of-26 on third down, and there were 16 punts in the game. Neither team passed for more than 128 yards. Loeffler takes over an Auburn offense that's losing its most productive player by far. Running back
Michael Dyer
was suspended for the bowl game and then wound up transferring to Arkansas State. He rushed for 1,242 yards and scored 10 touchdowns. Loeffler wants to bring a more physical style to Auburn's offense, and even without Dyer, wants to be a run-first team. The Tigers aren't lacking in talent at the running back position, and
Onterio McCalebb
has quietly been one of the league's best breakaway threats the last two seasons. But the trick may be finding somebody who can make the tough yards and get it done between the tackles. Maybe that somebody is Florida transfer
Mike Blakely
. That's what this spring is for.
The starting quarterback job is also up for grabs, although Loefller said he's not in a rush to name a starter this spring. The Tigers also have to replace both offensive tackles. So there's not a lot for Loeffler to hang his hat on this first season, at least in the way of proven offensive players. Loeffler has a vast coaching background, but he prefers more of a pro-style attack. It will help if the Tigers' receivers can stay healthy. The passing game a year ago rarely produced any big plays down the field. Loeffler's smart enough to realize that he has to play to his personnel. What makes that so difficult, though, is that it's hard to say right now that the Tigers do anything particularly well on offense given what they have returning. Loeffler's definitely going to need some new faces to emerge. He's also going to need a lot of focus out of everybody on offense this spring as the Tigers make the transition from Gus Malzahn's system. That transition isn't going to happen overnight, meaning it could take the Tigers a few games next season before they figure out what they do best.
Take 2: Edward Aschoff
I think both of these coaches will have their hands full this spring and fall. Both have to deal with inexperience at just about every position. But for Pease, he has to deal with more unproven players than Loeffler. Loeffler might have an interesting quarterback battle on his hands, but he at least has a proven running back in Onterio McCalebb and a proven receiver in
Emory Blake
. Pease has neither. Florida has three young quarterbacks --
Jacoby Brissett
,
Jeff Driskel
and
Tyler Murphy
-- running backs that have had consistency issues, unproven wide receivers and an offensive line that returns most of the parts of a unit that struggled mightily last season. The good news is that it sounds like the offensive line added some bulk during the offseason, and when you have four starters returning, improvements are inevitable.
Florida still isn't sure which quarterback will step up and lead this team. Brissett had the edge heading into spring, but Driskel was the top high school quarterback in his class for a reason. No matter which one prevails, baby steps will still have to be taken this fall because the winner will still be a little bug-eyed come SEC play. What would help is if a receiver or two steps up during the offseason. Since Riley Cooper left after the 2009 season, the Gators have lacked a consistent go-to receiver.
Quinton Dunbar
has shown flashes this spring, but he did last spring as well and caught just 14 passes in 2011.
Frankie Hammond
gets a lot of praise in practice, too, but it hasn't consistently translated onto the field.
Andre Debose
was Florida's best deep threat, but it's time for him to do more for this offense and be more reliable in all types of situations, not just deep throws. One thing that will help is that the tight end position should be solid with
Jordan Reed
and
A.C. Leonard
coming back. As for running back,
Mike Gillislee
has the talent to be a solid starter this fall, but he has to do more than just carry the rock. He has to improve his blocking as well.
Mack Brown
has the tools as well, but getting the offense down is his first objective because it has kept him off the field for two years. Pease is Florida's third offensive coordinator in three years and brings new elements like the others did, so the Gators are having to learn even more. It will be a challenge, but there are bodies to work with. It's all about getting his guys to understand things before the season starts or Florida's offense will continue to struggle.
May, 10, 2011
5/10/11
4:58
PM ET
Florida's depth at running back took a hit Tuesday.
After missing all of spring practice due to arthroscopic surgery on his left shoulder in January, true freshman running back Michael Blakely has decided to transfer.
"Mike has come to the conclusion that the University of Florida is not where he wants to play football," coach Will Muschamp announced Tuesday. "We wish him the best of luck."
Blakely is the third freshman, and second true freshman, to transfer from Florida this spring.
Blakely, who committed to the Gators while former coach Urban Meyer was in charge, is more of a spread offense running back, but ended up signing with Florida, despite knowing that a new pro-style offense would be installed this spring.
The 5-foot-9, 198-pound back was ranked the No. 7 running back coming out of high school by ESPN.com and ranked 74th in the ESPNU 150. As a junior, Blakely carried the ball 189 times for 1,323 yards and 16 touchdowns. He also caught 30 passes for 313 yards and two more scores.
Blakely fit Meyer's spread, but it seems he wasn't ready for Charlie Weis' pro-style, even though he never really gave the offense a shot. Blakely missed all of spring recovering from shoulder surgery and wasn't able to work into the flow of the offense.
By all accounts, he reported to practices, but it appears he didn't feel as though he fit into Florida's new offensive philosophy.
"Everyone at Florida has been very supportive of me in my time here and I'm thankful for the experience that I had, but I've made a decision to continue my college football career somewhere else,'' Blakely said in a statement.
It's unknown where Blakely will transfer to, but if he decides to immediately go to a Football Bowl Division school, he'll have to sit out a year, per NCAA rules. There's also the idea that he could transfer to a junior college and return to the FBS afterward.
Keep an eye on Auburn here. Blakely was very close to committing to the Tigers before he chose Florida last fall.
So how much does Blakely's absence hurt Florida's running back situation? It certainly doesn't help, but Florida has more than enough bodies to throw out onto the field. However, there is uncertainty with a couple players.
Seniors
Chris Rainey
and
Jeff Demps
will be the primary running backs, but for Florida to generate a power running game, bigger backs
Mike Gillislee
and
Mack Brown
have to return from their spring injuries and contribute this fall. Gillislee was bothered by a stress fracture, while Brown broke his fibula. Both are expected to make full recoveries by the start of fall camp.
Where Blakely would have fit into the mix is a bit of a mystery. According to sources close to Florida, Blakely never really bought into the idea of playing in a pro-style offense once he saw what the offense could potentially look like on the field. That's not a very good attitude to have if you can't even get out and participate.
If Blakely wasn't invested in how things were going at Florida, this moves benefits both parties.
Florida will enter next season with two running backs in Gillislee and Brown. The Gators will also welcome freshmen Matt Jones and Mike Davis, who were both recruited by and committed to Muschamp. That will give Muschamp four running backs that suit his offense.