September, 15, 2014
9/15/14
4:15
PM ET
Notre Dame completed its sixth Shamrock Series this past weekend. This year's stop for the Irish's home-away-from-home game series was Indianapolis.
There were several academic functions held in the area. There was the game morning Mass, at Saint John the Evangelist. There were three community service projects, including a restoration of a high school.
And, of course, there was a football game at Lucas Oil Stadium, where the Irish beat Purdue 30-14 to improve to 3-0.
[+] Enlarge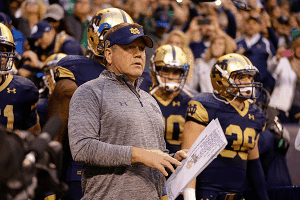 AP Photo/Michael ConroySaturday's game against Arizona State appears to be the last chance for Notre Dame to make a significant statement this season.
They did this without four players who have been suspended from games and practices for a full month, since news of an internal academic investigation became public Aug. 15. (A fifth player was suspended 13 days later.) The investigation was launched by the Office of the General Counsel on July 29, when the compliance office was given evidence. Coach Brian Kelly said Aug. 28 that the investigation was complete. He said Sunday that, as of this past Friday, the five players had not yet had honesty committee hearings to voice their responses to whatever the findings were.
Kelly has said he does not know much. Anyone with a Twitter account can tell that those being investigated are also in the dark. They are far from alone.
This is fine and all, assuming business is being taken care of in a proper, timely manner behind the scenes. And there is no reason to think that it is not. But as the Irish enter their bye week with little clarity regarding if or when they will get any of those suspended players back — and as those players continue to attend classes with their fate at the school still hanging in the balance — it begs the question of how long is too long when it comes to dealing with this matter. At what point do these kids, however innocent or guilty they may be, deserve an answer that could have major implications for their academic and athletic futures?
There is no set public blueprint for this, to be clear. Yes, Notre Dame men's basketball coach Mike Brey, who lost leading scorer Jerian Grant for the spring semester last season because of an academic mishap, said recently that the entire honor-code process with Grant took about three weeks. But these cases are often apples and oranges: Grant's ordeal presumably took place with classes still in session last fall, while Notre Dame fall classes this year did not start until Aug. 26, 11 days after the investigation into the football players became public. Grant's case was also not as widespread as with the football players.
To Kelly's credit, he has been remarkably diplomatic publicly, going through the season's first three games without three starters and two other potential contributors to a football team he is paid handsomely to coach to success, and doing so without complaint.
"This is separation from church and state in the sense," he said Thursday. "This is the deans, and they have their domain and that's their business, and it truly is their business, and I respect that. They don't give me advice about play calling, and that's the truth of the matter. Whether that's a poor analogy or not, they handle academic honesty and they handle those things, and that's their domain and that's their world, and I want my guys back. But I get it, and they work and that's their job, and so I really don't have any say on it."
Notre Dame is about more than athletics; we know. Athletes and nonathletes will receive the same treatment; we get it. But the idea that this whole ordeal cannot be completed too soon for fear of unequal treatment or misguided priorities is a bit much, especially in light of another successful Shamrock showcase of Notre Dame in a major metropolitan area.
"The Shamrock Series has activated our city," Indiana Sports Corporation spokesman John Dedman
told the school's athletic website
. "Notre Dame has made this so much more than an athletic event. The university has been involved in service projects in the city, and there have been academic events, and the city has embraced it. It's just been great for Indianapolis."
More than an athletic event, but only possible because of athletics. Those are still pretty important, too. And there's no shame in acknowledging that.
May, 21, 2014
5/21/14
2:00
PM ET
While coach Brian Kelly was leading
Notre Dame
to the national title game in 2012, former Fighting Irish coach Charlie Weis was collecting more money from the school than Kelly.
Notre Dame paid Weis $2,054,744 for the reporting period of July 2012 through June 2013, according to the university's federal tax return, which was provided to ESPN.com on Wednesday. The sum paid to Weis to not coach the Irish -- already at a total of $12,802,635 because he has now received three straight payments of $2,054,744 from Notre Dame, following an initial payment of $6,638,403 after his firing -- could end up exceeding $18 million by next winter. Notre Dame is scheduled for "additional annual payments" through December 2015, so three more payments of what Weis received in the previous three years means his buyout money from the school would total $18,966,867.
Weis was fired by Notre Dame following the 2009 season after five years as coach, and he is now entering his third season as the coach at
Kansas
.
Kelly received $1,457,284 from Notre Dame during the 2012 reporting period, though that number likely does not match his total earnings. The school notes that "the current head football coach is permitted to receive compensation from external sources with prior written approval from the University." Income from a source such as a shoe company would not have to be reported on the tax forms.
Kelly's base pay was $698,140, and he received "bonus and incentive compensation" of $607,200. Benefits and other compensation lifted the total to the $1,457,284 figure.
Kelly's boss, athletic director Jack Swarbrick, earned $1,143,052 from the school, according to the tax forms. Kelly's top assistant the past four seasons, defensive coordinator Bob Diaco, earned $672,824. Diaco left in December to become the head coach at UConn.
Notre Dame men's basketball coach Mike Brey earned a total of $1,526,488. He made $806,488 in salary, bonuses, "other reportable compensation," retirement, and deferred money and non-tax benefits, in addition to $720,000 from Play by Play sports, which is now known as Notre Dame Sports Properties.
Irish women's basketball coach Muffet McGraw earned a total of $1,331,339. She made $1,058,839 from the school and $272,500 from Play By Play sports.
August, 2, 2013
8/02/13
1:13
PM ET
SOUTH BEND, Ind. -- Brian Kelly's contract extension might be imminent.

The fourth-year Notre Dame coach revealed as much Friday during his camp-opening news conference, saying he agreed to terms in December and that legal language is all that has gotten in the way of anything becoming official.
The topic of Kelly's long-term future with the Irish gained steamed following his meeting with the
Philadelphia Eagles
in the days after his team's 42-14 loss to Alabama in the Discover BCS National Championship. Athletic director Jack Swarbrick has said since that both parties have been working on a decision.
Though no true time frame was given, Swarbrick has mentioned the last extension given to men's basketball coach Mike Brey, who turned down overtures in the spring of 2011, but had no official announcement from the school about a new deal until June of 2012.
Kelly admitted Friday that the process does not always go as quickly as he likes, but that he has never used leverage in contract talks to get the school to do something.
"If I had to do that, I would not be here," Kelly said.
Kelly's last extension came following the 2011 season, a two-year deal that locked him up at Notre Dame through 2016.
He re-iterated Friday that his goal is to get Notre Dame back to where it was during its renaissance 2012 campaign, and finish the deal this time.
"Everything we worked on since that next day -- and I mean the next day -- is about getting back to the national championship game and winning it," Kelly said Friday.
Notes
: Former basketball player Joey Brooks is no longer with the team after working in the spring as a tight end. …
Louis Nix
is up to 357 pounds, 10 pounds heavier than he was listed in the spring. … Kelly said he expects
Everett Golson
back at Notre Dame in January, and that the suspended quarterback talks with offensive coordinator Chuck Martin almost daily. … Kelly wants freshman
Malik Zaire
to work with the regular quarterbacks and not the scout team.
June, 21, 2012
6/21/12
2:05
PM ET
Not even the news that 99 percent of this sport's fan base has been waiting for eternity to hear -- that yes, a playoff
is coming to college football
-- could keep the conference expansion chatter from running wild Wednesday. And while the Notre Dame football program's independence does not appear to be threatened, the Irish are again the subject of much of this chatter.

To recap: Orangebloods.com's
Chip Brown wrote a story Wednesday
with the headline "Sources: Irish Olympic sports likely headed to to B12."
Later Wednesday in Chicago, after the playoff announcement, Notre Dame athletic director Jack Swarbrick shot down the report. The Chicago Tribune's Brian Hamilton
was on the scene at the InterContinental Chicago Hotel
.
"I saw that and I thought (Bob) Bowlsby and I should hold hands up there," Swarbrick joked, alluding to the incoming Big 12 commissioner. "I have no idea what prompted that. It is not based on any discussion, any meeting we have done."

...

"I've said all along that there were three important factors for us," Swarbrick said. "One was the resolution of postseason football, which we are closer to. One is a resolution of our media relationship, which we are in the homestretch of. The third is related to the stability of the Big East, which we get more information on every day. In that sense, pieces of that are starting to fall into place, and that will put us in a time and place where we probably take a look at it and decide what we're doing."
The chatter is similar to what was making waves a month ago, when Texas AD DeLoss Dodds
told CBSSports.com that he had talked to Notre Dame about a similar scenario
. That prompted Swarbrick a day later to
say that the Irish were committed to the Big East in their Olympic sports
and that he and Dodds are two people who often talk about the business.
All of which brings us to today: A four-team playoff on the table, seemingly with access for conference champions and non-champions alike, leaving Notre Dame, as Swarbrick
said Wednesday
, with "no obstacle to that for us. If we earn it, we can play in it."
The Big East of today clearly isn't the Big East that Notre Dame signed up for in 1995. But it has been a viable home for the athletic department's other sports. There is a cultural fit there, and the travel is not as difficult as a Big 12 schedule would be.
The men's and women's basketball programs have been conference contenders (and, in the case of Muffet McGraw's squad, then some) in recent years, and men's hoops coach Mike Brey
inked a 10-year extension this week
. Brey has said that he hopes, if push comes to shove, that the program can end up somewhere east. And we can't forget about other programs, such as men's lacrosse, which is coming off its second final four appearance in the past three seasons. That's one other element, albeit a small one, that would come with such a move, as there is no Big 12 lacrosse conference. (No Big 12 school, in fact, fields a Div. I lacrosse team.)
Of course, this isn't about lacrosse. Or hoops, for that matter. It's about football, and despite recent history, Notre Dame football remains a giant. No conference would turn down the chance to land that program, and the Big 12 would seemingly have little to lose in providing a safe haven for the Irish's Olympic sports as the expansion carousel continues to spin.