August, 24, 2012
8/24/12
2:15
PM ET
When the phone rang early Sunday morning in Seoul, Yu Mi Chu responded like any parent would. She worried.
Her son, Nebraska offensive lineman Seung Hoon Choi, never called home at 4 a.m.
"She thought I got in some kind of accident," Choi said.
Choi quickly put his mom at ease. He had good news. Nebraska had awarded him a scholarship. No accident.
"They said they're proud of me," Choi said. "That was the best part."
[+] Enlarge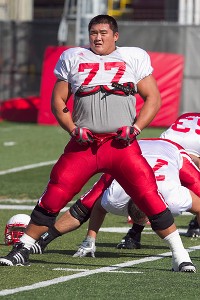 AP Photo/Nati HarnikOffensive lineman Seung Hoon Choi has joined a distinguished list of former Nebraska walk-ons who have earned scholarships.
Landing a scholarship is only the latest chapter in Choi's incredible story. He grew up in Korea and left for Lincoln at 14, an eighth grader who barely knew any English. He ended up living with his sister and then several host families from Lincoln Christian High School. He didn't play football until his sophomore year, and caught the eye of Huskers assistants living in the same town.
He eventually attended a Nebraska camp and was asked to walk on to the team. Last season he appeared in 11 games at guard, starting five.
The 6-foot-2, 295-pound Choi isn't the first Huskers walk-on to become a significant contributor. Nebraska's walk-on tradition might be unmatched in college football. Yet he's certainly the most unique.
And he's not alone among the Huskers' linemen.
If any Nebraska fans are concerned about the viability of the team's storied walk-on program, they need only look at the interior of the offensive line when the season kicks off Sept. 1. There's a decent chance Nebraska starts three former walk-ons -- Choi, junior guard Spencer Long and senior center Justin Jackson.
All three were among five players awarded scholarships Saturday.
"I saw him with a tear in his eye," Choi said of Jackson, his roommate. "After practice, we got in the locker room and hugged each other. It's something I can't really describe, a great feeling I got to share this moment with him and Spencer.
"We have our own pride as walk-ons."
Long, who started every game last season, was the lone junior of the five to receive a scholarship.
"Justin was shocked, Seung was shocked," Long said. "It was great to see those guys get rewarded for the work they've put in here."
Long had no FBS offers coming out of Elkhorn, Neb. But growing up in the state, he knew there was a path to Lincoln.
"I always knew we put an emphasis on the walk-on program here," Long said. "For players like me who weren't that highly recognized out of high school, the opportunity to come and play and try to prove yourself at the highest level is really awesome."
Like most freshmen, Long came to Nebraska unsure of how he'd measure up. But it only took a few snaps in practice for him to know he could compete at the FBS level.
Choi drew inspiration from players like former Huskers center Mike Caputo, a former walk-on who started his final 27 games and earned a scholarship before the 2009 season.
Now Choi, Long and Jackson are setting the example for other walk-ons hoping to take the field for the Huskers on fall Saturdays.
"We worked so hard to get where we are right now," Long said. "I'm proud to be next to two guys who have been through the same kinds of things that I have, and have had to work from the bottom to the top."
December, 22, 2011
12/22/11
5:51
PM ET
Nebraska fans hoping to see a big name come in to oversee the defense will instead have to hope that Bo Pelini has a sharp eye for talent on his own staff.
Pelini announced Thursday that he would promote defensive line coach John Papuchis to defensive coordinator. He also made official the hiring of former Iowa defensive line coach Rick Kaczenski to fill that same role for the Huskers.
[+] Enlarge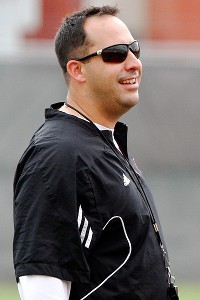 AP Photo/Nati HarnikNebraska promoted defensive line coach John Papuchis to defensive coordinator.
Papuchis is only 33 and in just his fourth season as a full-time assistant but has already held several positions for Nebraska. He was the defensive line coach, special teams coordinator and recruiting coordinator for the 2011 season. The defensive line was hurt by injuries this year, but Papuchis worked with Ndamukong Suh and Jared Crick while fielding some dominant lines in recent seasons. The Cornhuskers have also excelled on special teams under his watch, with stars like kickers Alex Henery and Brett Maher.
"John Papuchis is an outstanding coach in every area -- on the field, in the meeting room, as a recruiter -- and he is more than prepared to take the next step in his coaching career," Pelini said in a statement. "He has worked alongside me for seven years, going back to our time together at LSU, and I have complete confidence in his coaching abilities."
There was some talk of former Arizona coach Mike Stoops coming to Lincoln to re-unite with old friend Pelini. But Pelini instead looked to promote from within after his brother, Carl, left for the head coaching job at Florida Atlantic. Pelini also promoted Tim Beck to offensive coordinator from within before this season.
The Kaczenski hire also is interesting. He guided some very good defensive lines at Iowa and helped produce three NFL draft picks last season. Nebraska poached him from its division rival without a promotion in title. That's something you don't see often between conference programs of similar stature, and it could add a little spice to the Heroes Game rivalry.
Like Papuchis, Kaczenski is a young up-and-comer at only 36. He will join Nebraska in time for its Jan. 2 Capital One Bowl game against South Carolina.
"Rick Kaczenski is a great addition to our coaching staff, and fits our football program perfectly," Pelini said. "I have great respect for the program at the University of Iowa and their defenses have annually been among the best in the nation. Rick's track record of developing defensive linemen speaks for itself. When I've watched Iowa's defense and in particular the defensive line, I see players that have great technique and fundamentals, who also play with a high level of intensity."
Pelini also announced Thursday that starting center Mike Caputo would
play in the bowl game
after having his suspicion of DUI charge reduced to reckless driving. Caputo will face internal team disciplinary measures, Pelini said. The Huskers certainly need the senior while facing South Carolina's defense.
October, 9, 2011
10/09/11
2:01
AM ET
LINCOLN, Neb. -- When Nebraska fell apart at the end of the first half at Wisconsin, linebacker Lavonte David lit into his fellow defenders.
David's tirade was justified. The Blackshirts seemed blue after dealing with
Russell Wilson
for 30 minutes.
"I went in and yelled," David recalled. "I shouldn't do that. I should keep my poise."
David got another chance to address the defense in a dire situation Saturday night. An Ohio State offense that nearly was shut out at home the week before had racked up 20 points and 246 yards on the Huskers in the first half.
A sold-out Memorial Stadium crowd sat in stunned silence -- other than those who booed -- as Nebraska trotted to the locker room down 20-6.
"I talked to the guys, got the defense together and said, 'Everybody stay calm,'" David said. "I talked to them in a calm voice, and everybody stayed calm."
[+] Enlarge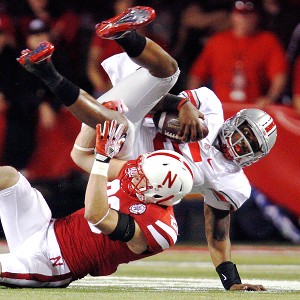 Bruce Thorson/US PresswireNebraska was able to stop Braxton Miller and mount the biggest comeback in Cornhuskers' history.
At a time when cracks could form, when an 0-2 start in a new league seemed inevitable, when a once-promising season could go down the tubes, Nebraska stayed calm, stayed together and stayed on course. David backed up his calm words with effective action, stripping the ball from Ohio State quarterback
Braxton Miller
midway through the third quarter.
Inspired by their leader, the Huskers took complete control and rattled off 28 unanswered points to win
34-27
. It marked the biggest comeback in school history, and it took place in the first Big Ten home game in team history.
"I just had to learn," David said. "That's what being a leader is all about. You just can't go out there and talk reckless to your teammates. Those are the guys you're going to battle with. So just talk to them calmly, let them know how you feel and what we've got to do."
Nebraska made togetherness a theme after its humbling defeat at Wisconsin. Quarterback
Taylor Martinez
took much of the criticism, along with offensive coordinator Tim Beck, although the defense wasn't spared, either, after failing to slow down the Badgers.
The angst and anger in Husker Country would have skyrocketed for the next two weeks if Nebraska had lost to Ohio State. Instead, Bo Pelini and his players can exhale entering a much-needed bye week.
"We stayed the course," Pelini said. "That's kind of the motto of our program. It's about the culture, it's about the process, about staying the course.
"There was no panic."
The same couldn't be said for Ohio State, a program that has taken body blows both on and off the field in recent weeks. The Buckeyes came out with a superb game plan, dominated Nebraska on both sides of the ball and seemed fully in control with a 27-6 lead midway through the third quarter.
Then Miller fumbled. Two plays later, Martinez scooted into the end zone.
"That was the game-changing play," Pelini said of David's forced fumble and recovery.
On Ohio State's next possession, Miller suffered a right ankle injury and hobbled off the field. He had been brilliant up to that point, but his bad wheel prevented him from returning. Ohio State's wheels, meanwhile, fell off.
A Buckeyes team that looked so poised and cohesive suddenly became fragile. The offense stalled under backup quarterback Joe Bauserman. The defense couldn't slow down Martinez and I-back
Rex Burkhead
, who combined to pile up 250 yards and four touchdowns in the second half.
Ohio State went from 21 points up to seven points down in less than 18 minutes.
"I don't think I've seen a game that changed like that that I have been involved with," OSU first-year coach Luke Fickell said.
"I've never been a part of anything like that," added Buckeyes linebacker Andrew Sweat.
A win that would have breathed life into Ohio State's program turned into the most deflating of losses, one that dropped the Buckeyes to 0-2 in Big Ten play for the first time since 2004. The Buckeyes' October grind continues next week at Illinois and wraps up Oct. 29 against Wisconsin.
Fickell knew his team was ready Friday night. The focus was there. The attitude was there. And Ohio State showed up in a big way. And then it fell apart.
"These guys are resilient," Fickell said. "They have been through a lot and it will come down to their commitment to each other. That is what it really ultimately comes down to -- pride. It's not easy and will be hard to get over."
If Ohio State needs an example -- a painful example -- it can look at Nebraska.
The Huskers said their game plan didn't change in the second half.
The defense simply made stops. The offense simply got first downs, found its rhythm and began to wear down the Buckeyes.
"As long as we're getting first downs, we can go as fast as we want," Beck said. "We were close [in the first half]. We just didn't execute very well. ... Sometimes you're feeling 'em out, trying to figure out what their plan is, how they're trying to stop us, all the different formations we us. It sometimes takes a little bit of time."
Pelini was all smiles walking through the tunnel to Nebraska's locker room. But he took a defensive posture at his news conference, engaging in a testy exchange with a reporter who had been critical of Martinez during the week.
"I'm proud of him," Pelini said of Martinez. "Everybody wants to doubt him. You guys can choose to write whatever you want and attack him like the fans will, and now they'll praise him. ...
"He kept fighting, he led the team, he played a heck of a second half."
As a result, Nebraska enters the second half of its season with plenty to fix but a huge win on which to build. Ohio State, meanwhile, will have a tough time recovering.
"Between last week and this week, we became a lot closer unit," Huskers center Mike Caputo said. "And that's only going to help us the rest of this year."
June, 24, 2011
6/24/11
1:30
PM ET
The preseason position rankings march on with the offensive lines. Team rankings are below, and we'll take a look at the individual rankings for tackles, centers and guards early next week.
Looking at the league landscape, offensive line could be a major strength throughout the Big Ten this season. Although standout players such as Outland Trophy winner Gabe Carimi and All-American Stefen Wisniewski depart, I see improved depth for several teams as well as quite a few multiyear starters.
Honestly, there
aren't any bad lines in the league
; just some with more question marks than others.
Let's get to the rundown.
1. Wisconsin:
Talk about an ability to reload. The Badgers lose All-Americans Carimi and John Moffitt, plus the versatile Bill Nagy, and they still shouldn't take any steps backward. Injuries have allowed Wisconsin to build depth the past few seasons, and four of the five spots look extremely solid. Tackle Ricky Wagner, center Peter Konz and guard Kevin Zeitler lead a group that will block for the league's top running back tandem. Wisconsin's track record up front is impossible to ignore, and this year's line should continue the trend.
[+] Enlarge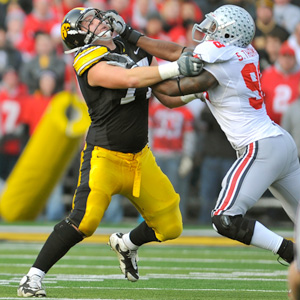 David Purdy/Getty ImagesWill arm length be an issue for former Iowa left tackle Riley Reiff in the NFL?
2. Iowa:
The line is undoubtedly Iowa's biggest strength and should be one of the nation's elite units in 2011. Iowa returns starting experience at all five positions and should have decent depth. Left tackle Riley Reiff, projected as a first-round pick in the 2012 NFL draft, will enter the fall as a leading candidate for the Outland Trophy. James Ferentz is one of the league's top centers, and Markus Zusevics is poised for a big year at right tackle.
3. Ohio State:
Depth is the only reason the Buckeyes' line isn't higher in the rankings. Ohio State boasts arguably the nation's top center in Mike Brewster, and first-team All-Big Ten tackle Mike Adams will be back after a five-game suspension to begin the season. The Buckeyes need big things from tackle Andrew Norwell during Adams' absence, and tackle J.B. Shugarts must play like a veteran. After struggling to put two sets of capable linemen on the field this spring, Ohio State has to find more depth in preseason camp.
4. Michigan:
This is another group that could climb up the rankings by season's end. Center David Molk is a terrific piece to build around, and if gifted players like Taylor Lewan and Patrick Omameh continue to develop, Michigan's line will be a major strength. The concerns are Molk's ability to stay healthy and an adjustment to a new offensive system under Al Borges. The line did an excellent job of protecting
Denard Robinson
in 2010, allowing a league-low 11 sacks.
5. Illinois:
The Illini flat-out punished opponents at the line of scrimmage on several occasions last season, and I really like the potential for the front five in 2011. The biggest reason? Left tackle Jeff Allen, one of the Big Ten's most experienced linemen. Allen and center Graham Pocic will contend for All-Big Ten honors, and if Corey Lewis gets healthy, this should be one of the league's top offensive lines.
6. Purdue:
Expectations are high for a line that coach Danny Hope thinks will be Purdue's strength in 2011. Left tackle Dennis Kelly is an All-Big Ten candidate with NFL potential who has started the past 24 games. Center Peters Drey and tackle Nick Mondek help anchor the group. The big question is whether mammoth guard Ken Plue, a multiyear starter, can get out of Hope's doghouse to help lead the way. Plue will be pushed by James Shepherd this summer. The combination of experience up front and the return of running back
Ralph Bolden
bode well for the Boilers.
7. Northwestern:
The Wildcats boast the nation's second most experienced line (137 combined career starts), but experience must start translating to production. This group still must prove it can spark a decent rushing attack after several years of decline. Left tackle Al Netter is an All-Big Ten candidate and center Ben Burkett enters his fourth season as the starter. If Northwestern gets more consistent play from right tackle Patrick Ward and others, it should be a solid group.
8. Penn State:
This is a big year for Penn State's O-line, which has heard the criticism and has vowed to erase it in 2011. The tackle spots look solid with Quinn Barham and Chima Okoli, but Penn State needs to shore up the interior after losing Wisniewski, a mainstay for the past four seasons. If veterans like Johnnie Troutman and DeOn'tae Pannell step up and turn in consistent performances, the line should hold up nicely.
9. Nebraska:
The Huskers ranked ninth nationally in rushing last season but have quite a few question marks up front. Center Mike Caputo is a building block and sophomore tackle Jeremiah Sirles is a returning starter, but Nebraska has little proven experience. The Huskers will benefit from a healthy Marcel Jones at right tackle, and Yoshi Hardwick adds depth. This could turn out to be a decent group, but the experience issue combined with a scheme change creates some uncertainty.
10. Michigan State:
Not to put too much pressure on the line, but arguably no position group will have more influence on Michigan State's season. The Spartans must replace both starting tackles and their starting center, never an easy task. All-Big Ten guard Joel Foreman returns to lead the group, but Michigan State needs immediate contributions from unproven players. The coaches feel they've upgraded the athleticism up front by moving players like Dan France and Blake Treadwell over from the defensive side.
11. Minnesota:
The Gophers boast a mix of veterans and youth, and it'll be interesting to see whether the group comes together this fall. Hopes are high for young tackles Eric Olson and Jimmy Gjere, but they'll need help from seniors like Ryan Wynn and Chris Bunders on the interior. Minnesota needs to regain its swagger as an elite rushing offense, and it starts up front this fall. This is a group that certainly has a chance to make strides.
12. Indiana:
I like some of Indiana's individual pieces, but as a group, the Hoosiers must show they can create space for the running backs. Indiana switched to the pistol offense in hopes of sparking the ground game but produced barely 100 rushing yards a game in 2010 (112th nationally). The line allowed only 12 sacks and must continue to protect its unproven quarterbacks this fall, but getting the run game going is paramount. Returning starters Will Matte, Justin Pagan and Andrew McDonald give Indiana hope.
November, 20, 2010
11/20/10
9:47
PM ET
COLLEGE STATION, Texas -- What an entertaining first half from both teams. I love low-scoring, defensive battles, and that's what we've got on our hands in this one for sure. Here's a few notes.
Turning point:
Taylor Martinez
's injury. No question here. Nebraska's offense is hardly scary without the speedy freshman, and offensivelyNebraska hasn't done much without him after he aggravated a right ankle injury when offensive lineman Mike Caputo stepped on it in the first quarter.
Stat of the half:
Texas A&M is 0-of-7 on third down. Most of those have been passing downs, and the Blackshirts secondary has said "No, sir!" every time they've come up.
Best player in the half:
Alex Henery, P/K, Nebraska. Henery bailed out the offensive line when a personal foul and a false start made a 28-yard kick a 48-yard kick. But Henery split the uprights and put Nebraska on the board first. He's also been solid in the punting game, and like the 2009 Nebraska offense, the Huskers have needed it to play the field position game.
What Nebraska needs to do:
Find some offense somewhere, and keep the ball off the ground. That probably means more Wildcat with
Rex Burkhead
. The offense is going nowhere against an inspired Texas A&M defense that's kept
Cody Green
at bay for most of the first half.
What Texas A&M needs to do:
Keep fighting on the ground and win the game at the line of scrimmage. Testing the secondary is a bad idea that might cost them later in the game. Give
Cyrus Gray
the ball, work the play action, and try to take a shot down the field every now and then. It's going to be tough to move the ball regardless, but Texas A&M basically has no shot to do it through the air, and that's a high-risk proposition. They might be able to find some consistency on the ground.