October, 17, 2010
10/17/10
11:23
AM ET
Tim Brewster came to Minnesota talking big and dreaming bigger.
I can't remember how many times I heard Brewster mention Minnesota's 18 Big Ten championships and six national championships, never mind the fact that neither event had happened since 1967.
Brewster knew the bar needed to be raised in Minneapolis. You couldn't blame him for aiming high. Why else would the school fire a coach (Glen Mason) who consistently made bowl games?
[+] Enlarge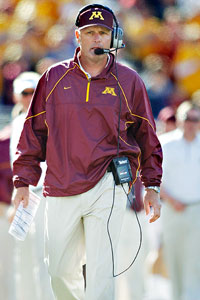 Bruce Kluckhohn/US PresswireTim Brewster went 15-30 as Minnesota's head coach.
But Brewster couldn't make Minnesota into a championship program. In fact, he couldn't get the Gophers to the level Mason had them at the time of his termination following the 2006 Insight Bowl. Brewster never won a trophy game and went 1-9 in November games, with his lone win coming against FCS South Dakota State. His teams have been outscored 67-0 in their past two meetings with rival Iowa.
When he stopped winning in September and October this season, his days became numbered. And after Minnesota lost its sixth consecutive game Saturday at Purdue, dropping to 1-6 on the season, the school
pulled the plug on the Brewster era
.
Brewster went 15-30 at Minnesota and 7-18 since November 2008.
"While I appreciate the passion and commitment that Coach Brewster has shown, it is clear that a change in the leadership of Gopher football is necessary," athletic director Joel Maturi said in a prepared statement. "We have high aspirations for our football program and we are not satisfied with its current direction. The results so far this season have been unacceptable and the program has simply not shown enough improvement over the past three and a half years to continue with the status quo."
Co-offensive coordinator Jeff Horton will take over for Brewster on an interim basis. I hate to see lame-duck coaches in college sports, so this seems like the right move.
Firing Brewster only cost Minnesota $600,000, a buyout lowered in his recent contract extension.
Brewster never lacked passion, and his recruiting abilities as a former Mack Brown assistant showed at Minnesota. I loved the way he upgraded Minnesota's schedule, which had been a joke during the Mason era, and added showcase nonconference games against teams like USC.
But he also showed too many signs of a first-time college head coach.
His decision to replace veteran offensive coordinator Mike Dunbar and switch from the spread to a pro-style offense didn't pay off. He replaced Dunbar with an NFL assistant in Jedd Fisch whose complex concepts flew over the players' heads. Brewster kept shuffling his staff, a formula that rarely works in a sport where sticking to your guns usually is the way to go.
Minnesota is the first FBS program to make a coaching change in 2010, and the school now begins what could be an extensive coaching search. There are some dream candidates Minnesota can pursue (alum Tony Dungy, former assistant Kevin Sumlin, Mike Leach) and some more realistic ones (Montreal Alouettes coach Marc Trestman, former Iowa State coach Dan McCarney).
It will be interesting to see how much control Maturi has in the search since he was the one who hired Brewster.
Minnesota is a challenging job, but it's a better job now with a beautiful on-campus stadium to sell.
There are no excuses why Minnesota shouldn't be a middle-of-the-pack Big Ten team, building toward the high bar Brewster set but never could reach.
April, 22, 2010
4/22/10
11:12
AM ET
D.J. Burris doesn't need to be reminded of the way it used to be at Minnesota.
The Golden Gophers weren't just a good rushing offense, but a record-setting one. Minnesota didn't just produce good offensive linemen, but great ones like All-Americans Greg Eslinger and Ben Hamilton.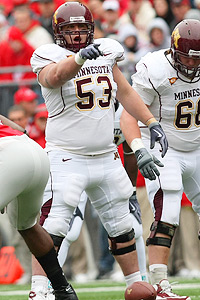 Aaron Josefczyk/Icon SMID.J. Burris & Co. are looking forward to running an offense that emphasizes the power run.
The team's history isn't lost on Burris and his linemates this spring.
"We're definitely aware of the tradition here about running the football," said Burris, Minnesota's starting center. "That's why we're taking it upon ourselves to get it back."
Pride is the word Burris and even non-linemen like quarterback
Adam Weber
use to describe what's happening up front this spring in Minneapolis. The team's running game hasn't merely slipped off its perch, but plummeted to the bottom of the Big Ten.
The last two seasons have seemed extremely un-Gopher-like:
2008: Minnesota finished last in the Big Ten and 104th nationally in rushing offense (103.8 ypg)

2009: Minnesota finished last in the Big Ten and 111th nationally in rushing offense (99.5 ypg)
Part of the problem has been a lack of continuity. Minnesota ran the spread offense under Mike Dunbar in 2007-08, and then switched to a pro-style system, designed to emphasize the power run, under Jedd Fisch last season.
The Gophers are adjusting to another new coordinator this spring, as Jeff Horton takes over the offense. But Horton's top goal, one the players clearly appreciate, is simplifying a convoluted system and identifying the hallmarks for the unit to succeed.
"We know where we're going as an offense," said Burris, who started at guard as a freshman before moving to center the last two seasons. "Our playbook's a lot thinner, and we know exactly what we're doing on every play now, so it's nice. Every season, it's been something new, something new, and then this year we simplified it with what we've already been doing.
"That makes us a lot more comfortable."
Head coach Tim Brewster didn't hide the fact he wanted more toughness from the line this spring, and he has seen the group respond. All five starters are back and continuing to work in the top spots, but they're being pushed by players like Ed Olson and Brooks Michel. Returning starters like Matt Carufel and Jeff Wills are healthier, and massive tackle Jeff Wills has slimmed down a bit.
During an April 10 scrimmage, the line started slow but got stronger as things went along, creating holes for backs
DeLeon Eskridge
and
Duane Bennett
.
Weber, who has a vested interested in the line's performance, has seen a difference this spring.
"They're playing with confidence and they're playing with pride," he said. "You can definitely tell, when it's third-and-1, when it's fourth-and-1, they can sense that they need to pick up their game a little bit, and we've been winning a lot of those battles."
After being pushed around too much the last two seasons, Burris and his crew expect to turn the tables this fall.
"As an offensive line, that's where your pride comes from, when you can walk into a game and you can run the ball up and down the field," he said. "That's when you feel good about yourself."
January, 27, 2009
1/27/09
9:49
AM ET
Posted by ESPN.com's Adam Rittenberg
Purdue's hiring of defensive coordinator Donn Landholm on Monday likely marks the end to the major coaching moves in the Big Ten this year.
There have been no head-coaching changes -- Danny Hope was named Purdue's head coach-in-waiting last year -- and unless Iowa's Kirk Ferentz bolts for the Kansas City Chiefs, which isn't likely, all 11 teams will have continuity on top. But there were several key changes among coordinators and key position coaches.
Here's a summary.

ILLINOIS
Offensive coordinator: Mike Locksley left to become New Mexico's head coach. Illinois hired TCU offensive coordinator Mike Schultz as his replacement.
Defensive line: Ron Zook fired Tom Sims and hired Cincinnati's Keith Gilmore.
Offensive line: Eric Wolford left for the same post at South Carolina, and Zook hired Houston's Joe Gilbert as his replacement.
Notes: Arguably Illinois' biggest coaching move was one that didn't happen. Zook offered Penn State defensive line coach Larry Johnson the chance to be Illinois' defensive coordinator, but the ace recruiter opted to stay at State College.

INDIANA
No changes.
Notes: Despite a 3-9 season that saw regression on both sides of the ball, head coach Bill Lynch said he didn't expect to make any staff changes for 2009.

IOWA
No changes.
Notes: Ferentz is being mentioned as a candidate for the Chiefs' head-coaching vacancy because of his ties to new general manager Scott Pioli, but it appears likely he will remain at Iowa for an 11th season. He will hold a signing day news conference scheduled for Feb. 4 and has talked with athletic director Gary Barta about a contract extension.

MICHIGAN
Defensive coordinator: Scott Shafer resigned and later took the same job at Syracuse. Michigan hired former Syracuse head coach Greg Robinson as Shafer's replacement.
Notes: Head coach Rich Rodriguez took his time with the search, and Robinson actually reached out to him about the defensive coordinator vacancy.

MICHIGAN STATE
No changes.
Notes: Offensive coordinator Don Treadwell was in the mix for several head-coaching spots (Miami University, Boston College) but will stay put for 2009.

MINNESOTA
Offensive coordinator: Mike Dunbar resigned Jan. 6 to pursue other professional opportunities. Minnesota hired former Denver Broncos wide receivers coach Jedd Fisch as Dunbar's replacement.
Defensive coordinator: Ted Roof resigned Jan. 6 to take the same post at Auburn. Gophers head coach Tim Brewster hired former Nebraska and Wisconsin defensive coordinator Kevin Cosgrove, who will share coordinator duties with defensive backs coach Ron Lee.
Notes: Fisch will call the offensive plays, but he must collaborate with Tim Davis, the team's new offensive line coach and run game coordinator. Davis, who replaces Phil Meyer, was hired in late November to transform Minnesota's run game and return the team to its roots as a dominant rushing attack.

NORTHWESTERN
Offensive line: Bret Ingalls left for the New Orleans Saints. Head coach Pat Fitzgerald told me he's not concerned about naming a replacement until after signing day, but indications are Adam Cushing, the H-backs coach and recruiting coordinator, will be promoted to line coach.
Notes: Athletic director Jim Phillips wants to work out a contract extension for Fitzgerald and likely will announce one in the coming weeks or months.

OHIO STATE
No changes.
Notes: Some expected offensive coordinator/offensive line coach Jim Bollman to get the axe, and while it still could happen, head coach Jim Tressel is the primary playcaller and responsible for the unit's success. Co-defensive coordinator and linebackers coach Luke Fickell was mentioned as a candidate for the head-coaching vacancy at Bowling Green.

PENN STATE
No changes.
Notes: Penn State retained Larry Johnson despite Illinois offering more money and a coordinator position. Longtime defensive coordinator Tom Bradley also remains despite some rumors that he was a candidate for the top job at Syracuse.

PURDUE
Offensive coordinator: Ed Zaunbrecher was fired and replaced by Florida Atlantic offensive coordinator Gary Nord.
Defensive coordinator: Longtime Boilers defensive coordinator Brock Spack left to become Illinois State's head coach. Hope hired his former Eastern Kentucky staffer Landholm as Spack's replacement.
Running backs: Joel Thomas left for the same job at Washington, and Hope hired former Kansas State assistant Cornell Jackson as his replacement.
Offensive line: Hope handled the line in 2008 and hired his former Eastern Kentucky staffer Shawn Clark to replace him.
Special teams: Hope moved Mark Hagen from special teams to linebackers and promoted graduate assistant J.B. Gibboney to this post.
Notes: Tight ends coach John McDonnell was not retained for 2009, and a replacement hasn't been named. Terrell Williams will once again coach the entire defensive line this fall after working strictly with the ends in 2008.

WISCONSIN
No changes.
Notes: After firing veteran defensive coordinator Mike Hankwitz and seeing offensive line coach Bob Palcic leave for UCLA last year, head coach Bret Bielema is keeping his staff in place despite a very disappointing 2008 season.
November, 28, 2008
11/28/08
11:46
AM ET
Posted by ESPN.com's Adam Rittenberg
If you're like me, you're still digesting turkey. But I hope you brought your appetite for links.
The Chicago Tribune's Teddy Greenstein takes a look back at his preseason Big Ten picks, which didn't give Penn State or Iowa much credit after both teams endured waves of off-field problems.

Minnesota's hire of new offensive line coach Tim Davis will allow offensive coordinator Mike Dunbar to concentrate solely on the passing attack, Kent Youngblood writes in the Star Tribune.
"It is unacceptable that we're last in the Big Ten in rushing the football," [head coach Tim] Brewster said Tuesday. "The running game [Davis] and I are going to implement is one he and I are familiar with."

So what does that mean for Dunbar, a spread offense guru? His role changes. He will still call the plays, but it will be a collaborative effort, according to Brewster. Dunbar will coordinate the passing game while Davis and Brewster concentrate on the run.
"If the argument is that Michigan State isn't a good 9-3 team, then my question would be -- who is? Nobody is saying that this team is a borderline BCS team. They're a good team having a good season. Why can't we just leave it at that?"
October, 31, 2008
10/31/08
7:19
PM ET
Posted by ESPN.com's Adam Rittenberg
MINNEAPOLIS -- It's almost November and you don't need a jacket here. This is a very good thing.
The weather is perfect and it's a shame Saturday's game will be played indoors. I arrived early this afternoon and spend most of the day at The U -- that's the University of Minnesota for non-locals. A very underrated campus, by the way.
You'll have to read the blog on Monday to get specifics about my hourlong tour of TCF Bank Stadium, which will open on Sept. 12, 2009. But let me say it's an excellent facility that Big Ten fans are going to love.
Before the tour, I spent a little time over at the football offices.
I met Minnesota quarterback Adam Weber and chatted briefly with defensive coordinator Ted Roof and offensive coordinator Mike Dunbar, who I know from his time at Northwestern. Roof asked me not to bring Minnesota bad luck. I replied that Wisconsin is 0-3 in games I've attended this season.
I also spent a few minutes with head coach Tim Brewster, who made sure to show me the view from his office of the TCF Bank Stadium construction. Brewster expects a tough game Saturday from Northwestern, even though the Wildcats won't be at full strength. Brewster also has checked out the Big Ten blog, which is always nice to hear. It's rare that you get to talk to a coach the day before a game, so I appreciate Brewster taking the time to meet with me.
He also introduced me to former Gophers All-American and Pro Football Hall of Famer Bobby Bell, who stopped by his office. Pretty cool.
I'll be back in the morning with more updates, so check back then. Enjoy Halloween.