March, 18, 2013
3/18/13
9:00
AM ET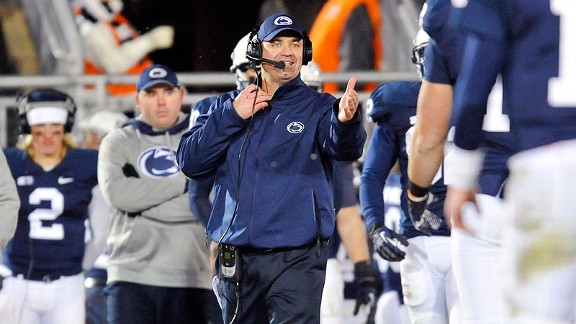 Randy Litzinger/Icon SMIBill O'Brien is excited about his team as he heads into his second season at Penn State.
The last time we saw Penn State, the Lions were celebrating a surprisingly strong finish to the 2012 season and saying farewell to a special senior class. Penn State since has turned the page and will begin spring practice Monday with a mix of familiarity and uncertainty. Bill O'Brien is not the "new coach" in Happy Valley anymore, and players have acclimated to O'Brien and his staff. But the Lions are looking for a starting quarterback for the second consecutive spring. They also must replace several outstanding defenders and fill holes on both lines. But the
depth crisis many of us envisioned
for the Lions when the NCAA sanctions came down last summer simply isn't there in State College.
ESPN.com caught up with O'Brien late last week to discuss spring ball.
What are some of the main objectives you're looking for when you get on the field again?
Bill O'Brien:
The No. 1 objective offensively is to make sure we come out of this spring practice with improvement from the quarterback position. We won't name a starter coming out of the spring, but at least at the end of 15 practices we'll have a good idea of how well these guys are grasping the system, Tyler Ferguson and
Steven Bench
. So that's a big deal for us offensively.
And defensively, some new guys will be in there, and seeing how those guys do, whether it's
Nyeem Wartman
at linebacker or
Jordan Lucas
at corner or some other guys who are going to be playing a little bit more next year, how much they improve. And then we'll work our special teams every single day, so hopefully we'll find some core special-teams players this spring.
What's your message to Steven and Tyler going into the spring? You're not naming the starter, but what do you want to see out of them?
BO'B:
[Thursday] I was talking to them, and I said, 'Look, I just want you guys to put your head down and go to work. Don't worry about what everybody else on the outside of the program thinks about your performance, whether it's in scrimmages or the Blue-White Game or whatever it is. Just try to get better every single day.' These are two really, really good kids. They're smart, they work hard at it, they're grasping it pretty well to this point. We're pretty excited about getting started with them. I don't want them to think about anything other than trying to improve and be as good a leader as they can be.
Will you have to change the offense for one or the other? Do they fit in with what you did last year?
BO'B:
We'll definitely be different. We'll be different in many ways. Matt [McGloin] had certain strengths we tried to play to, no question about it. Our system is expansive enough that you can have different parts in there to take advantage of the talents of the quarterbacks who are playing. So we'll be a different offense than we were last year.
Anything specific on what might change with these two quarterbacks or areas you can draw out more?
BO'B:
I'd rather not get into all of that, but I can tell you these are two guys who are big, they're strong, they're fast, they look to be accurate passers. We're just looking forward to working with them.
November, 21, 2012
11/21/12
11:10
AM ET
They did not win a Big Ten championship or play in a Rose Bowl. Their 34 wins in four years don't rank among the best records in school history, and most of those are unofficial victories, anyway.
Yet when Penn State honors its 30 outgoing seniors on Saturday before the Wisconsin game, it will be a highly emotional sendoff that's unlike any other senior day in the country. This group has created a unique legacy, one built not on wins and losses as much as loyalty, resilience and strength.
"They will always be remembered here for the leadership they showed," head coach Bill O'Brien said.
This class endured the strain of the Jerry Sandusky scandal and the death of beloved coach Joe Paterno. The defining moment for this group came this summer, when the NCAA handed down some of the harshest sanctions ever leveled against a football program. With no bowl possibilities and a free pass for transfers, the team could have easily crumbled.
But while some players did transfer, most of the seniors stayed. Led by
Michael Mauti
and
Michael Zordich
, they fiercely and now famously
pledged their loyalty
to the school with a public show of support. In doing so, they gave a fractured Nittany Lions fan base something to rally around.
"They were instrumental in keeping this football team together in the summer when the sanctions came out," O'Brien said. "They really helped the community move forward.
"They grew up a lot. That's a hard thing to deal with when you're in your early 20s. But these guys are a special group of guys."
While many predicted doom and gloom for this season after the sanctions and departures, the Nittany Lions will be looking to finish 8-4 with a win over the Badgers. Several seniors have played major roles in that, including Mauti, Zordich, quarterback Matt McGloin, linebacker
Gerald Hodges
, defensive tackle
Jordan Hill
, offensive linemen
Mike Farrell
and
Matt Stankiewitch
, cornerback
Stephon Morris
, defensive end
Sean Stanley
and others.
"The way we've approached it is just to play each and every game like it's our last," McGloin said. "We're just trying to leave our mark and mark sure we've left this place on a high note."
The one sour note about this week is that Mauti won't be able to play. The star linebacker became the face of this team in the summer with his outspoken comments about the sanctions and loyalty, and then he went out and put together a season worthy of All-America recognition.
But Mauti injured his left knee, the same one that kept him out of most of last season, last week versus Indiana. While the school hasn't released full details of the injury, it has said that Mauti's season is over.
"We've been going up to Mike and giving him comfort and letting him know he's not alone through this," Stankiewitch said. "He said, 'Let's finish this season out strong. Let's finish out with eight wins and not settle for anything less than a win.'"
An 8-4 season would be an excellent accomplishment for this team, but the achievement of these seniors goes deeper than that. They've shown there's still much to play for at Penn State despite the lack of a postseason reward. They've helped set the tone for the future of the program while preventing it from unraveling.
They've got one last game to play, and they deserve a rousing sendoff.
"We want to be remembered as a high-character team, a high-character class," Stankiewitch said. "We want to be remembered as staying together and performing every Saturday with an extreme amount of effort. We look at this game as an opportunity to show the nation even more how together we are as a team."