May, 18, 2011
5/18/11
12:40
PM ET
You don't get through most college football rosters without running into a handful of freaks. The sport is the ultimate freak show.
It's not creepy, carnival freaky, but it is scary, athletic freaky.
On Wednesday, ESPN The Magazine senior writer Bruce Feldman came out with his
2011 college football freaks list
.

To no one's surprise, the SEC has two representatives and both of them are at the top of his list.
Leading the way is Florida running back Jeff Demps. Demps might not look imposing at 5-foot-8, 190 pounds, but it's unlikely you will find anyone in college sports -- let alone college football -- who's faster than him.
Demps ran the fastest win-aided time in the world this season in the 100-meter dash at 9.96. Before arriving at Florida, Demps shared the world 100-meter junior record with a time of 10.01, which earned him a spot at the 2008 U.S. Olympic trials.
He also is a two-time national champion in the indoor 60-meter dash. This spring, he set a Florida school record with a time of 6.53 in the event.
Here's an excerpt from Feldman's part on Demps:
Demps, who led the Gators in rushing last season with 551 yards despite missing some time due to a foot injury, arrived at Florida weighing 170 pounds, and is expected to play this fall at 188. Gators strength coach Mickey Marotti says the back can squat "an ungodly amount of weight." And despite the added pounds, Demps has gotten faster. "He was a 10.1 guy, is now a 9.9 guy and probably will be a 9.8 guy," said Marotti, who adds that Demps has really improved his acceleration.
Behind Demps is LSU running back Mike Ford. At 5-10 and 202 pounds, Ford benches 435 pounds, squats 555 and power-cleans 352. He's also been clocked running a 4.41 40, has a 42-inch vertical and 11-foot-2 broad jump. Yikes!
Alabama linebacker Dont'a Hightower and Tennessee wide receiver
Justin Hunter
were listed as players who just missed the cut on his list.
February, 24, 2010
2/24/10
8:07
PM ET
As players, they had nothing in common. But when I heard the news about
Mike Ford's dismissal
from South Florida, I immediately thought of Elijah Fields.
Like's Pitt's talented but troubled safety, Ford had a world of potential but simply couldn't meet the requirements necessary to stay on the field. And like Fields, he won't be around for his senior season.
[+] Enlarge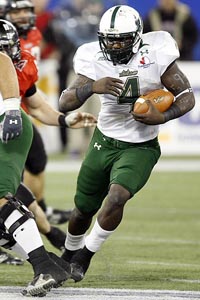 John E. Sokolowski/US PresswireMike Ford never lived up to his potential after his breakout year as a freshman.
Bulls fans dreamed of big things from Ford when he rushed for 645 yards and 12 touchdowns as a freshman. He was a big back who could plow it in at the goal line, but he also had speed.
But Ford would never run for as much as 500 yards in a season again. He had problems with injuries and maintaining his weight. He was arrested twice. He got suspended for a game in 2007 and for the start of the 2009 season. He never could seem to get out of Jim Leavitt's doghouse and, for long stretches, it seemed like he had disappeared.
Then there was the breakout game in the 2010 International Bowl when he ran all over Northern Illinois in the second half and finished with 207 yards. I -- and I'm sure many Bulls fans felt the same way -- was looking forward to seeing what Ford could do as a senior under new coach Skip Holtz, who may have made more of a commitment to using running backs than Leavitt's staffs ever did.
An in-shape, motivated Ford getting 20 to 25 carries a game would have been intriguing to say the least. He was one of those players that fans always asked me about in chats and e-mails, because his talent was so obvious when he was on the field.
We don't know yet what Ford did to earn his dismissal. But, like Fields, he must have known he was on a very short leash, even with a new coaching staff in town. For him to commit even a minor transgression shows a recklessness and foolishness that is mind-boggling.
Sometimes it's good for a new head coach to dismiss a player for a rules violation, especially one as talented as Ford. That shows the rest of the team that the new sheriff means business. I'm sure, though, Holtz would rather had Ford in the backfield this spring, even though he still has a lot of available options there. The Bulls could go with Mo Plancher,
Lindsey Lamar
,
Jamar Taylor
,
Richard Kelly
... the list goes on and on.
None had quite the package of potential that Ford had. It's a shame he could never fully realize all his skills had to offer.
February, 24, 2010
2/24/10
11:00
AM ET
Spring football in the Big East kicks off March 16. Here's a breakdown of three issues facing each program heading into the spring:

CINCINNATI
Spring practice starts:
March 17
Spring game:
April 24
What to watch:
Building depth: New coach Butch Jones said this is the biggest key for the spring. The Bearcats have a lot of top-flight players with starting experience back, like Zach Collaros, Armon Binns, Isaiah Pead and JK Schaffer. But there's a lot of youth and inexperience in potential backup roles, especially at positions like offensive line, linebacker and receiver. All slates are clean with the new coaching staff, and the spring will be a time when new names can emerge in key roles.
Defensive line retooling: Jones will switch back to the 4-3 after a year in the 3-4 scheme. Both starting defensive ends from last year are gone, but the smallish line was overpowered at times near the end of the season anyway. Derek Wolfe should be a fixture inside, Dan Giordano, Brandon Mills and John Hughes step into more prominent roles. Jones will have to decide whether to make Walter Stewart a defensive end or keep him at outside linebacker. The Bearcats could use a little more strength and bulk up front against the bigger Big East offensive lines.
Vidal's arrival: USC transfer Vidal Hazelton is eligible after sitting out last year. He reputedly dominated practices last season, and now he'll get to go full time with the first string. A lot of people will be watching closely to see how he and Collaros connect during the spring. A big year by Hazelton will lessen the loss of star wideout Mardy Gilyard and could keep Cincinnati as the Big East's best offense.

CONNECTICUT
Spring practice starts:
March 16
Spring game:
April 17
What to watch:
Secondary matters: UConn returns a truckload of starters and looks rock solid in most areas. But the defensive backfield will be an area of emphasis starting in the spring. Gone are stalwarts Robert McClain and Robert Vaughn from a secondary that got picked apart much of the season by opposing passing games. Dwayne Gratz and Blidi Wreh-Wilson showed progress by the end of their redshirt freshmen seasons and should be the starting corners. The Huskies need someone to replace Vaughn at safety and overall better performance from the unit.
Frazer vs. Endres: Zach Frazer and Cody Endres have been splitting starts since the second half of the 2008 season at quarterback. Endres took over early last year and played well until he suffered a season-ending shoulder injury. Frazer picked things up late after a slow start. The competition should be back on this spring, with Frazer probably holding the edge given his late-season improvement.
Catch as catch can: Receiver was a major question for UConn going into last spring, when walk-on senior Marcus Easley surprised everybody with his giant leap forward. He became the go-to guy in 2009, but now he's gone, along with starter Brad Kanuch. So the Huskies are basically back in the same position as this time a year ago, needing to find some reliable pass catchers. Kashif Moore may be the next to break out after some good, late-year performances. And perhaps former highly-touted recruit Dwayne Difton will emerge. UConn hopes to catch lightning in a bottle again like it did with Easley.

LOUISVILLE
Spring practice starts:
March 24
Spring game:
April 16
What to watch:
Switching to Strong: The Cardinals will have their first practices under new coach Charlie Strong, who promises to bring a much different style than former coach Steve Kragthorpe. Strong is known as being an intense guy on the field, and as a former top-flight defensive coordinator, he will likely be particularly demanding of players on that side of the ball. There will be new terminology to learn, new assistants and new standards to which the Cardinals must adjust in a hurry.
The quarterback shuffle: Louisville had three quarterbacks -- Adam Froman, Justin Burke and Will Stein -- start games last year. All three will be given the chance to win the job in the spring, and mid-year enrollee Luke Woodley might see some snaps as well. Don't be surprised if this competition goes into the fall and if other newcomers like Dominique Brown get a look. Offensive coordinator Mike Sanford wants to run a Florida-style spread offense, which might favor the more mobile Froman if he chooses to go with a veteran under center.
Line play: The trenches have not been a particularly strong suit for Louisville the past couple of seasons, one of the reasons why the program has fallen out of annual postseason play. The Cardinals have gotten very little pass rush from the defensive line and not enough of a consistent push from the offensive line. Strong asked the offensive linemen to rework their bodies to prepare for the spread, and he'll need replacements for two senior defensive tackles. Junior-college imports Randy Salmon and Tyler Harrell will have a chance to impress on the defensive line. If the holdovers don't step up, we could see more newcomers in key spots by the summer.
February, 12, 2010
2/12/10
1:40
PM ET
Spring practice is just around the corner, and that means it's time to start looking at two-deeps and position battles. While some players know what their roles will be in the fall, others will begin heated competitions for playing time during spring drills in hopes of impressing their coaches. Here are a few position battles worth watching this spring in the Big East:
Pittsburgh quarterback: Pitt may well be the preseason Big East favorite, but the Panthers have to figure out their quarterback situation first. Sophomore Tino Sunseri came close to winning the job in a heated three-way battle last year and settled in as Bill Stull's backup. Pat Bostick, however, has improved his mechanics and has won big games in the past. This should be a good competition that might not be settled until the fall.
Louisville quarterback: Three players -- Justin Burke, Adam Froman and Will Stein -- all started games under center for the Cardinals, and none of the trio distinguished himself as heads and shoulders above the rest. Whoever wins the job in the spring might not necessarily be the guy in the fall, as new coach Charlie Strong is bringing in some promising freshmen quarterbacks as well.
South Florida running back: Skip Holtz has suggested he'd like to have a real No. 1 tailback, something the Bulls haven't had in a long time. Mike Ford had a huge game against Northern Illinois in the International Bowl and may finally be ready to assume that go-to-guy role as a senior. Sophomore Lindsey Lamar will push for the job, as well as possibly Jamar Taylor and several newcomers.
Rutgers receiver and cornerback: Like last year, the Scarlet Knights go into the spring with one proven wideout (this time, Mohamed Sanu) and a bunch of question marks. It's time that someone from the group including Julian Hayes, Tim Wright, Keith Stroud and Marcus Cooper separate himself. At corner, Rutgers needs a replacement for Devin McCourty. Will a guy like Brandon Bing step forward, or will one of two redshirt freshmen -- Darrell Givens and Logan Ryan -- make a move in the spring?
Cincinnati's defensive front seven: With a new coaching staff and probably a change back to a 4-3 scheme, the Cincinnati players have basically been told they're back to square one this spring. Add to that fact that both defensive ends and two starting linebackers were seniors this past season, and there are a lot of jobs up for grabs. The constants appear to be defensive tackle Derek Wolfe, linebacker JK Schaffer and Walter Stewart, who could either play linebacker or on the line. After that, it's one big competition.
Which players had the best bowl performances from the Big East? Here's our all-bowl team:
OFFENSE
QB Tom Savage, Rutgers
There weren't a lot of big numbers for Big East quarterbacks in the postseason. The Scarlet Knights' true freshman completed 14 of 27 for 294 yards and two touchdowns, with one interception, in a win over Central Florida in the St. Petersburg Bowl.
RB Mike Ford, South Florida
Ford exploded for 207 yards on 20 carries -- almost all of them in the second half -- to help the Bulls beat Northern Illinois in the International Bowl.
[+] Enlarge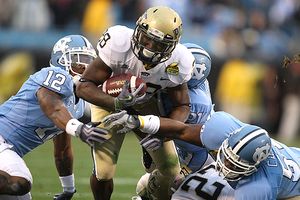 Streeter Lecka/Getty Images Dion Lewis had 159 yards and a touchdown on 29 carries in Pittsburgh's win over North Carolina.
RB Dion Lewis, Pitt
The sensational freshman had 159 yards on 28 carries and a score against North Carolina's tough run defense in the Meineke Car Care Bowl
RB Noel Devine, West Virginia
The Mountaineers' star ran for 168 yards on 16 carries in just three quarters against Florida State in the Konica Minolta Gator Bowl
WR Mohamed Sanu, Rutgers
Yet another freshman standout, Sanu had four catches for 97 yards and a score and also ran the ball 13 times for 41 yards and two more touchdowns.
WR Mike Shanahan, Pitt
Shanahan had five catches for 83 yards, many of them in traffic and in key spots, against North Carolina. And he's a freshman, too.
OT Anthony Davis, Rutgers
The future NFL first-rounder had his ups and downs this season. But he held off Central Florida's impressive pass rusher in a strong performance during his final college game.
OT Jason Pinkston, Pitt
North Carolina came into the Meineke game with the nation's No. 6 defense, but Pinkston helped the Pitt line move the chains and get the win.
C Moe Petrus, UConn
Petrus was part of a group that helped pave the way for 146 rushing yards against South Carolina in the Papajohns.com Bowl.
OG John Malecki, Pitt
OG Zach Hurd, UConn
DEFENSE
DE Lindsey Witten, UConn
The senior was part of a defensive line that overwhelmed the South Carolina offensive front.
DT Kendall Reyes, UConn
He had a one sack and put lots of pressure on Gamecocks quarterback
Stephen Garcia
.
DT Mick Williams, Pitt
The Big East co-defensive player of the year registered a pair of sacks against North Carolina.
DE Alex Daniels, Cincinnati
One of the few Bearcats who had a good night in the Allstate Sugar Bowl, Daniels had a pair of sacks and three tackles for loss against Florida.
LB Max Gruder, Pitt
Playing in his hometown, Gruder recorded 11 tackles and forced a fumble against North Carolina.
LB Scott Lutrus, UConn
The junior had nine tackles, a sack and a fumble recovery against South Carolina.
LB Steve Beauharnais, Rutgers
Another freshman, Beauharnais had seven tackles and a pair of sacks against Central Florida.
CB Billy Anderson, Rutgers
The little-known reserve returned an interception 19 yards for a touchdown near the end of the first half in a key play.
CB Jerome Murphy, South Florida
He had an interception, a fumble recovery and two pass breakups in the International Bowl.
S Robert Sands, West Virginia
Sands was just about everywhere in the Gator Bowl, recording 13 tackles, two of them for loss.
S Robert Vaughn, UConn
Vaughn had an interception and two pass breakups in the Papajohns.com Bowl.
SPECIALISTS
K Dan Hutchins, Pitt
Hutchins hit four field goals, including the game-winning 33-yarder, against North Carolina.
P Jake Rogers, Cincinnati
Rogers punted more than he has in a game all season, but he put half his six punts inside the Florida 20.
KR Mardy Gilyard, Cincinnati
He sure had plenty of opportunities, but he piled up a Sugar Bowl-record 207 return yards on eight attempts.
January, 11, 2010
1/11/10
1:00
PM ET
Reviewing some of the highs and lows of Big East bowl season:
Best defensive performance:
Connecticut clamped down on South Carolina in the Papajohns.com Bowl, shutting the SEC opponent out until the final four minutes, and holding the Gamecocks to just 205 total yards. They play a little defense in the Big East, too.
[+] Enlarge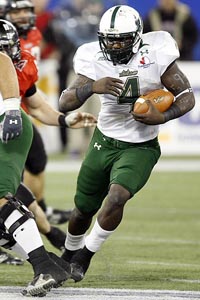 John E. Sokolowski/US PresswireSouth Florida running back Mike Ford rushed for 207 yards and a touchdown in the International Bowl.
Worst defensive performance:
Well, maybe they don't play defense in the Big Easy. Cincinnati's late-season struggles to stop anyone reached a nadir in the Allstate Sugar Bowl as the Bearcats allowed 51 points and 659 total yards to Florida. The plan going in was to make
Tim Tebow
strictly a passer; he gleefully accepted the challenge by throwing for a BCS record 482 yards while completing 31 of his 35 attempts.
Best out-of-nowhere performance:
Mike Ford
hadn't done a whole lot for South Florida in two years, and rushed for only 243 yards in the regular season. Then the Bulls tailback rumbled for 207 yards -- nearly all of it in the second half -- against Northern Illinois in the International Bowl. Maybe he just likes Canada. Alert the CFL.
Worst into-nowhere disappearing act:
West Virginia's
Noel Devine
was nearly unstoppable for three quarters against Florida State. But Devine, who had 168 yards on 16 carries, never touched the ball in the fourth quarter of the Mountaineers' futile comeback attempt.
Worst break:
Jarret Brown's injury at the Konica Minolta Gator Bowl. The senior waited patiently behind Pat White for three years but couldn't play after the first half of his bowl game because of an ankle problem. He deserved to finish his career in better fashion.
Best statement:
Pitt and North Carolina both pride themselves on hard-nosed football. Well, Dave Wannstedt's team got the upper hand in the Meineke Car Care Bowl. Trailing by one in the fourth quarter, the Panthers went on an epic, 17-play, 8:47 drive for the winning field goal. It was old-school, smash-mouth football at its finest.
Best atmosphere:
The Gator Bowl. A record crowd of 84,129 packed the Jacksonville Municipal Stadium for Bobby Bowden's last game. The sight of Bowden throwing the flaming spear into the turf before the game was undeniably cool. You can forgive West Virginia for not enjoying some of the over-the-top Bowden tributes, though, such as having the Florida State coach's picture on all the buses transporting people to the stadium.
Worst atmosphere:
International Bowl. Who thought pitting South Florida and Northern Illinois in Canada would be a good idea? Fewer than 1,500 fans from either school made the trip across the border, and the announced crowd of 22,185 was the smallest of any bowl game this year.
Best future preview:
It's a four-way tie. Two true freshmen -- quarterback
Tom Savage
and receiver
Mohamed Sanu
-- formed a potent duo for Rutgers in the St. Petersburg Bowl. Redshirt freshman quarterback
B.J. Daniels
had a solid game against Northern Illinois. And West Virginia fans got to see their next quarterback when freshman
Geno Smith
took over for Brown in the second half.
Worst bowl week buildup:
Urban Meyer's seemingly unnecessary Sugar Bowl retirement/non-retirement drama overshadowed much of the pregame talk and excitement. Add in Cincinnati's own coaching controversies, and hardly anybody focused on the actual game (though from the Bearcats' standpoint, maybe that was a good thing). What happened to bowls being rewards for all the players' hard work?
January, 2, 2010
1/02/10
3:38
PM ET
Instant analysis of the International Bowl, which South Florida
won 27-3
over Northern Illinois:


How the game was won:
The Bulls couldn't get anything going offensively in the first half and went into intermission locked in a 3-3 tie. Northern Illinois kept breaking through the South Florida offensive line and sacked
B.J. Daniels
four times in the half. The second half was a different story completely, as coach Jim Leavitt went to his running game with
Mike Ford
and the line started holding its own. Given more time, Daniels threw two touchdown passes, and the South Florida defense was far too athletic for the Huskies to handle the entire day.
Player of the game:
Mike Ford. The junior running back has been mostly missing in action since a promising freshman season, but he came up with a huge postseason. Ford used his size and speed to rumble for a Bulls bowl-record 207 yards on 20 carries and a touchdown, tilting the game in his team's favor.
Turning point:
Daniels scrambled away from pressure and made a ridiculous 46-yard pass to
A.J. Love
for South Florida's first touchdown with a little more than five minutes left in the third quarter. That seemed to relax the Bulls, and they cruised home from there.
Stat of the game:
Northern Illinois was just 3-of-16 on third- and fourth-down conversion attempts.
What it means
: Not a whole lot. South Florida got its second straight bowl victory and ended the season on a positive note, but beating a MAC also-ran doesn't impress too many people. The attention now immediately turns to coach Jim Leavitt and the school's continuing investigation into his alleged mistreatment of a player. The outcome of that will determine where this team goes next year. The Bulls bring a whole bunch of talented young players back, especially on offense with the electric Daniels at the helm.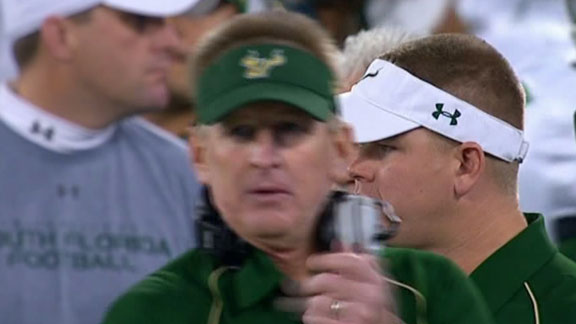 Posted by ESPN.com's Brian Bennett
South Florida tailback Mike Ford had a disappointing 2008 season. He had a high ankle sprain in the first game and was never the same. Now, Alan Dell writes in the Sarasota Herald-Tribune, Ford has dropped 20 pounds and is hoping for a bounce-back year.
"It was very frustrating last year. I never had an injury that lasted so long. The most I ever missed was a game or two and then I would be right back," Ford said.

"This year, I feel a lot lighter and stronger. I've been catching a lot of balls in 7-on-7 drills and my teammates commented that I was a lot faster."

• A Clemson assistant is interviewing for the vacant South Florida linebackers coach position.
• The Charleston Gazette's Mitch Vingle checks in with West Virginia coordinators Jeff Mullen and Jeff Casteel about spring story lines to watch for the Mountaineers.
February, 24, 2009
2/24/09
11:08
AM ET
Posted by ESPN.com's Brian Bennett
With spring practice rapidly approaching, players are about to take their battle positions in the Big East.
Several starting jobs will be up for grabs around the league. Some of the highest-profile skirmishes will include the Rutgers quarterback competition, the fights to succeed LeSean McCoy and Scott McKillop at Pitt and the 10 new starting spots on Cincinnati's defense.
Here are five other key position battles to keep an eye on this spring, presented in no particular order:

• Connecticut quarterback: This is a duel that began last season, when both Zach Frazer and Cody Endres split time filling in for the injured Tyler Lorenzen. With Lorenzen graduated, one of them has to claim the job outright. There are a lot of similarities between the two, including size, playing experience and strengths and weaknesses. Both will be operating on somewhat of a clean slate this spring with new offensive coordinator Joe Moorhead. Expect this battle to continue into fall camp.

• Louisville quarterback: The Cardinals signed junior college quarterback Adam Froman, who is on campus and will be ready for spring drills. They didn't sign him so he could ride the bench. But head coach Steve Kragthorpe insists there will be an open competition to succeed Hunter Cantwell, and there's no one on the roster with much of a résumé. Junior Tyler Wolfe has looked impressive at times in practice but needs to pick up the finer points of the position. NC State transfer Justin Burke and sophomore Zack Stoudt will also try to impress this spring.

• Rutgers running back: The Scarlet Knights could have used a revolving door in their backfield last season. At different times, Kordell Young, Jourdan Brooks, Joe Martinek and Mason Robinson all had moments as the featured back. Young led the way with 550 yards in just seven games but has had trouble staying healthy. With Rutgers breaking in a new starting quarterback this season, the running game might have to carry a bigger load this year, and someone needs to put his mark on this position.

• South Florida running back: The Rutgers tailback position was a model of consistency compared to the Bulls' backfield in 2008. Mike Ford, Moise Plancher, Benjamin Williams, Jamar Taylor and Richard Kelly all split time there thanks to injuries, ineffectiveness and a spread-the-ball philosophy by former offensive coordinator Greg Gregory. All but Williams are back this spring to resume their competition, and a new playcaller could change the way South Florida uses its backs. Quarterback Matt Grothe desperately needs someone dependable behind him so he doesn't have to carry so much of the offense on his shoulders.

• West Virginia receiver: The Mountaineers want to feature more of a true downfield passing attack this season, which means they will need to identify some go-to receivers. Several candidates will vie for that role this spring, even with slot receiver Jock Sanders currently suspended. Alric Arnett showed flashes of great promise in 2008 and caught two scores in the Meineke Car Care Bowl; he just needs to be more consistent. Wes Lyons can be a major factor with his 6-foot-8 frame. Bradley Starks is an athletic guy who's made the adjustment from quarterback. And hotshot freshman Logan Heastie is already enrolled and ready for the spring. The competition to become the No. 1 wideout should be fun to watch.
Which battles are you most looking forward to watching this spring?
November, 12, 2008
11/12/08
11:02
AM ET
Posted by ESPN.com's Brian Bennett

Cincinnati: Coach Brian Kelly says that strong safety Aaron Webster has added toughness to the Bearcats since he moved into a starting role after the Akron game. "He's brought a physicality to our defense that we were lacking," Kelly said. "And having him on our defense has elevated everybody." The only non-senior starter on defense, Webster was named Big East defensive player of the week after he recorded 13 tackles, including two for loss, in last week's win at West Virginia. Also for the Bearcats, senior Dustin Grutza is expected to serve as the No. 2 quarterback for Friday's game at Louisville. Grutza hasn't played since breaking his leg in Week 2 at Oklahoma.

Connecticut: The job of replacing the irreplaceable Darius Butler begins this week. Butler, who played cornerback, wide receiver and returned kicks for the Huskies, is out perhaps as long as the regular season with a knee injury. Junior Robert McClain will start at corner and will be backed up by Terry Baltimore. Freshman Jordan Todman will take over the primary kick-return duties. Butler had been playing about 12-to-15 snaps on offense and provided an electric presence that will be hard to match.

West Virginia: The Mountaineers' short-yardage woes resurfaced in the Cincinnati game, and some of that can be blamed on injuries. Fullback Will Johnson couldn't play because of a quad injury. Backup quarterback Jarrett Brown, who had been used as a blocker and short-yardage specialist earlier in the season, was still nursing shoulder and leg problems and couldn't go. Coach Bill Stewart said he planned to "turn him loose" for the Louisville game on Nov. 22. Center Mike Dent missed the Cincinnati game with a neck injury, and Stewart described him as "week-to-week."

South Florida: The banged-up Bulls could get running backs Mike Ford and Jamar Taylor back for the Rutgers game. Neither made the trip to the Cincinnati game because of injuries but were working out in drills earlier this week. The status of offensive lineman Zach Hermann (foot) and tight end Trent Pupello (concussion) remains unknown. Quenton Washington took over starting cornerback duties from Tyller Roberts for the Cincinnati game and is listed as the starter there again this week.

Syracuse: Orange coach Greg Robinson will stick with Cam Dantley as his starting quarterback this week against Connecticut, but backup Andrew Robinson will see time. The coach hasn't specified how much or what role Andrew Robinson would play. Third-string quarterback David Legree told the Syracuse Post-Standard that he feels he's ready to play after two years in a back-up role. Tailback Delone Carter returned for the Louisville game after a four-week absence with a hamstring problem. He did not play against Rutgers, but Greg Robinson said that was not a health issue.
October, 29, 2008
10/29/08
12:02
PM ET
Posted by ESPN.com's Brian Bennett

Connecticut: Donald Brown's amazing season has left Andre Dixon a forgotten man this season. Dixon actually led the Huskies in rushing last season, but he's only gotten three carries this year as Brown has piled up more than 1,300 yards. Dixon was slowed by an ankle injury at the start of the year but is healthy now. UConn coach Randy Edsall says Dixon hasn't done anything wrong and is contributing on special teams; there just aren't enough handoffs to go around the way Brown is performing.

South Florida: The Bulls' comeback attempt at Louisville was hampered by injuries. Running backs Mike Ford and Jamar Taylor were limited, while starting right tackle Marc Dile (leg), tight end Trent Pupello (head) and linebacker Brouce Mompremier (head) got hurt and had to leave the game. True freshman Danous Estenor took over for Dile, who returned to practice this week. Senior guard Zach Hermann, who has been out since the opener with a broken foot, will travel to Cincinnati and may play.

Syracuse: The Orange hope to have two additions to their backfield on Saturday against Louisville. Fullback Tony Fiammetta should be good to go after missing the South Florida game with a lower leg problem, while backup tailback Delone Carter appears ready after sitting four games with a hamstring injury. Fiammetta is important as both a blocker and in the receiving game, while Carter can either give starting halfback Curtis Brinkley a breather or come in on two-back sets.

Pittsburgh: The season-ending ankle injury to center Robb Houser means that fifth-year senior Dom Williams will return to the starting lineup. Williams will play left guard, while C.J. Davis moves over to center. Williams, the team's oldest player at 24, started the first two games of 2005, including one against this week's opponent, Notre Dame. If Williams falters, Pitt will probably turn to true freshman tackle Lucas Nix.

West Virginia: The Mountaineers shredded Auburn's defense in last week's 34-17 win without one of their most effective offensive players. Backup quarterback Jarrett Brown did not play because of lingering shoulder and thigh injuries. West Virginia had been using Brown in the backfield with Pat White as a blocker/runner/decoy on short-yardage situations. Brown has practiced this week and should be ready to play at Connecticut. Freshman right guard Josh Jenkins, out since the Rutgers game with a knee injury, could return to add depth to the offensive line.
September, 18, 2008
9/18/08
11:45
AM ET
Posted by ESPN.com's Brian Bennett
Sure, the sun has been up for a long time, but I haven't. Midweek night games do take a toll. On to the links ...
* West Virginia tries to get back on track tonight in a tricky game at Colorado. Bob Hertzel of the Times West Virginian says it's the biggest game of Bill Stewart's very short tenure, and one the Mountaineers can't afford to lose.
The
return of Reed Williams
to the middle of the 3-3-5 should help West Virginia, Dave Hickman writes in the Charleston Gazette.
* Louisville showed its old spark on offense Wednesday night against Kansas State, The Courier-Journal's Rick Bozich opines.
* Syracuse quarterback Andrew Robinson is trying to deal with being benched, Donnie Webb writes in the Syracuse Post-Standard.
* Mardy Gilyard is a big-money player for Cincinnati, Bill Koch says in the Cincinnati Enquirer.
* Iowa hasn't named a quarterback yet, but Pittsburgh is more concerned about its running game and Shonn Greene, Kevin Gorman writes in the Pittsburgh Tribune-Review.
* Joe Perez of the Norwich Bulletin writes about UConn running back Donald Brown's amazing start.
* South Florida running backs Mike Ford and Ben Williams probably still won't be ready Saturday against Florida International, the Tampa Tribune reports. The Bulls shouldn't need them, especially the way Jamar Taylor and Moise Plancher have run.
Taurus Johnson has become a go-to guy for Matt Grothe, Greg Auman writes in the St. Petersburg Times.
* Rutgers will travel to Baltimore this weekend to face Navy, and it might want to kidnap Ray Rice from the Ravens, Tom Luicci writes in the Star-Ledger.
"Had Rice decided to return for his senior year, chances are the Scarlet Knights wouldn't feature a running game that ranks 85th nationally (out of 119 schools), nor sporting an 0-2 record."

September, 2, 2008
9/02/08
9:44
AM ET
Posted by ESPN.com's Brian Bennett
Despite losing 13 of his past 18 games, including Saturday's dispiriting home loss to Bowling Green, Pittsburgh coach Dave Wannstedt received a vote of confidence from his athletic director, Kevin Gorman reports in the Pittsburgh Tribune-Review. Here's the quote from Steve Pederson.
"In these situations, nobody's more disappointed than Dave and our team at the results of the game," Pederson said. "But I also know there isn't any group that's going to work harder to get us back on track than Dave and his coaches and the team. For Dave, this isn't really a job, this is a passion. He's dedicated to building a winning program here and he has all of our support as he works at that."
Meanwhile, Paul Zeise writes in the Pittsburgh Post-Gazette that the Panthers could be without both starting outside linebackers because of injuries.
* Speaking of injuries, South Florida running back Mike Ford was in a boot and backup tight end Trent Pupello is questionable because of ankle problems, Greg Auman notes in the St. Petersburg Times. Both could be out this weekend.
"If they're not 100 percent, they won't play, because there's no way you're going to have a chance against Central Florida with a guy in there not going 100 miles an hour," he said. "It can't happen. We would wait."
* After the Rutgers offense laid an egg against Fresno State, Star-Ledger columnist Steve Politi says the Scarlet Knights lack an identity without Ray Rice.
* Could another hurricane disrupt college football? West Virginia officials are keeping an eye on Hurricane Hanna, which appears headed right toward Greenville, N.C., the site of this week's game at East Carolina, Dave Hickman says in the Charleston Gazette.
* Even if Ben Mauk is cleared to play again, he won't start right away, Bill Koch says in his Cincinnati Enquirer blog.