September, 7, 2012
9/07/12
2:30
PM ET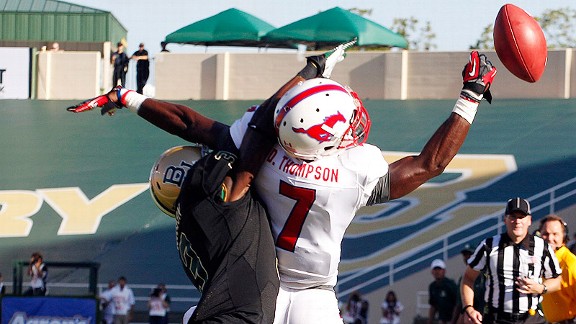 AP Photo/LM OteroDemetri Goodson turned a basketball life at Gonzaga into a football jumpstart at Baylor.
In today's Q&A, we introduce you to Baylor cornerback
Demetri Goodson
, who's got the most interesting story of any starter in the Big 12.
Goodson started for two seasons before coming to Baylor.
Started at point guard under Mark Few for Gonzaga's basketball team, that is. The Spring, Texas native's older brother is Mike Goodson, who ran for 1,964 yards in three seasons at Texas A&M, but Demetri Goodson bucked his brother's wishes to head to Baylor, where he earned a starting job at cornerback after sitting out most of last season with an injury.
In
Baylor's 59-24 win over SMU
last week, he made seven tackles and broke up a pass, adding a tackle for loss. He sat down with ESPN.com this week to talk about his incredible backstory.
What was it like making your first start last week?
It was very, very, very exciting. It was great to get back out on the field finally. I was kind of nervous a little bit, but after the first couple of plays, I kind of settled down.
I know this is your second year, but take us back. How'd you make the decision to leave Gonzaga hoops and come play Baylor football?
I just prayed about it one night. My dad, he had told me I should look into playing football for my future, and I started thinking about it. I was really, really good before I stopped playing, so I kept praying on it and one day I woke up and was like, "I'm gonna do it." I talked to my high school coach (Ronny Feldman of Klein Collins High School) and let him know I was looking to play football again and schools just started calling, so it made it easy.
[+] Enlarge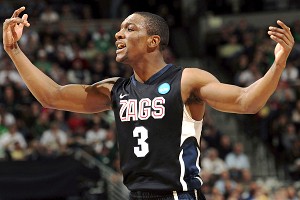 Doug Pensinger/Getty ImagesDemetri Goodson averaged 5.2 points a game in his final season at Gonzaga.
What was the toughest part about leaving?
The toughest part about leaving was just leaving all the close friends that I've made throughout the years at Gonzaga. That was probably the toughest part, but I was just ready to come back home and be closer to family, so that was a big part.
What do teammates think about your playing history?
They think it's crazy. Everyone tries to play me in basketball all the time, they always talk about how they can take me on the court and stuff. They're always giving me a hard time about basketball, but they just really think it's crazy how I switched sports like that.
I remember Robert Griffin III used to tell me he always got texts from (Baylor basketball coach) Scott Drew, half-jokingly asking him when he would come out for the team. How much do you hear from him?
I haven't even talked to him since I've been here. I told Coach Briles when I came that I was going to be all in to football, and I gave him my word I wouldn't try and go play basketball, so I've stuck to my word, just concentrating on football.
Your brother's a former Aggie. What'd he think about you coming back to play for Baylor?
He wanted me to go to Texas A&M, but throughout the years, watching him play there, I just wanted to go off and do my own thing. After coming up here and meeting the coaches like coach (defensive coordinator Phil) Bennett, I knew this was the place for me. I definitely think I picked the perfect spot.
Not too many guys have played two different sports at two different schools, and I'm sure there's tons of differences, but what's the biggest about starting at point guard for Gonzaga and starting at corner for Baylor?
Being a point guard, you really have to control your team like a quarterback playing football. Playing corner, you're really just doing a job. Everyone's got a job to do, and my job is to go out there and not let anybody catch the ball and hold down the corners. It's kind of similar, but it's definitely different. I feel like cornerback is more of a job, a team-type of position, more so than the point guard is. Cornerback is definitely tough, but I'm pretty good at it, I think.
Did you give your brother a hard time last year with Baylor winning 10 games and A&M struggling?
Oh yeah, definitely. I always talk mess. I think I got hurt the game before we played A&M last year and I was so mad, because I wanted to play against them so bad. He's always talking about Texas A&M this and Texas A&M that, so I was really disappointed I didn't get to play against them last year.
August, 29, 2011
8/29/11
9:45
AM ET
Demetri Goodson
, the younger brother of former Texas A&M running back and current NFL player Mike Goodson, spent the past two years starting 68 games for Gonzaga's basketball team.

After
months of a rumored move
, he'll be sporting a much different look this season.
The 6-foot, 175-pounder has officially joined Baylor's program and will be eligible immediately because Gonzaga does not have a football program.
Goodson helped his Bulldogs knock off No. 9 Baylor in Dallas last season at the American Airlines Center. He played 31 minutes and scored six points with two assists and three steals.
Baylor coach Art Briles expects him to play defensive back.
Goodson is a native of Spring, Texas, just outside Houston, and hasn't played football since earning all-district honors as a cornerback for Klein Collins as a sophomore.
January, 28, 2011
1/28/11
9:00
AM ET
ESPN the Magazine had a fascinating feature
looking back at the past 25 No. 1 high school recruits
, where they are now and what the ranking meant to them. With apologies to Vince Young, there aren't a ton of Big 12 talents on the list, but there have been plenty of great recruits to come through the Big 12. We took a look on Thursday at
how the All-Big 12 team stacked up as recruits
, and you saw quite a mixed bag.
Well, it's the same for the recruits who came to campus with high rankings and high profiles. Going back to 2006, here's how every Big 12 commit from the ESPNU 150 turned out. We'll look at 2006 in this post before eventually reaching 2010 and the current class, 2011, by signing day.
2006
No. 6: DeMarco Murray, RB, Oklahoma.
Murray set the school records for touchdowns (64) and all-purpose yards (6,498) as a Sooner. He's projected to be drafted on the first day of this year's NFL Draft.
No. 7: Sergio Kindle, OLB, Texas.
Kindle was a finalist for the Butkus and Hendricks Awards and was a two-time All-Big 12 performer with 176 career tackles. He was drafted by the Baltimore Ravens in the second round last year's NFL Draft, but missed his rookie season after fracturing his skull in a fall on the stairs at his home.
No. 13: Jevan Snead, QB, Texas.
Lost a quarterback battle to Colt McCoy following the 2005 season. Played sparingly as a freshman before transferring to Ole Miss. Went undrafted in 2010. Now plays for Arena League's Tampa Bay Storm.
No. 21: Gerald McCoy, DT, Oklahoma.
McCoy was a Lombardi finalist, a three-time All-Big 12 performer, a two-time All-American who left Oklahoma after his junior season and was selected No. 3 overall by the Tampa Bay Buccaneers in the 2010 NFL Draft.
No. 22: Eddie Jones, DE, Texas.
Jones just finished his career at Texas with an All-Big 12 honorable mention year in 2010. Finished his career with 111 tackles and 13.5 sacks.
No. 34: J'Marcus Webb, OT, Texas.
Webb played one year at Texas before transferring to Navarro College and eventually West Texas A&M. He was drafted in the seventh round of the 2010 draft and spent the season with the Chicago Bears.
No. 36: Adron Tennell, WR, Oklahoma.
Tennell finished his four-year career at Oklahoma with 40 catches, 505 yards and five touchdowns.
No. 42: Dustin Earnest, LB, Texas.
Earnest finished his career in 2010 with 84 tackles and a sack for the Longhorns.
No. 45: Mike Goodson, RB, Texas A&M.
Goodson was the Big 12 Freshman of the Year in 2006 with his career high 847 yards. He finished with 1,966 yards and 13 TDs in three seasons before being drafted in the fourth round by the Carolina Panthers.
No. 67: Phillip Payne, WR, Texas.
Caught his first career pass in 2009, his third year at UT, before transferring after the season.
No. 75: Derek Burton, DE, Oklahoma State.
Started 15 games in four years for the Cowboys, recording 67 career tackles.
No. 82: Ben Alexander, DT, Texas.
Made four career starts, with 51 tackles and half a sack in 38 career appearances.
No. 104: Terrance Anderson, CB, Oklahoma State.
Made 96 tackles in four years with the Cowboys. Had four career interceptions.
No. 110: Jonathan Nelson, CB, Oklahoma.
Started all 14 games in 2010 for the Sooners after earning All-Big 12 honorable mention as a junior in 2009. Finished career with 155 tackles and five interceptions.
No. 111: Jermaine Gresham, TE, Oklahoma.
Caught 111 passes for 1,629 yards and 26 touchdowns in three seasons, including an All-American season in 2008. Missed all of 2009 with knee injury. Drafted No. 21 overall in the 2010 draft by Cincinnati Bengals.
No. 137: Jeremy Beal, DE, Oklahoma.
Had 224 tackles, 58.5 tackles for loss, and 29 sacks in four seasons, including three All-Big 12 seasons, an All-American season and was a Hendricks Award finalist in 2009. Projects as middle-round pick in 2011 NFL Draft.
No. 141: Josh Freeman, QB, Kansas State.
Threw for 8,078 yards and 44 touchdowns and 34 interceptions in 35 career games. Also ran for 404 yards and 14 touchdowns as a junior. Drafted No. 17 overall by the Tampa Bay Buccaneers in the 2010 NFL Draft.
February, 9, 2009
2/09/09
1:10
PM ET
Posted by ESPN.com's Tim Griffin
Mike Leach's quest for a new contract spilled into the public when e-mail records between Leach's agents and Texas Tech athletic department and school officials were released Friday afternoon. And it's provided ready fodder for comments from both sides at several Texas newspapers.
Don Williams of the Lubbock Avalanche-Journal writes about the simmering disagreement between Leach's representatives and his employers. And e-mail records show that the chasm has widened over the last several months -- despite the Red Raiders' 11-2 record in 2008 that matched a school single-season record for victories. The Dallas Morning News' Brandon George provides an extensive timeline detailing the key dates in the dispute between the two sides.
Here are some other stories from across the Big 12 for your edification.
October, 24, 2008
10/24/08
11:11
AM ET
Posted by ESPN.com's Tim Griffin
Here are 10 things I'll be watching for around the Big 12 on Saturday.

1. The matchup between Oklahoma State's offensive line and Texas' defensive front -- The Cowboys have the most underrated offensive line in the conference, keying the most multi-faceted offense in the Big 12. But OSU's talented front will be tested by Texas' surging line led by defensive end Brian Orakpo and defensive tackle Roy Miller -- two likely all-Big 12 performers if the vote was taken today. Oklahoma State must be balanced in order to give Zac Robinson a chance to take advantage of Texas' youth in the secondary with play-action passes -- something that Chase Daniel wasn't able to do last week until it was too late.
2. Texas Tech's sputtering special teams -- After benching kickers Donnie Carona and Cory Fowler in back-to-back weeks, the Red Raiders could turn to walk-on Matt Williams as their primary kicker against Kansas. Could Williams, a former winner of an in-game kicking promotion at a Tech game earlier this season, really provide a key field conversion or field goal that would extend the Red Raiders' BCS hopes? And could quirky Tech coach Mike Leach really follow through with his intention of possibly going for two points after every touchdown because of his kicking woes? We'll see.
3. Robert Griffin's interception streak -- The Baylor freshman has thrown 155 passes without an interception to set an NCAA record for freshmen at the start of his career. Can Griffin keep it going against a Nebraska defense that has produced only five interceptions this season -- a figure way below expectations when Bo Pelini took over as head coach.
4. The Oklahoma running game against the weak Kansas State run defense -- The Sooners failed to produce 50 rushing yards in two of their last three games before erupting for 206 yards last week against Kansas. The Sooners will be facing a struggling Kansas State defensive front that has allowed an average of 229.2 rushing yards and 12 rushing touchdowns in its last five games.
5. Missouri's response to its recent two-game losing streak -- Losses to South powers Oklahoma State and Texas have shown that Missouri might have been a paper tiger and virtually crushed Chase Daniel's Heisman hopes. A start for the Tigers against Colorado would be grabbing a lead, something they haven't done in the last two games. During the first five games of the season, the Tigers trailed for a total of 13 seconds. In the last two games, Missouri has trailed for a period of 92 minutes, 14 seconds.
6. Texas A&M's struggling running game -- With the return of players like Mike Goodson and Jorvorskie Lane back from last season's offense that ranked 13th nationally in rushing, the Aggies were expected to be able to consistently run the ball. But they floundered again last week, producing 20 yards against Texas Tech -- the lowest for any A&M team in nearly nine seasons. A&M's rushing offense ranks 100th nationally. Can it be resuscitated against an Iowa State run defense that ranks 95th in the country?
7. Will Oklahoma State finally break down the door against Texas? The Cowboys have blown huge leads in three of the last four seasons against the Longhorns, including a 21-point advantage early in the fourth quarter last season against them in Stillwater. OSU obviously has confidence it can make big plays and have success against the Longhorns. But can the Cowboys hold a lead if they get one Saturday in Austin with that mental baggage still around them?

8. The matchup between Texas Tech wide receiver Michael Crabtree and Kansas wide receiver Dezmon Briscoe -- Crabtree and Briscoe were almost college teammates as Crabtree considered attending Kansas before opting to go to Tech. Crabtree won the Biletnikoff Award last season and is poised for a big game against Kansas' leaky secondary. And Briscoe is coming off a school record-breaking 12-reception, 269-yard game last week against Oklahoma. The Big 12 record for single-game receiving yards is 300 yards set by Oklahoma State's Adarius Bowman against Kansas in 2006. It might be challenged by either Crabtree or Briscoe on Saturday.
9. Colorado's quarterback rotation -- Coach Dan Hawkins navigated the ticklish situation of benching his son, Cody, for freshman quarterback Tyler Hansen last week. The combination helped lead the Buffaloes to a gritty victory over Kansas State. How will Hawkins handle juggling his quarterbacks against Missouri in a virtual North Division title elimination game for the loser?
10. Josh Freeman's slump -- The Kansas State quarterback has struggled recently and has not thrown a touchdown pass since the opening possession against Texas Tech on Oct. 4. Since then, Freeman has gone 92 passes without a touchdown pass during a span that has stretched for nearly three games. He'll be facing an Oklahoma pass defense that has struggled recently before storming back to force five straight punts down the stretch to seal the victory against Kansas last week. Freeman must find his groove if the Wildcats have any hopes of notching the upset over the Sooners.

October, 15, 2008
10/15/08
12:08
PM ET
Posted by ESPN.com's Tim Griffin
Here's a look at some tidbits from around the league that are transpiring as teams get ready for games this week.


1. Both Kansas and Oklahoma have added more playmakers to their special teams after recent struggles for both teams covering and returning kickoffs. Bob Stoops plans to add four new members to his kick coverage team that has been blistered for two TD returns, including a pivotal 96-yard return by Texas' Jordan Shipley last week that turned the game around. And Kansas coach Mark Mangino has talked about placing starters like James Holt and Joe Mortensen on his special teams as the Jayhawks rank last in the nation in kick returns. The Jayhawks are averaging 12.4 yards per kickoff -- almost three yards per return less than the next-lowest team, Kent State at 118th.

2. Iowa State has inserted freshman Jerome Tiller as its backup quarterback after Phillip Bates left school. Coach Gene Chizik hopes that he can still make it through the season using only Austen Arnaud as the quarterback and keeping the redshirts intact for Tiller and fellow freshman Bret Bueker. Early word is that Bates likely won't resurface at another Big 12 school because it would cost him an additional season in the transfer. A more likely location would be a FCS school where he could play immediately or an FBS school like Ohio University, where his family already has a strong association with coach Frank Solich. Bates' father, Phillip Bates Sr., was a running back at Nebraska who played there when Solich was his position coach under Tom Osborne.

3. Texas ditched using a tight end in favor of a four-wide receiver look as its base offensive formation against Oklahoma. And the unit's success -- 438 total yards and 20 combined catches from Quan Cosby and Shipley -- make it likely to be used more during the rest of the season. Starting tight end Blaine Irby's season-ending injury robbed the Longhorns of their top receiving threat at the position. The four-receiver sets have made the Longhorns lethal in terms of big-play capabilities, but a little weaker trying to consistently run the ball.

4. Considering the recent injury to Lamark Brown, it wasn't surprising that quarterback Josh Freeman emerged as a key rushing threat in the Wildcats' victory last week over Texas A&M. Freeman produced career-high totals of 18 carries, 95 yards and four rushing touchdowns against the Aggies. In the philosophy of Kansas State quarterbacks coach Warren Ruggiero and offensive coordinator Dave Brock, the quarterback is used as more of a rushing weapon. Freeman has gained positive rushing yards in each of his six starts this season. Before this season, Freeman had netted positive yards in only eight of his 20 previous career starts.

5. Texas A&M coach Mike Sherman is doing what he can to instill discipline on his team, even if it affects its performance in the short term. Key players Michael Bennett andMike Goodson weren't in the starting lineup last week against Kansas State after discipline issues, paving the way for the Wildcats to jump to an early 27-3 lead over Sherman's beleaguered team. Sherman is hoping that his struggles bottom out as he tries to make the Aggies know they've got a firm leader running the program.
October, 10, 2008
10/10/08
11:06
AM ET
Posted by ESPN.com's Tim Griffin
Here are some trends I'll be watching for across the Big 12 on Saturday:
1. How Texas and Oklahoma handle the emotional cauldron that is the Red River Rivalry. Saturday's game appears to be one of the most intriguing matchups in the storied series in years. Quarterbacks Colt McCoy and Sam Bradford are legitimate Heisman Trophy candidates. The battle between Texas' defensive front and Oklahoma's collection of hugely talented offensive linemen is dotted with future NFL standouts on both sides. Bob Stoops and Mack Brown are both headed for the College Football Hall of Fame one day. But I'm most interested in watching how these two teams -- both potential national title contenders -- overcome the challenges presented by their biggest rival on the Big 12's biggest annual stage. And the fried Twinkies and Fletcher's Corny Dogs are a bonus.
2. The battle of offenses at Faurot Field. Missouri and Oklahoma State both rank among the nation's top three offenses in scoring. Both teams have enough defensive questions to make it entirely possible that we might see them combine for more than 100 points and more than 1,000 yards when the two teams hook up Saturday night. It might resemble an Arena Football League game, but it should be fun watching it.
3. Kansas State's struggling rush defense against against Texas A&M's running attack. The Wildcats have been gashed for more than 300 yards twice in the last three weeks. Even Texas Tech looked good running the ball against KSU. The Wildcats will be tested to keep Mike Goodson, Brad Stephens, Cyrus Gray and even Jorvorskie Lane in check behind an improving Aggie offensive line that showed some flashes of life last week against Oklahoma State.
4. The Austen Arnaud/Robert Griffin battle. Sure, there are bigger games across the Big 12 this week but the matchup between Baylor and Iowa State will feature two of college football's most underrated quarterbacks. Arnaud has pumped some life into the Cyclones offense, nearly sparking an upset over Kansas and UNLV in the last two games. Griffin is the shining hope for better days in the Baylor program, along with being the nation's only quarterback with more than 100 pass attempts this season with no interceptions.
5. Colorado's makeshift offensive line. The Buffaloes are down to taking reinforcements from the defense after defensive tackle Eugene Goree was moved to guard this week. They must get some kind of running game going to reduce some of the pressure facing beleaguered quarterback Cody Hawkins. Kansas will present some challenges, but not nearly those that were seen last week against Texas. This might provide Colorado a chance to run the ball - as it has done when it's been most successful this season.
6. What gives in the battle of losing streaks at Waco? Somebody's futility has to end Saturday at Floyd Casey Stadium. Baylor comes in with a 13-game conference losing streak that is the second longest among FBS schools behind only Idaho's 15-game conference losing streak. And the Cyclones' 13-game losing streak is for the nation's second-longest (with SMU) behind UAB's 17-game road losing streak.
7. Jake Sharp. After being relegated to the bench as what coach Mark Mangino considered a situational player, Sharp flourished in the second half last week against Iowa State. His continued use came when he was able to play long enough to gain rhythm with the Kansas offense. The result was an offensive eruption that enabled the Jayhawks to overcome a 20-0 halftime deficit and escape with a comeback win. Will that performance enable him to get more carries and prolonged use Saturday against Colorado?
8. Can Texas protect Colt McCoy? The Longhorns are counting on McCoy not only for his passing, but also to be their primary rushing threat. He'll have to do that against a ferocious Oklahoma defense that has knocked out a rival starting quarterback for at least a series in every game but one this season. Will McCoy be able to withstand the pounding in the pocket, but also as a ball carrier against a Sooner defense honing for kill shots when it gets an opportunity?
9. Nebraska's response to its embarrassing home loss against Missouri last week. The Cornhuskers were humbled by a trip to the woodshed against the Tigers, leading coach Bo Pelini to apologize to practically the entire state of Nebraska after the loss. A similarly talented team in Texas Tech is upcoming. On the Cornhuskers' last trip to Lubbock, they allowed 70 points. This Red Raider is much better than that 2004 squad. And the jury is still out about this Nebraska team and particularly its offense. So, it could get ugly at Jones AT&T Stadium.
10. Will Missouri overlook Oklahoma State with the huge game against Texas looming next week? After an emotional victory last week at Nebraska and an even bigger one at Texas approaching, it might be understandable if Missouri was looking past its game against the Cowboys. But that attitude isn't one that a national title contender can afford. And I don't think that Chase Daniel will let his team play that way, either.
October, 9, 2008
10/09/08
11:07
AM ET
Posted by ESPN.com's Tim Griffin
Oklahoma 31, Texas 24 -- I'm expecting one of the best Red River Rivalry matchups in a long time. Both 5-0 teams could win Saturday with the right breaks. Texas needs to dominate in the trenches, particularly with their defensive front against Oklahoma's star-studded offensive line. If they can get to Sam Bradford consistently, they'll keep a young, untested secondary from being hung out to dry. The Sooners also have been susceptible to big plays on special teams, another area where the Longhorns appear to have an edge. Colt McCoy is playing like one of the best players in the country, but Oklahoma simply has too many weapons for the Longhorns. Look for the Sooners to win this one late, maybe on another dramatic Bradford-led fourth-quarter drive, perhaps? Anybody for a Corny Dog on the midway later?
Texas Tech 52, Nebraska 20 -- The Cornhuskers are finally playing a road game and this one isn't coming at a good time. Coming off their worst home loss in more than 50 seasons, they have to face a sizzling offense that hung 70 points on them during the last trip to Lubbock four seasons ago. It won't be that one-sided this season, but things could get out of hand early. Nebraska must play more disciplined and try to pressure Graham Harrell for any hope of winning. Tech's huge offensive line will make that difficult to happen.
Kansas 42, Colorado 27 -- Todd Reesing and Co. were lucky to escape Ames last week with a victory, but I bet they learned their lesson. The running game showed some resiliency after Jake Sharp was inserted into the lineup. And the defense showed some fire after going into a blitzing frenzy in the second half. The Jayhawks should have a favorable matchup against a makeshift Colorado line that will be called to protect struggling Buffaloes quarterback Cody Hawkins. Look for the Jayhawks to claim their 13th straight home victory, pushing them into a big game at Oklahoma next week.
Missouri 51, Oklahoma State 38 -- Two interesting offensive philosophies will clash here. Oklahoma State prefers controlling the ball while Missouri's quick-strike, no-huddle attack ranks next-to-last nationally in time of possession. Oklahoma State has to find some kind of pass rush to keep Chase Daniel honest. The Cowboys have notched only five sacks this season, so it could be a difficult proposition. The difference in this one will be defense, as Missouri safetyWilliam Moore will be rounding into shape and ready to provide a couple of key plays. And Oklahoma State's defense doesn't have enough playmakers to keep up with Missouri's array of offensive weapons.
Texas A&M 27, Kansas State 24 -- What a difference 10 years has made. In 1998, this game was for the Big 12 championship and produced one of the greatest games in conference history. Now, it won't even be televised. The Aggies should have enough offense to pull a mild home upset, taking advantage of a rushing game that showed flashes last week. Kansas State's run defense still is struggling and the Aggies won't be a good team for them to play. Mike Goodson and Jorvorskie Lane will mean the difference, although Josh Freeman and Brandon Banks will have their moments against a sputtering A&M secondary.
Baylor 31, Iowa State 28 -- Despite the expected last-place finishes for both teams, the matchup between Baylor's Robert Griffin and Iowa State's Austen Arnaud should be an entertaining battle of play-making quarterbacks. The Cyclones have been making a habit of forcing turnovers, even as they struggle to match up with most opponents. It could be even worse if starting free safetyJames Smith isn't ready to play. Look for Baylor's running game, keyed by Griffin and Jay Finley, to batter an Iowa State defense that ranks 93rd nationally against the run.
My predictions last week -- 6-0 (100 percent)
My predictions for the season -- 50-4 (92.6 percent)
October, 6, 2008
10/06/08
11:30
AM ET
Posted by ESPN.com's Tim Griffin
No major changes at the top as Oklahoma State nosed past Kansas for fifth place on the conference list. Here are my latest rankings heading into Saturday's games.
1. Oklahoma -- No pre-Red River Rivalry swoon this time around. The top-ranked Sooners are humming heading into their biggest game of the season.
2. Missouri -- Don't pull on Chase Daniel's cape and for goodness sakes, don't spit at him. His performance against Nebraska serves as reminder why he's the most valuable player in the conference.
3. Texas -- Longhorns made Cody Hawkins miserable on almost every play and need to duplicate that against Sam Bradford for any hopes of springing an upset.
4. Texas Tech -- Workman-like 30-point road victories don't happen very often for the Red Raiders. But Graham Harrell had his best game of the season against Kansas State and has found some other receivers besides Michael Crabtree to balance his passing attack.
5. Oklahoma State -- Cowboys have scored 50 points in each of their last four games. Their hopes of springing an upset in Columbia will likely depend on hanging another half-a-hundred against Missouri.
6. Kansas -- Jake Sharp is back as the primary rushing threat, but the Jayhawks need much more production if they are going to contend for the North title.
7. Colorado -- The Buffaloes were doomed again by special-teams struggles against Texas. But that still doesn't explain why Josh Smith was taken out of the game for much of the second half. And with Cody Hawkins' struggles, could there be a quarterback controversy looming?
8. Nebraska -- The operative word around Lincoln these days isn't dirty -- it's sloppy. And even bigger concerns are the offensive line's struggles and the lack of athleticism on defense. Both trends were obvious against Missouri.
9. Iowa State -- Strong start against Kansas, but just didn't have enough to finish the job. The performance bodes well for the future, as Austen Arnaud looks like the real deal at quarterback.
10. Baylor -- Fell into an early hole against Oklahoma and couldn't get back into the game. Robert Griffin was effective running the ball (102 yards) but couldn't pass (11-of-26 for 75 passing yards) against Oklahoma's superior athletes. Baylor's game this week against Iowa State could be a track meet.
11. Kansas State -- The most telling sign I noticed Saturday at the Little Apple was apathy. The Wildcats have been gashed for more than 500 yards in three straight games. If they can't win Saturday at A&M, they might not win the rest of the season.
12. Texas A&M -- Turnovers doomed the Aggies early against Oklahoma State and it could really get bad this week if Mike Goodson isn't healthy for Kansas State. This could be Mike Sherman's most important early game, dictating how the rest of the season will play out.
August, 22, 2008
8/22/08
3:05
PM ET
| | |
| --- | --- |
| | |
| | John Albright/Icon SMI |
| | Mike Sherman returned to Texas A&M after spending time in the NFL. |
Posted by ESPN.com's Tim Griffin
Former Green Bay Packers coach Mike Sherman returned to Texas A&M where he had served as an assistant coach on R.C. Slocum's power-packed teams of the early 1990s. Whether he can return the Aggies to that lofty position remains to be seen. It might be a challenge for Sherman to crack the expected Oklahoma/Texas Tech/Texas logjam at the top of the South Division.
With eight days before the Aggies' Aug. 30 opener against Arkansas State, here are five major questions that have to be settled for the Aggies to have a successful season:
1. Can the offensive line develop?
Only one starter returns and the Aggies will be green in the trenches. Whether this group can open enough holes to accentuate the talents of Mike Goodson and Co. remains to be seen. It will be A&M's biggest question this season.
2. Are there any playmaking linebackers on the roster?
Losing Misi Tupe and Mark Dodge will hurt. But A&M coaches look for some of the young talent to surprise people. Keep an eye on converted DE Von Miller, converted DB Garrick Williams and Matt Featherston.
3. Will Jerrod Johnson see much action this season?
The Aggies' backup has been compared to Vince Young and Randall Cunningham because of his athleticism. Interestingly, he showed more at the Aggies' recent scrimmage as a tight end. But don't be surprised if he gets some playing time during the season at quarterback, particularly if Stephen McGee struggles against some opponents. But it wouldn't also surprise me if he got a chance to work at tight end as well.
4. Can Sherman find any consistency at wide receiver?
Don't be surprised if freshman Jeff Fuller becomes an immediate playmaker after arriving at school for the spring semester. The Aggies also need some consistency from players like E.J. Shankle, Howard Morrow and Pierre Brown. All have received extensive previous playing time but need to show more in order to be featured. Somebody has to step up.
5. How will Jorvorskie Lane handle the move to fullback?
Lane has been battling his weight throughout his college career and has missed several recent practices with a neck injury. But don't look for him to get many carries with a deep tailback rotation that includes Goodson, Cyrus Gray and Bradley Stephens. Lane will be more of a receiver and short-yardage threat. And if he pouts about his role, he won't play.
August, 18, 2008
8/18/08
11:17
AM ET
Posted by ESPN.com's Tim Griffin
I was struck looking at some pictures on the Oklahoman's web site of Bob Stoops and how he has changed as he begins his 10th season coaching the Sooners.
I recalled interviewing Stoops soon after he took over the Sooners' job. His reputation preceded him after a strong run as Steve Spurrier's defensive coordinator at Florida. But I will still struck at how young Stoops appeared to be back then -- barely older it seemed than some of his players.
His career has provided for much of the juice in the Big 12. He led the Sooners to a bowl game his first season and to the national championship the next -- the first time a Big 12 team ever claimed an undisputed football national championship.
Since Stoops started, 13 Big 12 coaches have come and gone and every job in the conference has turned over with the exception of Texas.
All of those coaches were fired except for Kansas State coach Bill Snyder, who helped give Stoops his start.
Today, three Big 12 coaches -- Kansas' Mark Mangino, Texas Tech's Mike Leach and Nebraska's Bo Pelini -- once worked for Stoops. And another, Baylor coach Art Briles, is a second-generation descendant of the Stoops' coaching tree after earlier working with Leach at Texas Tech.
The beginning of Stoops' 10th season has prompted a week-long series of stories this week in the Oklahoman. The first two days were compelling reads and I'm expecting the rest to be as similarly strong.
Oklahoman sports columnist Berry Tramel started the series Sunday with a definitive analysis of Stoops' place in Oklahoma's storied football history.
Today's group of anecdotes about Stoops gave an interesting picture about him from those who know him best. My favorites included how Stoops demanded a practice field with no more chicken bones; his fastidious nature he inherited from his father: how he once stood up to Spurrier; and how he got his point across to the 2000 championship team to eat their breakfasts before practice. Good stuff.
Stoops' place in Big 12 history is secure. But looking at those pictures sure did make me think about how quickly time slips away.
Here are today's links. I can only hope they can have the staying power of Stoops.
August, 8, 2008
8/08/08
9:33
AM ET
Posted by ESPN.com's Tim Griffin
The breathless hype is already starting around Austin. Early Longhorns practices have shown that backup QB John Chiles can pump some excitement into a Texas offense that appeared stale at times last season.
Veteran Austin American-Statesman columnist Kirk Bohls was salivating at the prospects of what formations with Colt McCoy and Chiles playing at the same time could bring, evoking memories of Tim Tebow's early use in the Florida offense or Arkansas' "Wild Hog" formation with Darren McFadden.
As Bohls correctly states, all of the talk about trick plays doesn't mean much if they are being used against teams like Rice and Florida International where Texas seemingly has a huge competitive advantage. These plays and formations need to be employed against Oklahoma, Texas A&M and Missouri.
Chiles threw a couple of interceptions during a Thursday workout. And he told Bohls that his 1-for-9 passing struggles last season -- similar to some of Tebow's early passing missteps as a freshman with the Gators -- weren't unexpected because of his inexperience.
"It wasn't too embarrassing," Chiles told Bohls. "I might should have redshirted, looking back. Quarterback is a tough position."
The use of two quarterbacks would be a "walk on the wild side" for Texas coach Mack Brown -- and a refreshing one at that.
Much like these Big 12 links this morning. Take a deep breath and enjoy.