November, 2, 2011
11/02/11
5:00
PM ET
There hasn't been any miraculous transformation in Tallahassee, no complicated changes, personnel moves or panic.
Instead, the reason for Florida State's quick turnaround over the past three weeks is simple, at least according to coach Jimbo Fisher: Quarterback
EJ Manuel
is healthy and back in the starting lineup.
[+] Enlarge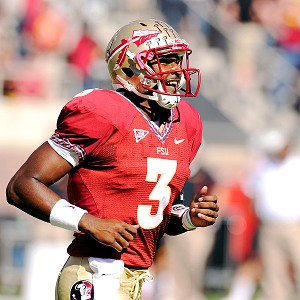 G Fiume/Getty ImagesWith EJ Manuel healthy, FSU's offense has gotten back on track over the past three weeks.
Manuel separated his shoulder in the 23-13 Sept. 17 loss to Oklahoma, a turning point in Florida State's season that snowballed into a three-game losing streak in which Manuel was sidelined for parts of each game.
"It happens and it was something I couldn't control, because if I could've played in all three of those games I would have," Manuel said. "You never want to get injured and it did happen. Nothing I can do about it, just when I was healthy enough to come back and play, just try to contribute as much as I could to my team and let those guys know I was back, and I wasn't going to allow the injury to stop us from doing what we wanted to do this season and still have a successful season."
The definition of a successful season for Florida State has changed dramatically, though, since the preseason. The expectations for the Noles have bounced around like a ping-pong ball, from national title talk to the ACC championship game to just becoming bowl eligible.
Now, amidst a three-game winning streak heading into Thursday night's game at Boston College, the Seminoles are on the upswing again, and it's no coincidence that the team's success has mirrored that of Manuel's. In his first time facing NC State last weekend, Manuel threw for 321 yards and two touchdowns in the 34-0 win. Consider what he's done in the past four games since recovering from the shoulder injury:
Completed 71 of 109 pass attempts for 1,110 yards with seven touchdowns and a 164.5 passer efficiency rating.

Completed more than 65 percent of his passes.

His 1,110 passing yards in the past four games are more than accumulated in an entire season as a part-time starter and full-time back-up to Christian Ponder.

After never passing for two touchdowns in a game coming into 2011, Manuel has multiple touchdown passes in three of his last four games.
"He's able to make plays when it seems as though the play is being shut down so he's able to buy time and get the ball downfield and things of that sort," said FSU cornerback Mike Harris. "He definitely does bring a new life to this team."
And they definitely needed it.
Injuries, lack of cohesion on the offensive line, a subpar running game -- it all contributed to the pedestrian start. While the unranked Noles have yet to resemble the No. 6-ranked team they were tagged as this preseason, Florida State is getting closer and closer to reaching its full potential.
"I hope it's still yet to come," Fisher said. "I still think we have a lot of room for improvement. We're so young and your line's starting to finally grow together a little bit, hopefully. We're playing better, but I don't think we're anywhere close to where we need to be and can be."
Including bowl-eligible.
"It's good we're playing well now," Manuel said. "We lost three games, it happens. It's part of the season, it's football. We're definitely going to try to control what we can control right now, take care of BC and then get ready for Miami."
And 2012. Manuel said there's no question he and his teammates haven't lost sight of a national title, and chuckled when he said maybe they can even still win it this year.
"You can't go into a hole just because you lost games and a couple of your goals, you won't be able to reach them," Manuel said. "You've still got to play the game and still have to win out."
They have a much better chance to do that now that Manuel is back in the lineup.
September, 24, 2011
9/24/11
3:07
PM ET
CLEMSON, S.C. - A few quick lineup changes for you:


For Florida State, freshman
Nick O'Leary
will start in place of senior
Beau Reliford
at tight end, noseguard
Anthony McCloud
got the start of Jacobbi McDaniel, and
Mike Harris
will start at corner instead of Greg Reid. I am told receivers
Kenny Shaw
and
Bert Reed
are still game-time decisions. I expect an announcement here in the press box shortly before kickoff. Both are out on the field right now, dressed and running practice routes.
Truth? It would be stunning to me if Shaw -- after the viscious double helmet-to-helmet hit he took last week from Oklahoma -- played in this game and starting quarterback
EJ Manuel
didn't, but hey, I'm not a doctor and FSU has already confirmed that backup quarterback
Clint Trickett
will start. Manuel didn't even warm up. His receivers at least
look
like they're ready.
For Clemson, Brandon Thomas will start at left guard instead of Mason Cloy, and running back
Andre Ellington
(hamstring) is cleared and back in the starting lineup.
As early as three hours before the game, traffic into Death Valley was slower than a crawl, and the tailgating scene was in full force long before then. There have been a few sightings of Florida State fans, but this is Clemson's home and the Garnet and Gold is hard to find. Most of the fans are still outside the stadium at this point, but the Hill is starting to fill up.
This is one of the toughest venues in the ACC. We'll find out soon enough if Trickett is ready for it.
June, 30, 2011
6/30/11
2:00
PM ET
As advertised ...
1. Florida State:
The Noles have one of the best cornerback duos in the country in Greg Reid and Xavier Rhodes. They combined for 33 passes defended last season, the most of any pair of cornerbacks in the nation. Mike Harris had 41 tackles and four picks as a reserve.
[+] Enlarge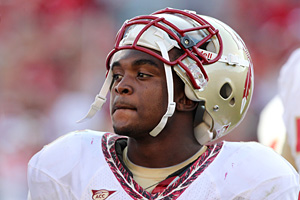 Matthew Emmons/US PresswireFlorida State cornerback Greg Reid is also one of the ACC's top return men.
2. Virginia Tech:
Jayron Hosley is one of the top boundary corners in the country, and the Hokies also have Kyle Fuller, who had six deflections last season, and Cris Hill (two deflections) at field corner.
3. Maryland:
The Terps return both starters in Cameron Chism and Trenton Hughes, who combined for 36 career starts. Chism is a strong cover corner who had 70 tackles and eight deflections last season. Hughes had nine pass deflections.
4. NC State:
Both starters return in C.J. Wilson and David Amerson. Wilson had 46 tackles, two interceptions and six pass breakups, and Amerson had 57 tackles. Justin Byers and Gary Grant also have experience.
5. North Carolina:
The Tar Heels lost some remarkable talent in their secondary, including cornerback Kendric Burney, but there is a lot of depth at the position. Jabari Price started four games last season, Charles Brown has 22 career starts but sat out last season, and Mywan Jackson and Tre Boston both have at least four starts each.
6. Boston College:
The Eagles will miss DeLeon Gause, but Donnie Fletcher has 17 career starts, 56 tackles last season, and led the team with five picks. C.J. Jones played in 12 games as a backup last season with 16 tackles. Dominique Williams also saw some time and had four tackles, and true freshman Al Louis-Jean, who was the No. 9 cornerback in the nation as ranked by ESPN Recruiting, enrolled early.
7. Clemson:
It's a young group, as the Tigers had to replace Marcus Gilchrist and Byron Maxwell. Xavier Brewer had 10 starts with 50 tackles and two interceptions last season, Coty Sensabaugh had 31 tackles in three starts, and senior Mansa Joseph will also be competing for playing time with sophomore Martin Jenkins.
8. Virginia:
The Cavaliers return both starters in Chase Minnifield and Devin Wallace, but Wallace was suspended and missed spring ball and is still suspended. Wallace had 38 tackles and six breakups last season. Chris Broadnax, Rijo Walker, Drequan Hoskey and Pablo Alvarez will all compete for playing time.
9. Miami:
The Hurricanes have to replace both starters in Brandon Harris and Ryan Hill. Jo-Jo Nicholas moved to corner and Brandon McGee, who was the nickel back last season, will compete along with
Lee Chambers
, Keion Payne, Nathan Gholston and true freshman Thomas Finnie, who had a great spring.
10. Georgia Tech:
The Jackets had to replace their entire secondary, including cornerbacks Mario Butler and Dominique Reese. They've still got several cornerbacks with experience in Rashaad Reid, who started 14 games in 2008 and 2009, Rod Sweeting (38 tackles, seven pass breakups, one interception), Louis Young (10 tackles), and Michael Peterson (six tackles, one pass breakup).
11. Wake Forest
: The Deacs have a deep enough secondary that they can live without the experience of cornerback Kevin Johnson, who started five games last season but will sit out this season while academically ineligible. Josh Bush had 33 tackles and four pass breakups last season, Kenny Okoro is a rising star, A.J. Marshall has three starts and Dominique Tate returns after missing last season while on academic suspension.
12. Duke:
Ross Cockrell is a returning starter and finished last season with 60 tackles and 10 passes defended. He was only a freshman but he tied for eighth in the ACC with passes defended with 10 in 12 games. Johnny Williams had four pass breakups last season.
April, 6, 2011
4/06/11
9:30
AM ET
Florida State held its first scrimmage of the spring on Monday and on Tuesday evening released the stats. The Seminoles' practices and scrimmages are closed to fans and the media. Here are the highlights,
based on the school's report
:

Offensive highlights:
Reed had a six-yard touchdown reception and a 36-yard touchdown catch in a two-minute situation. Reed finished the day with seven receptions for 81 yards.

Pryor's reception came from seven yards out in a red zone situation.

FSU's starting offensive line of Henry Orelus, Jacob Stanley, Jacob Fahrenkrug, Bryan Stork and Garrett Faircloth each worked 65 plays. Fahrenkrug at center and Faircloth at right tackle both earned the highest grades on the line.
Defensive highlights:
Linebackers Christian Jones and Telvin Smith each had eight tackles. Smith also forced a fumble and recovered a fumble and returned it for a touchdown.

Cornerback Greg Reid had five tackles with two pass breakups and Mike Harris had six solo tackles and a pass breakup.
September, 1, 2010
9/01/10
2:12
PM ET
UCLA coach Rick Neuheisel understands the media and more than most coaches he's willing to help.
For example: Say you wanted an update Tuesday on the status of his quarterback
Kevin Prince
, who's missed nearly all of preseason camp with a small but bothersome tear in his back muscle. Neuheisel provided a eyewitness, play-by-play to reporters during the weekly Pac-10 coaches teleconference.
[+] Enlarge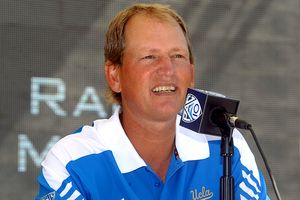 Kirby Lee/Image of Sport/US PresswireRick Neuheisel thinks his unproven offensive line will be able to handle Kansas State.
"I'm standing right here watching him practice," said Neuheisel, with the typical practice chatter clearly audible through the phone line.
"He's going to throw this ball. I'll tell you after this throw... Oh, it's perfectly thrown. It's outstanding! I think he's going to be fine."
The verdict: Prince is "rusty but healthy." He will start at Kansas State on Saturday. Probably.
Neuheisel is all about optimism. His catch-phrase upon getting hired to rebuild the Bruins in 2008 was "relentless optimism." That optimism has been tested, however, by an 11-14 record his first two years and a fairly
stunning array of injuries
.
The current challenge to Neuheisel's power of positive thinking isn't just about getting Prince to the opener in one piece. His offensive line is in pieces.
All five starters from last year were projected to return this season, including 13 of 14 players on the 2009 depth chart. Yet guard Eddie Williams is the only returning starter who will be in the lineup at Kansas State, and even he missed half of the 2009 season with a fractured ankle.
Talented left tackle Xavier Su'a-Filo, who won a starting job as a true freshman, opted to go on a two-year Mormon mission. Then the chief candidate to replace him, Nik Abele, was forced to retire because of neck problems. Center Kai Maiava fractured his ankle during preseason camp. Guard Jeff Baca is academically ineligible. Right tackle Mike Harris is suspended for the Kansas State game. Toss in guard Stanley Hasiak's academic ineligibility, and Jake Dean ending his career a year early, and you have a lot of attrition from what might have been a greatly improved line.
This probably won't surprise you a bit, but Neuheisel is undaunted: "They're terrific," he said of his new lineup.
He even spots for reporters a potential feel-good angle with his makeshift line.
"It's kind of a neat story -- hopefully it will be one that's told for years and years after because of the success they have," Neuheisel said. "We have five seniors who've gotten here in kind of a round-about sort of way. Each has their own unique road they traveled to get here."
Those five are: right guard Williams, a junior college transfer; left tackle Sean Sheller, a fifth-year senior who spent much of his injury-riddled career on the defensive line; left guard Darius Savage, who started seven games in 2008 but fell out of favor last year; center Ryan Taylor, a JC transfer who started two games at guard and one at center in 2009; and right tackle Micah Kia, who started seven games in 2008 but missed last fall with a knee injury.
Despite the questions on offense, the Bruins visit to Kansas State probably comes down to something else: How a rebuilt front seven on defense handles Wildcats running back
Daniel Thomas
, who rushed for 1,290 yards last year. Thomas will be running behind a veteran line. Combine that with a new and unproven quarterback, and you can expect the Wildcats to try to challenge the Bruins with a physical, run-first attack.
In last year's game, the Bruins dispatched K-State fairly easily, 23-9. But this will be Year Two of coach Bill Snyder's return to where he produced perhaps the greatest rebuilding jobs in college football history, which explains why his name is on the stadium: "Bill Snyder Family Stadium." The Wildcats should be a much more finely tuned team, despite just 11 returning starters.
"He's a team builder, no question about it," Neuheisel said.
By the way, the Wildcats have won 20 home openers in a row.
Of course, Neuheisel is optimistic that his quarterback will be healthy and sharp, his offensive line and defensive front-seven will be stout and that winning streak is about to end.
August, 23, 2010
8/23/10
11:02
AM ET
If you look at UCLA's offensive line depth chart from 2009, your first though is this: 13 of 14 guys, including all five starters, will be back for 2010.
Sounds great, eh? Sure, the Bruins' line has struggled in recent years, but those struggling young guys now will become salty veterans. And there will be depth.
Insert sigh from UCLA fans, players and coaches here. Things have certainly changed since the Bruins won the EagleBank Bowl.
The Bruins lost another lineman -- perhaps their best one -- early in Saturday's scrimmage when center Kia Maiava
went down with a fractured left ankle
. The junior almost certainly is done for the season.
The hit list on the line in addition to Maiava goes like this:
Talented tackle Xavier Su'a-filo opted to go on a two-year Mormon mission after starting as a true freshman.
The leading candidate to replace Su'a-filo, Nik Abele, was forced to retire because of neck problems.
Right tackle Mike Harris is suspended for the opener at Kansas State because of a violation of team rules.
Left guard Jeff Baca has been ruled academically ineligible, pending an appeal with the NCAA, and even if he wins his appeal he's nursing a stress fracture in his right leg.
Right guard Eddie Williams has missed practices due to a concussion, though he should be ready to play by the season opener.
Barring any more issues, the starting line probably will look like this at Kansas State on Sept. 4: Sean Sheller and Micah Kia at the tackles, Williams and Darius Savage at the guards and Ryan Taylor at center.
Understand: That's not a woeful lineup. Sheller, who's battled injuries and position changes, is the only one with no starting experience. Taylor replaced Maiava in the EagleBank Bowl last year, and Kia started 15 games before missing 2009 with a knee injury. And Harris will return after the opener.
Still, there isn't too much remaining margin for error if anyone else -- knock on wood -- pulls up lame.
August, 23, 2010
8/23/10
9:27
AM ET
Here's a quick look back at the weekend scrimmages, thanks to reports from the schools' sports information offices:
BOSTON COLLEGE
Sophomore quarterback
Mike Marscovetra
was perfect, going 12-for-12 for 90 yards and a touchdown.
Dave Shinskie
went 14-for-19 for 116 yards, but threw an interception. True freshman
Chase Rettig
was 2-for-4 for 13 yards.
Sophomore
Clyde Lee
and true freshman
Bobby Swigert
led the receivers with five catches each. Lee had a game-high 43 yards, and Swigert went for 29 yards and a touchdown.
Redshirt freshman kicker Nate Freese made a 51-yard attempt that hit the crossbar and went through, and he made another from 39 yards. He missed a 47-yarder that hit high off the left upright.
Sophomore linebacker Luke Kuechly led the defense with six tackles, and junior safety Dominick LeGrande recorded five tackles and an interception.
FLORIDA STATE
The Seminoles went through what amounted to a full-scale dress rehearsal, as they did their pre-game routine, returned to the locker room, then returned to the field for a three-hour scrimmage. Offensive coordinator James Coley and quarterbacks coach
Dameyune Craig
were in the press box, along with defensive ends coach D.J. Eliot and a graduate assistant. They helped call the plays on headphones, and there weren't any personnel or clock-management issues.
Junior college transfer
Mike Harris
earned some high praise from coach Jimbo Fisher:
"Mike's a good player; he's a real good player," said Fisher. "He breaks on the ball. He's almost like a quiet assassin. You never hear him out there, but he's always in the right place."
Statistics weren't included in the team's
scrimmage report
, but sophomore
Willie Haulstead
played well, and Fisher used a tailback-by-committee approach with
Jermaine Thomas
,
Ty Jones
and
Chris Thompson
. Defensively, former cornerback Ochuko Jenije started at safety.
VIRGINIA TECH
First, the injury report: Backup receiver
Xavier Boyce
sprained his left MCL and will have an MRI, backup linebacker Lorenzo Williams sprained his right foot and will have an MRI, and punter Brian Saunders bruised his right ankle. According to the Richmond Times-Dispatch, linebacker Barquell Rivers
will not play
against Boise State, and Bruce Taylor will start in his place. Starting field corner Jayron Hosley is still out with a hamstring injury.
Offensively,
Tyrod Taylor
completed 7 of 9 passes for 95 yards, a touchdown and an interception.
Ryan Williams
was the leading rusher with 46 yards on nine carries, including a 2-yard touchdown run.
David Wilson
added 38 yards on six carries and scored on a 12-yard run. Defensively, Eddie Whitley led the way with seven tackles and a pass break-up. Kicker Chris Hazley made field goals of 43 and 47 yards, but missed his first field goal in a preseason scrimmage when he was wide left on a 48-yard attempt. Cris Hill blocked two punts.
You can find more on the Hokies'
scrimmage here
.
October, 22, 2008
10/22/08
11:35
AM ET
Posted by ESPN.com's Ted Miller
Getting deep into this week's games.

Will Arizona go small and get big?: USC's defense hasn't allowed a point in 10 quarters. It's ranked No. 1 in scoring defense and No. 2 in total defense. In other words, the Trojans have the nation's best defense. Only one team had success of any kind against them and that was Oregon State, which used a balanced attack to gain 343 total yards in a 27-21 victory. Balance is the key. Without at least a threat to run, an opposing quarterback is simply fresh meat for a fast USC defense, which can then tape its ears back in the pass rush. The Beavers, however, gashed the Trojans with diminutive true freshman Jacquizz Rodgers, who used his 5-foot-7 frame to his advantage instead of disadvantage. After the game, the Trojans defenders actually complained that they couldn't find Rodgers amid the crowd of large bodies. Just so happens that Arizona boasts two speedy, undersized backs. Freshman Keola Antolin (5-foot-7) burst onto the scene with 149 yards rushing on 21 carries with three touchdowns in the 42-27 win over California. He stepped in for Nic Grigsby (5-foot-10), who fumbled in the first quarter, but Grigsby is solid when he holds onto the football -- see 627 yards rushing and nine touchdowns this year with a 5.9 yards-per-carry average. Considering the Wildcats' offensive line is a more experienced group than the Beavers' was, the question is whether the Trojans have learned to find the little guys who are trying to slice them apart.

Ducks foresee sack time with Rudy: In Oregon's 35-23 win over Arizona State last year, the Ducks sacked Rudy Carpenter nine times, including 3.5 takedowns by end Nick Reed. To say the least, it was a long day for Carpenter. The problem for him this go-around is there are abundant reasons to believe he will be again running for his life ... or limping for his life, considering he's nursing an ankle sprain. The Sun Devils have no running game to slow down Oregon's pass rush; they rank 117th in the nation in rushing. While the inexperienced offensive line has mostly pass protected better than last year's unit that surrendered 55 sacks, it still has yielded 2.5 sacks per game. Meanwhile, Reed is back, leading the Pac-10 with eight sacks this season, and his opposite end, Will Tukuafu, is just behind with six. In fact, Oregon leads the Pac-10 with 3.57 sacks per game. So there's your game: Can Rudy get enough time to pick on the Ducks hobbled secondary? Or will he hobble off the field himself?

Washington's players can make a statement on their feelings for Tyrone Willingham by playing hard vs. Notre Dame: It's not hard to pick apart what's gone wrong with Washington during the Tyrone Willingham Era. That's been going on ad nauseum for nearly two years and it won't end until the school puts his administration out of its misery. What can be said is this: Willingham is a man of integrity who cares about his players and has never been accused of unethical behavior. So how do his players feel about him? We'll see this weekend. While Willingham played off the Notre Dame angle this week, this also is a man of considerable ego and his ego will never be more vulnerable than it will be Saturday. If the Fighting Irish blow Willingham out of Husky Stadium, it will be a humiliating repudiation of him as a coach, at least in terms of popular perception. Thing is, Notre Dame isn't that good and the Huskies aren't that bad. If Washington plays hard for four quarters and fights for its coach, this won't be a blowout.

UCLA's offensive line vs. California's defensive line is a battle of wounded animals: UCLA's offensive line was considered a significant weakness entering the season. Each time coaches shuffled the available bodies and produced a small step forward, adversity seemed to bite back. This week, after starting the same five for consecutive games, it was freshman left tackle Jeff Baca going down with a hamstring injury during practice Tuesday. If he can't go against California, Micah Kia (bad back) likely will replace him, while Mike Harris (bum ankle) would make his first start at right tackle. Meanwhile, Cal's defensive front was forced to burn the redshirt of touted freshman Trevor Guyton against Arizona. With end Rulon Davis and tackle Kendrick Payne out and end Tyson Alualu slowed by a leg infection, the Bears got pushed around up front by Arizona, which gained 404 yards on a defense that had previously given up just 291 yards per game. The advantage here might go to the Bears for a simple reason: UCLA can't win on the road. The Bruins have lost five straight away from the Rose Bowl and 12 of their past 15. The O-line is the area that suffers most in a hostile environment.

You'll know in the first quarter if USC is going to roll: USC went to Oregon State planning to take the crowd out of the game. It didn't happen when the Trojans fell behind 21-0. A fast start at Arizona is a hot topic this week. "It's imperative that we're scoring on that first drive," USC quarterback Mark Sanchez told reporters Tuesday. "That means a lot. For the offense, it gives us confidence. It pumps up the defense. Things just go." While the Wildcats received a confidence boost by whipping Cal, they are not at the point where they won't lose faith against an early show of force from the Trojans. And it's not just a fast start; Oregon got that but then faltered for a moment and USC exploded. The Wildcats will have to be at their focused best -- think that dominant third quarter vs. Cal for an entire game -- to notch the upset. In Arizona's favor: It has won six in a row at home, tied for the longest home winning streak in the conference with USC and Oregon State, and a packed house is expected. A tight score at halftime will keep fans in the stands barking at the Trojans. A big USC lead at the break will send them to University Blvd. for a cold one. Or two.