September, 10, 2013
9/10/13
1:15
PM ET
By
ESPN.com staff
| ESPN.com

Oklahoma State athletic director Mike Holder has apologized in advance of Sports Illustrated's scathing report that includes allegations of paying players, academic misconduct, recreational drug use and using sex to help recruit potential players.
April, 17, 2013
4/17/13
9:00
AM ET
The ouster of Tim Pernetti has cost the former Rutgers athletic director a shot at some hardware this year.

Pernetti is no longer a candidate for the AD year of the year award, presented by Street & Smith's SportsBusiness Journal and SportsBusiness Daily.
In announcing the removal of Pernetti from the nominees, the editorial committee said that it did not have all of the facts about the decisions of the Scarlet Knights athletic department in regards to the situation with the since-fired men's basketball coach Mike Rice, and the scandal and the fallout since has caused them to reconsider.
From the
release
:
We understand that this sets a precedent, but we don't feel that recognizing him would be true to the spirit of the awards, fair to readers or, especially, the other nominees.

This wasn't an easy decision. There are many sides to this story, and Pernetti's full role isn't clear, nor is he the only person at fault. But as a nominee for this honor, he represented not only himself and his actions, but the actions and reputation of his university, all of which have become tainted by this episode. Regardless of the advice from counsel or others about legal liability, there's no denying that Pernetti and his superiors made the decision to retain a coach they knew was abusing players, verbally and physically.

Tim Pernetti will be heard from again in sports business. He is simply too talented not to be. But he won't be recognized in the category of Athletic Director of the Year, and, as we move forward, we will highlight only the remaining four nominees in the category: Mike Holder of Oklahoma State, Tom Jurich of Louisville, the late Mal Moore of Alabama and Jim Phillips of Northwestern.
The award will be presented May 22 at the 2013 SBJ/SBD Sports Business awards, at the New York Marriott Marquis in Times Square. The committee had announced Pernetti and the other nominees on March 18, citing Pernetti's work in getting Rutgers into the Big Ten.
June, 18, 2010
6/18/10
9:00
AM ET
Big 12 commissioner Dan Beebe made his feelings about any future Big 12 expansion clear on Tuesday. You might even call them "unequivocal."
"We're not looking to expand at all," he said. "And certainly we wouldn't look to expand with any institutions that are in our geographic, five-state area now. We're very comfortable with where we are and there's no interest in having an expansion review at this point, and I don't think it's going to come in the future."
Perhaps he should have said it louder. Two dozen
Houston lawmakers sent the Big 12 a letter
petitioning the conference to invite the University of Houston.
"Despite UH's local and statewide prominence, the university does not belong to a strong BCS conference such as the Big 12. The Cougars, the city of Houston, and the state of Texas deserve better," it reads.
You can
read the full letter on the Houston Chronicle's website.
If we're talking on-field product, there's not going to be any arguments coming from my direction. I suspect that's also the case in Lubbock and Stillwater, whose teams suffered losses to Houston in 2009. Baylor coach Art Briles also came to Waco via Houston. Houston saw its share of big-time football as members of the Southwest Conference up until 1995, when it became a member of Conference USA after the formation of the Big 12.
But if we've learned nothing throughout this realignment saga, it's that
the on-field product is far from the most important consideration.
If it was, TCU might already be a member. But neither the Horned Frogs nor Houston, with its 32,000-seat stadium, should count on ever becoming a member.
Oklahoma State athletic director Mike Alden estimated that a new member would have to bring with it $15 million in value. It's not Houston's fault its probably the second-most popular team in Houston. If the Big 12 South had left for the Pac-10, both TCU and Houston might have ended up in a new Big 12.
That didn't happen, to the detriment of Houston's future in a BCS conference.
"I don't quit," State Rep. Garnet Coleman
told the Houston Chronicle
. "I don't start something I'm not going to finish. If I didn't think this was a worthy endeavor, I wouldn't have started it. This is the beginning of this effort, not the end."
(On a final note, any discussion of Arkansas in the Big 12 is wasted breath. The only possible scenario in which the Hogs might leave is if someone can convince Jerry Jones or some other crazed moneymaker to guarantee the Hogs make the same amount of cash as the SEC, no matter how much more it makes than the Big 12. Even though everyone's holding hands right now, you might recall,
there are stabler leagues than the Big 12.
For starters, the SEC. So you'd probably also have to guarantee that if the Big 12 loses another member or breaks up, Arkansas gets automatic entry
back
into the SEC. So, if you guys know anyone who can set all that up, let me know and we can start talking about the Hogs rejoining their Texan rivals.)
November, 23, 2009
11/23/09
10:16
AM ET
By
Tim Griffin
| ESPN.com
Bedlam will be a little bit bigger than normal Saturday.
Oklahoma State will be playing its most important game in its Big 12 history when the Cowboys visit Oklahoma.
The Cowboys are playing for style points when they gun for their first victory in Norman since 2001. OSU has produced one of two victories against Bob Stoops at Owen Field in his 11-season coaching tenure for the Sooners.
[+] Enlarge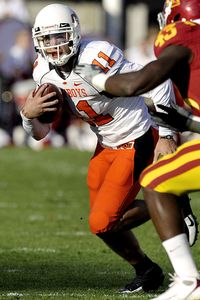 AP Photo/Steve PopeThe Cowboys are hoping Zac Robinson is able to play Saturday against Oklahoma.
But an impressive victory in Saturday's game over the skidding Sooners would boost the Cowboys' BCS at-large hopes into a possible berth into the Fiesta Bowl.
Since losing to Texas on Oct. 31, the 9-2 Cowboys have played as well as any Big 12 team. Their comeback against Colorado last week was a revelation of the grittiness the Cowboys have shown.
Despite playing without starting quarterback
Zac Robinson
, and after a sputtering start by backup
Alex Cate
, third-stringer
Brandon Weeden
directed the Cowboys back from an 11-point deficit to claim a 31-28 victory over the Buffaloes.
Robinson is considered questionable for Saturday's game against the Sooners and Weeden has been installed as the Cowboys' second-stringer if Robinson can't go.
After zooming from 19th in the BCS standings to 12th last week, the Cowboys remained static in Sunday's most recent standings. But snapping the Sooners' nation-best home winning streak would likely have some national bounce, despite the Sooners' disappointing 6-5 record so far this season.
In order for Oklahoma State to make the BCS as an at-large team, Texas must win the Big 12 title. If the Longhorns are upset in the conference championship game next week by Nebraska, the Cornhuskers would earn the Big 12's automatic BCS berth and Texas would earn the at-large berth.
The Cowboys must finish in the top 14 in the BCS standings when it is announced after next week's games. Undefeated TCU appears to be a lock if the Horned Frogs can wrap up their season with a victory over New Mexico on Saturday.
Another BCS at-large berth appears likely for the SEC title-game loser. That would leave the Cowboys attempting to make their case for BCS worthiness against other contenders like Boise State, Iowa or Penn State and the Cincinnati-Pittsburgh loser for two BCS at-large spots.
The Fiesta Bowl has had a long association with the Big 12. That connection might boost the Cowboys' chances when all other things are considered.
The game of football musical chairs will play out over the next few days. But if the Cowboys can finish the season 10-2, they will have a legitimate claim at an at-large spot.
Then, the excitement of fans about the chance to make a BCS bowl will be critical. If Oklahoma State athletic director Mike Holder can convince bowl officials that his supporters will flock to a BCS game, the Cowboys might be playing in their first BCS bowl game in January and their first major bowl since beating St. Mary's in the 1946 Sugar Bowl.
January, 22, 2009
1/22/09
4:04
PM ET
Posted by ESPN.com's Tim Griffin
Even some spotty cable service can't keep these links from being served today. Enjoy them.
November, 29, 2008
11/29/08
7:08
PM ET



Posted by ESPN.com's Tim Griffin

STILLWATER, Okla. -- Oklahoma State athletic director Mike Holder is obviously a man of his convictions.

That's why the most anticipated "Bedlam Game" in recent history will likely be played in a stadium with more than 5,000 empty seats.

Holder has mandated a ticketing rule that did away with single-game seats for tonight's Oklahoma-Oklahoma State game. If fans wanted to watch tonight's game, they had to buy a season ticket.

The edict has prompted a lot of teeth-gnashing across the state and has been heavy fodder for sports columnists and talk-show hosts.

But Holder has stubbornly stuck to his guns.

That's why Oklahoma State ticket department officials will be selling 2008 season tickets up until kickoff -- and maybe a few minutes after the game starts.

Once those fans arrive in the stadium, here are some trends they might want to watch.

Can Oklahoma's offense keep sizzling? The Sooners have rolled up more than a point a minute in each of their past three games and are on pace to become the first team to score 700 points since 1904, assuming they play three more games (tonight, a championship game and a bowl game).
How healthy in Kendall Hunter? The Big 12's leading rusher was hampered by a quadriceps injury that kept him out of much of Oklahoma State's most recent game against Colorado. Oklahoma State coaches have insisted he could have gone back in if he was needed and should be close to 100 percent. He'll be important in order to provide some balance against the Sooners' improving defense.
How the crowd changes from typical Bedlam games. Unlike previous games, Oklahoma fans haven't been able to purchase single-game tickets. So even though the stadium isn't packed, the fans who will be here will likely be cheering for the Cowboys. And a big start could make them a factor.
Can the Sooners keep Dez Bryant bottled up? The Oklahoma secondary, buoyed by a variety of blitzing defenses, kept Texas Tech's offense gummed up last week and renderedMichael Crabtree a nonfactor. It will be facing an even bigger challenge against Bryant, who is more of a factor for the Cowboys in their offense than Crabtree is for Tech, since Crabtree has several other receivers around him.
Oklahoma State needs touchdowns rather than field goals. Of the 20 teams in the country who are averaging at least 35 points a game, only Penn State is scoring more red zone field goals than Oklahoma State. But against the high-powered Oklahoma offense, the Cowboys can't afford settling for three points when they will need seven in what could be a shootout.
Oklahoma's special teams. The Sooners rank 108th in the nation in kickoff coverage and are one of three teams nationally that have allowed three kickoff returns for touchdowns. They will be challenged by Perrish Cox, who leads the conference with a 29.2 yard-per-return average.
Oklahoma State's pass rush. The Cowboys have struggled all season, ranking 102nd nationally with 13 sacks. Defensive coordinator Tim Beckman needs to ratchet up the pressure or Bradford will pick them cleaner than the remains of a four-day-old holiday turkey around my hungry relatives.
The battle of the dueling flyovers. Texas fans have already circled Boone Pickens Stadium with their flyover pitching the Longhorns' 45-35 victory over Oklahoma. Texas Tech fans are expected later this evening to hype their team's 39-33 victory over Texas. Hopefully, these two planes don't cross in the airspace over the stadium.
November, 28, 2008
11/28/08
12:00
PM ET
Posted by ESPN.com's Tim Griffin
Here are a few Big 12 stories to tide you over with the leftovers until the Nebraska-Colorado game starts this afternoon.
Enjoy the game. It's a good excuse to stay out of the shopping malls today.
Topeka Capital-Journal columnist Kevin Haskin suggests that Kansas State should proceed with caution before hiring a trendy head-coaching designate with new 69-year-old coach Bill Snyder taking over.
A history-making potential three-way tie in the South Division has the Big 12 flirting with gridlock, the Kansas City Star's Blair Kerkhoff writes.
Cotton Bowl officials told Lubbock Avalanche-Journal beat writer Don Williams that Texas Tech is receiving heavy consideration for their Jan. 2 bowl game.
The Oklahoman's Berry Tramel opines about the pressure that will be facing Oklahoma State's defense, Oklahoma kicker Jimmy Stevens and Oklahoma State athletic director Mike Holder's controversial ticket policy in Saturday's "Bedlam Game" between the Sooners and Cowboys.
Loquacious Missouri linebacker Sean Weatherspoon is as relentless on the field as he is carefree when he's laughing and joking with his friends off the field, Vahe Gregorian of the St. Louis Post-Dispatch writes.
August, 13, 2008
8/13/08
10:03
AM ET
Posted by ESPN.com's Tim Griffin
It wasn't that long ago that the bedrock of the Nebraska football program was its imposing offensive and defensive lines. The Cornhuskers' weight-training program was the foundation of a program that claimed a share of three national championships during a four-season period in the 1990s under former coach Tom Osborne.
Lincoln Journal Star columnist Steven Sipple had an interesting point today about why the Cornhusker program has atrophied in recent seasons.
The Cornhuskers haven't had an all-conference offensive lineman since Toniu Fonoti in 2001 and an all-league defensive lineman since Steve Warren in 1999.
Bo Pelini has his work cut out as he tries to rebuild the once-proud Cornhusker program. But here's a suggestion for the new Nebraska coach: Be sure your team gets a heaping dose of Big 12 links every morning. Because like Wonder Bread, they help build strong bodies 12 ways.
Here's a little nourishment this morning for the Cornhuskers -- and for everybody else.