April, 4, 2012
4/04/12
9:00
AM ET
TAMPA, Fla. – When people think of USF, they think of a team that …
"Don't say it," quarterback
B.J. Daniels
interrupts.
He knows what is coming. So does everybody in the football facility. The Bulls have been a big tease, raising hopes with eyebrow-raising wins, only to dash them with eyebrow-raising losses. Last season only added to that reputation, after USF squandered a 4-0 start and national ranking with its worst season since joining the Big East in 2005.
How can a team with so many big nonconference wins crash so spectacularly in Big East play? You might have an easier time figuring out the meaning to life. No matter the season, something generally goes wrong in Tampa. Last season, it was four games lost on the final play, and the end result was a 5-7 season and no bowl game for the first time as a BCS team.
Daniels and his teammates have lived through the drama the past few seasons, and yes, the perception about their program bothers them. They intend to end all the jokes about the Beat-a-Bulls this season behind a strong senior class that has banded together to make a change.
"We've been ranked, we've beaten big teams, we've been projected to do this and that, but for whatever reason it doesn't work out," Daniels said. "We take pride in what we do. We're not out here punching a clock. A lot of us have passion for the game and love it. It does bother us in the sense that the goals we have set out in the past, we haven't accomplished. One approach that's different is we are taking everything one game at a time. If we do the little things every day, we'll end up where we want to be."
That, of course, would be with Big East championship rings for the first time. USF has plenty going for it as it works toward improving this spring. Eighteen starters return, tops in the Big East. But perhaps most important is a senior class of 24 strong. At least 12 will be starters; at least 18 will be on the two-deep. Every position but receiver will have at least one senior starter. That includes Daniels, who has started nearly every game of his career.
[+] Enlarge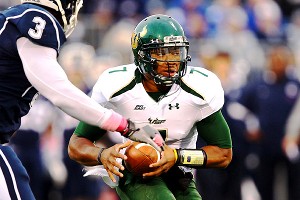 Danny Wild/US Presswire"It does bother us ... that the goals we have set out in the past, we haven't accomplished," B.J. Daniels said.
Compare that to last season, when USF had 17 seniors -- only six of them starters.
The larger group has actually been a more united group. After the season ended, the seniors got together to form a plan.
"We said we can't have another season like we had last year," running back
Demetris Murray
said. "Days we're supposed to be off, we're here, working out. We're not letting days slip by that we can take advantage of."
Seniors have an expanded role in team meeting rooms. The added responsibility of setting an example for the younger players has been embraced wholeheartedly. The goal is to get everybody to buy in, from the most experienced players who have been through all the heartbreak to the freshmen who just want to play.
"All seniors have that urgency to win," linebacker Mike Lanaris said. "But the thing that we need to do as a senior class, we need to permeate that urgency throughout the team. It can't be 25 guys have this sense of urgency to win a championship while the other 80 guys are worried about something else. We need to spread that sense of urgency and those small things that are going to make a difference need to be stressed. If we can get everybody on the same page, we have a chance to be really, really good."
Lanaris mentioned small things. Paying attention to those critical details has just about every player hooked. The mantra from coach Skip Holtz, repeated since last year, has become a rallying cry. Ask any player, and he will say it, probably as a reflex:
Little things lead to big rings.
So does a renewed focus on conference play, where everybody has to get as excited and motivated as he does when playing geographic rivals like Florida State or national names like Notre Dame. Though USF is really in its infancy as a program, getting some of those bigger nonconference victories ratcheted up expectations for the Big East. If the Bulls can beat Notre Dame on the road, surely they can handle UConn, right?
"We've talked a lot about what our goals are and what we want to do and want the next step is," Holtz said. "People talk about, 'Well we've got to beat Florida State, we've got to beat Miami and we've got to beat Florida.' I would have rather lost to Notre Dame and won every won of those close games in the Big East than the way it happened (last season). To me, the next step isn't to beat a Florida State or a Miami or a Notre Dame or an Auburn. Our next step needs to be able to run the table in the Big East. We need to get to where we can play in a BCS bowl. To win those nonconference games and not play in a BCS bowl takes some of the luster away from those big wins. ... We've just got make sure that our players understand the season starts in conference. That's what we're playing for."
On paper, this should be the year USF breaks through. This is a veteran team with solid senior leadership -- the best, most vocal leaders since Holtz arrived. Depth is better across the board. Optimism is high. And it doesn't hurt that West Virginia is out of the league.
But when people think of USF ...
"The M.O. here has always been -- they're a talented team that underachieves," Lanaris said. "We want to break that."
February, 22, 2012
2/22/12
4:00
PM ET
We continue with our final 2011 position rankings by moving to linebacker. There were plenty of exemplary individual performances in this group, as six teams were represented on the Big East first and second teams. But this evaluation is of the unit as a whole, so I am factoring in the performance of every starter, along with depth and stats.
[+] Enlarge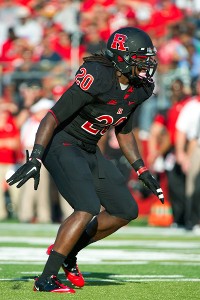 Rich Kane/Icon SMIKhaseem Greene's position switch went better than anyone could have expected, as he ended up leading the conference in tackles.
1. Rutgers.
Khaseem Greene
's move to linebacker was the smartest position change of the year, pushing the Scarlet Knights into the top spot in this category. Greene led the league with 140 tackles en route to Big East Co-Defensive Player of the Year honors. He was essentially all over the field. Greene and
Steve Beauharnais
were the only linebacker tandem to finish in the top 10 in the Big East in tackles for loss. Add in the much-improved
Jamal Merrell
and it's easy to see why this group is No. 1.
Preseason ranking
: No. 4.
2. Cincinnati.
J.K. Schaffer
had yet another outstanding season for the Bearcats, racking up 100 tackles once again. But quietly,
Maalik Bomar
put together a nice year as well, and that helped make up for some serious question marks that surrounded this unit going into the season. True freshmen
Dwight Jackson
and
Nick Temple
made contributions, but on the whole it was the Schaffer show again and that was enough to boost this group.
Preseason ranking:
8.
3. Louisville.
Dexter Heyman
and
Preston Brown
had career seasons for the Cardinals, elevating the position and helping Louisville post another outstanding season on defense. Heyman and Brown finished in the top 15 in the Big East in tackles, and Heyman ranked fourth in the league with 16 tackles for loss. His play earned him second-team honors, and he leaves a big hole to fill for 2012.
Preseason ranking:
3.
4. UConn.
The Huskies were one of two teams without a linebacker on the Big East first or second team. But I thought this position group was vastly underrated for most of the year.
Sio Moore
came up with some big plays, and
Yawin Smallwood
and
Jory Johnson
developed nicely throughout the season. To illustrate how active Moore was, he was the top linebacker in tackles for loss with 16. This unit should be even better in 2012.
Preseason ranking:
2.
5. USF.
The Bulls were the other team without a linebacker named to the Big East first or second team but that shouldn't diminish the season
DeDe Lattimore
had. He had seven sacks, 13 tackles for loss and led the team in tackles. In fact, all three linebackers led the team, in
Mike Lanaris
and
Sam Barrington
. But the group as a whole underachieved, as the Bulls struggled to get teams off the field and were often times out of position to make a play.
Preseason ranking:
1.
6. West Virginia.
Middle linebacker
Najee Goode
had a terrific season, earning first team Big East honors. But beyond him, there were few significant contributions. Injuries hurt and so did inexperience. Plus, the expected emergence of junior college transfer
Josh Francis
never materialized. Between
Jared Barber
,
Jewone Snow
and
Doug Rigg
, there was not much doing in this group.
Preseason ranking:
5.
7. Pitt.
The problem in evaluating Pitt is this --
Brandon Lindsey
played both end and linebacker in the hybrid Panther role. Does he get evaluated with the line group or the linebacker group? He started eight games on the line, so I gave more weight to his contributions at end. However, I did take him into account for this unit, though it was not enough to life this group up much as a whole.
Max Gruder
was solid, but otherwise this was a lackluster bunch.
Todd Thomas
showed some spark but injuries slowed him down. Between
Shane Gordon
,
Greg Williams
and
Tristan Roberts
, there were problems all year.
Preseason ranking:
6.
8. Syracuse.
It was a struggle for the Orange on defense this season, and linebacker was no exception.
Marquis Spruill
had to make the transition to middle linebacker and struggled at times.
Dyshawn Davis
showed glimpses as a true freshman.
Dan Vaughan
actually was the leading linebacker in tackles. You generally want your linebackers to lead the team in that category, and that was not the case this season. But there is talent here. Another year of development for Spruill and Davis could yield big things in 2012.
Preseason ranking:
7.
September, 4, 2011
9/04/11
12:15
AM ET
SOUTH BEND, Ind. -- His players gave him a collective hug, and shouted beautiful words.
"We've got your back," they told him.
"We love you," they said.
"We appreciate you."
"This one's for you."
Skip Holtz never uttered one word to his players about what a win at Notre Dame would mean to him. But did he really have to? None of his players were alive when Holtz played there, but they were not born yesterday.
They understand the history, the tradition, the meaning -- even if the Irish of today are far different than the Irish of the Holtz era.
So they embraced their coach and embraced the start of what could be a rollicking season, beating Notre Dame
23-20
Saturday.
The way they did it, with a bend-but-don't-break defense, surviving two weather delays, coming up with gigantic plays when they had to -- that spoke to Holtz more than winning at a place that has meant so much to him and his family.
So now the inevitable question comes, once we get past the sentimental meaning of this game. What does a win like this do for USF?
Surely there have been big wins in the history of the program. Miami. Florida State. Auburn. Is this the biggest?
[+] Enlarge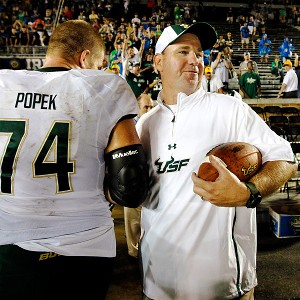 AP Photo/Michael ConroyCoach Skip Holtz and South Florida celebrated a win at Notre Dame, where he went to school and where he was an assistant coach under his father Lou Holtz.
"We've had some big wins, but as I told the team last week, I'm much more concerned how we handle this game, whether we win or lose," Holtz said. "What we have not done is we have not been able to line up and play consistently throughout the course of a year and win a Big East championship. That's the No. 1 goal that we have as a football team right now with what we're trying to do."
Holtz wants to keep sight of what is ahead, but there is no question a win like this gets the Bulls much-deserved national attention. Going on the road and beating a ranked team will do that, regardless of the recent history at Notre Dame.
The Holtz story line was a nice one, and he grew emotional when asked how it felt to win there. He said it had not sunk in. But what had sunk in was the tenacity of his players.
All summer, the defense preached turnovers, turnovers, turnovers. "[The coaches] emphasized turnovers, just getting our hands on the ball, strips, interceptions, anything we can do to change the momentum of the game and make plays," cornerback Quenton Washington said.
The game plan going into the game was to have a bend-but-don't-break defense, to make sure it did not give up huge pass plays, specifically to
Michael Floyd
.
If the Irish ran 20 plays in a drive so be it. So long as they did not reach the end zone. The strategy paid off because the defensive players came up with one gigantic play after another.
It started on the first drive of the game. Notre Dame marched straight down the field, ripping off a 31-yard gain, then a 26-yard gain. The Irish got down to the USF 1-yard line when
Jonas Gray
got the ball. He rushed into the pile, but Jerrell Young was there. He stuck his hand onto the ball and with the strength of Midas, ripped it out. The ball came loose. Kayvon Webster was there to grab it, and he ran 96 yards for a touchdown and an early 7-0 lead.
"I hit him and my teammates held him up and I put my hand there," Young said. "I felt the ball and I just ripped and it came out."
But that was not all. Incredibly, USF stopped Notre Dame two more times inside the 5-yard line. Next it was DeDe Lattimore with an interception in the end zone. Later, it was Mike Lanaris with an interception off a deflected pass to kill another drive.
In all, the Bulls got five turnovers and won the game -- despite giving up 508 yards and gaining just 254.
"We had luck. I'll say luck of the Irish," Young said with a laugh. "I commend my teammates to keep fighting. We kept giving them yards, but we held tight.
"We stood up in the end when it mattered."
Now they have a victory that matters. But how the Bulls follow it up is what matters the most.
"We really wanted this win for the program," Young said. "It's a big step, Notre Dame with their history and all. But even if we had won or lost this game, it had nothing to do with our Big East championship goal."
September, 3, 2011
9/03/11
9:43
PM ET
SOUTH BEND, Ind. -- Here are some quick thoughts on USF's
23-20 win
over No. 16 Notre Dame on Saturday.


How the game was won:
USF won the battle in the red zone. The Irish were able to drive on the Bulls, but every time USF needed a big play deep in its own territory, it got one. USF forced turnovers on three trips Notre Dame took inside the USF 5-yard line. Kavyon Webster returned a fumble 96 yards for the opening score of the game; DeDe Lattimore and Mike Lanaris got critical interceptions. In the end, it doesn't matter how many yards the Irish racked up, the USF defense did what it needed to do to help the Bulls get the win.
Turning point:
Notre Dame cut the lead to 23-20 with 21 seconds remaining and went for the onside kick. The ball was bouncing and for the taking, but
Lindsey Lamar
recovered the ball and the Bulls walked out of South Bend with the victory.
Stat of the game:
Five. That is the number of turnovers for Notre Dame in the game.
Unsung hero
: Jerrell Young. It was Young who stripped
Jonas Gray
on the first drive of the game, causing a fumble that Webster picked up and returned for a touchdown. Then with 4:21 left in the game after a second weather delay, Young intercepted
Tommy Rees
on the very first play to seal the victory.
What Notre Dame learned:
The Irish came into the season with high hopes for a BCS season. That might still happen, but they have got to learn how to take care of the football. Too many times the Irish had chances to score or seize momentum, and they failed to do so. Notre Dame coach Brian Kelly was so infuriated at several points in the game, his face turned various shades of red and purple. He pulled
Dayne Crist
for Rees in the second half, so we will have to wait and see whether he has decided to make that change for good.
What USF learned:
The Bulls are no doubt a contender. A team that many thought would be a dark horse this season is not a secret any longer. A national television audience got to see what coach Skip Holtz has assembled at USF.
B.J. Daniels
looked much more confident and in command of the offense. Adjustments will have to be made on defense, but the Bulls leave South Bend having made a huge statement.
What it means:
It was a statement game not just for USF but for the Big East. The league runs the high risk of going undefeated on opening weekend, something it desperately needed. USF might not be a national school, but the Holtz name is a national name, and this huge win will definitely be noticed around the nation.
July, 6, 2011
7/06/11
4:30
PM ET
We continue our team position rankings with the linebackers. This position was one of the hardest hit in the league with the number of quality players who are gone. You could probably interchange teams 2-7 in the rankings, depending on your point of view. So who is going to step up? Let's peer into the crystal ball.
[+] Enlarge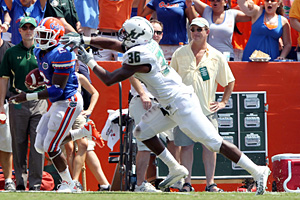 Kim Klement/US PresswireSouth Florida linebacker Sam Barrington, 36, leads the Big East's best group of linebackers.
1. South Florida.
Sam Barrington and DeDe Lattimore form the best linebacking duo in the league, helping put the Bulls into the top spot. By no means have they fully arrived -- plenty of room for improvement here. What also helps with the ranking is depth. Reshard Cliett had a nice spring, after coming into USF as a safety. Junior college transfer Mike Juene was in for spring and also has raised expectations. Mike Lanaris and Curtis Weatherspoon should be important contributors as well.
2. Connecticut.
The strength of the team is on defense, but if there is one group on this unit that has the biggest questions it is linebacker. There is no disputing Sio Moore is one of the best in the league. But the Huskies lost four-year starters Lawrence Wilson and Scott Lutrus. Jory Johnson, Jerome Williams, Mike Osiecki and Yawin Smallwood are all in the mix, but there is no question this group is much more inexperienced than a year ago. Still, Moore makes this a top-tier group.
3. Louisville.
The Cardinals lose Brandon Heath and a few other players who brought valuable experience. But
Daniel Brown
and Dexter Heyman are experienced starters who will anchor this unit. The Cardinals took a hit when Brandon Golson reportedly decided to transfer, so they are going to need to work on some depth.
4. Rutgers.
Some players moved around during the spring -- Manny Abreu moved from strongside linebacker to defensive end, and Khaseem Greene moved from safety to weakside linebacker. These moves should make the defense better. Steve Beauharnais switched back to the strong side from the middle, a move that should benefit him. Ka'Lial Glaud is now penciled in to start in the middle. Marvin Booker had a good spring as well. Depth is an issue and true freshman Quentin Gause and Kevin Snyder could play. But this group should be better.
5. West Virginia.
Najee Goode is a proven big-time player, but there were some huge losses for this unit. Anthony Leonard, JT Thomas and Pat Lazear are all gone. Junior college transfer Josh Francis and Casey Vance are competing on the weakside and Doug Rigg, Tyler Anderson and Donovan Miles on the strong side. Francis would add athleticism to the group, but first he has to win the starting job.
6. Pittsburgh.
The Panthers are transitioning to a 3-4 and experimented plenty during the spring with various combinations. They have experience, with the top seven linebackers on the team returning. Plus Brandon Lindsey is going to play more of a hybrid defensive end/linebacker role. But this was one of the worst units on the team last season. Max Gruder and Greg Williams have to be better for this unit to be ranked higher.
7. Syracuse.
The Orange lose not only two of their best players, but two of their biggest leaders in Doug Hogue and Derrell Smith. Smith led the team in tackles, and Hogue was right behind him, making linebacker one of the biggest question marks on this team heading into the season. Two other contributors, Malcolm Cater and Brice Hawkes, were kicked off the team. That leaves sophmore Marquis Spruill as the only player with significant playing time among the linebackers, and he moved to a new position in the middle. Early enrollee Dyshawn Davis, a receiver in high school, is penciled in to start so that should tell you where this group is headed into the fall.
8. Cincinnati.
JK Schaffer is one of the best in the Big East, but depth here is a concern. Walter Stewart has moved to defensive end, leaving a hole at one of the linebacker spots. True freshmen Nick Temple and Dwight Jackson were in for spring practice are expected to compete for starting jobs. This unit was not very good last year and undersized, making it the group with the most to prove in 2011.
Previous rankings