December, 31, 2010
12/31/10
9:30
AM ET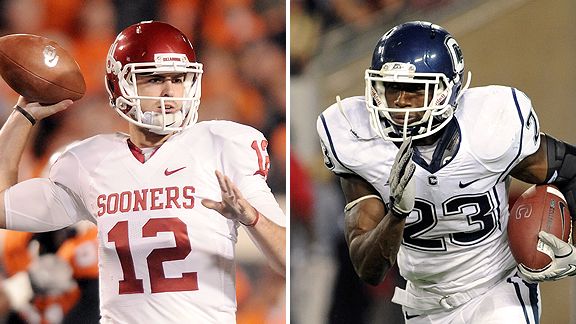 Getty ImagesLandry Jones leads heavily favored Oklahoma against Jordan Todman and Connecticut.
We've heard it ever since the bowl pairing was announced: Connecticut has no chance, and this might be the most lopsided matchup of the entire season. Oklahoma enters as the champion of the Big 12, a conference with five teams in the top 20.
Connecticut, to its credit, won its final five games to get here, but needed a 52-yard field goal in its season finale to win the Big East, a conference with one team (West Virginia) in the BCS top 25.
Even Vegas agrees, pinning the Sooners as a 17-point favorite.
So the big question is simple: What reason do we have to believe that we're not in for a snoozer on Saturday night?
[+] Enlarge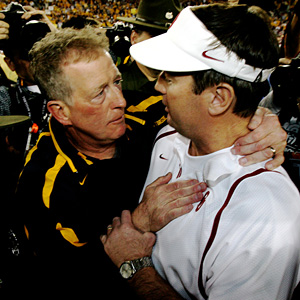 AP Photo/Ross D. FranklinThe last time Bob Stoops was at the Fiesta Bowl, he left with West Virginia interim coach Bill Stewart consoling him.
Ted Miller
: David, let's start with karmic reasons! For one, when everyone thinks one thing, it's inevitably wrong. Second, Oklahoma has a history of flopping in BCS bowl games, losing to opponents great (USC, Florida) and small (West Virginia, Boise State). The Sooners have been hearing non-stop how much better they are than UConn all week. That's been in their heads during preparation. You wonder if they will show up with their A-game on Saturday, no matter how often they claim they are fully and completely motivated. Further, UConn has been hearing about how lousy they are, how they don't deserve to be here. Heck, some want to change BCS rules so an unranked team won't get into a BCS bowl game again! You should expect the Huskies, a well-coached team, to come out focused and angry. We always talk about how important motivation is in a bowl game. That's an area where the Huskies should have a decided edge.
Or do you think this is cracked and the Sooner are going to come out on fire?
David Ubben:
Yeah, for as much as the Huskies have heard they don't belong here, Oklahoma has heard just as much about those famous flops on big bowl stages. Those didn't happen back in the 70s. Plenty of the guys on this team were there or played in the losses to West Virginia and Florida. They want to prove those days are behind them, and close a pretty good season by Oklahoma standards with a win. Also, unlike those teams, which had some of the best players in college football like Tim Tebow, Percy Harvin and Pat White, there's nothing about UConn that's particularly scary or gamebreaking.
Jordan Todman
is solid, but he's not a guy that's going to give Oklahoma nightmares like
Noel Devine
did.
And though teams like Boise State and West Virginia were short on program pedigree like the Huskies, they were also short on losses, where Connecticut has a healthy surplus. All five of those losses came to experienced teams and those five teams have the same number of losses combined (4) as the unranked Huskies have in just this season.
So, if Oklahoma is ready to play, are there any reasons for Sooners fans to be concerned?
Ted Miller:
Well, I think we can all agree that if Oklahoma comes out and plays its best, it's going to win the game. It's simply more talented in nearly every area.
But this is college football, and talent doesn't always carry the day. UConn's recipe for success here isn't revolutionary. It needs to win the turnover battle, probably decisively. It needs to win third down on both sides of the ball. It needs to establish its running game and play keep-away from a potent Sooners offense. It needs to make at least a few plays downfield in the passing game to keep the Sooners defense reasonable honest when it tries to gang up on the line of scrimmage against running back Jordan Todman. And it needs to win the red zone, scoring TDs when it's there and keeping the Sooners out of the end zone when they are there.
What can't happen? UConn can't make mistakes. And it must maintain some pass-run balance to keep the Sooners honest.
So that's a fairly involved scenario for a UConn win. What do the Sooners need to do to prove the experts correct?
David Ubben:
You're right, I think even Connecticut players would admit Oklahoma is the more complete team, but two of the greatest equalizers in football are turnovers and weather. Unfortunately, the three-point shot in college football (a.k.a. a field goal) isn't quite as effective as in basketball.
Since we'll be indoors, Oklahoma can count out that as a factor.
[+] Enlarge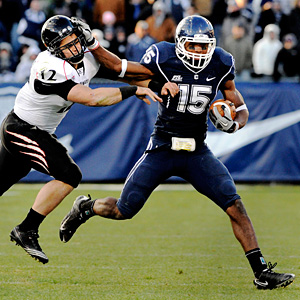 AP Photo/Fred BeckhamConnecticut may need to win the turnover battle to beat Oklahoma. Jerome Junior (15) was one of two Huskies with four interceptions this season.
Turnovers, however, could be an issue. If Oklahoma loses this game, I'd be willing to guarantee that it lost the turnover battle.
Landry Jones
has been much, much more careful with the ball in 2010, but he caught a bit of the turnover bug against Oklahoma State. If Connecticut can do something similar and -- here's the important part -- capitalize off them with points, then we'll have a ball game.
Don't expect the Sooners to put the ball on the ground, though. They've lost just five fumbles this year in 13 games, good for sixth nationally.
So, theories aside, let's get down to it. How does this play out?
Ted Miller:
I think UConn comes out with a sound plan and plays hard. I expect the game to be close at halftime, with the notion of a huge upset still alive. But the Huskies lack the firepower to keep up, touchdown for touchdown, with the Sooners. I expect the UConn defense will start to wear down due to the Sooners fast-paced offense, and that will create big-play opportunities in both the passing and running game for Oklahoma. Once the Sooners get up by double-digits, I don't see the Huskies being capable of loading up on the passing game to mount a comeback.
So let's say 42-24 Oklahoma.
What's your take?
David Ubben:
Yeah, I'm taking Oklahoma 41-20. Oklahoma hasn't seen a back as good as Todman this year that also plays in a power system. The closest thing has been
Cyrus Gray
at Texas A&M, who ran for 122 yards and the Aggies beat Oklahoma.
But unlike A&M, Connecticut doesn't have enough weapons elsewhere to keep up with an Oklahoma offense that it won't be able to stop barring turnovers. Remember, Connecticut is playing without nickel back Mike Lang, too. Oklahoma should be able to move the ball consistently, and while I think it might be close early, I tend to buy into your idea of them being worn down.
I think the Huskies can catch the Sooners on play action a couple times for big plays, but not enough to outscore them.
October, 2, 2010
10/02/10
1:50
PM ET
Connecticut had a
14-0
lead early in the second quarter, but then everything went wrong.
A 71-yard kickoff return led to Vanderbilt's first touchdown. One play after
Cole Wagner
shanked a punt, the Commodores capitalized with a 48-yard touchdown pass. Then
Cody Endres
threw his first interception of the year, and Vandy scored again, this time on a well-designed 44-yard reverse.
The three touchdowns came within four minutes as Vanderbilt seized all the momentum. But UConn answered with a solid drive at the end of the half, tying the score on an Endres touchdown pass to
Kashif Moore
.
There is good and bad in the half for the Huskies. The offense has had some good drives, and despite the interception, Endres is 14-for-17 for 116 yards. Receivers seem to be making more plays for him than they did for
Zach Frazer
as well.
Jordan Todman
has run the ball strong despite his elbow injury, picking up 91 yards.
But UConn has also given up way too many big plays on defense. Cornerback Mike Lang looked terrible while being burned for that touchdown pass after the bad punt. The Commodores passing game hadn't done much this season, but
Larry Smith
has already thrown for two scores.
Vandy is also averaging 8.2 yards per rush, though most of that has come on the big plays. Connecticut simply has to tighten things up defensively unless it wants this to continue to be a shootout.
March, 8, 2010
3/08/10
8:55
AM ET
This could be a big year for Connecticut.
The Huskies were playing as well as anybody in the Big East down the stretch and finished the 2009 season with a victory over South Carolina in the Papajohns.com Bowl. They bring back a wealth of starters and plenty of depth. I caught up with UConn coach Randy Edsall last week to talk about the beginning of spring practice, which starts March 16. This is part I of my interview. Check back later for part II.
First of all, you have to be feeling pretty good about where the program is given all the players you bring back from last year, right?
[+] Enlarge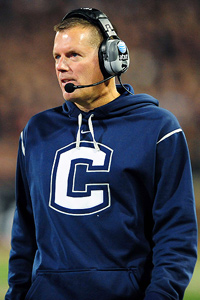 Andrew Weber/US PresswireRandy Edsall led the Huskies to an 8-5 record in 2009.
Randy Edsall:
We do. We have a lot of guys back and we only have 12 seniors on the roster, so that bodes well for us. We're going to have more depth than we've ever had. The thing about this spring that's going to be a little different is, we're going to have a lot of guys who won't be doing things because of injuries. So we'll be able to get a lot of work in, but some of the kids won't be out there with us because of injury. But the thing I'm excited about is that we're going to give some of these young guys a lot of work to even develop more depth in the program.
Do the injuries cause a little less of a concern this spring just because you have so much experience coming back?
RE:
Yeah, it really does. Just looking at our depth chart and our board ... even though Jesse Joseph is not going to go through the spring, Greg Lloyd is not going to go through the spring, Blidi Wreh-Wilson is not going to go through the spring on defense, with those guys out we still have so many guys and we know what those guys can do because they played for us. And now get some other kids more repetitions and kids we know are going to be available to play next year. For me, it's a plus for us. And we had six kids who came in at midyear, so it's another plus that those kids are going to get a lot of reps.
We're not going to be the finished product coming out of spring, because like with Jimmy Bennett and Mike Ryan on offense, they're not going to be practicing due to the injuries that they had in the fall and
Robbie Frey
will be limited and won't be full go. That's where in terms of the offensive line, it's going to give us a chance to work with some of our young guys and really get them a lot of reps to develop them so if they've got to get into a game, they're going to have some experience there.
Let's talk about the quarterbacks. Zach Frazer played well for you at the end of the year, but Cody Endres also played well before his injury. Is Frazer the No. 1 guy right now or is it more of a competition?
RE:
As we came out of the season, we won four straight there with Zach and I thought he did some good things. Cody did, too, I think, so we're in a good situation. But as we go into the spring, Zach's the No. 1 guy and it would be his job to lose. He knows there's always competition, but he's the No. 1 guy as we start practice on the 16th.
What did you like about the way Frazer played at the end of the year?
RE:
I thought he really just played within himself. I thought he was relaxed, he was poised and I thought he made a lot of good decisions He wasn't forcing the ball; he was taking what the defense was giving and throwing the ball where it should have been thrown. And when it wasn't there, he threw the ball away as opposed to trying to make a great play, squeeze a ball into somewhere you shouldn't. I really thought he did a good job of what we asked him to do in the game plans we had for those games.
People may forget that you put in a new offense last year, and there must have been some adjustments along the way.
RE:
You could see the improvement as the season went on with what we did offensively, and I think one of the keys this spring is now the kids are going to be more comfortable in the offense. There are going to be some things that we're able to do to add or to tweak where we think it will make us better. But I was pleased with the development of the offense as the season went along. Our point production and passing yardage was up from a year ago, and we maintained what we wanted to do in the running game.
It took two guys to replace Donald Brown, but that's fine. And we want to keep building on the positives we had last year and keep moving forward, and the good thing is we only lost Andre [Dixon], and we still have
Jordan Todman
coming back. We lost Brad [Kanuch] and
Marcus Easley
, but we feel we have receivers to step in and do the job. And up front the only guy we lost was Mike Hicks. We really feel good about the guys we have coming back and what we can do to improve upon the production and the output we had a year ago.