March, 12, 2012
3/12/12
9:30
AM ET
Purdue is getting a little bit of a buzz as a sleeper team for 2012 after breaking through with a bowl game (and win) in 2011. The Boilermakers opened spring practice last week and went for a couple of days straight before taking off for spring break. I had a chance to catch up with Purdue head coach Danny Hope to talk about how things are going in his program and the areas of concentration this spring.
Did you sense any different attitude this offseason after getting to that bowl game last year?
[+] Enlarge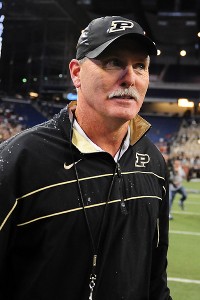 Andrew Weber/US PresswireCoach Danny Hope said the momentum from boilermakers' bowl win last season has carried over into the spring.
Danny Hope:
I think we ended the season on a high note and with some momentum, and I think it carried over into the offseason. I think we're really hitting on all cylinders with our new director of sports performance, whom we hired last year about this time. It's the first time since I've been the head coach at Purdue that we're going into spring with a quarterback that's healthy that's played any football.
Caleb TerBush
wasn't penciled in as the No. 1 [quarterback], but he became No. 1 about a week before the opener. He had to get his feet wet and learn throughout the course of the season, but by the end of the season he was playing pretty good. That momentum carried right over into the bowl preparation and the win carried right into the weight training offseason and that carried into spring practices. And having experienced quarterbacks is important. It's the first time since I've been here we've been able to do something as simple as getting signals in early in spring. It's a little different tempo out there right now as a result. We've got some good players back and we've got some confidence as a football team.
You have quite a few experienced quarterbacks now, in fact. How are you splitting up the reps for them this spring?
DH:
Well,
Sean Robinson
is playing on defense right now. It's hard to get four quarterbacks ready in spring ball, and he wasn't going to get as many reps as he needed to. So we're going to try him some at the linebacker position. That leaves TerBush and
Robert Marve
, who's finally healthy. I think Robert did some good things last year, but I think he's in position to take some big steps in his development because this is the first time since he's been here that he's been able to get a lot of reps without concern about an injury or an eligibility situation. Then
Rob Henry
is back. He's a little bit limited right now because he's coming off knee surgery, but I'm really pleased with where his recovery is, and most of the time when he's out there right now you can't tell much of a difference. But you have to limit his reps a little just because you don't want to overdo it and create a swelling issue. So the numbers are kind of taking care of themselves in some ways. We went into the spring with TerBush as No. 1 and all those other guys are competing.
Your leading rusher, Ralph Bolden, tore his ACL again, but you have two pretty good running backs in Akeem Shavers and Akeem Hunt. How do you feel about the depth at running back this spring?
DH:
We had a real strong running attack last year. We were fifth in the Big Ten in rushing. The past couple of years, we've been able to establish a strong running game. I like the progress that we've made and having good running backs is a big part of that, and any more, having a couple of running backs you can play is a big part of it. We had a lot of different guys rush for us last year, probably 10 different guys who were utilized as ball carriers. We really like Akeem Shavers. He's a fast, physical back who finishes runs. Akeem Hunt is an excellent sprinter who's a member of our track team and was a state champion track performer in Georgia. So he's a class sprinter in a lot of ways for a football player.
We've also got a kid we redshirted last year in
Doug Gentry
, and he's a skilled player. We have
Gavin Roberts
, who has good size but was injured last year. He's a big back we can utilize in the backfield. Then we've got a couple fullbacks in
Derek Jackson
, who weighs about 240 pounds, and
Kurt Freytag
. So we've got some guys still in the stable even though Ralph is out. And we've utilized
Antavian Edison
and
Raheem Mostert
some as ball carriers out of their slot position, and both those guys are really skilled players. So we've got some athletes who can tote the mail, and we spread the wealth out around here.
Were you upset about the new kickoff rules because you have such a weapon at kick returner in Raheem Mostert?
DH:
Well, we all play by the same rules. You'll have to make decisions about bringing some out, so the return man is going to have to be a good decision-maker. From a kickoff standpoint it might change some things. You can kick them all deep and try to force the touchback if you want to, but you're going to be giving the opponent the ball at the 25. Or you can kick the ball high and deep and try to pin them down and do a great job covering. So there's going to be some game planning and schemes involved. I think it will all even out. ... I don't think it's going to shut down all kick returns, but I think there will be about 25 percent less, is my guess.