April, 9, 2013
4/09/13
9:35
AM ET

OXFORD, Miss. -- Hunched over his desktop computer while in his black, leather rolling chair inside an office full of boxes ready to be moved to a new headquarters on a satisfyingly warm day in late March, Ole Miss coach Hugh Freeze talks on the phone with an assistant about a player's grades.

The news isn't great, but after a few minutes sliding around in his chair, a hint of relief hits Freeze's voice when he realizes the semester isn't quite over yet. There's still time.

Seconds later, he's back over the computer, this time listening to a link of a pastor rapping her sermon. Her verse barely takes minutes, leaving Freeze jokingly (or not) wondering what could be if he was a part of her congregation.

"A sermon in a minute, 40 [seconds]?" Freeze says with his classic southern drawl and pleasant boyish laughter. "I'd love that."

For a second, Freeze is relaxed as he reclines, props his Ole Miss-flavored Nikes on his desk and greets the day with an ear-to-ear grin.

He's only a couple of hours removed from the spring's first scrimmage, surrounded by boxed chaos, working with grade issues and dealing with a mammoth hype machine parked in the Grove after a surprisingly successful first season and a historic national signing day. But while his mind moves a mile a minute, he's finally stationary.

Soon, his body will follow his mind, as he analyzes his inadequate team depth, searches for more SEC-caliber athletes and attempts to handle the newfound attention his players are receiving.

"Obviously, they've got a lot of people telling them how great we did last year, even though it was just seven wins," Freeze said. "It was a good first year and then follow it up with the recruiting class, so they're hearing from a lot of places how well things are going and how we should do very, very well next year, but they better not lose sight of how we won those games.

"We have to temper our expectations some. Yeah, we had a good recruiting class, but so did everybody else in our conference. And some of them have had five, six classes like that in a row. We've got one."


January, 5, 2013
1/05/13
4:47
PM ET
Thanks to 24-point first half and commanding performance by its defense throughout the afternoon, Ole Miss captured its first bowl victory since 2009 with a
38-17 win
over Pittsburgh in front of a sea of red that was a part of a record crowd of 59,135 for the BBVA Compass Bowl.
The SEC improved to 5-3 in bowl games, while the Big East ends bowl play with a 3-2 record.
It was over when:
Ole Miss back up quarterback
Barry Brunetti
pushed forward on a quarterback keeper for a 1-yard touchdown to make it 31-10 Rebels with 21 seconds remaining in the third quarter.
Game ball goes to:
First-year coach Hugh Freeze. He didn't throw any passes or make any tackles, but he had his players very ready for Saturday's bowl game. This game meant a lot to players and fans, and the Rebels came out fast on offense and hunkered down on defense. After missing out on a bowl game the last two seasons, and winning just six total games during that span, Ole Miss finished the year 7-6 after a major culture overhaul thanks to Freeze's guidance.
Stat of the game:
Ole Miss held the rushing advantage over Pittsburgh 222-81.
Stat of the game II:
Pittsburgh defenders
Jason Hendricks
and
Shayne Hale
combined for 30 tackles and 21 of those tackles were solo.
Best call:
All year, Freeze rotated his quarterbacks throughout games.
Bo Wallace
was always the starter but Brunetti would come in for obvious running plays. Sometimes it worked, sometimes it was a little
too
obvious, but it certainly worked on Saturday. Wallace finished the game with 151 passing yards and three touchdowns to two interceptions on 22 of 32 passing. He also ran for 27 yards, while Brunetti totaled 34 yards, but helped really open up a running game that finished with 222 yards and 4.6 yards per carry.
Unsung heroes of the game:
Running back
Jeff Scott
left the game early with a hamstring injury, leaving freshman
Jaylen Walton
to help carry the load. He kept the chains moving for the Rebels, carrying the ball 10 times for 56 yards. He averaged 5.6 yards per carry in the process. Linebacker
Mike Marry
has been one of the most underrated players in the SEC this year and he had a very productive day. He was all over Pitt's backfield, registering four tackles for loss. He finished the day with seven total tackles, a sack and a forced fumble.
What Ole Miss learned:
This team brought a lot of fight to Birmingham, Ala. When Scott went down with his hamstring injury, there had to be some concern on that Ole Miss sideline that the Rebels' offense might lose some of its rhythm. It didn't. The Rebels continued to work the ground game with other options and just wore down the Panthers up front. That running game helped open up the passing game and helped the Rebels enter the offseason with a ton of momentum after this win.
What Pitt learned:
It had no offense without star senior running back
Ray Graham
. He had a heck of a career with the Panthers, but a hamstring injury kept him out of the BBVA Compass Bowl, and the Panthers just couldn't replace his production on the field. Pitt ran the ball 36 times for 81 yards, averaging just 2.3 yards per carry.
Rushel Shell
replaced Graham, rushing for 79 yards on 25 carries. That lack of a running game severely limited the Panthers through the air as well, as quarterback
Tino Sunseri
passed for just 185 yards.
May, 16, 2012
5/16/12
11:59
AM ET
OXFORD, Miss. -- Ole Miss' football program is stuck in the wilderness -- a scary place, filled with a plethora of overgrown obstacles.
When coach Hugh Freeze arrived last December, he says the jungle was as thick as ever and it didn't look like his new team was ready to cut its way out.
[+] Enlarge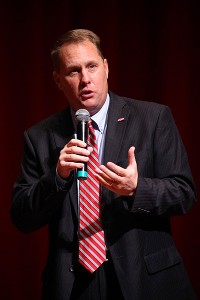 Shelby Daniel/Icon SMINew coach Hugh Freeze has set out an agenda for all Ole Miss players: "winning the day."
That was until Freeze offered a solution: his "Journey." He told players that he didn't know how long it would take for them to make it out or find some sort of salvation, but if they followed him, they'd find the light.
"The reasonable expectation for us in Year 1 is for us to compete passionately for this university for 60 minutes," Freeze said. "And whatever that scoreboard says at the end of that 60 minutes we'll have to live with."
The Rebels will have to plod through this quagmire, but Freeze insists patience is the key to turning around a program that is less than three years removed from a second straight Cotton Bowl victory.
"It's well-documented that we don't have the talent level that people in the SEC West have right now at a lot of spots, at least not the depth," Freeze said. "That's not fixed overnight."
And it's just one of the handful of problems Freeze is looking to fix, as he replaces Houston Nutt, who was once heralded as Ole Miss' greatest hire. Academic and discipline issues are also on the agenda. As Freeze puts it, he has "a few mountains to climb" before he can shape things up, but since the journey began in December, progress has been made.
Freeze said probably 65-70 percent of the players have bought in, which might be a conservative number. It's better than what he expected, considering the trust issues and players being set in their old ways of doing "what they've wanted to do for themselves for so long."
"They think they like it the way they had it, even though, if they're intelligent enough, they look at the results," he said. "You're will is something that's hard to change once you get set."
Freeze put the Rebels' abysmal 6-18 two-year record and 14 straight SEC losses front and center as motivation, he made academics more of a priority, looked to adjust Ole Miss' lenient drug policy, and created accountability groups.
Everything has helped, but the accountability groups really took off.
They were created to show players how much their actions affected everyone. Miss class? Your group runs at 5 a.m. Miss tutoring? Group run; 5 a.m. Late for
anything
? Welcome the sun with some running.
Rising junior linebacker
Mike Marry
said his group never ran – he made sure of it – but he saw other groups running as much as five times during a two-week span. The running cut down as the spring went on and there was hardly any toward the end.
"That's what I like about him," Marry said of Freeze, "he doesn't let little things slide.
"The last coaches, they let certain things slide. Certain things were small, but eventually they start building up and turn into big things and people started feeling like they could get away with more and more things. Since he's not letting little things slide, you're seeing the team come together closer and closer and there are fewer problems."
Freeze said eliminating off-field trouble is top priority. That's why he's so nervous about leaving his players in their own hands during the true offseason. Progress was made, but he worries guys will fall back on old habits when less supervised.
To ease his mind, Freeze turns to recruiting. With Ole Miss so thin at defensive tackle, offensive line, running back and safety, and needing walk-ons to fill three full teams in practice (on both sides), Freeze is stacking recruiting on recruiting.
He had some early success in his first class, grabbing three Under Armour All-Americans – DT
Issac Gross
, DE Channing Ware and DB
Trae Elston
-- and two junior college All-Americans – QB
Bo Wallace
and OT
Pierce Burton
– and his roll has continued with nine commitments in hand for 2013.
Recruiting at Ole Miss has hardly ever been easy with schools like Alabama, LSU, Auburn and Georgia in such close proximity, but Freeze believes he'll make it work. And he'll do it by going after the top prospects, not by getting lax and offering whomever to fill space.
"We can make it easy in recruiting, now, and I think that's what's happened," he said.
"I know you can recruit here. I've been here before when we did it and when we had 20 kids drafted in the NFL in those three classes that we brought in.
"Is it easy? No, but it is doable."
Fixing Ole Miss is also doable, he said. It's going to take a lot of work and a lot of time, but it requires patience. Freeze's mantra is "Winning the day," not winning the week.
"The one thing that we have that's constant and equal [to opponents] is time," Freeze said. "So, what are we doing to prepare for that end goal -- whatever that is -- today?
"We're a fragile state of mind right now and when you start talking about things that are so far out there, I don't think that will be beneficial to us. Let's just talk about today."
Freeze might be preaching about today, but you can sense the confidence growing inside players, especially wide receiver
Donte Moncrief
, who took things a step further.
"Everybody keeps putting us under the radar, but once we learn this offense and the defense keeps playing like it's playing, we're going to shock a lot of teams," he said.
What a journey that'd be.
March, 28, 2012
3/28/12
10:00
AM ET
South Carolina welcomed back a familiar face to wide receiver Tuesday when
Bruce Ellington
returned to the football practice field.
Earlier this month, Ellington announced that he was picking basketball over football, but shortly after the whispers began about him possibly returning to football after men's basketball coach Darrin Horn was fired.

Tuesday, Ellington worked out with the Gamecocks' football team for the first time this spring. Coincidentally, it was the same day in which Frank Martin was introduced as South Carolina's new men's basketball coach.
Coach Steve Spurrier had some very kinds words to say about Franklin:
"I like Coach Frank Martin. I think his track record speaks for itself. The guy has only been a head coach for five years in college, but Frank Martin, in my opinion, knows how to coach ball. He'd be a heck of a football coach, too. I think our basketball program is in excellent hands. Like he said, we're going to pack Colonial [Life] Arena. I believe him. I believe there will be 18,000 cheering the Gamecocks."
Ellington plans to continue being a two-sport athlete at South Carolina and Spurrier said Tuesday that he was "one of the fastest guys out there" at practice.
Having Ellington back certainly brings some needed experience back to the receiver position. Ellington made his mark as more of an all-purpose guy, but he'll be called on more to catch the ball this fall with
Alshon Jeffery
gone.
Kicker to the rescue
Vanderbilt's kicking issues from last season are well documented, but Tuesday, it was a kicker who saved the Commodores from extra, uncomfortable running after practice.

To close Tuesday's practice, coach James Franklin gave his kickers eight field goal attempts. Each kick was to be performed while Franklin messed with the kicker and "whispered sweet nothings" into his ears. For every miss the team had one gasser (a football player's nightmare). Vandy's kickers missed four, meaning four gassers for the team.
But Franklin decided to up the ante with a double or nothing call -- one kick to erase the gassers or force eight on his players. The team was supposed to choose a kicker it was confident in, but
Carey Spear
jumped right up and volunteered.
"Cary's one of the more competitive guys that we got," Franklin said.
"He's a very, very competitive, tough guy."
Cary stepped up and nailed a 40-yard kick to save his team from eight painful gassers.
"It was a pretty good risk that they were taking and they believed in him, so it was good," Franklin said.
Freeze unhappy with effort
Ole Miss dressed in pads for the second time this spring, but new coach Hugh Freeze wasn't too thrilled with the effort his players showed Tuesday.

"[I was] disappointed," Freeze said. "I didn't think the attitude was bad, but I thought the effort was half-hearted. I thought we coasted through a lot of practice. We're asking a lot of them to lift [weights] and practice, sometimes on the same days. And of course, academics are a priority. We'll point [the lack of effort] out on film [Wednesday], and we'll stop practice on Thursday if we have to in order to get it right. We won't go through two days of that in a row."
As Freeze looks to install a new, more spread offense at Ole Miss, he's finding that one of the key components needs to improve more as the spring continues. That component is the running game, which isn't just essential to the spread, but is essential to having a successful offense in the SEC.
"There were some good plays, though. In the team run, we broke a few long ones," Freeze said.
"But we're still very inconsistent."
Two players sat out practice Tuesday with injuries. Sophomore defensive lineman
Bryon Bennett
(foot) and junior linebacker
Mike Marry
(hamstring) are both day-to-day.
March, 13, 2012
3/13/12
5:00
PM ET
Hugh Freeze enters his first spring at Ole Miss with a lot of questions surrounding his new football team.
The same team that won just two games last year, watched its head coach get shown the door and has lost 14 straight SEC games.
Talk about a project.
For starters, Ole Miss is breaking in a totally new spread offense for a team that isn't exactly built for it. Plus there are four scholarship quarterbacks competing this spring and the ones who played last year had a host of issues.

Don't be surprised if junior college transfer Bo Wallace turns some heads this spring at QB because he's more familiar with Freeze's offense. He spent 2010 with Freeze at Arkansas State before going the JUCO route. While he had a record-setting season at East Mississippi Community College in 2011, Wallace has zero experience at this level. He redshirted in 2010, so he has yet to take a snap at the FBS level.
The defense will also see quite a few changes, as defensive coordinator Dave Wommack has said he plans to move the Rebels all around the field. Ole Miss ran a 4-2-5 defense last year under Tyrone Nix, but will come out in multiple sets this time around. It's going to take some time for players to adjust. It also means the Rebels might have to rely more on its secondary again. The good thing for Ole Miss is that just about everyone from the secondary is back, including standouts
Charles Sawyer
and
Wesley Pendleton
.
Sawyer might have been Ole Miss' best defensive player last year, while Pendleton has a chance to be a very solid corner in the SEC next fall. Also, keep an eye on
Aaron Garbutt
, who transferred from the JUCO ranks last year and was sixth on the team in tackles. Getting more out of them this spring will go a long way to helping this defense adjust.
At linebacker, the Rebels return all four starters, but adjusting to the new defensive formations could be more of a chore for them. But having
Mike Marry
back will be big for the Rebels this spring, considering
D.T. Shackelford
won't go through the spring as he recovers from another surgery on his knee. Marry filled in nicely for Shackelford last season, leading the Rebels in tackles as just a sophomore.
Marry will be accompanied by rising sophomores
Serderius Bryant
and
C.J. Johnson
. Bryant was the better of the two former freshmen last season and was fourth on the team in tackles. For Johnson, the spring will be crucial for his maturation. He started to come on strong toward the end of the season, but he still needs to make strides in his game before the end of the summer. Johnson could also line up at defense end, a position that must replace former star
Kentrell Lockett
.
The defense has more positives, but there are still questions surrounding where guys will lineup and how they'll take to all the changes. Plus, this is practically the same group that ranked last in total defense, rushing defense and scoring defense in the SEC last year.
On offense, finding a quarterback is priority No. 1, with improving an offensive line that took more than a few steps back in 2011 as a close second. Two starters are gone from the line and Freeze has said that the linemen he has weren't recruited for a "more power-type offense."
Freeze has a lot on his plate, but he knew that coming in. He understands that there were locker room issues in the past and the field issues are well documented. This won't be a quick fix by any means, but this spring will be really interesting for Freeze because even he'll have a lot of questions of his own to sort through when the Rebels start digging deep into spring practice.
November, 11, 2011
11/11/11
12:01
PM ET
The second time around is always pretty telling.
In keeping with that theme, we take a look at the 10 best true sophomores in the SEC this season.
These are guys who played as true freshmen last season in the league and are now in their second seasons, which eliminates transfers and third-year sophomores who had the benefit of a redshirt season.
[+] Enlarge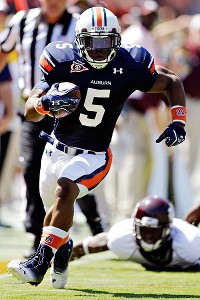 John Reed/US PresswireThe second-leading rusher in the SEC, Michael Dyer is the centerpiece to Auburn's offense.
Keep in mind that several of the top second-year players in this league suffered injuries earlier this season, forcing them to miss significant playing time and keeping them off this list. Among them: Tennessee quarterback
Tyler Bray
, Georgia linebacker Alec Ogletree, Tennessee receiver
Justin Hunter
, South Carolina running back
Marcus Lattimore
and Alabama linebacker C.J. Mosley.
Here's what we came up with. The players are listed alphabetically:
Arkansas safety Eric Bennett:
After playing cornerback as a true freshman, Bennett has settled in at safety this season for the Hogs. He's fourth on the team with 53 tackles and is tied for the team lead with three interceptions. As Arkansas defensive coordinator Willy Robinson said, Bennett has played big in big games.
Auburn running back Michael Dyer:
He's been the centerpiece of the Tigers' offense all season and is 11 yards away from his second straight 1,000-yard season. Dyer ranks second in the SEC in rushing with 989 yards and leads the league with 186 carries. If he stays healthy, he's going to break a ton of records.
Florida safety Matt Elam:
The Gators were frighteningly young in their secondary coming into the season, but Elam has been a stabilizing presence. He's always been a big hitter and has gotten better in coverage. He's second on the team with 53 tackles, including 6.5 for loss, and also has two interceptions.
Vanderbilt linebacker Chase Garnham:
He's missed the last two games with an abdominal strain, or his numbers would be even more impressive. Garnham is tied for second on the team with 44 tackles, including 4.5 for loss, and has also forced a fumble. He's a three-down linebacker who covers in space as well as he plays the run.
Auburn defensive end Corey Lemonier:
He showed flashes a year ago, but has emerged this season as one of the SEC's premier big-play defenders. Lemonier is second in the league with 6.5 sacks and also ranks among the league leaders with 10.5 tackles for loss.
Ole Miss linebacker Mike Marry:
The Rebels have been decimated by injuries on defense, and even though Marry's only a sophomore, he's had to step up and be a leader. He's also been plenty productive with 69 total tackles, tying him for seventh in the SEC. His 40 solo stops rank him third in the league.
LSU cornerback Tyrann Mathieu:
The Honey Badger has slowed down a little bit since his red-hot start, and there was also the one-game suspension a few weeks ago. But there's no denying his ability to make plays. He's tied for the SEC lead with four forced fumbles and three fumble recoveries, two of which he's turned into touchdowns.
LSU safety Eric Reid:
The No.1 Tigers are loaded with talented young players, and Reid is yet another. He's second on the team with 49 total tackles. His interception last week where he took the ball away from Alabama tight end
Michael Williams
was the play of the year so far in the SEC.
Tennessee receiver Da'Rick Rogers:
It's hurt him to lose both Bray at quarterback and Hunter on the other side at receiver, but Rogers still leads the league in catches (50) and is tied with two other players for second in the SEC with seven touchdown receptions. He's averaging 15.6 yards per catch.
LSU running back Spencer Ware:
The Tigers have a deep backfield stable, but Ware has been the workhorse. His suspension against Auburn may end up costing him a chance at 1,000 yards, but he's a perfect fit for LSU's offense with the way he runs with power and the way he punishes defenders.
April, 21, 2011
4/21/11
4:00
PM ET
The moment outside linebacker D.T. Shackelford's injury proved to be season-threatening, distress signals circulated throughout Ole Miss's football team.
Offensive coordinator David Lee said the severity of Shackelford's knee injury, which is expected to sideline him for his senior season, felt like a shot to the figurative heart of the football program.
Not only was he an outstanding linebacker -- and arguably the Rebels' best player -- he was a tremendous leader. On a team lacking a ton of seniors, losing an emotional leader like Shackelford is devastating.
However, in the weeks since Shackelford's freak ACL tear, coach Houston Nutt has found some potential candidates who could step into Shackelford's leadership role.
Right now, Nutt is relying on veteran defensive ends Wayne Dorsey and Jason Jones. Dorsey, a senior, enrolled at Ole Miss last January and played in nine games in 2010, starting four.
Jones, a junior, played in 12 games last season, starting four.
[+] Enlarge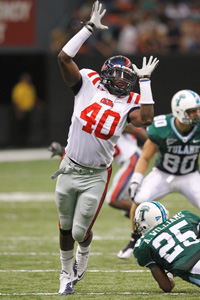 Derick E. Hingle/US PresswireSenior defensive end Kentrell Lockett is a strong candidate to fill the leadership void left after D.T. Shackelford's injury.
Neither is a household name for the Rebels, but Nutt said he saw both step up in place of Shackelford shortly after he went down.
"They showed real signs [of becoming team leaders]," Nutt said.
Sophomore Mike Marry, who worked some in Shackelford's spot after he went down this spring, also took on a leadership role for the team during that latter parts of spring practice, Nutt said.
One guy who could provide that leadership spark this fall is senior defensive end Kentrell Lockett. Lockett, who was granted a sixth year of eligibility by the NCAA after tearing his ACL last fall, missed all of spring practice, but is someone Nutt said he's really hoping steps up soon.
It shouldn't be hard for Lockett to grab the attention of his teammates. He's the most experienced guy on Ole Miss' roster and has great locker-room presence.
While each of these players could become dynamic leaders for this team, finding someone with the same electricity Shackelford possessed seems like a long shot.
"D.T. just took complete ownership," Nutt said. "It was just unbelievable the way he went about things."
That won't easy to replace.
As for finding someone to fill his playing shoes, besides a little work from Marry, the Rebels also rotated sophomore Clarence Jackson and redshirt freshman Ralph Wilson in at Shackelford's position this spring.
The player to keep an eye on this fall will be incoming freshman C.J. Johnson, who was the top recruit out of the state of Mississippi in 2010. He accumulated 149 tackles and two interceptions as a high school senior and despite playing inside linebacker he should be able to move outside.
Johnson has the skill to come in and immediately contribute, but developing his leadership qualities will be the next step in his maturation process.