April, 8, 2013
4/08/13
3:00
PM ET
Auburn's football program is coming off of a bad week in the media world.
First,
there was the report
by former New York Times and Sports Illustrated writer Selena Roberts discussing grade changes, money exchanging hands and other recruiting violations conducted under the watch of former coach Gene Chizik.

Then, a six-month investigation conducted by
ESPN The Magazine and "E:60"
stated that a dozen players, including star running back, Michael Dyer, failed tests for synthetic marijuana during Auburn's national championship run in 2010.
Shortly after these stories ran, Chizik, former players and athletic director Jay Jacobs denied any wrongdoing. Jacobs even went as far as to write an open letter to the Auburn community disputing the ESPN The Magazine report. You can read Jacob's
full letter here
.
If you follow Twitter or Internet message boards, you'll notice that most of the Auburn faithful are quite upset with Roberts and ESPN The Magazine. No one likes when bad things are written about their teams, and they have every right to be upset by the negativity thrown Auburn's way. So do current players and coaches.
But you
won't hear much coming from Auburn's team
about reports. On the surface, players either don't care, aren't worried about any potential fallout or both. Honestly, there really isn't any other way players could handle the situation. Sure, they could be mad and sling mud at Roberts and ESPN, but they know this entire ordeal is out of their hands. They can't control what's been written, but they can control how they get through it and finish spring practice.
That's what's important to this team, especially after a disaster of a 2012 season that led to the firing of Chizik and the hiring of Gus Malzahn. Routes, schemes and technique should be on the minds of players, not the 2010 season.
Players have even said coaches haven't really addressed the allegations with them.
"You really just don't pay any attention to it," cornerback
Joshua Holsey
told members of the media last week. "You try to stay off the Instagrams and the Twitters and the ESPNs. You just try to block it out as much as you possibly can. It's really hard because there's so much of it, but you just try to do your best to not worry about it and focus on what you've got in front of you."
And what the Tigers have in front of them is the challenge of getting back to being a factor in the SEC West race again. Kudos to players and coaches for staying focused during a spring that has thrown a lot at them. A new staff is in town, so this team is trying to build trust while re-learning old stuff and digesting new concepts. There's no time to worry over allegations.
Even Auburn great Bo Jackson
isn't sweating the negativity
. Over the weekend, Jackson told reporters that he thinks attention might be the main factor behind the allegations from former players. One of those former players is defensive back Mike McNeil, who was the subject of the Roberts' report. Monday, he received a split sentence after
pleading guilty to first-degree robbery
.
"I don't even know the kids. I've probably met them. But it seems like to me somebody's fishing, somebody wants some attention, and they aren't getting it," Jackson said. "I actually wouldn't give those accusations the time of day, to be honest with you."
Opinions on the truth surrounding Auburn's situation will surely differ, and we may never truly get all of the answers, but that's not for these current players to worry about. Their concern should be elsewhere, and it sounds like they're doing a good job of avoiding what Chizik once deemed as "energy vampires."
April, 4, 2013
4/04/13
6:59
PM ET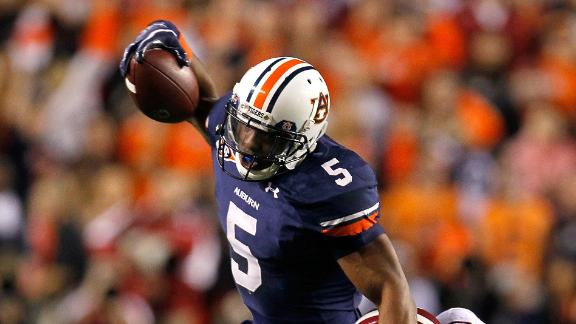 The hits just keep on coming on the Plains.
The latest is a six-month investigation by ESPN The Magazine, which describes an
epidemic of synthetic marijuana use
on Auburn's 2010 national championship football team and several failed drug tests. The report says the university elected to keep those failed drug tests private and didn't even notify parents.
Because synthetic marijuana was new, Auburn athletic director Jay Jacobs contended in an interview with ESPN The Magazine that it was not yet part of the university's official drug-testing policy and therefore not something coaches could punish students for using.
"We did all we could do to educate our student-athletes until [we] could understand exactly what we're dealing with," Jacobs said. "I think just like the rest of the campus, and the nation, we were trying to figure it out."
Freshman tight end Dakota Mosley failed seven consecutive weekly tests for the drug, but never was punished, according to ESPN The Magazine's report. He was suspended for three months in a separate incident after he tested positive for marijuana. The Arkansas native says he learned he'd failed a sixth test on the same day he was scheduled to meet with NCAA investigators to discuss a probe into potential recruiting violations.
Mosley was one of four former Auburn players charged in the armed robbery of a home. Another one of those players, Mike McNeil, is scheduled to stand trial next week. McNeil was at the center of the allegations laid out in
Selena Roberts' report
on Wednesday.
April, 4, 2013
4/04/13
9:00
AM ET
According to a report
by former New York Times and Sports Illustrated writer Selena Roberts, Auburn players' grades were changed in order to secure eligibility, money was offered to potential NFL draft picks so they would return for their senior seasons and NCAA recruiting rules were violated under former coach Gene Chizik.

In Roberts' report, which can be read on her website,
Roopstigo.com
, three former Auburn players said that as many as nine players' grades were changed before the Tigers won the 2011 BCS national title.
Former Auburn players Mike McNeil, who is going on trial next week on charges for armed robbery, and Mike Blanc told Roberts that money for players reached "several thousand dollars." The report also said that McNeil received $400 from former Auburn defensive coordinator and current Florida head coach Will Muschamp in 2007.
Players have since denied Roberts' report.
When
reached by AL.com
on Wednesday afternoon, Blanc denied any knowledge of cash payments to Auburn players:
"Yeah. Me, personally, I don't have any direct knowledge of it. You just hear stuff. I'm pretty sure other guys on the team that know more, like guys that were closer to Darvin [Adams] and these other players I know. Darvin probably would have told those guys. I know Mike and Darvin were really cool. Maybe Darvin could have shared some information with Mike. But, me, personally, I don't know nothing factual that any guys got any money."
Blanc later had this to say on Twitter:
"Man this article is outrageous and isn't true. The media will do anything for a juicy story smh #sad."
Former defensive end Antoine Carter, who was quoted in Roberts' report, tweeted this Wednesday:
"Please don't remix my words."

"I Believe in Auburn and Love It #WDE."
Former defensive back Neiko Thorpe also took to Twitter on Wednesday:
"While I spoke to Selena Roberts about Mike I have just read her article & not only am I misquoted but my words are very out of context."

"We didn't talk about NCAA violations or recruiting. I'm proud 2 have played at Auburn & the opportunities it gave me."
We'll have more on the SEC blog as things develop.
April, 3, 2013
4/03/13
11:06
PM ET
By
ESPN.com staff
| ESPN.com
According to a report by former New York Times and Sports Illustrated writer Selena Roberts, Auburn paid players to return for their senior seasons and changed grades to make players eligible for the BCS championship. For more on the story, click
here
.
June, 20, 2012
6/20/12
10:57
AM ET
A judge has sentenced former Auburn football player Antonio Goodwin to 15 years in prison for an armed home-invasion robbery that also resulted in charges against three teammates from the 2010 national championship team.
Lee County Circuit Court Judge Christopher Hughes imposed the sentence Tuesday while Goodwin, 21, stood silently with arms behind his back.
"I want to apologize for my action and my poor judgment," Goodwin said before the sentencing. "In the time I was at home, I had time to think about it and I've become a better person and a better decision-maker."
Goodwin was convicted in April of first-degree robbery in the March 2011 home invasion. The occupants of a mobile home told police they were robbed at gunpoint. No one was injured.
Goodwin's former teammates Mike McNeil, Dakota Moseley and Shaun Kitchens await trial. McNeil was the starting safety on Auburn's national championship squad.
For more on Goodwin's jail sentence,
click here
.
June, 9, 2011
6/09/11
9:36
AM ET
Coaches refer to it as attrition, while another name for it might be roster management.
Every team in the SEC has lost at least one player since the end of last season for a variety of reasons. Some have been kicked off the team for getting into trouble. Others were unhappy with playing time and opted to transfer elsewhere. Academics and injuries have also played a role.
Here's a team-by-team list of some of those players who've left prematurely since the end of last season or were injured and won't be on the field in 2011:
ALABAMA
RB Corey Grant
NG Kerry Murphy
CB B.J. Scott
LB Petey Smith
ARKANSAS
TE Ryan Calendar
PK Eddie Camara
OG Cam Feldt
LB Austin Moss
C Seth Oxner
WR Lance Ray
AUBURN
FLORIDA
RB Mike Blakely
WR Chris Dunkley
CB Janoris Jenkins
WR Javares McRoy
GEORGIA
LB Marcus Dowtin
RB Washaun Ealey
WR Logan Gray
DE Jeremy Longo
S Nick Williams
KENTUCKY
LSU
MISSISSIPPI STATE
LB Michael Hunt
S Dennis Thames
OLE MISS
WR Jesse Grandy
LB Clarence Jackson
DE Delvin Jones
SOUTH CAROLINA
TENNESSEE
CB Ted Meline
RB David Oku
C Cody Pope
OL Kevin Revis
VANDERBILT
March, 23, 2011
3/23/11
6:52
PM ET
Schedule:
The Tigers opened practice on Wednesday and will hold their A-Day spring game on April 16 at 2 p.m. ET.
What's new:
Mike Pelton will coach the defensive line after coaching the defensive ends at Vanderbilt last season. Pelton replaces Tracy Rocker, who left to take a job on the Tennessee Titans' staff.

On the mend:
Offensive tackle Shon Coleman, who signed as part of the 2010 class, is on the roster after battling leukemia last year. He isn't expected to go through spring practice.
On the move:
Senior Neiko Thorpe has moved from cornerback to safety. Defensive coordinator Ted Roof said Thorpe is better suited to play safety. Brandon Mosley will slide from right offensive tackle to left offensive tackle, while A.J. Greene will return to the lineup at right tackle after suffering a season-ending ankle/lower leg injury last season.
Ladarious Phillips
, weighing in the 295-pound range, is going to get a shot at H-back.
Key battle:
Prized true freshman Kiehl Frazier doesn't arrive until this summer, so the spotlight this spring will be on
Barrett Trotter
and
Clint Moseley
. They will split the No. 1 quarterback reps evenly. Nobody is expecting either one of them to be Cam Newton. But, then, Newton wasn't named the starter until after spring practice had concluded a year ago. Trotter, a junior, has the edge in experience, although Moseley feels like he's much more equipped mentally and emotionally to win the job than he ever was a year ago.
New faces:
The Tigers have three early enrollees from high school participating in spring practice -- center Reese Dismukes, offensive lineman Thomas O'Reilly and cornerback Jonathan Rose. Given the departures in the secondary, including the recently dismissed Mike McNeil, Rose may get a shot to play early.
Breaking out:
If he's healthy -- and
Trovon Reed
never really was last season -- he's one of those guys who can take short passes and turn them into touchdowns. He's also a strong candidate to be the Tigers' Wildcat quarterback. Before he was shelved for good last season, Reed's teammates saw enough of him on the practice field to know what he would mean to any offense. Offensive coordinator Gus Malzahn said he made a few plays that caused you to go, 'Wow!"
Don't forget about:
This will be a completely different team than the one that won the national championship last season. Not only are the two headliners gone -- Nick Fairley and Newton -- but a total of 35 players who were on the roster in January in Glendale, Ariz., are no longer on the team. It's imperative that new leaders emerge, and a large chunk of those leaders need to come from that highly rated 2010 signing class. Corey Lemonier, Jeffrey Whitaker, Ed Christian, Mike Dyer and Reed -- this is your time.
All eyes on:
The Tigers didn't post flashy numbers last season on defense, but they were outstanding when it counted and played their best football in the SEC championship and BCS National Championship games. Can they recapture that magic with so many new faces on defense? The only defensive starters returning are Nosa Eguae at end, Daren Bates at outside linebacker and T'Sharvan Bell at cornerback.
March, 11, 2011
3/11/11
7:14
PM ET
Auburn coach Gene Chizik didn't have any choice after getting the embarrassing news.
Four of his players, including returning senior safety Mike McNeil, were
arrested on robbery, burglary and theft charges
early Friday morning. According to police, they stole property from a residence not far from Auburn's campus, and one of the players displayed a handgun during the robbery.
By Friday afternoon, they were no longer a part of the Auburn program, as Chizik permanently dismissed all four players. In addition to McNeil, receiver
Antonio Goodwin
, receiver/H-back
Shaun Kitchens
and offensive lineman
Dakota Mosley
were booted. Goodwin and Kitchens played last season as true freshmen, primarily on special teams, while Mosley redshirted.
"While we realize the legal process will run its course and these young men have a right for their case to be heard, playing for Auburn University is an honor and a privilege. It is not a right," Chizik said in a statement.
In other words, when you have multiple felony charges hanging over your head, you've lost that right.
What's it do to the Auburn football team next season?
Well, McNeil was the returning veteran in a secondary that will now be without three of the players who started in the BCS National Championship Game. Expect to see a lot of new faces at safety next fall. Sophomore Demetruce McNeal is the favorite to replace Zac Etheridge at strong safety. After that, it's anybody's guess. Sophomore Ryan Smith, junior Ikeem Means and senior Drew Cole will all get looks, although they haven't played a whole lot to this point. The Tigers also signed a talented defensive back class in February that includes one of the top safety prospects in America -- Erique Florence.
The bottom line: The Tigers are going to need a bunch of those guys from their highly-touted 2010 signing class to step up next season. Of course, gone are three of members of that class -- Kitchens, Goodwin and Mosley.
More than ever, guys like Corey Lemonier, Jeffrey Whitaker,
Trovon Reed
and Ed Christian are going to have to take on leading roles. Smith is also a member of that 2010 class.
And the leaders on Auburn's team need to lay down the law that no more law-breaking is going to be tolerated.
Senior H-back
Eric Smith
was kicked off the team last month after being arrested on a third-degree domestic violence charge.
The Tigers don't need any more attrition, and they don't need any more embarrassing distractions.
It was going to be difficult enough as it was following in the footsteps of last season's national championship team when you consider how many key players from that team are gone.
The good thing for the Tigers is that they've recruited extremely well these past two classes, but nobody on the Plains can be happy about the tone that's being set heading into spring practice.
January, 14, 2011
1/14/11
11:52
AM ET
Having had a few days to digest the 2010 bowl season, here's a look at the All-SEC bowl team:
OFFENSE
QB Chris Relf, Mississippi State
One of the most improved players in the SEC, Relf was on top of his game in the Bulldogs' 52-14 rout of Michigan. He was 18-of-23 for 281 yards, three touchdowns and an interception, and he also rushed for a touchdown.
RB Mike Dyer, Auburn
He said before the game he had fresh legs, and the true freshman delivered for the Tigers in their 22-19 win over Oregon in the Tostitos BCS National Championship Game. Dyer rushed for 143 yards on 22 carries, including 57 of their 73 yards on their game-winning drive.
RB Spencer Ware, LSU
Where was this guy all season? The true freshman rushed for 102 yards on 10 carries in LSU's AT&T Cotton Bowl win over Texas A&M and served notice that he'll be somebody to reckon with in 2011.
[+] Enlarge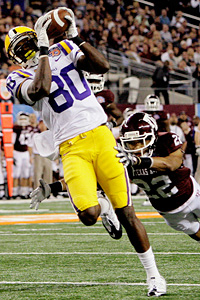 AP Photo/Tony GutierrezLSU's Terrence Tolliver had a career day, catching five passes for 112 yards and three scores.
WR Terrence Toliver, LSU
Toliver saved his best game of the season for the last game. He had five catches for 112 yards and three touchdowns, including a 42-yarder and 41-yarder. The three touchdown catches tied a Cotton Bowl record.
WR Alshon Jeffery, South Carolina
It was another disappointing bowl trip for the Gamecocks, but Jeffery capped a brilliant season with nine catches for 130 yards.
TE D.J. Williams, Arkansas
He finished with five catches for 38 yards in the Hogs' Allstate Sugar Bowl loss to Ohio State and also caught a two-point conversion pass on what was a terrific effort play, where he extended the ball over the goal line with his right hand after appearing to be stopped on the play.
OL Derek Sherrod, Mississippi State
One of those guys who won't be easily replaced, Sherrod ended his Mississippi State career with another dominant performance up front from his left tackle spot in the Bulldogs' 52-14 walloping of Michigan.
OL Lee Ziemba, Auburn
His 52
nd
consecutive start at Auburn will be his most memorable. The Tigers, rolling up 519 yards of total offense, defeated Oregon 22-19 for the national championship.
OL Barrett Jones, Alabama
The Crimson Tide really missed Jones in their loss to Auburn to end the regular season. But he was back at his right guard spot in the bowl game, and Alabama rolled up 546 yards of total offense.
OL Will Blackwell, LSU
He made his first start at right guard since his injury in the season opener, and LSU had a field day running to the right side against Texas A&M in piling up 288 yards rushing.
C Ryan Pugh, Auburn
One of the rocks of Auburn's veteran offensive line all season long, Pugh saved one of his best games for the Tigers' most important game.
DEFENSE
DL Marcell Dareus, Alabama
Alabama's defensive front-seven was too much for Michigan State, and Dareus was a big reason why. He had two tackles for loss, including a sack, and also led the Crimson Tide with three quarterback hurries.
DL Antoine Carter, Auburn
Another key cog in Auburn's defensive masterpiece against Oregon, Carter had a tackle for loss and also broke up a pass in his final game in an Auburn uniform.
DL Nick Fairley, Auburn
Oregon coach Chip Kelly said after the game the Ducks simply couldn't block Fairley. Then again, nobody else did this season, either. He finished with three tackles for loss, including a sack, and also forced a fumble in spearheading Auburn's most impressive defensive performance of the season.
DE/OLB Justin Houston, Georgia
Georgia's defense wasn't the culprit in the 10-6 loss to UCF in the AutoZone Liberty Bowl, and Houston led the Bulldogs with 10 tackles and two quarterback hurries.
LB Courtney Upshaw, Alabama
One of the mainstays in holding Michigan State to minus-48 yards rushing, Upshaw was dominant in the Crimson Tide's 49-7 romp in the Capital One Bowl. He finished with three tackles for loss, including two sacks and forced a fumble.
LB Anthony Leon, Arkansas
The former safety was all over the field for the Hogs in the Sugar Bowl. He finished with two tackles for loss and also broke up a pass. One of his biggest plays was the initial hit in the end zone that led to a safety.
LB Nick Reveiz, Tennessee
An inspiration to his teammates with the way he fought back from a serious knee injury the year before, Reveiz led the Vols with 14 tackles in their Music City Bowl loss. He also had two pass breakups and a quarterback hurry.
DB Tyrann Mathieu, LSU
One of the most promising freshman defensive backs in the league, Mathieu had seven tackles, including a sack, two forced fumbles, one fumble recovery, one interception and one pass breakup in the Tigers' Cotton Bowl win.
DB Ahmad Black, Florida
His 80-yard interception return for a touchdown sealed Florida's 37-24 victory over Penn State in the Outback Bowl, sending Urban Meyer out a winner. Black, a senior safety, also went out in style with two interceptions, while tying for the team lead in tackles.
DB Tramain Thomas, Arkansas
Thomas led the Hogs with 12 total tackles. He also forced two fumbles and broke up a pass. One of his forced fumbles came on fourth-and-1 from Ohio State's own 38 when he knocked the ball loose on what would have been a first down.
DB Mike McNeil, Auburn
The Tigers' senior safety, who came back this season from a broken leg, led all players in the Tostitos BCS National Championship Game with 14 total tackles, including a couple of key stops in the open field.
SPECIAL TEAMS
K Wes Byrum, Auburn
With the pressure on, Byrum's 19-yard field goal as time expired lifted Auburn to its first national championship since 1957. It was his third game-winning field goal of the season.
P Dylan Breeding, Arkansas
He dropped four punts inside the 20-yard line, including three inside the 10 -- and two of those came in the fourth quarter. He averaged 43.7 yards a kick for the Hogs.
KR Randall Cobb, Kentucky
In what was his final game in a Kentucky uniform, Cobb had a combined 119 yards on kickoff/punt returns in the Wildcats' 27-10 BBVA Compass Bowl loss to Pittsburgh. His long was a 40-yard kickoff return.