January, 7, 2014
Jan 7
3:00
PM ET
STATE COLLEGE, Pa. -- Penn State's coaching search news is starting to
heat up around Vanderbilt coach James Franklin
, but nothing definitive has surfaced.
Al Golden appeared to be a favorite over the weekend -- several outlets
reported he had taken the job
-- before that news turned out to be false. Some still haven't counted him out of the race.
So, all that being said, it's not 100 percent clear what Penn State's next move might be. But ESPN.com confirmed it's looking at at least four candidates, so here's a closer look at each:
James Franklin, Vanderbilt head coach
[+] Enlarge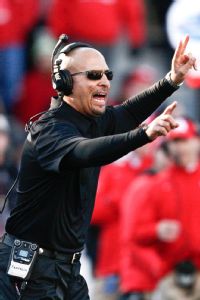 Marvin Gentry/USA TODAY SportsJames Franklin has guided Vanderbilt to consecutive nine-win seasons.
Pros:
In a lot of ways, he seems like the most qualified coach here. He guided Vanderbilt to back-to-back nine-win seasons, all the while building up a strong reputation for recruiting and doing so with strong academic standards. The last time the Commodores had a nine-win season? Try 1915. He's an offensive-minded coach from Pennsylvania, and he was a quarterback himself at East Stroudsburg.
Cons:
Franklin is a hot commodity this offseason, as he already interviewed for the Houston Texans' head coaching job and has fielded requests to speak with both Cleveland and Washington. That might not sound like a con, but the Nittany Lions are in need of stability now -- and it'll be hard to get that from a coach who'll have the option to the jump to the NFL. Also, some accusations still hang over Franklin's head involving the Vanderbilt rape case. PSU might not be able to risk another hit to its image.
Mike Munchak, former Tennessee Titans head coach
Pros:
He has NFL head coaching experience, and his loyalty has been well-documented. Since 1982, he has only ever played/coached for one franchise (Houston Oilers/Tennessee Titans) and was fired when he refused to fire his assistants -- even with a raise on the table. He brings stability, and Penn State's offensive line would almost certainly grow leaps and bounds if he were the head coach. If he brings a member or two of his NFL staff, that would be even better.
Cons:
He has no previous college coaching experience. The game is obviously different from the NFL, and it could take some time for him to adjust. Recruiting could be a gamble in his hands. His businesslike approach --
no hats in the building, no headphones while working out, etc.
-- might not be a big hit with players either.
Al Golden, Miami (Fla.) head coach
Pros:
He has Penn State ties, and he definitely has shown he can guide a team through hard times. He took an awful Temple team and made it respectable. With the specter of sanctions hanging over the Hurricanes' heads, he also made sure they never suffered a losing season. He's a strong recruiter, someone whom fans see as made in the mold of Joe Paterno, and Penn State is widely believed to be his dream job. It'd be difficult to see him leave his alma mater.
Cons:
He has been knocked for his inability to win against elite competition. Golden has never finished a season with a winning record against teams above .500. In this past year, in which Miami finished 9-4, his team was 3-4 against teams with winning records. And it was winless against teams that finished with more than seven victories. His defensive coordinator, Mark D'Onofrio, has long been seen as a liability -- and PSU fans could be in for John Butler: Part Deux if Golden hops on board.
Larry Johnson, Penn State interim head coach/DL coach
Pros:
He's the player favorite, and many current and former players have
tweeted their support for him
. He has been on the staff since 1996 and is the only remaining coach from the Joe Paterno tenure. As a result, he's already familiar with commits and future recruits, and he's also known as a hard-nosed recruiter. He brings the most stability out of any of the candidates, and he'd likely coach at Penn State for as long as the school would have him.
Cons:
Despite his popularity, he never has held a permanent title above position coach. He has no head coaching experience outside of high school. He's not as big of a name as the others on this list and, with his lack of experience, he's a bit of a wild card. Like with Munchak, there'd likely be a transition period needed to learn the nuances of being a college football head coach.
January, 6, 2012
1/06/12
4:01
PM ET
Penn State fans should give Bill O'Brien a chance.
Remember that he left a pretty good job, working with one of the most successful franchises in sports, to step into a potentially no-win situation in State College. He wanted you, even if you don't think you want him. While
we'll learn much more about O'Brien in the coming days and weeks
, it's clear the guy doesn't shy away from a challenge.
He deserves the benefit of the doubt, and I think a portion of Nittany Nation, especially those not blindly loyal to Joe Paterno, will give it to him. The more Penn Staters who
take the approach of former Lions star linebacker
Paul Posluszny, the better.
Much of the ire Thursday night and Friday has been directed at the school's administration, and for good reason. After a search that lasted nearly two months and inspired more confusion than confidence, the Penn State brass has a much steeper climb to win back the trust of alumni, former players and fans.
[+] Enlarge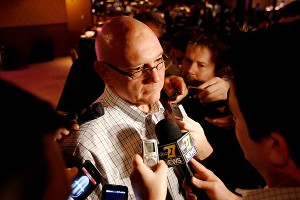 AP Photo/Brandon WadeActing Penn State Athletic Director Dave Joyner is facing questions about the length of his coaching search to replace Joe Paterno.
Penn State looked very much like a school that hadn't replaced a football coach since 1966 and had never conducted a football coaching search in the modern era. Most coaching searches take 10-14 days. They're structured and swift. The athletic director leads the way, and a search firm often is involved. Sometimes, information is actually confirmed. Imagine that.
Penn State, meanwhile, used an acting AD (Dave Joyner) and formed a search committee nearly three weeks after the school's trustees fired Paterno on Nov. 9. Ultimately, Joyner and his former Penn State wrestling teammate, Ira Lubert, a search committee member and a respected businessman, drove the search essentially by themselves. Joyner was tight-lipped during the protracted process.
"This is the first coach search, in football, that maybe we've ever done," Joyner told reporters last week in Dallas. "I'm not sure how things worked in 1950 and maybe 1966 but I imagine it was a lot different than what we're doing."
He's right. It might have been faster and more organized.
Yes, the circumstances were unique and incredibly difficult. Yes, former athletic director Tim Curley and former president Graham Spanier deserve blame for putting the school in a bind. Yes, the Penn State job isn't nearly as appealing as it was before the sex-abuse scandal broke and the school fired Paterno.
But Penn State still looked unprepared to replace its 85-year-old coach.
Joyner set deadlines that came and went. According to USA Today, Joyner had
little interest in getting input from former Penn State players
who wanted to be involved. The committee talked with internal candidates like interim coach Tom Bradley, Larry Johnson and Ron Vanderlinden, but these were courtesy interviews more than anything.
And that's OK. Penn State would have been skewered for promoting from within. But it could have gotten away with hiring a candidate who had some ties to the school.
Speaking of candidates, we heard plenty of names during the past six weeks. Some were legitimate, like Tennessee Titans coach Mike Munchak, and some were not, like Rutgers coach Greg Schiano. The school reportedly made several runs at Boise State's Chris Petersen, who seemed more likely to become the next BCS executive director than the next Penn State coach.
Remember when Mississippi State's Dan Mullen was the flavor of the day for Penn State?
All along, Penn State fans hoped that Joyner and Lubert had an ace in the hole, a name no one was talking about who would make anxiety about the interminable wait and the compromised recruiting class go away. Munchak might have been that guy, but it didn't happen.
Even the post-hiring process has been curious. It's not unusual for players and even assistant coaches to learn of hirings through the media. But more than 17 hours have passed since ESPN reported O'Brien's hiring, and the school hasn't said anything. Bradley hadn't been told as of late Friday morning. Keep in mind this is a guy who has devoted his career to Penn State and began recruiting for the team this week after returning from the TicketCity Bowl debacle.
O'Brien deserves a fair chance, and he might just be the right guy to lead Penn State football through its most difficult period.
Maybe the best thing he can do is make everyone forget how Penn State hired him.
December, 31, 2011
12/31/11
6:45
PM ET
The
Mike Munchak
-Penn State buzz isn't dying down.
Colleague Joe Schad reports Saturday that Munchak, the
Tennessee Titans
coach, is
torn about whether to return to Penn State
and help his alma mater through the toughest period in program history. Munchak on Wednesday
denied he's a candidate at Penn State
, which reportedly had targeted him for its vacancy.
Munchak's denial was about as definitive as denials get, but privately he's wrestling with the decision.
Munchak has repeatedly stated he would remain at Tennessee, but a source close to him said Munchak is struggling with the concept that he can "fix and make right" his alma mater. "He loves his school and his heart is torn," the source said Saturday. "He really fits what they want and need to a tee."
Schad also reports that
New England Patriots
offensive coordinator Bill O'Brien could be in the mix at Penn State. Another NFL assistant,
Green Bay Packers
quarterback coach Tom Clements, reportedly has had discussions with the school.
It seems pretty clear there was, or still is, interest between Munchak and Penn State. Of all the NFL candidates being mentioned, he makes by far the most sense.
December, 28, 2011
12/28/11
11:35
AM ET
Reported to be
Penn State's top target for its head-coaching vacancy
, Tennessee Titans coach Mike Munchak on Wednesday quashed the rumors that he's headed back to his alma mater.
"I have a great deal of respect for Penn St and I hope they find a great coach there," Munchak told The Tennessean's Jim Wyatt. "But I am happy where I'm at. I love my alma mater, but I have no interest in being the head coach at Penn State. I never want to leave Tennessee."
As far as definitive denials go, Munchak's is a strong one. He told Wyatt that he has had no contact with representatives from Penn State about the job.
While things could change after weekend, Munchak doesn't seem like the type to reverse course after issuing such a strong denial.
Where does Penn State go from here? Maybe Green Bay Packers assistant Tom Clements, who clearly wants the job. Maybe an in-house candidate, although it seems highly unlikely.
The clock is ticking.
December, 28, 2011
12/28/11
9:30
AM ET
Penn State's unique and drawn-out coaching search is the type that makes you hesitant to believe a hire has been made until he's being introduced at the podium in State College.
But after an unsuccessful push to woo Boise State's Chris Petersen, Penn State has shifted its focus and finally could be closing in on its man.
The
Pittsburgh Post-Gazette
reports that Penn State's search committee has
targeted Tennessee Titans coach Mike Munchak
for the school's vacancy. Munchak played offensive line for the Nittany Lions from 1978-81 before embarking on a Hall of Fame career in the NFL. The 51-year-old is in his first season as Titans coach after 14 years as the team's offensive line coach.
Another NFL coach, Green Bay Packers assistant Tom Clements, also is near the top of Penn State's list, according to multiple reports.
Munchak told reporters Monday that "nothing is going on" with Penn State, but a lot of coaches make similar statements while their teams are still playing. The Titans on Sunday face Houston needing a win and some help to secure a wild-card spot in the AFC playoffs.
Several of
Munchak's former Penn State teammates spoke to statecollege.com
and indicated Munchak is on the verge of taking the Lions job. One ex-teammate told the website, "I root for Tennessee to win every week. Not this week."
If the Titans lose Sunday or fail to make the playoffs, the Munchak-Penn State talks could heat up in a hurry. Penn State interim head coach Tom Bradley told reporters Tuesday that a permanent head coach
won't be named until after the team's appearance
Monday in the TicketCity Bowl against Houston. Bradley is one of several current assistants, including defensive line coach Larry Johnson and linebackers coach Ron Vanderlinden, who have interviewed for the job.
Naming a coach might simply be a matter of timing, as
The (Harrisburg) Patriot-News' David Jones reports
.
Whatever decision is made, it appears the 6-person committee's work is finished. Committee member Russ Rose, the PSU women's volleyball coach, left Monday with his wife on a 2-week vacation throughout Italy. You would think that wouldn't be happening if any hay remained outside the barn.
Munchak is an intriguing candidate, to say the least. Many wonder question why he would consider making a move from the Titans, his employer for the past 29 years, especially after becoming the team's head coach and having a decent first season. He has no experience coaching at the college level and has been an NFL guy through and through.
Still, Penn State fans should be excited if the school lands the former Nittany Lions star. Luring an NFL head coach under tough circumstances would be a coup of sorts for Penn State. And while Munchak has Penn State roots and played for former coach Joe Paterno and former assistant Jerry Sandusky, he's removed enough from the key figures in the sex-abuse scandal. He's close but not too close, which could be the perfect result for Penn State. His NFL background also would appeal to recruits trying to reach the next level.
The search for Paterno's successor appears to be hitting the home stretch.
Stay tuned to the blog for the latest developments.
December, 6, 2011
12/06/11
10:05
AM ET
Penn State's coaching search has been fairly quiet to this point, but names of potential candidates are beginning to surface in published reports.
Green Bay Packers quarterbacks coach
Tom Clements is the latest to express interest
, according to the Pittsburgh Tribune-Review. Those who follow NFL coach searches probably know Clements' name, as he has been in the mix for several head-coaching positions. He also was mentioned as a candidate at Notre Dame, where he played quarterback.

Clements hails from McKees Rocks, Pa. He has tutored Packers star quarterback Aaron Rodgers and certainly would bring credibility to a Penn State program that has struggled to develop NFL signal callers in recent years.
The Tribune-Review also reports that current Nittany Lions quarterbacks coach Jay Paterno interviewed for the head-coaching job last week, and that acting head coach Tom Bradley, the team's defensive coordinator since 2000, will interview with the search committee this week. No surprises there. While Penn State will be pressured to hire a candidate from the outside, the committee has said it won't exclude current assistants from the process.
Clements is the second Packers assistant coach to reportedly express interest in the Penn State job. The agent for Packers safeties coach Darren Perry, a former All-American at Penn State, told the
Pittsburgh Post-Gazette
that Perry would "take a hard look" at returning to his alma mater if approached.
The two names mentioned most throughout the process have been Mississippi State coach Dan Mullen and Harvard coach Tim Murphy. ESPN reported last week that Mullen is one of Penn State's top targets, while there is mutual interest between Penn State and Murphy.
Former Indianapolis Colts coach
Tony Dungy denied having interest in the Penn State job
(no surprise), and Tennessee Titans coach Mike Munchak, a Penn State product, also isn't likely to leave his post.
The (Allentown) Morning Call is reporting that
Boise State's Chris Petersen and Murphy are on Penn State's radar
. Petersen's name is mentioned for almost every major-conference opening, and while Penn State offers him some advantages Boise State doesn't, it would be a surprise to see him make the move. Other than a one-year stint as Pitt's quarterbacks coach in 1992, he has spent his entire career on the West Coast and hails from Yuba City, Calif.
May, 14, 2009
5/14/09
5:00
PM ET
Posted by ESPN.com's Adam Rittenberg
When most players make a position change, they usually consult a coach for guidance or a teammate who has gone through a similar transition.
Stefen Wisniewski simply called his uncle.
Steve Wisniewski twice earned first-team All-America honors as a guard at Penn State. He went on to become an eight-time Pro Bowler in the NFL, primarily playing guard but also serving as a backup center for the Oakland Raiders.
| | |
| --- | --- |
| | |
| | Paul Spinelli/Getty Images |
| | Penn State guard/center Stefen Wisniewski has plenty of family advice to draw on to aid his position transition. |
Not a bad resource for Stefen, who this spring made the shift from right guard to center at Penn State.
"It's one thing to have some family with some football experience," Stefen Wisniewski said, "but to have guys that played your same position, it's unbelievable because they know exactly what you're going through and they can give you tips based on what they did."
It's one of the perks of being a Wisniewski, especially at Penn State. Though the Paternos will always be the royal family in Happy Valley, the Wisniewskis are certainly part of the nobility.
In addition to Steve, who played on Penn State's last national championship team in 1986, Stefen's dad Leo was a standout defensive tackle for the Nittany Lions from 1979-81. Stefen is next in line, and he moves into a greater leadership role along a new-look offensive line as he replaces Rimington Trophy winner A.Q. Shipley at center.
Having such a storied lineage at one program can heighten pressure on a player, but Wisniewski, a 6-3, 302-pound junior, doesn't see it that way.
"It definitely motivates me to want to keep the name up and even try to one-up those guys," he said. "It's not real easy. They were both top-30 draft picks. My uncle was a two-time All-American, so it's going to take a lot, but I'm certainly going to try to and if not, at least keep the respect that the Wisniewski name has up here."