October, 13, 2012
10/13/12
9:32
PM ET
Yes, Stanford scored a touchdown and should have been a PAT away from tying Notre Dame and forcing a second overtime, according to Mike Pereira, former NFL vice president of officiating and current rules analyst at Fox Sports.
It doesn't matter, of course. The
20-13
final score will remain in the favor of Notre Dame. And there were plenty of ways Stanford could have left no doubt.
But if it feels good -- or good in a bad way -- to hear this then hear this: Stanford, you did get screwed.
At least, that's Pereira's take.
Pereira told the Fox studio and then later explained with his
Tweets afterwards
that the Pac-12 officiating crew blew the call.
Tweet one: "We have looked at ND/STA last play from every angle & feel that it is a TD. Progress was not ruled & runner was not down. Ball broke plain [sic]."

Tweet two: "Back to ND/STA. Piece all the shots together. Field level shot from inside near the goal post shows the left elbow is not down before TD."
Said Stanford coach David Shaw after the game: "Well, I didn't get to view the last play.
Stepfan [Taylor
] swore to me that he got in and that he put the ball over the goal line on the second effort. Officials looked at it and they said he didn't get in, so we didn't get in."
When asked to comment on the officials, Shaw said: "I'm not going to comment on the officials."
Officials blow calls all the time. Don't forget this was a Pac-12 crew. And it was a close call.
But the sting of a tough loss probably will sting a little bit more on the Farm based on how it ended.
May, 26, 2011
5/26/11
3:00
PM ET
Listening to coaches complain about officials sounds a lot like men grousing about their marriages. Take the Pac-12 coaches. Steve Sarkisian of Washington told me last month the league has been "badly officiated." Chip Kelly of Oregon said the crews in the league have not been consistent, that they resemble baseball umpires with varying strike zones.
"There is definitely a difference when we play out-of-league games compared to when we play in the league," Kelly said. "At Tennessee [last season], we used SEC guys. They were great."
Then there's this assessment: "Lackadaisical is maybe the wrong word. Nonchalant? I don't know what word I'm looking for. They just didn't hustle. They just weren't working. They were complacent. Maybe that's even a better word."
That last coach coaches the officials themselves. He is the league's interim coordinator, Mike Pereira. He will give back the job next week when the Pac-12 announces its full-time replacement for Dave Cutaia, who resigned last February.
[+] Enlarge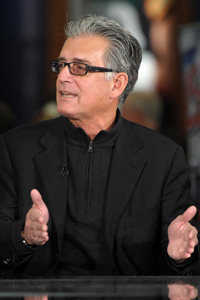 Kirby Lee/Image of Sport-US PresswireMike Pereira, the conference's interim coordinator of officials, described the work of Pac-10 officials last season as "complacent."
Pereira retired as the NFL vice-president of officiating in 2009 and moved from New York to Sacramento, within driving distance of the Pac-12 office in Walnut Creek, Calif. He has treated the league's officiating setup as if he were Ty Pennington on "Extreme Makeover: Home Edition." Basically, he changed everything but the officials' black and white stripes.
Pereira fired 12 of the league's 44 officials -- an attrition rate of 27 percent -- while hiring 18 new ones (the extra officials account for the league's expansion). Here's another way he knew that the league's officiating had been -- get ready for another adjective -- "stagnant." According to Pereira, the NFL hasn't hired a Pac-12 official in seven years.
"I'm not saying it was horrible," Pereira said. "It was not what the conference deserved and to me it hasn't been what the conference desired."
Pereira revamped the way the officials are evaluated. The Pac-12 is the first football league at the collegiate or professional level that has hired a supervisor for each of the seven positions. Field judges will be graded by a former field judge, umpires by a former umpire, and so on. Six of the supervisors are current NFL officials. Each position group will work together during the week rather than compete against one another for that all-important postseason assignment.
"I really think we, in all of college football and the NFL, have become focused too much on what our grades are," Pereira said. "… Just because an official calls a foul for holding doesn't mean he's a great official. How he does it, how he communicates with the players, how he communicates with the coaches, how he communicates with the supervisor, how he keeps himself in shape, how he scores on rules tests -- all of those things, to me, got lost somewhere. We all ended up focusing on grades. If you're officiating and competing just to get the Cotton Bowl, then that's not the right thing. That's not the right competition. We should be competing to be as consistent as we can possibly be as a group."
Pereira said the idea to break down the evaluations by position came to him in his sleep. He went to the NFL meeting in New Orleans in March and explained the concept to commissioner Roger Goodell.
"He grabbed me by the collar and said, 'Why in the hell didn't you do that when you were in the NFL?'" Pereira said with a chuckle.
Pereira also brought the league's ability to record and edit video into the modern day. He was almost nonplussed to find that the league office recorded games on DVRs rather than a computer-based editing system such as those used by coaching staffs across the country.
The results won't begin to arrive until the season. But no one will accuse Pac-12 officiating of being stagnant any longer. For what's it worth, Pereira believes it will take two seasons to fully revamp the staff. That means more firing and hiring after the 2011 season.
March, 3, 2011
3/03/11
2:18
PM ET
One thing we're learning about Pac-12 commissioner Larry Scott: When he says he's going to do something, he does.
Scott talked about expansion and he did it. And he talked about
improving football officiating
, and it appears he's well on his way to doing that.
Mike Pereira, the Pac-12's interim coordinator of football officiating, has dismissed 11 officials who worked games last year and will hire 16 new officials heading into the 2011 season, according to the
Seattle Times
. Those new officials will be lured away from the Big 12, Mountain West and WAC, per the report.
Pereira doesn't mince words with his evaluation of the conference's officiating.
"I certainly did not think that for a geographic area like the West Coast that can draw from a lot of officials, I certainly didn't think it was at the level that it could be," he told the Times. "I'm not saying it was horrible, but it was not at the level that it deserved to be and that this conference deserves to have."
My guess is some of you might agree.
Couple of other notes of interest from the Times story by Bob Condotta.
Pereira said the conference's entire officiating program is being reorganized, starting with the hiring of seven supervisors to oversee each of the seven officiating positions (referee, umpire, linesman, line judge, back judge, field judge, side judge), as well as one for the replay booth.
There will be a new "officiating command center" at the conference office in Walnut Creek, Calif., which matches other BCS conferences.
Sixteen new officials will give the conference seven seven-man crews, a personnel increase due to the addition of two new teams to the conference.