May, 28, 2013
5/28/13
10:00
AM ET
The Big Ten's addition of Rutgers in November generated little enthusiasm outside the Garden State.
But most critiques, eye-rolls or shoulder shrugs about the Scarlet Knights stemmed from the fact their football program didn't move the needle much regionally or nationally. Rutgers' profile as a university -- major research institution, AAU member, located in a state contiguous to the Big Ten footprint -- fit seamlessly with the Big Ten and was an easy sell to the league's presidents and chancellors.
There wasn't a question of institutional competency in November. There is now.
Still reeling from the
Mike Rice scandal
, the
ouster of popular athletic director Tim Pernetti
and the
Eddie Jordan degree debacle
, Rutgers once again finds itself in the news for the wrong reasons. New AD Julie Hermann is in the crosshairs after a report from The (Newark) Star-Ledger in which Hermann's
former volleyball players at the University of Tennessee accused her of verbal abuse
. The newspaper reports that Hermann quit her post at Tennessee after all 15 players on the 1996 team had submitted a letter accusing Hermann of "mental cruelty" and alleging that she called players "whores, alcoholics and learning disabled."
Hermann told The Star-Ledger that she didn't recall the letter and
told ESPN that she never used those terms with the players
. Hermann also told ESPN that Rutgers president Robert Barchi assured her that she won't lose her job, a claim backed up by a
statement Rutgers issued Monday
. Hermann also
released a statement
calling the allegations "heartbreaking."
"This was not an abusive environment," Hermann told ESPN. "Was it challenging? Yes. It was incredibly challenging. Was I aware players were unhappy? I was unaware by the end of the season. We had so many challenges with this group of women."
[+] Enlarge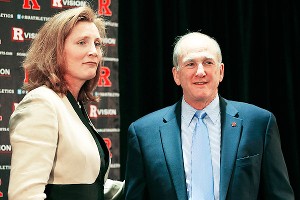 Rich Schultz/Getty ImagesRutgers president Robert Barchi is standing by his new AD, Julie Hermann, despite the recent scandal.
Hermann's
former colleagues have come to her defense
, but her former Tennessee players aren't backing down from their allegations, despite all the time that has passed.
Kelly Hanlon Dow, a sophomore on the 1996 team, told The Star-Ledger, "How ironic that Rutgers had an abusive coach [Rice] and they're bringing in someone who was an abusive coach."
Hermann also told The Star-Ledger that she didn't recall attending the wedding of her former Tennessee assistant Ginger Hineline, who later sued the school alleging that Hermann had discouraged her from getting pregnant. The Star-Ledger acquired a video from Hineline's wedding in which Hermann, who was a bridesmaid, joked about the difficulty of Hineline bringing a baby into the volleyball office.
New Jersey Gov.
Chris Christie wants answers
, and
other state leaders expressed their disappointment in the school
, which said it considered 63 candidates for the athletic director spot and that Hermann quickly emerged as a top contender.
Hermann said neither Rutgers' search committee nor the outside firm the school hired to assist in the search asked about the allegations from the Tennessee players.
Sure, the allegations against Hermann took place a long time ago, and it's a she said/she said situation. Hermann had no known issues in an exemplary career as an administrator at Louisville. But the timing and the nature of the allegations create a real mess.
Rutgers is getting ripped
by the New Jersey and New York media, bringing more negative attention to a school and to an athletic program that can't seem to get anything right. Steve Politi, a columnist for The Star-Ledger,
writes
:
How did Rutgers let this happen? Who, exactly, does the vetting for this university? This was not some monthlong investigation that found these players. They were contacted during the basic reporting that goes into any profile of a public figure in an important job.
Where does the Big Ten fit into all of this? Technically, Rutgers isn't the Big Ten's problem until it joins the league on July 1, 2014. Still, so much bad press for a future member that received so little good press at the time it joined the Big Ten looks, well, bad for the conference.
Big Ten commissioner
Jim Delany stood by Rutgers after the Rice scandal
, and there's no indication that Rutgers' status as a future league member is impacted at all by the Hermann situation. But there has to be some level of concern about the institution and how it handles personnel matters. These last two months have been a disaster.
Are demographics really worth all of this? The answer is yes.
Although the recent scandals have rocked Rutgers, the campus itself hasn't moved. And that's all that matters to the Big Ten -- having a new member located close to major markets. The Big Ten didn't add Rutgers because of its on-field performance or its (in)ability to hire and fire coaches and administrators. The addition of Rutgers always was about
the Big Ten finding a way to showcase its existing product in newer, bigger areas
. Rutgers still provides an in to the New York market.
It will be interesting how the situation evolves in Piscataway and whether Hermann and Barchi keep their jobs. The Big Ten would love to have the whole thing go away as soon as possible.
May, 15, 2013
5/15/13
10:30
AM ET
Score one more victory for Louisville in its banner year of athletics.
The Cardinals' senior associate athletic director, Julie Hermann, has been hired by Rutgers as its new athletic director, sources told our Brett McMurphy.
Hermann replaces former AD Tim Pernetti, who resigned after men's hoops coach Mike Rice was fired.
To read more, click
here
.
April, 17, 2013
4/17/13
9:00
AM ET
The ouster of Tim Pernetti has cost the former Rutgers athletic director a shot at some hardware this year.

Pernetti is no longer a candidate for the AD year of the year award, presented by Street & Smith's SportsBusiness Journal and SportsBusiness Daily.
In announcing the removal of Pernetti from the nominees, the editorial committee said that it did not have all of the facts about the decisions of the Scarlet Knights athletic department in regards to the situation with the since-fired men's basketball coach Mike Rice, and the scandal and the fallout since has caused them to reconsider.
From the
release
:
We understand that this sets a precedent, but we don't feel that recognizing him would be true to the spirit of the awards, fair to readers or, especially, the other nominees.

This wasn't an easy decision. There are many sides to this story, and Pernetti's full role isn't clear, nor is he the only person at fault. But as a nominee for this honor, he represented not only himself and his actions, but the actions and reputation of his university, all of which have become tainted by this episode. Regardless of the advice from counsel or others about legal liability, there's no denying that Pernetti and his superiors made the decision to retain a coach they knew was abusing players, verbally and physically.

Tim Pernetti will be heard from again in sports business. He is simply too talented not to be. But he won't be recognized in the category of Athletic Director of the Year, and, as we move forward, we will highlight only the remaining four nominees in the category: Mike Holder of Oklahoma State, Tom Jurich of Louisville, the late Mal Moore of Alabama and Jim Phillips of Northwestern.
The award will be presented May 22 at the 2013 SBJ/SBD Sports Business awards, at the New York Marriott Marquis in Times Square. The committee had announced Pernetti and the other nominees on March 18, citing Pernetti's work in getting Rutgers into the Big Ten.
April, 5, 2013
4/05/13
10:35
AM ET
Tim Pernetti has been let go as Rutgers' athletic director,
a source told ESPN's Brett McMurphy on Friday morning
.
The move comes two days after men's basketball coach Mike Rice was fired in wake of an
"Outside The Lines" report that showed video of Rice
shoving and throwing basketballs at his players and using homophobic slurs.
Pernetti came under intense scrutiny for failing to fire Rice when made aware of the coach's behavior last year, with the AD suspending Rice for three games and fining him $50,000.
Make no mistake about it, the loss of Pernetti comes at a bad time for an athletic department that will usher in a new era in the Big Ten starting in the 2014-15 season. Pernetti was instrumental in the move and lauded by many when it was announced this past November. He was even named one of five finalists for athletic director of the year, which is to be presented by Street & Smith's SportsBusiness Journal and SportsBusiness Daily on May 22.
Pernetti was the vice president of CBS College Sports before returning to his alma mater in 2009. He had played tight end for the Scarlet Knights from 1989-93.