NCF Nation:

Mike Singletary
January, 7, 2011
1/07/11
5:51
PM ET
Jim Harbaugh led Stanford to its best season in the modern era. Now he's off to a new challenge.
Harbaugh has agreed to a five-year, $25 million contract to become the
San Francisco 49ers
' head coach,
according to reports
.
It appears Stanford fought to retain Harbaugh. According to ESPN NFL analyst Chris Mortensen, Harbaugh met with top Stanford officials Thursday, and the school increased its contract offer from December.
The late gambit wasn't enough. He will replace fired coach Mike Singletary.
[+] Enlarge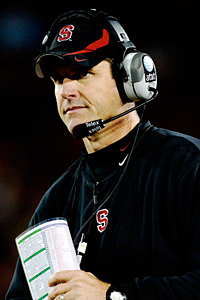 Jason O. Watson/US PRESSWIREJim Harbaugh was 29-21 in four seasons at Stanford, including a 12-1 record this past season.
But who will replace Harbaugh? The initial reaction from many Stanford fans: Nobody. Harbaugh was special. His shoes are just too big.
When Bob Bowlsby hired Harbaugh after the Cardinal went 1-11 in 2006, most folks went "What?" Oh, people knew who Harbaugh was -- a longtime NFL quarterback -- and it was interesting to learn how successful he was at San Diego, but few thought much of the choice. And when Harbaugh barked, "I vow I will attack this endeavor with enthusiasm unknown to mankind," he sort of seemed, well, slightly manic.
And Stanford is not a manic sort of place.
Harbaugh was
manic
. And he also turned out to be a hell of a coach and a hell of a motivator. Sure, he struck gold when he signed quarterback
Andrew Luck
, but Harbaugh deserves all the credit for hiring an outstanding staff, recruiting well and rebuilding a program into a surprising national power.
His first season, his outmanned Cardinal beat No. 2 USC 24-23, despite being a 41-point underdog. That -- the 4-8 finish wasn't particularly inspiring-- was only a first hint of what was to come.
He went 5-7 his second year, 8-5 his third and 12-1 this season. Along the way, he sold his players on a blue collar work ethic, announced, "We bow to no program at Stanford," and made good on that by running up the score on USC in 2009 and taunting Trojans coach Pete "What's your deal?" Carroll afterwards.
What's Harbaugh's deal? It doesn't feel hyperbolic to say his marriage with Stanford -- albeit brief -- was lightning in a bottle. Coaching magic.
It's also understandable why he left. His stock will never be higher. Harbaugh is as competitive a guy as you'll ever meet. He wants to test himself all the time and on the highest level. If you coach football, that's the NFL.
And know what? If he washes out -- if the 49ers locker room knows only enthusiasm known to jaded rich guys -- then no matter. Harbaugh's track record in college is so good he'd again be a hot coaching prospect should he want to return in the future.
As for Stanford going forward, there is one hire that would immediately quash the despondency among fans who just days ago were flying high: Boise State's Chris Petersen. There are more than a few folks who believe this is the sort of job that could lure Petersen away from the Broncos. And the cerebral Petersen would be a good fit.
The top internal candidate would be offensive coordinator David Shaw. Shaw would bring continuity for quarterback Andrew Luck -- no, Luck won't reconsider his decision to return because of Harbaugh's move -- and likely would try to maintain the Harbaughian culture. He's a Stanford graduate and has significant NFL coaching experience. His father, Willie, was an assistant coach at Stanford from 1974-76 and again from 1989-91.
While hiring Shaw might not have much pizazz with fans and media, it would resonate positively in the locker room. It also would continue a Stanford tradition of giving black coaches an opportunity. At present, there are no black head coaches in the Pac-10(Colorado joins next year in the Pac-12 with Jon Embree). And, yes, that is still something worth raising an eyebrow over.
There is a third option: Bowlsby again going off the grid. Let's face it: He's had plenty of time to contemplate who will replace Harbaugh. The general feeling all season was Harbaugh was going to bolt, either to Michigan or the NFL. So Bowlsby surely isn't flat-footed on the news today. Here's a guess he's already sent out some feelers.
Pause for a moment, though, Stanford fans. What a week, eh? Your Cardinal posts a dominant performance in a victory over Virginia Tech in the Discover Orange Bowl -- yeah! -- Luck announces his return -- yeah! -- scuttlebutt starts to surface that Harbaugh is seriously considering returning to the Farm -- yeah! -- and then (boom) it's announced that Harbaugh is headed across the peninsula to the 49ers.
Boo!
But don't get too morose. There is no reason to believe that Stanford is headed back to 1-11, to Buddy Teevens and Walt Harris. A winning culture has been established, much more so than when Tyrone Willingham left for Notre Dame in 2001, knowing full well his recruiting had been sub-par. The right coach has a good shot to maintain that culture.
Stanford is never going to be a team that regularly goes 12-1. It wasn't headed that way even with Harbaugh. But the Cardinal can and should remain competitive at a high level on a regular basis.
It just needs to attack this endeavor with enthusiasm unknown to mankind.
December, 27, 2010
12/27/10
6:33
PM ET
The San Francisco
49ers have fired
Mike Singletary, which means speculation about Stanford coach Jim Harbaugh's
future is about to become frenzied
.
Think some folks at Michigan are paying attention? You'll note that the Wolverines' present coach, Rich Rodriguez, has been lacking any type of definitive vote of confidence from the Michigan powers that be.
Harbaugh, whose Cardinal arrived in Miami on Monday to begin on-site preparations for the Discover Orange Bowl, might be the hottest football coach in the nation. Odds are somebody is going to try very hard to lure him away from Stanford.
Stanford athletic director Bob Bowlsby has said that he believes Harbaugh
will sign a new contract extension
. It appears that Harbaugh and Bowlsby
aren't exactly on the same page
.
Michigan would be alluring for Harbaugh because it's his alma mater. But he wouldn't even have to move to take over the 49ers.
Expect this to be a hot topic leading up to the Orange Bowl, one that could be settled one way or another shortly thereafter. Of course, things could break before then, and that would be a shame because it would obscure one of the best seasons in Stanford history.
Big question: Does the "Where is Harbaugh going?" talk distract the Cardinal this week as it gets ready for Virginia Tech?
April, 3, 2009
4/03/09
1:22
PM ET
Posted by ESPN.com's Tim Griffin
It's a beautiful day in San Antonio this afternoon.
So nice, in fact, that I'm taking care of these links on my back porch thanks to the marvels of a strong wireless signal.
I can't send the sunshine, so how about some news to wrap up this week?
December, 11, 2008
12/11/08
5:04
PM ET
Posted by ESPN.com's Adam Rittenberg
Not too many 34-year-old's can call themselves Hall of Famers, so Pat Fitzgerald is already unique in that way.
But the Northwestern head coach joined extremely select company Tuesday when he was inducted into the College Football Hall of Fame.
| | |
| --- | --- |
| | |
| | Albert Dickson/TSN/Icon SMI |
| | Pat Fitzgerald was National Defensive Player of the Year in 1995 and 1996. |
Fitzgerald and South Carolina's Steve Spurrier are the only two active FBS coaches inducted into the College Football Hall of Fame. Both obviously entered the Hall as players, Spurrier having won the Heisman Trophy at Florida in 1966 and Fitzgerald earning back-to-back National Defensive Player of the Year awards as a linebacker at Northwestern in 1995 and 1996.
Fitzgerald's new title should come in handy on the recruiting trail.
Former Iowa quarterback Chuck Long, a 1999 Hall of Fame inductee, held the same distinction as Fitzgerald and Spurrier before being fired as San Diego State's head coach on Nov. 22.
Only three people have been inducted into the College Football Hall of Fame as both players and coaches.
Bobby Dodd, who went in as a Tennessee quarterback in 1959 and as Georgia Tech head coach in 1993.

Bowden Wyatt, who went in as a Tennessee end in 1972 and as coach at Wyoming, Arkansas and Tennessee in 1997.

Amos Alonzo Stagg, who went in as a Yale end and as coach at Springfield, University of Chicago and Pacific in 1951.
There are two current NFL head coaches -- the 49ers' Mike Singletary and the Rams' Jim Haslett -- who were inducted into the College Hall of Fame as players.
November, 7, 2008
11/07/08
1:05
PM ET
Posted by ESPN.com's Adam Rittenberg
It's Friday, and you deserve an extra helping of links.
"Coach feels awful about that penalty," said sophomore center John Moffitt, whose holding penalty wiped out a critical 21-yard run by John Clay in the closing minutes. "But the way he approached it, he took ownership of it.

"I think a lot of guys had respect for that. I had respect for that. That's not an easy thing to do, to stand up in front of the team. That's all you can do. No one is perfect. My case is an example."
"If nothing else, there are lessons to be extracted from this mess:

No. 1: Maybe going 9-3 and regularly participating in a Jan. 1 bowl under that conservative ol' Lloyd Carr wasn't such a bad thing, hmm?

No. 2: Even though it has a wonderfully monotonous fight song, a frothing fan base and a frightening lack of humility, U-M isn't immune to the struggles every major program faces.

No. 3: If (Rich) Rodriguez wants people to show more patience and less frustration, he needs to show less frustration with people's frustration. Hey, this is all new to everyone!"
July, 29, 2008
7/29/08
1:18
PM ET
Posted by ESPN.com's Tim Griffin
Every Big 12 team has a rival that inspires hatred. It's just the nature of competitive athletics, and particularly football.
While the conference offices have made a sportsmanship mandate a prominent part of pregame activities across the Big 12, fans don't always think that way.
With that in mind, here's an unofficial Big 12 conference hate meter, with the most despised rival first and the others in descending order.
1. Texas -- Everything's bigger and better in Texas, or so they say. But what's not to hate about the Longhorns for the rest of the Big 12 -- their traditional dominance, unmatched facilities, deep talent pool and even their mascot?
2. Oklahoma -- Opponents don't like seeing the same team winning. And after running roughshod over the Big Eight for 50 years and continuing their wild stampede through the Big 12, rivals have long been tired of the Sooners' historic supremacy.
3. Colorado -- Opposing fans see their supporters as every Rocky Mountain stereotype -- tree-loving, granola-munching, hybrid-driving Greeners. And it's even worse when they are winning with some regularity.
4. Kansas -- Their fans have always been accused of being the conference's smuggest during basketball season. Their recent football success is spreading that haughtiness into a 12-month-a-year attitude, rivals say.
5. Missouri -- Once the program woke up under Gary Pinkel, a new generation of fans are acting like they invented football, according to some adversarial fans. And it will get even worse if they finally win a Big 12 title.
6. Kansas State -- Traditional losers became national powers overnight when Bill Snyder was coaching them. That ascension came a little too quickly to many rivals.
7. Oklahoma State -- Boone Pickens' deep pockets and Mike Gundy's rants aren't the best selling points for a Big 12 wannabe power.
8. Texas A&M -- Their military traditions are the bedrock of support for the school's former students. But the collies, cannons and male cheerleaders are considered borderline strange by opposing fans.
9. Nebraska -- Their historical domination always was tempered by their fans. Vanquished foes always receive polite applause as they leave Memorial Stadium. But a return to dominance under Bo Pelini could shoot them up the hate meter -- particularly if he has a few hot-headed moments like his postgame dust-up with Bill Snyder a few years ago.
10. Texas Tech -- If you believe most of what you read on rival message boards, Mike Leach might be one of the Big 12's most popular coaches because of his well-chronicled idiosyncrasies. It will be interesting to see if that support holds if the Red Raiders fulfill hype and develop into BCS challengers this season.
11. Baylor -- Old Southwest Conference foes still remember the days of Mike Singletary and Walter Abercrombie when Grant Teaff built an enduring, powerful program. But those days are far removed from the present as Big 12 rivals now perceive them merely as permanent South Division cellar-dwellers.
12. Iowa State -- Rooting against the Cyclones is like booing Santa Claus or Lassie. The Cyclones were a popular choice for many Big 12 fans during Dan McCarney's near misses in 2004 and 2005 -- particularly because the Cyclones haven't won a conference title since sharing the Missouri Valley Conference crown in 1912.