January, 20, 2012
1/20/12
5:39
PM ET
West Virginia has hired Mike Smith as a defensive assistant as expected, the school announced Friday. Coach Dana Holgorsen will announce the coaching responsibilities of his new hires once his staff is complete.
The move had been widely reported for the past week.

Here is more from the school release:
"Mike has a promising future in the coaching profession, and I look forward to him joining the West Virginia coaching staff," Holgorsen said. "I knew him during his playing days at Texas Tech, while I was on the coaching staff. He helped lay the groundwork that led to our success. He brings playing and coaching experience on both the college and professional levels."

Smith comes to West Virginia after working for the past two and a half years with the outside linebackers for the New York Jets. He was recently promoted to full-time outside linebackers coach after serving as a coaching intern for the first two seasons.

He coached some of the Jets' top linebacker talent and was on a staff which oversaw one of the NFL's top defenses for the past two years. Some of his pupils included Aaron Maybin, Bart Scott and Jason Taylor. He was credited by Maybin for revitalizing his career after he was named the NFL Comeback Player of the Year for the 2011 season. The Jets defense finished the 2011 season ranked No. 5 in total defensive yards and No. 13 in rushing defense, allowing just 111.1 yards for game. The 2010 defense was No. 3 in the NFL in fewest rushing and total yards allowed, giving up only 90.9 rushing yards and 291.5 total yards per game. The Jets were No. 6 in scoring defense, giving up an average of 19.0 points per game.

"West Virginia University is one of the elite college football programs with a lot of history and tradition, and I am excited to join the staff," Smith said. "I have known Dana for a long time, and it is evident to see how much he already has brought to the program in the short time he has been there. Having played in the Big 12 Conference, I look forward to being on the staff, as West Virginia makes the transition into a new era. The atmosphere and people at West Virginia were the biggest sell for me personally. It was like being at home."
West Virginia has also hired Oklahoma State assistant Joe DeForest. The Mountaineers are in search of a replacement for defensive coordinator Jeff Casteel, who is now at Arizona.
June, 28, 2011
6/28/11
8:23
PM ET
We continue our team position rankings today with receiver. This is an area of great potential for plenty of teams around the league, especially with some of the high-octane offenses that we are going to see. Only three teams return their leading receiver from last season. The overriding theme seems to be this: there is a lot of talent, but much of it is unproven. So how are these receivers going to step up?
To make these rankings, I considered returning starters, accolades for returning starters, depth and potential.
[+] Enlarge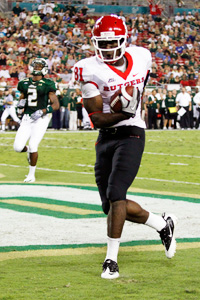 AP Photo/Mike CarlsonMark Harrison caught 44 passes for 829 yards and 9 touchdowns last season.
1. Rutgers.
The Scarlet Knights have proven talent and depth at this position, putting them at the top spot in these rankings. When healthy,
Mark Harrison
and
Mohamed Sanu
form one of the top 1-2 punches in the entire league. Add in
Brandon Coleman
, who had an outstanding spring, along with Tim Wright returning from injury and the top four looks as solid as it gets. Let's not forget incoming speedsters Miles Shuler and Tejay Johnson, who have the potential to play as well.
2. West Virginia.
The Mountaineers have
Tavon Austin
,
Stedman Bailey
and a whole bunch of questions at the position. But with the new offense Dana Holgorsen is bringing in, other receivers have a chance to be more effective. Austin is about as close as you can come to a surefire first-team All-Big East player.
Ryan Nehlen
had a nice spring and could be the surprise of the season. So could
Tyler Urban
, a converted tight end. How will
Brad Starks
do after shoulder surgery? Will
Ivan McCartney
live up to his potential? There is talent here and great potential if everybody lives up to expectations.
3. Cincinnati.
The Bearcats are stocked with talent, but many of these skill players have got to gain experience and fast with
Armon Binns
,
Marcus Barnett
,
Vidal Hazelton
and
Ben Guidugli
gone.
D.J. Woods
is expected to be a first-team All-Big East selection. But beyond he and
Anthony McClung
, you have got young guys -- junior college transfers
Kenbrell Thompkins
and Damon Julian, redshirt freshman Dyjuan Lewis, freshmen Shaq Washington, Chris Moore, Alex Chisum and Max Morrison. Thompkins showed great promise in the spring.
4. Pittsburgh.
The Panthers lose their leading receiver in Jon Baldwin, but the duo of
Mike Shanahan
and
Devin Street
could each be 1,000-yard receivers. Behind them, though, there are some questions and inexperience. Junior
Cameron Saddler
is going to have to step up. Redshirt freshmen
Salath Williams
,
Drew Carswell
, junior college transfer Josh Brinson and true freshman Justin Jackson are all young but have a chance to be big contributors. Pitt also is waiting to hear whether UNC transfer
Brendon Felder
will have his petition for immediate eligibility granted.
5. Syracuse.
The Orange have plenty of solid returning receivers in
Van Chew
,
Marcus Sales
and
Alec Lemon
but what this team is really lacking is big-play potential. In five games last season, Syracuse failed to complete a pass that went longer than 30 yards. In fact,
Ryan Nassib
averaged 6.5 yards per pass attempt. A healthy
Jarrod West
could help those numbers improve.
Dorian Graham
has to work on his hands, too.
6. USF.
The Bulls lose leading receiver
Dontavia Bogan
, but they return injured players
Sterling Griffin
and
A.J. Love
to the mix, which is going to be huge.
Lindsey Lamar
and
Evan Landi
also return, along with
Terrence Mitchell
,
Joel Miller
and
Faron Hornes
.
Deonte Welch
had a nice spring game and is listed as a backup behind Landi. True freshman Andre Davis has the potential to contribute as well. The Bulls have plenty of depth here but there are still some questions about this group, especially with Griffin and Love coming off injuries.
7. Louisville.
The Cardinals lose their top two receivers, and have got to figure out a way to make big plays and stretch the field with a young group.
Josh Bellamy
appears to be the go-to man headed into 2011, and much is going to be expected of
Andrell Smith
and
Michaelee Harris
. Both are coming off injuries and were unable to practice in the spring. True freshmen are most likely going to be relied upon, giving Eli Rogers and DeVante Parker and opportunity to play.
8. Connecticut.
A playmaker has got to emerge from this group to help out whoever is going to be playing quarterback. The Huskies lost leading receiver
Mike Smith
because of academics.
Kashif Moore
,
Ryan Griffin
and
Isiah Moore
return but UConn is going to need some of its redshirt freshmen like
Geremy Davis
and
Tebucky Jones
Jr. to step up. The Huskies are not preparing to run the spread, so the potential for a 1,000-yard receiver in this group is low.
Previous rankings:
September, 25, 2010
9/25/10
3:25
PM ET
It looks like UConn has a new starting quarterback.
Many Huskies fans wanted
Cody Endres
to start over
Zach Frazer
initially, but Endres made sure that wouldn't happen by earning a suspension that was just lifted this week. Randy Edsall made it clear Frazer was his No. 1 guy all offseason anyway.
Now, though, it looks like this is Endres' job. He started the second half after Frazer continued to struggle against Buffalo (7-for-14, 94 yards, INT). Endres made an almost immediate impact for the Huskies, who were tied 14-14 at the half with the Bulls. He threw a 56-yard touchdown strike to
Mike Smith
and another score to tight end
Ryan Griffin
, helping Connecticut take a
38-21
lead in the fourth quarter. He's 7-of-9 for 139 yards so far.
Endres did lose a fumble inside his own 10 that set up a Buffalo touchdown, but it's clear the offense moves a lot better with him at the helm. It would be hard for Edsall not to go with Endres as the starter now, and perhaps this will be the spark that UConn needs to get its season going.
Also providing a spark is
Robbie Frey
. He did not get the start to replace the injured
Jordan Todman
, but Frey has been better than
D.J. Shoemate
. Frey has eight carries for 62 yards and a score, while Shoemate has 60 yards on 16 carries and just lost a fumble in the red zone for the second time this season.
August, 23, 2010
8/23/10
5:49
PM ET
Preseason camps are about half gone. Opening weekend is less than two weeks away, and it's just over a week away for teams like Iowa State.
But plenty has been resolved in camps so far. Here's the best of what we know:
1. Three quarterback battles have been won.
Two (Kansas State and Nebraska) have yet to be decided, but
Tyler Hansen
won the job over
Cody Hawkins
at Colorado.
Kale Pick
beat out
Jordan Webb
at Kansas.
Taylor Potts
beat out
Steven Sheffield
in an epic duel at Texas Tech between two seniors who could start for about anyone in the conference.
[+] Enlarge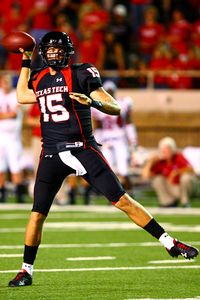 Karl Anderson/Icon SMITaylor Potts beat out Steven Sheffiled to be Texas Tech's starting quarterback.
2. Nebraska and Kansas have been hit hardest by injury.
Nebraska lost linebacker Sean Fisher and utility lineman Mike Smith for the season, each with a broken leg. Backup cornerback Anthony Blue will also miss the season with a torn ACL. Tight end Dreu Young also required back surgery and may miss up to the entire season. None figured to be game-changers, but without them, the Huskers depth suffers, leaving them more reliant on less experienced players. That's not the case in Lawrence, where Turner Gill will coach his first season without Huldon Tharp,
one of the conference's best linebackers
and one of his most exciting young talents. Backup running back
Rell Lewis
will miss the season with a knee injury, as will offensive lineman Jeff Spikes, who had a chance to start.
3. Gill: What have you done for me lately?
Turner Gill cares not about your recruiting stars, Jayhawks.
Toben Opurum
was the Jayhawks leading rusher as a freshman, with 554 yards. As one of the nation's best fullbacks, he came to Kansas because Mark Mangino planned to let the 6-foot-1, 240-pounder play running back. He was injured in the spring, but returned to full strength by preseason camp. Unable to crack the depth chart at running back, he's been moved to linebacker to help solve the Jayhawks' depth problems at the position. Meanwhile, two-year starter at center Jeremiah Hatch was sent to the bench in favor of senior captain Sal Capra, who played both guard positions last year.
4. Iowa State is even more huggable.
The team rallied behind rookie head coach Paul Rhoads in 2009 and raced to a seven-win season after just five wins in the previous two seasons combined. This fall, one of the teams practices was canceled so the players could sandbag the athletic facility to prevent damage from a major flood in Central Iowa. To do the team's laundry, team managers had to travel nearly 20 miles to the nearest source of fresh water.
5. Robert Griffin's arm isn't rusty.
The Bears sophomore quarterback has strung together two masterful scrimmages through the air, completing 33 of his 44 passes for three touchdowns and one interception. He has yet to prove he can run with the same explosiveness he showed as a freshman, but coach Art Briles isn't going to be getting Griffin hit many more times than is necessary.
6. Texas is talking up its defense.
Coach
Mack Brown
isn't keeping quiet about his expectations for his defense in 2010. ""I do think this could be our best defense," Brown
told the Dallas Morning News last week
, noting health and depth as variables. "We should be really, really good on defense." The Longhorns already ranked No. 3 nationally in total defense last year, but bring back one of the nation's best secondaries and perhaps the best and deepest group of defensive ends anywhere.
March, 8, 2010
3/08/10
8:55
AM ET
This could be a big year for Connecticut.
The Huskies were playing as well as anybody in the Big East down the stretch and finished the 2009 season with a victory over South Carolina in the Papajohns.com Bowl. They bring back a wealth of starters and plenty of depth. I caught up with UConn coach Randy Edsall last week to talk about the beginning of spring practice, which starts March 16. This is part I of my interview. Check back later for part II.
First of all, you have to be feeling pretty good about where the program is given all the players you bring back from last year, right?
[+] Enlarge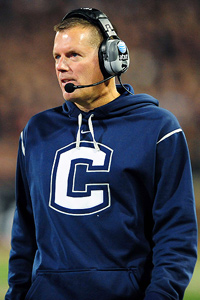 Andrew Weber/US PresswireRandy Edsall led the Huskies to an 8-5 record in 2009.
Randy Edsall:
We do. We have a lot of guys back and we only have 12 seniors on the roster, so that bodes well for us. We're going to have more depth than we've ever had. The thing about this spring that's going to be a little different is, we're going to have a lot of guys who won't be doing things because of injuries. So we'll be able to get a lot of work in, but some of the kids won't be out there with us because of injury. But the thing I'm excited about is that we're going to give some of these young guys a lot of work to even develop more depth in the program.
Do the injuries cause a little less of a concern this spring just because you have so much experience coming back?
RE:
Yeah, it really does. Just looking at our depth chart and our board ... even though Jesse Joseph is not going to go through the spring, Greg Lloyd is not going to go through the spring, Blidi Wreh-Wilson is not going to go through the spring on defense, with those guys out we still have so many guys and we know what those guys can do because they played for us. And now get some other kids more repetitions and kids we know are going to be available to play next year. For me, it's a plus for us. And we had six kids who came in at midyear, so it's another plus that those kids are going to get a lot of reps.
We're not going to be the finished product coming out of spring, because like with Jimmy Bennett and Mike Ryan on offense, they're not going to be practicing due to the injuries that they had in the fall and
Robbie Frey
will be limited and won't be full go. That's where in terms of the offensive line, it's going to give us a chance to work with some of our young guys and really get them a lot of reps to develop them so if they've got to get into a game, they're going to have some experience there.
Let's talk about the quarterbacks. Zach Frazer played well for you at the end of the year, but Cody Endres also played well before his injury. Is Frazer the No. 1 guy right now or is it more of a competition?
RE:
As we came out of the season, we won four straight there with Zach and I thought he did some good things. Cody did, too, I think, so we're in a good situation. But as we go into the spring, Zach's the No. 1 guy and it would be his job to lose. He knows there's always competition, but he's the No. 1 guy as we start practice on the 16th.
What did you like about the way Frazer played at the end of the year?
RE:
I thought he really just played within himself. I thought he was relaxed, he was poised and I thought he made a lot of good decisions He wasn't forcing the ball; he was taking what the defense was giving and throwing the ball where it should have been thrown. And when it wasn't there, he threw the ball away as opposed to trying to make a great play, squeeze a ball into somewhere you shouldn't. I really thought he did a good job of what we asked him to do in the game plans we had for those games.
People may forget that you put in a new offense last year, and there must have been some adjustments along the way.
RE:
You could see the improvement as the season went on with what we did offensively, and I think one of the keys this spring is now the kids are going to be more comfortable in the offense. There are going to be some things that we're able to do to add or to tweak where we think it will make us better. But I was pleased with the development of the offense as the season went along. Our point production and passing yardage was up from a year ago, and we maintained what we wanted to do in the running game.
It took two guys to replace Donald Brown, but that's fine. And we want to keep building on the positives we had last year and keep moving forward, and the good thing is we only lost Andre [Dixon], and we still have
Jordan Todman
coming back. We lost Brad [Kanuch] and
Marcus Easley
, but we feel we have receivers to step in and do the job. And up front the only guy we lost was Mike Hicks. We really feel good about the guys we have coming back and what we can do to improve upon the production and the output we had a year ago.
August, 27, 2008
8/27/08
11:36
AM ET
Posted by ESPN.com's Tim Griffin
Credit Western Michigan coach Bill Cubit for being honest.
Cubit had a unique description for his mindset leading up to the Broncos' season opener Saturday at Nebraska.
"You kind of go in there blind," Cubit said, reflecting on his lack of knowledge about how new Nebraska coach Bo Pelini will operate his program during game situations.
Pelini has been a head coach for one previous game -- a 2003 Alamo Bowl victory over Michigan State as interim coach after Frank Solich was fired. So Cubit doesn't know much about what he'll be facing.
So he's preparing for just about anything.
"We just don't know," Cubit said on the Mid-American Conference's weekly teleconference. "You can talk to people about what coach Pelini did at LSU. But you've got different players and you're always trying to adapt your system to the players you've got, and what their strengths and weaknesses are.
"For us, it's just going to be more fundamentals. The unknown in the first game is always severe, but with the new coaching staff ... With our kids, you can't tell them exactly where people are going to be all the time."
Other coaches are facing similar problems across the country.
And that's why we're here. To provide enlightment about the Big 12 one link at a time.
Here are some of this morning's goodies.