January, 12, 2010
1/12/10
11:45
AM ET
The Pac-10 bowl season didn't go well, but that doesn't mean you don't make an all-bowl team.
You may notice a lot of USC and UCLA players. You might remember that the LA schools posted the conference's only two wins.
OFFENSE
QB Matt Barkley, USC
: Barkley completed 27 of 37 throws for 350 yards with two touchdowns against Boston College in the Emerald Bowl. He also had two interceptions.
RB Toby Gerhart, Stanford
: Against an Oklahoma defense ganging up on him, he rushed for 133 yards and two touchdowns on 32 carries in a Sun Bowl loss.
RB Stanley Havili, USC
: He only rushed for 2 yards, but he also he caught six passes for 83 yards with two touchdowns.
WR Damian Williams, USC
: He caught 12 passes for a season-high 189 yards.
WR Damola Adeniji, Oregon State
: He caught seven passes for 102 yards and a touchdown in the Beavers' Las Vegas Bowl loss to BYU.
TE Anthony Miller, California
: He led Cal with five receptions for 55 yards in the Poinsettia Bowl loss to Utah.
OL Chris Marinelli, Stanford
: The offense was without its starting quarterback, but Gerhart gained 133 yards and the Sooners only had one sack.
OL Mike Tepper, California
: Cal's pass protection wasn't great against Utah, but running back
Shane Vereen
finished with 122 yards rushing and two touchdowns.
OL Charles Brown, USC
: The Trojans didn't run terribly well vs. Boston College, but they only yielded one sack and gave Barkley plenty of time to throw.
OL Jake Dean, UCLA
: He was thrust into the starting lineup after starting center after Kai Maiava was ruled academically ineligible, and the Bruins yielded only one sack vs. Temple.
OL Chase Beeler, Stanford
: See Marinelli.
K Kai Forbath, UCLA
: He kicked field goals of 40 and 42 yards.
DEFENSE
DE Kenny Rowe, Oregon
: He set a Rose Bowl and Oregon bowl record with three sacks in a losing effort against Ohio State.
DT Jurrell Casey, USC
: Casey had five tackles, a sack and a 22-yard return of a fumble.
DT Brian Price, UCLA
: Price started slowly vs. Temple but he dominated the second half and finished with five tackles, with one coming for a loss.
DE Tyson Alualu, California
: Alualu had five tackles, with 1.5 coming for a loss.
LB Akeem Ayers, UCLA
: Ayers led the Bruins with nine tackles, two for a loss, and his leaping interception at the Temple 2-yard line, which he returned for a TD, was the play of the Pac-10 bowl season.
LB Kyle Bosworth, UCLA
: He finished with seven tackles and 1.5 sacks.
LB Eddie Young, California
: Young had seven tackles and returned an interception 31 yards for a TD.
CB Shareece Wright, USC
: In his first game back after academic ineligibility, Wright grabbed a key interception.
CB Alterraun Verner, UCLA:
Verner had seven tackles, two for a loss, and a pass breakup.
S Rahim Moore, UCLA
: Moore had four tackles and an interception.
S Taylor Mays, USC
: Mays had five tackles for a Trojans defense that shut down Boston College in the second half.
P David Green, Stanford
: He averaged 44 yards on six punts, three of which were downed inside the Sooners' 20-yard line.
November, 19, 2009
11/19/09
1:08
PM ET
For a while now, when California and Stanford took the field to play the annual "Big Game," the name of the Bay Area rivalry contest seemed like the two brainy universities' best effort to teach the rest of the college football nation how to correctly understand the oft-misused term "irony."
Not this year.
For the first time since 1991, both teams are ranked: Stanford (7-3, 6-2) is 17th and Cal (7-3, 4-3) is 25th in the BCS standings. And have winning records. The stakes, particularly for Stanford, are high. The Cardinal, after whipping Oregon and USC, are in the middle of the Rose Bowl race, while the rising Bears would like to play spoiler and improve their bowl positioning.
There's also the role reversal. Homestanding Stanford, losers of six of seven in the series, including a 37-16 whipping last year, is the decided favorite.
"They are probably the hottest team in the country right now," Cal coach Jeff Tedford observed.
Tedford's Bears, however, after tumbling from the top 10 due to consecutive humiliating losses to Oregon and USC, have quietly righted themselves. They've won four of five games, including an impressive 24-16 win last weekend over Arizona, a team that beat Stanford. The defense, which had been inconsistent much of the year, held the Pac-10's No. 1 offense to just 274 yards.
Cal ranks 19th in the nation in run defense (104.1 yards per game), while Stanford and leading Heisman Trophy candidate
Toby Gerhart
rank 10th in run offense (222.4 ypg), so this will be a strength-on-strength matchup.
[+] Enlarge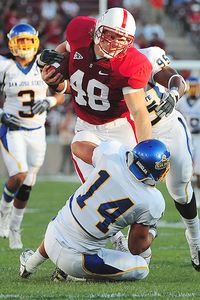 Kyle Terada/US PresswireOwen Marecic's physical play is symbolic of Stanford's transformation this season.
"They play so physically," Tedford said. "Their offensive line is the best offensive line in the conference. They're big, they're athletic. [They have] physical tight ends, the fullback is very physical. Toby is a runner that doesn't go down with arm tackles and has the speed in the open field to break the long one. Those games [Oregon and USC] are no fluke. There wasn't anything flukish about those games. Those were dominating performances."
Tedford is touching upon a theme that is central to Stanford's rise under coach Jim Harbaugh: physical and perhaps even nasty play. More than a few opposing players and coaches have noted that the Cardinal not only want to maul you during a play, but they also are not above continuing their effort past the, say, echo of the referee's whistle. And maybe there are a few more pokes and grabs and punches in the pile-up and scrum at the line of scrimmage than in the past when Stanford suited up.
Offensive tackle Chris Marinelli admits nothing. But you can feel a grin as he speaks through the telephone line.
"It is so contrary to what everybody pins on us," he said. "They think we're a bunch of nerds and we're pretty soft guys. That's not the case and we're showing that this year."
The player who may best personify Stanford's transformation is not Gerhart but fullback
Owen Marecic
, whom Harbaugh has repeatedly called his "favorite" player. The 6-foot-1, 244-pounder might be the most feared blocker in the conference, at least among linebackers.
"He's just a sick dude. He's crazy. He lives for head-on collisions," Marinelli said. "A lot of guys try to swim you or run around you. He just wants to come out and smash heads as hard as he possibly can. Then he kind of looks at you with a sickening smile. He's crazy."
Marinelli knows this because Marecic has doubled at times this season as a linebacker, so the poor old 6-foot-7, 300-pound Marinelli, an NFL prospect and the only senior on the Stanford line, knows what a Marecic hit feels like.
Marecic
also sports a
Peter Frampton
haircut, is soft-spoken and is a human biology major who apparently wants to become a doctor.
These sorts of fawning observations about Stanford -- they're tough and smart, too! -- probably don't charm Cal players and fans that much. They sense that many assume the Axe is headed back to Stanford. That annoys them.
Offensive lineman Mike Tepper, a sixth-year senior, rates losing the Axe for a year the low point of his Cal career.
"Going 0-6 against USC is pretty bad, but losing the Axe in '07 was the worst feeling I've ever had in my life," he said. "It tears you apart and tears the community apart."
By the way, Tepper has been
run over
by a car, so he's had some bad feelings.
Tedford seemed perfectly willing to call his Bears the underdog. While Harbaugh heaped praise on Cal -- he said the Bears have best defensive front in the Pac-10 -- he also seemed comfortable with the position of Alpha Dog. To a point.
"You've got to fight the ills of hubris and overconfidence," he said. "They can be a killer."
But then Harbaugh added, "I am constant as the northern star, of whose true-fix'd and resting quality there is no fellow in the firmament."
Actually, he didn't say that. But because this is Berkeley and Stanford -- and the Big Game is, at last, a big game -- it seemed appropriate to conclude with some Julius Caesar.
Posted by ESPN.com's Ted Miller
Optimism is a powerful thing. And spring is a time for renewal. So this is a "Best of" list, without any of the "Negative Nellie" stuff.
Best spring game performance by a quarterback: Stanford redshirt freshman Andrew Luck all but won the starting quarterback job over incumbent Tavita Pritchard after completing 18 of 25 passes for 352 yards and five touchdowns to lead the White team to a 42-17 victory over the Cardinal.
Best spring game performance by a quarterback II: Washington quarterback Jake Locker seemed fine working in a pro-style offense after completing 16 of 18 passes for 200 yards and two touchdowns. The two incompletions, by the way, were drops.
Best spring game performance by two quarterbacks: Oregon's Jeremiah Masoli and Justin Roper combined to complete 37 of 56 passes for 516 yards and five touchdowns and neither threw an interception in the Ducks' spring game. Perhaps it was the rainy weather only fit for a Duck?
Best spring, overall, by a quarterback: Under intense, national scrutiny ,USC's Aaron Corp threw only one interception throughout spring practices and was consistently solid throughout the session, which earned him the nod as the Trojans No. 1 quarterback over spectacular freshman Matt Barkley entering the offseason. Under coach Pete Carroll, every previous Trojan quarterback who had been tapped No. 1 out of spring started the season opener.
Best performance by a true freshman: Barkley made the recruiting gurus who ranked him No. 1 look smart.
Best spring game on defense: Talk about a penetrating performance. USC's backup defensive end Nick Perry had six tackles for loss, including four sacks, among his seven tackles. Yeah, USC's defense is going to be hurting in 2009.
Best spring on defense: Six guys stood out: Oregon cornerback Walter Thurmond III, UCLA's tackle Brian Price, Oregon State tackle Stephen Paea, Arizona State defensive tackle Lawrence Guy, Arizona linebacker Vuna Tuihalamaka and USC linebacker Malcolm Smith.
Best surprise: USC transfer and notorious underachiever Jamere Holland suddenly decided to become Oregon's best deep threat and turned in an outstanding spring. Golly, sometimes listening to your coaches helps.
Best breakout: While California has questions at receiver, the general feeling is sophomore Marvin Jones is almost certainly one of the answers.
Best 'it's about time' breakout: USC's Everson Griffen might be the nation's most talented pass-rusher, but his high-performance engine has also been a high-maintenance engine. Yet his effort and intensity were consistentthis spring, which meant no one could block him.
Best comeback: California offensive tackle Mike Tepper has been through a lot, but he's hoping his sixth year will just be about anchoring a line with a lot of upside. Read Tepper's story here.
Best comeback II: Got a funny -- mean, but funny -- note during the 2008 season that instructed the Pac-10 blog to refer to Oregon State receiver Darrell Catchings as Darrell Droppings. Can't do that now because Catchings lived up to his name -- the real one -- this spring.
Best position change: Arizona sophomore Robert Golden, a marquee 2008 recruit, switched from cornerback to strong safety this spring, and early word is he could become an All-Conference player at his new position. The move further allowed the Wildcats to switch Cam Nelson to free safety from strong and get Trevin Wade on the field to complement Devin Ross at corner.
Best coaching decision: Stanford coach Jim Harbaugh wants his best 11 on the field at any given time, and he's willing to get creative to do it. That's why he's got a handful of guys playing both ways, including Owen Marecic (fullback and middle linebacker), Michael Thomas (cornerback and receiver), Richard Sherman (cornerback and receiver) and Alex Debniak (linebacker and running back). Will it work? We'll see. But it's undoubtedly interesting.
Best candidate for a karmic change: No team had worse injury issues this spring than Washington State, which is clearly in the midst of a major rebuilding project. Then promising defensive end Cory Mackay, who'd impressed this spring, suffered a serious back injury after he fell asleep at the wheel of his car. The Cougars are overdue for some luck. Perhaps it arrives this fall?
Best catch of the spring: You may have already watched this grab. Watch Arizona State receiver Kerry Taylor one more time. It's worth it.
Best position in conference: The Pac-10 might have the nation's best collection of talent in the secondary, with USC and California boasting units that should rank among the nation's best. Consider: FS Taylor Mays (USC), SS T.J. Ward (Oregon), SS Josh Pinkard (USC), CB Walter Thurmond III (Oregon), CB Alterraun Verner (UCLA), CB Syd'Quan Thompson (California), CB Devin Ross (Arizona), CB Omar Bolden (Arizona State), FS Rahim Moore (UCLA), CB Shareece Wright (USC), among others.
Best position in conference II: Five running backs who eclipsed 1,000 yards in 2008 are back, led by California's Jahvid Best and Oregon State's Jacquizz Rodgers.
Best potentially surprising position: If you talked about good Pac-10 defensive linemen in recent years, you were basically talking about USC. Not in 2009. Nine of the Pac-10's top 30 players, at least by, er, one person's accounting, are defensive linemen, and that list included only one player from USC (Griffen, at No. 30) and didn't include Cal's Cameron Jordan.
Best quote: "How do we go from nine to one?" said Chip Kelly on what he believes are his marching orders as Oregon's new coach. "Nine" is where the Ducks finished last y
ear in the final coaches' poll.
October, 15, 2008
10/15/08
12:13
PM ET
Posted by ESPN.com's Ted Miller
Getting deep into this week's games.

California won't run over Arizona: In Arizona's two losses, its defense got run over by a big back -- New Mexico's Rodney Ferguson and Stanford's Toby Gerhart, a pair of 230-pound bruisers. California is not a power-rushing team with Jahvid Best, who's expected to return after dislocating his elbow on Sept. 27, and Shane Vereen, neither of whom pushes the scale past 200 pounds. Moreover, the Bears have two injured starting linemen, tackle Mike Tepper and guard Chris Guarnero. Without Best, the Bears rushed for just 79 yards at home against Arizona State, and playing on the road makes it harder to use a variety of run audibles. Best and Vereen can hit home runs, but they don't grind out four yards and a cloud of dust. Cal will need balance to win, and the Bears passing game has not clicked this season. Meanwhile, the Wildcats pass defense is holding opponents to just a 55.3 completion percentage and has grabbed eight interceptions. Hmm.

A two-quarterback system might work for Stanford: Cardinal quarterback Tavita Pritchard has steadily improved this year and was 13-of-17 for 113 yards and a touchdown before he was knocked out against Arizona with a concussion. He's likely to start against UCLA on Saturday. But Alex Loukas' running ability off the bench confused the Wildcats defense and was the key component of the 11-play, 60-yard game-winning drive. Loukas completed a 21-yard pass and ran four times for 32 yards, and apparently earned more playing time, according to coach Jim Harbaugh. Loukas not only adds a nice change of pace, but he also forces a defense to use valuable practice time preparing for a running quarterback and some spread-option plays.

Washington State's goal is to protect quarterback Kevin Lopina: If you read a week's worth of stories on Washington State, you can't help but wince. Two of the Cougars top three quarterbacks are done for the year. Kevin Lopina, who took over the starting job two games into the season, will return to face USC's fearsome defense after missing the past three games with a fractured vertebrae. If the Trojans knock Lopina out, the Cougars must turn to either walk-on freshman Daniel Wagner or burn the redshirt of true freshman J.T. Levenseller, with coach Paul Wulff suggesting this week he'd have no alternative but to go with Levenseller because there's half a season remaining. That means the Cougars figure to try to run the ball and use a lot of quick-hit passes to minimize the hits on Lopina, a strategy that isn't likely to put many points on the board. Of course, as a 43-point underdog, don't expect the Cougars to give the Trojans a scare. In fact, don't be shocked if USC coach Pete Carroll, who's team isn't exactly healthy, calls off the dogs fairly early and doesn't try to become the fourth Pac-10 team to score 60-plus on the Cougs.

UCLA may be able to force Stanford to pass: Sure, UCLA's rushing defense ranks eighth in the Pac-10 (171.3), which would seem to bode well for Stanford's potent ground game. But the Bruins have faced the nation's No. 6 (Oregon) and No. 16 (Fresno State) rushing attacks in recent weeks. Moreover, Stanford's more conventional power-running scheme matches strength-on-strength as the Bruins defensive tackle combo of Brian Price and Brigham Harwell is as good as any in the conference. It's almost certain that defensive coordinator DeWayne Walker will try to force Stanford quarterback Tavita Pritchard to throw the ball. The Bruins secondary has been terribly inconsistent this year -- strong safety Bret Lockett is fighting to hold onto his job this week -- but Pritchard, while improving, has a tendency to force passes into coverage, see eight interceptions vs. seven touchdowns. The Bruins secondary has only four interceptions this season, but that has been a point of emphasis in practices this week. Stanford beat Arizona despite losing the turnover battle, 0-3. It will be harder to do that on the road.
Beavers should be on upset alert: There is absolutely no logical reason to believe that Washington can upset Oregon State. The Huskies are winless, beaten up and about to fire head coach Tyrone Willingham. Oregon State has won three of four and is in the middle of the Pac-10 race. The Beavers are superior in just about every area and should be highly motivated. Yet this is college football, and only twice since 1999 has a Pac-10 team gone winless in the conference (though Washington did it in 2004). Moreover, the Huskies' loss last year at Oregon State was hotly contested and bitterly lost, including a controversial knock-out hit on quarterback Jake Locker by Beavers safety Al Afalava, which has been a hot topic this week (though let's be clear that the hit was legal). The Beavers won 19 games over the previous two seasons, but managed to get drubbed both years by inferior UCLA teams, so it's not inconceivable that the Beavers could come out flat with overconfidence.
September, 19, 2008
9/19/08
11:59
AM ET
Posted by ESPN.com's Ted Miller
Happy Friday! The Pac-10 will be undefeated today -- guaranteed.
September, 5, 2008
9/05/08
12:43
PM ET
Posted by ESPN.com's Ted Miller
These links are trying to establish a running game.