March, 6, 2015
Mar 6
10:00
AM ET
We have a hard enough time predicting what's going to happen in the games in the fall -- you've seen our picks records, right? So trying to forecast what's going to happen in spring practice -- not a game, we're talking 'bout
practice
-- seems especially futile.
But let's be bold. Here are 10 predictions for spring practice in the Big Ten:
1. Cardale Jones takes command:
You might remember Jones from such previous performances as "Whipping Wisconsin in the Big Ten title game," "Mauling Alabama in the Sugar Bowl" and "Beating Oregon for the national championship." Now he'll be the headliner in Ohio State's star-studded quarterback battle as the only one of the three who will be healthy enough to participate fully in drills. Expect Jones to have a big spring and take the lead in the race, though
J.T. Barrett
and
Braxton Miller
will have their say this summer.
2. Tommy Armstrong Jr. leads in Lincoln:
Nebraska's starting quarterback will have to prove himself all over again to a new coaching staff. But while
Johnny Stanton
and, to a lesser extent,
Ryker Fyfe
have their supporters among the Big Red fan base, Armstrong's superior leadership skills and experience will ensure that he's the man for Mike Riley this spring.
3. Penn State finds some answers on the offensive line:
The Nittany Lions can't possibly be as bad up front as they were last year, and now they have a lot more options. Junior college transfer
Paris Palmer
will win the right tackle job and
Andrew Nelson
will take a step forward in a move to left tackle. Throw in some promising youngsters, and QB
Christian Hackenberg
will be feeling more secure heading into this fall.
[+] Enlarge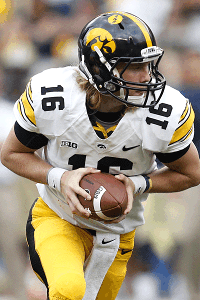 Charles LeClaire/USA TODAY SportsC.J. Beathard enters spring as the starting quarterback at Iowa.
4. C.J. Beathard wins Iowa's quarterback competition:
Hawkeyes coach Kirk Ferentz wouldn't abandon a two-year starter like
Jake Rudock
lightly. But Beathard seemed to give the entire offense a spark when he entered games last season, and the Hawkeyes could sure use some energy on that side of the ball. Ferentz surprisingly listed Beathard as the No. 1 quarterback on a rare January depth chart, so he's obviously serious about a possible change.
5. Joel Stave faces serious heat for his job at Wisconsin:
Stave has a 20-6 career record as a starter, something few Big Ten quarterbacks can match. Yet, like Iowa, the Badgers need a jolt in their passing game. Either redshirt freshman
D.J. Gillins
or true freshman
Austin Kafentzis
will make this a real competition this spring, leaving the starting job up for grabs in fall camp.
6. Minnesota's receivers provide optimism:
The passing games at Wisconsin and Iowa are prolific compared to the Gophers, largely because Minnesota has lacked playmaking wideouts the past few years. But Minnesota will emerge from the spring feeling much better about its options at the position as some redshirt freshmen make plays. Two names to watch:
Isaiah Gentry
and
Jerry Gibson
.
7. Hayden Rettig has a big spring for Rutgers:
Chris Laviano
has an edge in experience in the Scarlet Knights' quarterback competition, but Rettig has the pedigree. A former four-star recruit who transferred from LSU, Rettig's big arm will make a large impression this spring.
8. Indiana doesn't miss Tevin Coleman ... too much:
Coleman put up the best rushing season in the Hoosiers' history, but his absence won't create a crater this spring. That's because UAB transfer
Jordan Howard
will step in and immediately replace most of that production. He might not match Coleman's pure explosiveness, but the offense won't suffer too much.
9. New defensive stars emerge at Michigan State:
This happens every spring. Even with Pat Narduzzi gone, the Spartan Dawgs will remain strong behind new co-defensive coordinators Mike Tressel and Harlon Barnett. And they've always got a wave of players ready to step in for departed leaders. Some names to watch include
Demetrious Cox
,
Malik McDowell
,
Riley Bullough
,
Montae Nicholson
and
Darian Hicks
.
10. A couple of quarterbacks transfer:
This has become a trend in college football -- a quarterback can be quick to bolt when he finds out he won't be the starter. Keep an eye on places where there are a lot of candidates bunched together, such as Purdue (
Austin Appleby
,
Danny Etling
,
David Blough
) or where the two-man competition is heated, such as Iowa. And, of course, Ohio State remains on high alert. But it's almost inevitable that there will be some quarterback transfers in the summer.
January, 6, 2015
Jan 6
12:00
PM ET
Three years ago, I sat in Mark Dantonio's office and asked him about his least-favorite subject.
Brady Hoke had just won 11 games and the Sugar Bowl in his first year at Michigan, and the Wolverines were the toast of recruiting service rankings. Many people wondered if Hoke's instant success would pierce Michigan State's balloon (Hey, cut us all a break. Those were simpler times and we were na´ve.)
Dantonio listed off all his achievements with the Spartans, including their recent run of dominance over Michigan, and with that wry smirk of his, turned the question back on me. "So where's the threat?"
he asked
.
[+] Enlarge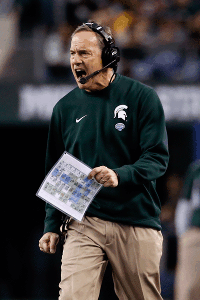 Kevin Jairaj/USA TODAY SportsMark Dantonio has led Michigan State to at least 11 victories in four of the past five seasons.
He later tried to distance himself from that quote a bit. But his point had not only been made, it was an unimpeachable one. Michigan State, as it turned out, had no reason to worry about Hoke's short reign with the Maize and Blue, and the Spartans even grew stronger during it.
So let's all agree not to make the same mistake again, even as more dangerous existential threats appear to be rising against Michigan State. Dantonio has built a program that can withstand just about any menace, real or imagined.
"We're not fading away," Dantonio said Tuesday. "We're getting better as we move forward. And the challenges are getting bigger."
Pause and appreciate what the Spartans have accomplished in recent years. They just finished an 11-2 season that concluded with a 42-41 Goodyear Cotton Bowl Classic win over No. 5 Baylor. Their only two losses of the season came against the two teams that will play for the national championship next Monday, Oregon and Ohio State. They should finish no lower than No. 6 in the final polls.
Michigan State is 24-3 in the past two years, having won the Big Ten title and the Rose Bowl last season. It's the only program to have won a BCS game last season and a New Year's Six bowl this year. No team has represented the Big Ten better in bowls of late, as the Spartans have beaten Georgia (2011 season), TCU (2012), Stanford (2013) and now Baylor. They have won at least 11 games in four of the past five years.
"I think we've developed continuity here, not just in what we're doing but in how we're doing it and in terms of productivity, in terms of wins," Dantonio said. "So I think we can be in the national conversation. I think we're a football team that can and will play up."
Yet there remains, in some quarters, a fear that outside forces may cause things to slow down in East Lansing.
Ohio State, whose win at Spartan Stadium on Nov. 8 kept Michigan State from repeating as Big Ten champs, is surging forward as a national power and
is still scarily young
. Jim Harbaugh's hiring at Michigan portends the Wolverines' return to contender status (for real this time). The East Division is only going to get tougher, especially if James Franklin keeps recruiting like a madman at Penn State.
Meanwhile, Dantonio loses the architect of his ferocious defenses and longtime collaborator Pat Narduzzi, who finally got his head coaching opportunity with Pittsburgh. Several of this year's top contributors -- Big Ten receiver of the year
Tony Lippett
, record-breaking running back
Jeremy Langford
, Big Ten defensive back of the year
Kurtis Drummond
, cornerback and potential first-round NFL pick
Trae Waynes
, four-year starting defensive end
Marcus Rush
-- are leaving, and star defensive end
Shilique Calhoun
still might join them. The Spartans' 2015 schedule won't be easy, either, as they have to go to Ohio State and get a return date from Oregon in Week 2.
I admit to having some concerns about the immediate future of Michigan State when Baylor built a 20-point lead in the third quarter on New Year's Day. But then the Spartans did what they always do nowadays: they refused to wither. Resilience has been the strength of this program under Dantonio.
Ohio State isn't going to go away, but the truth is that Michigan and Penn State are chasing the Spartans, not the other way around. Dantonio is replacing Narduzzi with two other longtime assistants in Harlon Barnett and Mike Tressel, and he's betting that the staff continuity that has served him so well will continue paying off. He's probably right, because Barnett and Tressel are rising stars in the coaching world.
"It's time for a lot of people to grow," Dantonio said, "and this is the next step in growth process."
Harbaugh will surely increase the in-state competition, but Hoke was already recruiting at a high level, at least according to the rankings. Michigan State has shown an uncanny ability to evaluate and select the players that best fit its system and then develop them. Look at Waynes, who played on the same Wisconsin high school team as
Melvin Gordon
, and yet only the Spartans truly saw the player he could become. Or
Jack Conklin
, who had no other Division I offers but might be the best left tackle in the Big Ten.
Still, hardly a public appearance has gone by the past couple of weeks where Dantonio wasn't asked about Harbaugh, including Tuesday's season wrap up session.
"Coach Harbaugh is an excellent coach," Dantonio said, no doubt and understandably irked by another Michigan question. "He's got a tremendous track record -- we all understand that. It will be the next challenge for us."
The threats against Michigan State appear to be mounting. But don't forget that Dantonio and his Spartans have built a powerhouse that can take on all comers.
November, 21, 2013
11/21/13
1:00
PM ET
About once a week, a student at Fairfield Christian Academy pokes his head into the athletic director's office and relays a recent realization.
"He'll stop in and say, 'I didn't know you threw a fake pass against Notre Dame,'" Aaron Bates said.
[+] Enlarge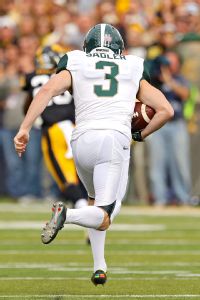 Stephen Mally/Icon SMIMike Sadler executed a fake punt, "Hey Diddle Diddle," to perfection against Iowa earlier this season.
More than three years after the play known as "Little Giants," Bates is reminded of his signature moment at Michigan State. In September 2010, the Spartans trailed Notre Dame 31-28 in overtime when Bates, the team's punter and holder, threw a 29-yard touchdown pass to tight end Charlie Gantt on a fake field goal to win the game.
"We'll talk about [the play] a little bit, and then they'll go on their way," said Bates, who became Fairfield Christian Academy's athletic director this spring. "And then the next week, I'll have a new kid come in. It's something."
Indeed, Michigan State's knack for calling trick plays
is
something. It has become a hallmark of Spartans coach Mark Dantonio and the program, partly because of the playful names attached to the plays, but mostly because they've worked so well.
Michigan State employed its latest fake last week at Nebraska when it lined up for a field goal but instead sent punter
Mike Sadler
on the move. Sadler picked up a first down, and the Spartans eventually scored a touchdown in a 41-28 win.
Sadler's dash placed "Charlie Brown" in the glorious glossary with "Hey Diddle Diddle," "Mouse Trap" and, of course, "Little Giants" -- previous Spartans fakes that led to big wins.
"Our players like to see us take a calculated risk," Dantonio said. "We don't want to do it every game. We've done it twice in 10 games, we did it once last year, so it's not like we're doing these things every week.
"It's just a part of who we are."
Dantonio isn't sure how the tricks trademark evolved but credits the success to his players. Bates recalls executing a successful fake field goal against Indiana in 2007, and how Dantonio then wanted to run one every week.
The reputation grew in 2010 with "Little Giants" and "Mouse Trap," a fake punt pass from Bates to
Bennie Fowler
that helped Michigan State erase a 10-point fourth-quarter deficit at Northwestern.
"That was kind of the breakout year for the trick plays," Sadler said. "In the past, they ran a couple fakes, but 2010 was 'Little Giants,' 'Mousetrap' and everything. That's when we became known for it because of the magnitude of those two plays."
Michigan State runs through the fakes at every practice during the special teams portion of the workout. The Spartans enter games with "at least a dozen in our back pocket," according to Sadler, but the plays actually used are based largely on opponent and situation.
"We create them as we go," Dantonio said.
A fake punt sweep employed last season against Michigan, nicknamed "Sandlot," wasn't practiced during the week but still worked as Sadler raced for 26 yards.
"There's always some base ones, plays that will work against any look," Sadler said. "And then every week, there's one or two specific looks. We just try to play according to their tendencies. That's why the one at Iowa worked ['Hey Diddle Diddle'], because they turn their backs. Same with Northwestern, when we ran 'Mouse Trap.'
"But that same fake wouldn't work against a bunch of other teams in the Big Ten."
The famous fakes enhance the profiles of often overlooked specialists like Bates and Sadler, good friends who compare stats. Bates finished his career with a passer rating of 400.4, while Sadler averages 18 yards per carry.
MSU's coaches make the planning process interactive, encouraging players to brainstorm plays and names for them. Sadler is still waiting for one of his ideas to be used in a game.
"Mike has a tendency to have a few over-the-top suggestions," special teams coach Mike Tressel said, laughing. "There's no doubt we have fun with coming up with them and naming them. The kids get into it."
So does Dantonio. He's a defensive-minded coach who comes from the typically conservative Jim Tressel coaching tree, but his penchant for trick plays shows a different side.
Even the playful names like "Mouse Trap" ("We had to get them to take the cheese,"
Dantonio joked afterward
) and "Hey Diddle Diddle" (
send Sadler up the middle
) point to a sense of humor Bates describes as unique.
"Normally people associate defensive coaches with being risk-averse people," Sadler said, "but you don't run that fake against Nebraska if you're not trying to win a championship. While he's a defensive coach, he's definitely not afraid to take risks."
The Spartans' top-rated defense makes it easier to gamble, but Dantonio often calls fakes in the fourth quarter, with the Spartans trailing and with the ball in MSU territory.
Opponents are aware of MSU's trick record. As Michigan prepared to face Michigan State, Wolverines coach Brady Hoke told ESPN.com, "I'm sure Mark's got something for this week."
"





Normally people associate defensive coaches with being risk-averse people, but you don't run that fake against Nebraska if you're not trying to win a championship. While he's a defensive coach, he's definitely not afraid to take risks.


"


-- Mike Sadler on Michigan State coach Mark Dantonio
But the knowledge rarely helps. Dantonio said Nebraska looked ready for "Charlie Brown" but still couldn't prevent a first down. After "Hey Diddle Diddle" worked against Iowa, Hawkeyes coach
Kirk Ferentz lamented
, "We may never try to return one again."
Predicting when and where Michigan State will run a fake is futile, even for those closely involved.
"There's times you might feel like he's in the mood and this is the right time and he doesn't do it," Tressel said. "Other times, you're shocked that he does do it. I suppose if he's keeping us on our toes and we don't know, that means the other guys can't know, either."
It's unlikely Dantonio has emptied his bag of tricks for the 2013 season. Don't be surprised if he has something ready if Michigan State returns to the Big Ten title game.
"He wants to win," Bates said. "He thinks the ground-and-pound and the conservative mentality is probably good for the most part, but you do have to take those risks here and there if you want to be a champion."
August, 9, 2013
8/09/13
9:00
AM ET
EAST LANSING, Mich. -- Wearing big snowsuits to deal with the harsh Michigan weather,
Max Bullough
and his family -- three siblings and two parents -- piled into the car one winter to hunt for a Christmas tree.
Max waited for his chance as they searched. When he had an opening, he tackled his younger brother, Riley. Riley tackled his younger sister, Holly. Then they all piled on the third child, Byron.
Welcome to life with the Bulloughs, where everything is competitive and athletic. Max going on a tackling spree is just as likely with his family -- where it is mostly playful -- as it is at Michigan State, where he is the Spartans' top linebacker and emotional core.
"He would always tackle everyone," Holly said. "... Really playfully, though. Ever since I could remember, they would be playing football and tackling each other, everywhere they went."
In the Bullough backyard as kids or in the basement on their knees playing knee football, it was the same.
Holly, the youngest and already a high school state champion in Michigan in the 800 and 1,600 meters as a sophomore at St. Francis in Traverse City would snap the ball to the quarterback, Riley, the second child and now a redshirt freshman at Michigan State. He'd then look for Byron, now a senior at St. Francis and a MSU commit. Defending Byron would be Max, the oldest.
In the Bullough family, now three generations strong at Michigan State and four children deep as the kids of Shane and LeeAnn Bullough, one thing is clear.
Max Bullough is boss. His family even has a name for him: Tyrant. LeeAnn coined the nickname when Max was a child because, well, he was a bit demanding.
"You don't tell Max what to do," LeeAnn said. "He'll do what he wants to do in his own time. When he went off to college, Shane and I were like, 'Phew, I can't wait for the coaches to have to deal with him."
"But he's successful because of that, too. That's just who he is."
[+] Enlarge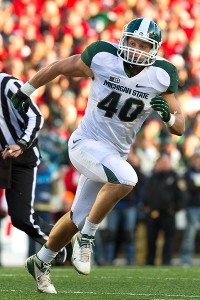 Jeff Hanisch/USA TODAY SportsMax Bullough was nicknamed Tyrant by his family, which has deep roots at Michigan State.
It has worked at Michigan State. Bullough became one of the Big Ten's top linebackers with 111 tackles and was a Spartans captain last season. At home, Byron and Holly would follow Max everywhere, listening to everything he said.
Max's personality led to some yelling when the Bulloughs were younger. Riley, the antithesis of Max as an aspiring musician and family joke-teller, learned how to agitate his brother. He'd fake being injured -- crying after Max threw a rock at him or if Max was on his neck when they wrestled -- to see Max get yelled at.
Only later would Shane and LeeAnn discover Riley was faking the whole time.
"He got yelled at," Riley said, laughing at the memory. "I did that all the time."
The relationship between the brothers, which was never bad, matured after Max left for Michigan State. The instigating stopped -- except when Max returned to Traverse City from Michigan State and Riley convinced LeeAnn to make chicken for dinner because he knew Max was sick of his staple meal from East Lansing.
Riley became the oldest child in the house. Byron took Max's room. Riley took Max's literal seat at one head of the Bullough dinner table, an honor reserved for the eldest Bullough child at home -- a tradition Max started.
Riley and Max talked more. Max texted Riley to get high school updates. Riley asked about Michigan State. When Riley committed to MSU, the relationship strengthened even more.
They'd play the same position -- linebacker -- but they would also be with each other all the time, eventually living together this year.
"He's my best friend," Max said. "He's someone I obviously have gone through my whole life with and he can say the same about me. We act a little more like brothers than best friends, but it is all with good intentions.
"I'm his number one fan out there."
Now, Max will actually watch him. Michigan State coach Mark Dantonio moved Riley to tailback in the spring. He liked his toughness. His ability to gain extra yards. Being a Bullough, Dantonio knew Riley would provide that at linebacker or tailback.
An idea of the move percolated first in a Michigan State coaches meeting, when they kicked around the idea of moving Riley to tailback. His linebackers coach, Mike Tressel, knew Riley had ball skills from linebacker drills. Dantonio had the idea stuck in his head after using Riley to simulate Iowa's
Mark Weisman
to prepare for the Hawkeyes last season. Dantonio's prior time at MSU also helped. Then, the Spartans moved a little-used linebacker named T.J. Duckett to tailback.
"With two weeks left to go in spring, I just walked in and said, 'We're moving him over there. He'll play both sides today,' " Dantonio said. "We just about wore him out."
Tressel knew the move would stick when Dantonio brought it up. Tressel knew Riley could catch. What surprised Tressel was Riley's natural vision and instincts.
By the beginning of preseason, Riley became Michigan State's top running back on the depth chart, so the possibility of a Bullough starting at two of the premier positions at Michigan State at the same time is a definite possibility. Riley always liked offense better. He just never thought he'd get a shot at it.
The fifth and sixth members of the Bullough family who played football at Michigan State might end up starting at the same time.
"How many people get to do that, where they would both start and pay quite a bit," said Shane, a MSU captain in 1986. "On both sides of the ball. We always joked it would be hard for us to get a restroom break in games this fall.
"But it'd be great."
Max doing the hitting. Riley being tackled. A Bullough on the field. Some things with the Bulloughs don't change.
April, 18, 2013
4/18/13
9:00
AM ET
EAST LANSING, Mich. -- Michigan State defensive coordinator Pat Narduzzi didn't want to nag any more.
Narduzzi always had told his defenders exactly what they needed to do to become an elite unit. He shaped the identity of the unit, rather than the players themselves.
"It's like your mother telling you to make your bed before 8 o'clock, 'Don't come down and eat breakfast, do this and do this,' " Narduzzi told ESPN.com. "And you're going, 'C'mon, Mom, can't I eat breakfast first and then make my bed?' Well, me coming in there and telling them all those things is the same."
Several years ago, Narduzzi put the players' identity in their own hands. He no longer would outline the traits that would make them a great unit. The defenders met as a group and brainstormed the core values they wanted to display on the field.
"When people watch you on tape, when people watch you on Saturday afternoons on ESPN, what are they saying about you?" Narduzzi told the players. "Are they saying, 'Look at these guys. They look confused.' Or are they saying, 'They're playing fast.' "
They chose a nickname -- Spartan Dawgs -- and a list of terms that best reflected their goals. The final product is a blueprint for a defense that has come to define the Michigan State program in recent years.
It can be found in meeting rooms, players' binders and in the locker room before games.
"We all come up with some things we can go by, stuff we need to do during the game, which is dominate, which is create turnovers, which is making plays," senior cornerback
Darqueze Dennard
said. "Stuff like that can motivate us and give us a guideline for how we come into each game.
[+] Enlarge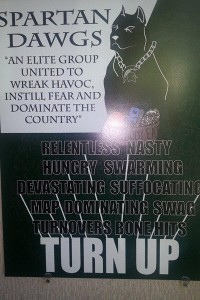 Michigan State athletic communicationsMichigan State's defense has chosen Spartan Dawgs to be its nickname.
"We've got a nice poster with the Spartan Dawgs, the goals and a little mean dog. It's kinda cool."
Defensive lineman
Tyler Hoover
, a studio art major, designed last year's poster, which features a dog wearing a Spartans logo on a chain. The dog's bowl includes a Big Ten championship ring and the words "Everybody eats."
The poster defines Spartan Dawgs as: "An Elite Group United to Wreak Havoc, Instill Fear and Dominate the Country." Below are words like relentless, nasty, swarming, devastating, turnovers and dominating. The poster ends with the words: TURN UP.
The 2011 poster was similar, and included the statement:
We will set the standard nationally for the most reckless, disruptive force unleashed on any team
. It's not exactly Shakespeare, who in "A Midsummer Night's Dream" wrote about the "hounds of Sparta" --
So flew'd, so sanded, and their heads are hung/With ears that sweep away the morning dew;/Crook-knee'd, and dew-lapp'd like Thessalian bulls
-- but it works for the players.
"We run out of synonyms, to be honest," senior linebacker
Max Bullough
said. "We have a good idea of what we want to do, where we want to be. It's just adding little flakes here and there, having different guys on the team and who's going to step up and say, 'This is what we should have on it.'
"It's pretty similar each year."
So are the results of the Spartans' defense. Michigan State finished fourth nationally in total defense last season (274.4 ypg) after placing sixth in 2011 (277.4 ypg). The unit also has ranked in the top 10 nationally in both points allowed and rushing yards allowed in each of the past two seasons. Last year, Michigan State finished third nationally in pass efficiency defense.
A high standard has been set, but the Spartans expect to reach it again this season. Seven defensive starters return, including two 2012 first-team All-Big Ten selections in Bullough and Dennard, along with honorable-mention selections in safety
Isaiah Lewis
, linebacker
Denicos Allen
and end
Marcus Rush
. The Spartans boast one of the deepest secondaries in the country, a veteran linebacking corps and several potential stars up front like
Shilique Calhoun
, who locked up a starting end spot opposite rush this spring.
"We have an experienced secondary coming back, an experienced defense coming back," Lewis said. "I'm just expecting what everybody else is expecting, to come out and dominate other teams."
The defense has areas that can be improved, such as generating more sacks (tied for 93rd nationally last season, 1.54 per game) and takeaways (tied for 73rd with 20). But asked what the next phase is for the defense, Narduzzi replied, "Keep doing what we're doing."
The Spartans have evolved into an elite defense under Narduzzi and coach Mark Dantonio, a former defensive assistant at four FBS schools, including Michigan State (defensive backs, 1995-2000) and Ohio State (defensive coordinator, 2001-03). But they weren't always that way.
Michigan State finished 31st, 58th, 73rd and 43rd in defense during Dantonio's first four seasons as coach. The Narduzzi/Dantonio-led defenses at Cincinnati from 2004 to 2006 were decent but not special, finishing no higher than 31st nationally.
[+] Enlarge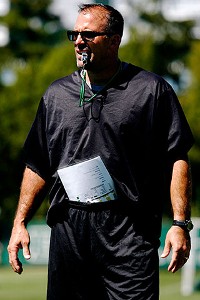 AP Photo/Al GoldisPat Narduzzi's Michigan State defense ranked fourth nationally in total defense last season.
Dantonio identifies three factors that have helped the Spartans' defense reach nationally elite status: stronger recruiting/player development, staff continuity, and players who have experienced success and know the standard.
"We've got players who have excelled in the past, and success breeds success," Dantonio said. "When they have the same teacher, and that same base concept stays the same, over a period of time you begin to handle it more efficiently. I think that's happened to our football team. It doesn't mean we don't have breakdowns. We do. But we're able to overcome those, and we're able to play with a lot of confidence and we're able to play fast.
"Any time you can do those two things ... you can be successful."
The same teacher is Narduzzi, who has served as Dantonio's defensive coordinator throughout his head-coaching career. Despite being courted by Texas A&M after the 2011 season and being mentioned for several head-coaching vacancies, he'll remain with the Spartans for a seventh season this fall.
Assistants Harlon Barnett (secondary) and Mike Tressel (linebackers) also came with Dantonio and Narduzzi from Cincinnati. The defensive staff had its first change this past offseason, when line coach Ron Burton replaced Ted Gill.
"There's something to be said about that," Bullough said. "You can play fast, you know the defense, you don't have to worry about the little things and the big things will take care of themselves."
Michigan State's defense wasn't the reason the team backslid from 11 wins in 2011 to seven last season. The unit made strides in most major statistical categories and played arguably at a championship level. But it wasn't perfect, and with Michigan State's offense sputtering -- the Spartans finished 108th in scoring and 95th in total yards -- it cost the team. They dropped five Big Ten games by a total of 13 points.
There's a concern that the gap between the defense and the offense will create splintering, but Dennard says the Spartans "never got divided." Still, the offensive players know they must make up some ground this offseason.
"Each day, going to practice is a challenge for us," offensive tackle
Fou Fonoti
said. "Seeing them play with the amount of emotion, and you see Coach Narduzzi, it puts that fire for us. We've got to execute better, so we're trying to feed off of that."
This year's Spartan Dawgs blueprint should be finalized soon. One word likely to appear, if Lewis has a say, is nastiness.
Barnett has a picture of The Incredible Hulk on the wall of the defensive backs' meeting room and encourages his players to "bring the other guy out."
"I'm a nice guy off the field, but when you step on that field, you aren't that nice guy any more," Lewis said. "You've got to bring out that other side. ... Just a nasty guy, somebody mean, somebody angry."
Somebody striving to be the best.
"We want to be the No. 1 defense, we want to be the talk of the nation," Dennard said. "We take so much pride in that. None of us forget the blueprint."
April, 22, 2009
4/22/09
5:36
PM ET
Posted by ESPN.com's Adam Rittenberg
EAST LANSING, Mich. -- It was probably a good thing that neither Kirk Cousins nor Keith Nichol attended Wednesday's spring game draft at the Skandalaris Football Center.
The two Spartans quarterbacks would have felt a bit like Brady Quinn and Aaron Rodgers. They would have been waiting a while.
Michigan State's senior class divided into two teams and made the selections for the Green and White squads. They filled 16 different position groups before coming to the quarterbacks. Even the long snappers were scooped up before Cousins and Nichol.
The Green team finally relented and picked Cousins, the sophomore who backed up Brian Hoyer last season. That meant Nichol went to the White team, which seemed happy to have him.
"It was interesting how the guys who may be the MVP, the quarterbacks, they're some of the last ones picked," said head coach Mark Dantonio, who officiated the draft inside the team meeting room. "It's because everybody feels they're both very, very good players and they both can lead and they both can make plays. That's a positive thing."
This year's draft wasn't nearly as entertaining as its predecessor, in large part because Dantonio was the only coach in the room. Last year, quarterback Brian Hoyer and Pat Narduzzi got into it regarding the drafting of offensive lineman Joel Nitchman.
"We've kept coach Narduzzi out of there this year," Dantonio told the players with a smile.
It was fun to watch the normally all-business Dantonio oversee the proceedings. He split up the entire football staff between the two squads, all the way down to the trainers, operations staff, film coordinators and turf management staff.
Defensive line coach Ted Gill will serve as head coach of the White team, with linebackers coach Mike Tressel as his defensive coordinator and tight ends coach Mark Staten as the offensive coordinator. Offensive line coach Dan Roushar will be the head man for the Green squad, with quarterbacks coach Dave Warner as offensive coordinator and secondary coach Harlon Barnett as the defensive coordinator.
The national runner-up Spartans men's basketball team also will play a key role in the Green-White game. Outgoing seniors Travis Walton and Idong Ibok attended the draft and will serve as two of the honorary captains for the Green team, while the hoops assistant coaches will do the same for the White squad.
Walton, ever the team captain, seemed to be running the Green team's draft, while defensive end Trevor Anderson was the point man for the White squad. Each team received two minutes between selections.
Some highlights:
For the second straight year, All-Big Ten linebacker Greg Jones was the first player drafted, going to the Green team, which won a coin flip. Safety Trenton Robinson's stellar spring rubbed off on the White team, which selected Robinson with its first pick.

There was a bit of strategy involved, especially since the seniors had been drafted to the two teams by the coaches earlier in the day. Dantonio said Gill chose Anderson with the top pick among seniors.
A bit of a surprise as Caulton Ray, not Ashton Leggett or Andre Anderson, was the first running back drafted, by the Green team. The White team then picked Leggett and Anderson went Green.

Despite cornerback Jeremy Ware's desire to draft Mark Dell, the White team went with sophomore Keshawn Martin as the first wideout taken. The Green team scooped up Dell, while the White took B.J. Cunningham. Walk-on wideout Milton Colbert was picked before Fred Smith, a heralded 2008 recruit.
After the Green team picked Charlie Gantt as the first tight end, the White squad went with Clemson transfer Brian Linthicum instead of Garrett Celek, who played a decent amount last year.
The White team has the edge in special teams with starting kicker Brett Swenson and starting punter Aaron Bates.
The Green team ended up with most of the first-string offensive line (tackle J'Michael Deane, right guard Jared McGaha, center Joel Nitchman), while the White team will counter with several starters on the D-line (Anderson, defensive tackles Jerel Worthy and Oren Wilson). After the draft, the White squad proposed a trade that would swap Cunningham for Deane, but got shot down. "Alright, we're good to go," Anderson said, before high-fiving his teammates.
April, 14, 2009
4/14/09
10:02
AM ET
Posted by ESPN.com's Adam Rittenberg
Like many defensive coordinators, Michigan State's Pat Narduzzi is spending spring ball shuffling the deck.
Fortunately for Narduzzi, he has college football's version of a wild card.
| | |
| --- | --- |
| | |
| | Joe Robbins/Getty Images |
| | Greg Jones led the Spartans in tackles as both a freshman and a sophomore. |
Spartans junior Greg Jones is the type of player who excels just about anywhere he lines up on defense. This spring he's taking reps at middle linebacker, outside linebacker and even rush end.
"Depending on the down and distance and the package, he'll be all over the place," Narduzzi said. "We really don't want people to know where that guy is, and he's smart enough that we can almost put him anywhere."
And to think, the prospect of switching positions was a main reason why top-level programs stayed away from Jones during recruiting.
He played defensive end for most of his high school career at Cincinnati powerhouse Archbishop Moeller, switching to linebacker for his senior season. Jones can be found in recruiting databases as both a linebacker and a defensive end.
"Converting to linebacker, a lot of guys don't make a clean transition," Jones said. "That was the big thing. Ohio State or whoever just didn't want to take that chance, and I was perfectly fine with that."
Not only did Jones make a spotless transition at Michigan State, but he has become one of the Big Ten's top linebackers. He led the Spartans in tackles as both a freshman (78) and a sophomore (127), and earned first-team All-Big Ten honors from the coaches last year after finishing third in the league in tackles and ninth in tackles for loss (14.5).
Michigan State returns eight starters from a defense after a 9-4 season, and Jones is the linchpin.
"He's a smart football player," Narduzzi said. "His freshman year, he didn't do a lot of things right. Last year, he did a lot of things right. And right now, he's doing almost everything right."