September, 9, 2014
Sep 9
2:30
PM ET
Four hands, not two, hold the destiny of
Oklahoma State
's future.
[+] Enlarge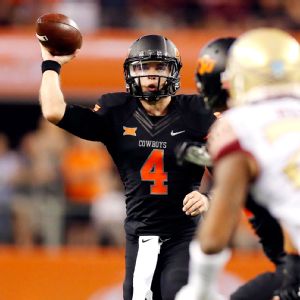 Matthew Emmons-USA TODAY SportsJ.W. Walsh is the Cowboys' starting quarterback, but he's hampered with a foot injury.
All signs point to quarterbacks
J.W. Walsh
and
Daxx Garman
taking snaps for the Cowboys as the 2014 season progresses.
Walsh, OSU's starter, injured his foot during OSU's
40-23 win
against Missouri State and the extent of the injury remains unclear with coach Mike Gundy saying Walsh would be re-evaluated on Tuesday. Garman stepped in for Walsh against Missouri State, going 16 of 26 for 244 yards and two touchdowns in his first action as a Cowboy. He would start if Walsh's injury keeps him on the sideline against Texas San-Antonio on Saturday.
Counting on multiple quarterbacks is not unusual in Stillwater, Oklahoma. In fact, it has become commonplace.
Since
Brandon Weeden
left the program after leading OSU to its lone Big 12 championship in 2011, the Cowboys haven't gone a full season with a clear No. 1 signal-caller. In 2012,
Wes Lunt
, Clint Chelf and Walsh each started games under center. Last season, Walsh and Chelf each took turns as a man running OSU's offense.
It should be no surprise the Cowboys will use multiple quarterbacks again, particularly considering Gundy has been saying as much since preseason camp began.
Walsh brings a strong running element to the Cowboys' offense. With the junior under center, OSU is more apt to harken back to the days of Zac Robinson, when quarterback run-game schemes were a staple. During his career, Walsh has averaged 19.5 pass attempts and 156.5 passing yards per game along with 6.2 carries and 33.9 rushing yards per game. Only TCU's
Trevone Boykin
(759) has rushed for more career yards than Walsh (677) among active Big 12 quarterbacks.
Garman brings more deep passing to the table, making the offense look like it did with Weeden behind center with OSU counting on the pass to create matchup nightmares for defenses. Last weekend was his first football game since 2009 -- Garman missed his senior year in high school and sat out a redshirt season at Arizona before transferring and sitting out a year at OSU -- but the junior's passing ability was on full display and has been praised by Gundy and offensive coordinator Mike Yurcich since the spring.
[+] Enlarge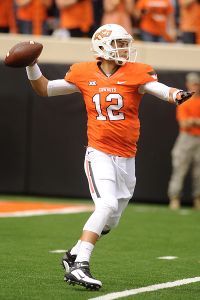 Mark D. Smith/USA TODAY SportsQB Daxx Garman provides solid skill and ability to throw the ball down field in the Cowboys' offense.
"We, as an offense, want to maintain balance regardless of who's at quarterback," Yurcich said. "We want to complement ourselves and J.W., a lot like Daxx, can make a lot of throws down the field. When you talk about arm strength, J.W. Walsh has a very strong arm and Daxx has a very strong arm. They both have their strengths. Obviously, Walsh is a little bit better of a runner."
This season, 12 of Walsh's 36 passes have traveled 10 "air yards" or more, according to ESPN Stats & Information. In other words, his passes have traveled 10 yards or more in the air on 33.3 percent of his total attempts. Walsh was 4 of 12 for 97 yards, one touchdown and one interception on those attempts.
Meanwhile 14 of Garman's 26 passes last Saturday traveled 10 yards or more in the air, 53.8 percent of his throws. Garman was 7 of 14 for 208 yards and two touchdowns on those attempts.
To be fair, Walsh's numbers came against defending national champion Florida State while Garman's numbers came against FCS foe Missouri State. Nonetheless, it's pretty clear Garman provides a better deep passing threat than Walsh as the numbers support the differences we see in OSU's offense when Walsh or Garman is under center.
And that's why OSU was talking about using both quarterbacks before the season even began with Gundy saying on multiple occasions that Garman was ready to help the Cowboys' offense in 2014.
If Walsh is out for an extended amount of time, the deeper passing game will emerge as a bigger part of the offense as the Cowboys strive to transform the offense to fit Garman's strengths.
But the coaching staff insists the foundational aspects of the offense will remain.
"The ability to play-action, throw your quick game, throw your drop-backs, and then being able to change your pace with tempo and be able to complement yourself is the key," Yurcich said. "Regardless of what quarterback is in."
August, 13, 2014
Aug 13
4:00
PM ET
Don't blame Mike Yurcich if he settles in for some down time this week, turns on The Discovery Channel's Shark Week and feels like he can relate.
After all, the
Oklahoma State Cowboys
offensive coordinator had to feel like he was thrown to the sharks during his debut campaign in the Big 12 after leaving Division II Shippensburg (Pa.) University to become main man at the helm of one of college football's most explosive offenses in 2013.
[+] Enlarge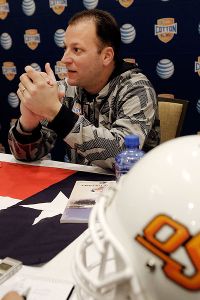 Brandon Wade/AP PhotoAs Mike Yurcich enters his second season at Oklahoma State, the offensive coordinator says he has finally settled in to the job.
"If you think about it, he went from the local hometown newspaper to USA Today," Cowboys coach Mike Gundy said. "It's a little different."
Different life. Different home. Different region of the country. Everything changed for Yurcich after Gundy's surprising decision to hire a coach with zero experience as an offensive coordinator at an FBS school.
Now, heading into his second season, it is Yurcich who has changed.
"He's taken control in practice," Gundy said. "He's involved in every step, in the huddle and coaching everybody on the field.
"He's just different now than he was."
Yurcich was aiming to keep his head above water in a lot of ways a year ago. Heading into the 2014 season, the Pokes' OC feels more prepared for the task at hand with a year of experience as a Big 12 offensive coordinator under his belt.
"Anytime you're able to look at defenses the second year, their schemes and look at your game plan from a year ago, now you have something to balance it with," Yurcich said. "When we were in 2013 and I'd look back at 2012, you're still looking at that defense, so you are, in essence, looking at it for a second time. But you weren't there, you didn't experience it. And I think that experience, the second time around, is invaluable."
It's not like Yurcich's debut season was a flop. As the Cowboys' offense grew into its identity, so did Yurcich. The Cowboys finished second in the Big 12 in points per game (39.1), third in yards per play (5.91) and first in red zone efficiency (75 percent) during his first season in Stillwater, Oklahoma.
"He did a good job last year," Gundy said. "We had a couple issues here and there that kept us from being as good as we needed to be, but with his presence we got better on offense. Games 4, 5, 6 he started to get a feel for exactly who we were. I think he grew with the team."
Now Yurcich feels like the offense is his. And the Cowboys' players can sense a new level of confidence and conviction in the words of the second-year OC.
"His confidence overall [has increased]," junior receiver
David Glidden
said. "Being able to take control of the offense and take control of what he wants done. Last year was more of a group effort as far as getting things done, he was obviously the top guy and running it, but this year there's a little more of a sense of control of what he wants to get done and accomplished."
Heading into preseason camp, Yurcich had a pair of goals for his offense.
"(First) becoming a smart offense, an intelligent offense," he said. "That's really about repetition and being organized on my end. As a coordinator I feel like that's my responsibility to make sure everybody is on the same page to know what we're doing and why we're doing it so there's a purpose behind it."
Another focus for Yurcich is laying the foundation for any success the Pokes' offense will have in 2014.
"[Secondly] having a great effort when we hit the field, having good attitudes and learning to practice with a purpose," he said. "We don't practice at 3:30 on a Tuesday because it's 3:30 on a Tuesday, we practice at 3:30 on a Tuesday because it's the next opportunity to get better. We understand that, we did last year and those things are the building blocks to understanding how important ball security is, to understanding what tempo means and when we go faster to play really fast without any hesitation.
"Those are the building blocks then you go from there."
July, 9, 2014
Jul 9
10:30
AM ET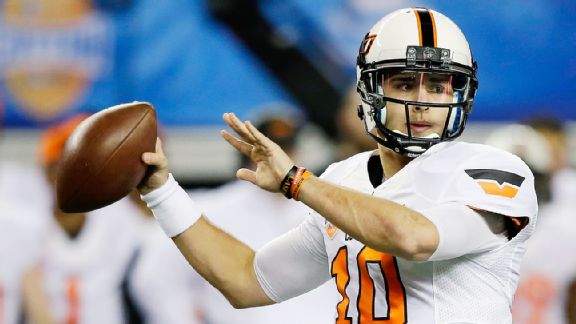 AP Photo/Tim SharpClint Chelf threw for 2,169 yards and 17 touchdowns for Oklahoma State last season.
Last season, Clint Chelf joined Brandon Weeden as the second Oklahoma State quarterback ever to earn all-conference recognition.
After losing his starting job to
J.W. Walsh
after the second series of the season opener, Chelf came roaring back to reclaim the starting position and fuel the Cowboys to a seven-game winning streak.
Despite watching nearly half the season from the sideline, Chelf finished eighth nationally in Adjusted QBR.
Chelf, who is currently working out in his hometown of Enid, Oklahoma, still hoping to get a shot in the NFL, spoke with ESPN.com this week about Mike Gundy, Oklahoma State's 2014 prospects and the time Boone Pickens danced in the locker room.
What did it mean to you to become the second quarterback in school history to earn All-Big 12 recognition?
Chelf:
It's really cool. That's something I was honored to hear. At the same time, it doesn't make me angry, but it makes me wonder what might have happened if I had gotten more snaps and gotten to play more games. But that's something you go down in history for, and I'm honored by it.
You guys were literally seconds away from winning the Big 12 championship, and you would have been the hero having led the offense to the late go-ahead touchdown. What was going through your mind when Jalen Saunders caught that touchdown pass for Oklahoma at the end?
Chelf:
Disappointment, I guess. I really felt like when we went down and scored, I thought, with the way our defense was playing all year, that we had won it. Unfortunately, they made some big plays. It was just overwhelming emotions after they scored. That's something I'll always remember, that was a tough loss for us, and for me especially. It was as opposite end of the spectrum as you can get in two minutes. We were ecstatic and thought we had just won the Big 12 to absolutely disappointed. It was really tough.
On the other side, what was your favorite moment from last season?
Chelf:
My favorite moment would probably be catching a pass against Baylor.
That whole Baylor game
obviously was a lot of fun. As a quarterback, that's something you don't get a chance to do. That was really a fun atmosphere.
What was it like playing under Coach Gundy?
Chelf:
It was really kind of surprising how it worked. My first year there, he was still involved in our offense. He was more hands on with us, so he got to be around us a lot. But the next couple of years we hired Dana (Holgorsen) and Coach (Todd) Monken, and (Gundy) was never around us. The two offensive coordinators were with us in meetings, on the field, and (Gundy) was kind of more on the defensive side. At the end of the Coach Monken era, Coach Gundy came back in the Heart of Dallas Bowl and he was around us again. He's an offensive-minded football coach. He's a good guy. He broke things down for us where all the guys in the room could understand. He relates to the guys well.
Everyone knows about his dancing
. It's fun. Guys see we have a coach that will act goofy with us and isn't afraid to be around us and let his hair down. That's just how he is. Around us, behind closed doors, he's a good guy, he's not afraid to have fun. I think that helps him relate to the guys.
So was he more around the offense again this past season?
Chelf:
Yeah, he was more around. Just with the dynamics of it, Dana and Coach Monken were older guys that had been around. Monken was from the NFL. Dana had been an offensive coordinator for a long time. Coach (Mike) Yurcich, it was his first time being at a big-time school in a big-time conference. So I think Coach Gundy, it's not like it was him coaching, it was Coach Yurcich, but Coach Gundy was around more than he was with the other two guys.
There has been some speculation that maybe Gundy and (former Oklahoma State offensive line coach) Joe Wickline were calling plays at times last season instead of Yurcich. Any truth to that?
Chelf:
I think as far as calling plays during the game, Coach Yurcich was calling plays. When we went in for adjustments, everybody would put in their ideas about what would work. Having guys like Coach Gundy, Coach Wickline, those are guys Coach Yurcich could look to and listen to when they had ideas. Those are people you listen to. They influenced (the offense), but they didn't try to take anything away from Coach Yurcich. I think it was a group effort. I think (Yurcich) called the plays, but they all gave suggestions.
Do you have any good Boone Pickens stories?
Chelf:
After we won the Big 12 championship in 2011, he came in and did a little Gundy impersonation, and showed us his moves. They were pretty cool for a 70-year-old billionaire. That was probably the funniest one that I can remember.
Who is the better dancer, Gundy or Boone?
Chelf:
I'd have to say Boone, for being the older guy. I think he had a little bit more rhythm.
Moving to this season, what is the key to Walsh playing more efficiently the way he did two years ago?
Chelf:
What's going to help him is having those athletes around him. I think they're going to be really deep at receiver this year. With J.W., everyone knows he can run and make plays with his legs. What helps him is if you can get him going early with quick passes and let him make some plays running to get his confidence up. I think that really helps him the whole entire game. Getting him going early is a big key for him.
The players all talk about Walsh's leadership. What is it that makes him a good leader?
Chelf:
He's really relatable to all those guys. He hangs out with all them. He's also a hard worker. I think that's probably his biggest asset. Those guys see him in the weight room. When they're running, he's always out in front. Guys respect guys like that and he gives the younger guys someone to look up to.
With so much turnover from last year, what are your thoughts on the Cowboys this season?
Chelf:
It's going to be tough. I think that's something everyone should be prepared for. Anytime you lose 28 seniors and guys that pretty much all played, that's going to be hard to replace. At the same time, I think they have a lot of talent at the skill positions, and with J-Dub, I think they're going to be fine. And then on defense, they're going to be young and have growing pains. But at the same time, Coach (Glenn) Spencer is one of the best defensive coaches I've ever been around. He has his guys prepared and ready to go. I think that's going to be huge for the defense, having him on their side. But it's also going to be a hard season, I think.
Some people probably don't know this, but you grew up in Enid with former Oklahoma linebacker Austin Box, who passed away suddenly in 2011. How tough was that and what do you remember about Austin?
Chelf:
It was really tough. I remember the day. I was sitting in the exact same spot I'm sitting in right now. I was one of the first ones to find out in my family. My brother was home, I went in there and told him and my mother. They were shell-shocked. That was one of my brother's best friends. They played everything together since they could walk. I was kind of the tagalong with them. It was a tough time. The one thing I remember about Austin, whenever he walked in the room, it didn't matter if there were a hundred people or 10, you could always hear him. He was always loud and charismatic and funny. I'll always remember that. He was a great guy, and someone I looked up to since I could walk. He's one of the reasons I wanted to play quarterback. Watching him do some of the things he did at Enid was inspiring. It was a tough loss. But we always remember how Austin was growing up. Kind-hearted and a great guy.
March, 11, 2014
Mar 11
9:00
AM ET
STILLWATER, Okla. -- Just two springs ago, Oklahoma State had a true freshman quarterback emerge out of a three-way battle to stunningly capture the starting job before the season.
This spring, the Cowboys have another true freshman quarterback who might be capable of the same.
After winning 10 games and ranking in the top-10 for several weeks late last season, Oklahoma State kicked off its spring practice on Monday as a team in transition. Of all 128 FBS programs, only Utah State returns fewer starters than the Cowboys. And one of the many positions the Pokes must find starting replacement is at quarterback.
Gone is
Clint Chelf
, who became just the second quarterback in program history to earn first- or second-team all-conference honors.
J.W. Walsh
, who has eight career starts over two seasons, is the only returner at the position with any experience and is the favorite to reclaim the starting job.
[+] Enlarge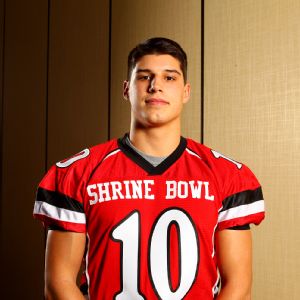 Miller Safrit/ESPNMason Rudolph was the star of Oklahoma State's 2014 class and will be afforded every opportunity to become the Cowboys' starting quarterback.
But the Cowboys also have an intriguing true freshman in
Mason Rudolph
, who enrolled early and will be with the squad this spring.
Two years ago, head coach Mike Gundy named true freshman
Wes Lunt
the starter coming out of spring drills. And one pressing question that popped up Monday during Oklahoma State's spring press conference was, would Gundy entertain the idea of doing the same again?
"The truth is, if you have a freshman come in and is the better player, you probably play him," Gundy replied. "It would be hard at that position [quarterback] because we can say what we want, but everybody watches the practices we watch. And everybody has a good feel for what's happening. And we have a responsibility to our team to give them the best chance to have success. So we have to watch real close. I thought three springs ago that [Lunt] was clearly the best player -- that's why we named him the starter. What that holds for the future, I'm not sure. But if we didn't think he was [the best], we certainly wouldn't have named him the starter. And so we just have to watch and see how it works."
In other words, Rudolph will have his chance, just like Lunt did.
Rudolph arrived in Stillwater as perhaps the most highly-touted quarterback prospect the school had ever signed.
Lunt was a three-star recruit and was the No. 42-ranked quarterback coming out of high school. By contrast, Rudolph was Oklahoma State's top recruit of this class and was rated the eighth-best pocket passing quarterback in the nation.
He threw for 4,377 yards and 64 touchdowns as a senior at Northwestern High in Rock Hill, S.C., while leading his team to a state championship.
Weeks later, he was named MVP of the Shrine Bowl of the Carolinas All-Star Game after leading his team on a game-winning touchdown drive. Rudolph split time with Georgia quarterback signee
Jacob Park
, but when the game was on the line, Rudolph was the one the coaches called on. And like he had in high school, Rudolph delivered in crunch time.
"He had that leadership ability that you could see on the sideline with his team," Oklahoma State offensive coordinator and quarterbacks coach Mike Yurcich said. "When he threw the football, the physical side was apparent.
"He also has an 'it' factor. You know when you see it. It's hard to describe. It's hard to put into words."
Whether that "it" factor translates into Rudolph accomplishing what Lunt did two springs ago remains to be seen.
Lunt had an easier path to the starting job then. The Cowboys were replacing first-round NFL draft pick Brandon Weeden, and at the time, neither Chelf nor Walsh had any experience.
Though Walsh's play dipped last season, he shined as a redshirt freshman after Lunt got injured in 2012 and wound up leading the entire Big 12 in the Adjusted QBR metric.
"J.W. always has had great leadership, and we want him to have a great feel for what we want to accomplish on offense from a read standpoint, footwork fundamentals, things that he can control," Gundy said. "J.W. brings experience to the table. J.W. will be the guy that goes out there first this year because he has the most experience."
Experience alone, however, won't guarantee Walsh the job.
Limited arm strength plagued Walsh's ability to complete throws downfield last season. That, coupled with poor decision-making, opened the door for Chelf to reclaim the job in early October.
Superior arm strength is what helped propel Lunt to the top of the depth chart two springs ago, and that could also be a similar asset for the 6-foot-4, 217-pound Rudolph this spring. But Rudolph, who rushed for 16 touchdowns as well last season, also seems to possess more mobility than Lunt, who suffered a knee injury after his third start while unsuccessfully attempting to escape the pocket.
"You can also tell he has some fight in him," said third-year wide receiver
Austin Hays
. "It's so hard when you're a freshman. But towards the end of spring, Wes really started to find his way. Eventually he earned it, and everybody followed him.
"I don't see why Mason couldn't do that, too."
February, 24, 2014
Feb 24
9:00
AM ET
Since the turn of the millennium, the Big 12 has forged a national identity of elite quarterbacking. In fact, dating back to 2000, the Big 12 had a quarterback become a Heisman finalist in every season but three.
Last season, however, that identity all but vanished.
[+] Enlarge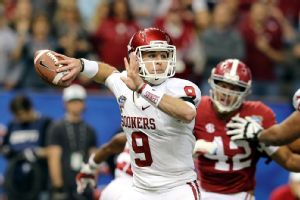 Chuck Cook/USA TODAY SportsOklahoma quarterback Trevor Knight torched Alabama for 348 passing yards and four touchdowns in the Allstate Sugar Bowl.
Bryce Petty
briefly emerged into a Heisman contender at Baylor. But otherwise it was a dismal season for quarterbacking according to the Big 12's high standards. Oklahoma State's
Clint Chelf
was named the league's second-team quarterback despite starting only half of 2013. Nine of the league's 10 teams juggled starting quarterbacks well into October.
But thanks to breakout performances during the bowl season, coupled with the imminent arrival of numerous blue-chip freshmen, the conference appears on the way back to restoring its quarterbacking reputation heading into spring practice.
Baylor, Kansas State, Oklahoma and Texas Tech have their starters cemented. Oklahoma State, Texas, TCU and West Virginia will welcome true freshmen with the pedigrees and opportunities to compete for jobs right away. And Kansas (
Montell Cozart
) and Iowa State (
Grant Rohach
) enjoyed promising moments from a pair of freshmen.
After totaling 46 touchdowns to just three interceptions in his first season as the starter, Petty headlines the position in the league again.
But if the bowl season was any indication, he won't be the lone headliner.
Oklahoma freshman
Trevor Knight
torched Alabama in the Allstate Sugar Bowl to the level backup
Blake Bell
asked to change his position to tight end.
In the National University Holiday Bowl, Texas Tech freshman
Davis Webb
lit up Arizona State, too, driving
Michael Brewer
to ask for a transfer.
And Kansas State's
Jake Waters
capped a red-hot second half of his season by throwing for three touchdowns in a rout of Michigan in the Buffalo Wild Wings Bowl.
Knight, Webb and Waters delivered three of college football's 10 best bowl performances according to the
Adjusted QBR metric
. All three rapidly improved in their first seasons. And that rapid improvement figures only to continue in their second.
"Traditionally, Year 2 in the offense is when you see the most growth in a quarterback," Texas Tech coach Kliff Kingsbury said.
Of the three, Knight was the only full-time starter to begin the season. Spearheaded by a dazzling preseason, he beat out Bell, who was the favorite to replace four-year starter
Landry Jones
. But Knight completed just 21 of his first 48 pass attempts, and after a knee injury, lost the job to Bell not even two games in.
Knight, however, emerged late in the season, and displaying improvement with his accuracy, led the Sooners to a late November win at Kansas State. Then in the Sugar Bowl, he finally showed why he won the job originally in August. Against one of the nation's most dominant defenses, Knight completed 32 of 44 passes as the Sooners toppled the Crimson Tide in one of the biggest upsets in BCS bowl history.
"If you're going to win a championship, your quarterback is going to have to make plays," Oklahoma offensive coordinator Josh Heupel said. "We all saw Trevor [struggle] as a young freshman, first start, first game. To see him grow throughout the entire year and play extremely well down the stretch and played really well in the Sugar Bowl, obviously -- he's obviously got a great future."
[+] Enlarge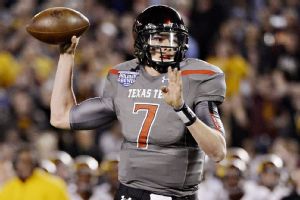 Donald Miralle/Getty ImagesTexas Tech signal-caller Davis Webb had a breakout performance against Arizona State, completing 28 of 41 passes for 403 yards and four touchdowns in the win.
The same goes for Webb.
Despite being the only healthy scholarship quarterback on the roster in August, Webb was beaten out by walk-on true freshman
Baker Mayfield
. But like Knight, Webb settled in behind the scenes. After Mayfield injured his knee, Webb led Tech to a come-from-behind win at West Virginia. Then, after Mayfield transferred, Webb was almost flawless against the Sun Devils. He passed for 403 yards and four touchdowns as Texas Tech controlled the game the entire night.
"The success he had in that bowl game against one of the top defenses showed what he can be," Kingsbury said.
Waters' bowl success showed the same.
Out of junior college, Waters beat out
Daniel Sams
for the starting job to begin the season. But with Waters taking the majority of the snaps, K-State fell in its season opener to FCS opponent North Dakota State. The next two months weren't much better for Waters or the Wildcats, as the defending Big 12 champs stumbled to a 2-4 start.
But after losing snaps to Sams, Waters reestablished control of the position and quarterbacked K-State to wins in six of its final seven games, including a 31-14 rout of Michigan in the bowl. Waters had his best outing yet, too, completing 78 percent of his passes for three touchdowns.
While Waters, Webb and Knight will be looking to build off their bowl performances this spring, Oklahoma State's
Mason Rudolph
will be looking to win a job. Perhaps the most highly acclaimed quarterback the Cowboys have ever signed, Rudolph had a monster senior season in Rock Hill, S.C., throwing for 64 touchdowns while leading his team to a state championship. Enrolled for spring ball, the ESPN 300 recruit will challenge
J.W. Walsh
.
"Mason really brings all of the characteristics you want to see in a quarterback," Oklahoma State offensive coordinator Mike Yurcich said. "All of the intangibles."
Plenty more quarterback talent is on its way, too.
Texas'
Jerrod Heard
, West Virginia's
William Crest
and TCU's
Foster Sawyer
were also four-star recruits in the 2014 class, and they will be joining their schools in the summer with chances to play right away.
Such opportunities exist because the Big 12 quarterback play was down last season. But heading to spring, the league's most identifiable position is on its way back up.
January, 10, 2014
Jan 10
10:00
AM ET
Below, we break down the best and the worst of the Big 12's bowl season:
Best win:
The Oklahoma Sooners have been searching for a victory that would signal their return to the nation's elite. They finally got such a victory in the Allstate Sugar Bowl, as Oklahoma smoked the two-time defending national champs from Alabama, 45-31. With tons of young talent returning, notably quarterback
Trevor Knight
and linebacker
Eric Striker
, the Alabama victory could propel Oklahoma toward a national title run in 2014.
Worst loss:
Baylor had a chance to put the finishing touches on a fabulous season. Instead, the Bears lost to UCF, one of the biggest underdogs in BCS history, 52-42 in the Tostitos Fiesta Bowl as the conference champion Bears ended their season on a sour note. It was still a great season for Baylor, yet one that didn't end so great.
Best offensive performance:
Texas Tech's
Davis Webb
and Kansas State's
Jake Waters
and
Tyler Lockett
were all terrific, but nobody had the bowl game Knight did. Oklahoma's redshirt freshman quarterback completed 32 of 44 passes for 348 yards and four touchdowns. He did have one interception, but even that pass bounced off his receiver's hands. Those would be great numbers against anybody, and Knight didn't produce them against just anybody. He produced them against Alabama.
[+] Enlarge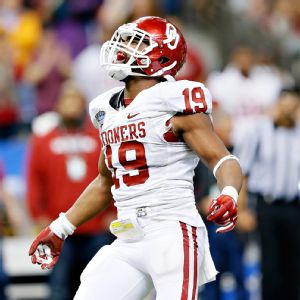 Kevin C. Cox/Getty ImagesOklahoma's Eric Striker dominated Alabama in the Allstate Sugar Bowl.
Best defensive performance:
Oklahoma linebacker Eric Striker was an absolute menace in the Sugar Bowl. On top of a team-high seven tackles, he sacked Alabama quarterback
AJ McCarron
three times and forced a fumble in the game's final minute that sealed the victory. Striker was virtually unblockable all night.
Best special teams performance:
Texas Tech dominated most of the National University Holiday Bowl. But the game became tense early in the third quarter when Arizona State scored on a 44-yard run to cut Tech's lead to 27-20. Those tense moments lasted for just moments. That's because
Reginald Davis
returned the ensuing kickoff 90 yards for a touchdown, putting the Red Raiders back up by two scores. Arizona State never threatened again as the Red Raiders cruised to a 37-23 upset victory.
Best play:
With just a minute to play, Alabama got the ball back at its 18-yard line with a chance for game-tying touchdown drive. Instead, on the first snap, Striker came barreling around the edge and crashed into McCarron's blind side. The ball popped to the ground, and defensive end
Geneo Grissom
scooped it up and rumbled eight yards for a game-clinching touchdown. It was Oklahoma's seventh sack of McCarron.
Worst play:
The Big 12 had a similar play go the other way. Down 34-31, Oklahoma State drove into Missouri territory with a chance of – at worst – lining up for a game-tying field goal. Instead, the Cowboys called a pass on third-and-7, and before quarterback
Clint Chelf
could unload the ball, he was sacked from behind by SEC defensive player of the year
Michael Sam
, who knocked the ball loose. Missouri's
Shane Ray
gobbled up the fumble and raced 73 yards for the touchdown, as the Tigers won the game 41-31.
Best catch:
On second-and-goal from the Michigan 8, Kansas State wideout Tyler Lockett was lined up across from Michigan cornerback
Raymon Taylor
. Lockett drove right into Taylor, then looked back to quarterback Jake Waters. The ball came sailing low, but Lockett went down to get his hands under the ball before it touched the ground, giving him his third touchdown catch of the game and putting K-State ahead 21-6.
Worst play-calling:
The Cowboys were just 9 of 22 on third down against Missouri, and curious play-calling from offensive coordinator Mike Yurcich seemed to be a big reason why. Twice on third-and-3, Yurcich called running plays up the middle, which Missouri's powerful defensive line stuffed to snuff promising Oklahoma State drives. Yurcich called another running play up the middle on third-and-1 at the end of the quarter, which the Tigers obliterated again. With the Cowboys defense dominating Missouri through the third quarter, Oklahoma State missed an opportunity to take command of the game. Third-down play-calling was a big reason why.
Best bounce-back performance:
The Texas Tech defense had capitulated during a five-game losing streak, giving up 38, 52, 49, 63 and 41 points. But finally healthy again, Tech bucked up in the National University Holiday Bowl, holding Arizona State to 18 points below its season average.
[+] Enlarge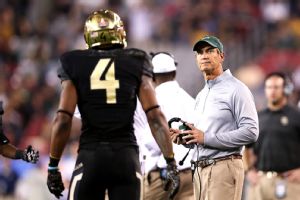 Christian Petersen/Getty ImagesArt Briles and the Baylor defense had a nightmarish evening in the Tostitos Fiesta Bowl.
Worst disappearing act:
Baylor had claimed its defense was actually the best in the Big 12. But in the Tostitos Fiesta Bowl, the Bears were lit up by UCF for 52 points and 556 yards. UCF had six touchdown drives of 75 yards or longer, the most long drives Baylor gave up in a game all season.
Best quote:
"So much for the big bad wolf, huh?" – coach Bob Stoops, after Oklahoma defeated the two-time defending national champion Crimson Tide.
Worst official's call:
With the AT&T Cotton Bowl knotted at 24-24 in the fourth quarter, Oklahoma State cornerback
Tyler Patmon
appeared to have delivered the play of the game. He stepped in front of Missouri's
Dorial Green-Beckham
to intercept
James Franklin
's pass and returned it 37 yards into the end zone. Officials, however, flagged Patmon with pass interference – a ticky-tack call at best on Patmon, who on replays appeared to be going for the ball. With new life, Missouri capitalized to drive for a field goal, and the Tigers eventually won the game.
Best fan showing:
The Longhorns didn't have the kind of season they had hoped for. But in Mack Brown's final game, burnt orange filled the Alamodome, turning the Valero Alamo Bowl into a sellout. The bowl game didn't go the way the Longhorns had hoped, either -- a 30-7 loss to Oregon. But Texas fans sent out their coach in a classy way.
November, 9, 2013
11/09/13
10:35
PM ET
STILLWATER, Okla. -- Just seconds after the ball was kicked off, Oklahoma State cornerback
Justin Gilbert
was streaking down the sideline, poised to put the Cowboys up by one touchdown and help his squad send another message to the rest of the Big 12 with a statement win.
Well, 1-for-2 isn't bad.
No. 14 Oklahoma State hammered Kansas, 42-6, at Boone Pickens Stadium on Saturday, but it was far from the same impressive effort that had become commonplace in the previous few weeks by the team from Stillwater. The Cowboys offense ran 70 plays for 359 yards, averaging 5.1 yards per play against the Jayhawks just days after looking like it had finally found its rhythm with
Clint Chelf
under center against Texas Tech and Iowa State.
[+] Enlarge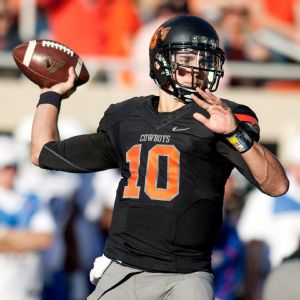 William Purnell/Icon SMIOklahoma State QB Clint Chelf threw for just 265 yards and three TDs, but the Cowboys' offense was on cruise control against Kansas.
"I hope not," OSU coach Mike Gundy said when asked if his squad had lost any momentum with the offensive performance against the Jayhawks.
The Cowboys' hopes of a Big 12 title could be counting on it. With Texas in Austin and Baylor at Boone Pickens Stadium looming in the next two weeks, OSU's offense will have to look much more like the squad that put up 55 points per game, 456 yards per game and 5.6 yards per play in back-to-back wins over Texas Tech and Iowa State than the group that punted on six of eight possessions during a mid-game stretch against the Jayhawks.
Yet the Cowboys could have a valid reason for the up-and-down nature of their offense Saturday. Gilbert's 100-yard kick return for touchdown to start the game coupled with a
Kevin Peterson
interception helped OSU take a 21-0 lead early in the second quarter. The Pokes, quite frankly, didn't need an explosive offense against the Jayhawks so they didn't strive to have one, particularly when KU started stacking the box to stop the run.
"We were pretty vanilla," Gundy said. "We felt comfortable with our defense and their ability to play well today. We weren't as wide open as we would normally be on other Saturdays."
They'd better hope so.
The Longhorns, even though they stumbled around against West Virginia on Saturday night, won't be easy to beat in Austin, and the Bears, well, they're looking like legit BCS title game contenders after their 41-12 thrashing of Oklahoma on Thursday.
"We were pretty vanilla, there wasn't anything too exotic," offensive coordinator Mike Yurcich said. "We knew we just had to secure the ball and do what we do."
The result? Chelf was 19-of-37 for 265 yards and three touchdowns as the Cowboys focused on maintaining control of the game and not committing turnovers to let the Jayhawks back into it.
"You'd like to really explode and be better," Yurcich said. "You're never really satisfied with those numbers, but we did what we had to do to win the football game."
With KU aimed at stopping the run, Oklahoma State's running game took a clear step backward. The Cowboys' 2.7 yards-per-carry average and 85 total rushing yards will raise eyebrows, as main ball carrier
Desmond Roland
could only manage 44 yards on 16 carries (2.8 yards per) after combining for 57 carries for 315 yards and seven touchdowns against the Cyclones and Red Raiders.
That type of ground game won't get it done against Texas, Baylor or Oklahoma in the final three games of the season as OSU tries to secure its second Big 12 title in three seasons.
"We just have to take one game at time," said receiver
David Glidden
, who stepped in for an injured
Josh Stewart
to record six receptions for 73 yards. "This is the biggest part of the season, we've started to get it rolling the past few weeks and Coach Gundy says all the time we're coming together as a team."
Stewart, one of the Big 12's most explosive players, suffered an leg injury early in the contest. While it didn't appear to be serious, his status is unclear, according to Gundy. Getting him healthy and productive would help, as will a Ben-and-Jerry's-type approach on offense instead of the vanilla flavor that reigned Saturday.
"We feel like we still have our rhythm and confidence," Roland said. "As a team, we're playing hard and relentless, and that's what we'll have to do in this last stretch."
November, 4, 2013
11/04/13
11:00
AM ET
Taking stock of Week 10 in the Big 12:
Team of the week:
The Cowboys on Saturday showed why they were the preseason pick to win the Big 12. Oklahoma State jumped to a 21-0 lead over Texas Tech, and, for the most part,
controlled the game
the rest of the way. Despite throwing two interceptions, QB
Clint Chelf
played his best game since last season, accounting for four touchdowns.
Desmond Roland
and
Rennie Childs
also spearheaded another tremendous effort on the ground, as OSU converted all six of its red zone possessions into touchdowns. Defensively, the Cowboys were terrific, too, limiting Tech to just three touchdowns over 17 possessions. This is a team beginning to find its stride -- just in time to make a run at the Big 12 championship.
[+] Enlarge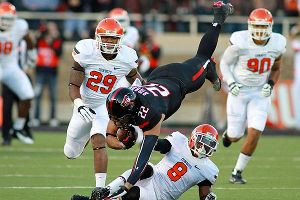 Michael C. Johnson/USA TODAY SportsJace Amaro, who caught 15 passes for 174 yards in Texas Tech's loss to Oklahoma State, had a crucial fumble caused by Cowboys safety Daytawion Lowe.
Disappointment of the week:
The Horned Frogs had an opportunity to take a step toward securing a bowl berth and partially salvaging the season. Instead, TCU blew a 17-3 lead, then self-destructed in overtime in a
30-27 loss to West Virginia
. The Frogs turned the ball over three times in five plays, then committed a personal foul in overtime that resulted in having to attempt a 62-yard field goal. To even qualify for a bowl now, TCU will have to run the table, which is less likely than a 62-yard field goal.
Big (offensive) men on campus:
Chelf, West Virginia running back
Charles Sims
and Kansas State running back
John Hubert
.
Chelf had two terrible interceptions, including a pick-six, in Lubbock. But he was terrific otherwise. Chelf threw for 211 yards and rushed for another 88 while accounting for four touchdowns.
Sims had his best performance yet as a Mountaineer, piling up 154 yards and two touchdowns on 24 carries to power the West Virginia comeback in Fort Worth.
Hubert produced his best game of the season, too, rushing for 105 yards and two touchdowns on 15 carries.
Big (defensive) men on campus:
OSU safety
Daytawion Lowe
, Texas defensive tackle
Chris Whaley
and K-State defensive end
Ryan Mueller
.
In the first quarter, Texas Tech tight end
Jace Amaro
hauled in a 21-yard pass across the middle on third-and-long. But at the end of the play, Lowe upended him, popping the ball loose, which the Cowboys recovered. The next play, the Cowboys converted a flea-flicker. The play after that, they were in the end zone to storm to a 14-0 lead. Lowe also led the Cowboys with a game-high 11 tackles.
With Texas clinging to a 14-6 lead midway through the third quarter, Whaley delivered his second game-changing defensive touchdown of the season. Teammate
Cedric Reed
hit Kansas QB
Jake Heaps
from behind, the ball popping to the turf. Whaley scooped it up and thundered 40 yards for the touchdown. "All of the momentum changed in one play," said Kansas coach Charlie Weis, as the Longhorns charged to a 35-13 win.
[+] Enlarge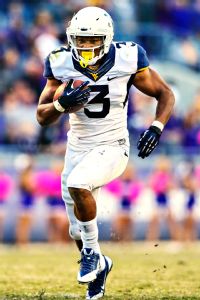 Kevin Jairaj/USA TODAY SportsWest Virginia tailback Charles Sims had his best game of the season vs. TCU, rushing for 154 yards and adding two touchdowns.
Mueller had another huge performance with seven tackles and two sacks. His tackle also knocked Iowa State QB
Sam B. Richardson
out of the game just before halftime.
Special-teams players of the week:
Oklahoma State specialist
Derek Branson
and West Virginia kicker
Josh Lambert
.
With the Cowboys leading 14-0 in the first quarter, Branson busted through the West Virginia punt protection, blocked the punt and recovered it, setting up the Cowboys with great field position at the Tech 15. Four plays later, Roland was in the end zone.
Lambert was money in the Mountaineers' rally over TCU. He nailed all three of his field goal attempts, including the game-winning 34-yarder in overtime.
Honorable mention recognition goes to TCU kicker
Jaden Oberkrom
, who converted a 45-yard field goal to send the game to overtime. Oberkrom also nearly saved TCU on his 62-yard try in overtime. The kick had the distance, but was wide to the left.
Play of the week:
After Tech closed the deficit to 28-24 at halftime, OSU reestablished control in the third quarter. With the Red Raiders selling out on run blitzes off the edge, OSU offensive coordinator Mike Yurcich dialed up the perfect counter, a QB draw. Chelf took off up the middle of the field and raced 67 yards for the touchdown, giving the Cowboys a 42-24 lead. The scamper was the longest TD run by an OSU QB since Brent Blackman's 72-yarder in 1972.
Stat of the week:
With the overtime loss to West Virginia, TCU has lost three games in a row for the first time since Gary Patterson took over as head coach in 2000.
Quote of the week:
"I'm pretty sore. I'm pretty beat up. But ... it's worth it." -- Oklahoma State's Roland, after carrying the ball 57 times the past two weeks.
October, 19, 2013
10/19/13
7:00
PM ET
STILLWATER, Okla. -- Asked about Oklahoma State's quarterback situation, offensive coordinator Mike Yurcich said it best.
"I think it comes to a certain point where you have to make a decision," Yurcich said. "I don't know that it was [specifically] this or that. It was just time, I guess."
Cowboys quarterback Clint Chelf's time came Saturday. The senior replaced starter
J.W. Walsh
in the second quarter and helped spur No. 21 Oklahoma State to a
24-10 victory
over TCU at Boone Pickens Stadium.
Was Chelf dominant? No. But he was effective. The Enid, Okla., native entered the game and promptly threw an interception. Yet the Cowboys had scoring opportunities on their next five possessions -- thanks in part to two TCU turnovers -- with a field goal, touchdown, turnover on downs in TCU's red zone and back-to-back missed field goals before halftime.
[+] Enlarge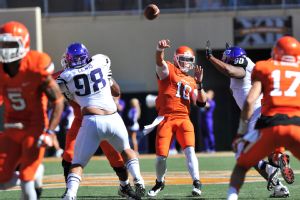 Peter G. Aiken/USA TODAY Sports Clint Chelf provided a steady performance after coming into the game in the second quarter against TCU.
"We felt like we needed a spark, so we made a change," OSU coach Mike Gundy said. "Clint gave us some advantages in attacking their defense. Overall, I thought he managed the game well."
Oklahoma State's offense changed for the better when Chelf entered, though it still didn't look like the dominant unit that terrorized the Big 12 for the past few seasons. With Chelf in the game, Oklahoma State gained 278 yards on 51 plays, averaging 5.45 yards per play. With Walsh in the game, the Cowboys gained 137 yards on 28 plays, averaging 4.89 yards per play.
Gundy's decision to go with Chelf could spark the Cowboys offense and have a major impact on the Big 12 title race. Texas Tech, Texas, Baylor and Oklahoma remain on the Cowboys' schedule, with Oklahoma State sitting at 5-1 overall and 2-1 in conference play.
Gundy wouldn't commit to a starting quarterback after the game.
"You gotta do what you gotta do," said receiver
Josh Stewart
, who was the star of the game with 265 all-purpose yards, including a 95-yard punt return for a touchdown. "Clint came in and did his thing; now we are rolling with Clint."
While not the runner Walsh is, Chelf brings a different dimension to the Cowboys offense with his passing skills. He has the ability to make opponents defend the width and length of the field and could force Big 12 defenses to prepare for both quarterbacks. Chelf isn't the savior for Oklahoma State's offensive attack, but he brings more options to the table.
Gundy's decision to turn to Chelf also sends a message to his team that nobody's starting spot is safe. It's about performance and on-field production.
"It's good when you have quarterbacks battling," Stewart said. "Right now, Chelf is our guy. He's playing pretty good, so we're going to roll with him."
Last season, the Cowboys started Chelf then used Walsh in special packages at various times late in the season. A dual quarterback attack would make defensive coordinators' preparation more difficult.
"That's a possibility," Yurcich said of playing both Chelf and Walsh. "They're both good quarterbacks."
But seeing Chelf enter the game and have success was encouraging for Cowboys players as Oklahoma State begins preparations for a game at Iowa State next Saturday.
"Pretty much any guy we go with, we know we can win with," cornerback
Justin Gilbert
said.
September, 29, 2013
9/29/13
10:00
AM ET
The Sooners notched a big nonconference road win for the Big 12, West Virginia's defense came up big in an upset of Oklahoma State, and TCU finally found some offense against SMU.
What we learned about the Big 12 from Week 5:
[+] Enlarge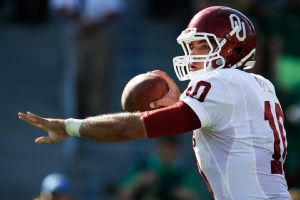 AP Photo/Darron CummingsQuarterback Blake Bell, making his second career start, was 22-of-30 passing for 232 yards and two touchdowns in leading Oklahoma past Notre Dame.
The Sooners are a different team with Bell:
This question has to be asked: How did
Blake Bell
not win the starting quarterback job during the preseason? Since taking over for
Trevor Knight
, Bell has been superb, leading the Sooners to a big 35-21 victory Saturday at Notre Dame. Bell completed 22 of 30 passes for 232 yards and two touchdowns for a Total QBR of 79.1 (scale of 0 to 100), which almost certainly will go up once the strength of Notre Dame's defense is factored into the equation. Bell also didn't turn the ball over, as OU controlled the game from beginning to end. Save for a Nov. 7 showdown in Waco, the Sooners' remaining slate doesn't look nearly as daunting as it did a month ago. With Bell running the show at this level, OU is very capable of winning every game left on its schedule.
The West Virginia defense appears legit:
The performance against Oklahoma State was the best by a West Virginia defense since joining the Big 12. The Mountaineers controlled the line of scrimmage to shut down OSU's vaunted running game, and the secondary laid the lumber, knocking receivers
Josh Stewart
and
Jhajuan Seales
out of the game with big hits. The 21 points, in fact, were the fewest scored by a Cowboys offense in a loss since the 2009 Cotton Bowl. West Virginia did give up 37 to Maryland a week ago, but the six turnovers from the West Virginia offense had a lot to with that. In holding the Bedlam schools to a combined 37 points, Keith Patterson's unit has now locked up, perennially, two of the Big 12's highest-scoring offenses. The Mountaineers will get their shot at another on Saturday in Waco, and Baylor's high-flying attack will provide the toughest test to date. But the West Virginia defense will give Baylor its toughest challenge yet as well.
Oklahoma State not the same offensively:
The Cowboys have basically played two teams with a pulse and scored only 21 points both times. The Pokes seems to really be missing former coordinator Todd Monken and running back Joseph Randle, maybe even more than anybody thought they would. The Cowboys never found a flow offensively in Morgantown with Mike Yurcich's play-calling, and Randle's successor,
Jeremy Smith
, finished with just 1 yard on 15 carries. Given
J.W. Walsh
's limitations throwing the ball downfield, it's been awhile since an Oklahoma State offense had this many vulnerabilities.
TCU offense gains confidence with new faces:
The Horned Frogs offense finally came alive late in the third quarter of a 48-17 win against SMU. And it came alive via plays from some new faces. True freshman
Ty Slanina
hauled in a 20-yard touchdown with four minutes left in the third quarter to break a 10-10 tie. On TCU's next possession, former Florida transfer
Ja'Juan Story
took a 56-yard pass to the house to ignite the rout. Then freshman
Cameron Echols-Luper
returned a punt 51 yards to set up another touchdown. Going into the SMU game, Slanina, Story and Echols-Luper had a combined five touches through three games. The trio, however, figures to be a big part of the Horned Frogs' attack going forward, including next weekend in Norman.
OU at Baylor looking like the Big 12's biggest game:
With the Cowboys' loss in Morgantown, OU-Baylor in Waco on Nov. 7 is looking more and more like the game of the year in the Big 12. Several other pivotal matchups remain (TCU-OU, the Red River Rivalry, Tech-OU, Baylor-OSU, Baylor-Tech, Bedlam). And there are still other teams (Tech, TCU, OSU, even Texas) that could play their way to the top of the conference title race. But as of today, OU-Baylor is looking like the game that will have more conference title implications than any other.
March, 14, 2013
3/14/13
9:00
AM ET
Oklahoma State coach Mike Gundy doesn't allow first-year players to talk with the media. Last season, he proved that rule applies even if a player is his starting quarterback. Perhaps the rule even particularly applies in that case.

Regardless,
Wes Lunt
turned heads this time last year when he won the spring quarterback competition to replace Brandon Weeden in Stillwater. He didn't turn a single ear, though, because Gundy kept media microphones away.
That ended Wednesday night when Lunt, now a second-year sophomore, met with the local media after one of Oklahoma State's first practices of the spring.
"The best way to describe it is a rollercoaster. I had so many ups and downs," Lunt told reporters. "That's expected your freshman year, but I've got to thank my team and my coaches for backing me up all the way."
Lunt completed the first 11 passes of his career in an 84-0 victory against FCS doormat Savannah State, but his first road start ended in a loss to an upstart Arizona team a week later. Lunt (and anyone who saw the replay) feared his season was over when he dislocated his kneecap and suffered a high ankle sprain in an ugly-looking injury early in Oklahoma State's win over Louisiana-Lafayette on Sept. 15.
The injury wasn't as serious as feared, and Lunt returned to start in a win over TCU on Oct. 27 and again a week later against Kansas State before throwing three interceptions (one returned for a touchdown) and suffering a concussion.
He's back this spring competing again with
Clint Chelf
and
J.W. Walsh
, though the job is Chelf's for now after he helped Oklahoma State close the season strong with blowout wins over Texas Tech, West Virginia and Purdue sandwiched around narrow losses to Oklahoma and Baylor.
"It's a competition between all three. Clint is getting the most reps, which he should -- he did a great job ending the season," Lunt told reporters. "J.W. and I are going to push him every day and whatever happens, happens."
Lunt admitted he was "shocked" when he was named the starter last spring as a freshman who wasn't quite sure what to expect and what a collegiate starter really looked like. Apparently, it looked like him.
"They get along real well and I think that speaks volumes about their maturity level and who they are as people," offensive coordinator Mike Yurcich told reporters of the quarterbacks. Yurcich chose to refrain from commenting further on the competition until he'd seen more of the trio up close in practice.
"I know they care more about this program than they do their individual needs and that's when you know you've got something special -- when you see unselfishness, you see leadership and you see those qualities and those young men have that."
February, 7, 2013
2/07/13
11:47
AM ET
Mike Gundy's hired his new offensive coordinator, and I'd say chances are astronomically high that as of yesterday, you'd never heard of him. (Diehard Indiana football fans excluded.)
Division II Shippensburg (PA) offensive coordinator Mike Yurcich is Gundy's man to replace Todd Monken, who kept Oklahoma State's offense in the top five nationally in each of the past two seasons.

From our newser
:
Yurcich helped Shippensburg rank first nationally among Division II schools in total offense and second nationally in scoring offense at more than 46 points per game.
It's hardly an exciting hire, but it's also one that might provide some continuity for Oklahoma State's offense in terms of recruitment and direction. Gundy's coaching tree is blossoming, but I'm sure he'd rather not have three offensive coordinators in four years.
Yurcich spent 11 of his 13 years coaching below the FBS level. His only experience was at Indiana as a graduate assistant helping coach receivers.
Despite the lack of initial excitement over a non-name hire, Gundy's home-run hires the first two times around in this drill earn him a pretty long leash when it comes to having faith in his hires. Yurcich inherits a powerful offense that's in position to make a run at a Big 12 title next season and remain near the top of the national rankings in total offense. It stayed in the top five this year despite losing two quarterbacks for about a third of the season with injuries.
I'd also think this hire throws a wild card into Oklahoma State's quarterback derby this spring. I don't think I'd call it a clean slate, but anything really could happen between
Clint Chelf
,
Wes Lunt
and
J.W. Walsh
. We'll see how it plays out. Expect another intriguing spring in Stillwater. Lately, there hasn't been any other kind of spring.