December, 16, 2011
12/16/11
2:30
PM ET
You saw the preview and prediction; now here are three keys for SDSU and Louisiana-Lafayette in the R+L Carriers New Orleans Bowl on Saturday:

San Diego State (8-4)
1. Run, Ronnie, run
. The best running back in the country whom you've never heard of (but should know) is
Ronnie Hillman
. If he played for a bigger school, he would have gotten Heisman buzz. He rushed for 1,656 yards and 19 touchdowns, and is the focal point of SDSU's offense. He gets stronger as the game goes on, and once he gets going, he's almost impossible to stop.
2. Start fast
. The Aztecs have trailed in the first half of their past three games. They rallied to win two of them -- UNLV and Fresno State. Against a balanced, high-scoring Ragin' Cajuns team, early points (or early stops, for that matter) would be helpful.
3. Free the beast
. Miles Burris might be one of the most underrated outside linebackers in the nation. He is fast, ridiculously strong and eighth in the country in tackles for loss. When he makes it into the backfield, havoc usually follows.

Louisiana-Lafayette (8-4)
1. Find pressure
. The Ragin' Cajuns are pretty good at getting to the quarterback -- tied for 30th nationally in sacks. San Diego State is one of the best in the country at keeping its quarterback,
Ryan Lindley
, clean. Getting defensive linemen such as Bernard Smith active and making sure the Aztecs don't get into a run/play-action rhythm is the best way to disrupt Lindley's timing.
2. Shake it off
. The Ragin' Cajuns enter this game on a two-game losing skid -- having dropped their final two to Arkansas State and Arizona. This also is the first bowl game in 41 years for Louisiana-Lafayette. The fact that the Ragin' Cajuns are playing in their home state should calm some nerves and make it feel like a home game. But to be successful, they have to stay poised and not let the gravity of the moment weigh on them.
3. Smart decisions
. Since officially winning the starting quarterback role,
Blaine Gautier
has continued to evolve as a runner and a passer. He's done a better job staying in the pocket and letting plays develop, but he also knows when to cut and run (second on the team with 630 yards). Facing an unconventional defense such as SDSU's 3-3-5, Gautier will have to make some split-second decisions. If they are the right ones, he'll have success. If they aren't, he and the aforementioned Burris might become very close.
December, 4, 2011
12/04/11
9:15
PM ET
San Diego State Aztecs (8-4) vs. Louisiana-Lafayette Ragin' Cajuns (8-4)
Dec. 17, 9 p.m. ET (ESPN)

San Diego State take from college football blogger Kevin Gemmell:
The Aztecs are going to back-to-back bowl games for the first time since 1966-67. Last season, Brady Hoke led the Aztecs to an 8-4 record before they throttled Navy in the Poinsettia Bowl. Defensive coordinator-turned-head coach Rocky Long matched that record as the Aztecs overcame a 21-point deficit in their season finale to top Fresno State.
Quarterback
Ryan Lindley
's numbers are down a bit, but that's to be expected when your top two receivers from last season are drafted into the NFL. So the Aztecs have been relying on
Ronnie Hillman
, one of the nation's top running backs, who rushed for 1,656 yards this season and 19 touchdowns.
With injuries to the receiving corps -- the Aztecs lost three potential starters before the season even started -- converted defensive back
Colin Lockett
has stepped in as the top receiving threat, tallying 46 catches and five touchdowns on the season. Tight end
Gavin Escobar
leads the team with seven touchdown catches.
The offensive line, which returns four starters from last season, is one of the best in the country, ranking 10th nationally in sacks allowed.
Linebacker Miles Burris is a bona fide play-maker who should be playing on Sundays next season. Defensive lineman Jerome Long is having an outstanding season, as is defensive back Larry Parker, who leads the Mountain West Conference and is tied for third nationally with seven interceptions.
---

Louisiana Lafayette take by Matt Fortuna:
First-year head coach Mark Hudspeth began his campaign with the Ragin' Cajuns with a bang. Their 6-1 start was the best in Sun Belt history and followed a 3-9 campaign from a season ago. Two losses to end the season tempered that a bit, but the season still showed much progress.
Hudspeth replaced starting quarterback
Chris Masson
with
Blaine Gautier
, and Gautier delivered by throwing for 2,488 yards, 20 touchdowns and just five interceptions. Gautier has passed for 300 or more yards in a game four times this season. His 20 touchdowns this season are tied with Jake Delhomme for most in school history in one season.
Five true freshmen have started for the Cajuns, both running backs are first-year players and receiver
Harry Peoples
and safety Jemarlous Moten have been impact junior-college transfers. Moten earned conference defensive player of the week honors in the regular-season finale, recording two interceptions and returning one for a score, the team's seventh pick-six of the season, tying an NCAA single-season record set by Tennessee in 1971.
May, 20, 2011
5/20/11
10:30
AM ET
San Diego State had success for the first time in a very long time last season. So how is that going to impact what happens in 2011?

"It will be interesting to see how our players handle that," first-year coach Rocky Long said. "Last year, people didn't know what to expect and as the season went along, we got better and better. There are higher expectations. It's how our players are going to handle that. Are they going to embrace it or are they make them nervous and uptight?"
"It's all about your coaches and how they have you prepare and the way you go about things leading up to a football game," linebacker Miles Burris said. "From my experience the past couple years, we never went into a football game not confident or thinking we were going to lose. We went in with the same mindset. For me, it's not winning and losing making you feel differently going into a game or a season. You go out that week of practice and prepare as hard as you possibly can and be as confident as you can be."
The confidence is higher, no doubt. The Aztecs went to a bowl game for the first time since 1998, beating Navy in their home stadium in the San Diego County Credit Union Poinsettia Bowl to cap a 9-4 season. Now they will try for back-to-back winning seasons for the first time since 1995-96.
"Confidence almost had to be manufactured and built from within," quarterback
Ryan Lindley
said. "Now we know we've done it. We've made it happen in some games. There's no level of perfection. We have a ways to go to be where we want to be and be Mountain West Conference champions."
There are those who wonder whether the program will be able to maintain its winning ways with a new coach in charge. Brady Hoke left after just two seasons for Michigan, and the Aztecs decided to promote Long, their defensive coordinator. Long had a history of winning at New Mexico, which has been awful since he resigned after the 2008 season.
Long is not new to being a head coach, and he was a part of the staff that helped turn the program around. His players wanted him to be promoted, and they have faith that he will keep the program moving forward.
"Last year, it was something to feel proud of, being a part of a program that's changing," cornerback Leon McFadden said. "That was one of my main reasons to come here, because I felt the coaching staff could turn around the program. We are moving on with coach Long. He's a very competitive coach, and that motivates us to go out there and compete in everything we do."
May, 10, 2011
5/10/11
4:00
PM ET

1. Boise State
: The Broncos have
Kellen Moore
back, and that makes them a preseason top 10 team going into the season.
Geraldo Hiwat
,
Tyler Shoemaker
and
Kirby Moore
had good springs, helping ease some questions about the receiver situation.

2. TCU
: The Horned Frogs are at the point where they don't rebuild. They reload. They move ahead of BYU based on their defense. I am still uncertain about how
Casey Pachall
will do at QB. Andy Dalton lost five games in his first year as a starter, though the TCU defense in 2007 was not as good as what is expected in 2011.

3. BYU
: The Cougars might be overhyped, but I really do think they are back to being a top 25 team this year. They return 19 starters from a team that found itself at the end of last season. The independent schedule may appear tough, but every game is winnable.

4. Tulsa
: The Golden Hurricane return 16 starters off one of the best offenses in the country. Though there is a new coach and new offensive coordinator in place, there is opportunity to pick up where they left off last season because of the continuity in hiring Bill Blankenship as the head man.

5. Houston
: With
Case Keenum
back, the Cougars jump back into the rankings. This team was lost without him last year. Now that he has returned, expect the offense to be high-powered again. If the defense improves, Houston could make some noise.

6. San Diego State
: The Aztecs lost coach Brady Hoke and their top receivers in Vincent Brown and DeMarco Sampson. But
Ronnie Hillman
,
Ryan Lindley
and Miles Burris return in the highly competitive Mountain West.

7. Air Force
: The Falcons could be a dark horse contender in the Mountain West with
Tim Jefferson
returning at quarterback.

8. UCF
: Just because the Knights ended the season ranked in the top 25 doesn't mean they will start the season there. UCF has question marks, though the return of quarterback Jeff Godfrey makes the Knights the favorite to repeat as C-USA East champs.

9. Hawaii
: The WAC is open, and though Hawaii loses a lot of starters, including Greg Salas and Kealoha Pilares, it is the only team of the top three that returns a starting quarterback.

10. Northern Illinois
: The Huskies replace Miami (Ohio) in my rankings thanks to the return of
Chandler Harnish
and the performance of the running backs in the spring game. Miami's continued quarterback derby gives me pause.
December, 23, 2010
12/23/10
9:45
AM ET
You saw my preview and prediction. Now here are three keys for San Diego State and Navy in the S.D. County Credit Union Poinsettia Bowl.

San Diego State (8-4)
1. Establish Ronnie Hillman
. As we mentioned earlier, he has had a dynamic season, winning Mountain West Freshman of the Year honors and drawing comparisons to former Aztecs great Marshall Faulk. Though
Ryan Lindley
is capable of leading this offense, everything works so much better when the running game is established. In three of four losses this season, Hillman was held to fewer than 100 yards. He is going to take on even greater importance with the soggy state of the field, parts of which were flooded by torrential rains.
2. Remember Air Force
. Defensive coordinator Rocky Long had an effective scheme to slow down Air Force, which runs a similar version of the triple option. The safeties came up and crowded the box, and though the Falcons got their yards on the ground, San Diego State played assignment sound and had a good day tackling. One difference here is Dobbs, who has been a better passer than
Tim Jefferson
. Watch for linebacker Miles Burris, a first-team all-MWC selection. He led the team with 74 total tackles, and the league with 9.5 sacks and 19 tackles for loss.
3. Keep jitters down
. This is the first bowl appearance for San Diego State since 1998, so naturally there could be some nerves to start. None of the players have been in a game of this magnitude before, but it should help they will be playing in a familiar spot.

Navy (9-3)
1. Big games from Ricky Dobbs and Alexander Teich
. Air Force lost to San Diego State, but was able to rack up 312 yards on the ground in its version of the triple-option. Dobbs can pass the ball, but he and Teich are the primary forces that make this offense go. You figure San Diego State will try to load up the box, but Navy is used to seeing that look and is effective at breaking tackles or making surprises with some downfield passes.
2. No big plays
. Navy has been good at limiting big plays through the air this season, and that is going to have to continue against a big-play team in San Diego State. Brown has a 90-yard touchdown reception this season; Sampson has a 71-yarder;
Brandon Sullivan
has a 57-yarder. On the ground, three running backs have touchdown runs of 44-plus yards: Hillman (93),
Walter Kazee
(46) and
Davon Brown
(43). San Diego State has made 71 plays this season that have gone for 20-plus yards. The Midshipmen simply cannot afford to give up the big play consistently.
3. Stay disciplined
. Navy is the least-penalized team in the nation, and also is one of the best teams at hanging on to the football. Playing yet another clean game is going to be absolutely key in this one. The defensive backs have to be especially careful to not commit careless pass interference penalties when trying to slow down Sampson and Brown.
December, 7, 2010
12/07/10
8:30
AM ET

Before the season started, the Aztecs were picked to finish sixth in the Mountain West. But there were signs that this could be a turnaround season. First, coach Brady Hoke has built winners. Second, he had good assistants in Rocky Long and Al Borges. Third, their players had another year in their system. Fourth, they had some very solid players returning on offense.
Ryan Lindley
,
DeMarco Sampson
and
Vincent Brown
were good in the passing game, but the weakness in 2009 was an inability to run the ball. Insert freshman
Ronnie Hillman
and voila! Those troubles vanished. Hillman set the league freshman rushing record with 1,304 yards and 14 touchdowns en route to Mountain West Freshman of the Year Honors. Lindley threw for over 3,000 yards, and Sampson and Brown each had 1,000 yards. The defense made strides, too, especially linebacker Miles Burris, who had 74 tackles and 9.5 sacks this season. Hoke won the league's coach of the year honors and just received a contract extension after several schools showed an interest in hiring him away. San Diego State posted its best season since 1996 and is headed to a bowl game for the first time since 1998. Now consistency has to be established. With a coach like Hoke leading the way, that seems inevitable.
Offensive MVP: RB Ronnie Hillman.
You definitely can make an argument for Lindley, who had the best season of his career. But the biggest difference in this offense was its ability to run the football. Last season, San Diego State ranked No. 116 in the country in rush offense, averaging 2.9 yards a carry. This year, the Aztecs averaged 4.8 yards a carry, and Hillman is the biggest reason why.
Defensive MVP: LB Miles Burris.
He was the lone returning linebacker returning from last season, along with the team's leading tackler, and made even bigger strides this season. He ranks first in the league in sacks and tackles for loss (19) -- both career highs.
Turning point:
After a 24-21 loss to BYU, San Diego State faced a ranked Air Force team at home. They held on to win the closing seconds to win 27-25 -- their first win over a ranked team in 14 seasons.
What's next:
San Diego State plays Navy in the S.D. County Credit Union Poinsettia Bowl before going about the task of replacing Sampson and Brown.
November, 8, 2010
11/08/10
2:00
PM ET
Let's take a look at the good and the bad for the non-AQs in Week 10.
The good:
Boise State and TCU remained in the national title hunt with big wins this weekend. Though their offenses made headlines -- the Broncos racked up a school-record 737 yards and TCU had more than 500 yards -- both defenses played something fierce. They both held their opponents to fewer than 200 yards of total offense. Now they are the top two teams in the country in total defense and scoring defense. TCU is No. 1 in both categories. … Meanwhile, New Mexico won its first game of the season, 34-31 over Wyoming. Quarterback
Stump Godfrey
made his first career start as
B.R. Holbrook
sat out because of an injury and went 16-of-20 for 211 yards with two touchdowns. The Lobos, which had been giving the ball away as if it was a Christmas present, forced four turnovers. It was just the second time all season they won the turnover battle in a game. … How about Nevada racking up 844 yards of total offense? Not only did
Colin Kaepernick
have 300 yards passing, the Wolf Pack had three 100-yard rushers: Mark Lampford,
Mike Ball
and
Vai Taua
.
The bad:
Western Michigan controlled its own bowl destiny heading into its game against Central Michigan. None of the four opponents left on its schedule had a winning record, so finishing up 7-5 or 6-6 seemed realistic. But the Broncos lost for the fifth straight time to their in-state rivals -- even though the Chippewas went into the game with just two wins. Backup RB
Brian Fields
fumbled 2 yards from the end zone with 1:37 remaining, the fourth lost fumble of the game for Western Michigan and the Chippewas held on 26-22.
The heartache:
The
Akron Zips
are now the only winless team in the country, but missed out on a great opportunity in a 37-30 double-overtime loss to Ball State. After tying the score late to send the game into overtime, the Zips and Cardinals traded touchdowns in the first overtime. Ball State went ahead in overtime No. 2. But all hopes were lost for Akron when
Patrick Nicely
was intercepted on third down by Joshua Howard to end the game. Akron had more first downs and more rushing yards than Ball State and won the turnover battle as well. … Tulane had Southern Miss on the ropes heading into the fourth quarter. The two teams were tied at 30, but the Golden Eagles scored 16 unanswered points in the fourth quarter to win 46-30. Tulane (402) outgained Southern Miss (358) and had 11 more first downs.
[+] Enlarge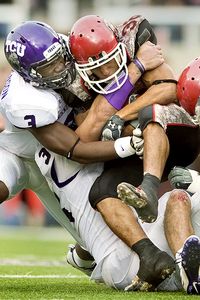 Douglas C. Pizac/US PresswireTCU shut down the high-powered Utah offense.
The off-balance:
Utah and Hawaii went into their respective games as some of the highest-scoring teams in the country. But each were held to just a touchdown. Utah had been averaging 45.2 points a game, tied for No. 3 in the nation. Hawaii had been averaging 39. 2 points a game. … Meanwhile, BYU exploded offensively for the first time all season, posting more than 300 yards passing and 200 yards rushing and a season-high 55 points against UNLV. The Cougars are 39-0 since 1972 and 5-0 under current head coach Bronco Mendenhall when passing for 300 and running for 200.
A few more helmet stickers:
FIU WR
T.Y. Hilton
had 291 all-purpose yards and four touchdowns in a 42-35 double-overtime win over ULM. He became the first Panther to score a touchdown three different ways in the same game, as he caught two touchdowns, ran for one and returned a kick for a score. … Central Michigan LB Armond Staten had 11 tackles, 1.5 tackles for loss, one sack and three forced fumbles in an upset win over Western Michigan. … San Diego State LB Miles Burris had a career-high 10 tackles, four tackles for loss (minus-39 yards), two sacks and two forced fumbles in a 24-19 victory over Colorado State.
A few injury items to note:
Ohio quarterback
Boo Jackson
is questionable for the Nov. 16 game against Temple after reportedly getting into a
fight outside a bar and sustaining serious injuries to his face
. Coach Frank Solich would only say that Jackson is questionable for the game. Backup
Phil Bates
has been slowed by a shoulder injury, leaving the possibility that Ohio could burn the redshirt of true freshman
Kyle Snyder
. "We're going to have to talk about it some more and look at it from different angles and make a decision about a player being brought out of redshirt if he needs to be," Solich said. … Kent State star LB Cobrani Mixon is doubtful for Saturday's game against Army with a shoulder injury, and starting quarterback
Spencer Keith
injured his thumb and is day-to-day. … BYU TE
Marcus Mathews
is out for the season with a lacerated spleen.
Week 11 look ahead:
TCU plays San Diego State (7-2) in a classic letdown game. Will the Horned Frogs suffer an emotional low after an emotional high over Utah? Boise State has a big rivalry game against Idaho, perhaps made even bigger after comments during the offseason where school president Bob Kustra slammed Vandal culture as "nasty" and "inebriated." Southern Miss travels to UCF in a big East Division game. The Knights, ranked for the first time in school history, control their destiny. We can't forget about the big Tuesday night game between MAC West Division leaders Toledo and Northern Illinois.