March, 28, 2013
3/28/13
9:00
AM ET
Rutgers was the last Big East team to open spring practice, kicking things off on Tuesday.
Kyle Flood is back in Piscataway, N.J., for his second season at the helm of the program, and his ninth overall with the school. We caught up with the head coach Wednesday, with one practice in the books and the Scarlet Knights looking to leave a lasting impression as they ready for their final season in the Big East.
What are you looking for Gary Nova to improve upon this spring? What do you want to see from the guys behind him?
Kyle Flood
: I think Gary's got a unique advantage coming into this spring that we haven't had a quarterback have in a long time around here, in that he got a chance to play in 13 football games last year as a starting quarterback and essentially played in the entirety of every one of them. So I think there's an experience advantage that he has that hopefully we can capitalize on. I think the fastest ways we can capitalize on it is if we can keep the highs and make them consistent, and then take some of the low points and take some of the games where maybe he wasn't as pleased with his performance and move him up a little bit, so you don't see the big swings between the really positive games and the games he wasn't happy with. So I think that in and of itself, if we can get to that point -- and I don't know if that happens in just 15 practices in the spring; I think that's the combination of everything he's done since the bowl game, spring practice and then what's going to come afterwards -- but going into next season that's hopefully what we can do.
You guys obviously have a challenge without Brandon Coleman this spring. What are you looking for from the receiving corps during these practices, and is there anyone you're looking to see rise to the occasion?
KF
: I think they're all fighting to find out what their role is going to be. Guys like
Miles Shuler
, who has got a tremendous skill set and really has come a long way in terms of being a receiver the last year. I'm excited to see what kind of spring Miles is going to have. A guy like
Quron Pratt
, who has been an excellent player here — statistically maybe that hasn't shown up, but he really has done a lot of things for us over the last two years. He can now have a much bigger role. When guys like
Timmy Wright
and
Mark Harrison
graduate, it provides opportunity, and with Brandon Coleman not there this spring it'll be even more opportunity for him to showcase himself. And then you've got some younger guys also, guys like
Ruhann Peele
and
Carlton Agudosi
, who are fighting right now to show the coaching staff how big of a role they should have next year.
There's no Coleman, and we know about Savon [Huggins]. Who are some of the other playmakers you are hoping to emerge from spring?
[+] Enlarge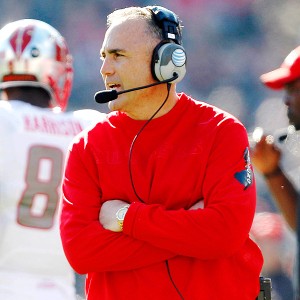 Frank Victores/USA TODAY SportsCoach Kyle Flood said spring drills at Rutgers have been a bit choppy so far -- though that's normal as younger players see more time on the field.
KF
: I have seen so much of Savon through his career right now in terms of practice and then in games -- I'm very confident Savon's going to do an excellent job for us at running back. I think everybody else right now at that position is doing exactly what those young receivers are doing; they're fighting to show us as players how big of a role they should have, and I think that competition is going to be exciting for everybody, including Savon. I didn't get a chance to get to it, but I would feel the same way really about the quarterbacks. I think all these quarterbacks right now, they're lined up behind Gary. And
Chas [Dodd]
is a little bit of a unique commodity in that he's won football games for us at Rutgers. Those guys create a very competitive environment. Every player in our program right now this spring could see opportunity, and that kind of competitiveness in the rooms, and the opportunity that spring provides, it really gives everybody a chance as we go through the spring.
You guys are breaking in two new coordinators this spring. Offensively with Ron Prince, do you expect this spring to be a little bit of a feeling-out period, or do you think things will go over relatively smoothly with him in charge of the offense?
KF
: It'll go over smoothly from coach Prince's perspective and from mine. I think that the bumps in the road are going to be some of the young players who now are going to have a lot more on their plate than they've ever had, and that'll create -- even yesterday in our first practice, some of the young receivers and running backs not having been in the fire, so to speak, are out there and they're struggling to get lined up. They're not as quick as maybe you would like them to be or maybe the group of receivers would have been last year because they were used to doing it. Those are all going to be things that are part of the learning curve as we go forward. I think there are going to be some rougher patches this spring at every position, but generally when those things happen it's much more about the younger players being allowed and given more opportunities than anything else. When you get to the season you're really only repping your starters and your ones and one-and-a-halves, as we call them. So right now everybody's getting reps, and at times that can make it a little bit slower or a little bit more choppy than you'd like it to be, but it's a necessity because you've got to find out what they know.
Defensively, you lose an all-timer in Khaseem Greene and another really good linebacker in Steve Beauharnais. Are those players really replaceable, or do you look for a collective effort from the group?
KF
: I don't think you replace players really at any position. Football is the ultimate team game, and to think that you're going to replace a Khaseem Greene or a Steve Beauharnais, that's really not the way we think about it. We've played defense at a high level here for a long time and we've done it with a lot of different pieces. And I think now what the staff is looking to see is who are the pieces going to be. And at linebacker we've got two guys in
Jamal Merrell
and
Kevin Snyder
, who, in my opinion, have already established themselves as players in our defense. We're trying to figure out who the third piece of that puzzle's going to be. Is that going to be a new Mike? Is that going to be a new Will? I'm not sure I can answer that question just yet. But I'm confident with what we have coming back that we'll be able to continue our tradition here of playing defense at a high level.
Three new starters in the secondary. Jeremy Deering is back there full-time. What do you see from him and that position group as a whole? What makes you feel more comfortable with him back there?
KF
: As coaches I think we'd better always be trying to get our best athletes on the field. And if there is a guy on your team you think can be a starter on defense but he's on offense, and he has a significant role on offense but maybe it won't be showcased the way he could be on defense, I think it's our responsibility to see if that player would have an interest in it. And I approached Jeremy with that decision and he was really excited about it. And it was certainly something that we tinkered with a little bit last year trying to build some depth in our sub packages, and we weren't really able to really put it in as far as we wanted to, but now with having an offseason and needing a guy with the departures of
Duron Harmon
,
Wayne Warren
and some of the other defensive backs, it's really a position on our team that will have more new faces than any other. And we really thought that Jeremy Deering, even though he is going into his senior year, he's got the right skill set to do that. He's got the right frame of mind to do it and he has the desire to do it, and I think Jeremy's going to do very well back there for us.
Big-picture, the Big East has been going through a lot of changes. The conference welcomes in four new teams this fall. I was just curious from your standpoint if there's anything different that you have to prepare for when you're seeing fresh staffs and fresh players on your schedule this season?
KF
: I think with the way the Big East was constituted in the past, we've seen a good variety of pro-style offenses, spread offenses. We have played the academies, so we've seen the option. We had West Virginia in the conference for a long time, so we played against the 3-3 defense. I don't know that there will be anything in this new collection of teams that will be significantly unique. Now I do know that each one will bring very specific challenges and they'll have strengths and weaknesses to their teams just like we do. But those will be things we'll address after spring practice. Right now we're trying to figure out what we are. We're trying to figure out who are going to be the playmakers on our team that are going to be out there. Who are going to be the people in the sub packages, and really what is our football team going to look like? And that's what I'm most concerned about, and I think that's what spring practice is for. We have the schedule, so we know who the first four games are going to be now. We'll get a little bit involved into doing some early game-planning for them, but we won't do that until after spring practice is over.
November, 10, 2012
11/10/12
3:28
PM ET
What for three quarters looked to be a letdown following loss No. 1 ended up being a back-to-basics performance for Rutgers.


Timely defensive plays -- led by Khaseem Greene's monster 22-tackle effort.
Stout running.
And, of course, game-changing special teams plays.
It all added up to a
28-7
win against Army, as the Scarlet Knights improved to 8-1 and recovered from their loss to Kent State two weeks earlier.
Rutgers was as conservative as ever offensively, but
Gary Nova
bounced back very nicely from his six-pick performance against the Golden Flashes. He completed 14 of 17 passes Saturday for 123 yards with a touchdown and a pick, though the interception came off a dropped ball from
Miles Shuler
.
Jawan Jamison
threw a touchdown pass himself in the first quarter, hitting
Brandon Coleman
for a 16-yard strike in the second quarter to tie the game at 7.
That score held until the 8:49 mark of the fourth quarter, when Coleman caught a 31-yard strike from Nova to give Rutgers its first lead of the game. That came four plays after Army's
Chris Boldt
shanked a punt nine yards, giving the Scarlet Knights possession at the Black Knights' 45.
Army's next drive ended with a high snap on a punt, with Rutgers recovering the ball at the 1.
Savon Huggins
punched it in two plays later to give the Scarlet Knights enough breathing room, and
Duron Harmon
added a 73-yard fumble return for a touchdown with 40 seconds left to account for the final margin.
Army looked ready to break the 7-7 tie several times, most notably when it drove down to the Rutgers 15 late int he third quarter. But Greene forced a
Larry Dixon
fumble, which
Marvin Booker
recovered.
Rutgers blocked a 30-yard field goal attempt late in the first half, too, after a controversial non-touchdown call following a pass to the end zone that was dropped late.
Jamison left the game in the third quarter with a lower leg injury but returned in the fourth, finishing with 90 yards on 22 carries, plus that touchdown pass.
No, it wasn't pretty, but Rutgers football rarely is. The Scarlet Knights did Saturday what they usually do, making more than enough game-changing plays and pulling away from a tied contest by scoring the final 21 points of the game.
Next week's contest at Cincinnati should be a good one.
September, 8, 2012
9/08/12
7:16
PM ET
Louisville and Rutgers each beat their FCS opponents on Saturday. Here is a brief recap.


Rutgers 26, Howard 0
For the second consecutive game, Rutgers' offense left something to be desired and that has to be a major concern headed into a big game against USF on Thursday night. The Scarlet Knights managed just 16 first downs, and
Gary Nova
went 15-of-27 for 130 yards with two touchdowns and an interception. There were no big plays in the receiving game for the second contest in a row.
Brandon Coleman
led the way with ... 48 receiving yards. In fact, Rutgers averaged 4.8 yards per attempt.
At least Rutgers had
Jawan Jamison
, who ran for more than 100 yards for the third straight game. But there was some bad news after the game. Coach Kyle Flood said starting center Betim Bujari and offensive guard Andre Civil are highly questionable against USF, and so is running back Savon Huggins. All three got hurt against Howard.
The defense and special teams played well again, though those two areas are never in question.
Miles Shuler
blocked a punt, and defensive back
Brandon Jones
scored, his second touchdown of the season. Howard ended up with 149 total yards.


Louisville 35, Missouri State 7
Teddy Bridgewater
had another outstanding performance, going 30-of-39 for 344 yards with two touchdown -- his first 300-yard game for his career. Bridgewater now has 11 incompletions and no interceptions in his first two games of the season, doing nothing to dispell the talk that he is the best quarterback in the Big East. He certainly has played that way.
While Louisville had two 100-yard rushers last week against Kentucky, it had none against Missouri State.
Senorise Perry
ran for 72 yards and a touchdown to lead all rushers.
Dominique Brown
sat out for the second straight game. Receiver
Charles Gaines
had a nice debut, catching three passes for 73 yards.
Louisville did enough in this one, and a fumble return for a touchdown late was enough for the final margin. Coach Charlie Strong is not going to be happy about the nine penalties for 87 yards in the game, either. The Cardinals face a much tougher test next week when North Carolina visits.
August, 16, 2011
8/16/11
9:46
AM ET
Taking a look at practice around the league:
Cincinnati:
Several freshmen have already
impressed their teammates
. One tradition during fall camp is for the young players to lose the stripes on their helmets when their "big brother" on the team feels they've earned it. On Monday, defensive back Trenier Orr had his stripe removed by Camerron Cheatham and receiver
Shaq Washington
had his stripe removed by
Zach Collaros
.
Connecticut:
The Huskies have spent time
shuffling around players
on their offensive line to see who gives them the best fit. The only locks -- tackle Mike Ryan and center Moe Petrus. Everybody else has been shifted.
"We're moving people around, looking at our depth so that guys can play different positions," offensive line coach Mike Foley told the Hartford Courant. "A guy like Gary Bardzak can play both at guard and he can also play center so it gives you that flexibility so you can always get your five best on the field. A guy like Adam Masters who plays tackle but also is playing guard and that allows us, with (tackle) Kevin Friend, to get some work with that first group, move it around and see what our best combination of guys is and really take it from there."
Louisville:
Freshman Lorenzo Mauldin has
moved from defensive end to tight end
. Mauldin was moved to give the Cardinals some bodies at that position because of injuries to
Nate Nord
and
Stephon Ball
. Both players are expected to return to practice in the next few days. In another position switch, tight end Jordan Tennyson has moved to defensive end. Receiver
Michaelee Harris
has been practicing with a soft cast on his thumb, but made a couple of great catches during team work Monday morning.
Pitt:
The Panthers are going to go with Ryan Turnley at center and Chris Jacobson at guard, though the two are still competing at center. Coach Todd Graham said during the scrimmage Sunday there were
four mishandled snaps
, so Turnley has to keep working. Jacobson is getting reps at left guard with the starters and center with the second unit. Graham wants his starting five to play together this week. "We need to get to the point where five guys are repping together constantly as a unit," Graham said. Receiver
Cameron Saddler
and cornerback K'Waun Williams sat out practice Monday because they were "dinged up." Receiver
Devin Street
left practice early, but Graham didn't think the injury was serious.
Rutgers:
Coach Greg Schiano still wants to see
more out of his offensive line
, even after an impressive rushing performance in the scrimmage Saturday. "We have to make sure we protect better, continue to protect better. We protected better than we have but not good enough for a game," Schiano said. Running back
Jawan Jamison
(hamstring) returned to practice but was limited. Meanwhile, receivers
Brandon Coleman
and Miles Shuler, defensive end Manny Abreu and running back
Jeremy Deering
all wore non-contact jerseys.
Syracuse:
Some injured players have slowly started to
make their return
to the field for the Orange. Running back
Prince-Tyson Gulley
and
Steve Rene
were in full pads Monday. Both should be cleared for full contact soon. Safety Shamarko Thomas also is likely to be back on the field today, and cornerback Keon Lyn could return this weekend. Coach Doug Marrone was asked whether he was worried about any of his injured players being out for the opener Sept. 1. Offensive lineman Sean Hickey is out for the season, but Marrone also is worried about lineman Ian Allport because of the severity of his concussion.
USF:
Quarterback
B.J. Daniels
participated
fully in both practices
Monday. Fullback
Armando Sanchez
has moved back to linebacker from fullback. Coach Skip Holtz said the decision to redshirt all the freshmen linebackers played into the decision. Holtz also singled out all the true freshmen he expects to play this season, including defensive tackle Elkino Watson and receivers
Andre Davis
and
Ruben Gonzalez
.
West Virginia:
Coach Dana Holgorsen has had high praise for young running backs
Vernard Roberts
, Dustin Garrison,
Trey Johnson
and Andrew Buie. But the Mountaineers may not necessarily go with a
running back by committee approach
. Nor are they looking for somebody who is going to be an afterthought to the passing game. Running backs coach Robert Gillespie told the Times West Virginian: "We would like a guy we could strap the team on his back and go," he said.
August, 9, 2011
8/09/11
1:00
PM ET
So who exactly are the quarterbacks in the Big East? Here is a little "best of the best:"
Best Heisman candidate:
Geno Smith
, West Virginia. His situation may be a little uncertain because he has a new coach/coordinator in Dana Holgorsen, but Smith does have the best chance of emerging as a Heisman candidate from the Big East. He came on strong in 2010 and could join Graham Harrell,
Case Keenum
and
Justin Blackmon
as Heisman hopefuls Holgorsen has coached in his high-flying system.
[+] Enlarge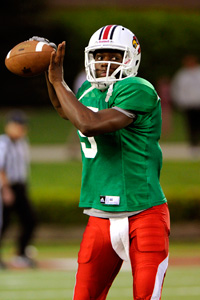 Jamie Rhodes/US PresswireHighly touted freshman Teddy Bridgewater could make an impact this season.
Best potential:
Teddy Bridgewater, Louisville. Rated as the No. 2 dual-threat quarterback in the nation, Bridgewater comes to the Cardinals with higher expectations than nearly every other freshman who enters the league in 2011. After initially giving a commitment to Miami, Bridgewater changed his mind and went with Charlie Strong and Louisville. He was in for spring and is expected to play this season.
Best quarterback competition:
UConn. It is hard to beat any quarterback competition that features not two, not three, but four players in
Michael Box
, Michael Nebrich,
Scott McCummings
and
Johnny McEntee
.
Best battle for No. 1 QB rights:
Smith vs.
Zach Collaros
, Cincinnati. The debate has raged this summer over who the best quarterback in the Big East is headed into 2011. Is it Smith? Or is it Collaros, the returning first-team All-Big East quarterback for the Bearcats? Certainly Collaros has what it takes to return to the first team, especially after coming oh-so-close to throwing for 3,000 yards last season. His offensive line should be better, which means Collaros won't be lying on his back as much or making mistakes when throwing the ball.
Best student-athlete:
Ryan Nassib
, Syracuse. Nassib was a 2010 ESPN Academic All-District Team selection, and has been a regular member of the athletic director's honor roll since 2008. He also made the 2009 and 2010 Big East All-Academic Team, and has interned at an investment banking firm for three straight summers.
Best chance for a breakout season:
Tino Sunseri
, Pitt. Folks in the Big East may know about Sunseri, but he is not a household name across the country. If he grabs ahold of the new system under Todd Graham and Calvin McGee, many more people will know who he is when the season is over.
Best sense of urgency:
B.J. Daniels
, USF. No question the pressure is on for Daniels to put everything together and emerge as a bona fide star quarterback in the league. Will he pick up where he left off in the bowl game against Clemson, or will we see more of the player who threw more interceptions than touchdowns last season?
Best supporting cast:
Chas Dodd
, Rutgers. Dodd has a receiving group that is incredibly gifted.
Mark Harrison
and
Mohamed Sanu
will be playing on Sundays;
Brandon Coleman
had a breakout spring, Tim Wright is coming back from injury and incoming freshmen Miles Shuler and Tejay Johnson are speedsters who could be in the mix. Only Shuler is shorter than 6-foot-2, giving Dodd a big advantage in the passing game.
June, 28, 2011
6/28/11
8:23
PM ET
We continue our team position rankings today with receiver. This is an area of great potential for plenty of teams around the league, especially with some of the high-octane offenses that we are going to see. Only three teams return their leading receiver from last season. The overriding theme seems to be this: there is a lot of talent, but much of it is unproven. So how are these receivers going to step up?
To make these rankings, I considered returning starters, accolades for returning starters, depth and potential.
[+] Enlarge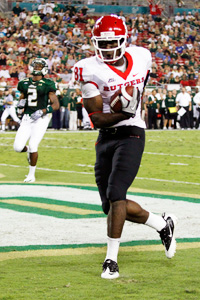 AP Photo/Mike CarlsonMark Harrison caught 44 passes for 829 yards and 9 touchdowns last season.
1. Rutgers.
The Scarlet Knights have proven talent and depth at this position, putting them at the top spot in these rankings. When healthy,
Mark Harrison
and
Mohamed Sanu
form one of the top 1-2 punches in the entire league. Add in
Brandon Coleman
, who had an outstanding spring, along with Tim Wright returning from injury and the top four looks as solid as it gets. Let's not forget incoming speedsters Miles Shuler and Tejay Johnson, who have the potential to play as well.
2. West Virginia.
The Mountaineers have
Tavon Austin
,
Stedman Bailey
and a whole bunch of questions at the position. But with the new offense Dana Holgorsen is bringing in, other receivers have a chance to be more effective. Austin is about as close as you can come to a surefire first-team All-Big East player.
Ryan Nehlen
had a nice spring and could be the surprise of the season. So could
Tyler Urban
, a converted tight end. How will
Brad Starks
do after shoulder surgery? Will
Ivan McCartney
live up to his potential? There is talent here and great potential if everybody lives up to expectations.
3. Cincinnati.
The Bearcats are stocked with talent, but many of these skill players have got to gain experience and fast with
Armon Binns
,
Marcus Barnett
,
Vidal Hazelton
and
Ben Guidugli
gone.
D.J. Woods
is expected to be a first-team All-Big East selection. But beyond he and
Anthony McClung
, you have got young guys -- junior college transfers
Kenbrell Thompkins
and Damon Julian, redshirt freshman Dyjuan Lewis, freshmen Shaq Washington, Chris Moore, Alex Chisum and Max Morrison. Thompkins showed great promise in the spring.
4. Pittsburgh.
The Panthers lose their leading receiver in Jon Baldwin, but the duo of
Mike Shanahan
and
Devin Street
could each be 1,000-yard receivers. Behind them, though, there are some questions and inexperience. Junior
Cameron Saddler
is going to have to step up. Redshirt freshmen
Salath Williams
,
Drew Carswell
, junior college transfer Josh Brinson and true freshman Justin Jackson are all young but have a chance to be big contributors. Pitt also is waiting to hear whether UNC transfer
Brendon Felder
will have his petition for immediate eligibility granted.
5. Syracuse.
The Orange have plenty of solid returning receivers in
Van Chew
,
Marcus Sales
and
Alec Lemon
but what this team is really lacking is big-play potential. In five games last season, Syracuse failed to complete a pass that went longer than 30 yards. In fact,
Ryan Nassib
averaged 6.5 yards per pass attempt. A healthy
Jarrod West
could help those numbers improve.
Dorian Graham
has to work on his hands, too.
6. USF.
The Bulls lose leading receiver
Dontavia Bogan
, but they return injured players
Sterling Griffin
and
A.J. Love
to the mix, which is going to be huge.
Lindsey Lamar
and
Evan Landi
also return, along with
Terrence Mitchell
,
Joel Miller
and
Faron Hornes
.
Deonte Welch
had a nice spring game and is listed as a backup behind Landi. True freshman Andre Davis has the potential to contribute as well. The Bulls have plenty of depth here but there are still some questions about this group, especially with Griffin and Love coming off injuries.
7. Louisville.
The Cardinals lose their top two receivers, and have got to figure out a way to make big plays and stretch the field with a young group.
Josh Bellamy
appears to be the go-to man headed into 2011, and much is going to be expected of
Andrell Smith
and
Michaelee Harris
. Both are coming off injuries and were unable to practice in the spring. True freshmen are most likely going to be relied upon, giving Eli Rogers and DeVante Parker and opportunity to play.
8. Connecticut.
A playmaker has got to emerge from this group to help out whoever is going to be playing quarterback. The Huskies lost leading receiver
Mike Smith
because of academics.
Kashif Moore
,
Ryan Griffin
and
Isiah Moore
return but UConn is going to need some of its redshirt freshmen like
Geremy Davis
and
Tebucky Jones
Jr. to step up. The Huskies are not preparing to run the spread, so the potential for a 1,000-yard receiver in this group is low.
Previous rankings:
March, 28, 2011
3/28/11
1:41
PM ET
Rutgers begins spring practice on Tuesday, looking to rebound from a tough 4-8 season. I recently caught up with Scarlet Knights head coach Greg Schiano to preview the team's spring. Here is Part I of our conversation:
[+] Enlarge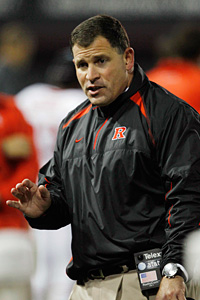 Frank Victores/US PresswireRutgers coach Greg Schiano decided to have his team return to a pro-style offense this season.
You made a lot of changes this offseason, from your coaching moves to personnel switches. Was it just the difficult season that made you think you needed change?

Greg Schiano:
Obviously, when you have a tough season like last year, it makes you really examine. The other thing is, it allows you more time to examine. When you're at a bowl game every year and recruiting, there really isn't time until after recruiting to spend just evaluating your program. When we ended in December, and then there wast that break over the holidays, I had a lot of time to evaluate recruiting, to evaluate our football program, to evaluate the things we've been able to accomplish in 10 years and things we haven't been able to accomplish. It was a good exercise in looking at both short-term goals and long-term goals. What are the things that are going to allow us to do what we ultimately aspire to do, and what are the things that can help us immediately? And they are not always the same things.
So we worked real hard to do what I felt gave us the best chance to be good in 2011 and ultimately become the best at some point. Hopefully we did that. I'm excited about where we're headed. We made some position changes to best utilize the talent of our players, and we were able to do that because I think we really redshirted some fine players last year. In retrospect, maybe we shouldn't have redshirted so many of them. But we have a lot of guys who can contribute after being in our program for a year, and it gave us some flexibility in other spots.
You talked about getting more speed on the field when you announced position changes. How much was getting faster one of your main goals this offseason?

GS:
Without a doubt. We built this program on speed. When evaluating and choosing who to recruit and who to push to get, if it was really close, we always went with speed as our determining factor. And in watching the video, I didn't think we looked like a fast football team, especially in the second half of the year. That can be attributed to a lot of things, but we did some testing, which you generally can't do when you're involved in bowl practices and recruiting. But when we ended [our season], we went right into a mini-winter program and did some testing to get a baseline. It was the true speed of guys, because they weren't training for it. Guys that were playing certain positions were not at the speed level they had been in the past.
There's not one big thing, there's an accumulation of a lot of little things and a lot of introspection that led me to do the changes we did. Getting the speed in the right positions is the most important thing. We had them on the bus, but we didn't have them in the right seats.
You hired Frank Cignetti to run the offense. How important was it to you to get back to a pro-style attack that you had a few years ago?

GS:
We made a decision two years ago -- and I ultimately made the decision -- to go in another direction. And after doing it, I wasn't comfortable with it. Rather than continuing down that path, we're going to go with what we're comfortable with. So we're going back to what I really feel strongly about, and we have the personnel to do it -- I hope we do. We'll continue to recruit for that. The thing you get away from is recruiting a fullback when you're not using the kind of offense we're going to use now. So that may take another year or two to catch up, but I think we have some guys who will fill out and be good fullbacks in what we're trying to do.
How do you think the transition will go to the new offense this spring?

GS:
I think it will go smoothly. Frank and the staff involved have done a very good job this offseason with the time we're alowed to meeting them in introducing it. Now we'll get out there on the field and install it all. There's a good mix of three guys on that offensive staff who were here last year and two new guys, and with Frank's leadership, I'm really comfortable there. Now, we'll see how it goes in the spring, but I think when you look at our skill players, we have a lot of guys who have gotten some experience now. Some of them have made a lot of plays while getting their experience, and they're on the other side of the hill now, in that they've played a lot of football. This is a new offense to learn, and I'm anxious to see.
The offensive line, I think, has gotten better this offseason. Now, we'll see how that translates to the game of football. But I do think the things we're going to ask them to do are going to be more in their skill set, and I think the football will be coming out quicker as well. I hope all of those things combined will lead to a much better job on the offensive line, because we were really not good up front on offense last year, and that has to change.
You say the line has gotten better. How do you tell that in the offseason?

GS:
With big men, there are two things you need to be able to do. Number 1 is, be strong, and I don't mean the weight room as much as functional strength. And Number 2 is, you need to be able to bend. Our strength was average; I wouldn't say we were overly strong, but it wasn't horrible either. But we really played with our pad level too high. So we really emphasized bending, and I see us bending a lot better. So hopefully those two things, being a little bit stronger and bending better, and in an offense where there's more cumulative repetitions over time, I think we're going to get better.
And we added a guy, in [center] Dallas Hendrickson, I haven't seen him play for us, but I've seen him play in junior college. He's going to be really good in that position, and everyone else is going to be a year older, stronger and drilled just a bit more thoroughly. So hopefully that will lead to better results.
You moved some guys around on that line last year. Do you anticipate doing that again, or do you have set positions in mind this spring?

GS:
We moved Andre Civil over from defense, and we moved Antwan Lowery over from defense. I think those two guys, it's their time now. They need to perform. Civil is an extraordinary athlete. He should be able to do this. Lowery is an incredibly strong guy, he should be able to do this. Desmond Wynn and Art Forst have played a lot of football. It's just a matter of getting the best five on the field. We've got a young guy named David Osei that I think has a chance now after being in our program for two years. I think what will happen, finally, is we'll have some competition on the offensive line. No matter how dedicated a guy is, competition is still key, because everybody needs to be pushed.
Moving Jeremy Deering to running back, was that just because you liked the way he ran the Wildcat last year?

GS:
That was part of it, plus I think we have some good depth at the wide receiver position. And there will be opportunities -- just because he's called a running back doesn't mean he won't play wideout. It will give you some really good matchup possibilities. I really think
De'Antwan Williams
has had an exceptional offseason. I'm excited to see him. He was as highly touted a running back as there was coming out of high school. It's been a rocky couple of years, but I think he's in great shape, and he's totally committed to what he's doing.
We moved
Aaron Hayward
to the position, let's see what he can do. Let's see what
Jawan Jamison
can do -- he was a very good running back in high school. And certainly with the two kids we signed, Savon Huggins and Ben Martin, I think finally we have a little bit of depth at the position and there will be great competition. I don't particularly care who it is that does it, I just want whoever rises to the top.
Looking at your skill players, like Mohamed Sanu and Deering and Mark Harrison, it seems like you have more talent there than maybe ever during your tenure. Would you agree with that?

GS:
I'm excited about our skill. The thing that's lost a little bit about our season last year is that, from Game 3 on,
Joe Martinek
couldn't perform. Sanu, from Game 5 on, couldn't perform. So you were looking at guys who were hurt all year. Timmy Wright, going into last preseason, he was the guy I was most excited about and was performing the best of all our wideouts, and in the second practice of the year he goes down with a knee. A kid that was really highly recruited out of high school,
Brandon Coleman
, he redshirted and he's 6-7, 6-6, an incredibly lanky receiver who, when we did our testing, ran very, very well -- for anybody, forget that he's 6-foot-7. Then we were able to recruit well to the position as well, with Miles Shuler coming in.
So I am excited about the skill, and Frank is very good -- having coached against him several times -- he's definitely got an NFL mentality as far as matchups and personnel and all that. I think he'll utilize them very, very well. We've still got to block, though, as you and I both know. And part of blocking is getting rid of the ball. We've got to get rid of the football, and move the launch points and all those things. So we'll see.
February, 3, 2011
2/03/11
11:00
AM ET
RUTGERS SCARLET KNIGHTS

The class
2011 signees:
24

Top prospects:
Savon Huggins
is the No. 4 running back in this class, according to ESPN.com, and averaged nearly 11 yards per carry last season.
Al Page
is a 290-pounder who can play on either side of the line.
Miles Shuler
was one of the fastest players in New Jersey and can be used in a variety of ways.
Needs met:
As Rutgers proved last year with its brutal offense, it needs playmakers, especially in the running game. Huggins should help that right away. The Scarlet Knights also needed help for a battered offensive line and got that in junior college center Dallas Hendrickson and prospects Kaleb Wright and
Keith Lumpkin
, the latter of whom blocked for Huggins in high school. Greg Schiano also filled some holes on the defensive front and got a backup quarterback, at least, in
Gary Nova
.
Analysis:
This has all the makings of a standout class. Schiano kept some of the top prospects in New Jersey, and Huggins was a home run. This group answers a lot of concerns and could have the star power to help the Scarlet Knights finally get to the next level.
What Schiano said:
"I am thrilled about the young men that we are bringing here. I always say ask me how this class is a couple years from now, maybe three, but I know that I love the people we are bringing here, the people, the character and that I think we have a pretty good handle on and we are excited about the addition to our family these guys will be."
Scouts Inc. grade:
B-minus