NCF Nation:

Minnesota Gophers
October, 26, 2013
10/26/13
7:07
PM ET
MINNEAPOLIS -- Play calls in football have unusual names. Coaches assign the words to ensure clarity in the language barked at the line of scrimmage, to offer a reminder of the formation or personnel.
Rarely does their strategy involve the opponent. This one did: Shift Husker Bob Y-Go.
Minnesota offensive coordinator Matt Limegrover called it for the first time on Saturday as the Gophers opened their second drive of the third quarter.
Ahead by four points, they sent 6-foot-6, 302-pound freshman Ben Lauer wide like a receiver. He settled into a stance at the snap, providing a distraction just long enough for tight end Drew Goodger to flash open and snag a pass from Philip Nelson that gained 21 yards.
Four plays later, Nelson scored. Minnesota went back to the 6-5, 265-pound Goodger twice more in the third quarter for a total of 68 yards -- more than double his receiving yardage total in six games this year prior to Saturday.
[+] Enlarge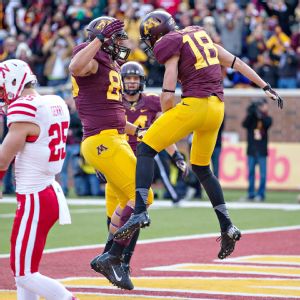 Jesse Johnson/USA TODAY SportsMinnesota took a page out of Nebraska's playbook to pull out the victory against the No. 24 Huskers.
Yes, Minnesota went big against 24th-ranked Nebraska in this 34-23 victory at TCF Bank Stadium. The Gophers beat the Huskers at their own once-dominant game, punishing the Blackshirts in a way Nebraska has for 50 years trounced Minnesota.
The Gophers rushed for 271 yards, the most allowed by Nebraska in an already disappointing defensive season, and they did it by running downhill. Few big gains; just a consistent, powerful, deflating attack that stung Nebraska in ways the Huskers never imagined might happen at this venue.
You see, Minnesota has long served as a Nebraska doormat, like an out-of-conference version of Kansas or Iowa State before the Huskers' 2011 Big Ten entry. The victory on Saturday snapped a 16-game Nebraska winning streak in the series.
Minnesota last beat the Huskers in 1960. Nebraska won the past 12 games by an average of more than 40 points.
"Those games have no meaning to us," said Tracy Claeys, the Gophers' acting coach and defensive coordinator under Jerry Kill before the Minnesota coach took a medical leave to undergo treatment for his epileptic seizures.
Kill watched again on Saturday from the press box. He attended practice last week and spoke to the Gophers before the game. He came to the locker room again at halftime and told the other coaches to leave him with the players.
Claeys said he's never spent time around a coach as competitive and caring as Kill, a rare mix.
"To have him around just means so much," Claeys said. "We want to make sure we do him well."
They sure did, storming back from a 10-0 deficit with 17 straight points in the first half, then burying the Huskers with a late defensive stand and a 34-yard touchdown march to ice it in the final minute.
Minnesota completed just eight passes. But it controlled the line of scrimmage. It forced two turnovers and committed none. It sacked Nebraska quarterback Taylor Martinez four times.
A small army of Huskers limped off the field.
"We know who we are," Minnesota running back David Cobb said, "and we know what we like to do."
Cobb rushed for 138 yards on 31 carries. The junior from Killeen, Texas, talked to the Huskers in the recruiting process, he said, but Nebraska didn't offer a scholarship.
"If you're going to win Big Ten football games," Claeys said, "you've got to run the ball and stop the run."
It stings for Nebraska, because that plan, for decades, epitomized Nebraska. So much of what happened on Saturday stings for the Huskers. The name of the jumbo formation, the method through which Minnesota inflicted misery.
And then there's this: Limegrover said the Gophers pored over film of Wisconsin's 70-31 victory over the Huskers last year in the Big Ten championship game. Some of Minnesota's misdirection and sweep plays came straight from that film.
You mean, the Huskers haven't fixed that yet?
"This game comes down to blocking and tackling," Nebraska coach Bo Pelini said, "and we didn't do that very well."
Really, it's about more than that for Nebraska. It's about a painful loss on Saturday that harkened images of an era in this program that began a decade ago with defeats to programs like Kansas and Iowa State and ended with the 2007 hiring of Bo Pelini that was supposed to stop such madness.
Claeys said after the game that "there are bigger wins out there for us."
Painful words again for Nebraska, but the coach is right. Minnesota, after consecutive Big Ten wins for the first time since 2010, is bowl eligible in October and plays Indiana and Penn State before a tough finishing stretch against Wisconsin and Michigan State.
The Gophers celebrated Saturday on the field with Minnesota students, but they're not ready to rest on this success.
"Whatever we're doing right now is working," sophomore quarterback Philip Nelson said, who replaced starter Mitch Leidner after three possessions.
It's an odd mix, for sure, the quarterback rotation and uncertain coaching situation.
"On the inside, as a staff, we could see it getting better," Claeys said. "But the kids needed something to give them belief."
Saturday gave them belief.
Claeys said he was a freshman in high school when Nebraska visited Minnesota 30 years ago and won 84-13. Some old-timers at Minnesota bitterly remember that game. None of the current Gophers, of course, were alive.
The Huskers also played UCLA and Wyoming out of conference in 1983, winning by a total of 68 points -- opponents that combined to outscore Nebraska by 17 points this season.
It's a new age at Nebraska.
At Minnesota, too, and for the better here.
October, 21, 2013
10/21/13
3:30
PM ET
LINCOLN, Neb. -- Nebraska quarterback
Taylor Martinez
returned to practice on Sunday after a five-week layoff due to a foot injury, but his availability for Saturday as the 24th-ranked Huskers visit Minnesota remains in question.
"I thought he looked good, but we didn't give him a lot," coach Bo Pelini said on Monday. "We'll just see how it goes as the week goes on, how he feels."

Martinez has missed three games with a turf-toe injury to his left foot. He last played on Sept. 14 in a 41-21 loss to UCLA.
The fifth-year senior, who owns the school's career total offense record, gave way to redshirt freshman
Tommy Armstrong Jr
. Armstrong played well in wins against South Dakota State and Illinois before struggling on Oct. 12 in the Huskers' 44-7 win at Purdue.
Senior
Ron Kellogg III
has also played extensively in the absence of Martinez.
Saturday's visit to Minnesota (noon ET, ESPN) marks the start of a stretch in which Nebraska (5-1 overall, 2-0 in the Big Ten) will play the Gophers, Northwestern, Michigan, Michigan State, Penn State and Iowa.
Senior receiver
Kenny Bell
said he was excited to see Martinez back in pads on Sunday, saying he was "very optimistic" that the 43-game starter could return this week.
Pelini described the quarterback's work in practice as "good."
"Obviously, he's got some rust in some areas that he's got to get cleaned up," the coach said. "It's going to be getting back footwork-wise and feeling comfortable with the different movements -- and obviously feeling comfortable being able to put his foot in the ground."
Asked if Armstrong or Kellogg would still factor in Nebraska's plan this week if Martinez returns, Pelini said it's too early to make a call.
"Lots of ifs," he said. "We'll see how it goes."
February, 18, 2009
2/18/09
12:53
PM ET
Posted by ESPN.com's Tim Griffin
The Big 12's news has been dominated by Mike Leach's contract saga the past several days. But we are equal-opportunity Big 12 pundits and believe in keeping our readers informed about stories across the conference.
Here's are a few Big 12 bits for your lunchtime enjoyment.
January, 13, 2009
1/13/09
12:19
PM ET
Posted by ESPN.com's Tim Griffin
After watching or listening to every play of every Big 12's bowl game, here are 10 observations gleaned from this bowl season.
| | |
| --- | --- |
| | |
| | Sam Greenwood/Getty Images |
| | Nebraska quarterback Joe Ganz turned in the performance of his career in a Gator Bowl win over Clemson. |
1.
No Ordinary Joe:
Nebraska quarterback
Joe Ganz
's career could be encapsulated in his Gator Bowl performance directing the Cornhuskers' triumph over Clemson. Ganz's career hasn't always been pretty -- just like his struggles against the Tigers. He was knocked around and even left the game with a bum shoulder that looked like it had knocked him out. But the resilient Ganz rebounded to direct a comeback and finish his career like he has this season -- with unexpected success.
2. Surging Jayhawks: Kansas provided the best overall performance by a Big 12 team with an impressive 42-21 victory over Minnesota in the Insight Bowl. Ed Warriner's offense was as strong as ever with Todd Reesing passing for 313 yards and Dezmon Briscoe and Kerry Meier combining for 24 catches and 314 yards and three touchdowns. But the biggest revelation was the play of the Kansas defense. After allowing touchdowns on the first two drives, the Jayhawks allowed only one scoring possession on Minnesota's final nine drives as Kansas allowed only 331 yards en route to the victory.
3. Pinkel erupts: Missouri coach Gary Pinkel had the fieriest in-game reaction when he verbally berated a Missouri fan who was expressing his displeasure at Chase Daniel as the Tigers left the field after struggling in the first-half against Northwestern in the Valero Alamo Bowl. The coach's response helped stoke the Tigers' overtime victory, which came despite a off-night by Daniel. After the game, it was revealed that Daniel sprained a ligament at the base of his right thumb the previous game against Oklahoma and had gamely played through the injury.
4. OSU can't overcome loss of Bryant: The most significant game-changing injury occurred when Oklahoma State wide receiver Dez Bryant sustained a knee injury against Oregon in the Cowboys' 42-31 Holiday Bowl loss. Oregon's leaky secondary didn't have an answer early as Bryant ripped them for seven first-quarter catches as the Cowboys jumped to an early lead. But after Bryant's injury, things certainly got easier for Oregon defensive coordinator Nick Aliotti. No Big 12 team was as dependent on a single receiver as the Cowboys were on Bryant. And his loss enabled the Ducks to zero in and eventually tee off on OSU quarterback Zac Robinson, who could no longer utilize Bryant on the quick routes that were blistering the Ducks earlier in the game. Robinson was the victim of several huge hits, sustaining a separated shoulder as the game continued. And it might not have happened if Bryant hadn't gotten injured in the first place.
5. Yes, Suh: Nebraska defensive tackle Ndamukong Suh provided the Big 12's best individual defensive game, helping stake the Cornhuskers' victory over Clemson with dominant inside play. Suh accounted for eight tackles, including 3.5 for losses and two sacks. For good measure, he provided a blocked field goal and a quarterback hurry and even played a little offense as a short-yardage blocking back. Suh is poised for an All-American season as a senior after his national coming-out party in the bowl game.
6. Maclin saves the Tigers: Jeremy Maclin's 75-yard punt return was not only the longest scoring play in a Big 12 bowl game, but also one of the most significant. Northwestern inexplicably kicked to Maclin despite dominating most of the first half while nursing a 10-3 lead in the Alamo Bowl. The Tigers had been limited to two interceptions and two punts in their first five drives to that point, gaining only 136 yards to that point of the game. But with 1:00 left in the first half, Maclin's TD return resuscitated his team after struggling early. Missouri overcame a sputtering offense for a 30-23 victory capped by Maclin's 7-yard touchdown grab from Chase Daniel in overtime. But his return earlier in the game was an even bigger play.
7. Colt does it again: The Big 12's most dramatic comeback came from Colt McCoy of Texas, directing the Longhorns' late victory over Ohio State in the Tostitos Fiesta Bowl. McCoy's 26-yard touchdown pass to Quan Cosby was a fitting conclusion to the former minor-league baseball player's career and capped a career-best 414-yard passing game for McCoy as well. But Cosby's late heroics on his touchdown grab never would have happened without the crucial fourth-down catch by sophomore James Kirkendoll two plays before.
8. Oklahoma's red-zone blues: The most surprising in-game trend in the FedEx BCS National Championship Game was the way that Oklahoma struggled in the red zone against Florida. Coming into the game, the Sooners were the one of the nation's most proficient teams inside opponents' 20-yard line, scoring on 76 of 80 drives with 69 touchdowns. But two huge stops inside the Florida 6 in the first half helped turn around momentum in the Gators' 24-14 victory. The Sooners never could recover from their self-inflicted mistakes, paving the way for their fifth-straight BCS bowl loss.
9. Tech's Cotton Bowl nightmare: The Big 12's worst collapse came from Texas Tech, which was unable to maintain its early success against Mississippi in the Cotton Bowl. The Red Raiders jumped to an early 14-point lead against the Rebels, but couldn't sustain that momentum as Jevan Snead's passing and a sure-tackling Mississippi defense gradually took control in Mississippi's 47-34 victory. It was a masterful in-game performance by Mississippi coach Houston Nutt, who thoroughly outcoached Mike Leach.
10. Harrell's ill-advised QB sneak: The worst single decision in a Big 12 bowl game came with Texas Tech's fourth-and-4 quarterback sneak by Graham Harrell early in the third quarter. Trailing 31-21, the Red Raiders had snatched momentum away from the Rebels after a missed field goal. But on fourth down, Harrell inexplicably tried a quarterback sneak that fell more than a yard short of the first down. Brandon Bolden scored on a 17-y
ard run for Mississippi three plays later and Tech would come no closer than 10 points during the rest of the game.
January, 8, 2009
1/08/09
8:15
AM ET
Posted by ESPN.com's Tim Griffin

Who to watch: Heisman Trophy winner Sam Bradford will be trying to turn around some bad recent karma that has dogged Heisman recipients in the BCS era when the Sooners face Florida Thursday night in the FedEx BCS National Championship Game. Since 1999, only one Heisman winner has ever been able to win the national championship the same season he won the trophy. And Bradford will likely have to duplicate Matt Leinart's big performance in the 2005 game to help the Sooners win. If Bradford remains upright and the Oklahoma offensive line can protect him, the Sooners might have a chance to spring an upset. The Sooners' no-huddle offense worked to perfection down the stretch, scoring at least 61 points in each of its last five games. If he can continue that trend on Thursday, Bradford might single-handedly stop the Heisman jinx in BCS title games.
What to watch: The Sooners' defense has been disparaged throughout the week for the huge numbers it has allowed in the pass-happy Big 12 this season. The key to the Sooners' success will be the recipe it has used all season. Even though Oklahoma has been susceptible to big yardage games (allowing 400 yards per game against the Big 12), it will need to come up with the big plays that have marked their season. And a couple of early stops would be especially important to build confidence. The Sooners have provided enough big plays to rank first nationally in turnover margin, third in sacks, sixth in turnovers forced and eighth in tackles for loss. The Sooners will need those kinds of defensive stops to contain Florida's Tim Tebow, who has been intercepted only twice all season.
Why to watch: Some of Bob Stoops' big-game mystique has diminished in recent seasons with four straight BCS losses in the last five seasons. Few are giving the Sooners much hope against Florida in what should be a decided home-field advantage at Dolphin Stadium. But the last time the Sooners were in a similar predicament, they produced a defensive effort for the ages in a 13-2 stunner over Florida State in the 2001 Orange Bowl. They'll need to conjure up some magic in this game in order to spring an upset and keep the SEC from making history by claiming its third straight national championship, which hasn't been done since the Big Ten followed back-to-back championships by Minnesota in 1940 and '41 with a title by Ohio State in 1942.
December, 31, 2008
12/31/08
2:12
PM ET
Posted by ESPN.com's Tim Griffin
Here are my picks for the second round of Big 12 bowl games, beginning with Thursday's Konica Minolta Gator Bowl
Konica Minolta Gator Bowl -- Clemson 31, Nebraska 28
Dabo Swinney has energized the Clemson program after taking over as interim coach -- a little like Bo Pelini's job with the Cornhuskers from earlier this season. Both of these teams are playing their best football of the season. But I expect Clemson to beat Nebraska with a taste of its own medicine by controlling the clock thanks to a heavy dose of tailbacks James Davis and C.J. Spiller. If the Tigers can do this and keep quarterback Cullen Harper out of too many long-yardage situations, I expect them to nose past the Cornhuskers and fulfill a little of their early promise expected of them. It just took a different coach to get them there.
AT&T Cotton Bowl -- Texas Tech 34, Mississippi 20
It will be good for the Red Raiders to get back to football after some of the travails of the last several weeks. But Graham Harrell's surgery and Mike Leach's contract squabbles should be long forgotten by the team that many forgot still earned a share of the Big 12 South Division title. Look for a healthy Michael Crabtree to be the difference in this game, if the Red Raiders can keep a salty defensive front from pressuring Harrell. And even if the Rebels get ahead early, remember that Harrell has directed two wild bowl comebacks in the last two seasons, rallying the Red Raiders from a 31-point deficit to win the 2006 Insight Bowl over Minnesota and a 17-point deficit in the final four minutes to direct a comeback in last season's Gator Bowl over Virginia. Houston Nutt has directed a nice renaissance with the Rebels this season, leading them to victories over the last two national championship teams. But the chore of beating Texas Tech will prove too much for them on Friday.
Tostitos Fiesta Bowl -- Texas 41, Ohio State 20
After being snubbed for the Big 12 title game, the Longhorns will approach this game with a chip on their shoulder. That's not a pretty proposition for an Ohio State team that has been blown out of its last two BCS bowl games by a combined score of 79-38. The key for the game will be the play of streaky Ohio State freshman quarterback Terrelle Pryor and the return of tailback Chris Wells. I expect Texas' defensive front keyed by Brian Orakpo and Roy Miller to exert enough pressure to keep Pryor discombobulated most of the game. And if Texas can get receivers Jordan Shipley and Quan Cosby open against a tough Ohio State secondary keyed by Malcolm Jenkins, the Longhorns should have the edge on offense, too. This game will be close at the half, before the Longhorns pull away in the second half.

My bowl picks last week: 1-1* (50.0 percent)
My picks for the season: 85-14 (85.9 percent)
* Not including Wednesday's Kansas-Minnesota game
December, 24, 2008
12/24/08
2:03
PM ET
Here's a look at my predictions for the first three bowl games involving the Big 12.
Missouri 38, Northwestern 27 -- The Tigers have had to stew over their championship game loss for nearly a month, wondering why they ended up in San Antonio in a season that opened with BCS promise. I'm expecting Chase Daniel and Chase Coffman to step up for one more huge offensive game in their final games together. Jeremy Maclin could be leaving the program and offensive coordinator Dave Christensen will be leaving for the head coaching job at Wyoming. Even with a struggling defense, I think the Tigers can outscore Northwestern and finish off back-to-back 10-win seasons for the first time in school history.
Kansas 45, Minnesota 20 -- Coach Mark Mangino has already made history by taking the Jayhawks to back-to-back bowl trips for the first time in school history. And this bowl game looks promising for them. The Jayhawks struggled in pass defense all season, but Minnesota couldn't move the ball late in the season in a late collapse that saw them lose its final four games. Coach Tim Brewster hired assistant coach Tim Davis to juice production in the Gophers' run offense that struggled all season. The guess here is that he hasn't had enough time to do that, especially against Kansas' underrated corps of linebackers. If Kansas quarterback Todd Reesing has protection, he should have a lot of fun against Minnesota's leaky secondary.
Oklahoma State 49, Oregon 47 -- Brace yourself for one of the best of the bowl games - particularly if you like high-octane offenses. Both teams scored at least 40 points six times during the season. Neither defense looks that imposing. It looks like a recipe for points and yards by the bunches. And that game could favor the Cowboys, because of their varied offensive weapons. Look for Zac Robinson to be more of a running threat -- like he was in the Oklahoma game -- and for Oklahoma State's advantage in special teams to be magnified with playmakers like Dez Bryant and Perrish Cox. But still, it won't be easy as the Cowboys will be playing this game without defensive coordinator Tim Beckman. He's gone to his new job as head coach at Toledo and it will be up to the rest of the defensive staff to pick up the slack against Oregon's potent offense keyed by head coaching designate Chip Kelly.
My record for championship week: 1-0 (100 percent)
My record for the season: 84-13 (86.6 percent)
December, 24, 2008
12/24/08
12:14
PM ET
Posted by ESPN.com's Tim Griffin
Ah, bowl time. I feel like I've missed out on a lot of the early fun from a lot of great games already.
The Big 12 finally starts on Monday night when Missouri faces Northwestern in the Valero Alamo Bowl in San Antonio.
We'll have Oklahoma State and Oregon Tuesday in the Pacific Life Holiday Bowl in San Diego and Kansas and Minnesota in the Insight Bowl in Tempe, Ariz., on Dec. 31.
How Missouri handles the stinging disappointment of another Big 12 championship game loss: The Tigers say they are intent on finishing strong, becoming the first team to win 10 games in back-to-back seasons in school history. But they have struggled defensively at the end of the season, allowing 102 points in losses to Kansas and Oklahoma. Northwestern's offense shouldn't prove troublesome, considering the Wildcats scored at least 28 points in a game only once in their final nine games of the season. What Missouri defense will show up in its bowl game?
The end of an era at Missouri: Chase Daniel and Chase Coffman will end illustrious careers with the Tigers, along with offensive coordinator Dave Christensen, who is off to his new job as head coach at Wyoming. Jeremy Maclin likely could be playing his final college game. This potent offensive mix has been the most productive offense in the school's recent history. Could they have one more huge outburst left in them in their final game together?
Better health for the Jayhawks: Key players like Kerry Meier, Jake Sharp and Todd Reesing were banged up most of the second half of the season for Kansas. After a month of rest and playing in the warm Arizona climate, will the potent Kansas trio be ready to take advantage of slumping Minnesota? The Gophers arrive with a four-game losing streak, compared to Kansas' excitement after a thrilling upset victory over Missouri in the Jayhawks' season finale.
Can the Jayhawks protect Reesing?: When Kansas was at its most successful offensively this season, Reesing was afforded protection and Sharp was a consistent runner. But the Wildcats often struggled to do that against the Big 12's power teams. It will be critical for Kansas redshirt freshman tackle Jeff Hatch to protect Reesing's blind size from Minnesota defensive end Willie VanDeSteeg, who led the Gophers with nine sacks.
Oklahoma State's defense without Tim Beckman: The Cowboys' former defensive coordinator left immediately for his new job as head coach at Toledo, leaving Mike Gundy without a coordinator for the bowl game against Oregon. First-year defensive line coach Glenn Spencer takes over Beckman's job of coaching linebackers. A game plan has been formulated with his work along with that of cornerbacks coach Jason Jones and safeties coach Joe DeForest. It could provide a big challenge against an Oregon offense that ranks fourth nationally in rushing, seventh in scoring and eighth in total offense.
A Holiday Bowl of points: Want to see a bowl game where the two teams combine for triple digits in points and into the thousands in yards between them? This could be your game. Oklahoma State features a talented array of offensive weapons like quarterback Zac Robinson, wide receiver Dez Bryant, running back Kendall Hunter and tight end Brandon Pettigrew. Oregon will counter with quarterback Jeremiah Masoli, running backs Jeremiah Johnson and LeGarrette Blount and tight end Ed Dickson. Considering that both teams have scored at least 40 points six times apiece this season, brace for a shootout in San Diego. Who needs a San Diego delicacy like fish tacos when you can gorge yourself on a delicacy like this?

December, 8, 2008
12/08/08
6:28
PM ET
Posted by ESPN.com's Tim Griffin
Sure, the Big 12 couldn't fill all of its bowl agreements. Fans in Houston and Shreveport will have to do without a Big 12 representative in their bowls this season.
But the conference appears to have been situated in some winnable games. Early odds have not been released, but it would be surprising if more than a couple of Big 12 teams were underdogs in their games.
With that being the case, the Big 12's national stature may be riding on a big bowl season. Because if teams from the conference collectively fail this season, it will be presumed as little more than a pass-heavy league where defense isn't played.
Here's my own unofficial listing of the attractivness of the conference's seven bowl games this year.
1. BCS Championship Game


No. 1 Oklahoma vs. No. 2 Florida, Jan. 8, 8 p.m., FOX: This game has everything. It's the battle between two of three best scoring offenses in the country. Two likely Heisman finalists in Sam Bradford and Tim Tebow. And Bob Stoops needs a victory to restore some of the national lusture to his program -- against the school where he first emerged as a national name.
2. Fiesta Bowl


No. 3 Texas vs. No. 10 Ohio State, Jan. 5, 8 p.m., FOX: The Longhorns aren't exactly excited to be in the desert. But an impressive victory and a lackluster national championship game might give them an argument for a shared national title. The game will pit two traditional powers. And unlike most Big 12 games this season, defense won't be an afterthought.
3. Holiday Bowl


No. 13 Oklahoma State vs. No. 17 Oregon, Dec. 30, 8 p.m., ESPN: I can't wait for this game. Jeremiah Johnson vs. Kendall Hunter. Phil Knight vs. T. Boone Pickens. Pistol Pete vs. that crazy Duck mascot. This one will be like a game we've seen in the Big 12 a lot this season. First team to 50 points wins in a game where the two teams may combine for more than 1,000 yards.
4. Cotton Bowl


No. 7 Texas Tech vs. No. 25 Mississippi, Jan. 2, 2 p.m., FOX: It should be quite a show with Mike Leach and Michael Crabtree helping usher out the Cotton Bowl's era at the old stadium in Fair Park. The two teams had shootouts in 2002 and 2003 in an earlier series and I'm expecting a similar game in this one.
5. Alamo Bowl


No. 21 Missouri vs. No. 23 Northwestern, Dec. 29, 8 p.m., ESPN: The Big 12's North champions limp into this game coming off a two-game losing streak. And the game will be played in the Alamodome, a place where they were they lost the Big 12 title game last season. But Chase Daniel's final collegiate game promises to be a festive one, particularly when it's in his home state.
6. Gator Bowl


Nebraska vs. Clemson, Jan. 1, 1 p.m., CBS: This one will pit Nebraska's underrated offense against a Clemson defense that ranks in the top 17 teams in pass defense, total defense and scoring defense. But Clemson will be breaking in a new defensive coordinator and Roy Helu Jr. has been running strongly in recent games, likely given the Cornhuskers a slim edge.
7. Insight Bowl


Kansas vs. Minnesota, Dec. 31, 5:30 p.m., NFL Netwo
rk: The Jayhawks will toast their first back-to-back bowl appearances in school history by meeting a Minnesota team that lost its last four games and finished 91st in total offense and 104th in rushing. If the Kansas secondary can hold up, Mark Mangino could have his team in line for its third-straight bowl victory.
December, 8, 2008
12/08/08
12:59
PM ET
Posted by ESPN.com's Tim Griffin
Here's a look at my Big 12 power rankings, heading into the bowl games.
1. Oklahoma -- The most dominant offense in Big 12 history -- even if Bob Stoops kept his starters in too long to prove it against Missouri. The Sooners' defense is starting to grow some fangs, too. But they still have a lot of work before heading to huge BCS title game in reshaping their national image.
2. Texas -- Just missed playing in the BCS title game. Oh well, the airplane banners were fun the last few weeks or so. And it should give them a lot of inspiration heading into the Fiesta Bowl.
3. Texas Tech -- Their two best offensive weapons are banged up and their coach seems to be in limbo. Other than that, everything's coming up Cotton for the Red Raiders.
4. Oklahoma State -- Prepare for points and bucks. A lot of them on both sides. The Holiday Bowl not only will feature a battle between megabuck donors Phil Knight and T. Boone Pickens, but also should keep the scoreboard operators hopping in San Diego.
5. Missouri -- Tigers can still win 10 games this season. That was Chase Daniel's battle cry after the Oklahoma loss, but they need something to get back on track after their championship game blowout. Or else, it could be another bad trip to San Antonio.
6. Kansas -- The gritty Jayhawks shouldn't encounter many problems in the Insight Bowl against a Minnesota team that struggles running the ball collapsed with four straight losses down the stretch.
7. Nebraska -- Hey, I almost had a change of heart about the Cornhuskers. Bo Pelini's team can win me and even more converts by playing well on New Year's Day again. And it's even more promising for them considering they'll be facing a Clemson team whose defensive coordinator quit last week.
8. Colorado -- If any team could have used the extra bowl practice the next few weeks, it could have been the Buffaloes. But the time off will give them a chance to get healthy and ready for the spring.
9. Baylor -- It will be interesting this spring if Robert Griffin reconsiders his plans to run track in order to concentrate on football. Because he could turn into a monster if he dedicated himself simply to one sport -- or the other.
10. Kansas State -- Bill Snyder's staff is taking shape. Now the real work begins as he attempts to convince Josh Freeman to stay for one more year.
11. Texas A&M -- It will be a tough rebuilding job for Mike Sherman as the rest of the South Division might be competing at the highest level in history.
12. Iowa State -- Chizik's retooled staff will have much to work on over the winter. But the North Division should be competitive next season and experience should give them a chance.
September, 4, 2008
9/04/08
12:19
PM ET
Posted by ESPN.com's Graham Watson
I was 14-2 with my picks last week, including upsets by East Carolina, Bowling Green and Utah, and I was only off by a touchdown here and there (except for Hawaii) on most of my selections. I look to continue my reign of terror this weekend. I'm calling for three upsets of BCS teams this weekend and Notre Dame to start the season 1-0. Should be a fairly eventful second weekend.
Bowling Green 31, Minnesota 24: I'm calling yet another Bowling Green upset. After seeing how Northern Illinois was able to keep pace with the Gophers, I think Bowling Green should have no problem especially in a rockin' stadium hosting the first-ever Big Ten opponent.
Buffalo 35, Pittsburgh 32: Buffalo is the team no one is talking about, but the backfield of Drew Willy, James Starks and Brandon Thermilus is downright scary and the defense has been decent. Look for Pitt to fall to 0-2.
Temple 28, Connecticut 10: I keep saying Temple will be one of the most-improved teams in the country and this game should solidify that assertion. The Owls will win this game on defense because quarterback Tyler Lorenzen is prone to interceptions. If they can control Donald Brown on the ground, Temple should notch its second win.
East Carolina 28, West Virginia 24: I've gone back and forth about this game and I finally decided that I believed in the ECU defense so much that I think it can control Pat White and Noel Devine. But ECU's offense has to get off to a quicker offensive start than it did against Virginia Tech.
South Florida 28, Central Florida 7: After watching the Big East this weekend, any pick for them might be poison, but I like South Florida and think its weapons will be too much for Central Florida to stop. UCF's offensive struggles in it first game are a little worrisome going into this rivalry.
Oklahoma State 38, Houston 21: I've been high on Houston, but there's no doubt in my mind that its defense will yield a lot of points to an offensively sound Oklahoma State team. Oh, and Oklahoma State's defense is better than Southern's.
BYU 37, Washington 17: This is BYU's first BCS game and it's against a Washington team that looked offensively inept against Oregon last week. BYU's offense should be able to take advantage of a porous defense and the Cougars defense will get a nice test against the Pac-10.
Texas A&M 28, New Mexico 17: I wanted to pick New Mexico this week, but it showed me so little against TCU that it was difficult to do so. I have yet to see New Mexico's offense do anything to replace its 1,000-yard receiver from a year ago. New Mexico's receivers still have no career touchdowns. I also think A&M rebounds after an embarrassing week against Arkansas State.
Air Force 24, Wyoming 10: I'm still on the Air Force bandwagon and though Wyoming won, it struggled against an Ohio team that I wasn't really sold on in the preseason. Wyoming did limit the yards on the ground, but I think that will be tougher against an Air Force offense that excels in the running game.
Arkansas 17, Louisiana-Monroe 13: This is an ugly, ugly matchup. I think two weeks ago I would have picked ULM to win, but after watching them struggle against Auburn (and I did watch), I was really dismayed about the Warhawks production. I understand it's Auburn, but 2-for-18 on third down just isn't going to cut it.
Florida Atlantic 32, UAB 25: I think this is going to be an offense showdown with little defense. FAU might have gotten smoked by Texas, but it was able to move the ball in the first half. Turnovers just killed them. UAB put up some points against Tulsa, but its defense could contain Tulsa's potent offense. More of the same against FAU this weekend.
Tulsa 56, North Texas 10: I was really disappointed by North Texas' play last weekend and I think they're going to face a similar situation this weekend. Tulsa is a better team, and its defense is better than it was a year ago. UNT will get some garbage points, but overall this could be ugly.
Kansas 31, Louisiana Tech 12: Louisiana Tech had a great win over Mississippi State last weekend, but I don't see a repeat against the Jayhawks. Kansas doesn't make many mistakes like Mississippi State and Kansas is a far tougher team at home.

Texas Tech 35, Nevada 21: I like Nevada, but I'm not sold on its secondary especially against the nation's best quarterback (statistically). If Nevada can hit Graham Harrell in the mouth and devote a spy to Michael Crabtree, it might have a chance to upset, but that's a big might.
Nebraska 41, San Jose State 10: Yet another non-BCS will fall to Nebraska this weekend and unlike Western Michigan, San Jose State won't put up much of a fight. The Spartans defense is tough, but I don't think the offense is going to mount enough of an attack to give the defense enough time to catch its breath between series.
Notre Dame 35, San Diego State 10: Notre Dame's home opener won't be an accurate picture of how the Irish will fare this season, but at least it will get them a win before November. San Diego State has a lot of issues and won't have much of a chance in South Bend. SDSU quarterback Ryan Lindley might be the only bright spot.
Ball State 31, Navy 21: This is a hard game to pick because I'm not sure how the option will look against a quality team like Ball State. I have a tough time believing Shun White will be as successful against the Cardinals. And Ball State's Nate Davis and company are a tough act to stop on defense.
Army 27, New Hampshire 7: I'm giving Army the benefit of the doubt here to try its wishbone hybrid on a I-AA team. The Black Knights struggled mightily against Temple, but if they can limit turnovers, they should notch their first win of the season.
July, 25, 2008
7/25/08
11:38
AM ET
Posted by ESPN.com's Tim Griffin
While developing a list of the top 12 non-conference matchups Thursday, I began thinking about ideal matchups for different schools across the conference.
If I were king of college football and could mandate opponents for different Big 12 teams, here are some of the choices I'd make and my reasoning. Let me know what you think, and if you could come up with better ones.
Baylor -- How about Vanderbilt? What could be better than watching two schools that face similar difficulties from the nation's toughest conferences? Both are private schools and have the benefit of strong coaches. It would be an entertaining game.
Colorado -- I originally thought Air Force would work because of the geographical proximity. But a better choice, I think, is UCLA, so we could watch Rick Neuheisel squaring off against his old team. And the two programs are relatively equal, which should make for some real competition on the field.
Iowa State -- You could argue for Florida and a return of Dan McCarney to Ames. But a better, more entertaining game would be to match the Cyclones against Minnesota. The two schools are relatively close and are at about the same levels in their respective conferences. You could bet that Mack Brown would be watching the matchup of his old protégés Gene Chizik and Tim Brewster.
Kansas -- ESPN has liked matching the coaching wiles and offenses of Mark Mangino and Toledo's Tom Amstutz in the past. But a better matchup would be to let Mangino call plays against Joe Paterno and Penn State. Jayhawks fans are still grouchy about how the 1969 Orange Bowl finished up. It would be kind of neat to see a rematch -- even if it's nearly 40 years later.
Kansas State -- Give me the Wildcats and Fresno State, the school they ducked earlier this season. I don't know what Ron Prince is afraid of. His Wildcats would match up very favorably with the Bulldogs.
Missouri -- There was a lot of bluster emanating out of Iowa City a couple of years ago when the Tigers and Iowa abruptly cancelled a series of upcoming games. But things have changed since then. The Tigers are white-hot and the Hawkeyes have taken a big step back. Let's see them finally play.
Nebraska -- It's hard to think of many for the Cornhuskers, who have played virtually every great national program in the past. I'd like to see them challenge South Carolina right now. I know that Steve Spurrier hasn't forgotten that 62-24 bludgeoning his Florida Gators endured at the hands of the Cornhuskers in the 1996 Fiesta Bowl. And the coaching battle between Spurrier and Bo Pelini would be delicious.
Oklahoma -- I used to think seeing Bob Stoops match wits with Spurrier would be neat. But a better matchup might feature the Sooners against Florida -- a game between two of the nation's most talented programs in recent history.
Oklahoma State -- It might be kind of cool to see the Cowboys square off with Les Miles' LSU team or the Southern Mississippi team now coached by Larry Fedora. But a better game -- and definitely more anticipated media scrum afterward -- would be to see the Cowboys meet Michigan State and Coach Mark Dantonio. The game would be close on the field and the fireworks after the game with Mike Gundy and Dantonio might be better than the game before it.
Texas -- After watching a BCS title game that lived up to the hype (and more), I could watch Texas against USC every day for the rest of my life. These two programs really should play more often, even if Vince Young and Reggie Bush don't have any eligibility remaining.
Texas A&M -- The rivalry for recruiting in East Texas is pretty intense and I think it would be kind of fun to see the Aggies hook up against Les Miles and LSU. The two old rivals played 49 times between 1899 and their most recent skirmish in 1995. It would be good to see them playing again.
Texas Tech -- Mike Leach once roamed the sidelines at BYU, where he intently watched coach LaVell Edwards' practices as a student. Those early sessions enabled him to glean some of the bedrock principles for his passing offense. Who says you can't go home again? A game between the Red Raiders and the Cougars would provide the kind of offense that fans dream about.
Let me know what you think and suggest some other potential dream non-conference games. I'll let others know about your choices.