NCF Nation:

Minnesota Vikings
January, 27, 2012
1/27/12
9:00
AM ET
Harrison Smith
's five-year Notre Dame career ended with him ninth on the school's career tackles list (309) and as the Irish's lone captain in 2011. He is now getting ready for the draft and will play in the 63rd Senior Bowl on Saturday in Mobile, Ala.
The safety will suit up for the North team, coached by Leslie Frazier and the Minnesota Vikings' staff. The game kicks off at 4 p.m. and airs on the NFL Network.
After Monday's weigh-in for the game, Scouts Inc.'s Todd McShay wrote that the 6-foot-2, 212-pound Smith
passed the eyeball test with flying colors
, something Smith said his brother texted him about. He joked that he's been getting feedback from plenty of sources --
Scouts Inc. thinks he's a potential Day 2 pick
-- but he'll try to block it all out as he readies for the NFL.
You've been hearing so much from so many different people -- from media, from scouts. How do you take all that and put it aside and focus on the task at hand?
Harrison Smith:
I think after playing at a place like Notre Dame, where the spotlight's always on you, the media's always there, people are watching you every weekend, you're always on TV -- I think it just becomes part of it. And that's something that, don't get me wrong, I'm nervous before all the games I play in, I'm nervous going out and playing in front of scouts and stuff like that, but it's not like a bad nervous. It's just part of it. And once you get used to it you don't realize that you focus on what you're doing and who you're looking at before the snap, and just the basics of football. All that other stuff isn't even in your mind until you walk off the field.
Can you take me a little bit through the process so far: Where you went after the bowl game, the process of choosing an agent, where you're training and what not?
[+] Enlarge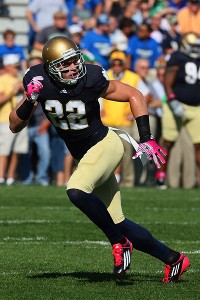 Brian Spurlock/US PresswireIrish safety Harrison Smith finished up his senior season with 93 tackles and seven interceptions.
HS:
I ended up going with a guy named Brian Murphy, who's actually a Notre Dame grad, and he's got a lot of Notre Dame guys that I've played with. That's just a little bonus, but I liked him. I liked what he's about. So there was that process and then after that I start training, getting ready for playing in the Senior Bowl, going to the combine, pro day. So I worked out a couple weeks at home with Charles Petrone. He's a guy I've always worked out with, and he's always done me right. I've never seen a guy make improvements on all the guys that he trains as well as he does. There was never a question as to where I was training. I always knew I would train with him if I ever got lucky enough to pursue the NFL. And before the Senior Bowl I actually went out and worked out with some other players, a lot of guys who signed with the same agency as me, just to get a feel of other guys who were going to the game and get some camaraderie and stuff like that, and that kind of leads me to this point.
You mentioned having the same agent as some other Notre Dame guys. Who specifically in the league right now, either Notre Dame or non-Notre Dame players, has been advising you? Have you developed any relationships and have any mentors in the NFL right now?
HS:
From those guys, I played with David Bruton and Kyle McCarthy. I had a year with Tom Zbikowksi but I didn't get to know him as well as I got to know David and Kyle. And Kyle, I actually played alongside Kyle. So that's a guy who's kind of helped me through the process. And also Sergio Brown's a guy who's up there, stayed in touch with him. He's gotta be happy right now. (Brown's Patriots are in the Super Bowl.) But those guys have all been great. And then on top of that, Chad Pennington's a guy who worked out with Charles Petrone when he was coming up, because he's from my same area. He went to my rival high school. He's just a great guy. If I've ever had a question or needed advice, he's a guy who's done it all and he's a smart guy who just cares about people and doesn't mind spending some of his time helping me out. So he's another guy that I'm fortunate to be in contact with.
With the Senior Bowl prep this past week, how much have you learned about yourself going up against some of the better guys in the country? How much of a measuring stick has this week been for you?
HS:
I think it's been a good measuring stick, but at the same time I think when you turn on tape, that's when you really find out what a guy's about. Tape from tough games, that's when it really counts. That's when everything's on the line, this is just kind of a smaller snippet of that. At practices here everything's on the line, too, because you got all the scouts, all the coaches on the team watching you, and you've got to perform under the spotlight. So I think this is a small snippet of everyone's college career. I think it kind of gives those guys who are checking us out and grading us an increased level of the athletes around and just a higher talent pool to see us perform.
Is there anything specific you hope to accomplish this week? Is there any specific weakness or something that's been pointed out to you that you're trying to improve?
HS:
No, not really. I'm just going out and doing what I know how to do and being the player that I pride myself on being: a guy that works hard, a guy that can do a lot of things for the team, a guy that's athletic and can definitely play special teams for you. So really just being a guy who can do what the coaches ask: understand the defense, make the calls, stuff like that.
What's the next step for you after this weekend? Are you going to go back home and continue to train, or do you have a next stop on your list?
HS:
I'm going back to Knoxville and training with Petrone and just getting after it until the combine.
I'm sure it will be a little crazier when you get to the combine, but how has this whole experience measured up to what you expected going in?
HS:
It's been pretty much what I expect. It's obviously going to be hectic and there's going to be a lot of eyes on you the whole process, and in the in-between time there's a lot of work to be done. You always got to get up and you just got to get after it every day, get ready for the next test. That's just what it's about. That's what being a football player's about. It's not any different than my past four or five years, it's kind of more intense and kind of just crammed into a couple months I guess.
May, 1, 2011
5/01/11
12:26
PM ET
The Pac-12 provided 37 players to the NFL draft over the weekend, one fewer than the SEC, which led all conferences.
If the six combined picks from Colorado and Utah are taken away from the conference, the old Pac-10 provided NFL teams 3.1 draft picks per team, also just behind the SEC at 3.17.
Here's where the Pac-12 players went:
First round
No. 8
Jake Locker
, QB, Washington: Tennessee
No. 9
Tyron Smith
., OT, USC: Dallas
No. 17
Nate Solder
, OT, Colorado: New England
No. 24
Cameron Jordan
, DE, California: New Orleans
No. 27
Jimmy Smith
, CB, Colorado: Baltimore
Second round

7.
Akeem Ayers
, LB, UCLA: Tennessee
10.
Brooks Reed
, DE, Arizona: Houston
13.
Rahim Moore
, FS, UCLA: Denver
21.
Stephen Paea
, DT, Oregon State: Chicago
24.
Shane Vereen
, RB, California: New England
Third round

13.
Jurrell Casey
, DT, USC: Tennessee
20.
Mason Foster
, LB, Washington: Tampa Bay
25.
Shareece Wright
, CB, USC: San Diego
29.
Christopher Conte
, S, California: Chicago
33.
Sione Fua
, DT, Stanford: Carolina
Fourth round

5.
Jordan Cameron
, TE, USC: Cleveland
19.
Casey Matthews
, LB, Oregon: Philadelphia
21.
Jalil Brown
, CB, Colorado: Kansas City
27.
Owen Marecic
, FB, Stanford: Cleveland
Fifth round

8.
Brandon Burton
, CB, Utah: Minnesota
9.
Gabe Miller
, DE, Oregon State: Kansas City
14.
Jacquizz Rodgers
, RB, Oregon State: Atlanta
23.
Richard Sherman
, CB, Stanford: Seattle
Sixth round

2.
Ryan Whalen
, WR, Stanford: Cincinnati
14.
Caleb Schlauderaff
, OG, Utah: Green Bay
17.
Ronald Johnson
, WR, USC: San Francisco
19.
David Carter
, DT, UCLA: Arizona
22.
Allen Bradford
, RB, USC: Tampa Bay
24.
Mike Mohamed
, LB, California: Denver
32. Ricky Elmore, DE, Arizona: Green Bay
38. Zach Williams, C, Washington State: Carolina
Seventh round

12.
D'Aundre Reed
, DE, Arizona: Minnesota
24.
Scotty McKnight
, WR, Colorado:
New York Jets
30.
Lawrence Guy
, DT, Arizona State: Green Bay
37.
Stanley Havili
, FB, USC: Philadelphia
38.
David Ausberry
, WR, USC: Oakland
39.
Malcolm Smith
, LB, USC: Seattle
By Pac-12 school:

Arizona (3)
Arizona State (1)
California (4)
Colorado (4)
Oregon (1)
Oregon State (3)
Stanford (4)
UCLA (3)
USC (9)
Utah (2)
Washington (2)
Washington State (1)
The final tally by automatic qualifying conferences
:
SEC... 38
Pac-12... 37
Big Ten... 36
ACC... 35
Big East 22
Big 12...19
Nebraska was a big swing to the Big Ten from the Big 12 with seven picks. With Colorado and Nebraska, the Big 12 provided 30 selections.
This was the tally through three rounds
:
SEC: 20
ACC: 19
Pac-12: 15
Big Ten: 13
Big 12: 9
Big East: 4
February, 11, 2011
2/11/11
9:00
AM ET
Colorado is new to the Pac-12 but old to the Big 12, so it makes sense to check in with Big 12 blogger David Ubben to get his take on the state of the Buffaloes as they welcome new coach Jon Embree.
Just who are these Buffaloes? What are their strengths and weaknesses and how will they fit into the Pac-12, specifically the Pac-12 South?
We went looking for insights and Ubben obliged.
Ted Miller
: Well, David you -- and the Big 12 -- have to say goodbye to Colorado, with the Buffaloes looking to their future out West in the Pac-12. First of all, give Pac-12 fans a CliffsNotes description of the state of the program. Things haven't gone so well in Boulder lately. Why?
David Ubben
: Colorado is certainly in rebuilding mode as they kick off a new start under coach Jon Embree after firing Dan Hawkins in the middle of the 2010 season. They bring back two stars in quarterback
Tyler Hansen
and running back
Rodney Stewart
. But fitting those guys into Embree's new system and greatly improving from their 5-7 record seems like asking a lot.
Hawkins came to Boulder promising big things but never delivered. As for why it didn't go well? Any number of reasons. One that angered fans is Hawkins' tendency to play less talented players who knew the system well over more talented players that maybe didn't have as solid of a grasp of what they wanted to do on the field. Embree has said he'll do essentially the opposite, so I guess that's a start in the eyes of fans.
TM
: OK, let's look forward then. Tell Pac-12 folks about Embree, his new staff and the talent the Buffaloes have returning. What are strengths and what are question marks heading into the 2011 season?
DU
: He's stocked his coaching staff with quite a few Buffaloes, but most of the names would be more recognizable as players. The biggest name is his offensive coordinator, former Buffs great
Eric Bieniemy
, who spent the past few years coaching
Adrian Peterson
as the running backs coach at the
Minnesota Vikings
. They also swiped Bobby Kennedy, a Boulder native, from Texas to coach receivers.
Last year, they ran the ball pretty well, and Stewart is back. He's a small, shifty back that seems way, way underrated. He rushed for more than 1,300 yards last year, and the only Big 12 backs who had more were
Daniel Thomas
and
Kendall Hunter
, who should be drafted this year. They lose tackle Nate Solder, another first-round pick, but Ryan Miller is back, and he's an all-conference level guard.
The big question for them next season will be if their defense can stop the pass -- which my sources tell me, is pretty important in the Pac-12. Maybe not as important as in the Big 12, but still necessary for big success. Both corners from last year, Jalil Brown and Jimmy Smith, should be drafted. They weren't great at stopping the pass last year (9th in the Big 12) so it's hard to see them being better at it next year.
TM
: OK. Good stuff. Let's wind it up. How would you have projected them in the Big 12 next fall? And do you have any feeling for how they might do in the new Pac-12 South?
DU
: They definitely looked like a team in the bottom third of the Big 12 next year, and it seems like it'll be tough for them to finish in the top half of the Pac-12 South in 2011.
Right now, it's just about being competitive and maybe stealing a game or two that people didn't think they'd win. If that happens enough, a bowl game isn't out of the question. We don't have any idea what to expect out of an Embree-coached team, and that could be a good or a bad thing. We won't know for sure until next year, but if Embree can bottle up whatever Colorado had inside of them the way they played down the stretch last season after Hawkins was fired, it could be a real surprise 2011 for the Buffs.
May, 13, 2010
5/13/10
5:05
PM ET
Shortly after California's final spring practice ended, the Bears erupted in cheers in the locker room. But it wasn't for themselves. Or even about an ending. It was about a surprising beginning.
[+] Enlarge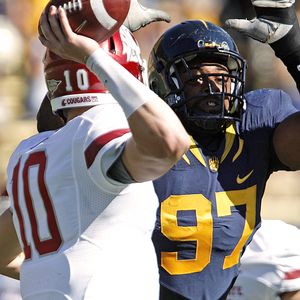 AP Photo/Ben MargotCameron Jordan embraces the fact that neither he nor Cal is garnering much national attention.
Their former teammate, defensive end Tyson Alualu, was picked 10th overall in the NFL draft by the Jacksonville Jaguars. Boom! He was a millionaire.
Cameron Jordan was among those cheering. He said he wasn't surprised the player who manned the opposite end of the line from him over the past two seasons was selected 10th overall. Nor, he said, did he consider that he was only a year away from finding where he might fall on draft day.
"I didn't even think about that part," the 6-foot-4, 282-pound senior defensive end said. "I was just happy and excited for him."
Jordan has the talent to become a first-round pick. Presently, he likely will be projected, much like Alualu was last May, as a second- or third-round selection.
He's flashed plenty of tantalizing ability, earning honorable mention All-Pac-10 honors the past two seasons. He had 48 tackles, 9.5 tackles for a loss and six sacks last fall. He also had five quarterback hurries, which suggests a lot of "what might have been." Not unlike Cal's 2009 season.
Last fall, Jordan looked like a potential All-Pac-10 selection, just as the Bears looked like a top-10 team and a threat to unseat USC atop the conference. More than a few
Cal fans reacted angrily
when Jordan was left off the Pac-10 blog's ranking of the conference's top 30 players.
Why did the Bears -- and Jordan -- fall short?
"There were multitude of reasons," Jordan said. "It seemed like after that first loss some guys were rattled and didn't really come back."
That would be the visit to Oregon, where the Bears swaggered into Autzen Stadium ranked sixth in the nation and staggered out 42-3 losers.
As for the mediocre defense in 2009 -- which was mostly mediocre in 2009, despite eight returning starters from a unit that ranked among the nation's top-30 teams in nearly every statistical category -- Jordan said "some of it had to do with a lack of adjustments."
That's fairly general, but there was unhappiness with Cal's scheme last year. This led coach Jeff Tedford to say repeatedly during the offseason that the Bears would be more aggressive when attacking the quarterback.
New coordinator Clancy Pendergast will run more stunts and blitzes out of the Bears 3-4 front, which could benefit Jordan, who faced a lot of double teams last fall.
"Hopefully, it will free me up to get in the backfield more often," Jordan said. "I got a lot more one-on-ones this spring, and that only makes my day."
Jordan reportedly
had a good spring
. Here's what Pendergast said about him in a
Q&A with the Pac-10 blog
: "He's been very receptive. He pays attention to detail. He's very interested. When you have a guy like that, with his potential skill set, he can have an opportunity to make plays. So he's bought into the system and he's doing the different things that we are asking him to do within the scheme. So far so good."
Jordan has good bloodlines. His father, Steve, played at Brown and then 13 years in the NFL with the Minnesota Vikings, earning six invitations to the Pro Bowl. A gifted athlete, the young Jordan has always been a strong pass rusher, with good speed for his size. He's fallen short a bit with his strength in run support.
That might be changing. Jordan said he focused on that area.
"I'm more confident in my run game," he said. "It's been getting better every year. My freshman and sophomore year, I knew I wasn't a great run stopper. Pass rush yes. My junior year, I was a little bit more confident. Now, I'd like to say I'm one of the better guys on the unit against the run. I'm already confident in my pass rush abilities."
The next step, he said, is being so confident in his ability to defeat blocks that he focuses his attention on reading the action in the backfield: "Sometimes I get too focused on the man in front of me instead of what play can actually happen in the backfield."
Cal doesn't figure to get much preseason attention. Most projections will dump the Bears into the conference's muddled middle. That probably means Jordan, too, won't get too much preseason hype.
He seems fine with that.
"Coming in under the radar, there's no pressure on us. No one is looking at us," he said. "If we are under the radar, all we have to worry about is what we can do as a team, not what everybody else thinks we can do."
It's possible that by doing just that, the Bears might end up cheering in December -- and again in the spring when NFL Commissioner Roger Goodell calls Jordan's name.
January, 8, 2010
1/08/10
8:02
PM ET
Pete Carroll and the Seattle Seahawks are "close" to coming to contract terms, the
LA Times reported
.
The Times reported that Carroll would leave USC to become the Seahawks head coach and team president for a five-year contract worth $7 million a year.
Carroll made $4.4 million annually as the Trojans coach.
The Minneapolis Star-Tribune, however,
is reporting
the Seahawks will interview Vikings defensive coordinator Leslie Frazier on Saturday.
It appears that nothing is final, but Carroll's candidacy is obviously much more legitimate than when it's been reported in the past.