November, 15, 2011
11/15/11
4:53
PM ET
Of all the conference realignment possibilities, debates and related goings-on,
Missouri's move to the SEC
may have gotten the least attention -- in large part because of the ongoing Penn State scandal.
No doubt that's fine for Missouri officials now -- and recent SEC addition Texas A&M -- but not being in the national dialogue won't stand once the teams begin SEC play. Where some fans see both moves as lateral for the teams, university leaders see otherwise: moving to the SEC with play starting in 2012-13 is a chance to grow their brands nationally.
"The top decision factor for A&M going to the SEC was about increasing national visibility and exposure," said Jason Cook, A&M's vice president of marketing and communications. It's no coincidence, he said, that six of the top 10 and nine of the top 25 top-selling brands for IMG College are SEC members.
Cook said looking no further than your TV screen underscores the opportunity: the recent Aggies game against Iowa State was the game selected by Big 12 first-tier rights holder ESPN, which showed the game on ABC regionally. Cook said it wasn't even shown across the entire Big 12 footprint, much less nationwide. But that week's game on CBS, the SEC's first-tier rights holder, appeared in homes from coast to coast.
Referring to the Big 12's new, second-tier television deal with FOX set to begin next season, Cook said: "While some look at the Big 12's contract and see it as good from a financial standpoint, from an exposure standpoint, it doesn't get coast-to-coast coverage." This would put A&M in the same situation it was in for the Iowa State game, when broadcasts are via regional network and not nationwide.
Increased exposure nationally through athletics can help educate prospective students learn about the university, too, he said. A&M is still thought of by many to be an all-male military institution. One other important advantage: "We can set the marketplace in the state of Texas for the SEC," Cook said, as the school will be the conference's lone Texas brand.
From a licensing standpoint, Cook said consultants have projected revenue to increase by up to 60 percent as a result of the move.
Missouri officials have mentioned similar benefits, but Chris Koukola, assistant to the chancellor for university affairs, focused mostly on academic benefits in a recent interview.
Officials from the admissions office will look at extending their out-of-state reach, particularly in Florida, where they have a large number of alumni. Koukola also mentioned the expanded research opportunities available for faculty.
What Koukola said she most looks forward to is the opportunity to participate in a group the SEC has formed of administrators in a similar communications position. She said the Big 8 had such a group, but it was never active once the Big 12 was formed. This cooperative element adds value to their move that often goes without mention, she said.
September, 20, 2010
9/20/10
1:38
PM ET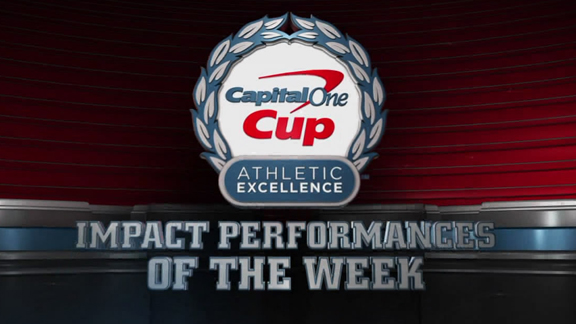 It's Monday so that means it's time to vote for the Capital One Impact Performance of the Week.

Here are your nominees:

Michigan State's Aaron Bates' touchdown pass on a fake field goal against Notre Dame.

Missouri's Blaine Gabbert's 68-yard touchdown pass against San Diego State.

Arkansas' Ryan Mallett's 40-yard touchdown pass with 15 seconds remaining.

Wisconsin's Jay Valai blocks Arizona State extra point for 20-19 win
September, 16, 2010
9/16/10
9:00
AM ET
My picks in Week 2 were … slightly better than awful. With a 12-10 overall record, I need somebody to give me a pep talk. Is Frank Beamer available? Oh wait. He is probably busy giving his team one of those.
On to the picks!
Virginia Tech 35, East Carolina 27
. No way Virginia Tech loses a third straight, right? Well, the Hokies have a recent history of losing to the Pirates -- dropping the opener in 2008.
Dominique Davis
has played lights out for the Pirates, but the defense -- not so much. The Hokies are going to be fighting mad, and should be able to slow down the East Carolina offensive attack just enough to escape.
Oklahoma 24, Air Force 20
. The Falcons present a unique offense to defend, and Oklahoma has looked helter-skelter in its first two games. Air Force did a fantastic job slowing down the BYU offense, limiting the Cougars to 88 yards through the air. Oklahoma struggled against
Diondre Borel
. But give the Sooners the win here based on the play in the trenches.
Florida State 30, BYU 20
. Don't think the BYU quarterback problems are going to be solved against the Seminoles, who dismantled a far better Cougars team last year on the road. Unfortunately for BYU, the passing game is not in tip-top shape right now and that is where the Sooners did most of their damage last week.
TCU 24, Baylor 20
. The Bears are one of three teams that have yet to allow their opponent into the end zone this season, but they haven't played anybody as good as TCU. Don't think that streak will continue against veteran
Andy Dalton
and an experienced offense.
Houston 35, UCLA 17
. Are the Bruins that bad? I am calling this game for Houston, regardless of who starts at quarterback.
Case Keenum
(concussion) might be day to day, but his backup has proven capable and so has the running game through two games this season. UCLA, meanwhile, has been able to muster nothing on offense or defense.
Southern Miss 20, Kansas 17
. The Golden Eagles dropped a close one to the Jayhawks last season, and though they looked pretty unspectacular against South Carolina in the opener,
Austin Davis
and
DeAndre Brown
could be in line for big games. This is a huge test for a defense that has played inconsistently. But, hey, so has Kansas.
California 28, Nevada 17
. The Wolf Pack haven't had much success against AQ opponents, losing eight straight games. Though the defense has looked much better, and defensive coordinator Andy Buh spent the last three seasons as a Stanford assistant, California simply has too much talent on offense. The Bears will find a way to slow down
Colin Kaepernick
enough to win.
Hawaii 37, Colorado 30
. Going with the upset in this one. I know Hawaii has been away from home for a really long time, increasing its chances of losing this game, but
Bryant Moniz
and the offense have looked good in the first two games. The Buffaloes? Not so good, especially last week.
SMU 44, Washington State 10
. The Cougars nearly lost to FCS Montana State last week, so that should tell you how the rebuilding effort is going in Pullman. SMU has had some injuries to deal with, but as long as
Kyle Padron
is behind center, the Mustangs should easily win this one.
Missouri 33, San Diego State 27
. The Aztecs are vastly improved, thanks to a better run game and more experience from
Ryan Lindley
. But
Blaine Gabbert
is playing well for the Tigers, with a completion percentage over 70 percent. The Tigers defense also has six interceptions on the year and makes the difference in this one.
Miami (Ohio) 30, Colorado State 10
. The Rams have scored a total of nine points in two games, and true freshman quarterback
Pete Thomas
has been sacked eight times. The defense hasn't played much better, either. The RedHawks haven't exactly torn up the field but have shown much more improvement this season than the Rams.
Army 24, North Texas 17
. Things went from bad to worse for the Mean Green this week when they found out starting quarterback
Nathan Tune
would be out for the season with a dislocated hip. Five starters have gone down with season-ending injuries now, and coach Todd Dodge is trying to cope. It's going to be tough against a much-improved Army team.
August, 7, 2008
8/07/08
10:50
PM ET
Posted by ESPN.com's Tim Griffin

Ron Prince told me earlier this week he had no doubts he would be receiving a contract extension. But I wonder if he realized it would happen as quickly as it did.
Prince's new, five-year deal is retroactive to Jan. 1, 2008 and will extend through the end of the 2012 season. It will boost his yearly package to about $1.1 million per season and provide the potential to earn an additional $950,000 per year if he achieves some performance-based achievements.
"I am very appreciative of the commitment that the university has shown to our organization," Prince said. "The administration has proven its long-term commitment to us as a program as evident in the current facility expansion and other projects that are essential for sustained success.
"We feel that we are on schedule with our plan of building a fast, tough, strong and disciplined program and are looking forward to this season and many seasons to come."
Prince took his team to a bowl game in his first season with the Wildcats. They beat Texas in each of his first two seasons in a pair of statement victories.
His program is in good shape in the classroom, where it had a record number of players picked to the conference's honor roll. His APR score is going up and 39 players have earned their degrees in his first two seasons.
Those factors were impressive enough to convince athletic director Bob Krause for the extension.
Even with the Wildcats' late defensive collapse last season, it would be hard to imagine Prince being jettisoned after only two or three years.
The contract extension shows the school has some faith in him. But it won't make his building job any easier this season.
A young defense, the inconsistent play of quarterback Josh Freeman and the lack of established skill-position players on offense will make it a big challenge for Prince. He will be tested to reach last season's 5-7 record.
He's added 19 players to help bridge a talent gap that was apparent late last season. And he's building for next season when Chase Daniel will be gone from Missouri, Freeman will be a senior and the junior-college class will have another year of experience.
And while the contract extension is a sign of stability, it's not a universal one.
If Prince should struggle this season, he could soon follow in the footsteps of Big 12 predecessors John Mackovic and Bill Callahan, who were both fired less than a year after receiving lengthy contract extensions.
Mackovic and Callahan both had won division titles in the previous season before their extensions. Mackovic even won the Big 12 title with Texas in 1996.
Prince hasn't come close to doing either. But he convinced school officials that his program is moving forward, despite a 12-13 record after two seasons.
TOP 25 SCOREBOARD
Thursday, 12/5
Friday, 12/6
Saturday, 12/7