NCF Nation:

Mistral Raymond
July, 12, 2012
7/12/12
10:30
AM ET
The paths that ended up taking them to USF should really have pushed them somewhere else.
Nobody thought Mistral Raymond had any business playing big-time college football.
Nobody thought
Kayvon Webster
would ever play big-time college football in Tampa.
Raymond got a chance.
Webster took a chance.
They met when Webster arrived on campus in 2009 as a highly touted safety out of Miami. Webster was so convinced he would play for his hometown Miami Hurricanes, he made a verbal commitment months earlier.
[+] Enlarge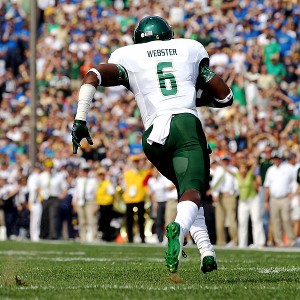 Jonathan Daniel/Getty ImagesKayvon Webster returned a fumble 96 yards for a touchdown against Notre Dame last season.
But something changed. He wanted to leave his hometown, the burdens and the expectations that come with playing right around the corner. On Signing Day that year, he chose USF, stunning Miami and just about every member of the Webster family. His father, an ardent Miami supporter, took the news especially hard.
So it came to be that Webster found Raymond, who scrapped his way into making the USF squad,
overcoming more adversity
in a few short years than most of us face in a lifetime. As improbable as it sounds, both ended up at USF looking for a new life and ended up forging a brotherhood that remains to this day.
"I don't know what it was, but the first time I met him, I got a feeling. The Lord told me to look after this kid and take him under my wing," said Raymond, who played with the Minnesota Vikings last season. "There was something about him. Once we got on the field and I saw him work and what type of talent he has, I always wanted to be there for him and mold him because I saw so much potential in him. To this day, whenever I come home, he picks me up from the airport. We have a great relationship. He is like a little brother to me."
Webster had to overcome his share of adversity as well, growing up in Miami. Because of his family's poor financial situation, he, his parents and siblings were forced to live with his grandmother and various other relatives off and on for years. At one time, he lived with 14 other relatives in a three-bedroom house that also included a garage converted into another room.
He slept everywhere, from the floor to the couch, to his grandmother's bed. When the house was too crowded, he lived with a friend down the street as a sophomore in high school. The following year, he lived with teammate
Sterling Griffin
, who also plays for USF now.
But the times spent in his crowded home allowed him to grow closer to many of his cousins, all close in age. One cousin in particular has had a big impact on Webster. Joshua Clark, now age 23, has the mind of a 10-year-old. When kids used to pick on Clark, it was Webster who stood up for him.
And now, it is Clark who helps give Webster motivation in practice and games.
"I want to make it to where whenever he mind decides to grow up, I want to have everything available for him," Webster said. "He doesn't have to worry about where he's going to get a car from or if he wants to go ride on a bike or get something to eat, it's there for him."
While Webster has had to deal with much in the way of family adversity, when he met Raymond, he realized that things may not seem so bad. Their relationship has allowed Webster to keep his life, and his career, in perspective.
"Seeing him go through his situations, that opened my eyes," Webster said. "There are people in worse situations than me. I'm looking at him, how strong he is, and I never saw him break down through all that. My situation is hard, but I've got to keep going because there's people counting on me, and I can't let that set me back from what I want to do."
Raymond played a big role in helping Webster grow up, living so far from home. When Webster got to USF, many expected him to waltz right into the starting lineup. But it was Raymond -- the unrated recruit who went to junior college and then begged USF for a shot -- who ended up starting. Though Webster was frustrated, he understood.
Then he got one of his big breaks against hometown Miami in 2010. After Raymond got hurt,
Webster came in
and played a terrific game as the Bulls pulled the upset in overtime. The two played together in nickel packages, and Webster ended up starting four games, making 29 tackles. Raymond went on to get drafted in the sixth round by Minnesota, and Webster moved into the starting lineup.
He ended up starting 11 games in 2011, and had 49 tackles, two interceptions and seven pass breakups on the way to second-team Big East honors. Webster had one of his biggest plays in the season opener against Notre Dame, returning a fumble 96 yards for a touchdown. Given his growth last year, Webster should be one of the top cornerbacks in the Big East this season.
"He likes the game, he likes to go to practice, and as a coach you have fun with a guy like that because he's confident but he's into details, too," defensive coordinator Chris Cosh said. "He asks you every day, 'What can I get better at? I think right now, he's still got some room to grow, but he's real close. He can be that type of player that in this league is one of the top cornerbacks. I had
Nigel Malone
at Kansas State. He reminds me of Nigel -- bigger, but has savviness."
Webster now hopes to follow the path Raymond took. The one that will lead them to the same place again.
November, 12, 2010
11/12/10
1:00
PM ET
Jacquian Williams was the Big East's defensive player of the week for his performance in last Wednesday's win over Rutgers. He had 11 tackles and a key sack late to seal the victory. The senior linebacker also pressured Cincinnati quarterback
Chazz Anderson
into a game-saving incompletion in the Bulls' previous win. I caught up with the former junior college transfer earlier this week.
You seem to have really elevated your play of late. What has been the key for you?

Jacquian Williams:
It was just my coaches talking to me about life and stuff. That got me re-focused and helped my motivation. They were just talking about life after football, whether you go to the next level or don't, life is tough. That really kind of hit me somewhere and got me real emotional.
When did this talk happen?
[+] Enlarge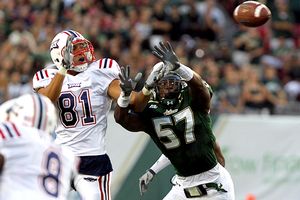 Kim Klement/US PresswireJacquian Williams (57) is one reason USF is still alive in the Big East race.
JW:
It was the week of the Cincinnati game, and that kind of just got me into another zone. It helped me out. It helped us all out.
This is your first year of starting. What has allowed you to take on a bigger role this season?

JW:
It was just, how long would it take me to adapt to the speed and everything. I worked hard in the offseason and had a lot of older guys tell me what to expect, but I was a little nervous the first couple of games. I just started getting used to it and playing my game.
The new coaching staff talked you up in the spring. Was the coaching change in some ways good for you?

JW:
I liked it because they were new and they didn't know anybody. Nobody had any edge. It was a free man's game.
You're a Tampa native who went to Fort Scott junior college in Kansas. How did that work out?

JW:
[Former USF assistant] Rich Rachel was the guy who recruited me and said he'd come get me in two years if I went to Fort Scott. I told him, if you come back for me in two years, I'll be back at USF no matter what.
Did you get other offers from schools after Fort Scott?

JW:
Yeah. Mostly like Midwest schools, but I was ready to get out of the Midwest. Playing at home was something I always wanted, to let my family see me play. A lot of them couldn't see me play in high school because they were kind of busy. But now they all come to see me and I like that.
You said earlier you knew about life being tough. What did you mean by that?

JW:
I think the toughest part of my life was going to Fort Scott and being on my own, having to grow up a little bit. At first when I got out there, a lot of guys who were from out of town started dropping out. It was crazy because they were crying and wanting to go home. It was already tough, and to see those other guys wanting to quit was tough for me. But I made it through and I'm happy I made it through.
What are the challenges of facing this Louisville offense on Saturday?

JW:
The coaches told me they've got a running back who's a shifty guy, but if we shut down the run we have a pretty good chance. They said if I can cover down on the tight ends and stuff, it should be a good game.
You guys are still alive in the Big East hunt. Have you talked about that?

JW:
Coach [Skip] Holtz calls it a circus, because everybody is waiting for this team to lose or this team to win. He just tells us to play each game. I'm praying we can get what we deserve.
Seniors like you and Mo Plancher have been making big plays lately. Did you guys feel like you had to step things up here in the home stretch?

JW:
That was another key point coach made to us. He said that in order for us to make it all the way, seniors have to take a big role in each game. Me and [cornerback] Mistral Raymond, as captains, we had some one-on-one talks. Guys who've been here for four years said that's one thing they never had with the seniors; they never really communicated. So I took it upon myself make to make sure me and "Skinny" [Raymond] talked. He helped me out in the Cincinnati game by having a big game and a couple of pass breakups. That motivated me even more.
September, 15, 2010
9/15/10
9:09
AM ET
Money never sleeps. Nor does the Big East stock report. Bring on the ticker.
Stock up
1. Geno and Tino:
Heading into the season, sophomores
Tom Savage
and
B.J. Daniels
had the most experience of any Big East quarterbacks. But it's a different pair of sophomores who rank Nos. 1 and 2 in passing yards among league signal-callers after two weeks: West Virginia's
Geno Smith
and Pitt's
Tino Sunseri
. Smith was mighty impressive in leading West Virginia on two long scoring drives to win at Marshall, while Sunseri made strides from Week 1 in a pass-heavy game plan against New Hampshire.
[+] Enlarge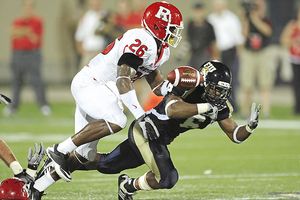 Samuel Lewis/Icon SMIJoe Lefeged has two forced fumbles and an INT so far in 2010.
2. Joe Lefeged:
The Rutgers safety has been a beast on defense and in special teams and jumps up in our player of the year race below. It seems like every year, Rutgers has a breakout star in the defensive backfield who also excels at special teams work. Last year, it was Devin McCourty. This year, it's Lefeged.
3. Demetris Murray:
Yes, there was the costly fumble on the exchange from B.J. Daniels deep in Florida territory. But I really liked how Murray ran the ball for most of the game in The Swamp. South Florida might have found its No. 1 tailback in Murray.
4. Louisville's defensive pressure:
The Cardinals registered eight sacks on Saturday versus Eastern Kentucky, led by Rodney Gnat's four. Sure, it was only Eastern Kentucky. But when you consider that Louisville had only 14 sacks in 2008 and 23 in 2009, this counts as a definite improvement.
Stock down
1. Brandon Hogan:
The West Virginia cornerback was arrested for DUI and has been suspended indefinitely. This comes after Bill Stewart already gave him plenty of second chances. Coaches get blamed a lot when players mess up. But some players just never "get it." Hogan has NFL potential, but he needs to get his act together fast.
2. Tom Savage:
I still believe in Rutgers' quarterback, but the results after two weeks scream "sophomore slump." Savage has completed just 50 percent of his passes, has only one touchdown throw and is averaging just 110 passing yards per game. And that's not against Alabama and Ohio State; the Scarlet Knights have played Norfolk State and Florida International. The entire Rutgers offense is struggling, and Savage is a big reason why.
3. Greg Romeus and Dion Lewis:
The reigning offensive and co-defensive players of the year probably won't repeat their titles. Romeus could miss the majority of the season after undergoing back surgery this week. I discussed Lewis' early struggles
here
.
4. Syracuse's frequent-flyer miles:
After traveling about 6,000 miles, round trip, to their first two games against Akron and Washington, the Orange finally return home for this Saturday's game. The next two weeks should provide a happy homecoming, with Maine and Colgate lined up for what should be easy wins and a 3-1 record.
Player of the year race: Offense
1. Noel Devine, RB, West Virginia:
Devine is averaging a solid if not spectacular 111 rushing yards per game but is capable of breaking one at any time.
2. Jordan Todman, RB, Connecticut:
Todman is leading the Big East in rushing yards (256) and touchdowns (four). But West Virginia is 2-0 and UConn is 1-1. Todman is definitely on the rise, though.
3. Geno Smith, QB, West Virginia:
Smith leads the Big East in completion percentage (72.2) and passing yards (532) and is tied for the lead with three passing touchdowns. He's also got the most memorable two drives of the season so far.
4. Jon Baldwin, WR, Pittsburgh:
The Panthers showed a preference for throwing the ball last week, and anything that means more opportunities for Baldwin is a good thing. He's averaging 85.5 receiving yards per game and has two touchdowns. Look for those numbers to go up.
5. Bilal Powell, RB, Louisville:
Powell is off to a really nice start, ranking second in the league in rushing yards and rushing TDs. But it will be hard for him to win the award unless Louisville finds ways to win more games.
Player of the year race: Defense
1. Robert Sands, S, West Virginia:
Pass defense looked a little shaky at times against Marshall. But with Romeus sidelined, Sands is still the biggest star in the league on defense.
2. Joe Lefeged, S, Rutgers:
A lot of his impact has come on special teams, but he's been really good on defense as well.
3. Lawrence Wilson, LB, Connecticut:
Last year's tackles leader is tied with Syracuse's Derrell Smith for the most stops in the conference so far this year.
4. JK Schaffer, LB, Cincinnati:
Had nine tackles and a pass breakup against Indiana State, and the Bearcats' defense has been pretty solid so far.
5. Mistral Raymond, CB, South Florida:
Turning into a very good cornerback. Florida didn't look his way much on Saturday.
Dion Lewis vs. Noel Devine
So far, it's no contest between our two preseason favorites for offensive player of the year. Here are the stats:
Devine: 46 carries for 223 yards (4.8 ypc) and two touchdowns.
Lewis: 35 carries for 102 yards (2.9 ypc) and two touchdowns.
Tom Savage vs. B.J. Daniels
Lots of fuel for the debate about which QB is better after this week. Daniels was brilliant at times and awful at others against Florida, while Savage's struggles continue.
Savage: 17-for-34 (50 percent) for 220 yards, one touchdown and one interception.
Daniels: 20-for-42 (47.6 percent) for 348 yards, three touchdowns and four interceptions. Has has also run for 130 yards and a score.
September, 8, 2010
9/08/10
11:14
AM ET
Two years ago, Mistral Raymond walked into a South Florida practice unannounced, highlight tape in hand. The Bulls coaches had never heard of him.
On Saturday, Raymond will walk into The Swamp as one of the most valuable players on the USF defense.
[+] Enlarge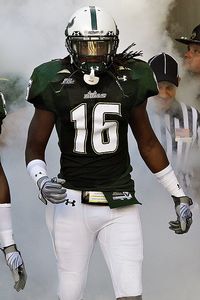 AP Photo/Chris O'MearaFormer walk-on Mistral Raymond was voted a team captain by his teammates.
The story of how he got to this point is one of perseverance and a primal need to protect one's family.
"He had to get here the hard way, so he appreciates every day he gets to practice," defensive coordinator Mark Snyder said. "He's a champion on the practice field. He competes every single play."
Raymond had no scholarship offers out of Palmetto (Fla.) High School, so he headed to junior college in Iowa. There he started to gain some notice and attracted scholarship offers from Temple and other smaller FBS schools. But one night in February changed everything.
Back in Palmetto, some lowlifes fired bullets and threw Molotov cocktails into his mother's house. One his sisters got shot, while the rest of the family was lucky. Raymond says the assailants meant to attack the house next door. He felt helpless being so far away.
"I felt like I needed to be there for them," he said. "I was more comfortable being around them at that time."
So that's why Raymond walked into a South Florida spring practice, where he first ran into then-assistant coach Mike Simmonds. He explained who he was, and eventually it led to an offer for Raymond to walk on that summer. After some minor prank calls to his mother's house when he first got back, home life has returned to normalcy.
He started four games in 2009 as a safety and nickelback, and when Skip Holtz and his new staff arrived this offseason, they were surprised that Raymond was a walk-on. He was often their best defensive back in practice. He's tall and rangy at 6-foot-2, 192 pounds -- coaches call him "Skinny" -- and he can play anywhere in the secondary.
"I keep talking about our youth on defense, and right now he's a staple," Holtz said. "He's our dam-stopper. If we're not getting it done at corner, he can play corner. If we're not getting it done at safety, he can play safety."
Snyder said Raymond will start at corner this Saturday at Florida but could move around. Raymond doesn't mind the shuffling.
"If they locked me into one position and said that's it, I'd probably pass out," he said. "I want to be versatile and move around the lineup in certain situations. I want to be that man in the secondary where the coach can dial up my number any time."
In August, Holtz awarded Raymond a scholarship for his senior season. And Raymond was named a team captain in a vote by his peers, after Holtz asked his players to select those who best represented the team and for whom they had the most respect.
After putting him on scholarship, Holtz told Raymond it could be the beginning of his dream or the end of it. The coach had seen other former walk-ons get complacent once they made it to that status. But that doesn't seem to be an issue with Raymond, who says he continues to work as if nothing will ever be given to him.
"I think that's the attitude everyone in life has to take, whatever their path is," he said. "I know what I want out of life, and I'm locked in on that."