NCF Nation:

Mitch Barnhart
November, 27, 2012
11/27/12
5:13
PM ET
On Tuesday, Kentucky took a very important step forward with its football program.
The thought was that the Wildcats would go in the direction of an up-and-coming offensive mind to rebuild a program that was buried in mediocrity for the better part of the past three years.
Finding someone to bring some excitement back to Lexington by generating more points on the scoreboard and more attractive numbers for the stats book seemed like the priority. After all, the Wildcats ranked 13th in the SEC in total offense this season and last in the SEC in 2011.
But when Kentucky
officially announced Florida State defensive coordinator Mark Stoops
would replace Joker Phillips as its head coach, the program made a statement that it plans to build with the idea of being a defensive-minded team first.
"Our desire to get better defensively and continue to expand our recruiting base helped guide us to Mark," athletic director Mitch Barnhart said Tuesday.
And it's a good direction for the Wildcats to be guided in.
If Kentucky is going to make any sort of positive strides with a football program that has really taken a nosedive, it has to get defensive. Flashy offensive numbers don't always win games in this league. Just look at Tennessee, which ranked second in the league in total offense (475.9 yards per game) this season.
The Vols have missed out on bowl games the past two seasons and parted ways with Derek Dooley before his third season was even up.
[+] Enlarge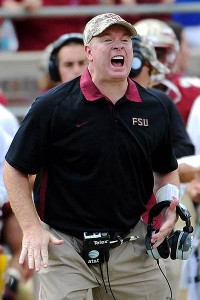 Melina Vastola/US PresswireFormer FSU defensive coordinator Mark Stoops, 45, will take over as Kentucky's new head coach.
With Stoops coming aboard, the Wildcats have no choice but to improve a defense that was 11th in the league in total defense this season and 10th last season. The Wildcats also surrendered 31 points per game this year.
Stoops, who has been Florida State's defensive coordinator for three seasons, inherited a unit that ranked 108th nationally in total defense and 94th in scoring defense. It is now the NCAA's No. 2 defense and is giving up just 15.1 points per game. Eight of his defenders earned 2012 All-ACC honors, including four first-team selections.
It didn't happen overnight, but it was a nice, gradual transformation that turned the Seminoles' defense from soft to elite in a few short years.
And Kentucky can look at Florida for comfort in its defensive hire. Will Muschamp was considered one of the best defensive coordinators in the business before leaving Texas. After a 7-6 debut, the Gators are poised for a BCS bowl with an 11-1 record this season. His defense ranked eighth nationally last year and currently is fifth, and has carried a very inconsistent offense all season.
Now, the talent difference between Florida and Kentucky is staggering, and the chances of Kentucky going 11-1 in Stoops' second season are beyond improbable, considering the personnel deficiencies in Lexington, but immediate progress can be made.
Going the defensive route is a good way to build a solid foundation in the SEC. Muschamp and his Gators have proved that.
Having an improved defense automatically makes a team such as Kentucky, which will yet again be searching for consistent offensive playmakers this spring, better. How much better is yet to be determined, but in a league that lives and dies by defense, this is a good start for the Wildcats.
Finding the right pieces becomes Stoops' top priority because recruiting at Kentucky is nothing like recruiting at bigger SEC schools. It's very hard.
You don't recruit at the bigger schools; you pick and choose. And when your state isn't close to being as talent-rich as others, evaluation has to be more than just spot-on. You can't afford to miss on players, and that's one thing that doomed Phillips.
Stoops brings a big name and some much-needed excitement to Kentucky. He'll attract athletes -- and we've seen plenty of very talented ones call Lexington home -- and he'll put defense first. With the current roster issues, he'll need time and patience, but Kentucky is getting off on the right foot by giving precedence to defense.
November, 12, 2012
11/12/12
9:00
AM ET
With Alabama going down at home to Texas A&M, the top six teams in our power rankings really could go any way at this point.
Can you put the Aggies No. 1, even though they lost at home to Florida and LSU? Is Georgia the new No. 1, even with its best win being against a Florida team that keeps regressing on offense with each week that goes by?
This was the toughest week for the power rankings, but it was just too hard for us to move Alabama from the top spot right now:
1. Alabama (9-1; last week: 1):
You can't call the Tide's 29-24 loss to Texas A&M a letdown game. This team was beaten on both sides of the ball. Still, if you take a poll of people out there, most will say this is still the best team in the SEC. Does it have its issues? Yes. But it's still loaded with quality talent on both sides and if Saturday's game was played again, it might be hard to go against Alabama twice in a row. This is the only team to win at LSU this year and still controls its destiny to a BCS bowl game.
2. Georgia (9-1; LW: 2):
The Bulldogs are playing their best ball of the season right now and have an argument to take the top spot in our power rankings. However, the best win Georgia has is against a Florida team that has taken some mighty steps backward on offense. It also has that ugly 35-7 loss to a South Carolina team that lost by 30 to Florida. It's hard to say what would happen if these two teams played today, but the Bulldogs are really clicking at the moment.
3. Florida (9-1; LW: 3):
This was probably the toughest team to place in the power rankings. When you look at the offense, the Gators feel more like a 6, but it's hard to argue with their results. Florida went on the road and beat Texas A&M and beat both LSU and South Carolina at home. LSU and South Carolina were both ranked in the top 10 at the time. Now, LSU is playing at its best and the Aggies are one of the country's hottest teams. Florida's offense might be ugly, but this team's résumé is as impressive as anyone else's in the SEC.
4. Texas A&M (8-2; LW: 6):
Talk about hot! The Aggies are burning up and quarterback
Johnny Manziel
is more than a legitimate Heisman Trophy contender after the win at Alabama. The Aggies not only showed that they truly belong in the SEC but they punished the nation's top team and might have eliminated the SEC from making it to the BCS title game. This team did it with its most complete game of the season and no one in the country wants to tangle with Johnny Football's crew right now. The only negatives that stick out are home losses to Florida and LSU.
5. LSU (8-2; LW: 4):
It took two months, but the Tigers' offense has finally arrived.
Zach Mettenberger
has played very well in back-to-back games, throwing for 571 yards and three touchdowns to zero interceptions. Imagine if this Mettenberger showed up to the Swamp back in October. That win over Texas A&M just looks better and better for the Tigers, and if LSU wins out, the Tigers could be right back in contention for a BCS bowl game.
6. South Carolina (8-2; LW: 5):
Life without
Marcus Lattimore
won't be as enjoyable for the Gamecocks, but they didn't miss much of a beat against Arkansas. South Carolina erased its recent struggles with the Razorbacks by clobbering them 38-20 over the weekend. Even without Lattimore, the Gamecocks were very balanced on offense and have a pretty solid duo in senior
Kenny Miles
and freshman
Mike Davis
. The Gamecocks feel as though they're still under the radar, but a solid bowl is in their future.
7. Vanderbilt (6-4; LW: 8):
Don't look now, but the Commodores are bowl eligible for the second straight year. It looks like Vandy will make it to a bowl game in consecutive years for the first time in school history. Coach James Franklin has done a wonderful job turning things around in Nashville, and this team is good enough to finish the season with eight wins. Vandy has won four straight games and has a real chance of ending the regular season on a six-game winning streak with Tennessee and Wake Forest left.
8. Mississippi State (7-3; LW: 7):
After starting the season 7-0, the Bulldogs have lost three straight and really haven't looked very competitive in each of those losses. In the past three games, Mississippi State has lost by an average of 25 points and has been outscored 113-37. Granted, this team has lost to three teams that are all currently ranked in the top 10 of the BCS standings, but the Bulldogs were really never in any of those contests. Mississippi State still has a chance at 10 wins, but it has to beat Arkansas and Ole Miss and win its bowl game. Right now, the odds are against the Bulldogs.
9. Ole Miss (5-5; LW: 9):
The Rebels were the feel-good story of the SEC for most of the season, but now find themselves on a two-game losing streak. Ole Miss just can't seem to figure out Vanderbilt and now has to hope for a win in the next two weeks or the Rebels won't be going bowling. Saturday's 17-point blown lead shows how much depth is an issue for the Rebels. Ole Miss is very capable of stealing a win in the next two weeks, but it has to play better in the second half. In its past two losses, the Rebels have been outscored 44-10 in the second half.
10. Missouri (5-5; LW: 12):
And just like that, these Tigers are a win away from being bowl eligible. All the offense needed to get going again was some help from Tennessee's defense. Led by banged-up quarterback
James Franklin
, the Tigers rang up 51 points and 454 yards on the Vols in their quadruple-overtime win in Knoxville. Mizzou showed that it has the skill on offense to move the ball consistently, but it will have to keep that momentum going with a Syracuse team that routed previously unbeaten Louisville up next before facing the Aggies.
11. Arkansas (4-6; LW: 10):
History wasn't on the Hogs' side over the weekend against South Carolina. This team just didn't have much in the tank against the Gamecocks and is now a loss away from missing out on a bowl game. So much was expected from this team before the season, but the loss of Bobby Petrino was just too much for the Hogs to deal with. Arkansas players have shown heart and made a short bowl push, but most around that program probably are ready for this season to be over with.
12. Tennessee (4-6; LW: 11):
This isn't what anyone in Knoxville wanted. The Vols were supposed to be competitive in the SEC East and now find themselves on the verge of not making a bowl game for the second straight season. At least Tennessee won a conference game last year. It's hard to bet on this team doing that, even with floundering Kentucky left. Derek Dooley's days as the Vols' coach are certainly numbered and the defense needs a major overhaul if there's going to be any sort of improvement. Nothing is going right for this team and it's clear a lot will look awfully different next season.
13. Auburn (2-8; LW: 13):
Like Tennessee, nothing is getting better. Gene Chizik is fighting for his coaching life on the Plains, and by the way the student section looked in the second half against Georgia, few are really invested in this team right now. You thought you'd see some sort of life from the Tigers after they notched their second win of the year, but Auburn was blasted 38-0 by the Bulldogs, failing to score on Georgia for the first time since 1976. It's highly unlikely this team will be very competitive against Alabama and it seems like only a matter of when as far as change coming.
14. Kentucky (1-9; LW: 14):
The Wildcats were off, but the fact remains that this team is hurting all over the place. It's not only banged up, but its offense and defense are struggling to do much of anything right this year. Joker Phillips has only two games left as Kentucky's coach, but with the way some of these other SEC teams have done, athletic director Mitch Barnhart might want to really get cracking on this coaching search before other jobs come open.
November, 8, 2012
11/08/12
1:00
PM ET
It sounds like former Arkansas coach Bobby Petrino is interested in coaching in the SEC again and according to his father, he's
interested in making his home at Kentucky
.
"I just know this, that he's interested in Kentucky," Bobby Petrino Sr. told the Louisville Courier-Journal on Wednesday. "He wants to stay in the SEC. That was his life's goal was to go to the SEC."
Kentucky announced on Sunday that coach Joker Phillips would not be back next season and that the coaching search would begin immediately. While Petrino might want to throw his name into the mix, he might be a long shot for the job.
Yahoo! Sports
already reported that Kentucky wouldn't be interested in pursuing Petrino, who was fired from Arkansas after he lied to athletic director Jeff Long about an affair he was having with a woman he hired.
Yes, Petrino knows the state of Kentucky well. He went 41-9 at Louisville from 2003-06, and even won the Orange Bowl. His Cardinals teams showcased some of the most exciting passing games in college football at the time. Then, he had a ton of success at Arkansas, getting back-to-back double-digit-win seasons and taking the Razorbacks to their first BCS bowl game.
He even thought his 2012 team was his best one and labeled it a legitimate national title contender. He would put a bunch of people in the seats at Commonwealth Stadium and bring some much-needed excitement back to Kentucky's football program.
But is he worth all the baggage for athletic director Mitch Barnhart? Is he
really
worth the public relations nightmare for Kentucky and the mounds and mounds of criticism that will be hurled Barnhart's way? And will he even stick around Lexington long enough to make the Wildcats any sort of contender in the SEC East? He really doesn't have a very good track record with staying at places very long (just ask the
Atlanta Falcons
).
There are plenty of good potential candidates for Barnhart to seek. There are qualified SEC assistants and up-and-coming coaches around the country that would surely be interested in this job.
Expect to hear Louisiana Tech coach Sonny Dykes' name more and more. Louisiana Tech is currently 8-1 and owns the nation's No. 2 scoring offense (52.4 points per game) and the nation's third-best offense (570.9). Florida offensive coordinator Brent Pease, who is a former Kentucky assistant, has shown interest in the job as well.
Duke's David Cutcliffe could also be a candidate. He has the Blue Devils bowl eligible for the first time since 1994 and has plenty of SEC experience as both a longtime assistant at Tennessee and as Ole Miss' head coach. He went 44-29 during his six years with the Rebels.
Western Kentucky coach Willie Taggart, whose Hilltoppers beat Kentucky earlier this year, and current Falcons offensive coordinator Dirk Koetter's name has also been lumped in with potential candidates.
So there are plenty of options for Barnhart not named Bobby Petrino, and I think it will stay that way.
November, 5, 2012
11/05/12
9:00
AM ET
The season is almost coming to a close, but one thing remains in the SEC: It's Alabama's world and its opponents are just trying to survive ...
1. Alabama (9-0; last week: 1):
The Crimson Tide looked human against LSU over the weekend. After struggling for the better part of four quarters, Alabama needed a last-minute touchdown drive to beat LSU. Thanks to some sharp passes from
AJ McCarron
and a perfectly timed screen to
T.J. Yeldon
, Alabama is still the No. 1 team in the country and still controls its path to Miami. But did LSU give the rest of the nation a blueprint for beating the Tide?
2. Georgia (8-1; LW: 3):
The Bulldogs played their most complete game of the season in their blowout win over Ole Miss. Georgia looked like the team we thought we'd see for most of the year. Better late than never, right? A win over Auburn and the Dawgs are headed back to Atlanta for the second straight season. Many have to be wondering if the Georgia offense we saw Saturday could really test the Tide.
3. Florida (8-1; LW: 4):
It's clear that the Gators still need a lot of help in their passing game after a dreadful offensive performance against Missouri.
Jordan Reed
continues to be the only consistent receiving weapon, which is adding a ton of pressure to Florida's running game. Loading the box against the Gators has been extremely effective lately because Florida just isn't a threat to pass. Florida has two weeks to clean things up against cupcakes before a very tough game at Florida State.
4. LSU (7-2; LW: 2):
The Tigers had their best offensive game of the season against Alabama, but came up short in Death Valley. They have no reason to hang their heads, but their national championship hopes are all but gone. What LSU can really take from Saturday's game is the growth made by
Zach Mettenberger
. He threw for a career-high 298 yards and didn't turn the ball over. He looked composed and didn't shy away from the pressure. The Sugar Bowl is still very much in the mix for the Tigers.
5. South Carolina (7-2; LW: 5):
The Gamecocks were off this past weekend, but you have to think the bye is exactly what South Carolina needed. Losing
Marcus Lattimore
for the season had to be emotionally draining for this team, so to have some time off was a good thing for the Gamecocks. South Carolina now gets an Arkansas team that is fighting for its bowl life. A BCS berth is still there for the Gamecocks, but we'll see just how resilient this team is going forward.
6. Texas A&M (7-2; LW: 6):
We wanted to see what the Aggies could do against a decent defense, and they didn't disappoint with their thrashing of Mississippi State over the weekend. A&M went on the road and sent the Bulldogs to the showers early.
Johnny Manziel
continues to be the conference's most exciting player and he has this offense overflowing with confidence heading into the Alabama game. After what we saw in the LSU game, the Aggies have the talent on offense to give Alabama's defense real fits.
7. Mississippi State (7-2; LW: 7):
It's clear that these Bulldogs aren't who we thought they were. After a soft first-half schedule, Mississippi State has been blown out in back-to-back weeks by top SEC West opponents. The defense has been gashed and just isn't getting any pressure up front from that defensive line. Offensively, there hasn't been any consistency in the past two weeks and there are a lot of glaring issues this team has to work out in a tough month of November.
8. Vanderbilt (5-4; LW: 9):
The Commodores have won three straight and are a win away from being bowl eligible. Vandy has never played in back-to-back bowl games, and a win over Ole Miss would secure another postseason berth for this team. Vandy clobbered lowly Kentucky over the weekend and we're starting to see the similar offensive attack we saw from this team last year. The Commodores aren't just going for six wins, and the talent is there for this team to get a few more wins in November.
9. Ole Miss (5-4; LW: 8):
After taking an early 10-point lead against Georgia, the Rebels were run out of Athens. The high-octane offense was silenced and the defense was picked apart. The good news for Ole Miss is that the loss didn't end its bowl hopes. There are still chances to get that last win, but this team can't turn the ball over as it did against the Bulldogs. Those mistakes made it impossible for Ole Miss to come back. The Rebels will look to end a two-game losing streak to Vanderbilt Saturday.
10. Arkansas (4-5; LW: 11):
After a close win over Tulsa, the Razorbacks are still in the bowl hunt. With a tough slate remaining, those bowl hopes are slim, but they aren't gone. This team has been schizophrenic throughout the year, which has made watching it so frustrating in Fayetteville. The Hogs now have to take on a rested South Carolina team that still has a ton to play for this year.
11. Tennessee (4-5; LW: 12):
The Vols ended an ugly four-game losing streak with a too-close-for-comfort win over Troy Saturday. That win probably didn't do much to douse the flames around Derek Dooley's seat, but it did give Tennessee a crucial win as it tries to get back to a bowl game. There's still a chance that this team could get to eight wins, but it has to sweep November and win its bowl. It also has to find a lot of answers for that dreadful defense.
12. Missouri (4-5; LW: 10):
The Tigers' defense has no reason to sulk about its performance over the weekend against Florida. That group of Tigers played its tail off, limiting the Gators to only 276 total yards and 14 points. But the anemic offense couldn't get anything going against Florida's defense. It definitely didn't help that quarterback
James Franklin
threw four interceptions, including one deep inside Florida territory with a chance to send the game into overtime. This offense has drastically regressed and just isn't getting any better.
13. Auburn (2-7; LW: 13):
Behind an extremely efficient running game and new starting quarterback
Jonathan Wallace
, the Tigers grabbed their second win of the season over the weekend against New Mexico State. It wasn't the toughest opponent, but a win is a win and the Tigers desperately needed it. So did coach Gene Chizik, who is really feeling the heat on the Plains. A loss, and he might not be Auburn's coach this morning. This team still has a long way to go, but this win had to have added a little juice to a team in need of some sort of spark.
14. Kentucky (1-9; LW: 14):
All of the Wildcats' struggles finally came to a head this past weekend when coach Joker Phillips was fired after Kentucky's 40-0 loss at home to Vanderbilt. The Wildcats were buried at the bottom of the SEC in all major offensive and defensive categories and nothing was getting better on the field. Injuries crippled this team, but there wasn't enough improvement in games and athletic director Mitch Barnhart had to go in another direction. Kentucky now gets a head start on searching for a new coach.
November, 4, 2012
11/04/12
5:30
PM ET
Mitch Barnhart's decision to dismiss Joker Phillips as Kentucky's head coach probably didn't surprise many around the SEC.
The Wildcats have stumbled through 2012 with a 1-9 record (0-7 in SEC play), will miss out on a bowl game for the second straight year and have won just 12 games during Phillips' three-year tenure.
Kentucky's athletic director has a very strong relationship with Phillips, but at the end of the day, the wins weren't there and improvement wasn't being made. Yes, injuries have crippled this team, but week in and week out, the Wildcats just weren't getting any better and Barnhart had to make a change.
[+] Enlarge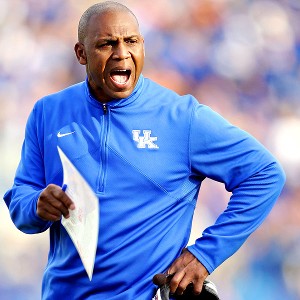 Andy Lyons/Getty ImagesJoker Phillips posted a 12-23 record in three seasons as Kentucky's head coach.
And Phillips knew it.
"We, as coaches, are measured on results," Phillips said in a statement. "We didn't get the results we had worked and hoped for, therefore change is needed."
The fans knew it. They said everything by not saying much at all, as hardly anyone showed up for Kentucky's 40-0 loss to Vanderbilt on Saturday. Big Blue Nation clearly felt it deserved better than what it was seeing -- or not seeing -- inside Commonwealth Stadium.
It had to be tough to let go a man who has spent 22 years around this program as both a player and a coach, but Phillips' 12-23 record wasn't good enough. Phillips is a great individual, but being nice wasn't his job. Winning games was and he didn't do it enough. After making five straight bowl games, Kentucky won't be playing in the postseason for the second straight season.
The Wildcats are currently 10th or worse in the SEC in all major offensive and defensive categories, including being last in total offense, scoring and rushing offense.
This might be a team littered with youth because of all of the injuries, but it wasn't making positive strides. The Wildcats just weren't getting any better as the weeks went on and that's an indictment of coaching.
You have to wonder if players were buying in. It's one thing to lose with youth, but it's another to lose because of a lack of discipline and mental mistakes. Those happen when players are careless, and players get careless when they don't have the right drive. Again, that goes back to coaching.
Recruiting has been a major issue as well. Kentucky isn't a program that can afford to miss in recruiting. It doesn't have the luxury of picking and choosing like Alabama, LSU, Florida and Georgia. It has to evaluate better and more thoroughly than the big boys.
That clearly hasn't been happening and it shows in all the struggles Kentucky's younger players have had this season and it's obvious Kentucky has missed on a few players in its recent recruiting classes.
It hasn't helped that Vanderbilt continues to trend up in the SEC under second-year coach James Franklin, who is 2-0 against Phillips. He's also a win away from taking the Commodores to their second straight bowl game for the first time in school history. For Barnhart to see Franklin's immediate success has to eat at him.
Things have completely changed at Vanderbilt. There's excitement around the program and the Commodores are no longer overlooked. Barnhart can't say any of that about Kentucky.
The 40-point thrashing Vandy handed the Wildcats showed how different the paths these two programs are on.
Now, the search for a new coach begins. A handful of names will be thrown out there in the coming weeks. Bobby Petrino's name will likely come up, especially with his history at Louisville. But is Barnhart really prepared to deal with all that baggage?
Duke's David Cutcliffe could have his name thrown into the bunch, and so could Western Kentucky's Willie Taggart. Both have had obvious success, especially with Cutcliffe getting Duke bowl eligible for the first time since 1994. Cutcliffe is no stranger to the SEC. He was a longtime assistant at Tennessee before taking over as Ole Miss' head coach in 1998. He went 44-29 in six seasons in Oxford.
Taggart bested Phillips earlier this season with an overtime win in Lexington, but you have to wonder if he's ready to take on a job in a big-time conference like the SEC.
If other jobs in the SEC open up, it'll certainly complicate things for Barnhart, but this was change Kentucky needed and it'll be important that he finds someone one who can coach, recruit and develop his way out of Kentucky's current situation.
October, 22, 2012
10/22/12
11:00
AM ET
Nick Saban was only trying to be nice when he praised former assistant Derek Dooley Saturday night.
Speaking with the media following Alabama's 44-13 thumping of Dooley's helpless Tennessee team, he said that Dooley's team "really played hard" and that Dooley was "doing a fantastic job" at Tennessee.
Saban wasn't being disingenuous, but to those who have been around this sport long enough, a statement like that about a coach whose team dropped to 3-4 on the season and hasn't won an SEC game since mid-November of the previous year doesn't really help much. It almost magnifies the unfortunate situation surrounding Dooley and his Vols.
[+] Enlarge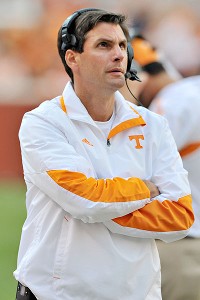 Jim Brown/US PresswireDerek Dooley, who is 0-14 against ranked opponents at Tennessee, is one of several SEC coaches whose job security is in question.
And when Tennessee's season concludes on Nov. 24, athletic director Dave Hart will have a tough decision on his hands. With the rate at which this season is going for the Vols, they'll be lucky to get to seven wins by season's end, which might not be enough to keep Dooley in Knoxville.
But Hart isn't the only AD with a tough decision on his hands. Kentucky's Mitch Barnhart will have to seriously reevaluate things with coach Joker Phillips and Auburn's Jay Jacobs will certainly be playing the thinking game when it comes to Gene Chizik.
Phillips and Chizik have combined to win just two games this season and sport teams that are floundering around the bottom of the SEC in most offensive and defensive categories. Chizik might have won the national championship in 2010, but with Auburn off to its worst start since 1952, frustration is mounting on the Plains, as this team simply isn't any better than last year's younger 8-5 squad.
Even with brand new coordinators, the only thing that separates Auburn from an 0-7 start is an overtime field goal against Louisiana-Monroe. Since Cam Newton stepped off Auburn's campus, Chizik has gone 9-11, including 4-9 in SEC play.
Unfortunately for the Tigers, things don't appear to be getting any better with No. 20 Texas A&M, No. 10 Georgia and No. 1 Alabama still on the schedule. Auburn might not have another SEC win in its body.
This is Chizik's only losing season at Auburn and with a current buyout of $7.5 million, it could be very difficult for Jacobs to part with Chizik. Coordinators Scot Loeffler and Brian VanGorder would also be owed an additional $1.35 million if Chizik were fired.
It would be a hefty firing price tag, but as Kevin Scarbinsky of the Birmingham News recently wrote, Chizik's buyout isn't as steep when you consider that Auburn could pay him in monthly increments.
After making it to five straight bowls, Kentucky won't go bowling for consecutive years under Phillips. He enters Saturday's game against Missouri with a 12-21 record since he was hired in 2010. Injuries have ravaged this team the past two years, but recruiting efforts haven't exactly given the Wildcats quality depth.
Phillips hasn't made excuses, but he also hasn't won a lot and Vanderbilt's recent success under James Franklin isn't helping. The former SEC cellar dwellers have found new life under their new coach, and maybe Barnhart feels his program can do the same with change.
Injuries and youth might not save Phillips.
Dooley's situation is more complicated after he walked into a terrible situation at Tennessee. He's dealt with NCAA issues from the previous staff and crippling attrition. But with his most talented team in Knoxville, the Vols are in danger of missing out on a bowl game in back-to-back years for the first time since the late 1970s.
Dooley is 0-14 against ranked opponents and has just four SEC wins. The writing was literally on the Rock last week when someone called for Dooley's job by painting his or her frustration with Dooley on the legendary rock that sits on Tennessee's campus.
With financial issues at Tennessee -- and the school still paying former coaches Phillip Fulmer and Bruce Pearl -- Dooley's $5 million buyout could be too expensive. Still, there might not be a price tag on losing for Hart.
And to think, Arkansas was the only sure job we knew would come up. Dooley and Phillips entered the year on the hot seat, but they could have won their way off. John L. Smith's 10-month contract basically said it all.
Arkansas AD Jeff Long's thorough coaching search better start fast because he might have some competition on his hands when it comes to luring a big-name coach away from other SEC schools in December.
June, 7, 2011
6/07/11
3:48
PM ET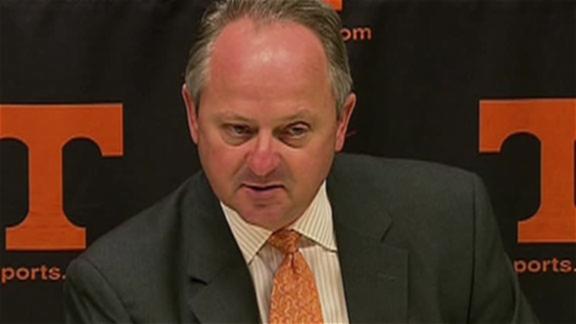 KNOXVILLE, Tenn. -- As Mike Hamilton said himself on Tuesday, it was inevitable that he wasn't going to be around much longer as Tennessee's athletic director.
One way or the other, he was going to be out.
My sense is that he resigned himself to that fact months ago and felt it was best for him and best for the university to
go ahead and step aside
prior to Saturday's hearing before the NCAA's Committee on Infractions.
He'll still be in Indianapolis this weekend as Tennessee defends itself against 12 major violations levied against the football and men's basketball programs.
Those 12 violations all came on Hamilton's watch and on the watches of coaches hired by Hamilton -- Lane Kiffin in football and Bruce Pearl in basketball.
There will be some who blame Hamilton's downfall on his hiring of Kiffin and Pearl, the two coaches who landed the Vols in hot water with the NCAA.
Kiffin bolted for USC after 14 tumultuous months at Tennessee that included almost as many secondary violations as he had wins (seven) during the 2009 season.
Pearl totally revolutionized the Tennessee men's basketball program, taking the Vols to a No. 1 ranking in the polls during the 2007-08 season and an Elite 8 appearance during the 2009-10 season. But he was fired along with his staff following this past season after admittedly lying to NCAA investigators.
While Hamilton will forever be tied to Kiffin and Pearl and the embarrassment they caused the Vols off the field and off the court, what ultimately led to Hamilton's demise was his inability to manage either coach.
Simply, it's why Tennessee is staring down the barrel of the NCAA right now.
Hamilton did a lot of good things during his time at Tennessee, and he's a genuinely good man.
But in the SEC, if you can't manage coaches (and tell them "no" every once in a while) and aren't a rock in crisis situations, you're not going to be very effective as an athletic director.
And that was Hamilton's undoing in a nutshell.
He could no longer be effective as Tennessee's athletic director, not with this NCAA cloud hovering and not with the way he had become (fairly or unfairly) a lightning rod for so much negativity directed toward the university.
For Tennessee fans, these past two or three years have represented one of the darkest periods in athletic department history.
There's been one public relations hit after another off the field, both the football and men's basketball programs facing NCAA major violations, and two of the last three football seasons ending with a losing record.
Just like a U.S. president, Hamilton gets the credit for everything that goes right on his watch, and he gets the blame for everything that goes wrong.
The wrong mounted to intolerable proportions for most of the people who count at Tennessee, meaning a change at the top of the athletic department tree was inevitable.
Tennessee chancellor Jimmy Cheek said a national search would be conducted for Hamilton's replacement.
If Cheek is wise, he'll at least take a look fairly close to home.
In alphabetical order, senior associate athletic director David Blackburn, former defensive back and current FOX television analyst Charles Davis and IMG Worldwide senior vice president Mark Dyer, formerly an executive at NASCAR, are three guys with Tennessee ties who would make excellent candidates.
Also, Kentucky athletic director Mitch Barnhart was at Tennessee for 12 years as an assistant under former Tennessee athletic director Doug Dickey.
Being a "Tennessee guy" shouldn't be a prerequisite for the job, but finding the right guy who just happens to be a "Tennessee guy" could go a long way toward healing what's been a fractured Tennessee family for some time now.
December, 28, 2009
12/28/09
8:56
AM ET
Rich Brooks said following Kentucky's
21-13 loss to Clemson
on Sunday night in the Gaylord Hotels Music City Bowl that he's "80 percent" sure that he won't be back next season as the Wildcats' coach.
[+] Enlarge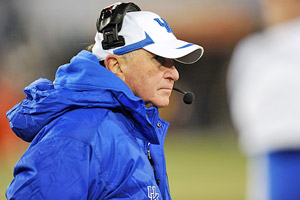 Jim Brown/US PresswireRich Brooks has transformed the Kentucky football program since taking over in 2003.
He wants to take a week or so to be sure.
I wasn't surprised to hear the news because I knew the 68-year-old Brooks was pretty close to saying "so long" to a fine coaching career that goes all the way back to 1963 when he was an assistant freshman coach at Oregon State.
But I was saddened.
College football (college sports, for that matter) needs more people like Rich Brooks.
He's an old-school guy who treats people the way they deserve to be treated. He's not afraid to speak his mind, not afraid to step on toes if he thinks it's justified and not afraid to stick up for his football team.
But everything he does, he does with class and grace.
In this era of rock-star coaches, it's never been about Brooks. He doesn't mug for the cameras or seek the spotlight. He just coaches, recruits, develops young men and does it in such a way that he commands the respect of all of his peers.
Don't be misled, though. Brooks is a funny guy. He's also one of the wittiest coaches in the SEC. It's a dry wit and usually pretty direct.
But the thing that's so refreshing about Brooks is that he's the same way all the time, and that's whether there's a bank of cameras on him or not a camera anywhere in sight. He'll answer your questions when he wins, and he'll answer them when he loses. And almost always, he has a keen perspective on things.
What he's done for the Kentucky program speaks for itself. The Wildcats obviously didn't play their best game against Clemson. But go back and look at where this program was when Brooks arrived -- with the NCAA sanctions and losing seasons becoming the norm -- and look at where it is right now.
Brooks changed the defeatist attitude that had permeated football at Kentucky. He improved the depth. He improved the talent level, particularly on defense.
Sure, he would have liked to have won more SEC games, but the Wildcats had some epic wins on his watch -- the triple-overtime thriller over LSU in 2007 and the road wins at Auburn and Georgia this season.
Nobody on this Kentucky team was even born the last time Kentucky won in those locales.
There were also the three straight bowl victories prior to the loss to Clemson in Nashville.
Brooks' greatest accomplishment, though, was the way he elevated expectations at a place where basketball has been and always will be king.
A lot of people wondered what Kentucky athletic director Mitch Barnhart was doing when he announced Brooks as his coach in 2003. But Brooks proved to be just the man for the job, one they weren't exactly lining up for around the country at the time.
Give Barnhart credit, too, for sticking by Brooks through some of the lean years. It paid off because Kentucky football has rarely been in better shape now that Joker Phillips gets set to move into the lead role.
How many games Phillips wins and loses remains to be seen. But one thing's for sure: He has a definitive road map on how to build and maintain a football program … and do it with class.