NCF Nation:

Mitch Burroughs
August, 22, 2011
8/22/11
10:36
AM ET
Boise State, TCU and BYU all had scrimmages this past weekend. Here are a few notes:
Boise State:
The backups had their time to shine in the Boise State scrimmage on Saturday. Running back
Malcolm Johnson
, who recently returned to the team, had 10 carries for 41 yards and scored on a 9-yard run.
Kellen Moore
was 7-of-12 for 116 yards and threw two touchdowns in red zone drills. The kicking competition appears to be a two-man race between Dan Goodale and Michael Frisina. Also, Chadd Cripe of the Idaho Statesman reports the Broncos are going to use a
six-man rotation at receiver
:
Tyler Shoemaker
,
Chris Potter
,
Mitch Burroughs
,
Geraldo Boldewijn
,
Kirby Moore
and
Matt Miller
.
BYU:
The first-team offense played just one series and the first-team defense did not play at all in BYU's final scrimmage of preseason camp. There are just
two open starting spots
up for grabs: left guard and cornerback. Freshman Ryker Mathews and Houston Reynolds are vying for the guard spot; Preston Hadley and Joe Sampson are competing for one starting cornerback job, while Corby Eason, Robbie Buckner and Jordan Johnson are competing for the other spot. Coach Bronco Mendenhall also said the backup quarterback job is too close to call between
Riley Nelson
and
James Lark
.
TCU:
Coach Gary Patterson might be dipping into his motivational tricks bag. After the Horned Frogs scrimmaged Saturday, he said it was
not a sure thing
that
Casey Pachall
would start against Baylor in Week 1. Pachall missed a few days of practice with a sore shoulder, and Patterson says that impacted his player.
Matt Brown
had a better day in the scrimmage and the two are "neck and neck."
"The time being out hurt Casey," Patterson said. "Matt got a lot better. That's what you do. You don't worry about the guy that's not here. You make the next guys better; that's what big programs are about."
Also in the scrimmage, running back
Ed Wesley
hurt his arm, but Patterson did not know the extent of the injury.
August, 9, 2011
8/09/11
11:00
AM ET
You would be hard pressed to find a more consistent passer than
Kellen Moore
over the past three seasons.
His numbers are downright eye popping when you stop and look. Moore has thrown for more than 3,000 yards in each of his three seasons as a starter for Boise State. He threw 10 interceptions as a freshman, and a combined nine since. He ranks second on the NCAA active career list in completion percentage (68.17), and he is coming off a season in which he made it to New York as a finalist for the Heisman.
But there are many changes headed into his senior season. Moore lost his two star receivers, Titus Young and Austin Pettis. He has a new offensive coordinator in Brent Pease. And he goes into the season as a married man, having wed his high school sweetheart earlier this summer.
Plenty of upheaval to be sure. Yet coach Chris Petersen is highly confident in Moore, a student of the game who has the leadership ability, calm demeanor and perfect attitude to lead the Broncos on another run to a BCS game.
"He's played at such a good level from his freshman year," Petersen said. "We've seen growth and changes, they're just so subtle. He's just been consistent. … We need him to do what he's been doing. If everyone around him plays good, his numbers will be good."
True, but much responsibility falls onto the shoulders of Moore as the quarterback. The last year has been a whirlwind for him. He has been in constant motion since last December, when he became the first Boise State player to become a Heisman finalist.
Moore had some down time in June, and that was about it. In between then, he got timing down with his receivers during offseason workouts; attended the Manning Passing Academy; and served as a counselor at an Elite 11 camp for the best prep quarterbacks in the country.
Somehow he squeezed in his wedding in Park City, Utah -- just a few months after he got down on one knee and proposed on his front porch in his hometown of Prosser, Wash., where he and his wife shared their first kiss 6 ½ years ago.
[+] Enlarge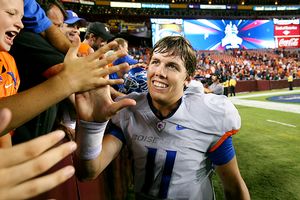 AP Photo/Joe Jaszewski/Idaho StatesmanBoise State's Kellen Moore needs eight wins to become the all-time winningest quarterback in FBS history.
But now it's back to the business of football. Moore shrugged away all queries about his untested group of receivers during Mountain West media day, saying he had talented players around him who just need their shot.
"We're going to look at six, seven guys, rotating them in and getting them involved, as opposed to two or four guys involved in the game plan," Moore said. "We'll try to get a couple running backs going. (Tight ends)
Kyle Efaw
,
Gabe Linehan
… at the wide receiver position,
Tyler Shoemaker
's played enough -- he's ready to rock and roll. Geraldo Boldewijn, he'll step up. Guys like Kirby (Moore) and
Chris Potter
,
Mitch Burroughs
, guys who've had experience, we can lean on them."
Shoemaker is the leading returning receiver to the team, having caught 32 passes last season for 582 yards and five touchdowns. Running back
Doug Martin
could play more of a role as well, after catching 28 passes for 338 yards and two touchdowns last season as well.
There should also be familiarity with Pease, who was on the Boise State staff as receivers coach before replacing Bryan Harsin -- who left for Texas -- as coordinator. The offensive philosophy will stay the same, and Moore is confident the changes will mean minimal disruption.
That would help in getting Moore another shot at the Heisman. In the past 10 years, five Heisman finalists have returned to New York as finalists the following season. That includes two winners, Tim Tebow and Jason White.
But more than that, Moore is on pace to become the winningest quarterback in FBS history. Moore has 38 career victories and needs eight to break the mark of 45, set by Colt McCoy of Texas in 2009.
"The victories record is a special one just because that comes with more than just me," Moore said. "I'm smart enough to recognize if I can do that, then George Iloka would probably be the winningest safety. Thomas Byrd would love to be the winningest center. There's been a lot of guys involved in that run. I think that would be pretty neat."
Neater still if he did it given all the changes ahead.
August, 4, 2011
8/04/11
1:14
PM ET
By now, we have come to expect to see Boise State and TCU in the Top 25 every season. So when the preseason
USA Today coaches Top 25
was released Thursday, the top non-AQ teams were right there in the top 15.
The Broncos will start the season ranked No. 7, while TCU is ranked No. 15. Boise State returns Heisman Trophy finalist
Kellen Moore
, along with
Doug Martin
, Nate Potter, Billy Winn, Shea McClellin and George Iloka, and expectations are high once again to return to a BCS game.
TCU, meanwhile, loses Andy Dalton off its Rose Bowl-winning team, which is why the Horned Frogs are outside the top 10.
Both teams open up their fall camps Thursday, so let us take a look at a few of the burning questions that they face.
Boise State

1. Developing depth.
No question the Broncos have some big-time senior players in Moore, Martin, McClellin and Iloka. In fact, 15 projected starters are seniors. That means Boise State has to develop its young players, something coach Chris Petersen emphasized at Mountain West media day in July. "We have some players that have played a lot of football that are very good players, and then we've got a big gap to some young guys that haven't played and need the experience and need the knowledge," Petersen said. "On our team right now, I think it's fairly wide. Our job as coaches is to narrow that gap."
2. Developing receivers.
Petersen and Moore both emphasized they are not worried about their receiving group. Rather than relying heavily on two players the way they did the past few seasons with Titus Young and Austin Pettis, you will see more players involved. That means
Tyler Shoemaker
,
Chris Potter
,
Kirby Moore
,
Mitch Burroughs
,
Aaron Burks
and
Geraldo Boldewijn
(formerly Hiwat) will have expanded roles. True freshman
Troy Ware
had a nice spring and could contribute as well.
3. The kicker is ...
Kyle Brotzman is gone, leaving a bit of inexperience at the kicker position. The Broncos have scholarship true freshman Jake Van Ginkel, who will practice for the first time this fall, along with walk-ons Dan Goodale and Michael Frisina.
TCU

1. Casey Pachall era begins.
Much has been written about how Pachall will do in replacing Dalton. Pachall has heard all of it. "I am ready,"
Pachall said
at a news conference earlier this week. "I am ready to be the guy that everybody looks to when things are good or bad. [The comparison to Dalton] doesn't bother me. It just gives me incentive and a little bit more motivation to be more of a leader and get more in that role."
2. Developing receivers.
Leading receiver
Josh Boyce
returns, but Jeremy Kerley,
Jimmy Young
and
Bart Johnson
are gone. There is talent in Fort Worth, but much of it is unproven. It is tie for players like
Antoine Hicks
and
Skye Dawson
to step up and help Pachall get the job done. Boyce is confident in his teammates. "We've worked really hard this summer with Casey, to get our chemistry going," Boyce said. "We will be just fine."
3. Can TCU be No. 1 in total defense again?
The stat is incredibly impressive -- TCU has led the nation in total defense for three straight seasons. Can TCU make it four in a row? Gary Patterson believes this unit can be even better than last season, even without defensive leader Tejay Johnson. Linebacker tandem Tanner Brock and Tank Carder return, and they should be the heart of the defense. Even with the potential, Patterson has no idea what type of identity this unit will take on. Each season, that changes. He will have a better idea once the season begins.