NCF Nation:

Mitch Daniels
December, 7, 2012
12/07/12
10:00
AM ET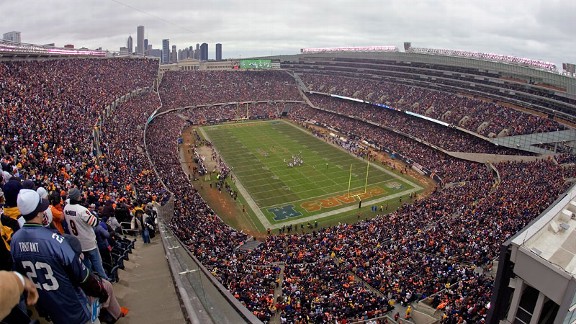 AP Photo/Scott BoehmChicago, a mecca for Big Ten alums of all stripes, is a worthy spot for the league's title game.
Indianapolis has almost everything a league like the Big Ten could want for its signature sporting event.
It boasts first-rate facilities for the game itself and for surrounding events like Big Ten Fan Fest. It boasts an excellent concentration of downtown hotels and restaurants. Indiana Sports Corporation has an unmatched track record of staging major sporting events, including the Super Bowl and the Final Four. The Big Ten picked Indianapolis to host its football championship game for these reasons and others. And from an event production standpoint, Indy has delivered.
But Indianapolis has two drawbacks.
1. There aren't overwhelming numbers of Big Ten fans who live there.
2. It isn't a true destination city.
In other words, Indianapolis isn't Chicago.
Some might say I'm picking on Indy after last Saturday's Big Ten championship game, which drew a crowd of only 41,260 to Lucas Oil Stadium, which can seat more than 67,000 for football games. Few anticipated a great crowd after a season in which the Big Ten had two of its best teams -- Ohio State and Penn State -- facing NCAA sanctions and barred from the title game or bowls. The fact that the title-game participants, Nebraska and Wisconsin, weren't in the national title race didn't help matters, either. Add in that Wisconsin finished third in the Leaders division with a 7-5 regular-season record, and the Big Ten title game had as much buzz as bingo night (yes, I know some of you love bingo).
No one expected a packed house at Lucas Oil. But 41,000 and change?
Big Ten commissioner Jim Delany, speaking Thursday in New York, called the turnout "a little bit disappointing."
"The two fan bases and those who came out to watch were excited about the game and bought some tickets, but it didn't have that extra zip," Big Ten deputy commissioner Brad Traviolia told ESPN.com. "The inaugural game was unique in that you can't really take that first year with all the buzz and excitement of something new … and have that be the standard going forward.
"But for many reasons, we can't take this year's experience and say this is the norm going forward. It's a unique year."
Traviolia is right. It's hard to imagine another Big Ten season with such a perfect storm of bad as this one. The likelihood of having another title game matchup as humdrum as last Saturday's is slim. And if Ohio State starts reaching the title game on a regular basis -- a strong possibility -- Buckeye fans can make the easy drive west on I-70 and flood Indy with scarlet and gray. But Ohio State and, to a lesser degree, Michigan are the only massive fan bases that can easily access Indy. The Big Ten also can't count on having matchups that resonate nationally every year, either.
Looking at all those empty seats Saturday night, I couldn't help but wonder what the attendance would have been like at Chicago's Soldier Field. Chicago is the Big Ten's nerve center. Almost every Big Ten school has huge alumni bases in Chicago. There are multiple Michigan bars, multiple Iowa bars, multiple Wisconsin bars, multiple Nebraska bars, multiple Ohio State bars ... the list goes on. The league office is located just outside the city limits in Park Ridge, Ill.
Chicago is first and foremost a pro sports town, but it's also a Big Ten town. I know. I live here. I meet Big Ten fans everywhere, whether it's at restaurants, grocery stores, concerts or just on the street. Even when I don't want to meet Big Ten fans -- like while exercising at my gym -- they pop up. They're everywhere.
When the title game matchup isn't great, it's a lot easier to fill seats when the target audience already lives in the area. The die-hards always are going to travel to see their teams, but the Big Ten needs to market not only to the two participating fan bases, but to the general Big Ten fan, who can decide hours before kickoff to head to the stadium, grab some tickets and watch the game.
There are simply many more of those folks in Chicago than Indy.
"Demographic-wise, absolutely that's true," Traviolia said. "Chicago is just a bigger city. It has a bigger population base. There are more Big Ten alums here in Chicago than there are in Indianapolis. That's just a fact. But population is one area we looked at when we made a decision in terms of assigning the championship game, but we also looked at the facility and the community involvement, the local organizing committee, what the city can bring to the table, the cooperation with the NFL franchise.
"There's a whole list of things you go through."
[+] Enlarge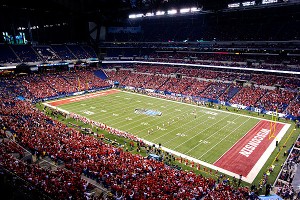 AP Photo/David StlukaA crowd of just over 41,000 watched the 2012 Big Ten title game in Indianapolis' Lucas Oil Stadium. Would a title game in Chicago pack the seats?
Traviolia couldn't cite the exact number of Big Ten alums in Indy when we talked, but he called it "a nice amount." It's still not close to what you see in Chicago.
Chicago also is a true destination city, even when the mercury drops. It offers more to do and see.
When Indianapolis and Chicago presented their bids for the championship game in May 2011, Indianapolis did to Chicago what Wisconsin did to Nebraska on Saturday night. Indy had the better pitch, the better pitchmen (Gov. Mitch Daniels and former Ohio State basketball star/TV analyst Clark Kellogg), the better track record and the better facilities. The Big Ten made the right decision to go with Indy for the first five championship games.
The Chicago group needs to put together a better, more cohesive plan. Even then, there are drawbacks, namely an outdoor venue with a horrifically bad natural grass field. There would be more logistical headaches in Chicago.
There also likely would be more demand for tickets. The Big Ten and other leagues are asking fans to travel to both the league title game and to bowl games. When the college football playoff arrives in 2014, fans might be deciding between three postseason sites (league title game, national semifinal, national championship). If more of fans already live in the city that hosts the league title game, those decisions are easier.
"If you have an undefeated, No. 1-ranked team in the country, there's a buzz surrounding that," Traviolia said. "I remember when Illinois [basketball] was ranked No. 1, we had the men's tournament in Chicago. That was really the first time we had sold out the tournament prior to the games starting. A team having a great year has a huge impact.
"That being said, local support is very important as well."
I'm seeing a similar pattern with the Big Ten men's basketball tournament, which used to alternate between Chicago and Indy, and then went to Indy permanently in 2008 because of many of the reasons outlined above. But tournament attendance at Bankers Life Fieldhouse has fluctuated -- it largely hinges on the strength of Indiana University's team -- so the Big Ten decided to bring back Chicago to the rotation.
Traviolia and his staff are in the process of reviewing this year's football championship and how they can improve future events. They'll look at factors like ticket allotment to participating teams as well as ticket prices.
Although it's too early to say what might change in 2013, the Big Ten likely will make some tweaks.
"We're in Year 2 of a five-year commitment to Indianapolis, and right now the mindset is to make Year 3 the best we can," Traviolia said. "We're not pretending we have it figured out by any means. We didn't after Year 1 and we don't after Year 2. It's something that you look at, review, you talk to people, you see what went well, what can be done better."
Big Ten officials have used the word demographics a lot in recent weeks to discuss the league's recent expansion. Demographics also apply to the title game, and Chicago's advantage can't be ignored when the Big Ten looks for sites beginning in 2016.
June, 6, 2011
6/06/11
5:00
PM ET
The Big Ten championship game is
headed to Naptown
for the foreseeable future. Bloggers Adam Rittenberg and Brian Bennett break down the league's decision to play its signature event in Indianapolis from 2011-15.
Adam Rittenberg:
I know you're behind this, Bennett. You wanted the shorter drive up I-65 to Indianapolis every December. One day on the blog and you're already making demands. I see how you roll.
Seriously, it's notable that the Big Ten has committed to Indy for the first five years of its new signature event. The league had two good options in Lucas Oil Stadium and Soldier Field, and ultimately made the safer and possibly smarter choice with Indy. Lucas Oil is a first-rate facility and won't provide the logistical headaches of an outdoor venue.
What was your initial take on the Big Ten's announcement?
[+] Enlarge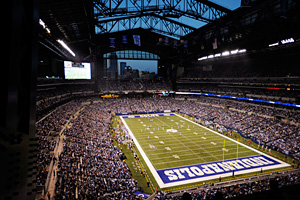 AP Photo/Tom StricklandThe Big Ten championship game will be played in Lucas Oil Stadium from 2011-15.
Brian Bennett:
That's right, Adam. Jim Delany is already throwing flowers at my feet to make my transition as smooth as possible. Smart move.
Getting back to reality, my reaction to the league choosing Indy was this: It's perfectly understandable, totally defensible on every level and yet just a bit ... uninspiring. That's no knock on Indianapolis -- anyone who's attended a Final Four or another big event there knows how well that city pulls those things off and how convenient everything is downtown for the fan experience. I certainly can't tell fans they should sit outside instead of indoors when I'll be snugly nestled in a warm press box regardless.
Still, as someone who until this point has viewed the league from afar, I've always associated the Big Ten with rugged football played outdoors, not on turf in a dome. I think of Chicago as the center of the Big Ten spoke, not Indianapolis. I see Chicago like the Big East sees New York for its basketball tournament: the league mecca.
But I'm the new guy here. What do you think?
Rittenberg:
Brian, I totally agree about Chicago, and I'm not just saying that because I live here. Chicago is the epicenter of Big Ten interest, as almost every league member, including Nebraska, boasts a significant base of fans/alums.
It comes down to whether the Big Ten wants the championship game to be a true reflection of its brand or a mostly stress-free tune-up for bigger and better things. Cold weather is an integral part of Big Ten football, plain and simple. But if you want the title game to simulate what teams will face in BCS bowls and in the national title game, Indianapolis makes more sense because they'll never play a national championship at a cold-weather venue. And, as you write, Indianapolis has the track record of being able to host successful major events.
I guess I was a little surprised that Delany mentioned "brand" as one of the elements where the Big Ten benefits by going to Indy. As you write, the Big East basketball tournament at Madison Square Garden is a tremendous brand. It should never move from MSG. And while playing outside is a different deal, a championship at Soldier Field could have provided a tremendous branding opportunity for the Big Ten.
As Delany said, this was a conservative move for a new event. It makes sense.
What do you think happens down the road? Do you think Soldier Field will ever host this event? What about other venues like Cleveland Browns Stadium and Ford Field?
Bennett:
I got the sense from Delany's comments on Sunday that he wants Chicago eventually to be the home of the Big Ten title game, but that the city has some questions to answer first.
You and I were there at the Palmer House when both Indianapolis and Chicago made their pitches to the league, and Indy brought Gov. Mitch Daniels, Colts president Bill Polian and Clark Kellogg as part of its contingent. Chicago didn't break out any heavy hitters. While Delany said that wouldn't necessarily have made a difference, Chicago clearly didn't have the all-out, integrated effort that Indianapolis brought. And Soldier Field's choppy turf may have to be addressed in the future.
Ultimately, I think Chicago will get a crack at it somewhere down the road, even if it's part of a rotation. Moving around the title game may have hurt the ACC, but the Big Ten will get a huge crowd no matter where it's located. I don't see Cleveland or Detroit or even Minneapolis or Green Bay getting the game anytime soon; Delany has made it pretty clear that Indy and Chicago are the two horses in this race.
[+] Enlarge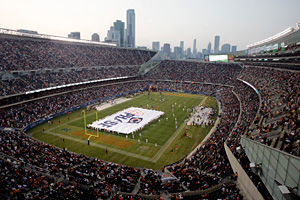 AP Photo/Charles Rex ArbogastChicago's Soldier Field was a candidate to host the Big Ten championship game.
Hey, maybe by 2016, global warming will ensure that Chicago is balmy in the first week of December. If not, do you think Indianapolis can become the Big Ten's version of Atlanta for the SEC title game? And won't a prime-time Big Ten championship game be super awesome (technical term) regardless of the site?
Rittenberg:
Hey, I wouldn't complain about a balmy December around here. Or a balmy May, for that matter.
Indianapolis has an opportunity to make it very difficult for the Big Ten title game to leave its city limits. I have little doubt this will be an extremely successful event, on par with the SEC championship game, especially if there are national-title implications. Having the game in prime time is a must, given the growing popularity of prime-time college football in the past five years. If Indianapolis can successfully run the event and enhance it during the five-year span, it will be tough for the Big Ten to consider a move. This can truly be a main event in Indy, while I'm not sure Chicago can offer the same type of top billing.
Still, I'd be surprised if this event remains in one city for, say, 10 years. Chicago seems like the next option after Indianapolis, but the Soldier Field folks should take a cue from the Indiana Sports Corporation in how to present a unified bid for an event like this. Indianapolis' experience in hosting national sporting events certainly came to light during this process. But I agree with you about Delany: A part of him wants this event in Chicago. I even think he'll be proactive in working with the city's parks department and the Soldier Field folks to present a better bid the next time around.
I also would like to see the Big Ten consider seriously other venues after 2015, particularly Cleveland and Detroit. If those groups show that they have what it takes to have the title game, they should be in the mix.
OK, Bennett, you get the last word. What are the biggest keys to long-term success for the Big Ten championship game?
Bennett:
Wow, I get a virtual home game until 2015 and the last word in this debate on my first day. It's probably all downhill from here.
I think the formula for success is pretty simple: Good games. We know Indianapolis is going to put on a first-class event and that the fans are going to eat it up. As in any sporting championship, the long-term reputation depends on memorable moments, whether that's a huge upset or two or some down-to-the-wire thrillers. The Big Ten would also like to see its marquee programs like Ohio State, Michigan, Penn State, Wisconsin and Nebraska make the game as much as possible (and bring their considerable fan bases with them).
The bottom line is you could put this thing in Gary, Ind., or Spokane, Wash., and the odds are it will be a smashing success.
May, 17, 2011
5/17/11
8:38
PM ET
CHICAGO -- The competition to host the Big Ten's three premier championship events is down to two.
Chicago/Hoffman Estates and Indianapolis.
The two groups both made detailed presentations Tuesday before Big Ten athletic directors and other officials at the league's spring meetings. Although other cities and facilities have expressed interest in hosting future Big Ten football championship games -- Detroit, Cleveland, Green Bay -- the league is almost certainly going to go with Chicago/Hoffman Estates and/or Indianapolis.
A rotation of championship sites remains possible, Big Ten commissioner Jim Delany said.
Indianapolis is bidding to host the football championship game at Lucas Oil Stadium and both the men's and women's basketball tournaments at Conseco Fieldhouse. The other group would host the football championship at Soldier Field, the men's basketball tournament at the United Center and the women's hoops tournament at Sears Centre in suburban Hoffman Estates.
The inaugural Big Ten football title game takes place Dec. 3 at Lucas Oil in Indianapolis. Big Ten basketball tournaments have been held at both Conseco Fieldhouse and the United Center, although Indianapolis has hosted the events exclusively since 2008.
"Those are the two cities we're talking to right now," Delany said. "We are where we're going to be. That's who we've spoken with so far."
Could other cities still get involved?
"We would send the signal," Delany said, "but for now, these are the two cities we've sent signals to."
The Indianapolis contingent brought out some heavy hitters for the presentation, including Gov. Mitch Daniels, Indianapolis Colts president Bill Polian, Indiana Pacers vice president and college basketball TV analyst Clark Kellogg, a former star player at Ohio State.
"It's been a real pillar of development over the last 25 years or so, the sports capital mantra," Kellogg said. "People have really rallied around that at a high level in terms of commitment, passion, enthusiasm, all the things that make an event special."
Officials from Chicago's Park District made the pitch for Soldier Field. Chicago White Sox executive vice president Howard Pizer, who oversaw the construction of the United Center, was part of the group making the pitch for the men's basketball tournament.
Pizer, a Wisconsin alum who sported a Badgers tie Tuesday, called Chicago "the capital of the Big Ten."
It's not a huge surprise the Big Ten is looking closely at these two groups.
Both are major metropolitan areas in centralized locations for the conference. Chicago is loaded with Big Ten alumni, and Indianapolis has quite a few as well. Both cities boast a ton of hotels and fun downtown areas, although Indianapolis' facilities are closer to the city center. The Big Ten is familiar with both sites for its basketball tournaments.
The big difference for the football championship is that Soldier Field is an outdoor venue.
"It'd be warmer indoors, that's for sure," Iowa coach Kirk Ferentz said. "If [there's an indoor game], that's one way to make sure you can guarantee conditions. If you went the other direction, you could say, 'Hey, the NFL does it.'"
Delany hopes to have a resolution on the championship game sites in the next few weeks. Big Ten presidents and chancellors will meet in early June at the league office. They have final say on where future championships will be held.