NCF Nation:

Mitch Trubisky
November, 19, 2014
11/19/14
4:00
PM ET
When September opened,
Marquise Williams
wasn't sure how long he'd be North Carolina's starting quarterback. He'd battled
Mitch Trubisky
throughout the offseason and was splitting playing time with him when the season began.
When October began, Williams' place on the Tar Heels' pecking order seemed more certain, and his confidence grew.
Now, with two weeks left to play, there might not be a quarterback in the ACC playing any better than he is, and the perspective on a season that's been a roller-coaster ride in Chapel Hill has shifted significantly thanks to Williams' emergence.
"My thing is not trying to prove people wrong but just doing what I need to to win football games," Williams said. "The numbers speak for themselves."
[+] Enlarge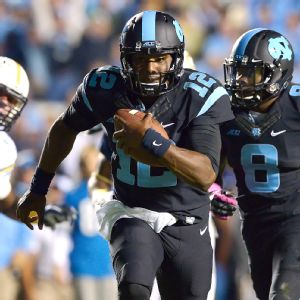 Grant Halverson/Getty ImagesNorth Carolina junior quarterback Marquise Williams is putting up big numbers since earning a full-time role.
What the numbers say is that Williams has been as dynamic a threat as almost any quarterback in the country in the past six weeks.
Since Oct. 1, Williams leads the ACC in Total QBR and is eighth nationally. His 574 rushing yards are third in the ACC in that span, and his 1,606 passing yards trails only
Jameis Winston
in the conference. He's accounted for 18 touchdowns — tops in the league — and just four turnovers since then.
And while UNC's defense has made winning a murky proposition at times, Williams' heroics have kept the Tar Heels in virtually every game.
"He's playing lights-out," receiver
Quinshad Davis
said. "He's just watching film, going through reads, taking off when he has to and making the throws when he needs to. He's just a ballplayer, and when the lights are on, he's a go-to guy and he makes plays for us. We need it."
The biggest difference for Williams isn't as much a massive shift in performance as it is a boost in confidence — both from his coach and in himself.
During North Carolina's early games, Trubisky had a set schedule for playing time — usually getting in on the third drive of the game — and while Williams was the nominal starter, his grasp on the job seemed tenuous.
But Trubisky didn't fare particularly well in his limited role, and after a month-long trial, the experiment came to an end.
"A little bit during the season, it threw me off, just worried about if I turn the ball over, am I going to come out of the game or am I up the next series or not," Williams said.
Fedora dismisses this thought process, saying Trubisky's role was predetermined and Williams knew he had the team's support. Instead, he said Williams' injection of confidence has been the difference.
Regardless, the significance of Williams as the clear-cut No. 1 was perfectly illustrated against Pitt last Saturday.
Williams started off slow and UNC fell behind 21-7. But on the final drive of the half, Williams got hot, capped an 80-yard drive with a touchdown run and dominated the second half. For the game, Williams finished with four touchdowns.
"I just found my groove and kept going," Williams said. "Once I find my rhythm, I'm good, and that's what it's been like the past couple weeks — starting at Notre Dame. Just getting in that rhythm and going with the flow is probably the best thing ever for me and I've just been thankful and grateful that I'm in this position."
By getting into his groove, Williams has North Carolina on the precipice of getting to a bowl game after a horrendous start to the season, which is an accomplishment in itself. Of course, it's also the same thing Williams did for the Heels last season, and it wasn't enough to earn him his coach's endorsement when the season ended.
So what happens in 2015? Trubisky is still immensely talented and was highly recruited. Fedora obviously likes what he has in the freshman and wants him to get playing time. But after Williams has proven again he's capable of putting up big numbers, is there any way he won't hang on to the job?
"To be honest, I think it's just me going forward and leaving my mark and going off what I started this year to finish out strong," Williams said.
Fedora has made a point of saying jobs have to be won every offseason, and he said he's not close to thinking about those decisions now. With a huge matchup Thursday against Duke, his priorities are on the immediate decisions, not the long-term ones.
That's perhaps fair, but it also means Williams has a few more chances to make his mark. And with each passing game, the conversation has shifted further from whether he's UNC's best quarterback to whether he's one of the best in the ACC.
For both Williams and North Carolina, how the season began isn't so important anymore. It's all about finishing strong.
"These last two games are very important to us and our fans and this whole staff," Williams said. "We want to finish the season strong because people are going to remember us for what we did in November. That's all we care about right now."
October, 27, 2014
10/27/14
10:00
AM ET
It was convenient for us all to write off North Carolina after another embarrassing start to its season, but one thing is becoming quite apparent about these Tar Heels under Larry Fedora.
They rise only after they have fallen hard, refusing to give in to the gut punches and the critics. Are they making things difficult on purpose? Because they seem to thrive on the rush that comes when they have been dismissed.
[+] Enlarge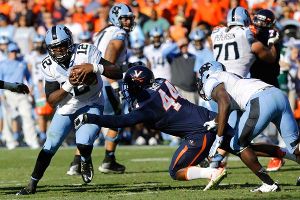 Geoff Burke/USA TODAY SportsMarquise Williams and the Tar Heels beat Coastal Division foe Virginia in Week 9, and are looking ahead to the final four games of the season.
Two seasons in a row now, North Carolina has been labeled the biggest disappointment in the ACC through midseason. The Tar Heels are now following a similar trajectory to last season, when they overcame a 1-5 start to make a bowl game.
However, there is a key difference in 2014: North Carolina still has a shot to win the Coastal, despite a 2-4 start. In 2013, UNC began 0-3 in conference play. Right now, the Tar Heels are 2-2 and control their destiny. Indeed, the coaching staff has modified the popular one-play-at-a-time cliché into: One for the Coastal.
"Fedora's been telling us we still have a chance to win. That's still our goal," linebacker
Jeff Schoettmer
said.
Here, then, is another lesson in Crazy Coastal 101.
Duke leads the Coastal with a 2-1 conference record. Pitt, Miami, Georgia Tech, UVa and North Carolina have two conference losses each. North Carolina still has Miami, Pittsburgh, Duke and NC State left on the schedule. So for the fun of it, let's say the Tar Heels win out. That would put them at 6-2 in the conference, with a 5-1 record inside the Coastal Division.
In this scenario, Miami and Pittsburgh would have more than two conference losses, so they'd be out. Now let's turn our attention to Duke and Georgia Tech. Let's say all three teams finish in a three-way tie atop the Coastal at 6-2.
North Carolina would be 2-0 in their mini-group and would win the tiebreaker. The Tar Heels also would have a tiebreaker over Virginia, should the Hoos somehow finish 6-2.
Coastal. Champions.
All right, all right, we are getting ahead of ourselves, but the Coastal is the most unpredictable in college football and North Carolina is perhaps its most unpredictable team. In September, it lost to East Carolina
70-41
; In October,
it nearly upset
No. 6 Notre Dame in South Bend -- the yin and yang of the Tar Heels' season to date.
"We're going to keep fighting. We're going to continue to go all out," quarterback
Marquise Williams
said. "It changed when we lost to Notre Dame."
Its
28-27 win
against Virginia on Saturday also fits in the unpredictable category, after the Tar Heels fell behind 14-0 and trailed for nearly the entire game. The
final five minutes
featured an interception from a defensive tackle; Williams being forced out of the game because his helmet came off, only to watch backup
Mitch Trubisky
throw the go-ahead score; a gusty onside kick call from Fedora that made him look like a genius; and a game-clinching flag on Virginia with a minute left to play.
Now, a crucial Coastal showdown in Miami awaits on Saturday, where the Tar Heels' defense must find a way to slow down
Duke Johnson
.
The focus will be on that group, as it usually is, but North Carolina beat Virginia thanks to a much better defensive effort in the second half. The Hoos only had three points after halftime and totaled 443 yards, just the third time all season the defense held an opponent under 500 yards. It also was the first time since September that its opponent did not score 30 or more points.
Virginia is not nearly as explosive as Miami, so there is little doubt the task will be much tougher in South Florida. But if North Carolina can get out with a win, it will be much harder for anyone to dismiss this team.
"Our guys are confident," Fedora said. "They feel good about where we're at. They know on the outside nobody believes it, but that's OK. We only need the guys in that room to believe it, and they're believing it."
October, 25, 2014
10/25/14
11:00
PM ET
Here's what we learned in the ACC in Week 9:
[+] Enlarge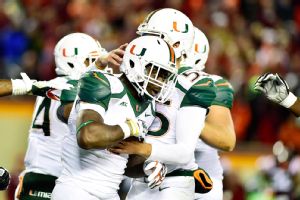 Bob Donnan/USA TODAY SportsMiami is rising in the Coastal division and dominated the Hokies on Thursday.
Miami fans can calm down.
It's been an up-and-down start to the season for Miami, but Thursday night's
30-6 win
at Virginia Tech was a high point. The Hurricanes looked terrific on both sides of the ball, as the defense held the Hokies to just 262 yards of offense, while
Duke Johnson
rushed for a 249 yards and a touchdown (and added 37 more and another touchdown through the air). In the crowded Coastal standings, Miami is trending upward and has a win over first-place Duke that could loom very large as the season moves into the home stretch.
Virginia Tech fans are getting restless.
There are some valid excuses for Virginia Tech's struggles this season. Quarterback
Michael Brewer
didn't arrive until the summer. Freshmen are receiving playing time all over the offense. Injuries have decimated the starting lineup. But for all the reasonable explanations, what Virginia Tech fans care most about is the Hokies are just 12-13 against Power 5 teams in the past three seasons, and Thursday's home loss to Miami might have been the most listless performance Frank Beamer's squad has had in a while.
Georgia Tech is going bowling.
After a 5-0 start to the season, this seemed obvious, but two straight losses soured much of the early momentum the Yellow Jackets had created. Add an injury that kept second-leading rusher
Zach Laskey
off the field against Pitt, and things weren't looking good. So what happens? Pitt fumbles on each of its first five drives, Tech rushes for 465 yards -- most in the ACC this season -- and the power dynamic in the Coastal shifted yet again after a
56-28 Georgia Tech win
. More importantly, though, Georgia Tech got back to doing what it does best: Running the ball down the opposition's throats, avoiding mistakes and capitalizing when the opposition coughs up the ball. The result, of course, is Tech will be in a bowl game for the 18th straight season.
Mitch Trubisky can throw it, too.
North Carolina entered Saturday's game at Virginia with the ACC's hottest quarterback in
Marquise Williams
, but it was Trubisky, the backup, who won the game for the Tar Heels with a 16-yard touchdown pass with 4:05 to play. Trubisky was in the game only because Williams' helmet popped off on the previous play, but his toss to
T.J. Thorpe
on a third-and-15 was the difference in the
28-27 UNC win
. It was his only throw of the game. For the second straight year, a once-struggling Tar Heels team is finding ways to win down the stretch and is right back in the thick of things in the Coastal.
Clemson's defense is frightening.
The offense hasn't done much in
Deshaun Watson
's absence, but the Tigers have managed to win their past three games behind a defense that has utterly smothered the opposition. Clemson manhandled Syracuse
16-6
, held the Orange to their lowest yardage total since 2008 and racked up 12 tackles for loss along the way. In its past four games, Clemson's defense has allowed just three touchdowns, given up an average of just 3.5 yards per play and recorded 40 tackles for loss.
October, 19, 2014
10/19/14
1:00
AM ET
Week 8, including the biggest game of the season for an ACC team, is in the books. Here's what we learned:
Florida State is still unbeaten:
For the third time this season, Florida State trailed at the half, but the Seminoles once again staged a dramatic comeback followed by a nail-biting defensive stand on their opponent's final drive to remain unbeaten and keep their playoff hopes alive.
Jameis Winston
was the star, as he completed 15-of-16 passes for 181 yards in the second half and lead the
31-27 comeback win
, while
Rashad Greene
and
Travis Rudolph
both caught TD passes. It's clear Florida State isn't the same team it was a year ago, but the Seminoles' ability to continually fight back and find ways to win might be even more impressive.
[+] Enlarge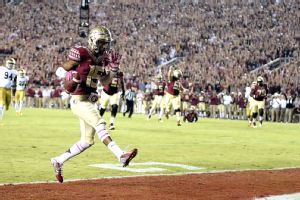 John David Mercer/USA TODAY SportsTravis Rudolph and the Seminoles proved their ability to come back from a deficit once again.
The Coastal still goes through Duke:
Last week, Georgia Tech looked like the favorite to win the Coastal, and then Duke beat them. Then it was Virginia's turn atop the conference, and once again, the Blue Devils took down the favorite. Duke averaged more than 5 yards per carry against Virginia's stout defensive front, and it didn't turn the ball over in a big
20-13 win
in Durham. The end result? The defending Coastal champs are once again the team to beat in the division. The Blue Devils have head-to-head victories over two of the other one-loss teams, and they'll get their chance to take down Pitt, too, after a Week 9 bye.
A healthy Louisville is pretty good:
We knew Louisville's defense was good. The offense, on the other hand, was a problem. But Saturday's
30-18 win
over NC State was the Cardinals' first game with a full lineup of healthy stars on offense, including QB
Will Gardner
, running back
Michael Dyer
and receiver
DeVante Parker
. The trio injected some life into the proceedings, as Louisville scored 30 points for the first time in a month, and Dyer and Parker combined for 305 yards. Dyer racked up his first 100-yard rushing performance since 2011. It was a nice addition for Louisville but also a reminder of what might've been for the Cardinals, had the offense been this healthy from the start of the season.
Clemson can win ugly:
The Tigers' offense has mustered just two touchdowns and averaged just 4 yards per play without star QB
Deshaun Watson
the past two weeks, but they've still managed to win both games. Chalk it up to a spectacular defense that once again stuffed an opponent's ground game. Boston College entered as the No. 5 rushing offense in the nation, but Clemson racked up 14 tackles for loss and surrendered just 120 yards on the ground in its
17-13 victory
and held BC nearly 200 yards below its season average.
Cole Stoudt
won't be confused for Watson any time soon, but if he can continue to make a handful of plays a game, this defense should be enough to carry Clemson a long way.
Marquise Williams is UNC's QB:
It's hard to believe there was a QB debate in Chapel Hill earlier this year. Williams has been unstoppable in his past two games -- which, coincidentally, were the first two games in which
Mitch Trubisky
wasn't given regular playing time. Williams set a North Carolina record with 38 completions, threw for four TDs and rushed for one more while leading a dramatic
48-43 come-from-behind win
over Georgia Tech late in the fourth quarter. In his past two games, Williams has compiled 696 passing yards, 205 rush yards and nine touchdowns.
Pitt's not dead yet:
Thursday's
21-16 win
over Virginia Tech proved to be a resurrection for Pitt. The Panthers had dropped three in a row as their QB struggled and defenses ganged up to stop star tailback
James Conner
. Against Virginia Tech, however, Pitt looked much improved.
Chad Voytik
didn't have to do much with his arm (92 yards), but he racked up 118 yards on the ground, and the win further stifled Tech's hopes for a division title and rekindled Pitt's.
October, 5, 2014
10/05/14
12:05
AM ET
Here's what we learned in the ACC in Week 6:
1. FSU should be the unquestioned No. 1.
Florida State did what it was supposed to do and beat Wake Forest
43-3
on Saturday. The Seminoles are now 5-0, and there should be no doubt they are No. 1 after No. 2 Oregon, No. 3 Alabama and No. 4 Oklahoma lost. Yet there are those who might not see the Seminoles as No. 1, not after Auburn, Mississippi State and Ole Miss turned in wins over ranked SEC opponents. The voters should be reminded Florida State has won 21 games in a row. It beat an improving Oklahoma State team, ranked No. 21 and rising, to open the season; it beat Clemson with a backup quarterback; and it outscored NC State 49-17 after a disastrous first quarter this past week. Not every win has been impressive, but Florida State has found ways to beat one ranked team, beat another with a backup and overcome a 24-7 deficit. Clemson, by the way, will be ranked before too long, so that win will only look better and better. The Tigers are a far different team with
Deshaun Watson
under center. Of course, the rankings don't really matter right now. If Florida State beats Syracuse and Notre Dame, it will be very happy with where it stands when the first College Football Playoff committee rankings are released Oct. 28.
[+] Enlarge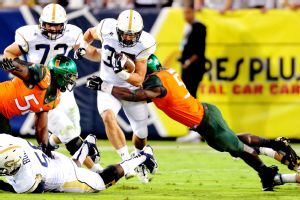 Scott Cunningham/Getty ImagesZach Laskey accounted for 133 of Georgia Tech's 318 rushing yards against Miami.
2. Virginia and Georgia Tech are the Coastal front-runners.
Believe it! The two teams in the Coastal with the most questions headed into the season have gotten off to 2-0 starts in league play and sit atop the division. For now. While there always is a caveat in the Coastal, both teams deserve to be there. Georgia Tech ended long losing streaks to both Virginia Tech and Miami. Its
28-17 win
over the Canes on Saturday night was as thorough an offensive domination as you can get. The Jackets rolled up 311 yards rushing and 21 first downs, converted 9-of-14 third-down attempts and held the ball for 40 minutes. They also came up with two turnovers to kill Miami drives. The Canes' defense reverted to form and looked lost for most of the night against a team that has the most predictable offense in the ACC. Virginia, meanwhile, held on to beat Pitt
24-19
behind a career game from
Kevin Parks
, who had 169 yards and a touchdown. Considering how the Panthers outplayed the Hoos in the second half, this is a big win for Virginia. Maybe a season ago, the result would've been different. No, the officiating was not very good in the game, but Virginia found a way to win. The Nov. 1 matchup between Georgia Tech and Virginia in Atlanta is looking pretty big right about now.
3. The two-QB system isn't working for UNC.
Mitch Trubisky
was 1-of-4 for 11 yards and threw a disastrous pick-six during his limited time on the field in a
34-17 loss
to Virginia Tech, and once again Tar Heels fans are wondering why Larry Fedora insists on the merry-go-round at QB.
Marquise Williams
has said the right things, but the off-and-on approach is clearly affecting him, while Trubisky isn't getting nearly enough reps to make real progress. With UNC's Coastal hopes on life support, it's time for Fedora to pick his QB -- either to try to win now or to prep for the future. It is not as if the schedule gives them any breaks, either. North Carolina is at Notre Dame next weekend, with games against Georgia Tech, at Virginia and at Miami to follow.
4. NC State isn't ready to contend:
Clemson could do what Florida State couldn't: get consistent pressure off the edge on NC State in a
41-0 blowout
. The Tigers' pass rush utterly smothered
Jacoby Brissett
, whose problems with fumbles under pressure continue to cost the Wolfpack. Meanwhile, NC State's porous defense looked bad again, and while it's clear Dave Doeren's crew is better than it was a year ago, the ACC losing streak is now at 10 games, and there's no debate who is the second best team in the Atlantic Division. Watson finished with 329 all-purpose yards in another solid performance, which left many to wonder what would have happened had he been the starter when the season began.
5. Louisville can win with defense:
The Cardinals haven't allowed more than 300 yards in a game yet this season and notched another outstanding effort in a
28-6 win
over Syracuse on Friday night. Its 12 interceptions through six games were more than six ACC teams had all of the past season.
Gerod Holliman
has seven picks in six games -- something no one had done since FAU's Tavious Polo in 2007. The defensive front has racked up 21 sacks already, and no opponent has averaged even 3 yards per rush. Yes, Louisville is having some offensive struggles in the early going, but it might not matter if Todd Grantham's unit keeps playing this well.
September, 4, 2014
9/04/14
2:00
PM ET
North Carolina
coach Larry Fedora gave his offensive line about a 'C' grade after its opener against Liberty, which could be either an indictment of a unit that was far more talented than its competition or praise for a group that was breaking in three new starters.
Either way, Fedora said, things have to get better in Week 2.
[+] Enlarge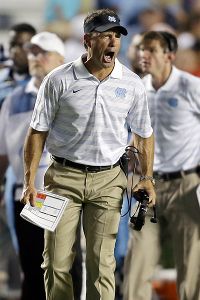 AP Photo/Gerry BroomeCoach Larry Fedora says he needs to see improvement from his inexperienced offensive line.
It's not that the line performed poorly for the Tar Heels. The unit, which Fedora repeatedly touted throughout fall camp as the biggest question mark on the team, allowed just one sack -- midway through the third quarter with backup quarterback
Mitch Trubisky
in the game -- and opened some running lanes for the tailbacks, which averaged 5 yards per carry.
But with San Diego State next up on the schedule, Fedora said, the test gets much bigger this week.
"The chaos that they try to create with their movement, their blitzes, all the different things that they do on that side of the ball will be an issue," Fedora said. "It's a concern to see how our guys will handle it."
With starting left guard
Caleb Peterson
out with an injury,
Will Dancy
made his first start in the opener against Liberty. Tackle
John Ferranto
started for the first time, too, and center
Lucas Crowley
made just the second start of his career. The lack of experience didn't keep UNC's offense from racking up 443 yards or running a whopping 93 plays -- sixth most by any Power 5 conference team in Week 1 -- but the unit didn't always look completely cohesive.
One of Fedora's offseason mantras was smarter play, and he preached again and again that North Carolina would trim the high number of penalties it racked up last season. There was little progress on that front in Week 1, and the line was a big reason. The line was flagged five times for false starts.
Chalk it up to a learning experience, but Fedora said those lessons need to take hold this week.
San Diego State defensive coordinator Rocky Long's philosophy is predicated on confusion, and that could make for a tough matchup for a young line.
"Rocky is very innovative on defense," Fedora said. "It's a very unique style of defense, and his guys adapt to it very well. There are a lot of movements, a lot of confusion, a lot of chaos created for a young offensive line, and so that definitely is a concern for us."
Film study this week helps, but even that has its limitations, Fedora said.
"It's not like you can zero in on one thing," he said. "Our guys are going to have to prepare for a lot of different looks."
In other words, expect the unexpected.
It's enough to have Fedora worried, but the Aztecs also figure to present a nice barometer of just how far the Tar Heels' offensive line has come. With a difficult four-game stretch against East Carolina, Clemson, Virginia Tech and Notre Dame upcoming, Fedora knows that mediocre performance against Liberty won't be enough to carry the Tar Heels too far into ACC play.
But Fedora isn't expecting perfection yet, just progress.
"I want them just to see them improve a little bit each week," Fedora said. "We don't have to be end-of-the-season, at our best right now, but we do need to see improvement, and the style of defense that San Diego State runs makes it very difficult for a young offensive line."
August, 13, 2014
8/13/14
10:30
AM ET
»
More team previews:
ACC
|
Big 12
|
Big Ten
|
Pac-12
|
SEC
Previewing the season for the
North Carolina Tar Heels
.
Key returners:
QB
Marquise Williams
(1,765 passing yards, 536 rushing yards, 16 TDs), RB
T.J. Logan
(533 rushing yards, 4 TDs), WR
Quinshad Davis
(48 catches, 730 yards, 10 TDs), WR/PR
Ryan Switzer
(872 all-purpose yards, 8 TDs), LB
Jeff Schoettmer
(85 tackles), LB
Norkeithus Otis
(13 TFL, 7.5 sacks), LB
Travis Hughes
(76 tackles), S
Dominique Green
(3 INTs)
Key losses:
TE
Eric Ebron
(62 catches, 973 yards), RB A.J. Blue (298 yards), LT
James Hurst
, C
Russell Bodine
, DB
Tre Boston
(94 tackles, 5 INTs), DE
Kareem Martin
(21.5 TFLs, 11.5 sacks), DB
Jabari Price
(80 tackles, 9 pass breakups)
Most important games:
Sept. 27 at Clemson, Oct. 4 vs. Virginia Tech, Oct. 11 at Notre Dame, Nov. 1 at Miami, Nov. 20 at Duke
Projected win percentage:
.703
Vegas over/under:
8.5 wins
[+] Enlarge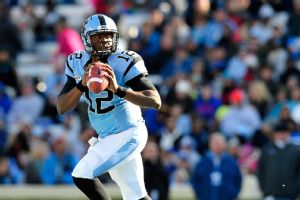 Grant Halverson/Getty ImagesMarquise Williams completed 58.1 percent of his passes last season.
Instant impact newcomers:
Running back
Elijah Hood
is 220 pounds of brute force who figures to be a major asset in UNC's ground game from the outset. True freshman
Bentley Spain
is in the mix for the starting job at left tackle, though spring injuries limited him in the early going. Redshirt freshman Dajaun Drennon could see significant playing time on a badly depleted defensive line. And of course, there's the issue of quarterback, where redshirt freshman
Mitch Trubisky
is still hoping to unseat Williams as the starter.
Biggest question mark:
The line of scrimmage. Larry Fedora says the offensive line may well dictate just how good UNC is as a team, and with the losses of two key players from last year's group and a host of spring injuries, there are still plenty of questions left to be answered in that area. But if the O-line is a major question mark, the D-line isn't much more settled. The losses of Kareem Martin (11.5 sacks) and
Tim Jackson
leave a major void, and some of the talent expected to help fill the gaps --
Shawn Underwood
,
Greg Webb
-- was ruled ineligible before the start of fall camp.
Best-case scenario for 2014:
Fedora finds his quarterback, the O-line jells quickly, the rushing defense improves dramatically from a year ago and UNC finally finds some consistency overall. The schedule won't be an easy one, but if the Heels can get off to a quicker start this year than last, they remain a strong contender for the Coastal Division.
Worst-case scenario for 2014:
The luxury of having two good QBs devolves into a full-fledged quarterback controversy that never is resolved. The O-line looks shaky and the youth on defense becomes a major problem. Four of UNC's toughest games are on the road, which is potentially problematic for a young team, which could mean last year's strong finish fades to a distant memory by mid-October in 2014.
Number to know:
9. That's the number of touchdowns scored last season by North Carolina's defense and special teams -- tied with national champion Florida State for the most by any team from a Power Five conference. Overall, defense and special teams accounted for 16.4 percent of UNC's touchdowns last year, the most by a Power Five conference team. Switzer led the way for the Tar Heels with five punt-return scores.
July, 28, 2014
7/28/14
3:00
PM ET
The ACC's Coastal Division is wide open entering the 2014 season. With six of seven teams receiving at least one first-place vote in the preseason media poll, the possibilities for how this race shakes out are seemingly endless. Here, we take a look at the six teams that garnered first-place votes, examining reasons that are working for and against them in their quests to get to the ACC title game.
Why North Carolina will win the Coastal
The running game.
Last year's team struggled to run the ball, finishing 11th overall in the conference in rushing with QB Marquise Williams serving as the team's leading rusher. But dig a little deeper into the numbers and a more optimistic narrative unfolds. In UNC's first seven games, it averaged 102 yards on the ground, 2.8 yards per carry and scored six rushing touchdowns. In its last six games, that average jumped to 202 yards per game, 5.1 yards per carry and the Heels scored 13 times on the ground. Now Larry Fedora's crew adds hulking freshman
Elijah Hood
to a backfield that already includes T.J. Logan, Khris Francis and Romar Morris and promises to be one of the deepest, most diverse units in the league.
Special teams are special.
Only Bowling Green (10) had more non-offensive touchdowns last season than UNC (9), and the Tar Heels' special teams were a big reason why. Ryan Switzer was an All-American, scoring five times on punt returns last year, but Fedora says his sophomore only scratched the surface of his talent. Switzer may get work on kick returns this year, too. And even if teams work to avoid kicking to Switzer this year, he says that's fine by him. It will simply mean UNC will start every drive with solid field position as the opposition boots them short or out of bounds.
The QB competition.
While the rest of the league is searching for one quarterback it can count on, North Carolina's quandary is how to find reps for both of its QBs. Williams led the Tar Heels to a 6-1 finish last year and showed he can command the offense. Mitch Trubisky was a top recruit with a strong arm and impressive mobility. Fedora said he believes he can win with both -- and that means both will likely see some playing time. There may not be another team in the conference with as much depth at the QB spot as Carolina enjoys.
Why North Carolina won't win the Coastal
The QB competition.
Wait, what were we just saying about the advantages of having two QBs? You know the old saying — if you have two quarterbacks, you've got none. That may not necessarily apply to UNC's situation, but regardless which QB is tabbed as the starter, the expectations will be high and any early struggles could quickly lead to a restless fan base and a divided locker room.
The offensive line.
Fedora has been blunt in saying the Tar Heels will likely go just as far as their revamped offensive line can carry them. The unit lost two starters to the NFL after last season, and a host of spring injuries meant there was no time for cohesion to be built among the newcomers.
Bentley Spain
could be a breakout star at left tackle, but for a team with eyes on an ACC title, relying on a true freshman at that position is never an ideal scenario.
They're just too young.
It's both exciting and unnerving, Fedora admits. He has just six seniors on his team. The offensive line has only three juniors on the entire depth chart. A host of key personnel on both sides of the ball are freshmen and sophomores. Yes, this is Year 3 for Fedora, and he believes last year's strong finish was a good sign that players are beginning to grasp his philosophy, but with youth come mistakes, and in a crowded Coastal, there may not be room for too many setbacks.
July, 22, 2014
7/22/14
10:30
AM ET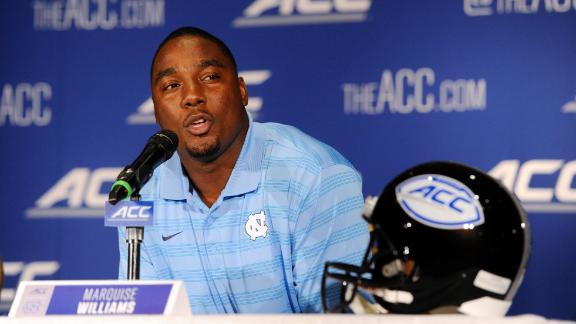 In the battle for the
North Carolina Tar Heels
starting quarterback job,
Marquise Williams
knows he's clearly been pegged as the mobile alternative to
Mitch Trubisky
's pocket-passing expertise. But if that notion worried Williams, a meeting with Peyton Manning at last week's Manning Passing Academy alleviated any concerns.
Manning pulled Williams aside following the camp and raved about his ability to read coverages and hit receivers downfield, telling the UNC QB that he was "a heck of a thrower" and suggesting his footwork and arm strength were both strong.
"When a Hall of Famer tells me that," Williams said, "you tune everything else out."
The criticism Williams is trying to ignore isn't without some merit. He completed just 58 percent of his throws last year -- good for ninth in the ACC. Against Power Five conference teams, that number dropped to just 55.6 percent -- third-worst among ACC quarterbacks with at least 150 attempts. Only once in those games did Williams complete better than 60 percent of his throws -- his first start of the season against Virginia Tech.
Still, he helped North Carolina to a 6-1 finish to the season and entered the offseason as the heavy favorite to lead the Tar Heels' offense again in 2014. He worked with quarterback coach George Whitfield during his spring break to iron out his mechanics. As fall camp nears, however, Williams is far from a lock to win the job.
Coach Larry Fedora said he's still not ready to name a starter, but he said Williams continues to have an advantage as a result of his game day experience. Of course, there's a good chance Trubisky could get a taste of action early on, too, even if Williams remains atop the depth chart.
"I believe both kids can win, so it's a viable option [to use both]," Fedora said. "We'll have to wait and see. I've done it a lot of different ways, and I'll do whatever it takes to win football games."
Some other North Carolina notes from ACC kickoff:
Fedora said punt returner Ryan Switzer is lobbying for work on kick returns, too -- a plan the coach is strongly considering.
The biggest hurdle for UNC this year is on the offensive line, Fedora said. Only four of the 20 offensive linemen currently listed on UNC's roster are juniors, and none are seniors.
Fedora said spring pectoral and knee injuries for freshman tackle Bentley Spain made it impossible to get a feel for whether he's ready to play, but he said Spain remains "in the mix" for the left tackle job. Right now though, Fedora said John Ferranto is atop the depth chart but added "it's still wide open."
Asked for the team's leader on defense, Fedora named Nortkeithus Otis before the question could be finished. The coach raved about Otis' presence in the locker room and potential on the field this season.
When it comes to tempo, Fedora said going fast is no problem. Slowing it down is tougher. "When we ask our guys to go to a huddle, it's embarrassing. I'm embarrassed what it looks like," Fedora said.
Lots of praise for freshman tailback Elijah Hood. Williams raved about Hood's 605-pound squat last week, and Fedora said Hood is "like a bull in a China closet. He's 220 pounds, has great speed, and he likes to run into things."
April, 18, 2014
4/18/14
9:00
AM ET
Scottie Montgomery returned to Duke last year from an NFL world where quarterbacks were never, ever hit in practice.
So when his quarterbacks started begging him to go live this spring, his first reaction was, 'No way!' He was in protection mode, the way he was as a Steelers assistant. But veterans
Anthony Boone
and
Brandon Connette
persisted, and he slowly relented -- only a few times, and with clear instructions to the defense.
[+] Enlarge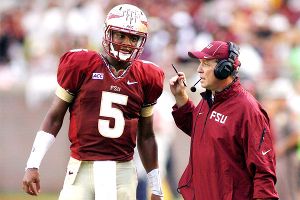 AP Photo/Phil SearsFlorida State coach Jimbo Fisher had Jameis Winston go live last spring when he was dueling Jacob Coker for the starting job.
"My initial feel is, 'Don't ever let anybody get touched, so I have to fight myself at times, because I want to protect these guys and these guys want to compete for jobs," said Montgomery, the offensive coordinator.
His is a dilemma that many coaches across the league
have faced this spring
. Do you allow your quarterbacks to get hit in practice to help simulate game situations and foster competition, knowing you have increased their injury risk? Or do you never even broach the subject because the priority should always be to protect the quarterback?
Four ACC teams allowed their quarterbacks to go live at some point during spring practice, more than any other power-five league. Clemson did it for the first time under offensive coordinator Chad Morris, believing he would see more out of the three quarterbacks vying for the starting job. Early enrollee freshman Deshaun Watson
ended up getting hurt
and missing the spring game.
Florida State allowed its younger quarterbacks to go live this spring. Coach Jimbo Fisher said he did the same last year, when
Jameis Winston
was a redshirt freshman competing to win the starting job.
"They've got to be able to feel things around them and react," Fisher said. "They get in a false security blanket sometimes."
Does that cause him extra worry?
"It's no different than when we run the running backs, and I get nervous in the scrimmages when the backs are running and get tackled," Fisher said. "Our guys know if they've got a kill shot, not to. There's a certain limit of how we practice with each other. You know those shots that everyone wants to have? We won't take those on each other even if we're in a live scrimmage because it's not productive to the organization. Tough to me is when you're eyeball to eyeball, not when a guy's exposed and you can do that."
The coaches are not the only ones who wrestle with the idea. NC State quarterback
Jacoby Brissett
was not live this spring. But when he was competing for the starting job at Florida with
Jeff Driskel
back in 2012, both were allowed to go live early on in fall practice. The first day they were allowed to take hits, Driskel hurt his shoulder.
[+] Enlarge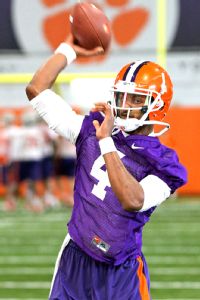 AP Photo/Anderson Independent-Mail/Mark CrammerClemson freshman Deshaun Watson was injured in practice and missed the spring game.
"There's a right time and wrong time for quarterbacks to be live," Brissett said. "We haven't done live practices, but in the fall sometimes we will have a live scrimmage on a Saturday. It helps out with the game speed reps."
For a running quarterback such as Brissett, that helps. Same for the Duke quarterbacks. Georgia Tech has its quarterbacks live during practice for that reason.
Some coaches believe going live helps separate the competition. But Clemson was the only school with an open quarterback competition to allow its quarterbacks to go live during scrimmage situations. North Carolina, for example, has
Marquise Williams
and
Mitch Trubisky
battling to win the starting job, but offensive coordinator Seth Littrell does not believe it is necessary to allow quarterbacks to get hit. "I've never done it," he said.
Virginia Tech also is in the middle of an intense competition, but quarterbacks have been off limits so far this spring. Veteran
Mark Leal
would have no problem if the coaches changed their minds.
"Honestly, I'd like to be live," he said. "I think the rest of the quarterbacks would, too, because it gives more of a game feel. If you're not live, sometimes the whistle gets blown early when you don't think you should have been sacked or the play gets messed up because when there's a rush around you, the first thing the coaches want to do is blow the whistle, rather than you continue to play or go through your reads and progressions and finish the play."
Depth concerns often dictate what coaches do. Pitt only had two scholarship quarterbacks this spring, so there was no way they were going live. Virginia Tech only has three quarterbacks on the roster this spring.
Still, all the protections most coaches take are not enough to keep their quarterbacks injury-free. Miami quarterbacks were off limits this spring, but
Ryan Williams
tore his ACL
during a scrimmage.
It was a noncontact injury.
April, 7, 2014
4/07/14
10:30
AM ET
CHAPEL HILL, N.C. -- Music blared through speakers above North Carolina's practice fields as players moved through conditioning drills on a brisk, gray afternoon last month, and
Marquise Williams
couldn't ignore the beat.
He sprinted through a drill, bounded back to the group and began to dance. One by one, teammates followed suit, until a huddle of Tar Heels was bouncing and singing, with Williams slapping each on the back as encouragement. When a horn sounded to end the period, Williams quickly broke character and darted to the next drill, his teammates still following in unison.
"When they see me excited, they see me ready to go for practice, they're going to be excited and ready to go," Williams said. "I have to try to bring that energy every day."
Just a year ago, practice was a slog for Williams, but he's a different man now, and this is a different team. It's his team, he said, even if his coach hasn't made that distinction official.
In the midst of a quarterback competition Larry Fedora still insists is too close to call, Williams is enjoying every moment of the battle. He's not simply interested in winning the job, he said. He wants to own the team, and that starts with the attitude.
[+] Enlarge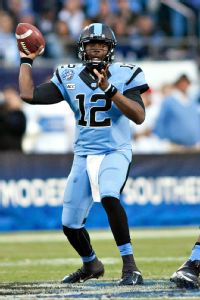 Jeremy Brevard/USA TODAY SportsMarquise Williams stepped in as UNC's starter last season as the Tar Heels won four of their final five games, including a bowl game victory.
"I'm going to lead the guys, and they're going to rally behind me," Williams said. "I've been waiting around here for a long time for my chance, and I'm not going to let it pass."
Williams entered 2013 — his sophomore season — as the clear No. 2 on the depth chart, with occasional work as a running threat to whet his appetite. But when veteran
Bryn Renner
went down with a shoulder injury midway through the season, Williams stepped in as the starter, winning four of UNC's final five games, including a 39-17 blowout over Cincinnati in the Belk Bowl.
The late-season heroics still weren't enough to earn Williams a full-time job. There was no heart-to-heart meeting with Fedora when the season ended, but Williams said it was understood that he'd enter the spring with a mandate to get better.
Nipping at his heels is
Mitch Trubisky
, a highly touted redshirt freshman with exceptional mobility and a bit more zip on his throws. Through the first month of spring, Fedora has fed each quarterback a roughly equal share of first-team reps, and the UNC coach said he's in no hurry to name a starter.
"At every position, you have to earn your position," Fedora said. "Marquise stepped in because Bryn went down. When he was put in that position, he did a phenomenal job, led us to a bowl game and won. He did a tremendous job. Now I want him to go to another level."
For Williams, that's meant refining his game. His legs have always made him a valuable weapon, but his arm is a work in progress. Much of Williams' mechanics are self-taught, and he knew the details needed work.
During his spring break, Williams traveled to San Diego to work with noted quarterback guru George Whitfield Jr. It took just a few quick lessons to convince Whitfield he had a star in the making, but it would take some work before Williams could embrace his potential. Whitfield worked with Williams on shortening his strides, minimizing his motion with his nonthrowing arm, working efficiently in the pocket.
"As I was watching him, I kept telling him that you're much, much stronger than the ball says," Whitfield said. "We just kind of set about trying to bring some of those adjustments into play."
But more than just mechanics, Whitfield challenged Williams to practice with more confidence, comparing it to Justin Timberlake taking the stage for a concert -- never timid, embracing the moment.
Williams had that same power to galvanize an audience, Whitfield said, but he had a tendency to hide in the shadows.
"Whether you call it confidence or swagger or energy, it's there," Whitfield said. "But I didn't want him to try to feel it out. I wanted him to kick that door on open and come through."
So that's what Williams has been doing this spring. Whitfield sends him the occasional text message as a reminder, but Williams doesn't need it. He's dancing, he's encouraging, he's leading. He's taking the stage like he owns it, even if Trubisky is waiting in the wings to stake his claim.
"I love the word competition because that's been part of my whole life," Williams said. "To be that leader, I have to perform. When you say competition, I like that. I laugh at it. That's my name: Marquise Competition. I'm ready to go get it."
Fedora said he's been impressed by Williams' approach this spring, and it's clear his teammates respect him. Williams' game experience gives him a leg up in the battle, and if there's one thing separating the two quarterbacks right now, it's the confidence and comfort exhibited by the incumbent.
But the job is still open, and Williams is still charging onto the stage believing he'll finally win over his coach. If he doesn't, he said, it would be devastating, but there wouldn't be regrets. That's what this spring is all about.
"I'll determine if he's going to beat me out because it's me that's out there," Williams said. "It's not Coach Fedora or Coach [Gunter] Brewer. If he deserved the spot, he's got the spot. Me, I'm going to keep working and keep going to get it because I feel like this is my team. I'm in the driver's seat with those guys behind me."
March, 24, 2014
3/24/14
10:30
AM ET
CHAPEL HILL, N.C. --
Ryan Switzer
has heard the talk, even from his own coach, who warned him of the frustrations likely in store as
North Carolina
's All-American punt returner prepares for his follow-up campaign in 2014. But Switzer isn't interested in adjusting his expectations.
Sure, Switzer admits, he won't be sneaking up on anyone this season as he did as a freshman. He expects opponents will do all they can to keep the ball out of his hands on special teams. Odds are, 2014 will be a waiting game -- but he's more than willing to be patient.
[+] Enlarge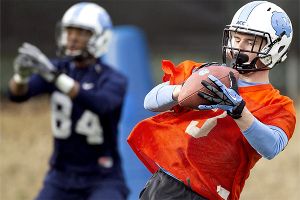 MCT via Getty ImagesRising sophomore Ryan Switzer, who starred as a returner as a freshman, wants to become more of a playmaker on offense for the Tar Heels.
"Some team is going to test me," Switzer said. "And that's all it takes."
After all, Switzer points out, Cincinnati had a month to prepare for him when the two faced off in the Belk Bowl last season. After a quiet first half, the Bearcats finally relented and boomed a punt in Switzer's direction. At first, it appeared he might call for a fair catch. Instead, he hauled in the kick, darted up the field and dashed into the end zone for an 86-yard touchdown -- his NCAA-record-tying fifth punt return TD of the season.
"He basically did that on his own," UNC coach Larry Fedora said. "That's where he's taking his game to another level. He's having to find ways to create those opportunities for himself."
Switzer's sophomore campaign is all about creating those opportunities, and that means expanding his role in the Tar Heels offense, too.
While Switzer isn't hedging his expectations on special teams, he said the key to his 2014 season will be making strides as a receiver. In high school, the 5-foot-10, 175-pound Switzer had largely been a tailback, and his conversion to slot receiver was a rocky one at times last season. In his first 10 games, he hauled in only 19 catches for 147 yards as he struggled with the subtleties of the position.
"He's one of those quick guys that has to settle down and try to find where the holes are in the zones or beating your guy off [man-to-man coverage]," quarterback
Marquise Williams
said. "One thing about him, though -- he's ready to work. It doesn't matter what it is, he's ready to go out and compete and work and figure out what he needs to do to be the best receiver on the field."
The signs of progress were evident by season's end. In Switzer's final three games, he caught 13 passes for 194 yards, including a two-touchdown performance against Old Dominion.
Since the season ended, Switzer's focus on developing his skills as a receiver has remained sharp. On special teams, he was a whirlwind, but he has learned that same approach doesn't work at receiver. It's about patience and precision, and the bulk of the action occurs before the ball finds his hands.
"

One thing about him, though -- he's ready to work. It doesn't matter what it is, he's ready to go out and compete and work and figure out what he needs to do to be the best receiver on the field.

"

UNC quarterback Marquise Williams on Ryan Switzer.
"If I can get those things down and become more quarterback friendly, I can get more balls and more yards," Switzer said. "But we've got a long way to go."
Putting in the work to get there won't be an issue. Fedora said the struggle with Switzer is often curbing his zealous work ethic, pulling in the reins to keep his star playmaker from exhausting himself. But in an offseason in which Switzer has heard so much about the opportunities he's about to lose on special teams, he can't help but be excited about how much potential there is for him to make an impact on offense.
This spring, North Carolina finds itself in the midst of a quarterback competition, with Williams and
Mitch Trubisky
vying for reps. A patchwork offensive line is
struggling to find cohesion
. A bevy of tailbacks are splitting carries, and the offense's best weapon from a season ago -- tight end
Eric Ebron
-- is busy preparing for the NFL draft. Ebron's 62 catches and 973 yards both led the Tar Heels, and his absence means a gaping hole in the passing game. Switzer would love to pick up some of that slack.
A year ago, Switzer was learning on the fly, but he made him impact in the one area he felt comfortable. As the offseason progresses, however, he's feeling more and more at home as a receiver, too, and that will make it awfully tough for teams to keep the ball from him in 2014.
"That's why I've put so much emphasis on making sure I'm right offensively," Switzer said. "They can't take me away offensively. They may try to do some things where I'm double-teamed, but I'm going to get the ball offensively, and that's where I need to make my mark now."
March, 7, 2014
3/07/14
9:00
AM ET
Breaking down the spring in the ACC Coastal division:

Duke
Spring practice over
What we learned:
Momentum rolls on. It's hard to believe the Blue Devils are already done with spring ball, but coach David Cutcliffe opted to open practice in February to capitalize on the momentum that was created last season. After the spring game ended Saturday, he praised the way his players handled the practices. There was a great deal of retention and not a lot of re-teaching, so coaches were able to get much more out of their players this spring.
Max McCaffrey emerges. Jamison Crowder had a spectacular 2013 season, but it was essentially him and then everybody else in the receiver group. That may not be the case this season. McCaffrey earned praise from coaches and teammates for the way he improved during the spring. Offensive coordinator Scottie Montgomery said McCaffrey made as many plays as anybody else on the offense this spring.
Stepping up on the line. The Blue Devils lost three starters on their defensive line -- both ends in Kenny Anunike and Justin Foxx, and defensive tackle Sydney Sarmiento. But it appears as if the players behind them are ready to step up and make a seamless transition. Defensive ends Jordan DeWalt-Ondijo and Dezmond Johnson each had two sacks in the spring game. Kyler Brown also made the switch from linebacker to defensive end and had a sack in the spring game as well.

Georgia Tech
Spring start:
March 24
Spring game:
April 18
What to watch:
Justin Thomas takes over. After Vad Lee announced his transfer from Georgia Tech, the quarterback reigns fell to Thomas, who played in 10 games this season. The Jackets had their share of highs and lows under Lee, but what the staff is going to be looking for first and foremost is Thomas' ability to hold on to the football. Georgia Tech had 24 giveaways and ranked No. 12 in the ACC in turnover margin.
Defensive line questions. The Jackets lose three starters on the defensive line, including All-ACC defensive end Jeremiah Attaochu -- who had 22.5 sacks over the last two seasons. Who will step up and fill that type of production? The most experienced backups returning are sophomores Tyler Stargel and Patrick Gamble. Also, Travin Henry will get a look at defensive end after playing wide receiver last season.
Offensive line questions. Georgia Tech also loses three starters on the offensive line -- tackles Ray Beno and Will Jackson and center Jay Finch. The trio combined to start 117 games in their careers, so there is no doubt this is going to be a much less experienced unit in 2014. The good news is All-ACC guard Shaq Mason returns to help anchor the new-look line.

Miami
Spring start:
Started March 1
Spring game:
April 12
What to watch:
Quarterback derby. Stephen Morris is gone, but the Canes do have at least one experienced quarterback on the roster in Ryan Williams, a Memphis transfer who has served as Morris' backup the last two seasons. As a true freshman with the Tigers, Williams started 10 games -- all the way back in 2010. Challenging Williams is redshirt freshman Kevin Olsen, who had a bit of a rocky first year in Miami, along with Gray Crow.
Defensive improvements. Perhaps more than what happens at quarterback, Miami must see improvements out of its defense this season. Embattled defensive coordinator Mark D'Onofrio kept his job but the status quo cannot persist. Every single area of the defense must be upgraded. Ranking No. 13 in the ACC in total defense just can't happen again.
Defensive improvements, Part II. To try and help the secondary, Miami already moved Dallas Crawford over to safety, where the Canes could use the help. But Miami must be stronger on the defensive front. The Canes only had 12 sacks in eight conference games. By comparison, BC led the way with 25 sacks in conference games. This is a big opportunity for guys like Al-Quadin Muhammad, Tyriq McCord and Ufomba Kamalu to really step up.

North Carolina
Spring start:
Started March 5
Spring game:
April 12
What to watch:
The quarterbacks. Marquise Williams took over as the starter when Bryn Renner was gone for the season and ended up helping the Tar Heels make a bowl game after a 1-5 start. But coach Larry Fedora said the competition is open this spring. Look for Mitch Trubisky and Kanler Coker to give Williams a major push.
Defensive line questions. Kareem Martin and Tim Jackson are both gone, leaving big holes in the North Carolina front. Martin ended up notching 21.5 tackles for loss to rank No. 3 in the ACC. So who are the next guys up? At end, Junior Gnonkonde and Jessie Rogers are the top two contenders, while Shawn Underwood, Devonte Brown and Justin Thomason will compete for one of the tackle spots.
Replacing Ebron. Eric Ebron was dynamic at tight end for the Tar Heels last season, leading the team with 62 receptions for 973 yards, while adding three touchdowns. Will the Tar Heels be able to replace that type of production with just one player? Jack Tabb would be next in line among the tight ends, but this is a huge opportunity for the North Carolina receiving group as well. We saw plenty of promise out of young guys like Bug Howard, T.J. Thorpe and Ryan Switzer.

Pitt
Spring start:
March 16
Spring game:
No spring game. Last day of practice April 13
What to watch:
The quarterbacks. Chad Voytik played really well in relief of an injured Tom Savage in the bowl game, but coach Paul Chryst said the competition to win the starting job is open headed into the spring. At this point, Voytik and Trey Anderson are the only scholarship quarterbacks on the roster. So you can bet the biggest goal of all is to keep them both healthy.
Replacing Aaron Donald. One of the biggest surprises in all of college football this past season was the emergence and utter dominance of Donald at defensive tackle. Donald swept every major defensive award after notching 28.5 tackles for loss, 11 sacks, 16 quarterback hurries and four forced fumbles. Darryl Render is the next man up.
Complementary receiver. Devin Street is gone, leaving Tyler Boyd as the only standout receiver on the roster. Not only do the Panthers have to develop a consistent No. 2 receiver, they also have to develop some depth. Watch for Manasseh Garner, a former H-back who moved to receiver late last season when Street got hurt. He is more physical than Boyd, and has some extended playing experience.

Virginia
Spring start:
Started March 1
Spring game:
April 12
What to watch:
The quarterbacks. David Watford is not guaranteed to win his starting job back after last season, when he threw eight touchdown passes to 15 interceptions. Greyson Lambert and Matt Johns are also in the mix and reps with the first team will be split. In fact, Lambert got the first-team reps when the Hoos opened spring ball last weekend.
Andrew Brown. The highly-touted freshman will have every opportunity to win a starting job at defensive tackle, and it all starts in spring ball. The No. 3-ranked player in the ESPN 300 comes in with tons of hype; now can he translate that into on-field success? He, Donte Wilkins and Chris Brathwaite will be competing to start next to David Dean.
Mr. McGee. Jake McGee was the best player the Hoos had among the group of tight ends and receivers a year ago, leading the team with 43 catches for 395 yards. This spring, McGee has now moved over to receiver so the Hoos can take advantage of his athletic ability. Plus, Virginia is lacking playmakers at the position, so we'll see how much this move benefits both McGee and the offense.

Virginia Tech
Spring start:
March 27
Spring game:
April 26
What to watch:
Quarterback. Mark Leal heads into the spring with a leg up in the quarterback competition but make no mistake, there is no set starter. He will get competition from freshmen Andrew Ford and Brenden Motley in the spring, with freshman Chris Durkin and Texas Tech transfer Michael Brewer arriving in summer. This competition will likely drag on into the fall.
Front seven. The Hokies are losing five terrific players up front, including ends James Gayle and J.R. Collins, and linebacker Jack Tyler, who racked up 100 tackles in back-to-back seasons. There is no doubt a major priority this spring is finding their replacements and building depth along the line and at linebacker. Who will step up as the leader of this group with Tyler gone?
Skill players. This has been an ongoing theme over the last two seasons and will continue to be a theme until the Hokies have consistently good players at running back and receiver. Offensive coordinator Scot Loeffler is excited about the return of tight end Ryan Malleck, and his entire tight end group for that matter. A healthy Malleck and improvement from Kalvin Cline means the Hokies could simultaneously improve their run and pass game.