NCF Nation:

Mitchell Schwartz
April, 13, 2011
4/13/11
3:23
PM ET
BERKELEY, Calif. -- Quarterbacks are always a big story. Quarterback competitions are typically bigger stories. But quarterback is an almost singular story this spring at California.
For one, no one has any idea who the 2011 starter will be, an uncertainty that has been rare since coach Jeff Tedford took over in 2002. Tedford announced last week that he'd reduced the candidates list from five to three -- senior
Brock Mansion
, junior Buffalo transfer Zach Maynard and sophomore
Allan Bridgford
-- but it's unlikely that troika will be winnowed to one until late in preseason camp.
[+] Enlarge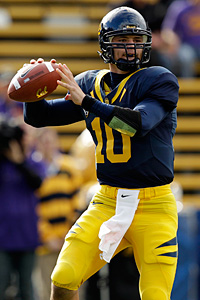 AP Photo/Marcio Jose SanchezBrock Mansion threw for 646 yards and a pair of TDs last season.
Finally, more than a few critics are questioning Tedford's once impeccable bona fides for developing quarterbacks. Sure, Tedford has mentored six who became first-round NFL draft picks: Kyle Boller, David Carr, Trent Dilfer, Joey Harrington, Aaron Rodgers and Akili Smith. But in our "what-has-he-done-lately?" world, folks are asking, well, what has Tedford done lately with quarterbacks, with an incriminating finger-pointing at the less-than-stellar production from Joe Ayoob, Nate Longshore and
Kevin Riley
.
Tedford will call plays this fall and he has been heavily involved with the quarterbacks this spring. He attends all position meetings and spends plenty of practice time with the QBs and new assistant Marcus Arroyo.
Tedford is as aware as anyone that bouncing back from a down campaign -- his first losing season in nine years in Berkeley -- will require at least solid play at quarterback.
"For us to get back to 10- or 11-win seasons, we have to have better play at the quarterback position," he said.
So far, no quarterback has asserted himself.
Mansion, due to experience, would in most situations be considered the front-runner. But he didn't do well in four starts after replacing Riley. His efficiency rating ranked last in the Pac-10 by a wide margin, and he threw five interceptions with just two TDs.
Said Tedford: "You can tell that Brock is better because of the experience he had last year. He's more comfortable. And he's even learned some things physically. You can see the maturity there a little bit. Still not where we need to be."
More than a few folks believe Maynard, the best athlete of the three and half-brother to standout receiver
Keenan Allen
, to be the front-runner. As a sophomore starter at Buffalo in 2009, he completed 57.5 percent of his passes for 2,694 yards and 18 touchdowns with 15 interceptions and added 455 yards rushing and one TD.
Said Tedford: "He does have some athleticism. He can make plays with his legs. He throws the ball accurately. He can throw all the balls on the field. He's a lefty. He can throw the deep ball. He's got zip on the ball. His main thing is just going to be the mental part of understanding our offense and understanding what we're looking for."
Tedford also said that the Bears' offense has some spread-option elements it could adapt for Maynard.
Bridgford is reputed to be a strong pure passer, but he's coming back from shoulder surgery and his mobility also is an issue. The scuttlebutt is he's presently in third place and could be challenged by redshirt freshman
Austin Hinder
, who Tedford said was a strong No. 4.
Said Tedford of Bridgford: "Smart guy. Can throw the ball. He can throw all the balls on the field. Escape dimension? Haven't seen that yet. That's a concern, but he's not a lead foot by any means."
Trying to figure out where things stand isn't easy. Even Allen clings to neutrality, at least publicly. And players appear to be as in the dark as fans about who will prevail.
"I know you guys all want to know that -- we all want to know as well," offensive tackle Mitchell Schwartz said. "I have a lot of confidence in the coaching staff. They are going to put the right guy on the field."
It's been a while since Tedford and Cal found the "right" guy to put behind center. The Bears' success in 2011 probably hangs on Tedford rediscovering his inner QB Yoda.
April, 13, 2011
4/13/11
1:08
PM ET
BERKELEY, Calif. -- California coach Jeff Tedford hears the negative chatter but he's trying not to listen. The operative word there being "trying." He also understands why some Bears fans are grumbling, but such talk nonetheless frustrates him.
Tedford rebuilt a lousy program and created a high standard to which Cal fans happily became accustomed. Yet over the past few seasons, he has not consistently met that high standard.
"All of a sudden, you have an eight-win season and it's not good enough," Tedford said. "Then, all of the sudden, you have a [losing season] and it's, 'Wow, what happened here?'"
[+] Enlarge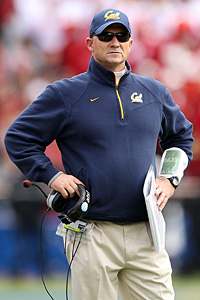 Ezra Shaw/Getty ImagesAn imposing front seven on defense should help coach Jeff Tedford and Cal be competitive against elite teams in 2012.
Things turned sour in Berkeley in 2010, a 5-7 finish that was Tedford's first losing season -- first season with fewer than seven wins -- in nine years leading the program. Meanwhile, on the south side of the Bay Area equation, archrival Stanford won a BCS bowl game and appears poised to start 2011 ranked in the top 10. That juxtaposition doesn't sit well with the Old Blues.
It no longer matters where Tedford started, taking over a 1-10 program in 2002 that won seven or more games just four times in the 24 previous seasons. Forget that from 1978 to 2001, Cal won three or fewer games nine times. Sure, back then, a couple of seven-win seasons -- heck, even 5-7 -- would have seemed pretty nice.
No longer.
But it's more than that, Tedford's critics will tell you.
What happened to Tedford, the quarterback guru? Tedford transformed Kyle Boller from a five-star recruiting bust into a first-round NFL draft pick. He then discovered Aaron Rodgers out of nowhere and made him into a first-round pick. Nate Longshore appeared poised to join them when he led the Bears to a 5-0 start and No. 2 national ranking in 2007. But, really, since Longshore sprained his ankle during a marquee win at Oregon on Sept. 29, 2007 -- Cal fans just fainted recalling the memory of
what happened next
-- the Bears haven't benefited from consistent play at quarterback.
It's not just losing, either: It's the nature of the defeats. In Tedford's first seven seasons, the Bears suffered only two defeats by more than two touchdowns. Over the past two seasons, they've lost eight games by 17 or more points and six by 27 or more.
Further, the staff turnover, particularly at offensive coordinator, has been notable. Not including himself, Tedford has gone through four offensive coordinators before arriving at his present, complicated configuration, with offensive line coach Jim Michalczik returning as coordinator, running backs coach Ron Gould set as running game coordinator, receivers coach Eric Kiesau set as passing game coordinator and Tedford (again) helping with the quarterbacks and (again) calling plays.
A couple of years ago, Tedford listened to the nattering nabobs of negativism and he wanted to smack them. Now, he's trying to be philosophical about criticism. Trying.
"I have it back in focus now not to worry about the external things," he said. "That one year [2009] we went [8-5] and it felt like we went [5-8], it felt like people were real irritable about that. I was irritable, too. About their reaction to [8-5]. Now, I'm just back to focusing on what it takes to get us back on the upward trend again."
If you're the sort who prefers optimism, there's grounds for that, too. For one, Michalczik and Kiesau were both with Tedford during the "glory years." There's history and comfort there. And Michalczik is widely considered an elite line coach, perhaps the best in the Pac-12. The play of the Bears' O-line hasn't been as good the past two seasons while Michalczik was with the Oakland Raiders.
Further, Tedford is re-engaging on the offensive side, and not only by calling plays, as he did during his early years at Cal. He's also working extensively with the quarterbacks, even to the point of sitting in all QB meetings.
"Consistency at quarterback has been something that has hurt us at times," Tedford said.
Another big-picture item for Cal fans to be upbeat about: An uptick in recruiting that, perhaps not coincidentally, began when stadium and facilities renovation projects began in earnest after protesters -- old school Berkeley! -- were forced
out of the trees
. The Bears are nomads this spring, traveling from site to site in search of good grass to practice on, and they will play "home" games in AT&T Park this year. But when Memorial Stadium re-opens in 2012, the structure will match the grandeur of its Strawberry Canyon home.
As for hot-seat talk -- it's probably more accurate to call Tedford's chair lukewarm -- the players are aware of said chatter. They don't live in a protective bubble. And they are aware that pointed observations about the blowout defeats also fall on them, whether those embarrassments are about poor preparation, a lack of mental toughness in the face of adversity or -- gulp -- a propensity to quit when an opponent asserts itself.
"We all love Coach," offensive tackle Mitchell Schwartz said. "His past record of success, that's why we are all here. There's no grumbling [in the locker room]. We're more disappointed in ourselves. We feel like we let the coaching staff down."
And, of late, Cal fans feel let down. When the Bears were controversially blocked from playing in their first Rose Bowl since 1959 by Texas and the BCS computers following the 2004 season -- Cal fans just fainted for a second time while reading this story -- the consolation was a confident belief that it was just a matter of time before a Tedford squad ended that lengthy, painful Rose-less run.
The clock is still ticking -- 52 years and counting -- on that one, though.