June, 3, 2010
6/03/10
6:13
PM ET
At what position is the Pac-10 deep? At what position in the Pac-10 thin? Here's the third of three parts taking a look at just that.
Deep: Specialists
[+] Enlarge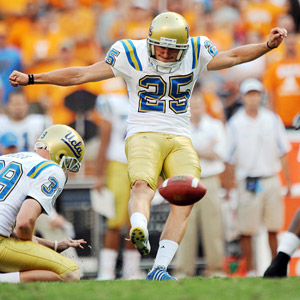 Jim Brown/US Presswire Kai Forbath of UCLA is one of two Lou Groza Award winning kickers returning to the Pac-10 this season.
Why is it deep
? Eight teams welcome back both their punter and kicker, and many of them are quite happy about that. Three conference kickers ranked among the top-20 in field goals per game, while three punters ranked in the top 21. No team is replacing both specialists. Oregon is replacing kicker Morgan Flint and USC is replacing kicker Jordan Congdon, who ranked fifth and seventh, respectively, in field goals per game in 2009.
The big names
: Start with two Lou Groza Award winning kickers: UCLA's Kai Forbath (2009) and Arizona State's Thomas Weber (2007). Then there's Oregon State's Justin Kahut, who made 22 of 27 field goals with a long of 50, and Washington's Erik Folk, who was 18 for 21 with a long of 48. As for the punters, Arizona State's Trevor Hankins ranked No. 1 in the Pac-10 and 10th in the nation in punting (44.2 yards per punt), while UCLA's Jeff Locke (43.6) was 16th in the nation and Washington State's Reid Forrest (43.2) was 21st. Oh, and California's Bryan Anger might have the biggest foot of everyone; he dropped a conference-high 24 punts inside the 20 last year.
Thin
:
Linebacker
Why is it thin
? Four of the six linebackers who made up the first and second All-Pac-10 teams are gone as are five of the 11 LBs who earned honorable mention. Only two teams -- USC and Oregon -- welcome back all of their starting LBs from 2009, and a big story this spring was the Trojans lack of depth at the position, while the Ducks moved Eddie Pleasant to safety (in large part because of depth at the position). Arizona is replacing all three starting linebackers, while Arizona State, Oregon State and UCLA only have one returning starter at the position (though the Beavers outside linebacker platoon of Dwight Roberson and Keith Pankey probably should count as more than one starter).
Fill the void
? This is not a "strength" position, but the cupboard is hardly empty: UCLA's Akeem Ayers, California's Mike Mohamed and Arizona State's Vontaze Burfict are All-American candidates, while Oregon's Casey Matthews earned second-team All-Pac-10 honors in 2009 and Washington's Mason Foster is a likely breakout player. The Ducks, in particular, are fast and deep at linebacker, while the Sun Devils aren't far behind in terms of young talent.
November, 22, 2009
11/22/09
2:42
AM ET
TUCSON, Ariz. --
There were big plays
. There were strange plays. There were seemingly huge gaffes that really didn't mean much. An
Oregon cheerleader got knocked out
by a water bottle hurled from the stands. There were expectant Arizona fans on the field, encircling this drama like a red ribbon, who ended up standing in stunned silence after Oregon quarterback
Jeremiah Masoli
generated his sixth and final touchdown to conclude the second overtime of this thrilling and nearly four-hour evening.
[+] Enlarge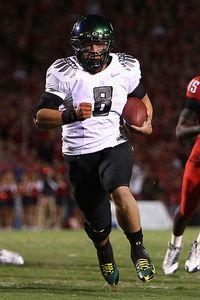 Christian Petersen/Getty ImagesJeremiah Masoli threw for three scores and ran for three more to rally the Ducks.
"It got quiet really fast," Masoli said after Oregon prevailed 44-41 and took one step closer to its first Rose Bowl since the 1994 season.
Masoli scored three touchdowns running, including a 1-yard carry that won it. He also passed for three touchdowns, including an 8-yard toss that tied the score with six seconds left in regulation.
Oregon jumped to a 14-0 lead. Then Arizona scored 24 unanswered points. Both defenses were in control at times. And at times, both offenses seemed unstoppable. The score then was knotted at 24, 31 and 38, at which point Arizona's field goal in the second overtime fell short of the Ducks touchdown.
Both teams had 22 first downs. Oregon's 459 total yards was just 18 more than the Wildcats. It was about as closely contested as a game can be.
"There's nothing to be ashamed of," said Arizona quarterback
Nick Foles
, who passed for 314 yards and four touchdowns.
But the mood in the two locker rooms couldn't have been more different.
"I have no words for it," said jubilant Oregon running back
LaMichael James
, who rushed for 117 yards and set a new Pac-10 freshman rushing record with 1,310 yards.
The 11th-ranked Ducks (9-2, 7-1) now pause for a moment to collect themselves and before beginning earnest preparation for a Civil War showdown with Oregon State on Dec. 3 that has very simple stakes: The winner goes to the Rose Bowl.
James, by the way, broke the record Oregon State running back
Jacquizz Rodgers
set last year.
The Wildcats (6-4, 4-3), meanwhile, will try to regroup for a visit to archrival Arizona State on Saturday.
Said Arizona's senior safety Cam Nelson, "I can sit here and say we're not going to let it [get us down] but at the end of the day, we all know it is. It's something that is going to stick with us the rest of our lives knowing we let this opportunity slip out of our hands. I can sit here and say 'no, we're going to put it behind us,' but I'm not."
Some game oddities:
Arizona kicker Alex Zendejas made a career-long 47-yard field goal just before the half, despite two timeouts from Oregon coach Chip Kelly intended to ice him. After which, he jawed at the Ducks sideline with amusing abandon. He also missed a 24-yard chip shot in the third quarter.
Oregon kicker Morgan Flint tied the game at 24-24 in the fourth quarter when his line-drive field goal bounced off the crossbar and decided to go through the uprights anyway.
Arizona receiver David Douglas fumbled right before he scored a touchdown in the first quarter, but Juron Criner turned a short bubble screen into a 71-yard touchdown despite seeming to be surrounded the entire run.
Perhaps most curious was when Kelly decided to go for a fourth-and-4 from his 45-yard line with 6:26 left with Arizona ahead 31-24. The Ducks failed to convert, at which point the Wildcats fans started their plan to storm the field.
"We never flinched," Kelly said, bringing up the call before he was even asked about it. "I went for it on fourth down because I was confident we could get a stop and get another chance."
Which is exactly what happened. Foles threw his only interception in the end zone on a third and 16 play from the Ducks 40, which mostly functioned as a punt.
Masoli and company took over with 3:11 left.
"That's a lot of time for us," Kelly said.
Oregon went 80 yards in 15 plays. It converted a third-and-11 from the Arizona 46 with an 18-yard run up the middle from James. It converted on a fourth-and-4 from the Wildcats 22 with a 7-yard pass from Masoli to
Jeff Maehl
, who had a career-best 12 receptions for 114 yards with two touchdowns.
The drive was vintage Masoli. A little out-of-control. A little unconventional. Lots of things getting made up as he went along.
"He's unflappable," Kelly said. "Nothing bothers him."
That take was seconded by Arizona defensive coordinator Mark Stoops.
"The plays he made in critical situations are remarkable," he said.
It was a remarkable game that was worthy of simplifying what had been a complicated Pac-10 race.
A Civil War on Dec. 3 will send one Oregon program to the Rose Bowl.
November, 7, 2009
11/07/09
2:37
PM ET
<em>Posted by ESPN.com's Ted Miller</em>

STANFORD, Calif. -- It's a spectacular fall day at Stanford Stadium, but the <a title="recent news" href="http://espn.go.com/blog/pac10/post/_/id/4914/stanfords-defense-takes-huge-hit" target="_blank">recent news</a> for the Cardinal hasn't been terribly sunny.

The loss of linebacker Clinton Snyder, a four-year starter, to a season-ending knee injury this week is not good news at any time. And too bad for Snyder who's labored away during down times and now will miss a potential bowl berth.

With Oregon coming to town, fresh off a 47-20 dismantling of USC, a big hole in the middle of the defense -- physically and emotionally -- doesn't bode well for Stanford. The Cardinal are going to need their best to slow <a href="http://sports.espn.go.com/ncf/player/profile?playerId=381755" target="_new">Jeremiah Masoli</a>, <a href="http://sports.espn.go.com/ncf/player/profile?playerId=379314" target="_new">LaMichael James</a> and the jet-fueled Ducks offense.

How the heck is Stanford going to stop these guys?

Stanford has struggled this year against fast teams. Oregon is the fastest team it has and will face. Heck, Oregon is probably as fast as any team in the nation.

Maybe Stanford's power-rushing attack plays ball-control keep-away. But can the defense, which will use fullback <a href="http://sports.espn.go.com/ncf/player/profile?playerId=237161" target="_new">Owen Marecic</a> in Snyder's stead -- yeah, he's going both ways -- force Oregon to make mistakes? The Cardinal has gathered only eight turnovers the entire season.

Oh, and that Cardinal offense is facing the Pac-10's No. 1 defense, one that's forced 20 turnovers this season.

Special teams? Both teams are outstanding on that front. And the Ducks might even be a bit better there, based on kicker Morgan Flint and a better punt return game.

It seems there's no margin for error if Stanford is going to pull the upset.

Still, there are obvious elements for <a title="an upset to take place" href="http://blogs.mercurynews.com/collegesports/2009/11/04/pac-10-football-10-reasons-stanford-beats-oregon/" target="_blank">an upset to take place</a>.
<ul>
<li>Oregon could be flat after its celebrated, emotional win over USC.</li>
<li>Stanford could off-set Oregon's speed with its power.</li>
<li>Stanford quarterback <a href="http://sports.espn.go.com/ncf/player/profile?playerId=380470" target="_new">Andrew Luck</a> could have a monster game. Or maybe that could be running back <a href="http://sports.espn.go.com/ncf/player/profile?playerId=188524" target="_new">Toby Gerhart</a>.</li>
<li>It's hard to go unbeaten in the Pac-10. USC did it in 2004 and 2005. UCLA in 1997-98. Odds are not great Oregon won't slip again before season's end.</li>
<li>And, you know, Stanford has some history in the upset department. The Cardinal ruined the Ducks' perfect season in 2001. They also stunned a 41-point favorite a few years back, you may recall.</li>
</ul>
Still, for those of us who have watched Oregon gradually grow into the juggernaut that dominated USC last weekend, it's hard not to expect to the Ducks to emerge with a victory.