NCF Nation:

Mountaineers-Tigers 091909
September, 20, 2009
9/20/09
3:34
AM ET

Posted by ESPN.com's Chris Low
AUBURN, Ala. -- There was thunder and lightning, a vaunted Auburn running game that never really showed up and a shaky start to the game that probably would have doomed the Tigers a year ago.
Then again, nobody on the Plains can really remember last year.
| | |
| --- | --- |
| | |
| | John Reed/US Presswire |
| | Gene Chizik has the Tigers off to a 3-0 start. |
"All I'm worried about is right now," junior linebacker Josh Bynes said in the aftermath of Auburn's
41-30 win
over West Virginia on Saturday night. "We got it done, and that's all that matters."
The Tigers got it done on a soggy night at Jordan-Hare Stadium when they had to wait more than an hour just to start the game because of the weather.
It wasn't their best tackling performance on defense, particularly early. Their running game was AWOL, and they fell behind 14-0 less than five minutes into the game.
"This game shows that we can push through anything and endure," junior running back
Mario Fannin
said.
It's also the most convincing evidence yet that these Tigers (3-0) are for real.
If they weren't already believing, they are now.
In fact, with about five minutes to play in the game, their excitable first-year coach, Gene Chizik, went up to his defensive guys and peered into every one of their eyes.
It was still a one-possession game, and Chizik wanted to see if they were ready to win a game like this.
"Coming into those last minutes, Coach Chizik came over and said, 'Guys, one more stop, and it's over,' " said sophomore cornerback Neiko Thorpe, who had the interception deep in Auburn territory that turned the game around in the second quarter.
"We weren't trying to do anything special. We were just all trying to do our jobs. You do the little things and the big things happen. It was a long game, physical game, wet and slippery, but that's what we are all about."
The Tigers turned to their defense in the fourth quarter to send the Mountaineers packing once and for all.
Four times, West Virginia turned the ball over in that final quarter. Two interceptions came on attempted middle screen passes. Defensive tackle Jake Ricks set up the go-ahead touchdown by snatching the tipped pass and returning it 21 yards to the West Virginia 19.
Linebacker Craig Stevens finished the Mountaineers off a few possessions later when he intercepted another
Jarrett Brown
screen attempt in the middle of the line and returned it 15 yards for a touchdown.
"If we can get off the field a little better on third down, we're going to be a great defense," Ricks said.
The Tigers gave up 509 yards of total offense, but came up with six turnovers.
"It doesn't matter which way the cookie crumbles," Bynes said. "They got more yards than we wanted to give up, but we got more turnovers than they wanted to give up."
The other thing this defense has going for it is that it doesn't have to spend all game on the field similar to a year ago. Ricks joked that he can actually bear to watch this Auburn offense play after keeping one eye closed last year.
OK, not really. But you get the idea.
"It's great. Our offense is putting up points and scoring touchdowns," Ricks said. "I love watching our offense play now."
It's debatable if even immediate family members enjoyed watching the Tigers' offense a year ago.
"We changed directions a little bit tonight, but got the same result," said Fannin, referring to the Tigers' 300 passing yards after they rushed for 300 yards in each of the first two games.
"We can go a lot of different ways with this offense."
The direction this program is going would appear to be up, and the Tigers just may find themselves in the Top 25 when the new polls come out later Sunday.
September, 20, 2009
9/20/09
2:50
AM ET

Posted by ESPN.com's Chris Low
AUBURN, Ala. --
Chris Todd
couldn't have won a game like this for Auburn a year ago.
He didn't have the strength in his throwing shoulder to do it. He didn't have the confidence in his throwing shoulder to it. And most importantly, his teammates didn't have the confidence in him to do it.
| | |
| --- | --- |
| | |
| | Paul Abell/US Presswire |
| | Chris Todd passed for career highs in yards (284) and touchdown passes (4). |
"This is a different Chris Todd," said
Mario Fannin
, who was on the receiving end of one of Todd's career-high four touchdown passes Saturday night in Auburn's
41-30 victory
over West Virginia.
"He feels 100 percent comfortable with his shoulder, and we do, too. He knew he was bruised up last year. We knew he wasn't right. But there are no problems this year, and he looks great."
After gashing their first two opponents with the running game, the Tigers turned to the pass against the Mountaineers, who were determined early not to let Auburn run the ball.
Trailing 14-0, the Tigers and Todd never blinked.
"Coach (Chizik) always talks about impostors during a game, and we had to take them down with our will," said Todd, who had surgery on his shoulder in December. "We had to react to the situation, and we always knew that we could come back from the deficit."
Todd's third touchdown of the night, a quick flip to Fannin that turned into an 82-yard score, tied the game at 27-27 midway through the third quarter.
And then Todd's final touchdown pass, a 17-yarder to
Darvin Adams
on a third-and-8 play, put Auburn ahead to stay early in the fourth quarter.
Todd's 284 passing yards were also a career high, and the Tigers needed every one of them because their running game netted just 100 yards on 41 carries.
"There were a lot of times the offense wasn't moving the ball," Chizik said. "But you never looked in his eyes and saw anything but confidence, and all he ever needed was another chance … and he came back and delivered."
The truth is that Todd wasn't completely healthy Saturday. He'd been fighting the flu the last couple of days.
But his arm and decision-making were razor-sharp.
"His eyes were puffy," Auburn offensive coordinator Gus Malzahn said. "You could tell (he wasn't feeling well). We were concerned two days ago. But he showed a lot of toughness."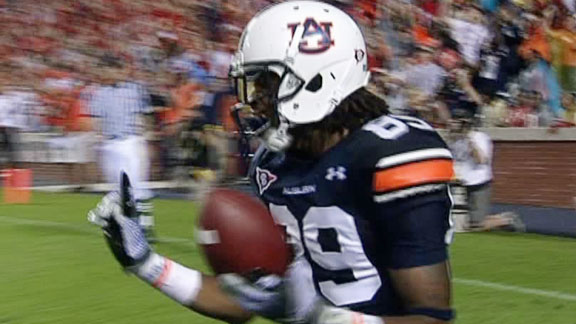 September, 20, 2009
9/20/09
12:44
AM ET

Posted by ESPN.com's Chris Low
AUBURN, Ala. -- Don't look now, but Auburn is three-fourths of the way to being unbeaten in the month of September.
It wasn't the best start for the Tigers on Saturday night. They had to wait more than an hour just to begin the game because of lightning. And when the game did start, it was all West Virginia.
But Auburn's defense came up with one big play after another in the fourth quarter, and the Tigers raced past the turnover-prone Mountaineers for a
41-30 victory
at rain-soaked Jordan-Hare Stadium.
The Tigers (3-0) forced six turnovers by the Mountaineers, including five interceptions. Four of those turnovers came in the fourth quarter.
Senior quarterback
Chris Todd
threw four touchdown passes for Auburn, which has Ball State at home next Saturday before going on the road for the first time Oct. 3 against Tennessee.
September, 19, 2009
9/19/09
10:47
PM ET

Posted by ESPN.com's Chris Low
AUBURN, Ala. – There was a little more than an hour delay Saturday night in the Auburn-West Virginia game because of lightning and monsoon-like rain at Jordan-Hare Stadium. The Mountaineers lead 21-20 at the half. Here's a quick analysis of the first half:
Best call:
Jordan-Hare Stadium was rocking to open the game after the long delay, but West Virginia didn't hesitate in trying to quiet the crowd. The Mountaineers went up top on the third play from scrimmage, and
Jarrett Brown
connected with
Bradley Starks
on a 58-yard pass down to the Auburn 1. Brown scored two plays later to give West Virginia a quick 7-0 lead, sapping some of the energy from the stadium
Turning point:
West Virginia, leading 21-10, was driving deep in Auburn territory early in the second quarter and really seemed to have the Tigers on their heels. But Brown tried to float a pass that Auburn sophomore cornerback Neiko Thorpe intercepted and returned 22 yards. The Tigers were able to convert that turnover into a 42-yard Wes Byrum field goal, pulling within 21-13 when it looked like they might be on the verge of going down two touchdowns or more.
Stat of the half:
The two teams have combined for 500 yards of total offense in the first half. But Auburn, which came into the game second nationally in rushing with an average of 345.5 yards per game, only has 50 yards on the ground at the half.
September, 19, 2009
9/19/09
9:19
PM ET

Posted by ESPN.com's Chris Low
AUBURN, Ala. - After an hour delay because of lightning, West Virginia struck like lighting.
The Mountaineers scored on the opening possession of the game, the big play coming on a
Jarrett Brown
58-yard pass to
Bradley Starks
, to go up 7-0 to quiet what had been a raucous crowd at Jordan-Hare Stadium.
Then, on the Mountaineers' next possession,
Noel Devine
shot through the middle of the Auburn defense and dashed 71 yards for a touchdown.
Just like that, West Virginia 14, Auburn 0.
September, 19, 2009
9/19/09
7:27
PM ET

Posted by ESPN.com's Chris Low
AUBURN, Ala. –- Everybody has a theory about Auburn's hot start this season.
But as the Tigers try to make it 3-0 on Saturday night against West Virginia, senior running back
Ben Tate
said it's pretty simple what the difference is on the Plains.
"When everyone buys in, it makes a huge difference," Tate said. "We didn't have that last year. If you sit back and look at it, it's pretty much the same team from last year. We just have a different philosophy this year. Everybody believes in what we're doing. The coaches believe in us, and they're pushing us a lot harder."
Tate was like everybody else when he initially heard that offensive coordinator Gus Malzahn ran a spread offense.
It might be a variation of a spread, but it all starts with running the football.
"It's very refreshing to be in an offense like this," Tate said. "Coach Malzahn is a very smart guy and is constantly trying to find ways to get an edge. With his offense, it's different because it's a spread, but it's still that downhill running attack and being physical that I was used to when I first got here. And then we kind of got away from it. But that's the type of runner I am, north and south and then hit the cutback lanes and make the guy miss."
September, 19, 2009
9/19/09
6:01
PM ET

Posted by ESPN.com's Chris Low

AUBURN, Ala. -- Welcome to Auburn, Ala., where the rain comes down in sheets for a while, and then the sun looks like it wants to pop its head out.

There's a 60 percent chance of rain in the forecast for the rest of the night. Right now, it's not raining and looks clear in spots.

With the way Auburn has run the ball this season, rainy conditions and a wet field would likely favor the Tigers.

The variable you can't account for, though, is turnovers.