NCF Nation:

Murray Warmath
June, 20, 2011
6/20/11
11:30
AM ET
We continue our look at FBS programs located in major cities alongside NFL franchises with the University of Minnesota.
School:
Minnesota
Location:
Minneapolis

Enrollment:
51,721
Bowl appearances:
14
NFL first-round picks:
4
Losing seasons:
34
10-win seasons:
1
Source: ESPN Stats & Info (Note: College numbers date back to 1936, the first year of the AP poll. NFL numbers date back to 1970.)
The good:
There have been times when Minnesota football could call itself the jewel of the Minneapolis sporting scene. The Gophers recorded winning records in all but one season between 1900-18 and became a dynasty under coach Bernie Bierman, winning three consecutive national titles from 1934-36 and recording a 28-game unbeaten streak. Minnesota continued to surge through 1942 and had another impressive run in the 1960s under Murray Warmath. The Gophers rank third in the Big Ten (behind only Michigan and Ohio State) in both national titles (7) and league championships (18).
After an ill-fated run in the Metrodome, Minnesota brought football back to campus in 2009 with the opening of TCF Bank Stadium. The new facility is a huge hit and generated plenty of buzz for the program. If the program can bring consistent success to TCF Bank, the glory days might not seem so far away.
It's a crowded sports market in the Twin Cities, but there's definitely room for the U. Minnesota is the state's flagship public institution and boasts a huge alumni base, especially in the Twin Cities and the surrounding areas. Minneapolis might be a pro sports town, but the Gophers have the potential to attract increased interest from media and fans.
The bad:
The Gophers haven't been an elite program in more than four decades, as their last Big Ten title came in 1967. They now find themselves in a market featuring four major pro sports teams, including the NFL's Vikings, as well as plenty of other entertainment options.
Minnesota's decision to move its games off campus and into the Metrodome between 1982-2008 didn't help the program. Although the Metrodome would get loud for some Gophers games, it lacked the charm and feel of a campus facility. Minnesota competed in a league defined by iconic stadiums and lost something by playing in a multipurpose facility shared by the Vikings and Major League Baseball's Twins. Until TCF Bank Stadium opened, the Gophers were the only Big Ten school not to play its games on campus.
Minnesota's centralized and metropolitan location puts the school near most of the top recruits the state produces. But many other Midwest programs recruit the Twin Cities, and Minnesota hasn't been able to keep top local products like Michael Floyd and Seantrel Henderson at home. Facilities and funding have been issues for Minnesota -- the athletic department isn't swimming in money, and many of its flagship programs have struggled in recent years -- and being located in a major city brings a greater financial burden.
May, 17, 2011
5/17/11
11:50
AM ET
It's time to spotlight another former Big Ten player selected to the College Football Hall of Fame Class of 2011 ...
Sandy Stephens, QB, Minnesota, 1959-61
There might be more famous members of the 2011 Hall of Fame class, but few left a more significant legacy than Stephens did at Minnesota.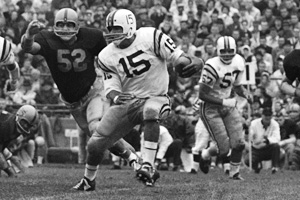 AP Photo/CEKSandy Stephens (15) was the first African-American to play quarterback for the Gophers.
Stephens was the first African-American to play quarterback for the Gophers, but he always preferred to be remembered for what he did between the lines. He did plenty.
After Minnesota finished last in the Big Ten in 1959, Stephens guided the team to back-to-back Rose Bowl appearances and a national title in 1960, the program's first since 1941. He remains the only quarterback to take Minnesota to Pasadena,
fulfilling the goal he set when he first arrived
on campus. A multisport star in high school, Stephens turned down a chance to play pro baseball to suit up for coach Murray Warmath in Minneapolis.
In 1961 Stephens became the first black quarterback to earn All-America honors. He also received the Chicago Tribune's Silver Football as Big Ten MVP that year and finished fourth in Heisman Trophy voting. Stephens capped his career by scoring two touchdowns in the Rose Bowl as Minnesota beat UCLA. He was named Player of the Game and entered the Rose Bowl Hall of Fame in 1997.
Stephens never played quarterback in the NFL, which remained hesitant to use black signal callers, and had a brief career in the CFL. He died in 2000 and had his No. 15 jersey retired by Minnesota later that year.
Stephens joins John McGovern as the only Minnesota quarterbacks to enter the College Football Hall of Fame.