NCF Nation:

Mustafa Greene
October, 20, 2012
10/20/12
9:20
PM ET
NC State running back
Mustafa Greene
has been dismissed from the team,
according to the Wilmington Star News
.
NC State coach Tom O'Brien
told reporters
after the Wolfpack's 20-18 win over Maryland that Greene, along with redshirt freshman wide receiver
Tyrrell Burriss
, have been dismissed.
"They are no longer on the football team," O'Brien said, according to the report. "They weren't champions in the classroom or in the community. They're not going to get the opportunity to play on this football team, so they will no longer be with us."
Greene was in the midst of serving an indefinite suspension, and he has had a turbulent career filled with more injuries and drama than actual production. When he did play, though, he showed a lot of potential. It's unfortunate for NC State and for Greene that his potential wasn't realized.
September, 22, 2012
9/22/12
9:29
PM ET
Recapping the early-evening games ...


NC State 52, Citadel 14:
True freshman
Shadrach Thornton
stole the show for NC State in its victory over the Citadel.
Thornton not only played in his first collegiate game, but he got his first collegiate start and he made the most of it, running for 145 yards and two touchdowns on 21 carries. Thornton started in place of the injured
James Washington
and
Tony Creecy
and the suspended
Mustafa Greene
and gave this running game a huge jolt.
Do I need to remind you that Creecy went into the game as the team's leading rusher with 130 yards? Thornton was the only healthy running back to practice all week, and became the first NC State freshman to go over 100 yards rushing in his first game since Joe McIntosh did it against Richmond in 1981. NC State finished with 282 rushing yards, its highest team total since 297 against Southern Mississippi in 2005.
Meanwhile,
Mike Glennon
went 19-of-24 for 233 yards with a touchdown, and
Quintin Payton
had five catches for 100 yards.
David Amerson
recorded an interception in his third consecutive game and now is in a tie for the school record with 16 for his career.


Duke 38, Memphis 14:
It was not the prettiest game for the Blue Devils, who struggled to put away one of the worst teams in college football. But they absolutely dominated the second half and are now 3-1 headed into their game at Wake Forest last week.
Turnovers and missed opportunities plagued this team -- there were fumbles at the Memphis 14 and at the goal line, and a muffed punt, too. Duke finished at minus-four in turnover margin (four turnovers to zero for Memphis) and found itself trailing 14-7 midway through the second quarter. But
Sean Renfree
found his groove, and so did the defense -- which ended up holding Memphis to nine first downs and 1-of-11 on third down for the night.
Renfree ended up going 26-of-37 for 314 yards with four touchdown passes and one interception.
Conner Vernon
had eight catches for 120 yards and two touchdowns for the 11th 100-yard game of his career.
Duke now opens the season with three consecutive home wins for the first time since 1994.
September, 15, 2012
9/15/12
5:50
PM ET
NC State running back
Mustafa Greene
is suspended for today's game against South Alabama
(6 p.m. ET, ESPN3),
a school spokesman confirmed. No reason was given, but coach Tom O'Brien is expected to address it after the game.
It seems like every time Greene is on the verge of making a comeback, something prevents it. He was the team's leading rusher in 2010 with 597 yards, and he caught 30 passes for another 272 yards. Greene suffered a foot injury in spring practice of 2011 and missed the entire season. He missed most of spring drills this year and part of preseason camp to concentrate on academics, but ended up leading the team in rushing in the opener, despite being the third back in the game.
Greene started the win at Connecticut.
August, 28, 2012
8/28/12
2:00
PM ET
The talk is growing louder again about NC State. Given all the talent returning, given how close it has come to winning an ACC title before, could this be the season the Wolfpack finally puts it all together?
Some folks say yes.
[+] Enlarge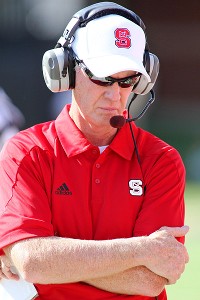 Jeremy Brevard/US PRESSWIRENC State coach Tom O'Brien's Wolfpack are a sleeper pick in the ACC this season.
So the dark horse label has been firmly affixed onto this team as it gets ready for a huge opener against Tennessee on Friday night in the Georgia Dome.
"We've always been a sleeper team," receiver
Tobais Palmer
said in a recent phone interview."I feel as though there's certain teams in the ACC that get respect, like Clemson, Florida State, those type of guys. Nobody gives us the respect we deserve, but that's OK. We use it as motivation and it helps us out. Going into the first game, I'm excited to see what this season brings."
Just look at what the Wolfpack have going into the season. The best cornerback in the nation in
David Amerson
, who set an ACC record with 13 interceptions last season. A veteran leader in
Mike Glennon
, one of the top quarterbacks in the ACC. Major depth at running back -- so much so that coach Tom O'Brien may deviate from his normal two-back rotation and play starter
Tony Creecy
,
James Washington
and
Mustafa Greene
against the Volunteers.
And one of the most experienced offensive lines in all of college football, with four starters who each logged over 700 snaps last season. Tennessee coach Derek Dooley said Tuesday on a media call for the Chick-Fil-A Kickoff Game that this is the best team NC State has had in a while, though O'Brien was a little more reserved when asked what he thinks of the team he has for 2012.
"Right now you get to the end of camp and you look forward to playing the opening game because after practicing against yourself, you're not sure what you have," O'Brien said. "A lot of the questions we might have about ourselves, when you go against an SEC powerhouse like Tennessee will be answered."
There are some question marks to be sure. The entire starting linebacker unit is new. Depth has to be developed at receiver, where projected starter
Bryan Underwood
is out with an injury. And starting cornerback
C.J. Wilson
has been held out of practice because of an NCAA eligibility issue and is not listed on the depth chart for the game. Junior
Dontae Johnson
is expected to start in his place.
NC State also plays in the tough Atlantic Division, featuring preseason favorite No. 7 Florida State and reigning ACC champ No. 14 Clemson, the two highest ranked teams in the ACC. For NC State to truly have a shot at the ACC title, the Wolfpack are going to have to beat both teams, something they have not done in the same season since 2002.
They have split against them the last two seasons. Last year, NC State lost to Florida State 34-0, the first time since 2008 the Wolfpack had been shutout. But after a devastating loss to Boston College, the Wolfpack went into their home game against No. 7 Clemson without anybody giving them much of a shot, mostly because they were fighting for bowl eligibility. But they pulled off the major shocker, winning 37-13.
Go back to 2010. NC State beat Florida State but lost to Clemson 14-13 after blowing a fourth-quarter lead. Still, the Wolfpack had a shot at winning the ACC heading into their season finale against Maryland. But they lost 38-31, blowing their chances. They had to watch Florida State get to the ACC championship game instead.
"For the past two years, we've had a shot at it," Palmer said. "The year before, we gave the game away losing to Maryland. Last year, we gave the league away. We've always been so close every year. We feel this year is the year everyone is going to dial in. We've been getting after each other. We're holding each other accountable. As long as we keep doing that, we should be a hard team to stop."
July, 25, 2011
7/25/11
5:07
PM ET
PINEHURST, N.C. -- For the second straight year, it was over before it began for NC State cornerback Jarvis Byrd.

Byrd, who was listed as the starter at boundary corner on the preseason depth chart, tore his ACL last week and will miss the season, coach Tom O'Brien said on Monday. It is the second torn ACL for Byrd, who injured the opposite knee in 2010.
O'Brien said he found out about the injury on Friday afternoon. He said he will meet with the staff this week about the position.
"They were playing seven-on-seven Wednesday night like they do, and he felt something turn, and had an MRI Friday," O'Brien said. "I don't know when his surgery is, I just know that the MRI showed he had an ACL. He'll miss the year, certainly."
Byrd was one of the Wolfpack's top special teams players in 2009 and earned a starting role at boundary corner in November. He tore his ACL against North Carolina that year and missed 2010 spring practices and redshirted last year.
O'Brien also said running back
Mustafa Greene
, who had surgery in April for a foot injury, is expected to return October 1.
June, 20, 2011
6/20/11
5:00
PM ET
The ACC position rankings continue today with the running backs.
Sean Meyers/Icon SMIMontel Harris is the ACC's leading returning rusher, coming off a 1,243-yard season.
1. Montel Harris, Boston College:
Until proven otherwise, this record-setter is tops in the ACC. He's currently the league's most accomplished back, and has topped the 100-yard mark 21 times.
2. David Wilson, Virginia Tech:
He was the team's third-leading rusher a year ago with 619 yards and 5.5 yards per carry. Now he's got the spotlight to himself, and has a chance to become an All-American in both track and football.
3. Lamar Miller, Miami:
He had one of the best spring games in the conference, and averaged six yards per carry last year with only 108 carries for 646 yards and six touchdowns. He also had 11 catches for 96 yards.
4. Chris Thompson, Florida State:
He led FSU with 845 yards and 6.3 yards per carry last year. He also had 19 catches for 155 yards.
5. Andre Ellington, Clemson:
He could break 1,000 yards if he stays healthy, but a nagging toe injury has kept him from reaching his potential. He ran for 686 yards, (5.8 ypc), and 10 touchdowns in less than nine full games.
6. Josh Harris, Wake Forest:
He ranked fifth in the ACC last year with 65.5 yard per game and finished with 720 yards on 126 carries and seven touchdowns. He made a name for himself with 241 rushing yards against ACC champ Virginia Tech.
7. Davin Meggett, Maryland:
He was the Terps' leading rusher with 720 yards, 5.7 yards per carry, and four touchdowns. He also has 29 career pass receptions for 313 yards and a touchdown.
8. Mustafa Greene, NC State:
He led the team in rushing as a freshman with 597 yards and four touchdowns. He also had 30 catches for 272 yards.
9. Ryan Houston, North Carolina:
He has broken out of the mold of the Tar Heels' short-yardage back and is ready to be the every-down guy. Houston sat out last year because of a suspension, but he led UNC in rushing in 2009 with 713 yards and nine touchdowns.
10. Orwin Smith, Georgia Tech:
He's an A-back, which is more of a slot back, but he was Tech's third-leading rusher last year with 516 yards and 9.7 yards per carry with four touchdowns. He was also the second-leading receiver on the team with 12 catches for 195 yards and a 16.2 yards-per-play average.
June, 20, 2011
6/20/11
3:52
PM ET
Last week we looked at how the quarterbacks stacked up in the ACC. This week, we'll take a closer look at the running backs. Again, the position rankings by team put heavy weight on the depth of the position -– hence the
team
ranking, not individual. Just because Virginia Tech has one of the best running backs in the ACC doesn't mean that collectively, as a group, Virginia Tech is the best team in the league at the position. Florida State? Loaded. Wake Forest? Not. These are based on the best combination of talent, experience and depth.
Here's a look at how each team ranks in the position:
[+] Enlarge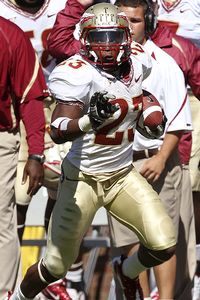 Lee Coleman/Icon SMIChris Thompson averaged 6.4 yards per carry for the Seminoles last season.
1. Florida State:
Chris Thompson
,
Ty Jones
and
Jermaine Thomas
combined for 1,862 yards, 6.1 yards per carry, and 17 touchdowns last year. Thompson had 1,000 yards combined from both rushing and receiving last year, and Thomas enters his senior season with 1,084 career yards -- the second most of any active ACC runner, behind only
Montel Harris
(3,600).
2. Boston College:
Montel Harris could break a 33-year-old ACC rushing record this fall, and his backup,
Andre Williams
, is a bigger back who has proven more than capable of shouldering the load himself. Together they're one of the best one-two combos in the league.
3. Miami
: The transfer of
Storm Johnson
hurt, but
Lamar Miller
should be one of the best in the ACC, and
Mike James
was ahead of Johnson on the depth chart. The Canes also have
Darion Hall
,
Maurice Hagens
and incoming freshman Kevin Grooms.
4. Clemson
:
Andre Ellington
will be the leader of the pack, but true freshman Mike Bellamy could also make an immediate impact, and the group runs deep with
Roderick McDowell
,
D.J. Howard
and
Demont Buice
.
5. Virginia Tech:
Had Ryan Williams and
Darren Evans
returned, this would have been one of the premier groups of running backs in the country. Instead, it will be the
David Wilson
show (and
Josh Oglesby
). Not that the Hokies will have any problem with that.
6. Maryland:
Davin Meggett
and
D.J. Adams
are a talented duo, but depth should be a concern. Meggett posted a team-high 720 rushing yards in 2010, while Adams had a freshman school-record 11 rushing touchdowns.
7. NC State:
The Wolfpack are in a much better position at running back than they were a year ago, when nobody with starting experience returned.
Mustafa Greene
,
James Washington
and
Brandon Barnes
should make NC State's running game a bigger factor this fall.
8. Georgia Tech:
Coach Paul Johnson isn't concerned about his B-back position because it's one of the deepest on the team. There isn't one superstar like in recent years, but
Richard Watson
,
Charles Perkins
and
Preston Lyons
will work together to keep the Jackets one of the top rushing teams in the country.
9. North Carolina:
The Tar Heels have to replace three tailbacks who accounted for 96 percent of their rushing last year.
Ryan Houston
is back for his sixth season of eligibility, but he is the only one who has seen significant playing time.
Giovani Bernard
,
Hunter Furr
and Travis Riley help the depth.
10. Wake Forest:
Josh Harris
could crack the 1,000-yard mark if he stays healthy, and
Brandon Pendergrass
is a capable backup. There are three true freshmen at the position, and it's one area coach Jim Grobe can't afford any injuries.
11. Virginia
:
Perry Jones
and
Kevin Parks
are talented, but the Cavaliers will miss the production of
Keith Payne
, who accounted for 14 of the team's 17 rushing touchdowns. Jones started all but one game last year, but only scored one touchdown.
12. Duke:
The Blue Devils' running game is starting to show progress, but last year it still ranked 104th in the country. Depth isn't a problem, as
Desmond Scott
,
Josh Snead
and
Juwan Thompson
should help make it a more productive group this year.
Stay tuned for the top 10 ACC running backs for 2011 ...
April, 13, 2011
4/13/11
9:00
AM ET
This spring is the first time coach Tom O'Brien's NC State team has had all its scholarship players to work with in the two-deep depth chart. That alone has made it a more enjoyable spring. The biggest question facing NC State heading into the fall will be the wide receivers, but O'Brien can deal with that. "In the past we've had two or three question mark positions," he said. "Now we're down to one."
I caught up with O'Brien on Friday to see how the Pack was doing this spring. Here are some highlights:
[+] Enlarge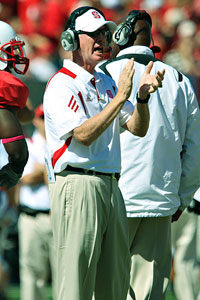 Brian Utesch/US PresswireNC State coach Tom O'Brien has confidence in quarterback Mike Glennon.
First, the bad news:
NC State running back and 2010 leading rusher
Mustafa Greene
will
have foot surgery and miss the rest of the spring
, according to The Raleigh News & Observer. Greene had really made strides with his pass protection since last year and O'Brien told me on Friday Greene had "grown up a lot."
The good news:
Greene is expected to be back by the fall, and the Wolfpack is in a much better situation than it was this time a year ago, when it didn't have any running backs on the roster with starting experience.
Brandon Barnes
and
James Washington
give the position depth.
The move to the middle:
Audie Cole's move to middle linebacker has been a successful one this spring. He has taken over the spot vacated by Nate Irving, and O'Brien has been pleased. "I think it's showing that the move was a good one for us," O'Brien said. "Audie Cole is really a good linebacker, he's a smart kid. Jon (Tenuta) likes to put his best player at linebacker. Audie has taken the challenge, he's getting everybody lined up, he understands everything about the defense."
The Mike Glennon era begins:
O'Brien has no lack of confidence in Glennon, who has plenty of spring experience running with the first team. "He's much more comfortable doing things. He has the ability to make any throw that has to be made on the football field. It's just a question of getting in and doing it in game experience and gaining the confidence to do it under pressure time in and time out."
The Russell Wilson era ends:
What if he comes back? "It really doesn't matter if he does or not," O'Brien said. "We're committed to Michael Glennon, and we're going forward from there. What we've discussed with Russell and Michael, understand where we are and what we have to do. We're all about team building. It's all about continuity. Nobody can say Russell is coming back. You can't count on it."
Improved o-line:
This is the first time O'Brien has five players to work with who have game experience. It's been a much better starting point for the Pack this spring.
The lingering question
: NC State graduated its top receivers and needs some playmakers to emerge. O'Brien said he's not going to know how many of the young players will fare until they're in a game situation. "I don't think it's an area we're comfortable with yet," O'Brien said. "It's an area that's certainly a work in progress and you can certainly tell that
T.J. Graham
and
Jay Smith
are ahead of the rest of the pack because they have the most experience. Steve Howard and
Quintin Payton
had played a little bit last year. They have showed progress. The kids that are intriguing to us right now are Tobais Palmer and
Bryan Underwood
. They are the guys we redshirted a year ago. They're doing a little more thinking right now than they are playing. That's all part of figuring everything out right now. They certainly are talented young guys. Once they get it figured out they'll be much more in tune with what we have to do to play much faster."
February, 15, 2011
2/15/11
9:00
AM ET
It's that time of year, ACC fans. Duke kicks off the ACC's spring football schedule with practice tomorrow, so it's time to take a look at three storylines to watch for each program. We'll start with the Atlantic Division:

BOSTON COLLEGE
Spring practice starts:
March 15
Spring game:
April 16
What to watch:

CLEMSON
Spring practice starts:
March 7
Spring game:
April 9
What to watch:

FLORIDA STATE
Spring practice starts:
March 21
Spring game:
April 16
What to watch:

MARYLAND
Spring practice starts:
March 29
Spring game:
April 30
What to watch:

NC STATE
Spring practice starts:
March 17
Spring game:
April 16
What to watch:

WAKE FOREST
Spring practice starts:
March 15
Spring game:
April 16
What to watch:
November, 27, 2010
11/27/10
5:42
PM ET
COLLEGE PARK, Md. -- The official word here is that NC State running back
Mustafa Greene
is out for the rest of the game with a neck strain. The Pack were struggling to run the ball with Greene, but he'll definitely be missed in the second half. He's a fan favorite and has shown some potential this season. He took a big hit from Cameron Chism that resulted in a 15-yard penalty in the first half.
November, 27, 2010
11/27/10
5:04
PM ET
COLLEGE PARK, Md. -- Both defenses are now putting the pressure on. The bone-jarring hit that Cameron Chism laid on
Mustafa Greene
knocked Greene out of the game with a head injury. His status is expected to be updated at halftime.
This quarter has been highlighted by sacks, forced fumbles, and now a game-changing interception by Maryland backup safety Eric Franklin. Maryland has been one of the best turnover teams in the country this year, and NC State fans will remember
Russell Wilson
's costly interception at East Carolina this year.
In each of NC State's losses this season, turnovers have been a factor. This game is no exception, as the Terps were able to convert that turnover into a game-tying touchdown. The game is
14-14
with 2:25 left in the half.
September, 11, 2010
9/11/10
9:18
PM ET
Surprise -- NC State is winning with its running game. Quarterback
Russell Wilson
has had a pedestrian first half, and he hasn't had to be a superstar. Rookie running backs
Mustafa Greene
and
Dean Haynes
have each rushed for at least 40 yards and a touchdown. It's not easy to win on the road no matter who it's against, and NC State's defense has helped by shutting down UCF on third downs and stopping the run. Keeping the game plan for the second half should help the Pack take another step forward.
February, 4, 2010
2/04/10
12:47
PM ET
As a former offensive line coach, NC State coach Tom O'Brien has a heightened interest in the progress of the group, and with five offensive linemen in this year's class, the Pack took another important step in building it into the formidable wall of protection O'Brien is aiming for.
"We want to build an NFL line, like we did at Boston College, no doubt about that," he said. "I think, as we move on, we are recruiting kids who have that kind of skills."
ESPNU 150 offensive tackle
Robert Crisp
, the Pack's top prospect
in this class
, is one of them.
"He has really good feet," O'Brien said. "With all linemen, he is not on the ground a lot. He's a lot like Teddy Larsen. If you can move your feet, get good body position and you are not on the ground a lot of the time because you have good balance, those are keys to being a good offensive linemen. He has great size and great reach. If you draw up a proto-type body, he has it for an offensive lineman. He has to come in and learn his right from his left and who to block, then he has the physical skills that look he can be a good lineman."
NC State helped itself up front on both sides of the ball on Wednesday. With four junior college transfers, five offensive linemen and four defensive backs, O'Brien was able to add depth and talent in his fourth recruiting class. And his top two prospects -- Crisp and defensive back
David Amerson
-- came from in-state.
"We addressed a lot of things we had to address in this recruiting class," O'Brien said. "We signed 11 on offense and 11 on defense, so once again we signed a football team. And we signed a kicker who will hopefully help resolve some of the problems we've had kicking off. We made a concerted effort once again to recruit our home and did a real nice job in the state of North Carolina."
NC State had a patchwork secondary in 2009, and O'Brien said it's one position a freshman could see immediate playing time. The Pack also added maturity and size up front on both sides from junior college transfers
David Akinniyi
and
Mikel Overgaard
, who should work their way into the lineup. Another player who could see the field early is running back
Mustafa Greene
.
"You look at the running back situation, and he probably thinks he has a real good chance, which is why he is coming here," O'Brien said. "There are not a lot of carries and not a lot of yards by the three guys that are there. As with all freshmen, who knows who is going to play and who is not going to play. As has been explained to him, the faster he learns the offense -- and for a running back that means he is going to have to learn some pass protection, he can't whiff on that -- the faster he can play. But, when it comes down to it, he is going to have to learn to protect the quarterback."
The one thing that NC State still lacks is upperclassmen, as there will only be 12 seniors on the team this year, and six were inherited from the previous staff and four are incoming junior college players.
"We still need help on both sides of the line with young kids," O'Brien said, "but we are still trying to buy time until some of these young kids grow up."
They appear to have done that with this class.