NCF Nation:

Mustafa Jalil
January, 24, 2014
Jan 24
9:30
AM ET
Earlier this morning, we took a look at who might replace the guys who jumped to the NFL in the South Division. Here's a look at the North.
Leaving:
Brendan Bigelow
, RB, Cal
The replacement
:
Khalfani Muhammad
and
Daniel Lasco
are both coming back, so there is at least some experience at the position.
Jeffrey Coprich
and
Darren Ervin
could also see some time. Incoming freshman
Devante Downs
is built more like a fullback but could also see some carries in the running game.
Leaving
:
Richard Rodgers
, WR, Cal
The replacement
:
Stephen Anderson
is a possibility to emerge at inside receiver.
Darius Powe
is going to see action regardless of whether it's inside or outside and
Raymond Hudson
,
Jacob Wark
, and
Drake Whitehurst
are all possibilities.
Leaving
:
Khairi Fortt
, LB, Cal
The replacement
:
Nathan Broussard
is coming off an injury and
Raymond Davison
and
Jason Gibson
are moving back to linebacker from safety. Juco transfers
Sam Atoe
and
Jonathon Johnson
could help. Also, Downs (see the Bigelow section) comes in as an athlete, and putting him on the defensive side of the ball is a possibility.
Leaving
:
Kameron Jackson
, CB, Cal
The replacement
:
Darius Allensworth
and
Trey Cheek
will get the most looks.
Cedric Dozier
saw some starting time last season. He's not a lock but has some experience.
Isaac Lapite
,
Adrian Lee
and
Joel Willis
are also possibilities.
Stefan McClure
should also be back from his 2013 injury, and
Cameron Walker
, who was playing out of position at safety, might move back to corner.
Leaving
:
Viliami Moala
, DT, Cal
The replacement
:
Jacobi Hunter
should be the main guy, but transfers Trevor Kelly and
Marcus Manley
should help out across the line.
Austin Clark
is still waiting to hear about his sixth year of eligibility, but if he gets it, he and
Mustafa Jalil
could shuffle up and down the line as they look to replace the graduated
Deandre Coleman
as well.
Leaving
:
Chris McCain
, DE, Cal (Previously dismissed from team)
The replacement
:
Kyle Kragen
and
Puka Lopa
were the top two guys to replace McCain after he left.
Brennan Scarlett
is also expected back and Johnson could be in the mix. The coaching staff seems to be really high on him.
[+] Enlarge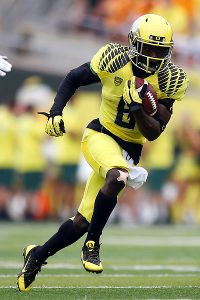 Jonathan Ferrey/Getty ImagesDe'Anthony Thomas' unique set of skills will be hard for Oregon to replicate.
Leaving
:
De'Anthony Thomas
, RB, Oregon
The replacement:
Unless Oregon is hiding another multitalented back who can run like DAT, there is no "real" replacement.
Byron Marshall
and
Thomas Tyner
should continue to get the work as the primary 1-2 punch, but it will be interesting to see if the Ducks use either in a more dynamic way like they did Thomas.
Leaving
: Colt Lyerla, TE, Oregon (Left the team earlier in the season).
The replacement:
Pharaoh Brown
,
Evan Baylis
and
John Mundt
will all continue to get work, probably in that order. They all pitched in in some capacity after Lyerla left the team, so the Ducks should be in good shape at the position.
Leaving
:
Terrance Mitchell
, CB, Oregon
The replacement
: That
Ifo Ekpre-Olomu
opted to return bodes well for the Ducks.
Troy Hill
would have been the obvious selection, but he remains suspended indefinitely, and his future with the program is in question.
Dior Mathis
has experience and the coaching staff is high on redshirt freshman
Chris Seisay
. Juco transfer
Dominique Harrison
enrolled early and will participate in spring ball, so there are options.
Leaving
:
Brandin Cooks
, WR, Oregon State
The replacement
: Much like USC's dilemma with
Marqise Lee
, The Beavers' task of replacing a Biletnikoff winner is no easy one.
Victor Bolden
is the logical choice. He returned kicks, ran a few fly sweeps and was Cooks' immediate backup. But a big wide receiver class last year that included Bolden,
Hunter Jarmon
and
Walter Jones
could make things more interesting in the spring.
Leaving
:
Scott Crichton
, DE, Oregon State
The replacement
:
Lavonte Barnett
was the backup all season but didn't have much production.
Jaswha James
has bounced around a bit -- mostly at linebacker -- but has finally settled at DE and had a nice bowl performance.
Titus Failauga
is also a possibility as Mike Riley went out of his way to specifically mention him during a recent teleconference. There are also rumblings that
Obum Gwacham
-- a talented athlete who hasn't worked out at wide receiver -- could move to defensive end.
Leaving
:
David Yankey
, OL, Stanford
[+] Enlarge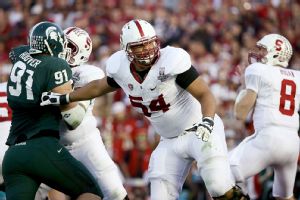 AP Photo/Ben LiebenbergStanford has a lot of offensive linemen with experience, but replacing an All-American such as David Yankey is never easy.
The replacement
: A member of Stanford's lauded offensive line recruiting class of 2012,
Joshua Garnett
has already seen his share of playing time. That's one of the big advantages of being an offensive lineman at Stanford. With their multiple offensive-linemen sets, there is plenty of rotation. Then again, Yankey was a two-time All-American -- it's tough to replace that.
Leaving
:
Cameron Fleming
, OL, Stanford
The replacement
: Like Garnett,
Kyle Murphy
was part of the '12 class and has also seen his share of action on the offensive line. The Cardinal are replacing four offensive linemen, but most of those replacements -- such as Garnett and Murphy -- already have some playing experience.
Leaving
:
Ed Reynolds
, FS, Stanford
The replacement
: Good question. All of Stanford's free safeties are gone, while returning strong safeties include
Jordan Richards
and
Zach Hoffpauir
. Someone could make a switch, or it's possible that former quarterback
Dallas Lloyd
, who is now making the transition to safety, could play here.
Leaving
:
Bishop Sankey
, RB, Washington
The replacement
:
Jesse Callier
started the 2012 season, but a season-ending injury gave rise to Sankey.
Dwayne Washington
seems like he could be an every down-type back, while Callier excels in third-down situations or as a changeup back.
Deontae Cooper
will also see carries.
Leaving
:
Austin Seferian-Jenkins
, TE, Washington
The replacement
:
Joshua Perkins
was the No. 2 all season, so there's little reason to think he won't graduate to No. 1. He's more receiver than blocker, but he's got talent and shouldn't have a problem assuming the role of the outgoing Mackey winner.
March, 29, 2012
3/29/12
1:00
PM ET
USC-Oregon, Oregon-USC. Ducks-Trojans. Kiffin-Kelly! Barkley-Black Mamba!
Golly, doesn't anybody else have a chance in this Pac-12 conference? Should we just call off the regular season and have the Ducks and Trojans settle things in a 13-game series?
(That actually might be fascinating to watch. Think about all the interesting weekly coaching adjustments).
Well, that's not happening.
So then the question before us is a radical one. It might very well split up the space-time continuum and send us spinning into a
massive black hole
: Which team
possibly
might shock the world? Which team could break up this apparently preordained marriage at the top of the conference, one reportedly written in gold leaf onto the granite facade of Mount Rushmore?
[+] Enlarge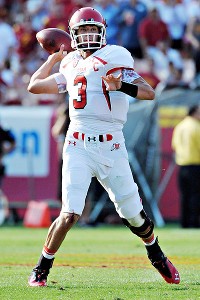 Kirby Lee/US PresswireJordan Wynn and the Utes have a favorable schedule this season.
It's a dangerous question, I know. Not the sort of one entertained by the meek. But if you are brave, read on.
Hey, you in the gray shirt, you're not brave! Better stop reading.
We warned you.
Kevin Gemmell
: The general consensus is that Oregon and USC will meet for the Pac-12 title. But which team could put a wrinkle in that plan?
Whenever you are dealing with a
could
question, you always have to stipulate with
ifs
. X
could
happen
if
Y and Z fall into place. The team that strikes me as having the fewest
ifs
is Utah.
My first thought was to go wayyyyy out there and tinker with the idea of Oregon State being the team to shock the Pac-12. The Beavers could be the surprise team
if
they get the running game in order, and
if
the offensive line holds up, and
if
Sean Mannion
continues to mature, and
if
all of that experience from last season pays off. But that's just too many
ifs,
and way too far to reach.
Utah, however, has a lot of pieces in place already to be the surprise team this season. First, its schedule helps, because the Utes don't have dates with Oregon or Stanford. Their first three games are in-state, and the fourth is at ASU, which will likely still be adjusting to life under a new head coach. That's potentially 4-0 out of the gate.
Then they get an extra week to prepare for the big showdown -- at home -- with USC. That game will be high-noon in the Pac-12 South, and Rice-Eccles will be jumping. If the Utes can somehow get over that hump, they have four more winnable games before traveling to Washington, which could be a hiccup. That notion alone, however, is one major
if
. USC also has extra time to prepare, because it's a Thursday game.
Another reason to be encouraged is that all reports are that quarterback
Jordan Wynn
is healthy. He's chock full of experience, and has shown he can be an elite quarterback when he gets his rhythm. The only reason to think the running game will take a step backwards is that Utah has to replace two stud offensive tackles in
Tony Bergstrom
and
John Cullen
. But
John White IV
has shown to be a very capable -- if not special -- running back. He shouldn't have any trouble adapting.
Also, unlike a lot of other teams with new coordinators, the transition to Brian Johnson should be silky, since he's a veteran of the system and has worked with Wynn since Day 1.
The Utes have one of the top -- if not the best -- defense in the conference. With plenty of returning starters and the most feared defensive lineman in the Pac-12, they should be able to win a game or two on defense alone.
Given the way their schedule is laid out -- combined with returning talent on both sides of the ball and an outstanding coaching staff -- it's not outside the realm of possibility that the Utes could emerge from the South.
Ted Miller
: One word: Plastics.
[+] Enlarge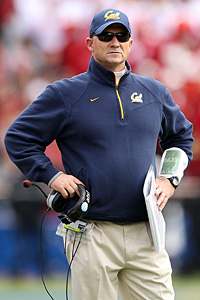 Ezra Shaw/Getty ImagesJeff Tedford and California could be on the cusp of a return to prominence in the Pac-12.
No, wait. That's something else. Our word is "schedule."
Now we have four words: California Freaking Golden Bears! You're back. Welcome. You remember where everything is, right, up here in the national rankings? No, coach Tedford, you don't have to sleep on that twin mattress in your office. You have the view suite down the hall. Yes, it has been a while. Yes, breakfast is included. Eggs Benedict? Well, your wife did tell us about your cholesterol. You want us to stick it? Well, then, Eggs Benedict it is!
The Bears have the schedule to upset the Trojans-Ducks destination wedding. And the talent, by the way.
Schedule? Cal plays host to Oregon, Stanford and Washington, the likely three top teams in the North Division. Plays host, by the way, at an awesomely cool renovated Memorial Stadium that will put the Strawberry back in the Canyon. The Bears went 30-9 in Memorial Stadium between 2005-2010 before playing their home games in AT&T Park in 2011, including 7-0 marks in 2006 and 2008.
Every team is better at home. Cal fans would tell you their team is better-er at home. Sure, it's had its share of mega face-plants in front of the home fans -- Oregon State in 2007 (altogether now "ouch"), USC in 2009, and that three-game home losing streak to end 2010 with a whimper. But there is no doubt it will be better to play the Ducks, Huskies and Cardinal at home, particularly with the Ducks and Cardinal breaking in new quarteracks.
And Cal isn't breaking in a new quarterback. What if, just maybe,
Zach Maynard
plays the entire season like he did the final four games of the 2011 regular season? And what if offensive coordinator Jim Michalczik works his magic with the line his second year back in Berkeley? And what if all that young talent --
Mustafa Jalil
,
Stefan McClure
,
Todd Barr
,
Viliami Moala
,
Brennan Scarlett
,
David Wilkerson
,
Chris McCain
,
Michael Coley
,
Avery Sebastian
,
Cecil Whiteside
, etc. -- breaks through on defense?
We'll probably get a pretty good measure of the Bears early on. They will take a 2-0 record to Ohio State on Sept. 15. That is a winnable game, but it will require the Bears to go East and show some fire. You might recall that they didn't exactly do that in recent years at Tennessee and Maryland.
Then they visit USC. Jeff Tedford is 1-9 against USC, losing those nine by a combined count of 291-144. The Bears can afford to lose at USC, though a poor showing might cause the team to question itself and make it seem like these are the "same ole Bears." That, however, is not a divisional game. The larger issue is holding serve at home, which would give Cal an advantage in the event of a tie atop the North.
As Kevin noted above, we have a surfeit of "ifs" for both scenarios. It just feels as though Oregon and USC are that far ahead of everyone else.
But you do know that you never know until you do know.
January, 20, 2012
1/20/12
1:30
PM ET
While recruiting season is heating up for its home stretch, national signing day is about the future. The present matters, too, and there are plenty of present matters that need attending.
What are the main areas of focus in advance of spring practices? Glad you asked.
1.
Hello, my name is Coach ____________:
There are four new Pac-12 head coaches: Rich Rodriguez at Arizona, Todd Graham at Arizona State, Jim Mora at UCLA and Mike Leach at Washington State. That's a lot of turnover -- one third of the league. Further, none of the four retained many members of the previous staffs. So there will be a lot of "Getting to know you" in advance of spring practices. Also, beyond head coaches, Norm Chow left Utah to become Hawaii's head coach, so the Utes need a new offensive coordinator. Washington rebuilt its defensive staff. Coach Steve Sarkisian fired defensive coordinator Nick Holt and two other coaches and saw defensive backs coach Demetrice Martin bolt for UCLA. He then raided Tennessee, California and Oregon State to replace them. Because of the Huskies, Cal will have two new assistants this spring and Oregon State one.
[+] Enlarge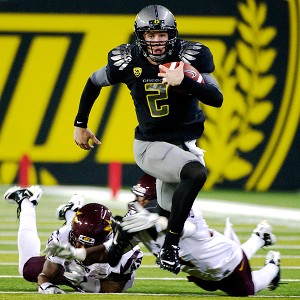 Jim Z. Rider/US PresswireBryan Bennett is the favorite to take over for Darron Thomas at Oregon.
2.
Settled at quarterback
? The only teams that have certainty at quarterback are: California, Oregon State, USC and Washington -- and some Cal fans might even harrumph that assertion. You can probably throw Arizona's
Matt Scott
in there as a certainty, both because he has quality starting experience and because there's no one around to unseat him. UCLA, Utah and Washington State have returning starters, but they also have plenty of intrigue. It's uncertain who takes the first snap in the opener. For Oregon, most would favor
Bryan Bennett
stepping in after
Darron Thomas
' surprising decision to enter the NFL draft, but his name isn't written atop the depth chart in ink just yet. Arizona State, Colorado and Stanford are wide-open competitions. It would be wise for any quarterback who wants to be in the starting mix to be laying groundwork with his teammates and coaches well in advance of the first spring practice.
3.
Line up
: Arizona welcomes back five starters on its offensive line, while USC and Washington get four starting offensive linemen back. Every other team has some degree of uncertainty with at least two voids to fill. Perhaps more than any position, the quality -- and depth -- of an offensive line can be advanced during the offseason. Hit the weight room, training table and the track -- get stronger, quicker and work off the baby fat and turn that into quality size. Right now just about every team has a guy who thinks he's going to automatically advance on the depth chart who is going to be overtaken by a youngster who is eyeballing his slack, er, rear end while doing an extra set of power cleans.
4.
Taking the next step
: At this point last year, Oregon defensive end
Dion Jordan
and Utah defensive tackle
Star Lotulelei
were just promising guys, not first-team All-Pac-12 defenders. Wide receivers
Keenan Allen
of Cal and
Robert Woods
of USC were coming off impressive freshman seasons but were facing the inevitable, "What's next?" questions, which implied the possibility of sophomore slumps. But, of course, Allen and Woods joined Jordan and Lotulelei on the All-Conference first team. Did you know that USC offensive tackle
Matt Kalil
wasn't even honorable mention All-Pac-10 in 2010? Kalil was a big-time talent who had yet to make a statement -- you know, the "I'm a top-five pick as the best left tackle in the NFL draft" statement. There are a lot of players who had good seasons in 2011. Good for them. But just like Oregon coach Chip Kelly, the Pac-12 blog is a forward-thinking operation. Yes, we were very impressed
De'Anthony Thomas
,
Marqise Lee
,
John White
,
Ben Gardner
,
Nickell Robey
,
Marquess Wilson
,
Dion Bailey
,
Hayes Pullard
,
Brian Blechen
,
Austin Seferian-Jenkins
,
Keith Price
, Tramayne Bondurant,
Mustafa Jalil
,
Stefan McClure
,
David Bakhtiari
,
Colt Lyerla
,
Scott Crichton
,
Sean Mannion
,
Ty Montgomery
,
Sean Parker
,
John Fullington
, etc. But what are you doing to get better right now? Yes, right now. So stop reading this, wondering why your name isn't listed and go do some wind sprints.
5.
Don't believe the hype -- either way
: Everyone is massively overrating USC and Oregon. Top-five teams? Pfftt. So stop staring at yourself in the mirror in your tighty-whiteys, doing a most-muscular pose. I talked to your mammas and they said you ain't all that. California, Washington and Utah are eyeballing your girlfriends. Better watch out. If you don't do the work, you won't be top-five anything. And what about you Colorado, UCLA, Arizona, Oregon State, Washington State -- are you going to hear those national yawns and assume there's no hope? Are you expecting to lose and using that as an excuse to eat a Twinkie on the sofa while watching "Caddyshack" again instead of going to a workout? From now until opening day, there will be endless fan and media chatter decided how every Pac-12 teams' season is going to go. Hey, it's fun. But that doesn't decided a season. The 100 guys in the locker room do. Oh, and one final thought. Stanford? You're done. You ain't poo without
Andrew Luck
.