NCF Nation:

Mustangs-Aggies-090411
September, 5, 2011
9/05/11
12:44
AM ET
COLLEGE STATION, Texas -- As the final minutes drained out of Texas A&M's leisurely
46-14 win
over aspiring Big 12 member SMU,
Christine Michael
sat between his running mate and trailblazers.
He and
Cyrus Gray
chatted with an assistant coach before offensive lineman Brian Thomas jokingly jabbed him and the two shared a laugh.
Later, he carefully undid the tape on his wrists and waited for time to expire.
It was all very normal, and a welcome change for Michael.
It capped a night when he returned and ran for 85 yards and two touchdowns, finally joining his teammate, Gray, who led the way with his eighth consecutive 100-yard game and two scores of his own.
[+] Enlarge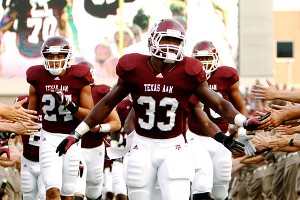 Thomas Campbell/US PresswireChristine Michael had 14 carries for 85 yards and scored two touchdowns in his first game back from an injury that ended his 2010 season.
But the bulked-up, 221-pound Michael ran hard. He ran angry. He ran like a man that knows what it's like to have the ability to run taken away.
"I haven't been out there since October 31st," Michael said, not needing any reminder of the night he broke his leg and ended his season.
Technically, it was the 30th, but against Texas Tech, in the middle of what would become a six-game winning streak to close the regular season, Michael suffered the injury and with one carry, his sophomore season was over.
For home games, he'd watch from the press box high above Kyle Field, far from the sideline. On away games, he didn't travel with the team.
"The leg felt so bad, I didn't want to do any moving, so I just stayed home," he said.
He had to settle for a postgame cell phone call to Gray and other teammates.
"I forgot what it was like to win with my teammates," he said.
Sunday night was a reminder.
Teammates told him to keep it simple. Complement Gray, run hard like he always does and "be a beast."
"Give the team that we're playing hell, just like you give us in practice," they told him.
They did exactly that.
"Cyrus and C-Mike did their thing," said receiver
Ryan Swope
.
Their "thing" is being one of the nation's top 1-2 punches at running back, with Gray providing the flash and straight-line speed, and Michael bruising defensive front sevens with his shoulder-lowered blows.
"[Gray] shows tremendous patience in his running style, and demonstrates a phenomenal burst through the hole," coach Mike Sherman said. "Christian is probably more explosive from snap to start at the line of scrimmage."
It's been nearly 10 months since Michael was able to log a carry, but the first time he did, he scored, and did it with Gray flanking the opposite side of his quarterback,
Ryan Tannehill
.
"I was very nervous and anxious at the same time," Michael said. "That first hit I got opened me up and brought me back to reality. It's a big difference in playing in front of 86,000 and just playing in front of your team."
Gray took advantage of Michael's absence to become the league's top back entering 2011, but the Aggies' first touchdown in Week 1 went to the teammate he'd missed for the second half of last season.
Gray was the workhorse in landmark victories over Oklahoma and Nebraska, each time telling reporters he felt like he was playing for both himself and Michael, who could only watch.
"It was exciting to see my brother out there," he said.
Michael's return excited the crowd of 86,951, too -- the largest for a season opener in program history. It won't be the last time.
Cyrus and C-Mike are back.
September, 4, 2011
9/04/11
10:57
PM ET
COLLEGE STATION, Texas -- Texas A&M joined Oklahoma and Oklahoma State as top teams in the Big 12 not flirting with upsets in Week 1.


The Aggies played in front of a crowd of 86,951, the largest ever for a season opener and the sixth-largest of all-time. They treated them to exactly what they wanted to see, a
46-14 win
.
Texas A&M never trailed, and quite frankly, its offense looked unstoppable.
Ryan Tannehill
& Co. have the league's most complete attack, and they showcased it against a Mustangs defense that looked helpless at time.
Tannehill finished 21-of-26 passing for 246 yards and two touchdowns.
Cyrus Gray
and
Christine Michael
each scored two touchdowns and combined for 217 yards on 36 carries.
I'm heading down for interviews, but we'll have a lot more later Sunday tonight.
September, 4, 2011
9/04/11
10:24
PM ET
COLLEGE STATION, Texas -- SMU's first-half spurt after benching
Kyle Padron
was cause for concern early, but it's been all Texas A&M since then.
Ten points on its first two drives of the second half have added up to 23 unanswered points for the Aggies, who lead 43-14 entering the fourth quarter. The Mustangs trimmed the lead to 20-14, but haven't scored since.
For a team that would have plenty of excuses for the amount of distractions surrounding the program, Texas A&M hasn't needed them. Texas A&M said all offseason that the SEC talk wouldn't be a distraction. For now, it seems they were correct.
It's been a solid performance from everyone, other than a few miscommunications in the secondary and some trouble stopping the run.
Offensively, the Aggies have been immaculate.
Ryan Tannehill
is 19-of-23 for 235 yards and two touchdowns.
Cyrus Gray
has stretched his streak of 100-yard games to eight, and he's combined with
Christine Michael
to rush for 175 yards and four touchdowns on 28 carries.
The Aggies couldn't ask for a much better performance in the opener. SMU is a bowl team and one capable of winning 10 games.
If it does, it's clear A&M won't come close to being one of those 10.
September, 4, 2011
9/04/11
9:25
PM ET
COLLEGE STATION, Texas -- Time to look back on a high-scoring first half...
Turning point:
After throwing interceptions on his first two drives, SMU benched
Kyle Padron
, who threw for over 3,800 yards last season, in favor of senior
J.J. McDermott
. The Mustangs inched closer with a pair of touchdown drives after Padron's benching, but A&M's offense looks unstoppable and very balanced so far.
Stat of the half:
Quarterback
Ryan Tannehill
has completed 11 of 13 passes for 141 yards.
Cyrus Gray
and
Christine Michael
have combined for four touchdowns and 95 yards on 19 carries. A&M's offense is rolling and as advertised in its opener.
Best player in the half:
Texas A&M's defensive line. It's struggled to defend the run (SMU's
Zach Line
has 108 yards and a score on 15 carries), but the Aggies are getting lots of pressure up front and already have four sacks, equaling their top total in any game in 2010. Tony Jerod-Eddie already has two sacks.
Second guessing:
Down 14-7 late in the first quarter, SMU elected to try an onside kick, but the short kick failed miserably, hitting the kicker's foot twice and going only a couple yards. For the third consecutive drive to begin the game, Texas A&M began with the ball in SMU territory.
What Texas A&M needs to do:
Relax, and feed the Mustangs a steady diet of Gray and Michael. Turnovers are the only way the Aggies lose at this point, so hold on to the ball. The offensive line has been very good so far for the Aggies, and they'll need to impose their will (Just like Texas!) in the second half.
September, 4, 2011
9/04/11
9:12
PM ET
COLLEGE STATION, Texas -- Oklahoma's
Ryan Broyles
(14 receptions, 158 yards, touchdown) and Oklahoma State's
Justin Blackmon
(11 receptions, 144 yards) had big debuts for the Big 12's strongest position: receiver.
At Texas A&M, you'd expect those kinds of numbers to come from the league's No. 3 receiver,
Jeff Fuller
, but early on, it's been slot man
Ryan Swope
making big plays downfield, underneath and on bubble screens.
He's caught six passes for 88 yards and a touchdown already, but he took over on Texas A&M's last touchdown drive that has the Aggies ahead 27-14 midway through the second quarter.
He caught four passes for 53 yards and ad-libbed on a broken play for a 28-yard score to finish the drive.
Fuller has only been targeted once so far, and drew a pass interference penalty in the end zone. The Aggies haven't thrown downfield much, but are working shorter screens and bubble routes early.
New SMU quarterback
J.J. McDermott
led the Mustangs on touchdown drives in his first two drives, but he's been high on a good percentage of his throws so far. For now,
Kyle Padron
is still on the bench.
After the score, McDermott was sacked twice and the Ponies went three-and-out. We might see Padron again before too long.
September, 4, 2011
9/04/11
8:03
PM ET
COLLEGE STATION, Texas -- The anticipation for the season was perhaps at an all-time high in College Station, following a summer of longing for the SEC.
It helps when a top 10 team is coming back for the fall, too.
Early on, you couldn't ask for a better start. Safety Steven Campbell intercepted a pass tipped by Terrence Frederick and returned it a winding 51 yards down to the SMU six-yard line.
Texas A&M fans welcomed back a bulked up
Christine Michael
with a touchdown on his first carry of the season, a four-yard score to put the Aggies up 7-0.
With Michael back, Texas A&M's offense can do a whole lot more, including a fearsome formation with
Cyrus Gray
and Michael flanking quarterback
Ryan Tannehill
, a new wrinkle in the offense already.
A&M used it in the red zone to score, and I'm betting we see plenty more before the night is over.
September, 4, 2011
9/04/11
5:02
PM ET
COLLEGE STATION, Texas -- The press box is pretty docile right now, but I can guarantee you, the first full architectural sway is on its way.

No, not because of the wind, which is absolutely swirling around College Station on a warm, overcast Sunday afternoon.

Once the Aggie War Hymn gets rocking in pregame, we'll be ready for one of the best moments of any trip to Kyle Field. Each upper deck of the stadium, including the press box, will sway as the fans in the stands "Saw 'em off" Kyle hasn't hosted a game since Thanksgiving, so it will be a welcome feeling.

The Aggies had to wait an extra day to get kicked off, plus a record crowd for a season opener is expected, sure to be buoyed by the possibility of a future in the SEC.

It will be a wild atmosphere, likely up to par for what's the best in the Big 12 (for now).

SMU and Texas A&M will kick it off at 7:30 p.m. ET. Plenty more to come later tonight.