NCF Nation:

N.C. State Wolf Pack
December, 21, 2011
12/21/11
7:26
PM ET
It's long been one of the difficult questions college football fans ask: Why won't anyone give Norm Chow a chance to run a program?
Chow, widely considered one of the best offensive minds in college football history, got plenty of interviews, most notably of late at Stanford in 2005, and made plenty of "candidates" lists during the annual coaching carousel. He also turned down the head coaching job at Kentucky in 2002 to remain at USC. But, in reputation and reality, he was the perennial bridesmaid.
You'd hear things, of course. All the why-nots. He wasn't terribly good at interviews. He was an Xs-and-Os guy who didn't have people or management skills. Most schools wanted a dashing, young, charismatic guy who could slap backs, enticing a flood of elite recruits and booster checks. Chow was never reputed to be much of a recruiter, something he doesn't particularly enjoy.
[+] Enlarge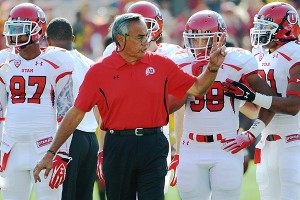 Kirby Lee/Image of Sport-US PresswireNorm Chow, 65, is moving up from Utah offensive coordinator to Hawaii head coach.
Chow, 65, is professorial. His personality isn't "big." He's not a commanding presence. He also is stubborn, territorial and not terribly good at coaching politics. He holds grudges — just ask Washington coach Steve Sarkisian and USC coach Lane Kiffin, whom Chow -- not unfairly -- believes pulled the carpet out from under him at USC with head coach Pete Carroll. (Carroll's almost childish jealousy of the credit given Chow during USC's glory days is another story entirely).
It also was perfectly fair to wonder if Chow's being Asian-American had anything to do with the critiques and whispers. His
hiring at Hawaii
, after all, makes him the first Asian-American head coach of a major football program.
First. That's pretty big, folks, even if most FBS rosters have little to no Asian presence, though if you go with that old standard "Asian/Pacific Islander" category, things change dramatically there.
Not only is Chow, after 39 years as an assistant coach, finally getting his shot as a head coach, he's going home to do it. He was born in Honolulu and is a Punahou School alum. He began his coaching career as head coach at Waialua High School on the North Shore of Oahu from 1970-72. This seems like a good fit, though coaching at Hawaii has built-in challenges, starting with geography.
Chow will serve as Utah's offensive coordinator in the Hyundai Sun Bowl against Georgia Tech on Dec. 31 before officially taking over the Warriors. For the Utes, it's a blow, but not a crippling one. Coach Kyle Whittingham brought Chow aboard to install a pro-style offense with a downhill running game, replacing the spread the Utes had long used. After quarterback
Jordan Wynn
went down in the fourth game against Washington with another shoulder injury, Chow's chief task was managing an extremely conservative, almost run-exclusive offense that didn't mess things up for a very good defense.
Chow did a good job of making running back
John White
into an effective weapon even when everyone knew he and his 24 carries a game were coming. But the Utes never got the full Chow offense. The expectation here is that Whittingham will look for a guy who believes in the same pro-style, run-first concepts. The Utes don't figure to go back to a spread, though that does seem to be the thing in the Pac-12 after the hiring of four new coaches who all run a version of it.
Utes fans should be more concerned about who's going to play quarterback in 2012. Whittingham is going to make a good hire at OC.
And this day is about Chow.
He's a three-time national assistant coach of the year. He's served as offensive coordinator for three national championship teams (Brigham Young, 1984; USC, 2003 and 2004). He has tutored three Heisman Trophy winners (Ty Detmer, BYU; Carson Palmer, USC; Matt Leinart, USC) and six NFL first-round draft picks.
His resume has always been impressive. Just not impressive enough to overcome the things whispered about him.
Over the past decade, he's been portrayed as a bit of a nomadic mercenary, but keep in mind he was a bastion of stability most of his career, coaching at BYU for 27 years before things turned sour and he bolted to N.C. State in 2000, the first of five jobs he'd hold over the next 11 seasons before landing at Hawaii.
Chow is coming home to get his big chance. No matter what happens at Hawaii, his coaching legacy is secure. But, let's face it, if he retires a big winner in 10 years, he'll surely enjoy at least thinking "I told you so" through a big grin.
September, 7, 2011
9/07/11
3:39
PM ET
Oregon State coach Mike Riley isn't the sort of guy to toss over a table and spill 100 cups of Gatorade on his players to make sure they know how unhappy he is, but he's also not going to pat the Beavers on the back and wipe away their tears after an embarrassing loss to Sacramento State.
He's going to look for answers -- tough answers if need be. The one he immediately came up with Monday is announcing the quarterback job will be split between
Ryan Katz
, the 2010 starter, and redshirt freshman
Sean Mannion
.
Mannion played well in the loss to the Hornets; Katz did not. Ergo, the potential shakeup, though it's unclear how things will be rotated when the Beavers visit No. 8 Wisconsin on Saturday.
Yeah, Wisconsin. Not good. The Badgers are a big, physical team with a new, impressive dual-threat QB in
Russell Wilson
, a transfer from NC State. The Beavers lost at home to an FCS team. Now they are going on the road to play a national title contender.
The first issue: What went wrong for the Beavers against the Hornets in a 29-28 overtime defeat?
Riley isn't certain. And he admitted he didn't see such a flat performance coming.
"We trusted this team's work ethic," he said. "They were really good in fall camp. Everything up to that was positive. Why all of a sudden would you doubt what they are all about as far as getting ready to play?"
What's most worrisome: Riley thought the Beavers seemed tight, though they were playing at home against a supposedly overmatched foe. Sure, eight true freshmen and eight redshirt freshmen saw their first career action, in large part due to epidemic injuries, but that still doesn't fully explain a listless performance.
What does Riley expect -- hope? -- to see in front of 80,000 fans in Camp Randall Stadium?
"Poise is No. 1," he said. "We had some stage fright in our opener. It looked like we played with not much emotion but I sensed it was a fear."
Unfortunately, the injury luck still hasn't turned positive, even with the return of DT Kevin Frahm (knee) and potential return of DT Dominic Glover (academics). The lone bright spot from the Sacramento State game was true freshman running back
Malcolm Agnew
, who rushed for a nation-leading 223 yards. He's now doubtful for the visit to Wisconsin because of a hamstring injury suffered Tuesday.
The hits keep coming. The injury situation has been so bad that Riley made a decision he knew would inspire criticism: He opted to selectively enforce preseason player suspensions because of the thinness of the depth chart.
Fact is, it could get ugly at Wisconsin. It would be a tough matchup for the Beavers even at 100 percent. But with several key starters out -- most notably WR
James Rodgers
, TE
Joe Halahuni
and CB Brandon Hardin -- it's probably going to be a challenge for Riley to just restore his team's confidence.
There is a silver lining, though. The Beavers have a bye next week. Halahuni is likely back for UCLA's visit on Sept. 24. And Rodgers could be back, too. That will be a big boost in terms of skill and leadership, particularly in the passing game.
The hope is things will sort themselves out at QB this weekend -- and here's a guess Riley would prefer for Katz to reassert himself -- and the momentum will take a positive swing as Pac-12 play opens.
Otherwise, the Beavers could be looking at consecutive losing seasons for the first time since 1997-98.