NCF Nation:

N.C. State Wolfpack
October, 11, 2012
10/11/12
11:30
AM ET
It has been chiseled onto the granite tablets that Glenn "Pop" Warner carried down from Mount Sinai. Here it is, Commandment No. 4: "Thou shalt not look ahead, for if thou, do thou shalt be gnashing thy teeth after thou art whipped."
And, of course, Commandment No. 3 is all about not overlooking any foe, "... for surely then thou shalt be cast into the burning fiery furnace."
Ah, football wisdom. We know it. We love it. We often pay backhanded tribute to it by calling it a "cliché."
But many seemingly high-quality teams through the years, despite their coaches' best efforts, often forget it. Just ask Florida State. Pete Carroll could tell you a few tales from his USC days.
[+] Enlarge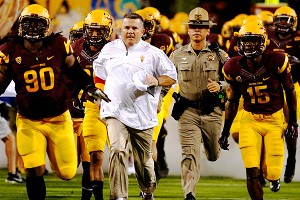 AP Photo/Rick ScuteriTodd Graham's Sun Devils will get a chance to make a statement against Oregon -- if they can take care of business against the Buffaloes first.
Arizona State faces the double whammy at Colorado on Thursday. First, if you look at the Buffaloes' résumé -- loss to Colorado State, loss to an FCS team, blowout loss to middling Fresno State squad -- it's not unreasonable to assume an easy victory is shortly forthcoming for Arizona State. Danger!
Second, there isn't anyone in Tempe who doesn't know who's coming to town on Oct. 18. That would be No. 2 Oregon. In the preseason, that game looked like a Ducks walk-over. But new coach Todd Graham has quickly transformed the Sun Devils into a disciplined, efficient, competitive team that is eyeing the national rankings.
The Oregon game will offer an outstanding opportunity for Graham and the Sun Devils to make a national statement about the direction of the program. But -- danger! -- the Sun Devils have to get there first. And an upset loss at Colorado would put a boot print onto those high hopes.
Ducks coach Chip Kelly has done a masterful job of creating a team culture that treats every game the same no matter the outside perception. As impressive as his 40-6 record is, what might be most impressive about it is he's lost only once to an unranked team: Stanford in 2009 (and that very good Stanford team was ranked the next week after beating the Ducks with Toby Gerhart and Andrew Luck).
Before Graham's arrival, Arizona State was not known as a team with a culture that produced consistent play. At all. Heck, look no further than last year's team, which was extremely talented but quit when adversity arrived.
Graham said he has not mentioned Oregon this week. But he has pointed to NC State's stunning upset win over FSU and the Sun Devils' horrid performance at Missouri. But a coach can say only so much, can repeat the coaching commandments only so many times. At some point, the locker room needs to take the lead and understand that every opponent merits focused and intense preparation.
"I have said this earlier in the year that coming back from adversity is hard; I think handling success is harder," Graham said. "I think you have to stay hungry, you have stay focused on what you are doing, you have to stay motivated on the opponent that is right in front of you. ... I haven't gotten any sense that our guys are overlooking Colorado."
But then Graham added, "That is the hardest thing about my job -- keeping 18- to 20-year-olds focused on something."
Know that Colorado, which is as healthy as it has been all season, will put up a fight in front of its home fans. Washington State thought it had the Buffs in the bag on Sept. 22, but they came roaring back in the fourth quarter and stole a 35-34 win in Pullman.
Colorado is capable of winning this game if the Sun Devils do not show up, particularly if Buffs quarterback
Jordan Webb
gets enough time against an aggressive pass rush to exploit a questionable and thin secondary.
Further, if you bracket off the big game with Oregon, a lot of good can happen with a win at Colorado. An impressive performance could push the Sun Devils into the national rankings. And, at 5-1, they'd be one game short of bowl eligibility.
Graham has raised expectations with his fan base. But the fact is the Sun Devils opened 5-1 last year. The true measure of this team will be its consistency through the entire regular season.
"It has everything to do with the mental maturity of your football team," Graham said. "I don't think our guys will have a letdown."
And if they don't, well, then bring on the Ducks.
June, 28, 2011
6/28/11
11:44
AM ET
The conventional wisdom is Oregon State's already formidable trip to Wisconsin on Sept. 10 became even more daunting Monday with the
Badgers' addition
of quarterback
Russell Wilson
, a transfer from NC State who passed for 8,545 yards and 76 touchdowns in his career with the Wolfpack.
Maybe. Makes sense. Wilson, who has one year of eligibility remaining and can play right away because he has already graduated, is a dual-threat quarterback who also has, by the way, played baseball in the Colorado Rockies' minor league system after being a fourth-round pick last year.
[+] Enlarge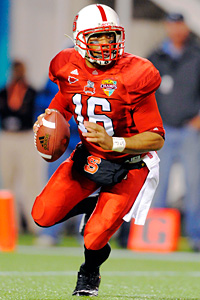 Scott A. Miller/US PresswireDoes the addition of Russell Wilson give Wisconsin a bigger advantage over Oregon State?
Further, the Badgers' play at quarterback was mediocre to bad this spring, with no one stepping to the fore to replace
Scott Tolzien
. Wilson, it would seem, is an instant upgrade, even over Tolzien. Wilson completed 58.4 percent of his passes for 3,563 yards with 28 touchdowns and 14 interceptions and rushed for 435 yards and nine touchdowns last season. Tolzien's 2010 numbers, though good enough to get the Badgers to the Rose Bowl, don't even compare.
The general feeling is this makes Wisconsin the Big Ten favorite. Which makes the Beavers look like road kill, right?
Again, maybe. But we live in a world of unintended consequences. There are no sure things, and the unexpected often happens.
For one, Wilson will be learning a new offense with new teammates with only a month or so this summer and fall practices to prepare. That's not easy. Sure, he's a veteran college QB. But he'll still be the new guy -- not unlike incoming freshmen.
His first order of business? Decisively beating out
Jon Budmayr
,
Joe Brennan
and Joel Stave. If Wilson is only marginally better, or if there's doubt within the team that he earned the starting job, then things could get prickly in the locker room.
The ideal situation for Oregon State would be for Wilson to not get a warm-up game before the Beavers come to town. That's not the case. Not only does Wisconsin open against UNLV, it also has a couple of extra days between that Thursday, Sept. 1 opener to iron out the kinks and get ready for the Beavers.
Oregon State opens its season against Sacramento State, giving it a preseason game in which to get in rhythm without revealing a lot. The Beavers certainly should be able to get more from the Badgers-Rebels game film than Wisconsin will from the Sac State film.
Wilson should make the Badgers better, but it's reasonable to believe he will be better as the season matures than he is early-on, when he's still figuring out the offense and his teammates. So Oregon State has that going for it.
With or without Wilson starting, the Badgers will be heavy favorites when Oregon State visits. The Beavers are coming off a 5-7 season with lots of questions and they do not own a distinguished record for starting fast. They've, in particular, suffered a few bad nonconference whippings on the road in the early-going -- see ill-fated trips to Louisville, Boise State, Cincinnati and Penn State.
The conventional wisdom will write this one into the Oregon State loss column before it's played, and the Badgers' addition of Wilson makes it less risky to do so in pen rather than pencil.
Right? Well, maybe. Let's just say lots more folks figure to tune into the Wisconsin-UNLV opener than before.
September, 12, 2008
9/12/08
4:45
PM ET
Posted by ESPN.com's Adam Rittenberg
| | |
| --- | --- |
| | |
| | Aggie Skirball/WireImage |
| | Pete Carroll, according to former coach Earle Bruce, "really fits the Southern Cal job very, very well." |
Among the dozens of assistants Earle Bruce hired during a two-decade run as a college head coach were the two men whose teams will meet Saturday night at the L.A. Coliseum (ABC, 8 p.m. ET).
Bruce gave USC's Pete Carroll his first full-time coaching job with Iowa State in 1978 before they both went to Ohio State the next season. Carroll departed after 1979 to apprentice for Monte Kiffin at N.C. State. Three years later, Bruce brought in Tressel from Syracuse to coach Ohio State's quarterbacks and wide receivers.
Though Bruce has more history with Tressel and hired Carroll at the infancy of his career, he noticed Carroll's trademark boyish enthusiasm that has restored USC as a national powerhouse.
"Pete was alert, he knew the game of football," Bruce said this week. "He could relate well with kids. The Southern Cal kids, he could relate to better, but he relates to all kids. ... He can teach the game of football. That's what's important, even then. But he's grown."
Tressel and Carroll have been contrasted all week: the conservative, sweater-vested football purist vs. the effervescent mastermind who has proven that you can have fun and win (a lot) at the same time.
Bruce acknowledged that Carroll is "a little loose" with his approach, which can be good and bad.
"That means that maybe sometimes you're loose when you're playing a great opponent, that's OK," Bruce said. "But when you're playing Stanford and you're loose, you lose to a team that's never won a game yet. What the hell are we talking about? You don't want to do that. You want to be a little more steady than that."
Bruce credited Ohio State's businesslike approach for helping avoid a disastrous loss to Ohio University last Saturday.
"We were pretty serious about the game of football," Bruce said of the Buckeyes. "I'm not mocking what approach [Carroll] takes because he's a successful football coach and has done a great job. But regardless, he really fits the Southern Cal job very, very well."