January, 17, 2014
Jan 17
9:30
AM ET
In 1984, Florida State hired Mickey Andrews as its defensive coordinator. For the next 26 seasons, he held the same role, only leaving after Bobby Bowden stepped aside as head coach following the 2009 season.
Four seasons later, Jimbo Fisher is about to hire his third defensive coordinator, and that's a major concern for Florida State fans not used to such routine turnover. Jeremy Pruitt jumped for a job at Georgia just eight days after winning a national championship in his one and only season with the Seminoles. It leaves FSU in search of a new coordinator just weeks before signing day, and it leaves the Seminoles' defense in a state of flux after Pruitt was so influential in revamping the scheme just a year ago.
But while the timing is certainly not ideal for Florida State, the loss isn't necessarily devastating.
1. The move isn't unprecedented
During the BCS era, five coordinators departed their schools immediately after winning a national championship. Granted, all left for better gigs (either the NFL or a head-coaching job), but in each case, the team didn't suffer a dramatic decline after they waved goodbye.
While coordinators are crucial in running the daily routine of practice, the head coach is usually the one setting the philosophical tone, and the players generally determine how good it all looks on the field.
It's distinctly possible Florida State can't repeat its defensive dominance in 2014, but it's far more likely that any decline will be due to the losses of
Timmy Jernigan
,
Telvin Smith
and
Lamarcus Joyner
-- not Pruitt.
2. Pruitt didn't "turn around" FSU's defense
This notion has been bandied about a bit since Pruitt left for Georgia, but it's not entirely accurate.
Yes, Pruitt completely revamped the defensive scheme at Florida State, shifting heavily toward a 3-4 set and bringing a more aggressive approach that moved the onus from the front four under Mark Stoops to a dominant secondary in 2013. The results were stellar, and Pruitt certainly deserves some credit for the marked uptick in takeaways, but his job was hardly about rebuilding a unit from scratch.
Pruitt inherited a very good defensive unit from Stoops. So good, of course, that it landed Stoops a head-coaching job in the SEC (yes, Kentucky… but it's still the SEC). Pruitt did an excellent job of covering for the losses of several key veterans from 2012 (Bjoern Werner and Tank Carradine), but he also had the luxury of a veteran-laden unit that had already accomplished a lot at the college level.
3. Pruitt wasn't a star in 2012
Fans are rightfully concerned about losing a rising star in the coaching ranks who had enjoyed so much success this season, but it's worth remembering that Pruitt wasn't exactly a slam-dunk hire when Fisher brought him on board.
Stoops' departure after the 2012 regular season was widely anticipated. He'd become a hot commodity. The search for his replacement was followed closely, but few of the pundits prognosticating a hire had Pruitt on their radar. At the time, Pruitt was an assistant on a national-championship team, but he'd had just three years of sideline experience under his belt, he'd never been a coordinator at the college level, and he was coaching Nick Saban's position group. The concern at the time was that he was simply a product of Saban's genius, not a burgeoning star.
Of course, Pruitt proved those doubters wrong in 2013, but the point is worth remembering: Fisher saw his potential long before everyone else did. There's little reason to think FSU's head coach can't pry another rising star from the ranks of anonymity this time.
4. It wasn't about the money
Yes, Pruitt is getting a nice raise at Georgia, but that's not why he left. He admitted during his press conference in Athens that he didn't give Florida State a chance to counter, and whatever his reasons for leaving -- and we're not interested in speculating until Fisher or Pruitt or someone else associated with FSU wants to talk on the record -- it's worth remembering that FSU is in a far better position financially today than it was when it hired Pruitt last year.
Would Florida State have matched Georgia's offer? It's impossible to say for sure now, but there's every indication the school would have. [
Ed. note: FSU associate AD Monk Bonasorte confirmed Thursday that FSU was prepared to match UGA's offer.
] Fisher inked his new deal (even when deep-pocketed Texas was on the prowl) to stay, and he made bumps in salary for his assistants a key part of those negotiations. Fisher's tenure has been built on understanding the importance of the support staff around him, and he's made great strides to ensure the resources are there for Florida State to be competitive on the national stage -- both on the field and with the checkbook. Oh, and a national championship doesn't hurt either.
5. Recruiting may be the key
Where Florida State should be concerned is in the area of recruiting. Not only is Pruitt's departure coming at a tenuous time on the recruiting trail (signing day is Feb. 5), but he was also a key salesman for the Seminoles during his 13 months on the job.
Pruitt came on board full-time after last year's national championship game and still helped FSU close on
Jalen Ramsey
,
Nate Andrews
and
DeMarcus Walker
-- three players who were only tangentially on FSU's radar beforehand. He's also adept at recruiting the state of Alabama, a crucial battleground for FSU that took a big hit after Dameyune Craig departed for Auburn following the 2012 season.
Both Pruitt and Craig had exceptional relationships with high school coaches and players in Alabama, and that may be the toughest thing for Fisher to replace. Pruitt's replacement will have his work cut out for him replacing several departing stars, but that work begins with finishing strong before signing day.
January, 14, 2014
Jan 14
3:10
PM ET
TALLAHASSEE, Fla. — For the second time in as many years, Florida State is looking to replace a defensive coordinator who bolted for the SEC.
ESPN reports that Jeremy Pruitt has
accepted a job as the defensive coordinator
at Georgia, leaving Florida State after just one year on the job and one more national championship on his resume.
[+] Enlarge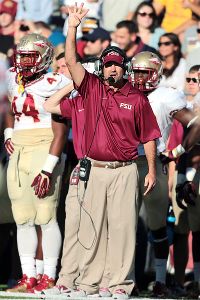 Fred Kfoury III/Icon SMIJeremy Pruitt not only revamped FSU's defense but his role in recruiting should not be overlooked.
Jimbo Fisher hired Pruitt to replace Mark Stoops in December 2012 after Stoops took the head-coaching job at Kentucky. At the time, it seemed a risky hire. Pruitt had spent just three years as an assistant at the college level, running the secondary at Alabama. Prior to that, he'd been an off-field assistant for Nick Saban and coached the defense at Hoover (Ala.) High School.
It turned out, the hire was a stroke of genius for Fisher. Pruitt restructured Florida State's defense, moving more heavily to a 3-4 scheme that helped mask a litany of departures on the defensive line. He also integrated a more aggressive approach that allowed Florida State ramp up its takeaway numbers. The Seminoles led the nation in interceptions, passing defense and scoring defense in 2013.
Where Florida State goes from here is a big question, particularly with national signing day just three weeks away.
Defensive line coach Sal Sunseri is an obvious candidate. He was defensive coordinator at Tennessee, and he worked extensively with Pruitt while both were assistants at Alabama. He would provide some stability for the current Florida State defense, as would linebackers coach Charles Kelly, who served as Georgia Tech's interim defensive coordinator in 2012.
But Fisher might not be overly concerned with stability, as he showed with his hiring of Pruitt last year.
Money could play a role in a hire, too. Pruitt earned a base salary of $540,000 at Florida State, though that was expected to increase — both with bonuses from this year's national-title run and increases in compensation Fisher reportedly negotiated in his latest round of contract talks.
Recruiting will be another key piece to the puzzle. Pruitt stepped in as one of Florida State's top recruiters, helping the Seminoles land several key late additions to their 2013 signing class, including
Nate Andrews
, FSU's leader in interceptions, and
Jalen Ramsey
, a freshman All-American, after just a few weeks on the job.
Fisher was forced to replace seven assistant coaches during a three-month frenzy following the end of the 2012 regular season, and he said at the time that he keeps a running list of top candidates for every job.
"I have those lists, and I know what my process is going to be," Fisher said last year.
Now, less than 13 months later, Fisher is digging into his lists once again.
November, 10, 2013
11/10/13
9:00
AM ET
How about a few helmet stickers for a job well done:

Boston College running back Andre Williams.
The best rusher in the ACC topped himself in a 48-34 win over New Mexico State. Williams ran for a career-high 295 yards, setting the school single-game rushing record. Montel Harris set the old mark of 264 yards in 2011. Williams now owns two of the top three single-game marks in school history. His performance late in the game was outstanding. With the game tied at 34, Williams scored the game-winning touchdown on an 80-yard run. He added a 47-yarder on the next possession to officially put the game out of reach. Williams has three 200-yard games this season.
Duke safety DeVon Edwards.
The redshirt freshman became the only FBS player in the last 10 years with three non-offensive touchdowns in a game in a 38-20 win over NC State. Edwards scored on a 100-yard kickoff return and then returned two interceptions for scores on back-to-back offensive plays. The 100-yard kickoff return tied for the second longest in Duke history. His 218 total yards ranks second all-time among Duke freshmen in a single game (Desmond Scott, 259 yards against Wake Forest in 2009).
Florida State defense.
The Seminoles had perhaps the most dominating defensive performance in the ACC this season, forcing seven turnovers and scoring twice in a 59-3 win over Wake Forest. The Noles tied a school record with six interceptions -- one returned for a touchdown.
Jalen Ramsey
also returned a fumble for a touchdown, giving the Noles five defensive scores this season, tied for the most since 2007. Freshman safety
Nate Andrews
, making his first career start, had two interceptions (including the score) and forced the fumble Ramsey returned for the TD. Wake Forest had a Total QBR of 0, the only team this season with a team Total QBR of 0 in a game. Florida State has now forced a turnover in 14 straight games.
North Carolina QB Marquise Williams.
North Carolina players dedicated their game against Virginia to quarterback
Bryn Renner
, lost for the season with a shoulder injury. Williams paid the ultimate tribute, wearing Renner's No. 2. He then went out and had a monster game, with passing, rushing and receiving touchdowns in the 45-14 win. Williams completed 15 of 28 passes for 185 yards; rushed 16 times for 46 yards; and caught a 29-yard touchdown pass from
Quinshad Davis
. He is the first Carolina quarterback to catch a touchdown pass since Kevin Anthony in 1984 -- against Virginia.
Pitt safety Ray Vinopal.
The Panthers may not have beaten No. 23 Notre Dame 28-21 without Vinopal, who had two critical interceptions in the fourth quarter to key the impressive win. On the first, Vinopal intercepted
Tommy Rees
in the end zone to end one drive. On the second, he returned his interception down to the 5, setting up the game-winning Panthers score. Vinopal also had a forced fumble early in the game, making him solely responsible for all three Irish turnovers.
Virginia Tech quarterback Logan Thomas.
For the second straight week, Thomas had over 400 yards total offense. But in a 42-24 win over Miami, the number that stood out was zero. Thomas combined his terrific passing game -- 25-of-31 for 366 yards and two scores -- with no turnovers. That has been the familiar bugaboo the last two weeks, both losses. Thomas had eight turnovers next to his name. But against Miami, he had his best game of the season with his team's Coastal Division hopes on the line. Thomas came through big time.
November, 2, 2013
11/02/13
11:44
PM ET
TALLAHASSEE, Fla. -- It was billed as a return of one of college football's best rivalries. For the first time in nine years, Miami and Florida State met with both ranked in the top 10 and both undefeated.
The first half saw Miami prove the hype was deserved, and
Jameis Winston
struggle for the first time in his career, but by the time it was over,
Devonta Freeman
and the third-ranked Seminoles had once again asserted their dominance, thumping No. 7 Miami 41-14.
It was over when:
Nate Andrews
picked off
Stephen Morris
on Miami's first drive of the fourth quarter, effectively ending the Hurricanes' hopes for a comeback. Miami moved the ball relatively well on the previous drive, but
Nile Lawrence-Stample
stuffed
Duke Johnson
on a fourth-down run, leaving the Hurricanes with no wiggle room the rest of the way. Unfortunately for Miami, Morris coughed up his second pick three plays into its next drive, and Florida State (8-0, 6-0 ACC) largely ran out the clock from there.
Game ball goes to:
Freeman. The Miami native picked up the slack when Winston, the redshirt freshman quarterback, struggled, and for the second consecutive season, he was the difference in a Seminoles victory over their in-state rival. Freeman finished the game with 29 touches for 176 yards and three touchdowns. His 48-yard catch-and-run was the game's highlight play, but his punishing style in the ground game was the tone-setter.
Stat of the game:
44. That's the number of rushes for Florida State's offense, tallying a total of 192 yards and four touchdowns on the ground. On a day when the passing game scuffled at times, the runners -- including Winston, who converted two third downs with his legs -- made all the difference. There were big runs -- 19-yard scampers by both Winston and Freeman -- and a bunch of tough ones that helped FSU dominate the time of possession and control the tempo of the game. The 44 rushes were a season high for the Seminoles.
What Miami learned:
It's not at an elite level yet. Al Golden's bunch actually put up more of a fight than a lot of pundits believed it would, but in the end, Miami got most of the breaks it needed and still wasn't particularly close to knocking off Florida State. Johnson ran fairly well, Morris made some of his best throws of the season, and Winston gave Miami 14 points. That was supposed to be the recipe for an upset, but it wasn't to be. Miami (7-1, 3-1) has clearly made progress, and with the black cloud of NCAA sanctions mostly gone, that progress should continue. But Florida State is clearly playing at another level.
What Florida State learned:
It can win without Winston. It's not that the phenom was horrible, but he did throw two big interceptions that led directly to Miami's two first-half touchdowns. Both occurred on deep balls over the middle, while the bulk of his success came on check-downs to Freeman and tight end
Nick O'Leary
. Still, Winston's struggles didn't exactly hamper the offense. The unit piled up 517 yards, led by Freeman's big game. Of course, while it was Winston's worst performance thus far, he still finished 21-of-29 for 325 yards.
What it means:
Florida State has made its case for the BCS. The rest is up to the voters. Yes, the Seminoles still have five more games to impress, but there won't be another showcase like Saturday's game. The remaining slate -- Wake Forest, Syracuse, Idaho, Florida and a potential rematch with Miami in the ACC title game -- won't have the same hype, but the Seminoles' two wins over top-10 teams by a combined 92-28 margin make an awfully strong argument that, if they finish the season without a loss, they belong in the national title game.
January, 4, 2013
1/04/13
9:00
AM ET
Now that bowls are over, the next big date on the college football calendar is signing day.
With that in mind, it's time to take a look at where each Big Ten team stands in its recruiting efforts with less than five weeks to go before high school prospects can sign their official letters of intent.

Illinois
Current commitments:
26
Spotlight:
The Illini need all the skill position talent they can find, and junior college Martize Barr seems to fit that bill. The 6-foot wide receiver is one of five juco transfers who have already signed with Illinois as Tim Beckman looks to plug roster holes. He started his career at New Mexico before transferring to Iowa Western, which won the juco national title.
ESPN 150 commitments:
0
ESPN 300 commitments:
0

Indiana
Current commitments:
19
Spotlight:
Kevin Wilson and his staff have gotten some nice pickups on the recruiting trail and maybe none better than ESPN 150 prospect Rashard Fant. The 5-10, 165-pound athlete committed before ever stepping foot in Bloomington. He projects as a defensive back but has been told he could possibly play at least some snaps on offense.
ESPN 150 commitments:
1
ESPN 300 commitments:
2

Iowa
Current commitments:
18
Spotlight:
This season showed that the Hawkeyes need some more playmaking ability at the receiver positions. They could get some immediate help there from junior-college transfer Damond Powell. He's only 5-foot-11 and didn't have a ton of high-profile offers, but he reportedly runs a 4.4 40 and averaged 30 yards per catch last season. Iowa could use both those things.
ESPN 150 commitments:
0
ESPN 300 commitments:
0

Michigan
Current commitments:
24
Spotlight:
David Dawson -- the nation's No. 1 offensive guard, according to ESPN.com -- violated Brady Hoke's no-visit rule for Michigan commits when he took a trip to Florida earlier this fall. But the Wolverines didn't give up on him, and Dawson re-committed last month. He's one of three players from Detroit's Cass Tech who have given their pledge to play in Ann Arbor.
ESPN 150 commitments:
10
ESPN 300 commitments:
14

Michigan State
Current commitments:
15
Spotlight:
Quarterback Damion Terry is ranked as the No. 13 dual threat signal caller in the country and could give the Spartans' offense a different look in the future. He led his team to a Class AAA Pennsylvania state title, along with fellow Michigan State commit Delton Williams.
ESPN 150 commitments:
0
ESPN 300 commitments:
2

Minnesota
Current commitments:
14
Spotlight:
It's no secret that the Gophers could use some help at the skill positions, and maybe receiver Nate Andrews can offer some assistance. The Fairhope, Ala., prospect is sticking by his commitment to Jerry Kill despite some late offers from Tennessee and Alabama, two schools that Minnesota doesn't often beat out for players from down South.
ESPN 150 commitments:
0
ESPN 300 commitments:
0

Nebraska
Current commitments:
17
Spotlight:
The Huskers did more than just play in the Capital One Bowl while in Orlando. They also picked up a wide receiver from Mickey Mouse country in
Dominic Walker
, who is their highest-ranked high school recruit, according to ESPN.com rankings. Walker is 6-foot-2 and 194 pounds and was also recruited by Florida, Georgia and Florida State, among many others.
ESPN 150 commitments:
0
ESPN 300 commitments:
3

Northwestern
Current commitments:
20
Spotlight:
Four-star athlete Godwin Igwebuike is a headline writer's nightmare but someone who could be in the news a lot. He played running back in high school and could move to safety for the Wildcats. He was heavily pursued by Nebraska, Wisconsin and many others.
ESPN 150 commitments:
0
ESPN 300 commitments:
1

Ohio State
Current commitments:
19
Spotlight:
Eli Apple, who is ESPN.com's No. 3 ranked safety and No. 6 overall prospect, was known as Eli Woodard when he originally committed to the Buckeyes. He announced he had changed his name last month to honor his stepfather, who has helped raise him since he was 2. Ohio State is pursuing another top safety in Georgia prospect Vonn Bell.
ESPN 150 commitments:
8
ESPN 300 commitments:
13

Penn State
Current commitments:
18
Spotlight:
Tyler Ferguson
, a 6-foot-4, 200-pound junior college transfer, gives the Nittany Lions some much-needed depth at the quarterback position. The pocket passer can help push Steven Bench and possibly provide a bridge to the future should Penn State decide to redshirt top quarterback prospect Christian Hackenberg.
ESPN 150 commitments:
2
ESPN 300 commitments:
3

Purdue
Current commitments:
13
Spotlight:
Purdue's running back depth chart was thin this year, so Keyante Green's commitment this summer was important. Green originally was a UCLA pledge, but the Georgia native apparently wanted some earlier playing time. New coach Darrell Hazell knows how to use running backs; Kent State had two 1,000-yard rushers this season.
ESPN 150 commitments:
0
ESPN 300 commitments:
2

Wisconsin
Current commitments:
18
Spotlight:
New Jersey running back Corey Clement (No. 169) is ranked just outside the ESPN 150 and is the No. 17 rated running back in the class. He also had offers from Nebraska and Notre Dame. Clement has already said he wants to break Montee Ball's records someday.
ESPN 150 commitments:
0
ESPN 300 commitments:
1