October, 13, 2010
10/13/10
9:47
AM ET
Jermale Hines laughs when told that he's the old man among Ohio State's safeties.
"Something like that," he said.
Hines is a little old by college football standards -- he turns 23 next month -- but he also boasts by far the most experience of any Buckeyes safety. He's one of Ohio State's most valuable players because if there's a spot on the depth chart that looks a little, well, young, it's safety.
[+] Enlarge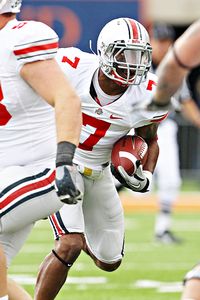 Jonathan Daniel/Getty ImagesJermale Hines has helped lead an Ohio State secondary that ranks 13th nationally in pass defense.
After the 2010 Rose Bowl, the Buckeyes said farewell to veteran safeties Kurt Coleman and Anderson Russell, with Coleman being the team's only consensus first-team All-Big Ten selection. Tyler Moeller returned from a head injury to start at the "star" position -- a safety-linebacker hybrid used in Ohio State's nickel package -- but he's now out for the year with a torn pectoral muscle. Promising sophomore C.J. Barnett also won't return following a knee injury, and junior Nate Oliver has been banged up.
Ohio State's
two-deep
for Saturday night's showdown at No. 18 Wisconsin lists Hines as the starting free safety, sophomore Orhian Johnson, a first-year starter, at strong safety, and true freshman Christian Bryant at the "star" position.
There's little doubt as to who leads the group.
"It's been an experience trying to tell guys what to do and where to be, just helping them out as much as I can," Hines said. "Somebody came along and did it to me, Kurt and Anderson and those guys, so I'm just looking to give back and do the same thing."
The 6-foot-1, 216-pound Hines knows he needs to show some patience as a leader. After all, he wasn't always the easiest pupil for Coleman and Russell.
"There were times where I didn't want to follow them, but they made me," said Hines, who moved past Russell on the depth chart in 2009 and recorded 57 tackles, 3.5 tackles for loss and two interceptions. "Just basically going to seek me out, talking to me, making me listen, telling the coaches and things like that. Or putting me on the spot. They showed me the ropes, the little things to be successful. And that's what I'm trying to do with these guys."
Hines has led by example on Saturdays.
He recorded an interception in Ohio State's Big Ten opener at Illinois and ranks third on the team with 26 tackles. The Cleveland native attributes his progress to a better understanding of Ohio State's defense and how opposing offenses want to attack the Buckeyes.
Along with cornerback Chimdi Chekwa and others, Hines has helped Ohio State lead the Big Ten and rank 13th nationally in pass defense (158.3 ypg). The Buckeyes have surrendered only four pass touchdowns through the first six games (only Miami, San Diego State and Missouri have allowed fewer).
Hines' personal project has been Bryant, who took over for the injured Moeller against Illinois and made his first career start last week against Indiana, recording one tackle.
"I'm definitely his big brother," Hines said. "Any time I can be, on the field, off the field, just making sure he understands things, checks and things like that, just making sure his head is right."
Buckeyes coach Jim Tressel said Hines could play the "star" spot if need be, a move Hines wouldn't oppose. But if Hines' tutelage works, he can stay put and Ohio State likely will be better off for it.
"Anywhere I can help the team win," Hines said. "We've all got one goal, and I'm a part of it."
A big part.
October, 5, 2010
10/05/10
2:38
PM ET
As you might have seen earlier today, Michigan State coach Mark Dantonio will once again
attempt to watch his team from the press box
this week at archrival Michigan.
Dantonio, released from the hospital Monday after being treated for a blood clot in his leg, is back in the office and started his news conference today by saying, "Can't keep me down Michigan week." The 54-year-old had planned to coach from the press box last week against Wisconsin but was readmitted to the hospital Thursday after doctors found the clot.
"As long as I don't have a setback, that's where I'll be," Dantonio said of the Michigan Stadium press box.
Dantonio feels "outstanding" and is back at the football complex after spending Sunday and Monday watching film. He watched the Wisconsin game from the hospital, where he communicated with his assistants at Spartan Stadium.
"I'll take it easy, I won't overdo things, I'll listen to what people are telling me, I'll listen to my body," Dantonio said. "But at the same time, I feel very good."
It's encouraging to hear Dantonio is doing well again, and while I'm not a doctor, allowing him to spend three-plus hours on his feet Saturday following a blood clot probably isn't a wise move. Hopefully, he'll spend the game in Michigan's spacious and luxurious new press box.
Other Big Ten health nuggets:
Ohio State coach Jim Tressel confirmed that safety-linebacker Tyler Moeller is out for the year with a torn pectoral muscle that will require surgery later this week. Moeller is a big loss after leading Ohio State in both tackles for loss (4.5) and forced fumbles (2). I'll be stunned if he doesn't receive a sixth year of eligibility from the NCAA, so we should see him back in 2011. Freshman Christian Bryant will step in for Moeller, although Tressel said Jermale Hines also can play the "star" position in Ohio State's nickel package. Nate Oliver also is getting healthy and should be able to help.
Buckeyes starting quarterback Terrelle Pryor should be fine for Saturday's game against Indiana. Pryor, who missed two series with a strained quad against Illinois, might be limited in practice early this week but will "get as close to 100 percent as one can be" for the Hoosiers.
Speaking of Indiana, starting cornerback Richard Council will miss "an extended period of time" with a knee injury, coach Bill Lynch said. Council's injury isn't season ending at this point, but Indiana will turn to others, namely Adrian Burks, as well as Greg Heben and juco transfer Andre Kates, to fill the void.
Not a health note, but a personnel nugget regarding Brandon Wegher. There had been some buzz about the running back returning to Iowa, but it's not happening. "If he comes back, we'll let you know," coach Kirk Ferentz said. "As far as I know, he's gone for at least this season and maybe forever."
The hits keep coming for Purdue, as coach Danny Hope said receiver Justin Siller will miss three to six weeks with a sprained foot. The good news is the Boilers are getting healthier at running back as players like Al-Terek McBurse and Keith Carlos improved during the bye week. Purdue can move Antavian Edison and O.J. Ross back to receiver.
Penn State linebacker Gerald Hodges and receiver Curtis Drake are improving from their injuries but likely won't be back for a little longer. Tight end Andrew Szczerba (back) started to do some light jogging but won't be back as Penn State turns to true freshman Kevin Haplea as its starter against Illinois. Defensive tackle Jordan Hill (ankle) is expected to play Saturday.
Finally, some good news about Minnesota receiver Connor Cosgrove, who last month was diagnosed with leukemia. He's doing well and was in the locker room before last week's game against Northwestern. "The leukemia counts in his body are way down," Gophers coach Tim Brewster said. "His body is reacting positively to the chemotherapy. The outlook for Connor is really positive." Great to hear.
September, 11, 2010
9/11/10
4:17
PM ET
COLUMBUS, Ohio -- Fact No. 1:
Lamar Miller
is fast.
Fact No. 2: Ohio State's special teams are a mess.
The result was an 88-yard kickoff return to the end zone that gave Miami
its first lead at 6-3
. Miller sliced through the Buckeyes, who looked completely disorganized on the play.
It's amazing to write this about a Jim Tressel-coached squad, but special teams are Ohio State's biggest weakness right now. From the Iowa game to the Rose Bowl to last week's opener against Marshall, the Buckeyes have had a series of major breakdowns.
Ohio State appeared to redeem itself on the ensuing kickoff, as
Jaamal Berry
only had the kicker to beat before falling into teammate Nate Oliver. Berry could have been gone, so the Buckeyes are leaving too many points on the field right now.
Miami leads 7-3 with 4:34 left in the first quarter.
September, 2, 2010
9/02/10
7:53
PM ET
COLUMBUS, Ohio -- Could Ohio State have scripted it any better?


A 2010 season many expect to be special for the Buckeyes started with a huge special teams play. After Marshall won the toss and elected to receive (curious move), return man
Andre Booker
coughed up the ball following a hit from Dorian Bell. Buckeyes' safety Nate Oliver recovered and the offense was in business.
Ohio State's offense has run seven plays so far, and all but one of them, a
Terrelle Pryor
imcomplete pass, have worked out well. Pryor has looked good on short to intermediate throws so far, although he's seeing no pressure from Marshall and poor coverage from the Herd secondary.
Wide receiver
DeVier Posey
and running back
Brandon Saine
are working on big performances. Saine, who I believe becomes Ohio State's featured back, showcased his speed and power on a 40-yard run to set up Ohio State's second touchdown.
It's 14-0 Buckeyes, and Marshall appears to be in for a very long night.